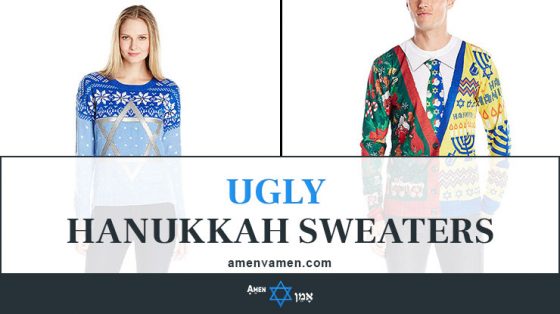 People at the party

: "Wow, look at you. You're so ugly!"
Me

: "Aww, thanks! That's so sweet of you!"
Hanukkah (Christmas too… but we're Jewish, so let's stick with Hanukkah shall we?) is one of the few occasions where calling someone ugly might be the biggest compliment in the world… IF they're wearing an ugly Hanukkah sweater (don't start calling random people 'ugly', unless you want to get punched in the face).
But you have to earn your "compliments", especially nowadays – where everyone is trying hard to out-wit each other with the funniest, most awkward Hanukkah sweaters they can pull off (seriously, it's like an ugly-pageant out there).
Luckily, you've landed in the right place… because I'm about to show you how to WIN the ugly-pageant with the ugliest (and funniest) Hanukkah sweaters ever created!