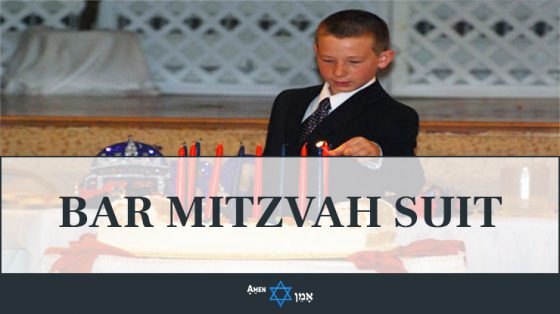 Your boy is about to celebrate his Bar Mitzvah… how exciting!
"Let's raise a toast… L'chayim!"
Hold it there, chief! That's not what the Torah means by "turning into an adult". So please keep your boy away from the liquor cabinet for the next 8 years (or 5, depends where you live), m'kay?
What it does mean is that your boy is now subject to the Jewish commandments: he wears a Tallit, he puts on Tefillin every morning, he can participate in a Minyan… just like any Jewish man.
So what if your boy is still "in development"? So what if his voice is squeaky? So what if his facial hair is still nowhere to be found (that'll come in due time, don't worry)…
As far as the Torah is considered – your boy is now considered a Bar Mitzvah – which means he's eligible to all of the rights and responsibilities as an adult… because he is an adult.
And as an adult – now's the time to start dressing like one… now's the time to get your boy a beautiful Bar Mitzvah suit – a suit that transforms a sweet "little boy" into a handsome young man!
But getting a suit isn't the same as getting the right suit. Many parents wonder:
What suit should I get?

When should I get it?

How do I avoid a suit that'll rip a hole in my wallet?
All fine questions… How about some answers?
Let's go get em'!