8 Cute Bris Outfits for a Jewish Newborn Baby's Brit Milah (2022)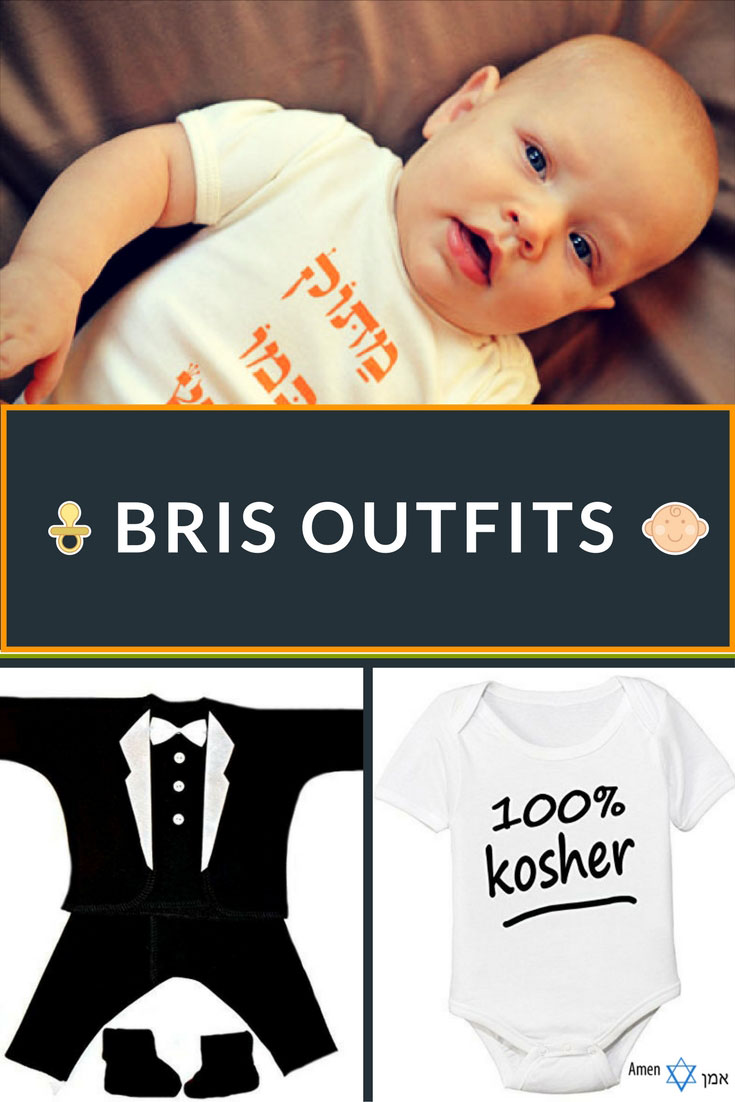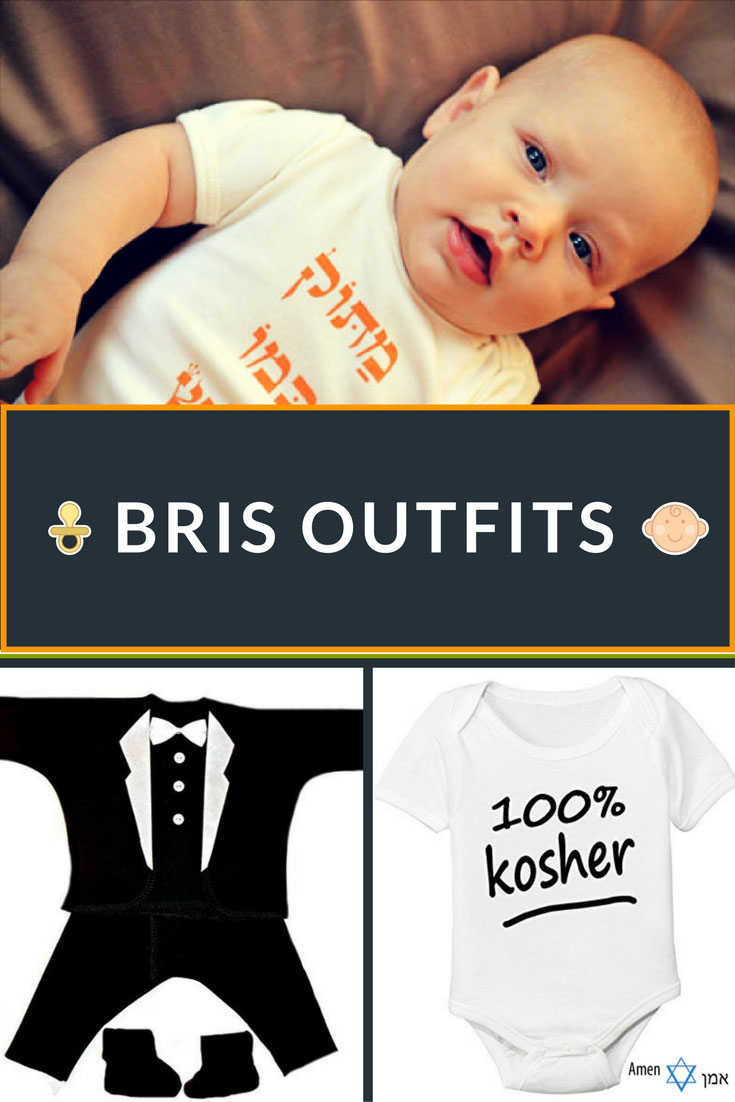 Amen V'Amen is supported by its audience. That means when you purchase something from one of our partners through one of our links, we may earn a small commission at no additional cost to you. Amen V'Amen is also an Amazon Associate, so we may earn a commission from qualifying purchases. Thank you for your support!
The little Bubelah has finally arrived… Mazel Tov!
Now, it's time to finally introduce the little munchkin to the world…
But before you do, first you need to find a cute Bris outfit for the little mensch to wear… After all, you want him to make a good first impression, don't you 🙂 ?
Cuteness Alert: Well, allow me to introduce you to a few adorable Brit Milah outfits that'll make your guests instantly fall in LOVE with the little guy!
Cutest Bris Outfit
Now that's a handsome little Jewish baby boy!
This cute Star of David Bris gown was designed specifically for a Jewish Brit Milah Ceremony.
It's made of 100% cotton, has long sleeves with foldable mitten cuffs and three velcro openings – making it comfortable both for the baby AND the parents (you know, in case the baby needs changing during the Bris).
Keep in Mind: The arms might run a little longer than what they look in the picture.
Plus, it comes with a matching Star of David hat.
A lovely Bris outfit, and an even cuter Brit Milah gift for the happy parents.!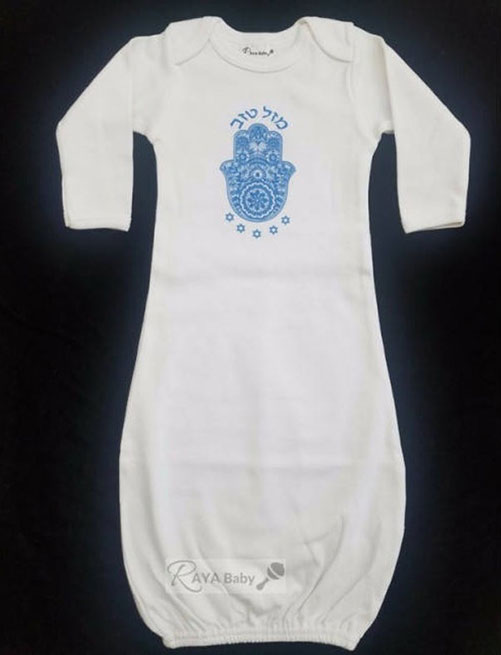 I wish your baby health, wealth & happiness, Hamsa Hamsa!
Speaking of Hamsa, this cute newborn Bris bodysuit happens to have a lovely Hamsa print on it, with "Mazel Tov" written in Hebrew… Wow, what a coincidence! (lame joke, I know)
The bodysuit is made of 100% cotton, with an opening at the bottom for quick and easy access at the ceremony.
Rest assured – your baby boy will feel comfortable in his cute Hamsa Brit Milah gown (right up to the circumcision part, obviously).
"Matok Kmo Dvash" is a common Hebrew phrase, which means "Sweet like Honey".
I bet that the cute qualifies for that title…
This adorable handmade Bris outfit isn't just suitable for the Brit Milah ceremony. You could dress the baby with it during the summer (poor thing, you don't want him to sweat, do you?), and even on Rosh Hashanah! You know, because of the whole Apple + honey thing. Just don't dip an apple in the baby and you're golden.
Top Handmade Bris Outfit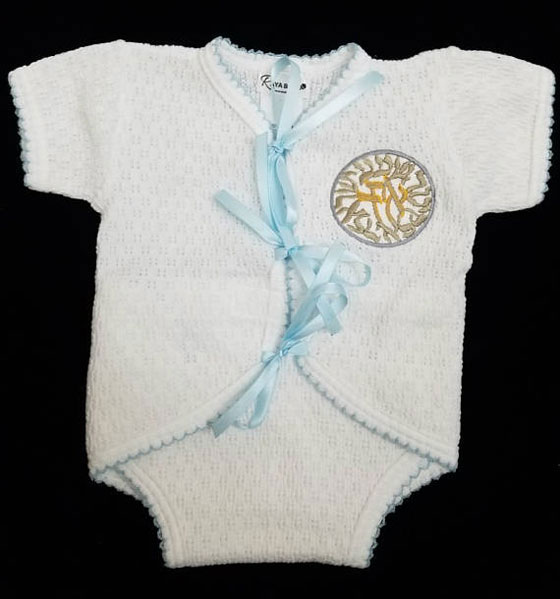 The young Jewish fella is about to get an amazing little gift at such a young age…
This fabulous baby boy Bris outfit comes with an embroidered SHEMA prayer on the upper right side.
Raya Baby's cute baby boy Bris Milah outfit design is made from cotton-polyester blend fabric. The bottom is designed to fold over and has a Velcro fastening for easy close-open access.
Tip: This Brit Milah outfit is Mohel approved
You can personalize the gift with the young boy's initials or his name (if you already know it).
With a spiritually inspired design & personalized touch, this cute little baby boy outfit meets all the requirements for a wonderful newborn Bris outfit.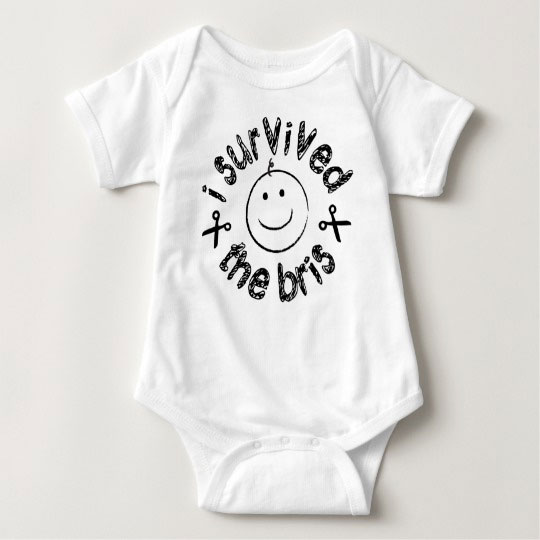 Fear the dreaded "cutting"? This bodysuit will ease your stress of circumcision and will give your guests a good laugh.
After the ceremony is over, dress the baby in this bodysuit…Mission accomplished!
The bodysuit also has an easy diaper change option with a three-snap closure, and the neckband is made for easy off & on – so you'll have an easy time dressing your precious little boy.
Looking back, it will make the Brit Milah much more memorable… plus, your little boy will have a huge laugh when you show him pictures of himself wearing this funny shirt when he's all grown up.
Tip: You can even personalize the bodysuit with a personalized message or a custom image.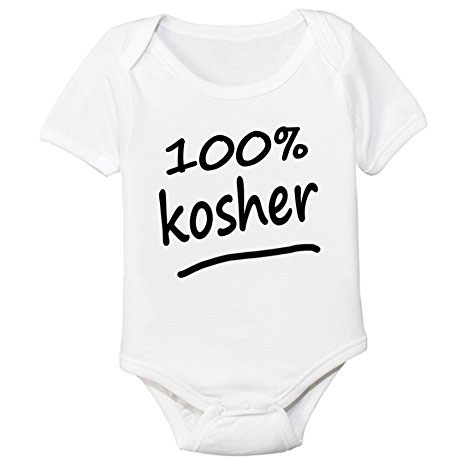 If there's any doubt – then yes, this baby is 100% Kosher. Well, at least he's about to become fully "Kosher" (if you know what I mean).
Hang on! That doesn't mean you're allowed to eat him! I don't care how cute you think he is!
Just kidding…
But if you like the Bris ceremony to be memorable (and funny), then this hilarious Bris bodysuit will do just that (just make sure your spouse doesn't kill you).
Tip: In case you're worried about the quality – the bodysuit is CPSIA certified, so no need to worry.
Fanciest Outfit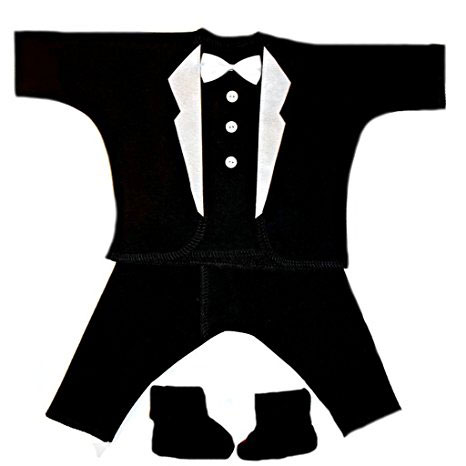 Did you ever think: "Hmm… Let's get a tux for our beautiful baby boy!"
Well, now you have 🙂
Imagine how cute & elegant your little Jewish boy will look wearing this adorable (and highly fashionable) suit.
It doesn't matter if he wears at the Bris ceremony, at home or when you take him to the park.
One thing is certain: the handsome baby will start capturing the attention from the ladies from a very young age!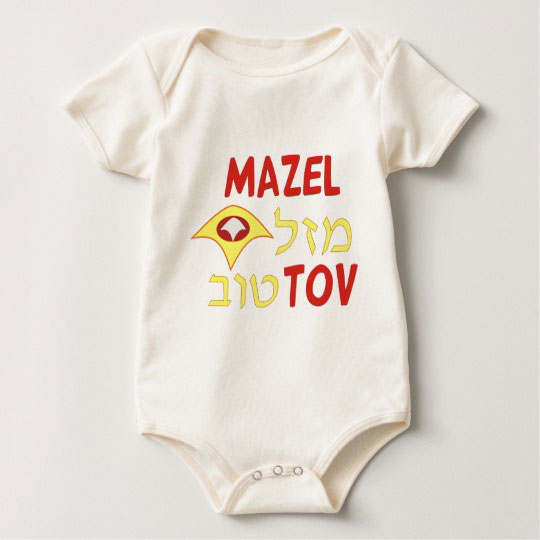 In case I haven't said it already… Mazel Tov!
I'll even throw a "Mazel Tov bodysuit" to the mix…
This bodysuit has a three-snap bottom/diaper closure – easy to take it on/off during the Bris.
The fabric itself is light & breezy, so you could keep using it to dress up your baby during the hot summer.
Tip: You can order it with a customized print as well.
Conclusion
My mom used to say: "there's no such thing as being over-dressed, only under-dressed".
(Such a "Jewish mom" thing to say, isn't it?)
The little mensch is about to make his first public appearance… so he better "dress the part" in a cute Bris outfit that'll make his Jewish mom proud!
Tip: Always make sure the outfit has an opening at the bottom so that the "area" is easily accessible.
And if you still haven't had the chance to get some cute Jewish baby gifts for the new addition to the family – now is the time.
Mazel Tov! 🙂