8 Best Shabbat Hot Water Urns & Dispensers for Shabbos (2022 Reviews)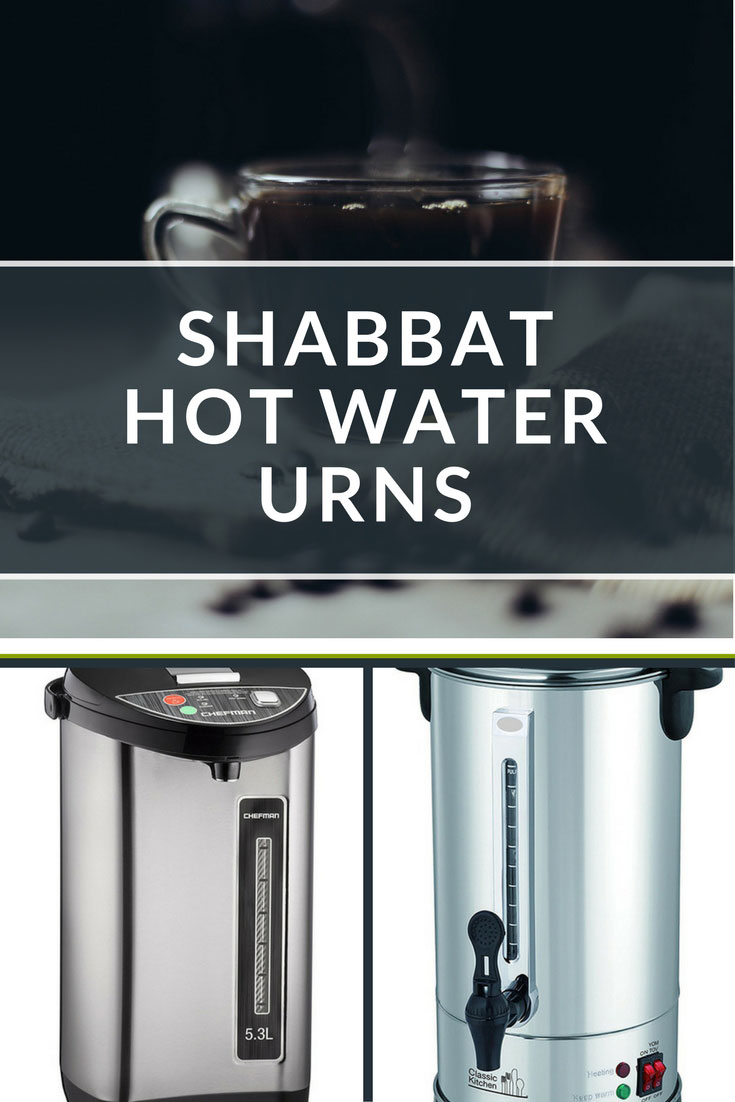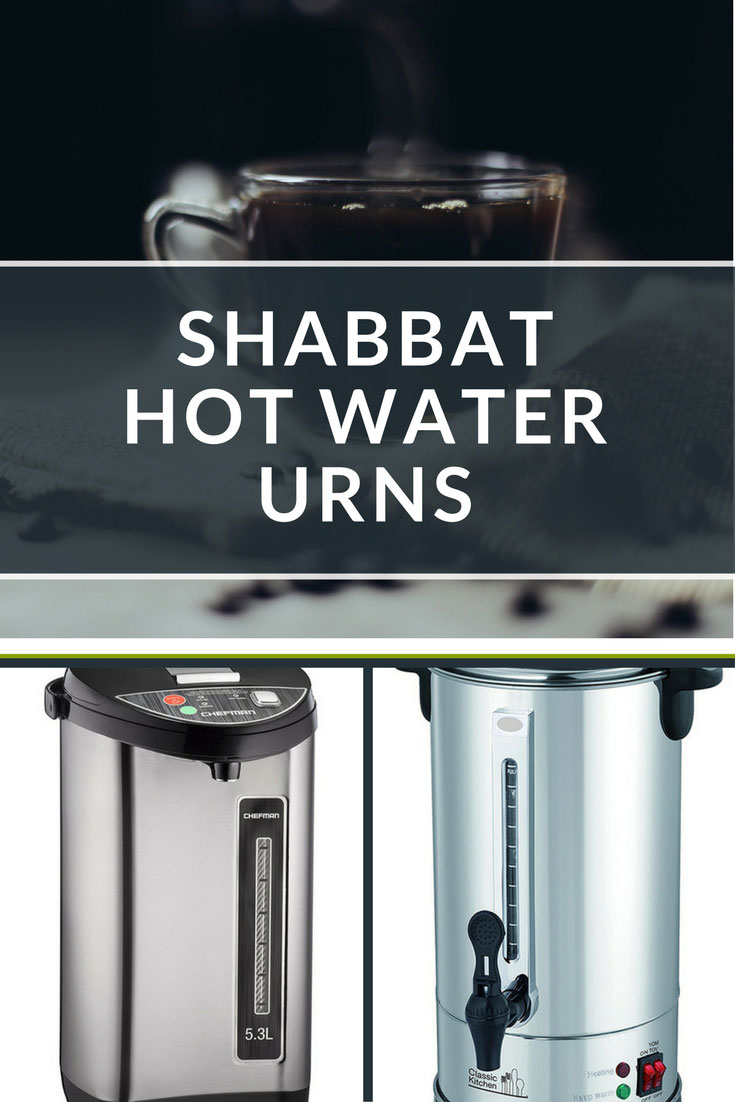 Amen V'Amen is supported by its audience. That means when you purchase something from one of our partners through one of our links, we may earn a small commission at no additional cost to you. Amen V'Amen is also an Amazon Associate, so we may earn a commission from qualifying purchases. Thank you for your support!
What's your cup of tea?
Is it perhaps coffee?
Doesn't matter, really… because if you're an observant Jew, the only way you can enjoy a hot drink on a cold Saturday morning is if you have a Shabbat hot water urn keeping your water warm throughout the day.
But hey, you already knew that, didn't you? (otherwise you wouldn't be here looking for the best Shabbat hot water dispenser 😉)
So, without further a do – let's get down to business and find you an urn, shall we?
Top Shabbat Hot Water Urns
Here's a little sneak peek of our favorite Shabbat hot water urns.
Drumrolls…🥁
Top Shabbos Urn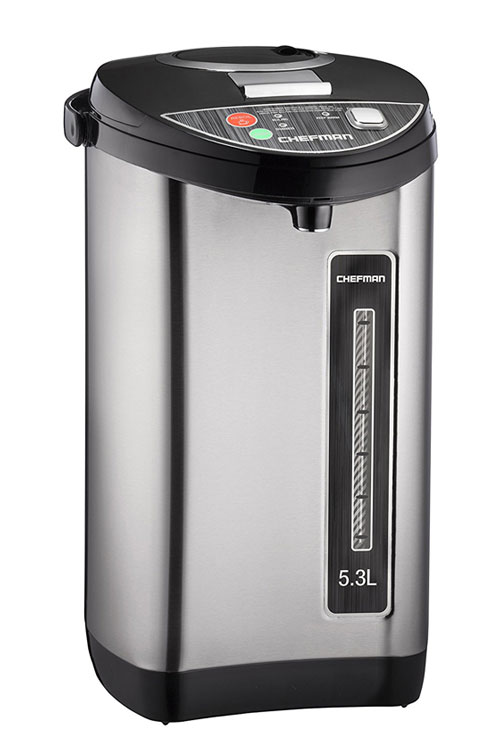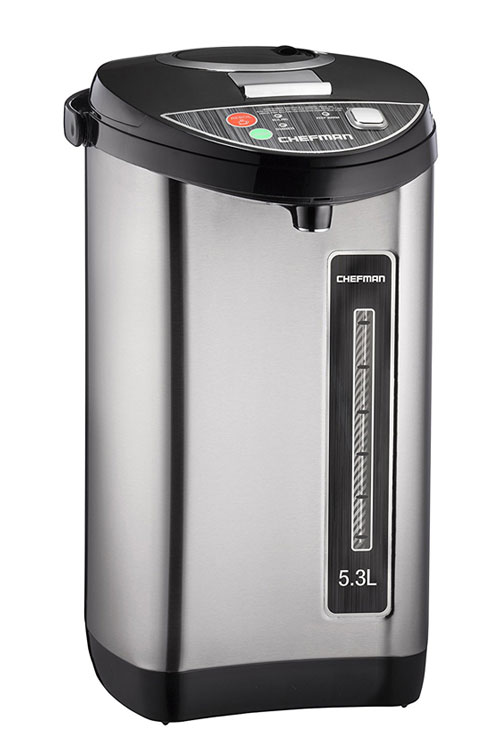 Why Should You Get it?
Well, what do you know… Chefman has won the "Best Value" hot water dispenser award.
And if you read our review of the best Shabbat hot plate, you probably noticed Chefman also has an "all-star" hot plate for Shabbos… so no surprises here.
Chefman has an excellent reputation for delivering high quality & affordable kitchenware essentials for Shabbos…and their Shabbat water boiler & warmer is no different.
In other words – they're Jewish friendly! (which in turn makes me friendly towards them 🙂 (
Their hot water dispenser (with the "Shabbos mode") is made of stainless steel parts. You know what that means… that's right – you can kiss that yucky plastic-tasting water goodbye!
Not to mention Chefman's tremendous effort to make their water boiler-efficient with their 700-watt vacuum-insulated container and one-touch electronic dispenser (this is particularly useful if you're planning to use it during the week as well), which provides maximum energy efficiency… and of course – reduces costs!
Tip: Chefman is known for its excellent customer service (plus you get a 1-year warranty). Hopefully you won't need it, but nonetheless, it gives you peace of mind.
Why Not?
The only issue with this Shabbat hot water kettle is that it takes a bit longer to boil compared to others. And when it does boil, then the exterior can get pretty hot.
But these downsides are trivial compared to the value and price you're paying for it.
Who is it For?
A terrific solution for us Jews observing the Sabbath, especially if you're looking for a durable, reliable and affordable hot water urn from a reputable brand (without spending a fortune on a questionable Shabbos hot water pumps).
Pros
Durable – stainless steel exterior & interior for long-lasting performance
Reliable – automatic shut-off feature when the pot is empty
Very safe – has a safety lock feature that prevents spillages
1-year warranty & great customer service
Low cost (and efficient)!
Cons
Exterior gets a little hot
Boiling a full pot takes time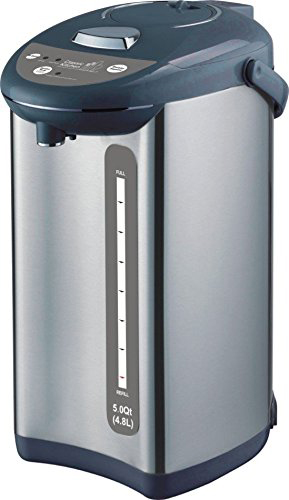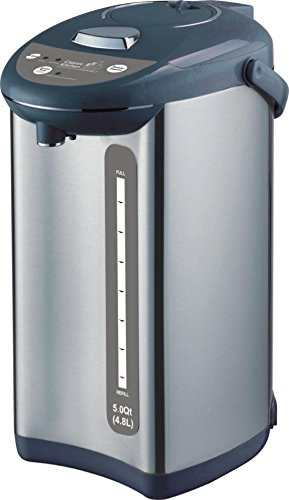 Why Should You Get it?
This Kosher hot water urn is ready for immediate use, can be refilled on Yom Tov, and doesn't require a Tevillah.
It takes about 20 minutes to fully boil the water, which isn't bad. I mean, you won't have to set a friggin' reminder HOURS before Shabbat comes in to plug the damn urn.
Classic Kitchen is big on safety, too. For the European folks reading this (Amen V'Amen is getting popular in the UK, lads!) – it's CE certified!
Why Not?
The biggest problem by far is that the manual pump is hard to press. You'll probably need a few presses to fill your cup of coffee, which becomes quite exhausting after a while.
Also, it has a strong metallic taste for the first few times you drink the water. Not to worry, though… it goes away eventually.
Tip: If you're REALLY impatient – you can give it a little wash with citric acid and hot water… that'll do the trick.
Pros
Beautiful nickel stainless steel design
1-year warranty + CE safety certification (for EU)
Doesn't require a Tevillah
Cons
The manual pump is a little hard to press
Metallic taste at the beginning
Our Favorite Urn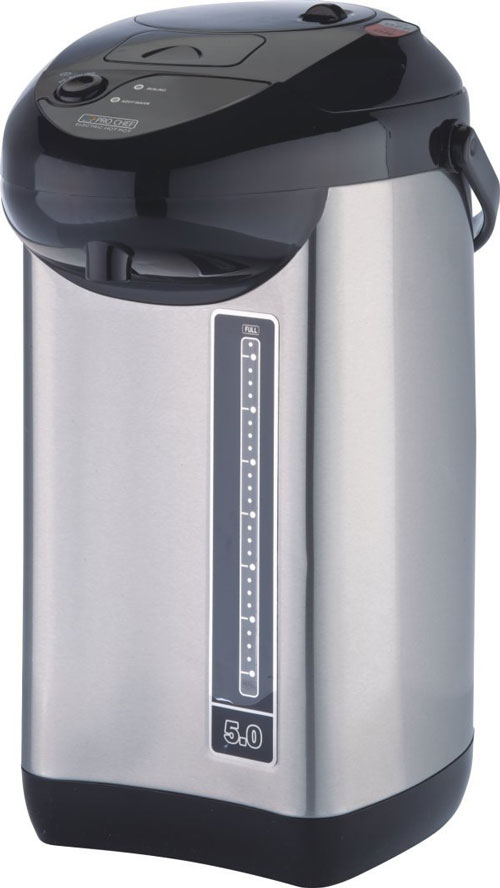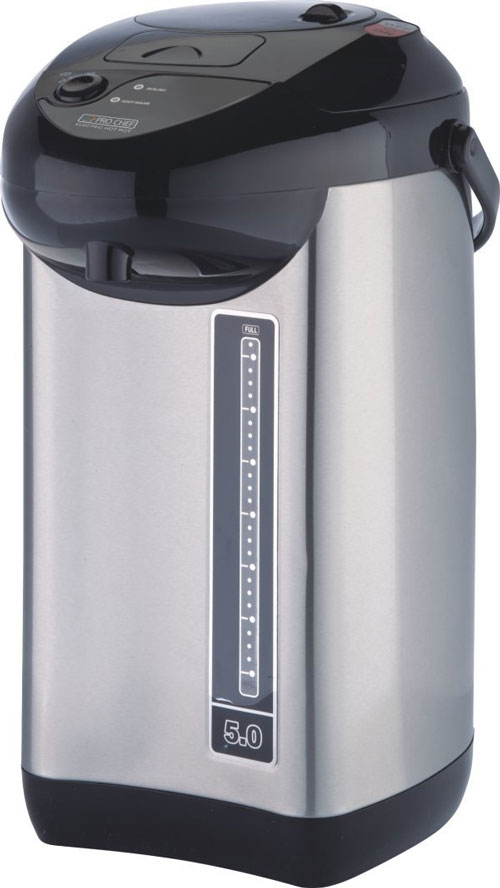 Why Should You Get it?
Pro Chef's 5-quart hot water urn looks fantastic and definitely does its job in a reliable way.
Like the others, it also has a solid stainless steel design (including the interior), so you won't taste the infamous "plastic water" taste.
A big benefit of Pro Chef's Shabbat hot water heater is its easy-to-press manual pump. You might be thinking: isn't that a given?
You'd think so, right?
Trust me, I've had my fair share of Shabbat urns… and let me tell ya – some of them suck so bad that you'll find it easier to get a secret out of a Mossad agent compared to dispensing water out of these sucky urns.
Luckily, that's not the case with Pro Chef. It dispenses like a champion, it's reliable and has a Hechsher.
So, press away, my friend!
Why Not?
The water indicator (the manometer) is difficult to spot, which is a pain when you want to find out how much water you have left.
Who is it For?
For those who like a hot cup of coffee or tea, without having to go through a strength workout to get it.
It's perfect if you're looking for a medium-sized hot water urn for your small household – whether yours or someone else's Jewish kitchen.
Pros
Manual & electronic safety locks
Easy-to-press manual pump
Very safe
Doesn't require a Tevillah
Cons
Water indicator tough to spot
The top lid is a bit rough (some might say it's an advantage)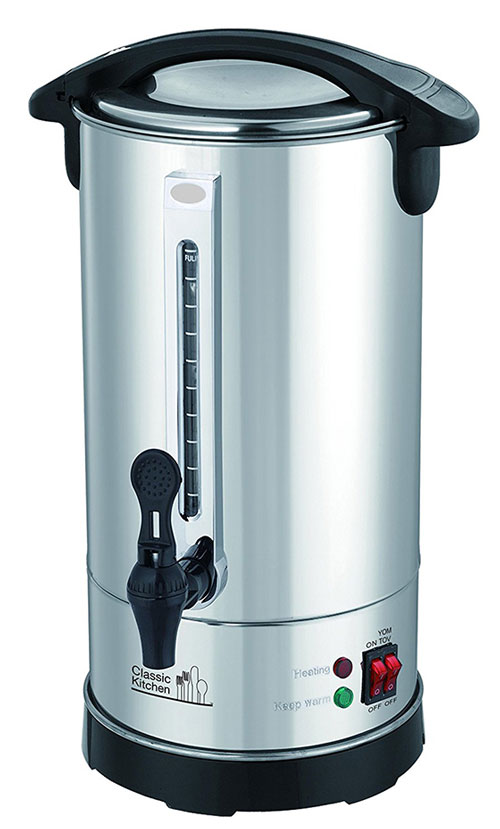 Why Should You Get it?
Let's start with the obvious reason first: it has enough capacity to serve 3 Orthodox families full of coffee and tea addicts, and you'll still have hot water left (I've seen it happen before).
Other than that, this Shabbat hot water dispenser is made from high-quality, stainless steel parts (no plastic parts) – so it doesn't peel off, and it sure as hell doesn't get that smelly plastic odor many cheaper hot water urns are cursed with.
Add the unique Shabbat & Yom Tov settings this urn comes with, and you get an excellent hot water dispenser (or "KumKum" in Hebrew) for Shabbos that doesn't even require a Tevillah.
Tip: Classic Kitchen also offers a 1-year warranty and a great customer service, which is a huge advantage.
Why Not?
Although I listed "expensive" as a con, at the end of the day – you pay for quality (and quantity), so I believe the price is justified.
One important point to keep in mind – even though it has a child lock top cover, there is no equivalent child lock for the spigot, so it's best to keep it away from children (preferably in a high place).
Who is it For?
For large Jewish families, especially if you're inviting many people over for Shabbat or holiday. This hot water dispenser has a huge capacity, enough for about 40 cups – so you should be fine.
That's what makes it a great gift for a Jewish family's housewarming party… particularly if it's a large family.
If you're a household full of heavy coffee or tea drinkers (I'm looking at you, Brittish folks), then this is hot water urn doesn't disappoint.
Pros
Huge capacity (40 cups)
Leak-proof tap for a continuous one-cup serving
Child lock top cover
CE certified (EU safety) + 1-year warranty
Shabbat + Yom Tov settings
Cons
Update: Turns out some of them start leaking over time!
Lid handle not stable
More expensive
Update: There has been some chatter recently – I've heard some people complain that their urn started leaking after a while, while others remain satisfied with theirs. If you rather not take that risk, then I recommend you choose one of the other urns on the list.
Top Budget Urn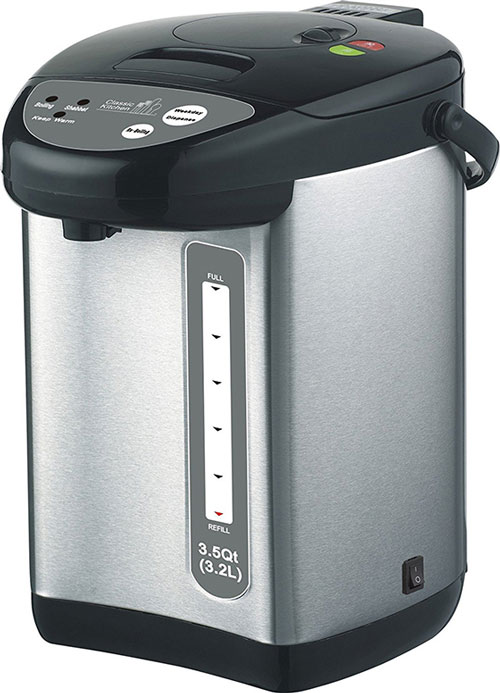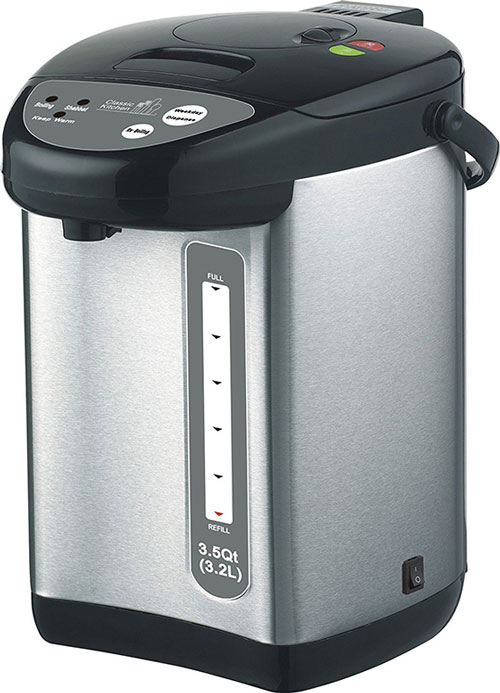 Why Should You Get it?
If you've got a small household with a few coffee-hungry (or tea-hungry… I'm not judging) folks – then this small Shabbos hot water dispenser is more than enough to fit your needs.
It has an auto reboil function made especially for refilling water on Yom Tov. And it doesn't require Tevillah – so you can just "plug and play" (and by play, I mean make a Cup O Joe of course!).
This Shabbos hot water urn is made by Classic Kitchen, who is well-known (and loved) by the Jewish community. Plus, they give you a 1-year warranty, so you're covered!
Why Not?
Don't get this electric Shabbat kettle if you've got a large family or even a medium-sized family. Its capacity (3.2L) is enough just for 13 cups or so. So, if you're a coffee/tea fanatic like me, it's barely enough for 2-3 people.
Who is it for?
If you're looking for a small hot water dispenser just for yourself or for a small group of people, then this is the only Shabbat hot water pot you should get.
It has a 3.2L capacity, which is enough for about 13 cups. That's more than enough for 1-2 coffee & tea addicts to last the Shabbat.
Pros
Auto reboil for Yom Tov refill
Small & compact
1-year warranty + CE safety certification (for EU)
Doesn't require Tevillah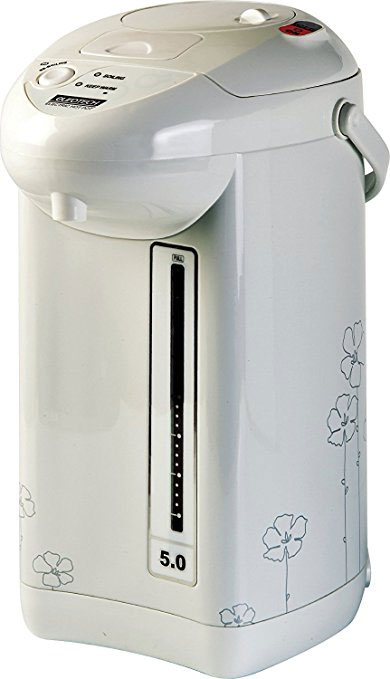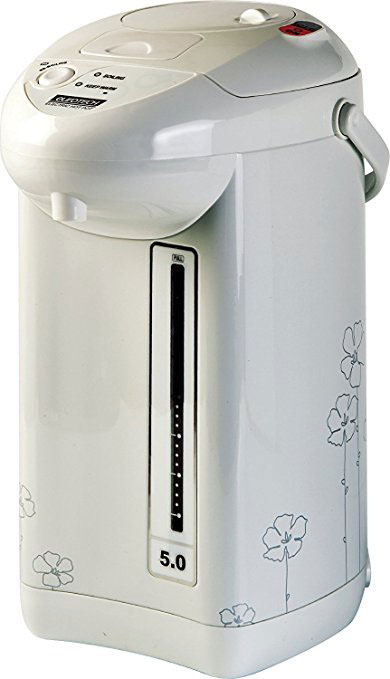 Why Should You Get it?
The Euro Tech team have outdone themselves with their hot water urn, that was created especially for Shabbat observers.
This Shabbos hot water dispenser can boil up to 5 quarts (almost 5 liters) of water, meaning you'll be able to fill about 20 cups, easily.
The cute flower design makes it a nice addition to add to your kitchen counter, and definitely a worthy winner of our "Best Value" award.
Why?
Does an amazing job heating your water up quickly
Has a clean white design, fancying up your kitchen
Very (very!) affordable
All you have to do is heat your water (which happens blazingly fast), turn on Shabbat mode – and you'll be enjoying your hot coffee/tea for the entire Shabbat.
Who is it For?
For anyone, anywhere, anytime.
Whether you're looking for a hot water dispenser for Shabbat, for Passover (Pesach) or any other Jewish holiday – it will definitely get the job done.
It's great for your home, office, dorm, garden, room… it will serve you hot water and look very pretty while doing so.
Pros
Heats up very quickly
Very quiet
One pump fills an entire cup (no multiple presses needed)
Cheaper than other brands
Cons
Water evaporates rather quickly when you leave it on for a few days
Needs some force to dispense water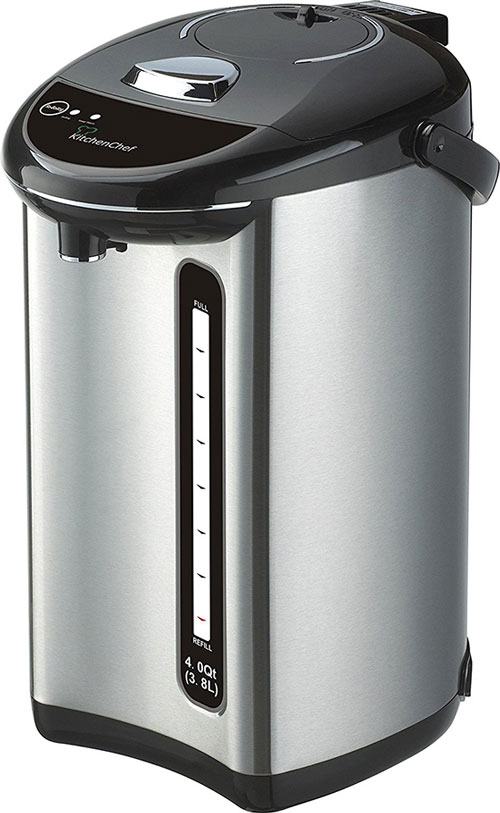 Why Should You Get it?
This stainless-steel Shabbat kettle is a bit bigger than the previous one by Classic Kitchen, so it might be just what you're looking for if you're a family of 3-4 coffee/tea drinkers.
It's also the cheapest Shabbat hot water pot on this list.
Why Not?
It has only a manual hot water pump, which is a pain if you plan to use it for the rest of the week as well.
Also, the cover is not removable, so emptying this Shabbat kettle can be a bit challenging.
Who is it for?
If the price is your only important factor, then this is the cheapest Shabbos hot water dispenser you can probably find.
Cons
Only has a manual pump
The cover is not removable
Top Coffee Urn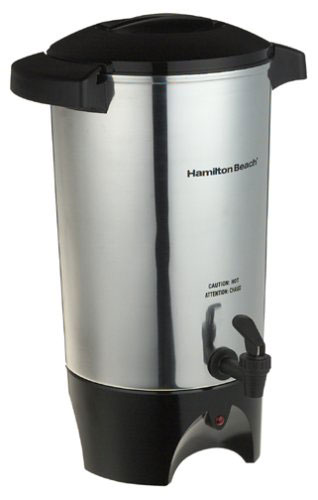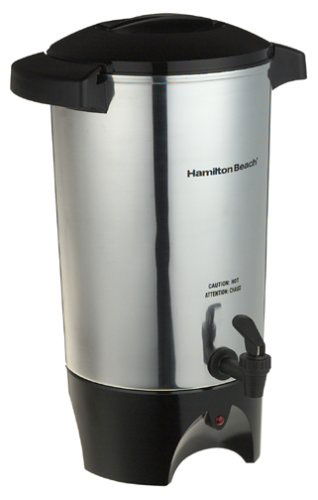 Why Should You Get it?
At first, I wasn't planning to include a coffee urn on this list.
Why?
Well, because a Coffee urn isn't a hot water urn in the full sense of the word. It's mostly used for coffee (sometimes tea), not necessarily for hot water.
But because it can be used as a hot water urn, and after receiving a LOT of questions from Amen V'Amen readers, I finally decided to include my favorite coffee urn. Incidentally, it's the coffee urn I use myself (and absolutely love!).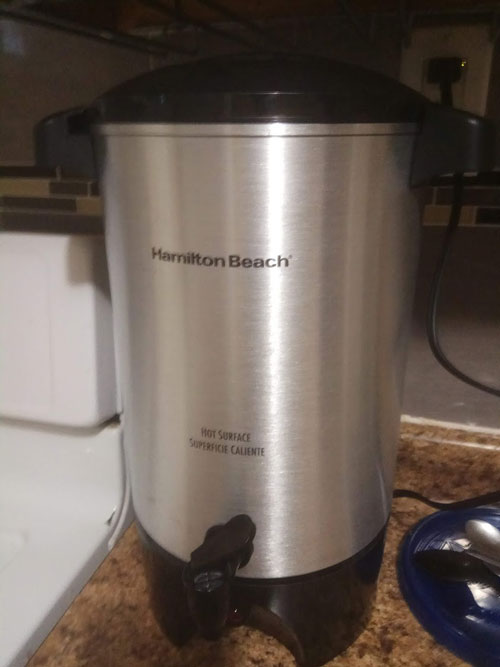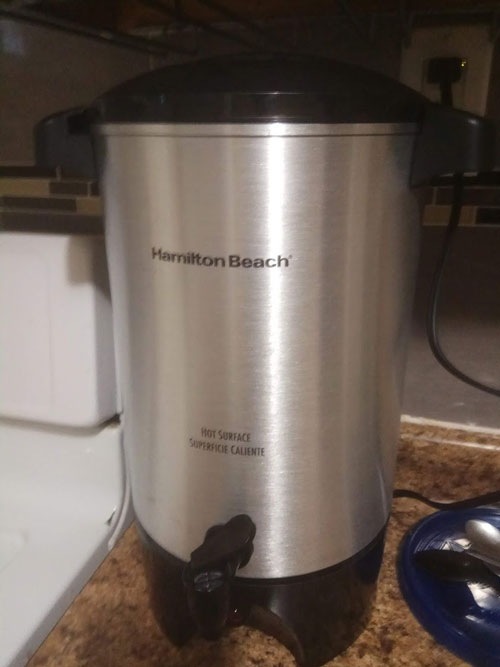 Hamilton Beach's coffee urn can brew pretty much anything: from Starbucks coffee, Trader Joe's ground coffee, all the way up to your favorite premium Italian coffee (I've tried it all).
It brews pretty fast – typically around 1 minute per cup. So if you fill it to the 15 cup mark, it'll take approximately 15 minutes to brew.
Just "set it and forget it" an hour or two before Shabbat comes in and carry on with your Shabbat cooking.
Why Not?
The spigot is annoyingly low. I constantly have to bend my cup to make it fit.
If you have a tall, bucket-sized coffee mug – bad news, it probably won't fit.
Who is it for?
Coffee snobs!
Just kidding…
This multi-purpose urn is great option if you like variety. On one Shabbat, you could brew your premium Italian coffee, and the next week you could just remove the coffee filter and use it as a regular hot water urn.
The choice is yours!
Pros
Makes up to 42 cups – great for large families or social events
Brews fast
Lasts for a long time
Great value for money
Cons
The spigot is too low – problematic for big coffee mugs
No insulation (exterior gets very hot)
Final Verdict
Let's have a big round of applause for our winners – the top hot water urns for Shabbat:
Top Shabbos Urn: Chefman's Shabbos hot water pot is the clear winner here. The durability, reliability, safety and of course the cheap price make this water dispenser a bargain and simply a must-have in any Jewish kitchen, and a clear winner of our Best hot water urn award.
Our Favorite Urn: Pro Chef's urn wins our favorite Shabbat hot water urn award. I really had a hard time finding any real "problems" with this one (yes, the water indicator is a bit annoying, but let's not be picky here). Pro Chef's water pot is literally "plug and play". Any Jewish family, regardless of their religious level, can simply plug it in and start using it. No special cleaning, no Tevillah, no nothing. How great is that?
Top Budget Urn: Classic Kitchen is one of the top hot water urn brands out there, and this little beast is a perfect example of why. Inexpensive, very professionally made and lasts for a long time. Plus, you can use it to refill and reboil water on Yom Tov – Yep – hot coffee & tea on holidays!
Top Coffee Urn: The true beauty of Hamilton Beach's coffee urn is that it's multi-purpose; you can use it as a coffee urn, tea urn or hot water urn. The choice is yours… Now that's true democracy! And the best of all? It's cheaper than most Shabbat hot water urns.
Conclusion
The conclusion is that you can now relax and enjoy a hot cup of coffee on Shabbat. If that's not true freedom, I don't know what is.
Simply turn on the urn before Shabbat comes in (make sure to leave enough time for it to boil), heat up something yummy on the Shabbat hot plate – and enjoy a peaceful Shabbos!
Shabbat Shalom 🙂
P.S: Leave a comment below and let me know which Shabbat urn you chose, or if you'd like to invite me for a hot cup of coffee from your new urn 🙂