Your son's Bar Mitzvah is approaching.
Let me guess – you want your guests to have a blast and remember this Bar Mitzvah party for a long time…
And how do you do that?
You give them cool Bar Mitzvah party favors & cool giveaways of course.
Trust me,  when you'll send them home with these amazing souvenirs, they won't forget your party for a very long time…
Best Bar Mitzvah Favors
Every bar mitzvah party favor on this article is great and deserves a spot on this list.
But what are the best bar mitzvah favors you can give at your bar mitzvah party?
After all, your guests probably brought you some amazing Bar Mitzvah gifts, so you definitely want to return a favor.
The favors in this table are the ones that really caught our attention, and deserve the badge of giveaways with the most "swag".
Bar Mitzvah Candy & Sweets Favors
How else can you satisfy your guest's sugar craving?
With candy & sweets of course.
Don't worry, you won't be paying the dentist bill…
Rustic Country and Black Tie Affair Jelly Belly Tins
Top Candy Favor
We're starting off this sweet category with a sweet treat: elegant rustic country Jelly Belly candy tins.
These Jelly Belly candies are sugar-free, Kosher and soy free… so it's definitely a healthier alternative your guests will be happy to eat, and not visit the dentist the week after.
Not only are these candy tins sweet, they're also very elegant looking (more than the other candy favors on here). This means the adults in your Bar Mitzvah party will feel no shame walking around with these delicious treats in their hands. 
A great way to satisfy your guests and make them tell their friends all about your sweet (literally) event.
Music in the Air Bar Mitzvah Glass Candy Jar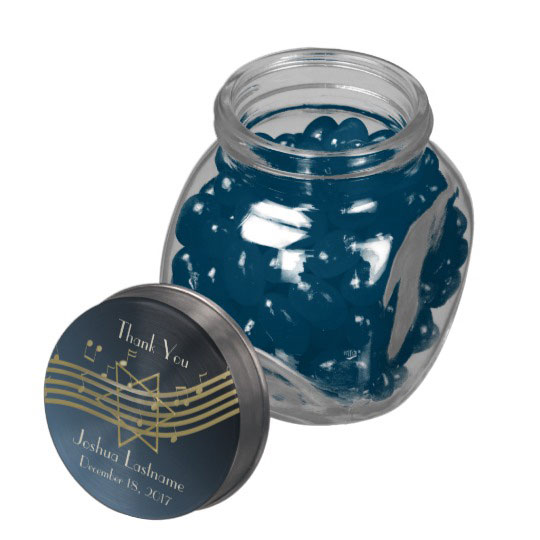 Want to wow your guests?
I mean really make their jaws drop?
These 6-ounce Jelly Belly jars will definitely do the trick.
You can choose to feature mints or Jelly Belly flavors, and fully customize & design your own jar lid (just like in the image).
And since their job is already dropped, then they can enjoy these delicious treats at your party, and probably for days after.
Keep in mind though, although these Bar Mitzvah candy jars are great bar mitzvah giveaways, it might get a little pricey to buy a ton of these tins, so it's best to get these if you're having a smaller party, or order them sparingly.
Jewish Fortune Cookies for Bar Mitzvah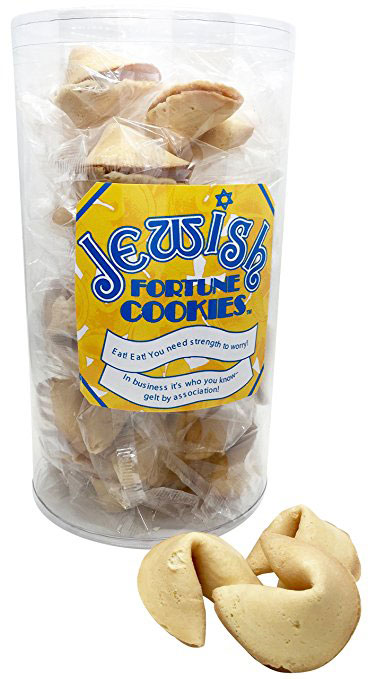 I bet you didn't know there's such a thing as Jewish fortune cookies. 
These (slightly) sweet Kosher cookies are a wonderful way to decorate your guest's tables on your upcoming Bar Mitzvah party. 
The cookies your guests will open include over 100 different Jewish proverbs, authentic folk-sayings, and witty Jewish jokes (don't worry, they're appropriate and hilarious).
For a very cheap price, you're getting a delicious, fun & hilarious conversational piece your guests will remember for a long time.
Blue Wave Star of David Jelly Belly Candy Tins
Closing off the Jewish candy favors category with yet another sweet treat all the kids (and adults) will love: Blue wave Star of David candy tins.
Just like the previous Jelly Belly tins I mentioned, these Kosher sweets are sugar-free, gluten free and soy free – so no parent will hunt you down later to pay his child's dentist or dietician fees. 
And of course, it's beautifully designed and you can personalize it for your son's special event.
Bar Mitzvah Chocolate Favors
Everyone loves chocolate.
Doesn't matter if your guests are 13-year-old kids or 50-year-old adults. They would love to get some tasty Bar Mitzvah chocolate favors they can munch on and take home.
Let's look at the best chocolate favors out there to make your party sweet.
Bar Mitzvah Star of David Elegance Photo Gift – 45 Piece Box of Chocolates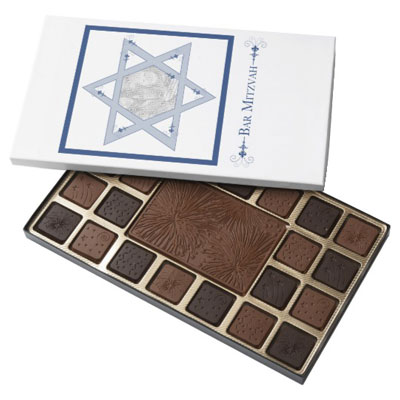 Let's face it. We're talking about 12 & 13-year-olds.
You want them to have fun at your son's Bar Mitzvah?
Then give them what they want.
What do they want, you ask?
C'mon, you know the answer to that – chocolate of course.
And what happens when you personalize a box filled with 100% premium Belgian chocolate, personalized for your 13-year-old Bar Mitzvah? You'll get a bunch of happy guests (they just had Belgian chocolate, no wonder they're happy), a sweet Bar Mitzvah party and an excited young Bar Mitzvah.
Blue Bar Mitzvah Star of David Oreos Party Favors
Top Chocolate Favor
Who doesn't love Oreos?
Doesn't matter if it's kids, men, women, aliens… everyone loves Oreos.
You know what's even cooler?
Custom Oreo pops, made especially for your Bar Mitzvah.
These Oreos pops are:
Covered in white or milk chocolate (your choice)
Decorated with an image of your choice
Sprinkled in your choice of 5 colors
Individually wrapped in cello bags
Designed & customized with edible frosting sheets (FDA approved)
A delicious, sweet & quite amazing Bar Mitzvah favor idea.
Blue Star of David Bar Mitzvah Party Cake Pops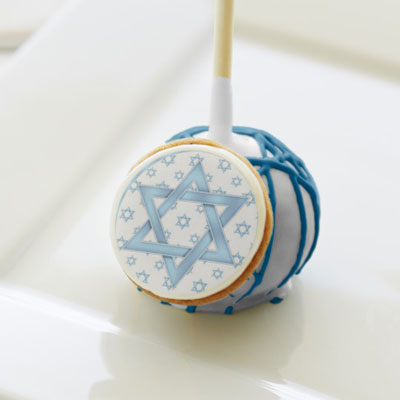 No party is complete without delicious party cake pops.
These delicious chocolate treats are handmade and available in 3 different flavors:
chocolate
vanilla
red velvet
And I haven't even begun talking about the icing on the cake pops, which is the icing on the cake (get it?). The flavors available for the icing include milk chocolate, dark chocolate & white chocolate. 
The icing is also fully customizable: you can choose your own image, or choose to keep the lovely Star of David you see on the image…it is a Bar Mitzvah after all. 
Want to get our brand new Jewish gift guides straight to your email inbox?
Bar Mitzvah Clothing & Dance Floor Favors
There are 2 ways to get your guests off their butts and onto the dance floor:
Alcohol
Cool dance floor favors.
Alcohol is more expensive, and obviously not suitable for the kids.
So clothing & dance floor favors it is!
Custom Bar Mitzvah T-Shirt Favors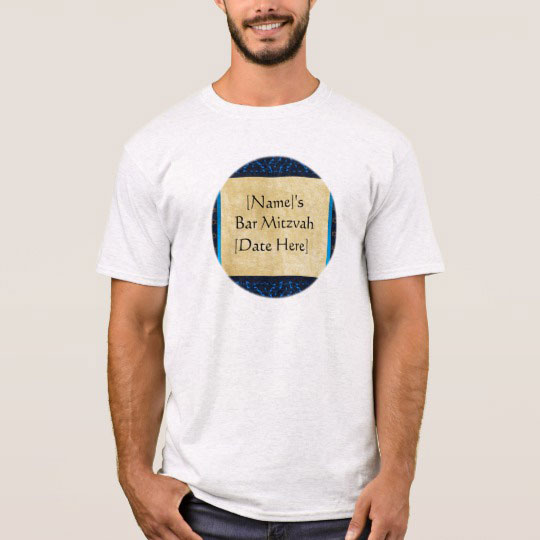 This is kind of obvious, isn't it?
You've seen it before: everyone is on the dancefloor having a good time, then all of a sudden everyone around you is wearing a cool Bar Mitzvah T-shirt, and everyone wants to wear one as well.
Well, now it's your turn to give those T-shirts away.
This bar mitzvah T-shirt favor is comfortable (100% cotton), casual & loose fitting, meaning it's comfortable to dance around in when you're drunk.
What are you waiting for? Go customize the style & colors and order a bunch for your son's bar mitzvah!
Personalized Bar Mitzvah Socks Favors
Top Dancefloor Favor
Want your guests to dance their socks off?
Why do it with boring socks, when you can do it with these cute personalized Bar Mitzvah socks?
Trust me, after you'll hand these socks to your guests, they won't need any alcohol to go crazy on the dancefloor.
Personalized Challah Bread Bar Mitzvah Party Favor Aviator Sunglasses
You can go the T-shirt route, which is great.
But if you want a really hilarious party swag everyone will remember, then these personalized Challah bread sunglasses are a great source of entertainment.
Just imagine your guests dancing on the dance floor while wearing sunglasses with a huge challah board on their eyes.
Tip: This goes incredibly well the custom Bar Mitzvah T-shirt favor.
Unique Bar Mitzvah Party Favors
Sure, you can go with any of the traditional Jewish bar mitzvah party favors you've seen before.
But if you want your son's bar mitzvah to be remembered, then you need to give away favors that are a bit more unique & unusual.
What's unique, you ask? Keep reading…
Star of David Bar Mitzvah Playing Cards
Top Unique Favor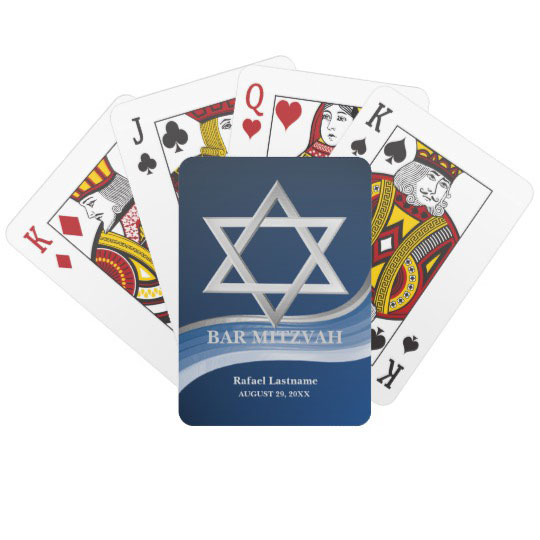 Sure, you can go the traditional bar mitzvah accessories route and choose one of the common bar mitzvah guest gifts.
But if you're looking for something more unique, fun & memorable, then these Star of David bar mitzvah playing cards are a great giveaway item for your guests.
It's no surprise that this gift has become so popular in the past few years, it's just an awesome bar mitzvah favor.
Dark Blue Bar Mitzvah Personalized Water Bottle
Drinking water is important.
Everyone would benefit if they stay hydrated.
And you can help!
How?
By giving away personalized Bar Mitzvah water bottles on your son's Bar Mitzvah.
Now that's a great way your guests will remember your son's bar mitzvah…
Plus, these bottles are fully customizable, so design away! 
Blue and Gray Chevron Pattern Bar Mitzvah Coffee Mug
Your guests will be tired the day after your bar mitzvah party.
How will they function at work?
They could definitely use a cup of coffee…
Well, then why not give them a hand and give them a great personalized Bar Mitzvah coffee mug then?
Makes sense right?
Rock Star Bar Mitzvah Party Favor Custom Name Date Poker Chips Set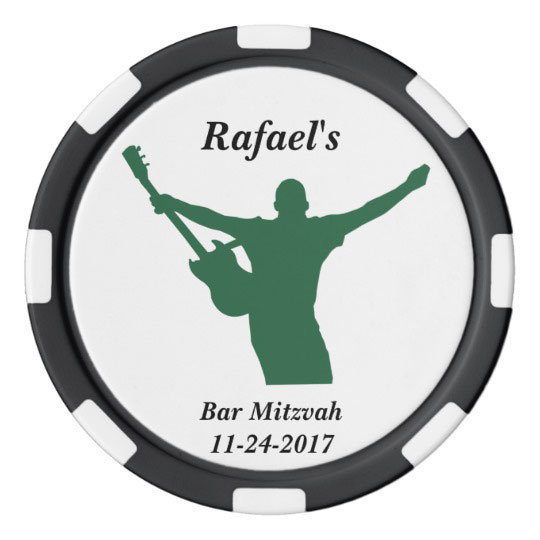 We're on a roll.
Next in line in our cool Bar Mitzvah party favor ideas: a personalized Bar Mitzvah party poker chips set.
Don't worry, your guests won't start gambling in the middle of the party or something, even though these chips actually look like genuine casino chips.
Customize the chips with any other image you prefer, if the rock star isn't your (or your son's ) cup of tea.
Baseball Themed Bar Mitzvah Bicycle Playing Cards
Another set of playing cards?!
Well, if your son is a baseball fanatic, then he & and his friends will appreciate these cool baseball-themed playing cards – a fantastic bar mitzvah favor for boys.
Trust me, it will make him more popular among his friends.
Cheap Bar Mitzvah Favors
Not everyone can afford to spend a ton of money on bar mitzvah party favors for your guests.
I get it, trust me.
That's why I created this section of inexpensive & more affordable Bar Mitzvah favors, so you won't break the bank trying to satisfy your guests.
Glass Photo Coasters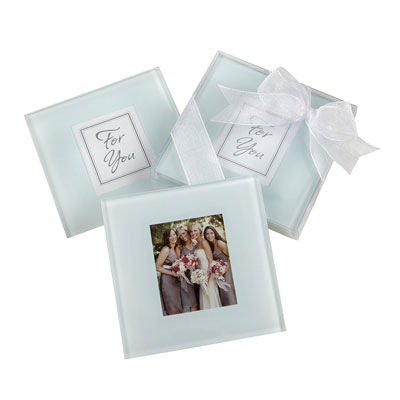 How would you like a picture frame as a bar mitzvah favor?
What about a coaster? Or a table decoration?
How about all three?
That's exactly what you get with these beautiful glass photo coasters.
You get a coaster, a picture frame, a table decoration, and one hell of a Bar Mitzvah photo favor for your guests.
And you can get creative with it too: include your guest's picture to indicate assigned seating, or have a picture of your son on it. 
Custom Bar Mitzvah Key Chain Favors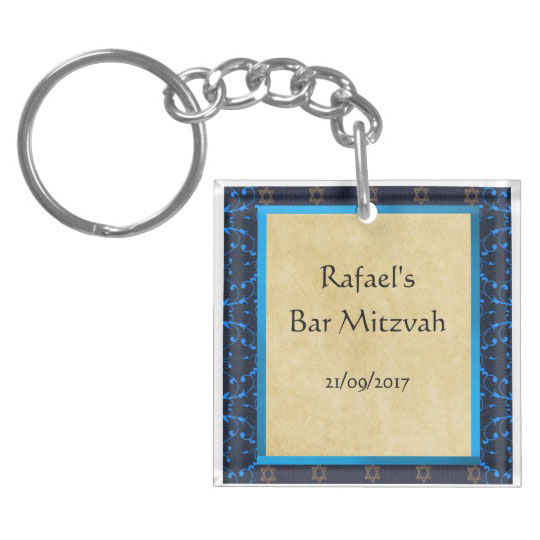 A keychain is a classic keepsake for any Jewish occasion, a Bar Mitzvah in particular.
We carry our keychains everywhere we go, so when you give away your son's personalized Bar Mitzvah keychain to your guests, they will carry it around with them, sometimes for years.
It's always cool to see your friends & family long after the Bar Mitzvah, and all of a sudden notice the keychain you gifted them in your child's Bar Mitzvah. 
Bar Mitzvah Photo Booth Props
Top Cheap Favor
These photo booth props are a perfect entertainment gift for the young fellas in your Bar Mitzvah party.
It includes hilarious props and DIY kits the young kids (and adults) can play with, take fun colorful photos & create a keepsake memory they can take home and play with.
This gift is the kind of gift that will make your guests remember your son's awesome Bar Mitzvah party.
Bar Mitzvah Favor Labels & Tags
You decided to give away cool bar mitzvah treats & goodies.
Now how do you personalize them?
All you need is some labels, tags, and stickers, and you're all set.
Let's look at a few of these cool labels, shall we?
Black Blue Bar Mitzvah Thank You Favor Tag
Top Label Favor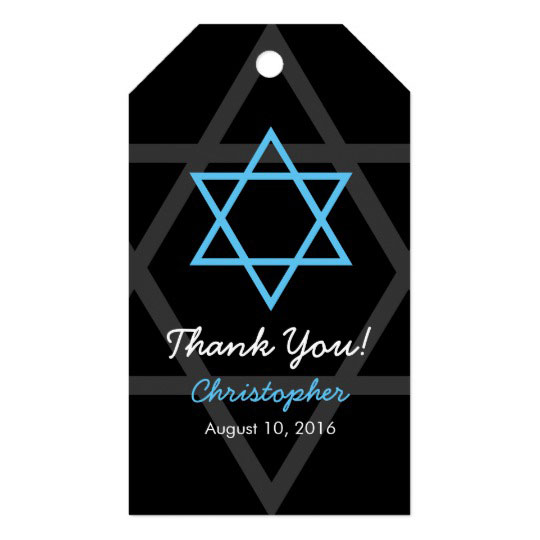 Doesn't matter which favor bag you use for your favor gifts, it's always a nice touch to add a favor tag to your favor bags.
And since you want to add a real personalized touch, then it only makes sense to personalize the favor tag.
This black & blue star of David tag is unique, personalized & elegant. It definitely adds a nice touch to your guest's Bar Mitzvah giveaways.
Andaz Press Personalized Chocolate Drop Labels Trio for Bar Mitzvah
You got your guests some chocolates or Hershey's Kisses.
That's nice, but a little boring. We can do much better. After all, it's your son's Bar Mitzvah – so let's go the extra mile for him!
So, Houston, we have a problem:
How do we transform boring chocolate drops into cool chocolates your guests will love?
The answer – personalize em'!
These personalized chocolate drop labels will transform every piece of chocolate into a cool Bar Mitzvah favor your guests will enjoy eating and unwrapping.
Vintage Baseball Classic Round Sticker
Stickers! Baseball stickers everywhere!
If your son is a baseball fanatic, then he definitely would love to give away a vintage baseball sticker with a personalized message to his guests.
Add them to your favor jars, favor bags or anywhere else you can think of. That'll bring a smile on your guest's faces.
Bar Mitzvah Favor Boxes & Goodie Bags
You chose your bar mitzvah favors you'll give your guests.
Now all you need is to wrap all of them in nice little favor boxes & candy bags.
Now don't underestimate the favor bags & boxes… you know what they say about the first impression, right?
If you're doing it, you better do it right all the way. That includes choosing cool & personalized favor boxes and goodie bags.
Dark Blue Bar Mitzvah Personalized Favor Bag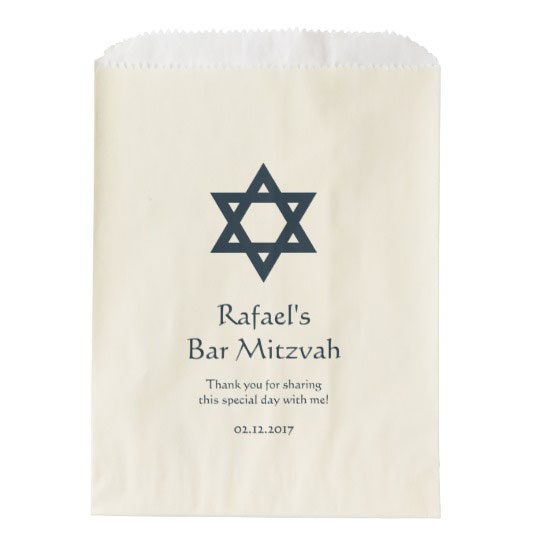 The packaging is your gift's first impression.
So, whatever Bar Mitzvah favors ideas choose to give to your guests, you need to make sure the packaging is at least as unique as the favors themselves.
How do you do that? With this personalized Bar Mitzvah favor bag.
Fully customizable to your taste and 100% food safe, these personalized favor bags will be a beautiful addition to your son's Bar Mitzvah supplies. 
Note: Sold in sets of 50.
Bar-Bat Mitzvah Torah on Blue Marble Personalized Favor Box
Top Bar Mitzvah Favor Box
You need a favor box…
And as we agreed earlier, it has to be unique.
But here's the thing: this is still a Bar Mitzvah, where your son accepts Torah & Mitzvoth and reads the Torah for the very first time.
So, you might as well design your favor boxes with a gorgeous Torah, decorated in blue velvet & gold on a background of cobalt blue marble.
You can design the box to your liking & personalize it to your son's Bar Mitzvah party, just like I did for my fake Bar Mitzvah in the picture above.
Star of David Favor Box
A favor box filled with stars of David?
This Bar Mitzvah party box will make your guests feel like they're in Israel.
Want to give away modest & inexpensive bar mitzvah favors? Then this is the favor box to do so. It's small & cute, which means you won't be spending a ton of money filling every one of it with goodies. 
Conclusion
I hope I was able to help you find some cool Bar Mitzvah favor ideas for your son's Bar Mitzvah.
It's your son's once in a lifetime event…hopefully, I was able to make a small contribution to it.
I'm curious to know which Bar Mitzvah favors ideas you liked best, and which ones you chose for your son's special day.
Feel free to let me know in the comments 🙂
Mazel Tov!