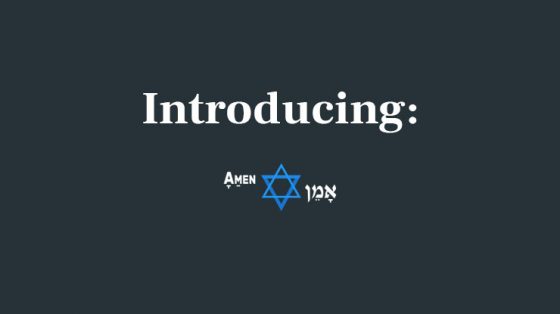 Shalom there 👋!
I'm Rafael, and I'll be your host this evening!
Just kidding (don't worry, you won't have to leave a tip before you leave)…
Since you're here – I assume you'd love to learn more about Amen V'Amen …
You're a curious fella, aren't you? Great, I knew I liked you from the moment you stepped into my website!
Now that we've got our formalities behind us, it's my pleasure to introduce you to Amen V'Amen 🙂
What is Amen V'Amen?
The short answer? Amen V'Amen is one of the world's leading Jewish lifestyle magazines. 
The long(er) answer?
Amen V'Amen is the go-to place for everything related to Judaism. And by everything, I mean EVERYTHING:
You want the details? 
Anything related to Jewish traditions, culture, Torah, Kosher food, Kosher (and Israeli) products, health, spirituality, travel, history, and the future – you bet we cover it (or will cover it)!
In other words – if it's Jewish, it's "Kosher"… and if it's "Kosher", it's Jewish! (wait, that doesn't make sense)
Who's behind Amen V'Amen (and why did we start it)?
You've already forgotten my name? How rude…
Hi again 👋, I'm Rafael – the founder and owner of Amen V'Amen.
I started Amen V'Amen a few years ago after a casual conversation I had with 2 friends (Rebecca and Jonathan: say hello!).
We talked about life, work, the struggles of moving and living in Israel (some of us were in the US back then) and how hard it is to find useful, relevant and trustworthy answers to so many Jewish-related questions we're all facing every day…
Everything from the deep, religious and philosophical questions (you know, "the meaning of life" type stuff), to the simple, day to day stuff (like what cool gifts should we give a Bar Mitzvah?).
The world is moving so fast. It would be nice to keep up and not stay behind…
That's when the three of us decided: "Screw it, let's start a website!".
Poof! One day later (or was it two?) – Amen V'Amen was born!
Who is Amen V Amen for?
You're Jewish? It's for you!
You're Jew-ish? It's for you!
You're just a curious fella interested in anything related to Judaism? Guess what, it's for you!
Doesn't matter if you're Orthodox, conservative, reform, secular, non-Jew, boy, girl, alien… if you're breathing – then Mazel Tov! 
That means you're alive
You're invited to Amen V'Amen!
Think of Amen V'Amen as your digital tent: we're Abraham (the host), our website is the "tent", and you're the lovely angel dropping by for a visit! (some of you are either going 😁 or 🤦🏻‍♀️ right now).
What can you do now?
Look, I'm not your mother… I'm not going to tell you what to do (you won't listen to me anyway… kids these days).
In fact, I'm going to allow you to have your friends over (no alcohol or Hora dancing after 10 pm)! 
If you know someone who you think will love and/or benefit from Amen V'Amen – feel free to invite them over. Our digital community already has tens of thousands of people visiting our site, reading our emails and following our social media posts every month (and they're staying here, which tells me they kind of like it here)… so I'm sure you and your friends will like it here!
Now, I invite you to:
1. Bookmark our website
2. Join our email list: 
3. Follow us on your favorite social media sites:
Contact Us
Believe it or not – many of the things we write about come directly from our reader's suggestions.
So let us know what's on your mind: what questions do you have?
What challenges are you going through?
What things would you like to learn?
We're all ears, baby…
Or, if you'd like to write your own thoughts on Amen V'Amen – we'd love to hear from you as well!
If you'd like to contribute to Amen V'Amen – contact us and let us know what you have in mind. 
Toda Raba 🙂
The Amen V'Amen squad.