20+ Best Bat Mitzvah Gift Ideas for a Jewish Young Woman (2018)
Bat Mitzvah – the young Jewish girl's coming of age – the day she transforms from a "young girl" into a "young woman".
Her once in a lifetime celebration she won't forget for the rest of her life…
Now, if you're reading this, then I bet you're wondering:
"What's an appropriate Bat Mitzvah gift I can get her on her big night?"
…Forget about the boring presents most guests will bring (c'mon, you know its true).
…Forget about giving her money in multiples of 18.
…Forget about the "just choose something and get it over with" attitude
Instead, why not get her a Bat Mitzvah present she'll remember for MANY years to come?
That's exactly what I'll help you find in this gift guide…
Top Bat Mitzvah Gifts
Not all Bat Mitzvah gift ideas are created equal…
Some gifts simply stand out from the rest… so we decided to give them an award!
(Spoiler Alert) Allow me to present:  the top, award-winning Bat Mitzvah gifts from each category.
Bat Mitzvah Jewelry Gifts
Every girl appreciates a nice piece of jewelry. Not to mention if the jewelry you're getting her also happens to be unique.
Here's the problem with Jewelry though: There are a TON of options… where to begin?
No worries, I've done the "heavy lifting" for you, and chose some of the best Bat Mitzvah Jewelry gifts out there…
Tree of Life Necklace
Top Jewelry Gift
Why choose between a Bat Mitzvah Jewelry gift and a traditional Jewish gift, when you can have both?
In the Kabbalah, the Tree of Life is a symbol of responsibility, maturity and the eternity of the Torah.
Seems quite appropriate, doesn't it?
This gorgeous Tree of Life necklace is both a beautiful & meaningful (and affordable) way to give the young Bat Mitzvah a gift she'll proudly wear for MANY years to come.
Plus, it's 100% eco-friendly, made from recycled sterling silver, so you get to preserve the environment while you're at it.
14k Yellow Gold Star of David Necklace + 
24k Gold 
Shema Yisrael Necklace
Here's a riddle:
What happens when you combine a gold Star of David, Shema Yisrael, and a stunning 24K gold necklace with Swarovski crystal?
The answer: you get the ultimate Bat Mitzvah necklace.
What better way to remind the young girl to recite the Shema prayer, now that she's arrived at the age of Mitzvot, than with the Shema Yisrael prayer, inscribed inside a gold Star of David?
A brilliant piece of Jewish Jewelry any young Jewish woman will be lucky to have.
Blue Crystal Star of David Necklace with Gold Filled Wire Wrapping
Ever heard the saying: "Put your money where your mouth is?"
Well, a lot of people have done just that with this sensational blue crystal necklace.
This bestselling Star of David necklace is made of sparkling blue crystal, holding a gold filled Star of David, held in place by a gold wire wrapped around the Swarovski stone. 
It's unique. It's eye-catching, it's breathtaking… Everything a young Bat Mitzvah wants to get on her special day.
Silver Heart Bracelet With Diamond – Shema Yisrael
Looking to get the special young girl something from the heart? Then why not simply get her a silver heart?
This wonderful silver heart combines a new & fresh style with classic Jewish elements. The beautiful heart is filled with a unique writing of "Shema Yisrael" (the famous Jewish prayer), separated by a shiny & genuine 1-point diamond.
This is the perfect Bat Mitzvah gift if you want to get the young woman a gift from your heart, to her heart, using a silver heart (that's a lot of hearts).
Woman of Valor: Gold and Silver Pomegranates Ring
Enough with the necklaces… there are other types of Jewelry gifts for a Bat Mitzvah besides just necklaces.
Like what? Like rings.
But not just any ring… a Woman of Valor (Eishet Chayil) ring.
In Proverbs, King Solomon wrote about the Eishet Chayil: 
"She is the Eishet Chayil, the Woman of Valor, who sets the tone of love, spirituality and personal growth for all those around her. To know her is to appreciate her strength and talents…"
If you're looking for an emotional & unique Bat Mitzvah gift, then this handmade ring, with a 9K gold emblem and a decorative pomegranate – is a great option.
Silver and Roman Glass Circle Earrings
We had necklaces… we had rings…
Now it's time to complete the cycle with earrings!
Forget Jewish women, and forget a Bat Mitzvah… just as a woman – I would love to wear these beautiful silver & Roman glass circle earrings any day of the week.
So for a young Bat Mitzvah? That's just a no-brainer…
Traditional Bat Mitzvah Gifts (Judaica)
We can't talk about Bat Mitzvah gift ideas and not mention some good-old Judaica gifts, now can we? (by the way, it's pronounced "bat mitzvah", not "bah mitzvah")
A traditional Bat Mitzvah gift is a meaningful & proper way to symbolize the young girl's coming of age (Mitzvot).
Thankfully, our Jewish tradition is filled with amazing spiritual themes & Judaica items – making it a natural fit for our young girl's Bat Mitzvah.
Nadav Art Sterling Silver Kiddush Cup – Good Girl
Top Traditional Gift
When you hear the word Judaica, one of the first things that come to mind is a Kiddush cup.
And it's no different when you're talking about a Judaica Bat Mitzvah gift.
But make no mistake – this is no ordinary Kiddush cup… 
This gorgeous silver Kiddush cup was made specifically for a Bat Mitzvah (and is custom-made for your specific order).
The inside of the cup is coated with a layer of gold, ensuring the wine tastes pure and fresh, while the outside of the cup has "Good Girl" (Hebrew) written on a classic smooth frame.
Painted Stainless Steel Challah Board: Pomegranates (Lily Art)
After the young woman lights the Shabbat candles, comes the time for Kiddush & Hamotzi.
And what do you need for Hamotzi? Exactly, a challah board! 
This unique stainless steel challah board features quite an artistic & elegant pomegranate theme, decorated with a beautiful, young & colorful glass design.
Below this magnificent design is the words "Shabbat Kodesh" in Hebrew text, which translates into "Holy Sabbath".
This traditional Bat Mitzvah gift will make every 12-year-old Jewish girl wait for their new favorite part of the Sabbath: Hamotzi.
Tree of Life Tzedakah Box
Gifting a Tree of Life Tzedakah box is a very popular & traditional Bat Mitzvah gift. It represents the importance of Tzedakah and giving to those in need.
This beautiful Tree of Life Tzedakah box is made of brass plated with chrome nickel, so the young woman can proudly display it in her room in your house and be constantly reminded of this important Mitzvah…
Painted Glass Candlesticks with Tray & Match Box: Pomegranates
Now that the young woman can welcome the Sabbath, it's your job to help her do it in style. 
How? 
With these wonderful (and very affordable) painted glass Shabbat candlesticks.
The design of the glass columns & matching tray is a unique mixture of colored and metal pigments, combined with stylish pomegranates and gorgeous blue flowers, and the words "Shabbat Kodesh" engraved in a beautiful metal plaque.
The young Bat Mitzvah will welcome many Shabbat & Jewish holidays in the next couple of years… wouldn't it be great if she does it with these beautiful candlesticks?
Personalized Bat Mitzvah Gifts
You know the young girl, right? Do you want to show her how much she means to you, right?
The best way to express it is to get her something from the heart. Lovely personalized messages on heart-throbbing products is a magnificent way to express your love to the lovely lady of the hour.
Let's have a look at a few cool & personalized Bat Mitzvah gift ideas, shall we…
14K Yellow Gold Double Thickness Name Necklace in Hebrew (Modern)
The girl's name, in Hebrew, made from 14K yellow gold?
Now that's one hell of a Bat Mitzvah gift…
There's a reason that name necklaces are such popular Bnot Mitzvah gifts, and the answer lies in this necklace: It's beautiful…it's memorable…it's exciting.
Trust me, and the rest of the Jewish guests who bought this gorgeous name necklace for a young Bat Mitzvah: this gift is hard to beat.
Sterling Silver Hebrew Name Bracelet (Torah Script Font)
Top Personalized Gift
We had a personalized necklace, now's the time for a personalized bracelet.
This beautiful contemporary piece of jewelry can be personalized with the Bat Mitzvah's Hebrew name, each letter on a separate 1 cm sterling silver disk, carefully written & handcrafted in a unique Torah-style script.
A perfect gift for a Bat Mitzvah girl.
Silver Star of David Bat Mitzvah Jewelry Box
Getting her one of the beautiful pieces of Jewelry from the Bat Mitzvah Jewelry gifts section?
Then your perfect Jewelry should go hand in hand with the perfect jewelry box.
This exquisite velvet lined silver Bat Mitzvah jewelry box displays a beautiful Star of David on the lid, along with a personalized message of your choosing – making it the perfect match for your jewelry gift (or any of her other Jewelry gifts she'll receive on her special day).
Bat Mitzvah Remembrance Plaque
This beautiful remembrance plaque is a great keepsake to help the young woman cherish her special bat mitzvah.
The design features the Star of David with a banner at the center used for personalizing the gift with the young girl's name. The top section reads "Mazel Tov On your Bat Mitzvah".  
Note: The image shows a Bar Mitzvah plaque, but there's also a personalized plaque for a Bat Mitzvah.
This beautiful plaque makes for a very unique & appropriate Bat Mitzvah gift the young woman will gladly display in her room.
Red Carpet Hollywood Bat Mitzvah Throw Pillow
Are you looking for something more casual to gift the Bat Mitzvah? Then a cool, personalized Bat Mitzvah throw pillow is a great option.
She can use it to decorate her bed, it will remind her of her Bat Mitzvah party for years, and she'll have something to throw at her brothers and sisters = WIN.
Tip: You can fully customize the message on the pillow for the young Bat Mitzvah's liking, as well as choose the size and fabric.
Cool & Popular Bat Mitzvah Gifts
With all the Jewish Gifts & traditions we wrote about above, we forgot one important thing:
Jewish or not, she's still a teenager. Which means she wants to have the coolest gadgets around.
So don't feel obliged to get her a Jewish/Israel-themed gift. Truth is, the simple, popular gifts work just as well, if not better… It's a perfectly valid option if you don't know the girl very well or you're just best friends with her parents.
Let's go over a few cool & appropriate Bat Mitzvah gift suggestions.
Beats Solo 3 Wireless On-Ear Headphones – Rose Gold
Top Popular Gift
Part of being a teenager is listening to a lot of music. And part of listening to music (as a teenager), is to listen in the best quality possible – while looking cool.
You probably realized I'm describing Beats headphones (by Dr. Dre) – hands down, the best headphones available today (and these are wireless too!). 
And with a beautiful rose gold design – you get one of the coolest Bat Mitzvah gifts any teenager, Jewish or not, would hope for.
Apple iPad Air 2
Who wouldn't love an iPad as a gift? This is an exciting gift to get at any age, any gender and on any occasion, which obviously makes it an amazing gift for a bat mitzvah girl.
The Bat Mitzvah's love & appreciation is guaranteed… (just make sure her parents approve beforehand)
Body Treat: Edom Gift Pack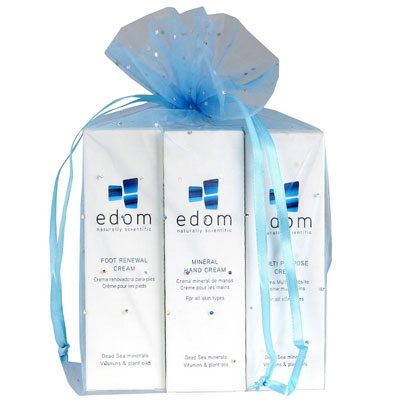 Our little girl has grown into a young lady. So let's treat her as such.
Edom's best-selling Dead Sea mineral gift pack is a terrific way to spoil the young woman with some of Israel's finest Dead Sea skin & body care products.
This mineral-rich gift pack includes some of Edom's finest creams, including:
It's time to give the young lady yet another reason to love Israel.
The best way to do that? Introduce her to some of Israel's wonderful skincare products.  
Trust me, she'll probably be exhausted after all the dancing & partying… She could use a nice hot bath with these wonderful Dead Sea creams & salts from Israel. 
Unique & Creative Bat Mitzvah Gifts
It's time to open the creative treasure box…
At the age of 12, creativity runs wild… You're about to nurture it and encourage it even further.
Bat Mitzvah presents can be unique, creative & meaningful all at the same time…so what do you say we find the young Bat Mitzvah girl a gift she simply couldn't forget, even if she tried really REALLY hard.
Hebrew Letters Women's Watch by Adi
Top Creative Gift
Sure, you can get the young Bat Mitzvah a nice standard watch and call it a day… but this is her Bat Mitzvah we're talking about here!
I'm afraid to say: a standard watch simply doesn't do justice with her special day. Besides, it would be nice to give her a watch that actually connects her to her Jewish roots.
So what's the brilliant solution to this problem? Adi's Hebrew letters gold watch.
Let's face it, looking at your wrist and seeing beautiful Hebrew letters covered in gold is kind of exciting… and because the watch is so durable and unique, thanks to you she'll enjoy looking at the time during her teenage years.
Torah Quote Chalkboard Plaque
I'm guessing the young Bat Mitzvah has some posters of her favorite idol in her room (Justin Bieber? I hope not). 
Wouldn't it be nice to decorate her room with something a little bit more meaningful? Something enlightening… something encouraging, that she'll be able to see every morning when she wakes up, and every night before she goes to sleep? Something that will guide her through a life filled with love & Torah?
This is definitely one of the best Bat Mitzvah gifts you can get for the young woman.
Dorit Judaica Wall Hanging – Daughter's Blessing
Dorit Judaica's gorgeous wall hanging includes probably the most popular verse you can wish any young woman:
"Yasimech Elokim Ke'Sarah, Rivka, Rachel, Ve'leah" ("May G-d make you as Sarah, Rebecca, Rachel, and Leah.")
Don't you wish that for the young Bat Mitzvah?
Imagine the young woman seeing it every morning when she wakes up. Such a wonderful way to start the morning isn't it?
Custom Sterling Silver Round Locket
This is where classic meets modern. This special sterling silver round locket can feature the Bat Mitzvah's picture, along with a special customized message of your choice.
You can fully customize the locket with unlimited design options, images, and words that come directly from your heart for our special young lady.
Bat Mitzvah Girl (Woman) T-Shirt
This isn't a normal birthday party. It's her damn Bat Mitzvah!
This best-selling bat mitzvah T-shirt delivers that message with a nice touch, and definitely, makes it a proper & funny party gift for a Bat Mitzvah girl.
Bat Mitzvah Gift Cards
Still confused on what Bnot Mitzvah gifts you can get?
Don't worry, there's a backup plan…
In case you're not really familiar with the young Jewish girl, whether she's your friend's daughter or a niece you haven't seen since she was a baby – you can always get her a gift card, and let her buy whatever she wants.
A gift card is actually a proper gift for Bat Mitzvah. Trust me, it's much better than buying her something she doesn't want or need.
Forever 21 Gift Card
Top Bat Mitzvah Gift Card
You know what they say: When in doubt, go shopping.
OK, no one actually says that… but a lot of 12-year-old girls definitely feel that!
Even though she's not 21 yet – she'll definitely love going on a Bat Mitzvah shopping spree!
And with Forever 21's gift card, she put your gift to good use and be forever grateful (ok maybe not forever, but at least until her next shopping spree).
App Store & iTunes Gift Cards
Kids these days spend most of their time on their phones: Downloading apps, games and all kinds of (addictive) stuff… only for their parents to find out about it on their credit card statement at the end of the month.
With Apple's gift card, they can enjoy all the App Store has to offer without worrying about their parents scolding them about their lavish app shopping spree!
Nordstrom Gift Card
Why go nuts finding something that fits the young woman, and something she actually likes.
Instead, you can let her do what she actually loves: buy her own favorite clothes.
And where do you buy cool women's clothes? Nordstrom.
The Nordstrom's gift card (wrapped in a beautiful gift box), in increments of 18 = a great Bat Mitzvah gift card.
How About Cash?
Ideally, you'd want to give the young Bat Mitzvah an actual gift, rather than cash.
Don't forget, Bat Mitzvah or not – we're still talking about a teenager here… what are the odds she's going to use the money wisely? Chances are she's going to spend it on foolish things that aren't all that useful.
When you get her a Bat Mitzvah gift rather than cash, you can get her something meaningful and valuable she'll actually use.
However, if for some reason you still decided to go the money route, then there are a couple of things you should know:
You'd want to give her money in multiples of 18. 18 in Judaism means "Chai" (חי) – "Life". This means you're blessing the Bat Mitzvah with a long and successful life.
If you want the Bat Mitzvah to spend it, give her cash, rather than a check. On the flipside, if you're afraid the Bat Mitzvah will spend it on foolish things, then give her a check – so the money will go to her parents first, and they can decide together with their daughter how to invest the money.
Don't go overboard… After all, this isn't a wedding. Check out this table to figure out exactly how much you money should give her.
Conclusion
If you made it this far, then congratulations!
You must have found some great bat mitzvah gift ideas for the special young lady.
If you did, I would love to know in the comments below which of these cool Bat Mitzvah presents you ended up getting her.
Mazel Tov!