25+ Unique & Creative Bar/Bat Mitzvah Themes + Party Ideas (2022)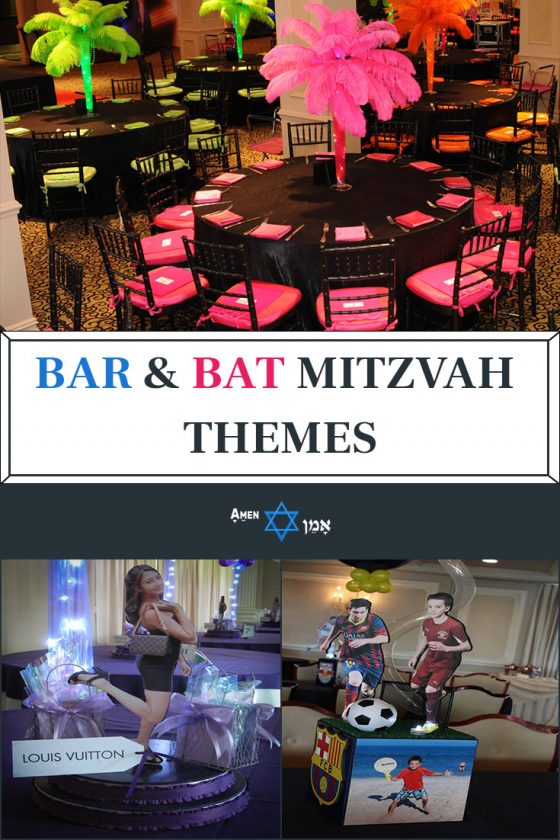 Here's a trick question:
What's the first thing you need to take care of when planning your kid's Bar/Bat Mitzvah party (after setting a budget, of course)?
… Sending out Bar Mitzvah invitations (or Bat Mitzvah invitations)?
… Hiring entertainment (DJs, photographers)?
… Choosing what food to serve?
The answer? NONE of the above.
Don't get me wrong – all of these things are important. But there's one thing that trumps everything else on the list: the Bar/Bat Mitzvah theme.
The theme determines everything else you choose: the decorations, the party favors, even the Bar/Bat Mitzvah cake.
Everything.
Now…If your kid is already set on a theme – consider yourself lucky. Because the truth is – most kids (and parents) have NO IDEA what theme to choose.
Sounds familiar?
Well, then consider yourself lucky, too…
Why?
Because unlike most parents – you're seconds away from discovering DOZENS of cool Bar & Bat Mitzvah theme ideas… and I'm willing to bet that at least one of them will finally "click".
Heck, by the time you leave here today – you'll have more ideas than you'll know what to do with.
OK, enough with the chit-chat…
Let's get the party started!
Bar/Bat Mitzvah Sports Theme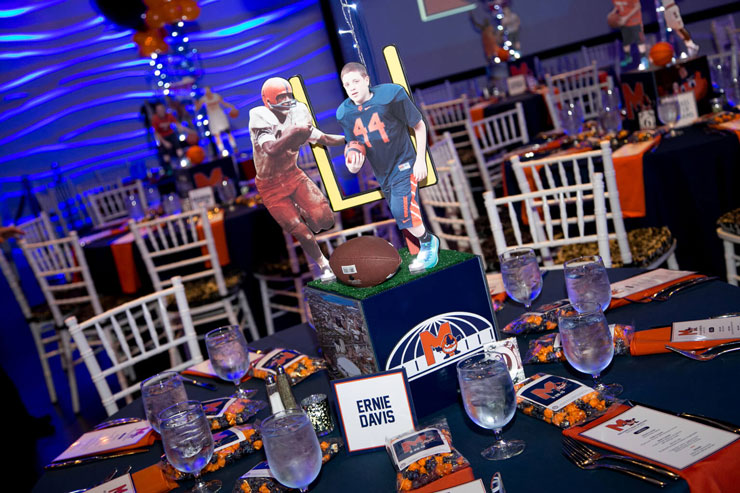 People say that kids these days are lazy. "All they do is play video games or play with their phones", they say.
Well, I've got good news: turns out sports themes are still number #1 when it comes to Bar/Bat Mitzvah party themes.
Baseball
Football
Soccer
Basketball
Tennis
Hockey
Lacrosse
Golf
Those are just some of the common sports themes Jewish teenagers choose as their Bar/Bat Mitzvah party.
Bar/Bat Mitzvah Music Theme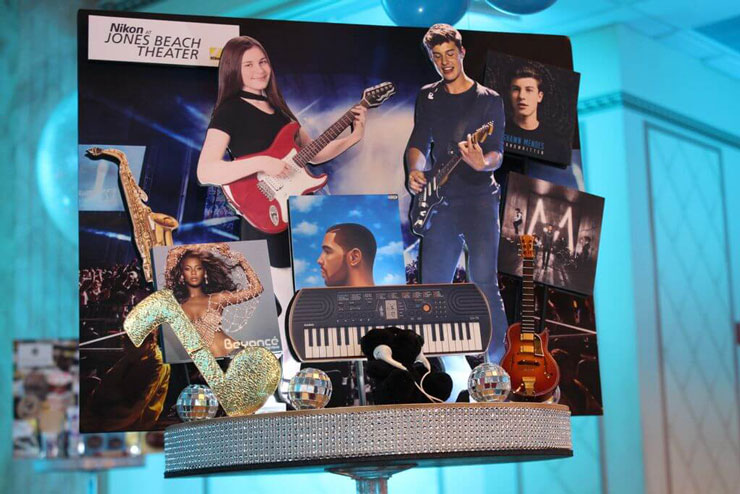 Music is another incredibly popular choice among boys and (mostly) girls…
Not exactly "shocking", now is it?
As you can see from the images – some Jewish tweens choose music in general as their main theme, while others choose a specific instrument they're obsessed with.
FINALLY, kids get to "turn up the volume" without adults demanding to "turn that off!".
Bat Mitzvah Shopping Theme
Bat Mitzvah shopping themes are becoming a trend in recent years.
Like it or not – we live in an Instagram-fueled world. It shapes what we do, what we wear, and as it turns out – even what we choose as our Bat Mitzvah theme.
Bar/Bat Mitzvah Beach Theme
You don't have to actually celebrate your daughter's Bat Mitzvah at the beach.
What if it's winter? What if you live in the middle of the desert? Sorry, darling – no beach for you.
But…
You certainly can have a beach-themed Bat Mitzvah and pretend like it's summertime in Florida (minus the sweat and humidity)!
And if you're celebrating the Bar/Bat Mitzvah during the winter – make sure to use beach decor in the candle lighting ceremony… that'll keep you warm 🙂
Bar/Bat Mitzvah NYC Theme
"In New York,
Concrete jungle where dreams are made of
There's nothin' you can't do
Now you're in New York…"
Alicia Keys knew exactly what she was talking about. And Jewish tweens agree. Not only do they agree – but they also choose NYC as their Bar/Bat Mitzvah party theme.
"Let's hear it for New York…"
Bat Mitzvah Broadway Theme
Staying in NYC… let's visit one of the most iconic places in the big city – Broadway!
Since you're working hard to produce the best show for your daughter anyway. Why not take it to the next level?
Congratulations, You're now a Broadway producer!
People are coming from all over the country (and the world), paying top dollar (aka, bringing an awesome Bat Mitzvah gift) to see the best show in town… don't disappoint them!
Do you feel the pressure? Good! Welcome to Broadway…
Bat Mitzvah Hollywood & Movie Themes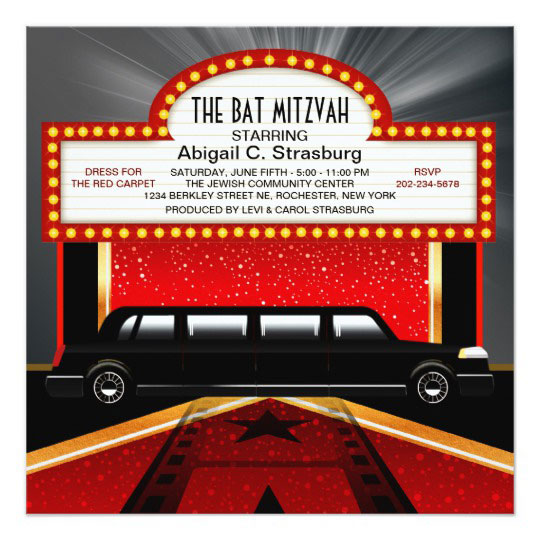 Moving from the theatre to the big screen – Hollywood!
Most teenagers dream of becoming a Hollywood superstar at some point. For Jewish teens – that dream can become a reality on their Bar/Bat Mitzvah party – even if it's just for one night.
Bat Mitzvah Dance Theme
Look at the little twinkle toe! Now imagine the sweet ballerina on every table giving a ballet pose (I mean with a ballet centerpiece – she doesn't have to literally jump on every table).
If she's a dancer – then a Bat Mitzvah dance theme is the only theme she'll get on board with.
Bar/Bat Mitzvah Animal Theme
Aww, so cute! Look at all those animals! If your kid is a huge animal lover, turn their animal-themed Bar/Bat Mitzvah party into a tiny "zoo" (with fake animals of course).
Bar/Bat Mitzvah Video Game Theme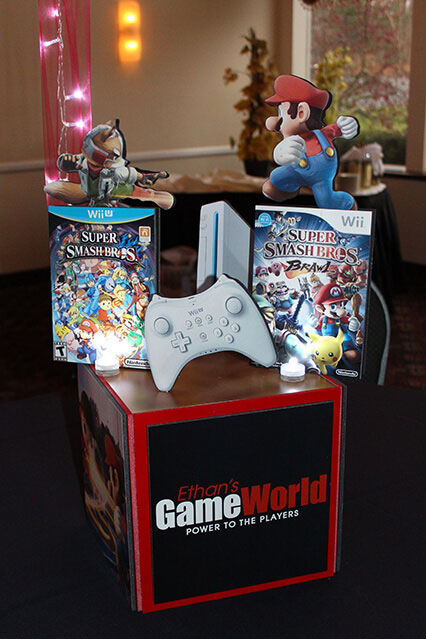 "When I grow up, I like to be a professional video gamer"
If you would've said that just 10-15 years ago – people would laugh at you.
Fast forward to today… not only is it possible, but it's quickly becoming one of the most lucrative professions in the world… with the top video gamers earning millions of dollars every year.
Jewish moms – take notice. Hoping your kid grows up to become a doctor, lawyer or accountant is so 1990's.
The new American-Jewish dream is to become a professional video gamer, Youtuber or social media influencer!
Bar/Bat Mitzvah Candy (Candyland) Theme
You thought kids were hyperactive? Wait till they get a sugar high from all the candy you have in store for them!
If your kid is a sweet-tooth (who isn't?) – load up your Bar/Bat Mitzvah party with a TON of centerpieces… and of course – give your guests delicious Bar/Bat Mitzvah candy favors ending the party on a sweet note.
I bet that'll make your son or daughter the most popular kids in class!
Bar/Bat Mitzvah Club Theme
It's already a Bar/Bat Mitzvah party. With a DJ, club attire, dancing… might as well tip it over the edge and transform the party into an official Bat Mitzvah club theme!
Bat Mitzvah Flower Theme
Flowers are a common centerpiece in Bar & Bat Mitzvah parties. But when your entire Bat Mitzvah theme is about flowers – they're not just centerpieces. They're everything.
Yes, including the cake.
Bat Mitzvah Fashion Theme
If your daughter is a young fashionista – getting her a fashionable Bat Mitzvah dress is only half the story. The other half? Look around… it's everywhere!
If all she talks about all day is fashion, then you already know what Bat Mitzvah theme she'll choose…
Bat Mitzvah Purple Theme
Kids often make the mistake of settling on a theme they're not really passionate about, just so their party has a theme.
But the truth is – Bat Mitzvah themes don't necessarily have to focus on a "thing". Instead, the party theme can focus on something else your son/daughter likes – such as their favorite color.
Purple-themed Bat Mitzvah parties are a common choice. And dare I say an excellent one! See for yourself…
Bar/Bat Mitzvah Travel Theme
Do you know when most people catch the "travel bug"? It all starts when they travel with their parents as kids.
Especially when every trip is now documented on social media – the travel bug latches on you more on more.
If your kid is already talking about traveling the world at this age – and the number of photos you have from your trips can fill 10 photo albums (remember those?) – then a Bar/Bat Mitzvah travel theme can be a wonderful option… especially if you're planning to take them on a Bar/Bat Mitzvah trip.
Bar/Bat Mitzvah Camp Theme
I used to LOVE camping as a kid. Today's generation of kids is different though – they much rather camp at their cushy bed with their iPhone, than to spend the night in a tent in the outdoors.
But while I was doing research for this article – I discovered that Bar/Bat Mitzvah camp themes are freakin' popular.
I have to say – it caught me by surprise. And it's definitely a pleasant surprise 🙂
Bar/Bat Mitzvah Surf Theme
Kids who are lucky enough to be raised near a coast often learn how to surf at a very young age (I'm not jealous… I'm not jealous at all). From that point – it's easy to "catch the wave" of surfing and fall in love with the surfboard.
If you just nodded to that – odds are your kid is one of the lucky ones (still not jealous, I swear!). And they'll be even luckier if their entire Bar/Bat Mitzvah party is surrounded with their favorite activity in the world (ok, now I'm getting a little jealous).
Bat Mitzvah Winter Theme
Brrrr… It's coooooold.
But who cares? Especially when Bar/Bat Mitzvah winter decorations are so b-e-a-t-i-f-u-l.
The solution is easy… serve hot chocolate for dessert!
Bat Mitzvah Princess Theme
The young girl is celebrating her coming of age… that means she's now officially an adult Jewish princess – so let's treat her like one with a full-on Bat Mitzvah princess theme.
That includes a fairytale Bat Mitzvah dress, matching decorations and a marvelous Bat Mitzvah cake like the one above!
Bar/Bat Mitzvah Magic Theme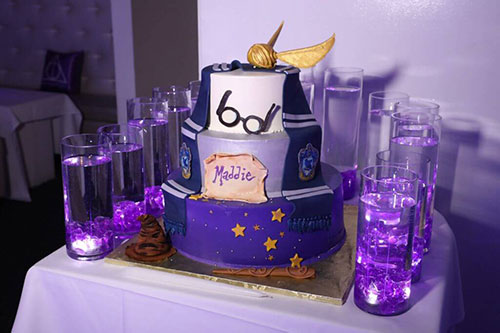 It's a magical night – so why not make it a magical Bar/Bat Mitzvah theme?
And by magical – more often than not – we're talking about one wizard in particular: Harry Potter.
Did You Know: Guess what? Daniel Radcliffe, aka the actor who plays "Harry Potter", is also Jewish!
Bar/Bat Mitzvah Tropical Theme
Wouldn't it be nice to celebrate your Bat Mitzvah in Jamaica? With beautiful tropical beaches and fresh coconuts for dessert?
Sorry, kids. You've got school tomorrow!
Luckily – you can make Jamaica come to you and transform your Bat Mitzvah party into a mini tropical heaven.
Heck, you can even serve coconuts with a straw!
Bar/Bat Mitzvah Graffiti Theme
A graffiti Bar & Bat Mitzvah theme is no doubt one of the most creative ideas you can choose from.
Think about the unique options you get to "play" with:
Graffiti sign-in boards
Graffiti centerpieces
Graffiti place cards
Graffiti invitations
Graffiti banners
And the good news? It's all legal! You wouldn't get arrested for using it… woohoo!
Final Tips for Choosing a Bar/Bat Mitzvah Theme
So many Bar/Bat theme ideas… how the heck do you choose?
Here are a few tips that can help you (and your kid) choose "the one":
Don't try to compete with the Joneses
Kids these days want the biggest, flashiest Bar/Bat Mitzvah parties just so they can keep up with their friend's Instagram feed… and the parents are the ones left holding the bill.
It's easy to fall into the trap (both for kids and parents) of trying to keep up with the Joneses (or in this case – the Cohen's).
In this case – allow me to be the anti-Nike: "Don't Just Do It".
Remember – a Bar/Bat Mitzvah is a religious Jewish ceremony. Not a music festival.
Try alternative Bar/Bat Mitzvah party ideas
What happens when kids (and parents) try to keep up with each other? Every Bar & Bat Mitzvah party ends up looking the same.
You've seen one, you've seen all of them.
Instead of copying what everyone else is doing – try throwing a curveball and choose a creative theme that nobody would ever think of.
Be a category of one!
Choose a theme that won't bankrupt you.
Some party themes require more investment than others.
If you're planning a Bar/Bat Mitzvah on a budget – make sure you choose a theme that doesn't require a ton of fancy gadgets.
Don't settle on a theme you don't like
"Follow your passion".
There's a reason why so many people (including me) hate that advice… because it's not advice!
Most kids aren't born with a football in their hands.
Most kids can't recite Beethoven's fifth symphony with their eyes closed.
Most kids don't play Fortnite 24/7.
So what? Since when are we supposed to have our entire life figured out by the age of 13?
The worst thing you can do is choose a Bar/Bat Mitzvah theme because "everyone else has one".
Which leads me to the next point…
Don't force a party theme on your kids
When you attend certain Bar/Bat Mitzvah parties – it's clear that whoever it was that chose the theme – it certainly wasn't the Bar or Bat Mitzvah.
Your kid's Bar/Bat Mitzvah celebration is one of the most memorable days of their life. Don't ruin it by forcing your favorite theme on them. They'll just resent you for it.
No theme is better than a lame theme
There's no Torah commandment that demands you to choose a theme.
Themes, just like Bar/Bat Mitzvah parties – are a new phenomenon. People survived without them for centuries… in fact, most Bar/Bat Mitzvah celebrations around the world are still "themeless".
So don't feel pressured to choose a theme just "because". You can still throw an awesome Bar/Bat Mitzvah party without a theme.
Conclusion
I hope this list of Bar & Bat Mitzvah themes got your creative juices flowing.
I know it's a lot… so instead of trying to memorize all these Bar & Bat Mitzvah party ideas – pin them, share them, bookmark them – save this list someplace anywhere so you can return to it later on.
And if you haven't already – send this article to your kid. I bet one of these unique Bar/Bat Mitzvah themes will finally "click".
Mazel Tov! 🙂