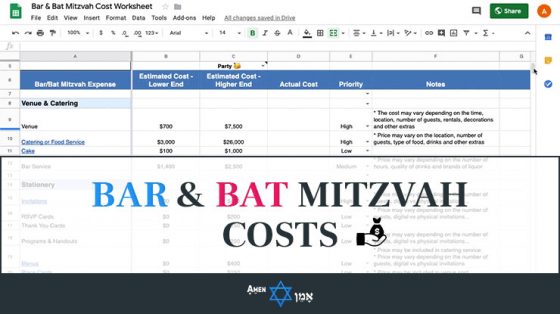 Amen V'Amen is supported by its audience. That means when you purchase something from one of our partners through one of our links, we may earn a small commission at no additional cost to you. Amen V'Amen is also an Amazon Associate, so we may earn a commission from qualifying purchases. Thank you for your support!
How much does a Bar/Bat Mitzvah cost?
The short answer? Way more than it used to.
Believe it or not – it's not uncommon for parents these days to pay $50,000 (or even more) on their kid's Bar/Bat Mitzvah celebration.
Has the world gone mad?!
I don't know about mad. But it certainly has changed…
We live in an Instagram-fueled world now – where a Bar/Bat Mitzvah has transformed from a traditional Jewish ceremony into a "let's see who throws the most lavish Bar/Bat Mitzvah party" competition.
Keeping up with the Joneses (or in this case, the Cohens) comes at a cost. Costs that have skyrocketed over the years.
And guess who's left holding the bill? That's right: the poor parents (pun not intended).
… Is there a way out of this madness?
…How can you avoid getting dragged into a Bar/Bat Mitzvah arm's race?
… Is it possible to plan a Bar/Bat Mitzvah celebration without paying an exorbitant amount of money and flirt with the bankruptcy courts? And if so, HOW?
The answer to all of those questions is yes.
It all starts with a budget, a little planning, and a cool little worksheet to help you stick to it.
And guess what? I'm about to show you (and GIVE you) all the tools you need to slash your Bar/Bat Mitzvah costs – whether you're planning a Bar/Bat Mitzvah ceremony, party, or Kiddush luncheon (or all three).
Sound good?
Great! Let's get started…
Read More…