18 Gorgeous Jewish Wedding Invitation Cards for an Unforgettable Night (2018)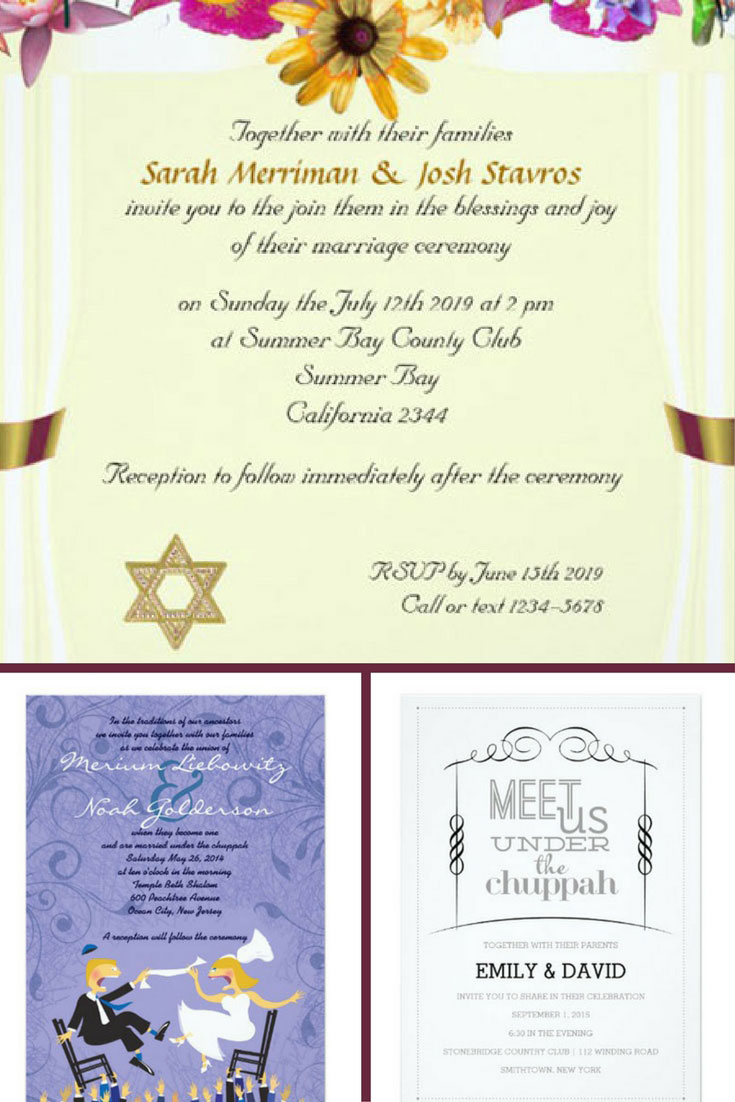 How long did you wait for your very own "Save the Date" moment?
Now it's finally your turn!
Your turn to invite your friends & family to celebrate with you on your big day.
I know:
All those wedding preparations can get quite overwhelming… But choosing your Jewish wedding invitations should NOT be one of them… in fact, it can be one of the exciting parts – if done right.
Choosing your invitation is an opportunity to invite your guests in a creative and exciting way, so they can't wait for your special day to arrive.
Today, I'm going to help you seize that opportunity…
Top Jewish Wedding Invitations
This article is jam-packed with a LOT of great Jewish wedding invitations. But there are a few of them that stood out, so we decided to give them an award!
Allow me to introduce you to our favorite invitations:
Traditional & Orthodox Jewish Wedding Invitations
Jewish weddings are filled with traditional Jewish symbols, phrases, and meaning. So it's no surprise that most Jewish wedding invitation templates include many of them, and who so many couples choose to include them in their invitation.
If that sounds like something you – then you're about to love this section.
I Am My Beloved's & My Beloved Is Mine – Hebrew Jewish Wedding Invitation
Top Traditional Invitation
We're starting off with this unique & elegant invitation reciting King Solomon's famous passage from Song of Songs:
"I am my beloved's and my beloved is mine." – Song of Songs 6:3
Printed on high-quality Italian luxe paper (champagne shimmer) with a ton of beautiful color options for you to choose from.
Bonus: White envelopes are included for free.
One of the most exciting moments of any Jewish wedding is the moment the couple recites this passage under the Chuppah. This invitation gives your guests a little "appetizer" before the real thing.
Note: Don't get confused by the names on the invitation. I find it hard to believe that the Clinton and Bush families will get along so well. Besides, they're not Jewish, so…
Tree of Life Jewish Hebrew Wedding Blue Card
You probably noticed a recurring theme so far: King Solomon's Song of Song passage practically became synonymous with Jewish weddings. People expect to see them on wedding invitations, that's why you'll see them in almost every Jewish wedding card out there.
This remarkable invitation combines King Solomon's emotional passage with another iconic Jewish symbol: The Tree of Life.
The Tree of Life is a symbol of a new beginning, a fresh start… It embodies the significance of this moment in the couple's life: a new start, a new Jewish family being born.
Bonus: You can choose to add additional photos and text to the card for free.
Ani L'Dodi – Rose Jewish Wedding Invitation
If you'd like some elegance added to your card, then this Rose Jewish wedding invitation is packed with elegance.
This high-quality card is printed with full-bleed printing on both sides on a semi-gloss paper, designed for optimal color vibrancy.
It features the Song of Songs passage both in Hebrew and English, followed by the newlywed names in a beautiful font (which you can choose to customize, but DON'T!).
A great option for Orthodox Jewish weddings, conservative or anyone who appreciates elegance really…
Modern Jewish Wedding Invitations
Traditional + Modern = Magic.
Same rules apply to wedding invitations.
Incorporating Jewish tradition in your wedding invitations doesn't mean you should create an invitation that looks like it's from the 80's, right?
After all, you're not exactly using ink and paper to invite your friends & family (I hope).
Here, let me show you how modern Jewish wedding invitation templates should look like…
I Am My Beloved's Jewish Wedding Invitation
Top Modern Invitation
This Jewish wedding card was an easy choice for the "Top Modern Invitation" award.
Designed by the "Big Fat Jewish Wedding" studio, who specialize in remarkable Jewish wedding invitations (even though their name is pretty aggressive).
The famous "I am my beloved's" passage (in both Hebrew and English) is neatly organized in a colorful boxed design, printed on Matte paper with a smooth finish.
Certainly not a design you see every day, and that's the beauty of it.
Note for Design Geeks:
The seemingly "organized chaos" design illustrates an interesting underlying idea: order can be found in the chaos. This message has a powerful interpretation related to marriage: marriage may have its struggles – but there's always order to be found if you decide to look for it… 
Kol Sasson Hebrew Jewish Wedding Chocolate Invitation Card
"Kol sason v'Kol Simcha. Kol chatan v'kol Kalah". 
Get ready to hear that famous Jewish song a lot for your upcoming wedding.
You usually hear it after the groom breaks the wedding glass, and the man and woman are announced husband and bride for the first time are considered "one".
This marks the beginning of the marriage, and more importantly: the beginning of the celebration!
Note: That's why the Tree of Life fits in perfectly here: it's a symbol for the couple's new mutual beginning.
Modern & Minimal Wedding Photo Invite
If you prefer a modern & minimal design, and leave the Jewish tradition to the wedding ceremony, then this invitation is a great option.
Sometimes less is more, and that's the secret sauce in this clean design. It leaves out the "nitty gritty" and focuses on the important port: the couple.
Simply replace the image with an image of the happy couple, customize the text, and invite your friends to participate in your magical moment. 
Unique & Creative Jewish Wedding Invitations
Are you a creative spirit? Make the invitation your own personal canvas.
The "problem" with most Jewish wedding invitation cards is that they all look the same. Now imagine what happens when your family & friends get a unique invitation they've never seen before.
Now that's how you make your friends excited about your wedding (and encourage them to get you awesome wedding gifts!)
Floral Canopy Jewish Wedding Card
Top Creative Invitation
Don't wait for your guests to come to the Chuppah…send a Chuppah to them (and throw some summer flowers on top of it while you're at it)!
That way, odds are they'll attend your real Chuppah.
This unique Jewish wedding invitation delivers a warm message that is simply hard to say "no" to. I mean, would you say "no" if you received such a lovely invitation?
Doesn't matter if you're getting married during winter or summer, in the USA or Europe (or Israel?) – everyone loves getting a nice, warm invitation card in the mailbox. 
Jewish Ribbon Wedding Flat Invitations
We already had flowers – now it's time for gifts! Or at least an invitation with a ribbon (close enough).
Everyone loves getting gifts, so dressing up your wedding invitation as a gift will likely strike a chord with your guests, and hopefully, they'll give you nice Jewish wedding gifts in return 🙂
Add that to the elegant blue & white design and lovely Star of David – and you get a captivating Jewish wedding card.
Note: This isn't a real ribbon, so expect moderated excitement (after all, it's not a real gift). 
"Meet Us Under The Chupah" Card
If the previous invitation looked like a gift to invite your guests to the Chuppah, then this invitation takes it a step forward and actually includes a Chuppah.
Not only does it include the Song of Songs passage, but it also illustrates a cute little Chuppah to get your audience warmed up for the big moment.
Printed using liquid inks on high-quality Felt Ecru textured paper with a warm & creamy ecru hue. It includes a spectrum of colors you can choose from, so put on your creative hat!
See you at the Chuppah! 
Elegant Jewish Wedding Invitations
"Elegant is good taste plus a dash of daring" – Carmel Snow
An elegant Jewish wedding invitation speaks volumes.
The invitation is your guest's first exposure to your wedding. It's a glimpse into the future, what your guests can expect at your wedding.
Needless to say, you want your invitation to be elegant, inviting and compelling.
Silver Elegance Jewish Wedding Invitation
Top Elegant Invitation
Now here's one of my favorite invitation cards out there. It's called "silver elegance", but I think it deserves a couple of other adjectives. Here's a few I'd use:
Classy
Stylish
Tasteful
Clean
I could go on, but I think you get the point.
Made by "Mazal Tov" studios who specialize in Jewish invitations, and IMHO, their best work ever.
Tree of Life + Star of David Hebrew & English Wedding Invitation
This simple, yet elegant Tree of Life card features not one, but two Trees of Life – connected together by a Star of David in the middle. What does that mean?
I'd like to think that each Tree of Life represents a Jewish spirit. On the wedding day, two spirits reunite into one complete spirit, thanks to the power of the Torah.
The rounded wedding card includes a combination of both Hebrew and English calligraphy.
Tip: This is a great wedding invitation to consider if you're getting married in Israel (or having an Israeli wedding).
Simplicity = beauty – this invitation reinforces that idea yet again.
Simple but Elegant Jewish Wedding Invitation
"Simple but elegant"- a perfect way to describe this card.
If you're not looking for anything flashy, and believe in "less is more", then you'll appreciate this card.
Simple, elegant, modest…
Join Amen V Amen's email list and get practical Jewish wisdom you can apply to your personal life
Inexpensive Jewish Wedding Invitations
Weddings require a lot of expenses…
Perhaps you're not keen on spending too much of it on wedding invitations.
I get it…
But does that mean you should sacrifice quality?
Not necessarily…
Don't believe me?
You're about to…
Elegant Gray Jewish Wedding Invitations
One of my favorite wedding songs is featured on top of this elegant Jewish wedding invitation card:
"It will yet be heard in the cities of Judea and in the streets of Jerusalem.
The sound of joy and the sound of happiness
The voice of a groom and the voice of a bride…"
That in itself deserves a spot on the list.
Add the affordable price and the high-quality printing – and you get a classic Jewish wedding card suitable for any Jewish wedding.
I am my Beloved's Jewish Wedding Invitation
We managed to go through several Jewish wedding invitations in a row without mentioning the famous "I am my beloved" song. It's time for a comeback!
This card by Cohen's printing studio is a nice option to consider if you're looking for a clean, simple and affordable wedding invitation card.
It allows you to focus your creative efforts (and cash) on other important stuff, without sacrificing quality.
Under the Chuppah Jewish Wedding Invitation
Top Inexpensive Invitation
The final "Meet us under the Chuppah" card on this list also features the coolest Chuppah illustration we had on here.
Let's face it – having a Chuppah on your card is a nice touch. It's the most iconic part of any Jewish wedding, so there's no wonder so many couples choose to include it in their wedding invitation.
But that doesn't mean you have to cough up a ton of cash just to have a cute little (or in this case big) Chuppah on your wedding card. This lovely card is proof of that.
Fun Jewish Wedding Invitations
If you're a funny character, your guests are looking forward to a special wedding invitation that reflects that.
There's nothing better than have a cute invitation that brings a smile to their face the moment they see it. It tells your guests: "You think this is fun? Wait till you attend the actual wedding"
Guess what: chances are, they'll attend the wedding to find out.
Hora Chair Dance Jewish Wedding Invitation
Funniest Invitation
I promised you funny Jewish wedding invitations.
So you see why I  just had to include this hilarious invitation right off the bat.
Needless to say, this invitation won our "Funniest Invitation" award.
It's obviously not the most elegant wedding card (there's a whole section for that), but definitely the coolest and most hilarious card you can send your guests.
The card depicts the traditional Jewish wedding chair dance, the Hora.
If you're the bride or groom to be, face it – you're going to be thrown off a chair… whether you like it or not. So prepare yourself mentally and get your guests laughing while you're at it. 
Beauty and the Beast | Enchanted Rose Wedding Card
Beauty and the beast?
If you're the groom – come on', don't take it personally! I'm sure you're a handsome man!
The fact of the matter is, this is quite an impressive wedding card (you can't expect anything less from Disney).
Why not sprinkle some magical fairy dust to your wedding?
Mickey & Minnie Wedding | Married Invitation
Mickey & Minnie are Disney classics.
Jewish weddings can get too serious sometimes with all the fasting, the Ketubah, and other Jewish wedding customs…
Why not make it a little lighthearted? Guests would like to come to a fun wedding.
With Mickey & Minnie – fun is pretty much guaranteed 🙂
Summary
How'd you like them apples? I mean, invitations?
I hope you fell madly in love with (at least) one of these Jewish wedding invitation cards.
The moment your guests receive your invitation the moment your wedding is officially announced. You just got one step closer to it, so you must feel pretty excited!
So go ahead, customize your favorite wedding card, customize it, and invite your friends to celebrate with you on your big day.
I wish you Mazel Tov! See you at the wedding!
(just kidding, don't feel obligated to send me an invitation… I'll understand if you don't invite me 🙁 )