Yummy! The Best Traditional Bar/Bat Mitzvah Food (+ Menu Ideas)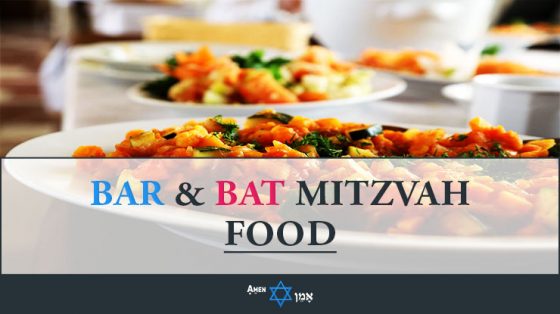 Amen V'Amen is supported by its audience. That means when you purchase something from one of our partners through one of our links, we may earn a small commission at no additional cost to you. Amen V'Amen is also an Amazon Associate, so we may earn a commission from qualifying purchases. Thank you for your support!
Your guests came all the way to celebrate your child's Bar/Bat Mitzvah… you're not going to let them starve, are you?
Of course not! You're like a Jewish mom hosting a Shabbat dinner: feeding and taking care of everyone!
Except…
This time – you've got a little more than a few guests on your hands. You've got dozens, if not hundreds (or if you're a Russian Oligarch – thousands) of guests to feed!
Now… The only question (OK, 3 questions) is:
How do you serve so many guests?
What traditional Bar/Bat Mitzvah food should you serve?
Where can you find the best Bar/Bat Mitzvah menus you can use as inspiration?
Those are big questions.
Well, guess what? I'm going to help you answer each and every one of em'!
Excited? You should be!
Let's get this food fest started…
Choosing the Right Bar/Bat Mitzvah Food Service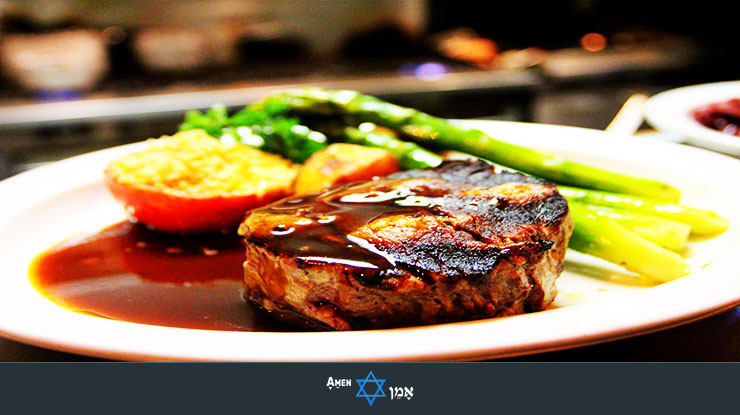 Choosing the Bar/Bat Mitzvah food isn't just about deciding between Hummus or Tahini (that's easy: choose both, with Pita!).
First, you've got to choose the type of service.
There are four types of services you can choose from:
Buffet

Food stations

Plated service

Hybrid service (a combination of the above)
Let's look at each option in turn.
Buffet
A Bar/Bat Mitzvah buffet is certainly the easiest (and cheapest) option for both a Kiddush luncheon and a small-medium sized party.
The food is simply served in one, long table. Guests grab a plate, load it with the food they want, as many times they want, and enjoy a delicious meal… all while chit-chatting with the other guests.
What's not to like?
Not much… except – it becomes a nightmare the more guests you're having.
People form lines behind the buffet table, congestion ensues… before you know it – your Mitzvah celebration looks like LA traffic on a Monday morning.
Not good… (or as they say in Hebrew: "Lo Tov")
The solution?
Food Stations (or Food Trucks)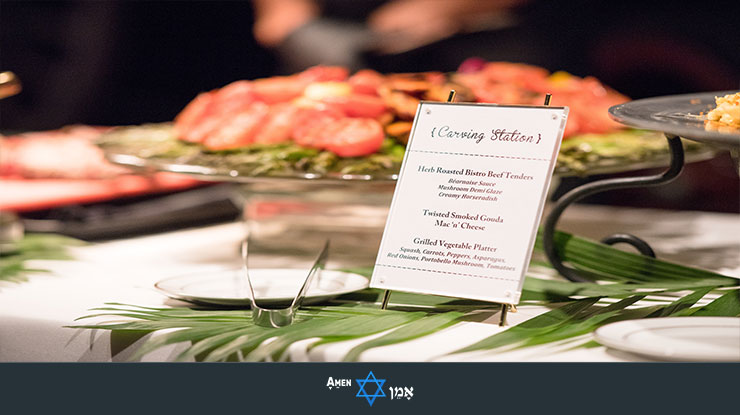 Food stations offer a nice combination of a buffet and a plated service:
Like a buffet – you grab a plate and fill it with the food you want, as opposed to waiting for a waiter to bring you food.
Instead of one long buffet table – you have multiple stations, which helps shorten (but not eliminate) lines and alleviate congestion.
Guests have a wider selection of food options. You can even cater to people's preferences and diet restrictions by offering a variety of food stations (vegan, vegetarian, Atkins diet, gluten-free, etc').
I personally prefer food stations over sit-down meals: It's cheaper, has more variety and it encourages social interaction.
All you need to do is give your guests few appealing, delicious & appetizing food stations to choose from – and you just got yourself a satisfied guest (who knows, they might even write your child a bigger Bar/Bat Mitzvah check).
Did You Know?
There's a new Bar & Bat Mitzvah trend emerging in the past few years: Bar/Bat Mitzvah food trucks! That's right… instead of having several food stations, you've got several trucks serving different kinds of food.
Let's look at a couple of Bar/Bat Mitzvah food station (and food truck) ideas that'll get your guests so excited they'll start singing "I've got love in my tummy"!
Bar/Bat Mitzvah Food Station Ideas
Here's a list of Bar/Bat Mitzvah food station ideas to help to get your creative juices flowing (including what food you can serve in each station):
Tip: I recommend you choose 4-5 food stations max – with one (or two max) dish in each station.
Israeli & Middle Eastern Station
Hummus / Tahini
Falafel
Shakshuka
Shawarma
Kebab
Mexican Station
Nachos & Dip
Mexican Salad
Tortilla
Tacos
Enchiladas
Mexican Salad
Italian Station
Pasta (spaghetti, penne, fusilli, rigatoni, linguine, fettuccine…)
Ravioli
Italian meatballs
Fried Tortellini
Artichokes
Meat & Grill (Carving) Station
Brisket
Roast beef
Smoked chicken
Mini chicken skewers
BBQ
Fish Station
Smoked salmon
Tuna Tartar
Ceviche
Smoked Whitefish
Sea bass Salad
Asian Station
Sushi
Chicken Pad Thai
Soba noodles
Dim-sum
Seaweed soup
Street Food Station
Mini burgers + French fries
Hot dogs
Fish & chips
Tacos
Sushi
Tip: Street food is a great option for Bar/Bat Mitzvah food trucks.
Salad & Vegan Station
Caesar Salad
Quinoa Salad
Garden Salad
Bean Salad
Thai Slaw Salad
Dessert Station
Fresh fruit
Crème Brulee
Fried Banana
Cotton candy
Sorbet
Ice cream
Plated Service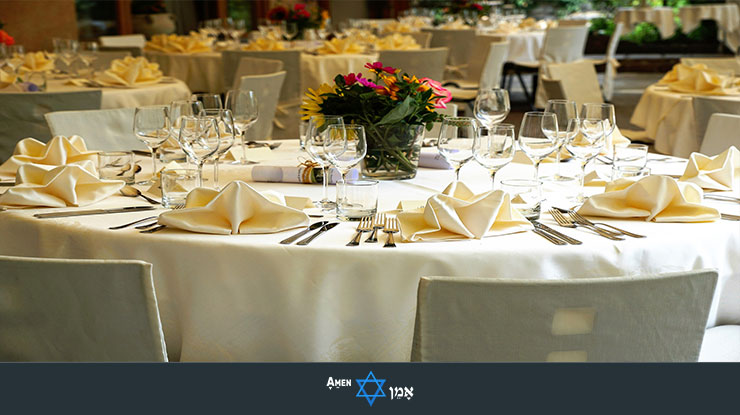 A plated meal is similar to what you see at weddings and other formal events.
You know the drill… Every guest gets a menu and chooses their preferred option in each course:
Appetizer (Hors D'oeuvre)
Entrée (Main course)
Dessert
The traditional service is the most expensive option – but is often the preferred one among parents who are planning a large Bar/Bat Mitzvah event with hundreds of guests.
Tip: You might want to have a separate buffet or food station for kids. Trust me, you don't want those poor waiters chasing after a hyped-up kid who can't sit still for two straight seconds.
Hybrid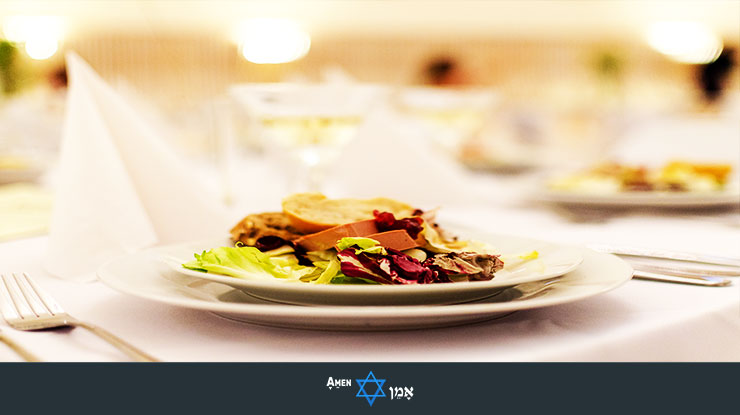 The final type is what I call the "hybrid" service. It consists of a combination of the different types of service I mentioned above.
You can combine any of the three, really… But the most common combinations are:
Food Stations + Plated Service
Just like weddings, this is a common choice if you're having a Bar/Bat Mitzvah party at a banquet hall.
At the start of the evening, your guests are greeted at the reception area with a variety of different food stations to choose from.
Later that evening, they're served a plated service where they get to choose their preferred appetizer, entree, and dessert from the menu.
Plated Service + Buffet (or Food Stations)
A combination of a plated service and a buffet/food stations makes sense if you're expecting lots of kids (it is a Bar/Bat Mitzvah, so kids are pretty much a guarantee).
Kids don't do particularly well with sitting in one place for several hours. They like to roam around, play, and dance with the other kids.
That's why some parents choose to separate the kid's food service from the adult's service:
The kids get a buffet or food stations with yummy fast food (think chicken fingers, burgers and the like)

The adults get a plated service
Everybody wins!
Traditional Bar/Bat Mitzvah Food (Luncheon)
A Bar/Bat Mitzvah luncheon (or Kiddush luncheon) is an intimate & less extravagant meal hosted by the family. It's held immediately after the Bar/Bat Mitzvah's ceremony, usually in the synagogue or at the family's house.
Unlike Bar/Bat Mitzvah parties – most Kiddush luncheons tend to have a single buffet as opposed to food stations or a plated dinner service. After all, we're talking about a smaller-scale event that is usually held on Shabbat.
It's also where you get to serve yummy traditional Bar & Bat Mitzvah food… you know, everyone's favorite childhood food from Bubbe's kitchen.
What kind of food, you ask?
Let's look at some of the most popular options…
Warning: Some of these dishes are meaty and some are dairy. Careful not to serve both in the same meal!
Challah
First things first.
Before taking a bite from the delicious food on the table – we first need to recite the Hamotzi blessing and eat Challah.
Did You Know? The Hamotzi (blessing over Challah) precedes the meal. Jews aren't allowed to eat anything in a Kiddush before they bless (and eat) Challah.
Wine
The second must-have in a Kiddush: wine.
I mean, the reason it's called a "Kiddush luncheon" is because we recite the Kiddush blessing – the blessing over wine. So yea, we kind of need wine (at the very least)!
But don't just stick to wine. This is a Bar/Bat Mitzvah celebration – the more alcohol, the better! (just make sure you give the kids grape juice instead, yes?)
Other Popular Alcoholic Drinks: Arak, whiskey, vodka.
Hummus & Tahini (with Pita)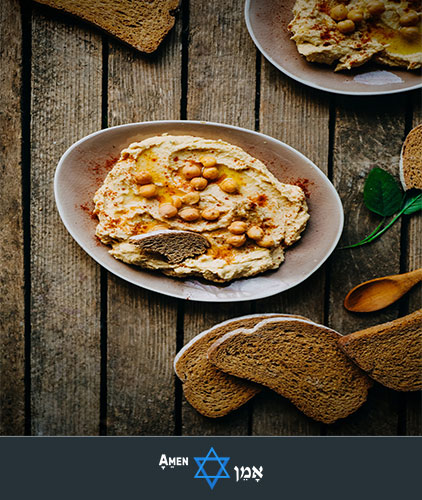 Zohan was right: Israelis like Hummus (and Hummus likes Israelis).
You can't walk a mile in Tel Aviv/Jaffa (or Israel, for that matter) without spotting at least half a dozen Hummus or Shawarma (coming up) joints.
The same is true with Jewish events: a Jewish wedding or Bar/Bat Mitzvah without Hummus is simply incomplete.
Bonus Points: Compliment to Hummus/Tahini with popular Israeli condiments like Matbucha or Schug to make it extra spicy.
Falafel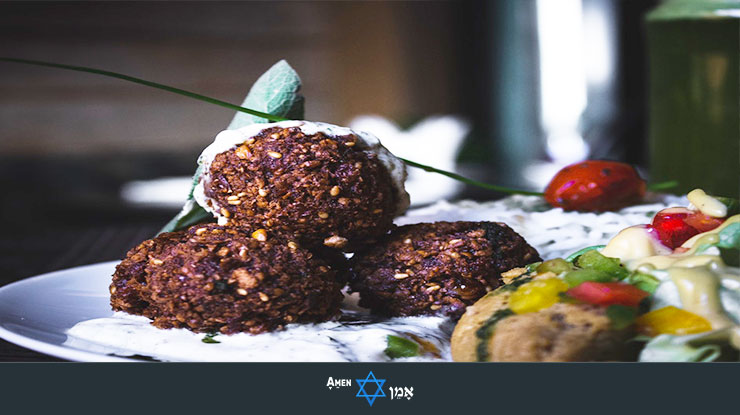 Hummus & Falafel is a match made in heaven (who knows – maybe that's they actually serve in heaven).
While you can technically serve hot Falafel balls by themselves, it's best served with Pita & Hummus (and the other condiments I mentioned above).
Shawarma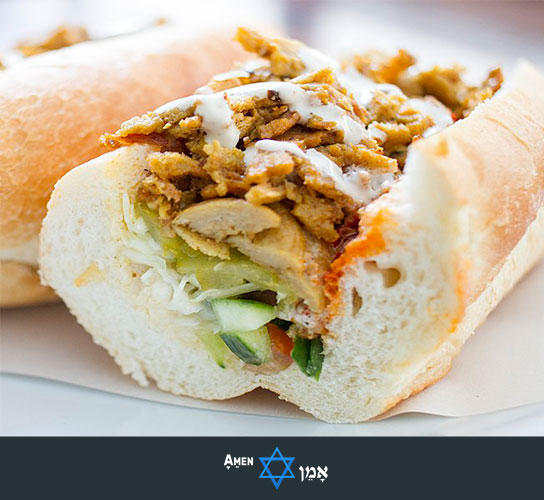 The guy behind the McDonald's counter famously asks: "Would you like some fries with that?"
The guy in the Shawarma joint asks a similar question: "Would you like Hummus, chips & salade with that?"
So if you're already serving Hummus – you might want to get some Shawarma rolling too!
Roll, Shawarma, roll!
Shakshuka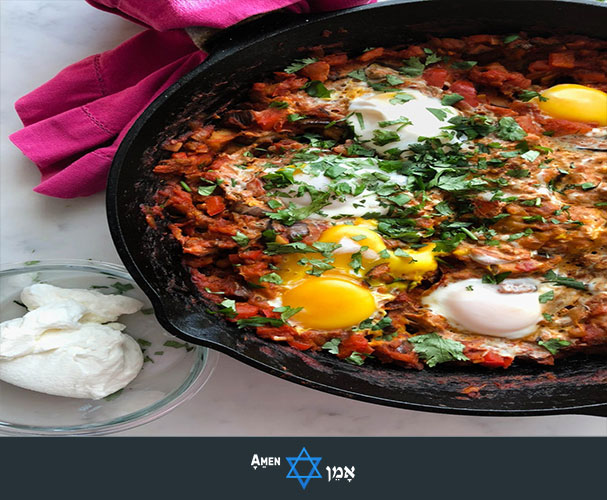 Every time a friend of mine arrives in Israel for a visit, I always take em' out to Jaffa for hot & delicious Shakshuka.
Trust me – there's no better way to start off your trip to Israel than a hot, spicy Shakshuka on a hot summer day (it's almost always summer in Israel if you know what I mean).
It's, without question, my favorite Israeli street food!
Don't let the "street" part fool you – it's wildly popular at formal Jewish events: Jewish weddings, Bar & Bat Mitzvahs, even Bris ceremonies!
Bottom line? Just because you're not celebrating your child's Bar/Bat Mitzvah in Israel – doesn't mean you can't serve your guests a delicious Israeli dish.
Word of Caution: The only danger with serving Shakshuka is it that it can really messy. Shakshuka is often served "watery", which can completely mess up people's dresses (or at least turn them into red). So if you're considering serving Shakshuka – it might be a good idea to ask the caterer to cook it until the excess liquid is evaporated.
Shnitzel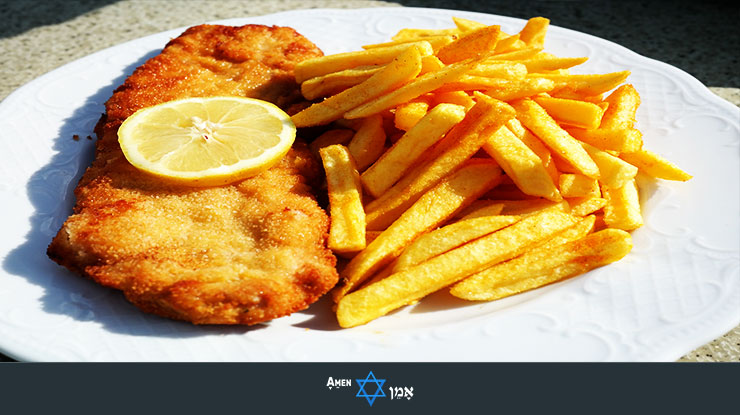 Mmmmm.
I'll never forget growing up and smelling that delicious Schnitzel smell coming out of the kitchen before Shabbat.
I couldn't wait till Kiddush so I can finally dip those bad boys in a sea of ketchup! Who am I kidding… I still do!
Especially when it's being served in a Bar/Bat Mitzvah party or luncheon! (you're lucky I'm not invited to your event)
Cholent (Chamin)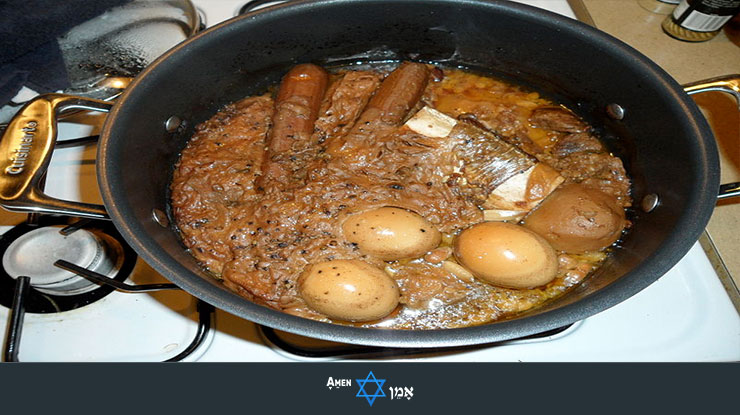 If there's an official Kiddush luncheon icon – it has to be Cholent. This traditional Jewish stew is a regular in many synagogues and Jewish households on Shabbat (including mine!).
You put it on a slow cooker before Shabbat comes in – so that by Shabbat in the afternoon you have a hot pot of cholent ready at your disposal!
Warning: People with sensitive stomachs who need to deliver an important presentation the day after – you have been warned.
Kugel
Kugel is a sweet egg noodle (or potato) casserole common in Ashkenazi households. It's often served on Shabbat, especially during Kiddush luncheons.
Popular Variations: Potato Kugel, Noodle Kugel, Yerushalmi, Kugel with Kishke, Sweet Kugel
Knishes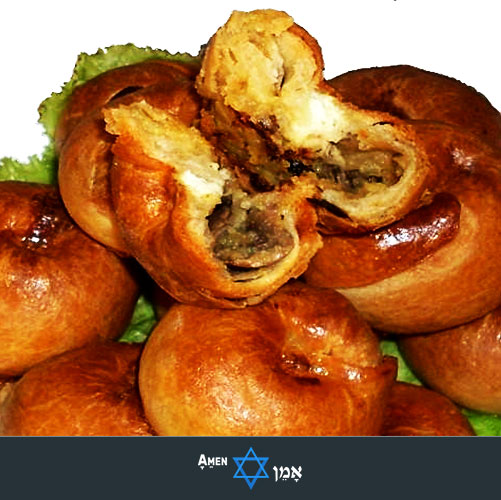 Knish is a traditional Ashkenazi snack often served in Shabbat meals. They're tiny little golden pastries that are often filled with potato, onions, meat or dairy.
Doesn't sound too healthy, huh?
Potato Latkes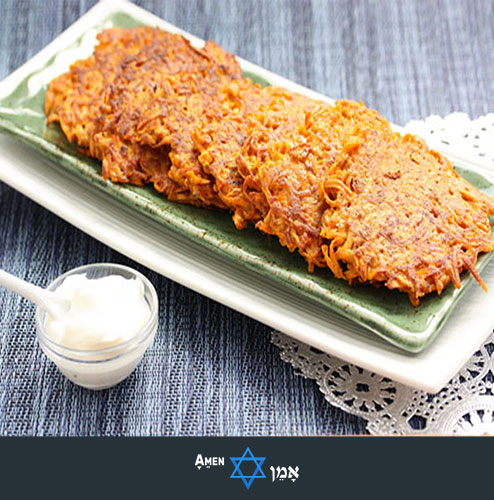 If you ever visit a Jewish home during Hanukkah – odds are you'll see potato latkes making an appearance and giving Hanukkah donuts a run for their money.
But unlike Sufganiyot, these tiny Jewish potato pancakes are often made during the year, too. Serve with applesauce or sour cream – and you get a great little appetizer to for your Bar/Bat Mitzvah.
Gefilte Fish
Gefilte Fish is another common Ashkenazi appetizer commonly served on Shabbat, holidays (especially Passover) and special occasions (you guessed it – in Bar/Bat Mitzvahs!).
Tip: If you're planning to host the luncheon/dinner yourself – check out Yotam Ottolenghi's Jerusalem cookbook. It has tons of delicious and easy-to-follow recipes for these dishes (and many others).
Bar/Bat Mitzvah Desserts
Plated service or food stations?
Luncheon or party?
Doesn't matter. Dessert is dessert. It doesn't matter how you serve it. What matters is how delicious it is (and how much of a sugar high it gives you)!
Tip: Most Bar/Bat Mitzvah parties & luncheons have a strict "no-dairy (Parve)" policy (unless you don't serve meat at your event). You know – better safe than sorry.
Here are a few Bar/Bat Mitzvah dessert ideas to end your child's big day on a sweet note: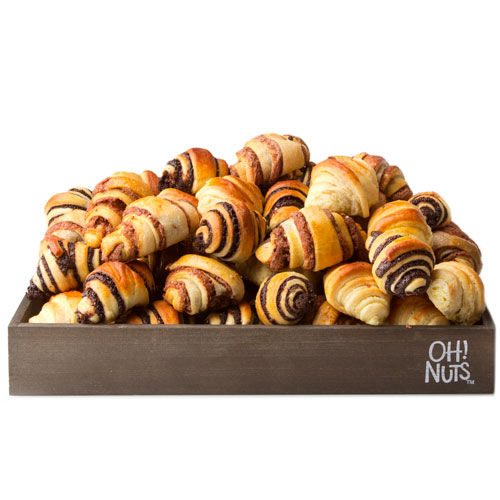 Rugelach is the most famous Jewish pastry (except for maybe holiday pastries like Sufganiyot). It's the go-to pastry you eat on Shabbat – and is essentially a must-have on Bar/Bat Mitzvah luncheons.
You can either make 50-100 Rugelach yourself, or you can buy a giant Rugelach gift basket to save you the time and hassle.
This one is pretty self-explanatory. Believe it or not – you can even get creative with your chocolates & sweets. This unique (and yummy) Tefillin gift basket is a great example (and it's Parve, too).
Many parents bake or order a themed Bar/Bat Mitzvah cake to celebrate their child's big day.
Remember – this is still a birthday… only BIGGER.
So you get the Jewish teen a special cake (not necessarily bigger) to celebrate the occasion. Bar & Bat Mitzvah cakes are often part of the decoration… and then when it's time for dessert – you eat the decoration!
Cake pops (like these delicious Bar Mitzvah cake pops) are an excellent bite-sized dessert, and a fabulous way to end a fabulous day (hey, that rhymes!).
Fruits & Nuts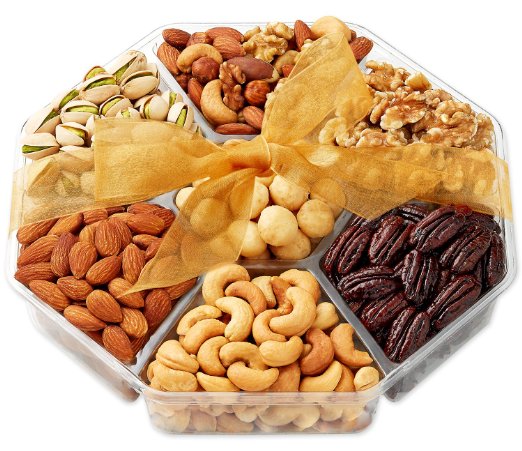 What if someone is in a diet… and they REALLY don't want to break it?
You can do a little Mitzvah on your child's Bar/Bat Mitzvah – and spread a bunch of fruit & nut boxes.
Sure, they may not be able to resist munching on those delicious snacks and pastries … but hey – at least you gave them the option to choose the healthy route!
Ice cream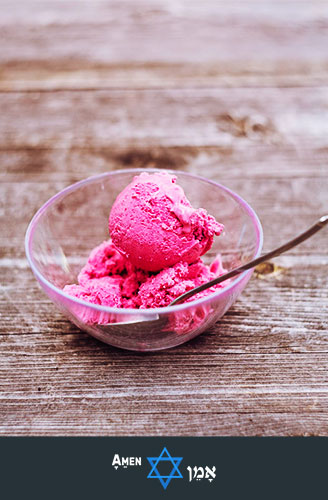 Pretty self-explanatory.
Tip: Make sure it's Parve if you're hosting a meaty meal.
Sorbet
Sorbet is often the preferred choice among Jewish families if they're hosting a meaty meal (which is usually the case).
It's basically just cold fruit and sugar. Sweet, delicious and parve.
Crème Brulee
Every time I attend a wedding and I see those two magical words on the menu – I'm filled with joy 😋.
So if you're having a Bar/Bat Mitzvah party and you have crème Brulee on the menu – please leave my invitation in the Comments below. Thanks, appreciate it.
Fried Banana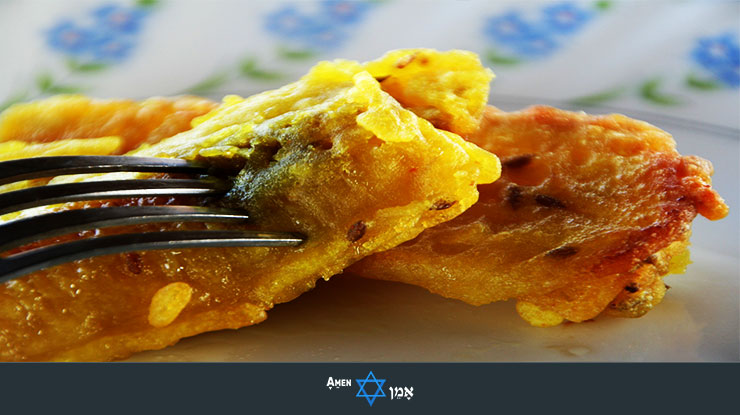 I haven't seen many Bar/Bat Mitzvah luncheons or parties serving fried banana. I only saw at once a few years ago in a Bar Mitzvah brunch I attended in Israel, and remember thinking to myself: "This is friggin' delicious. How come I don't see these more often?!
Cotton Candy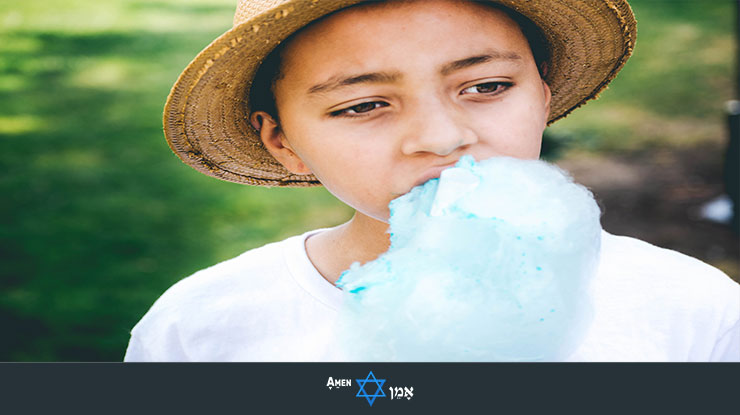 The carnival is in town! Cotton candy has become all the rage in Bar & Bat Mitzvahs in the past few years.
Brings back good memories…
Candy Sushi
It's sushi… only with candy!
Sweet!
Marshmallows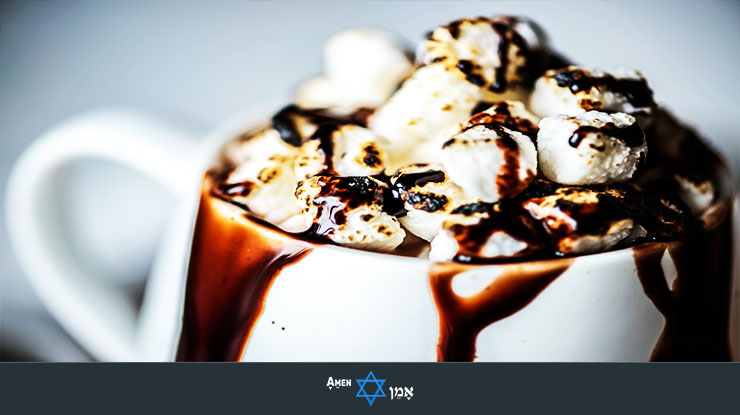 There's a reason why so many kids failed the Marshmallow test. It's hard to resist!
Well, this time – no scientist is putting any restrictions on your Marshmallow intake… so have at it!
Bar & Bat Mitzvah Menus
Let's look at a few Bar & Bat Mitzvah menu examples – so you'll know what to expect (and demand) from caterers and venues.
Note: Notice that kids often get a separate buffet menu.
Bar Mitzvah Party Menu Example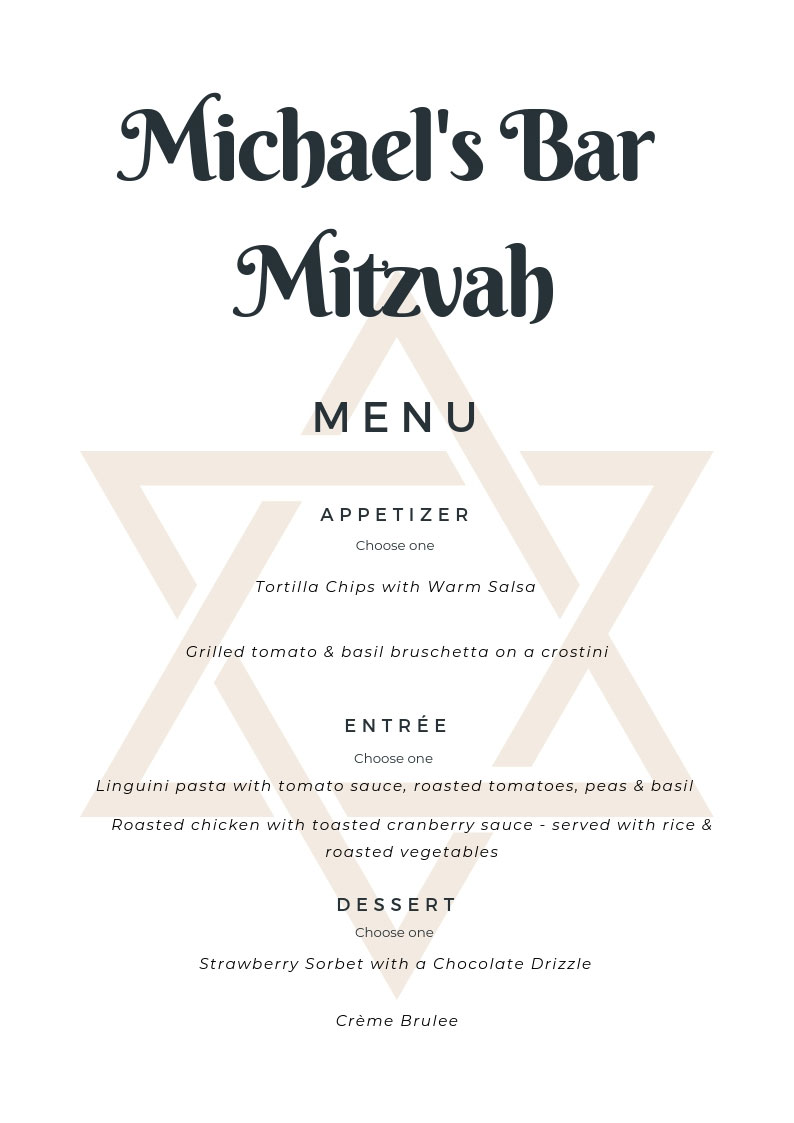 Bat Mitzvah Party Menu Example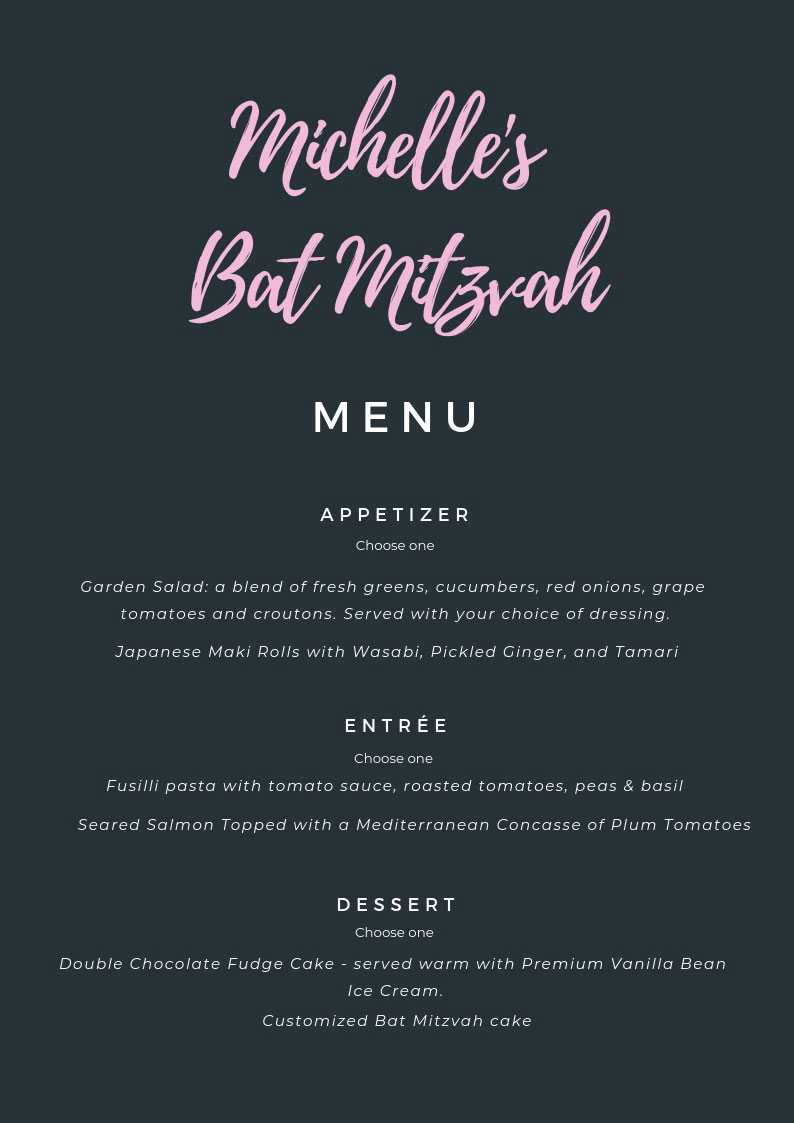 Bar/Bat Mitzvah (Kiddush) Luncheon Menu Example
Here's an example of a typical Bar/Bat Mitzvah brunch menu I created for my fake Bar Mitzvah luncheon (don't forget to bring Bar Mitzvah presents).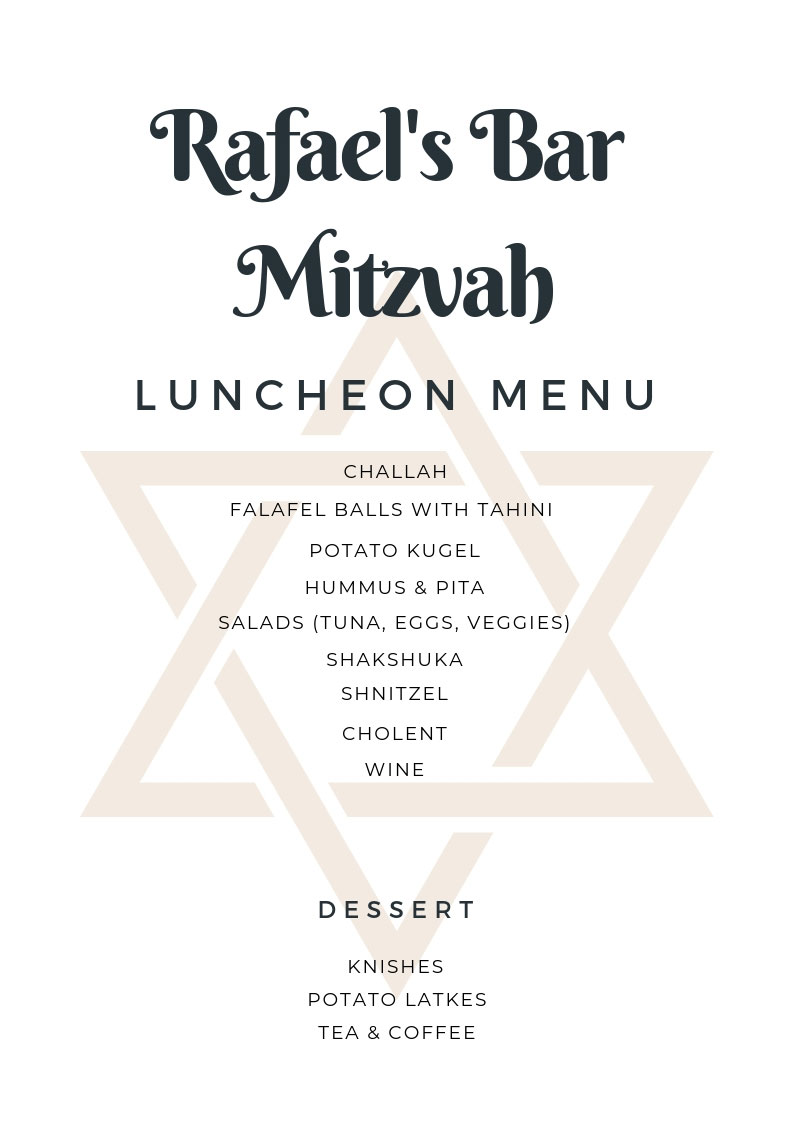 Bar Mitzvah Kid's Menu Example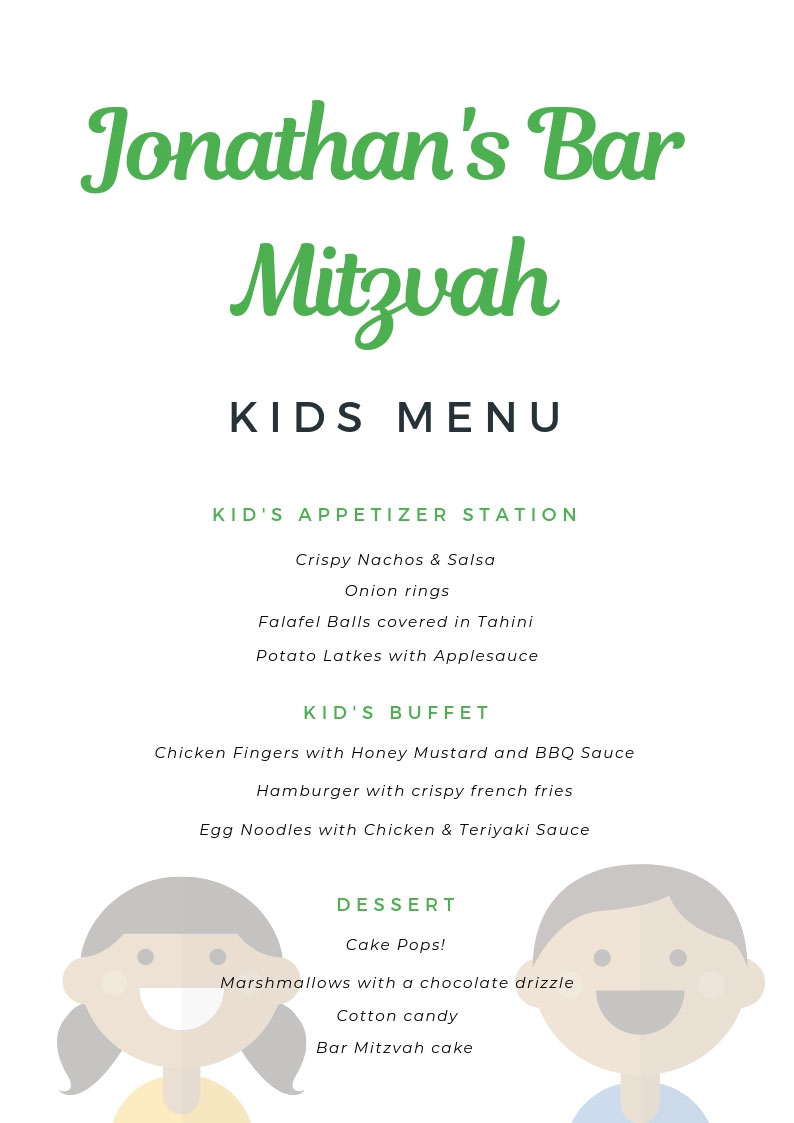 Conclusion
Mmm. Writing this Bar/Bat Mitzvah food article made me really hungry.
What should I eat?
Well, it depends… Am I going to a buffet? A food station? Or should I just wait for the waiter to help me decide?
OK OK. You got me! Truth is: I'm not even hungry (I just ate a half hour ago)!
Now it's your turn… your turn to take care of the food and "cook" your child an amazing Bar/Bat Mitzvah celebration!
Mazel Tov 🙂