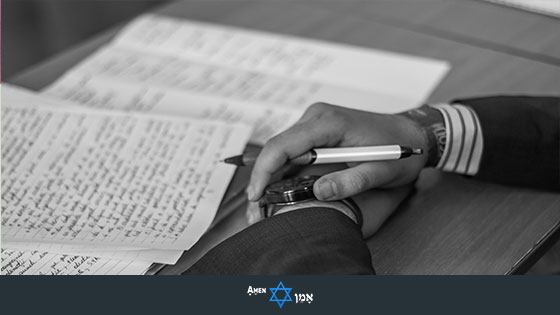 Why write for us?
Amen V Amen is growing rapidly, and you get a chance to join us for the ride.
We reach tens of thousands of (mostly) Jewish readers from all around the world every month (mostly the US, Canada, UK and Israel) – which means YOU get a chance to reach these folks too!
We're happy to introduce interesting people and interesting ideas to our readers…
Whether you're looking for a place to share your ideas, promote your [fill in the blank] or just make your mom proud – Amen V Amen can do all of that and more!
What are we looking for?
Folks who are interested in sharing their unique ideas, designs or products.
Especially if you're an up-and-coming writer/designer/artist… we know how hard it is to "get the word out"… and we love to help!
Original content that brings value to our readers.
This is the big one. If you believe you have something valuable to share with our readers – we're more than happy to give you the mic. If not, don't bother.
Content that "fits" our website and our reader's interest
Do your research and see what we like to write about, or what you think we might (or should) write about.
Although we're open to ideas – do some research on what we usually write about before you reach out to write about nerf guns (true story).
What are we NOT looking for?
No syndicated content.

Your guest post has to be original and written ESPECIALLY for Amen V Amen. We don't publish content you've already written someplace else.
No politics (u

nless it's used to illustrate a point)

No rehashed content of the same material ("Ugh… not another one of those")
Write a

GOOD

GREAT pitch
If you've been following along so far – you should know that our quality bar is pretty high.
We get a lot of requests, so make it easy for us to consider yours by writing a great pitch.
This is what your pitch should include at a minimum (the more information the better):
Pitch your idea

. Briefly summarize your topic idea and why you're the right person to write about it.
Include a brief outline/description of your article
If you have a draft ready – include it in your pitch
Who are you? Why are you interested in writing for Amen V Amen (Tip: don't sugar-coat it)?
What (and where) have you written about before? Share links to your previous writings…  
Writing Guidelines
You don't get married after the first date, now do you?
We'd like to get to know you first and hear about your article idea. Don't just blindly send us an article an expect us to publish it. Ain't gonna happen…
Tip: Read how to write a great pitch above.
Your article should be between 700-1500 words
If your article is longer – great.
If your article is shorter – not great. Chances are we won't publish it (unless there's a good reason for it).
There's a reason why kids fall asleep when they read a textbook: textbooks are boring… Write like you speak and people will listen.
We appreciate the fact that you have an opinion. But everyone has an opinion…
Ask yourself: what makes your opinion worth listening to?
Include data, facts, and sources to back up your claims and arguments.
This isn't an infomercial… so please avoid the excessive "me, me, me… I, I, I"…
And please don't stuff your article with links (not to mention affiliate links). We get that you want to improve your website's rankings… but don't be greedy.
Remember: pigs get fat, hogs get slaughtered.
Nobody likes to read a huge block of text. Include images (with credit), lists, bullet points, headers…
Tip: Go over our articles and see how we format it. We can immediately tell if you didn't bother going through our articles… and if you didn't bother putting in a minimal amount of effort, why should we?
Go over your article several times before you hit "send". If your article is filled with grammar mistakes and things that don't make sense. Oy vey…
Make it "ready to hit publish"
Although we do edit articles (sometimes vigorously) – your article should be as close to "ready" as possible.
Ask yourself: could I just copy & paste your article into WordPress and hit "Publish"?
How it Works
Contact us and pitch your idea (follow the guidelines above)
If we decide to work with you, you'll be contacted by our editor. Together, we'll plan your article and set expectations before you start working on your draft.
After the expectations are set, you'll write your draft and send it to us for review. Articles should be sent in Microsoft Word and include all additional attachments (including images)
We'll review your draft and ask you to make changes if necessary. 
Once your final draft is ready – it goes through our internal editing process.
The article is ready to be published and added to our queue.
We'll email you once the article goes live. We ask you to help spread the word and reply to comments when and if necessary (at least in the first week)
Important: If your post doesn't meet our quality guidelines, chances are we won't publish it. So spare us the inconvenience and write a great guest post!
Ready to send a guest post idea?
Contact us and let us know about it!