How to Plan an Unforgettable Bar/Bat Mitzvah – The Complete Guide [+ Free Checklist]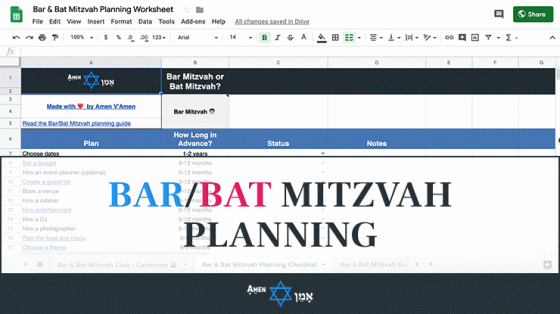 When you look at most parents planning their kid's Bar/Bat Mitzvah… what do you see?
Mothers arguing with the caterer
Fathers negotiating rates with the venue.
Parents pushing buttons on a calculator like merchants in India, desperately trying to keep expenses from inflating like a balloon.
Poor folks, no wonder they're so stressed.
But you know what's funny (read: sad)?
When you ask them: "how's the Bar/Bat Mitzvah preparation coming along?" – they'll usually put on a nice (fake) smile and utter something like: "everything is going GREAT!".
But you don't have to be a shrink to realize: everything is NOT great.
The poor parents are racing against the clock, jumping from one phone call to the next, trying to plan a wonderful Bar/Bat Mitzvah party for their child, without falling apart.
Unfortunately, they're fighting an uphill battle. They're worried. They're afraid they'll let their family down…
Is planning a Bar/Bat Mitzvah supposed to be this stressful? (hint: no)
What are they doing wrong?
Let me answer with Winston Churchill's famous quote:
I constantly see parents fail to plan their kid's Bar/Bat Mitzvah. And boy do they suffer the consequences:
The Bar/Bat Mitzvah costs are burning holes in their pockets
Nasty bags are emerging underneath their eyes
Their brain is quickly turning into a pressure cooker.
Parents – let's avoid that trap, shall we? Because unlike what pharmaceutical companies would like us to believe – prevention is always the best cure.
So today, I'll show you…scratch that. I'll GIVE YOU the exact steps, tools, and resources you need to plan an unforgettable Bar or Bat Mitzvah, without losing your mind in the process…
Sound good?
Great, let's begin…
Choose the Date(s)
When: 1-2 years before the ceremony.
The Bar/Bat Mitzvah ceremony is usually held on the first Shabbat after the boy's 13th Hebrew birthday or the girl's 12th birthday (13th in Reform and Conservative communities).
That means you can ask your synagogue a year or two in advance when your kid is "due"… and they'll give you the exact date.
Why so early, you ask?
Because knowing the ceremony date in advance can help you plan the main Bar/Bat Mitzvah events:
The Kiddush luncheon (parents usually hold the luncheon immediately after the ceremony, but you can choose a different date)
The Bar/Bar Mitzvah trip to Israel (if you're planning one).
Set a Budget
When: 9-12 months before the event.
Alright, first things first: setting your Bar/Bat Mitzvah budget.
I know I know, setting a budget is never sexy… but trust me – it's essential.
The most common mistake parents make when planning a Bar/Bat Mitzvah is not setting a budget. If you have no clue what your budget is, it means you don't have one. And if you don't have a budget – there's nothing preventing you from falling into the Bar/Bat Mitzvah party arms race against the Joneses (read: the other parents).
You're not going to make that mistake… RIGHT?
Good.
Now… setting a budget might sound intimidating.
That's why we created a free Bar & Bat Mitzvah Planning Worksheet that will help you: plan your Bar/Bat Mitzvah, set a budget, and make sure you actually stick to it.
Hire an Event Planner (optional)
When: 9-12 months before the event
If you don't have the time or patience to deal with every little detail yourself – you can always hire a Bar/Bat Mitzvah event planner to help you out.
But if you ask me – I think hiring a Bar/Bat Mitzvah event planner is unnecessary. Especially if you're on a budget – there's no reason you should rush into the event planner's hands.
Planning a Bar/Bat Mitzvah (as you'll find out in this guide) isn't hard. Try it yourself first: follow this guide, download the worksheets, and give it a shot… if you still find it too difficult, then by all means – hire an event planner to help you out.
Create a Guest List
When: 9-12 months before the event
Parents often make the mistake of choosing a venue and a caterer first, only to later realize their guest estimates were way off.
Big mistake.
This leads to awkward situations where you find yourself inviting your neighbor's cousin just so you can meet the minimum quota you committed to.
Start by creating a guest list of the people you're planning to invite. Once you have a rough idea of how many guests you expect, you can proceed to the next step…
Book a Venue
When: 9-12 months before the event
The sooner you book your party venue, the better.
Why? Competition.
If you're celebrating the Bar/Bat Mitzvah at an event hall or banquet hall – you're competing with other weddings, Bar/Bat Mitzvahs, Brit Milahs, corporate events… you name it.
The math is simple: the longer you wait to book your venue → the fewer available dates you'll be able to choose from → the more you'll have to pay.
What type of venue you choose depends on a variety of factors:
What is your budget?
How many guests are you inviting?
Are you inviting mostly kids or adults? (Hint: If you're not inviting adults, you can skip the alcohol and Bar service and pay significantly less!)
When are you holding the event? (Tip: Try to avoid the wedding season)
Are you holding the event in the afternoon or the evening?
Do you prefer the venue's in-house catering service, or do you have another caterer in mind? (more on that later)
Do you need any fancy decorations or a handful of cool decorations will do?
Hire a Caterer
When: 9-12 months before the event or ceremony
Parents are often stunned when they find out how much it costs to feed their guests.
A caterer can charge you anywhere from $10 per person on the low end, all the way up to $130 or even more on the high end (think high profile Chefs and gourmet food).
But before you start looking for a caterer – first you need to decide what type of service you prefer.
There are four types of services you can choose from:
Buffet
Food stations
Plated service
Hybrid service (a combination of the above)
Which service you choose depends mostly on the event (is it a party or luncheon?), the number of guests, and of course – your budget.
Once you've settled on the type of service, it's time to look for your Bar/Bat Mitzvah caterer.
Choose a Theme
When: 9-12 months before the event
Choosing the Bar/Bat Mitzvah theme is one of the most important decisions you will make.
The theme sits at the top of the pyramid: it determines your invitations, decorations, cake, candle lighting, party favors… EVERYTHING.
Popular themes include:
Sports theme (Football, Basketball, Baseball, Soccer…)
Music theme (including specific instruments like guitar and piano)
Shopping theme
Fashion theme
Beach or Tropical theme
New York City theme (common among NYC residents, obviously)
Dance theme
Video game theme (boys will be boys)
Favorite color scheme (blue, purple, pink…)
What if none of these (or any other) themes appeal to your kid? Do you have to choose a theme just because "the other kids had one"?
No.
I always say: having no theme beats settling on a lame theme. Just because the other kids had themes, doesn't mean your kid has to be forced into choosing a theme they're not 100% sure about.
Hire Entertainment & Choose Fun Party Activities
When: 8-12 months before the event
What's the first thing that comes to mind when you think of Bar/Bat Mitzvah entertainment? If you're like most parents – the first thing that popped into your mind was a DJ.
But let me tell ya – with a DJ alone – you're barely scratching the surface…
Don't get me wrong, hiring a DJ is important… in fact, a DJ is arguably the most important hire in a Bar/Bat Mitzvah (unless you hire a Bar/Bat Mitzvah music band instead).
But here's the thing: there's a big difference between simply hiring entertainment and entertaining your guests.
Putting all your eggs in the DJ's basket guarantees the former, not necessarily the latter.
If you want your guests to have a blast – consider spicing up your party with a little extra excitement.
Here's are some of my favorite Bar/Bat Mitzvah entertainment ideas and party activities that will keep your guests engaged throughout the entire event:
Hire a music band
Get Bar/Bat Mitzvah dancers to get the crowd going
Hand out Bar/Bat Mitzvah dancefloor giveaways
Serve food from food trucks
Hire a tattoo artist (not real tattoos… temporary ones!)
Have LED performers Illuminate the dancefloor
Get a Bar/Bat Mitzvah magician to dazzle everyone
Arrange photo booths (with photo booth props!)
Keep the guests engaged with games and prizes
Hire a Jewelry artist who makes Jewelry on the spot (and gives them to guests)
Hire a caricaturist to transform your guests into comic book characters
Rent arcade games & table games
Do the Hora dance (aka the "Chair Dance")
Hire a Photographer
When: 8-12 months before the event
Just like the DJ – the Bar/Bat Mitzvah photographer (and videographer) is one of the few key hires in every Bar/Bat Mitzvah party.
You know what they say: If it's not on Instagram or Facebook – it didn't happen.
Find a Tutor
When: 6-9 months before the ceremony
Bar Mitzvah tutors can get pretty expensive… so the sooner you start looking for a Rabbi for your kid's Bar/Bat Mitzvah lessons – the easier it will be to find a Rabbi that:
Meets your budget
Your kid enjoys studying with
Buy a Tallit & Tefillin
When: 6-9 months before the ceremony
Forget everything else: without a Tallit and Tefillin (boys only) – there is no Bar/Bat Mitzvah.
The Mitzvah of Tefillin is considered one of the most important commandments in a Jewish man's life.
Every morning (except for Shabbat & certain Jewish holidays), men wear two black leather boxes that contain parchments inscribed with Jewish prayers (like Shema Yisrael and others).
Before the Bar Mitzvah – the parent (normally the father) buys his son his first, and hopefully, the only Tefillin set the boy will ever need.
The same goes for the Bar Mitzvah Tallit.
But unlike the Tefillin, the Bar Mitzvah also wears the Tallit during his Bar Mitzvah ceremony (assuming he's reading from the Torah on Shabbat).
Choose a Mitzvah Project
When: 4-8 months before the event
It's time to start brainstorming for interesting Mitzvah project ideas! The Mitzvah project is a fairly recent tradition – where the Bar/Bat Mitzvah Mitzvah chooses a special cause they'd like to contribute to.
There are 4 basic steps to choosing (and fulfilling) a Mitzvah project:
Write down ideas you like
Choose the Mitzvah Project you like best
Announce your Mitzvah Project to keep yourself accountable
Fulfill the Mitzvah
Plan the Candle Lighting Ceremony
When: 4-8 months before the event
During the Bar/Bat Mitzvah candle lighting ceremony, the Bar/Bat Mitzvah lights 12-13 candles – depending on his/her age. Each candle is dedicated to a close family member or friend, often with their favorite song (or a song that describes them) playing in the background.
It's up to you to (and your child) to decide:
How many candles are you going to light?
Who are you going to invite to light a candle (which also means – who are you going to leave out?)
What are you going to say when you invite them up on stage?
Send out Invitations (+ Other Stationery)
When: 4-8 months before the event or ceremony
People think the goal of a Bar Mitzvah invitation (or Bat Mitzvah invitation) invitation is to merely invite your guests.
Sure, that's the surface-level goal…
But invitations have a deeper, underlying goal: to give your guests a sneak peek of the event you're putting together.
Think of it as a Hollywood movie trailer. You release the trailer to the public to convince people to go watch the movie.
The invitation serves a similar purpose: it's your Bar/Bat Mitzvah party trailer. So you better make it compelling… otherwise, people will just go watch "another movie".
Lucky for you – you don't have to pay millions to get an A list Hollywood movie star to star in your movie. Your movie star is your child… and they're willing to do it for free :).
And since it's their name (and face) at the front of the invitation, all you need to do is:
Choose a beautiful Bar Mitzvah or Bat Mitzvah invitation that (ideally) matches the party theme
Decide what to write in the invitation(Tip: Include the dress code so your guests don't have to guess)
Send out the invitations (and other stationery items)
Easy-peasy.
Party Decorations & Centerpieces
When: 3-6 months before the event
Next up: choosing the Bar/Bat Mitzvah decorations and centerpieces.
This often includes things like:
Guest books & sign-in boards
Seating charts
Chair and table covers
Table centerpieces
Flowers
Photos
Candle lighting
Napkins
Cups
Coasters
Balloons
And of course – anything else that matches the party theme. There's no limit.
Bar/Bat Mitzvah Favors
When: 3-6 months before the event
How do you make your guests remember this event for a long time?
Simple: you bribe them with unique Bar/Bat Mitzvah favors and souvenirs.
What's unique, you ask?
Here are some of my favorites:
Plan the Food (and Menu)
When: 3-6 months before the event or ceremony
Now that you hired the caterer – you can decide together what food to serve.
Ask to do a food tasting before you commit to one meal over the other. What looks or sounds good doesn't necessarily taste good…
Plan the Music Playlists
When: 3-6 months before the event or ceremony
If you're lucky – your DJ will have some experience with Bar & Bat Mitzvah parties. But for many DJs – this is going to be their first encounter with one… so you might have to clue them in on what to play (including what not to play), and when to play it.
Discuss with your DJ what songs fit each phase of the party: the meals, the dancing, the candle lighting songs… and put together the list of songs or playlists you'll play throughout the event.
Order a Bar/Bat Mitzvah Cake (optional)
When: 2-4 months before the event
"A cake? How much planning does a cake need?"
I'm not talking about your average $10 cake from the grocery store, silly. I'm talking about custom-made Bar/Bat Mitzvah cakes… a cake made by a professional cake designer.
Sure, a custom-made cake is completely optional… but it does add a nice "flavor" (pun intended) and a cool memory from the Bar/Bat Mitzvah.
Plus, these cakes are selfie-magnets… so they're also a form of entertainment 🙂
Buy Outfits
When: 2-4 months before the event
It's funny that it took us this long to get to the outfit… especially when the first (and perhaps only) thing on the Bar/Bat Mitzvah's mind is:
"OMG, what should I wear?"
Boys are easy: all a boy needs is a nice suit and a pair of elegant shoes – and he's all set.
Girls on the other hand – are a bit (read: A LOT) more challenging:
They need:
And as a bonus: a cute piece of Bat Mitzvah Jewelry to add the icing on the cake (Spoiler Alert: you can make the Jewelry her Bat Mitzvah gift).
Bar Mitzvah parents: consider yourself lucky.
Bat Mitzvah parents: good luck.
Buy a Gift
When: 2-4 months before the event or ceremony
With all this planning – it's easy to forget that a Bar/Bat Mitzvah is, first and foremost, a birthday!
And what do you get for someone's birthday? (tickets for Justin Bieber's concert! Oops. Did I say that out loud?)
That's right: a birthday gift!
Except…
This isn't just a regular birthday. This is THE birthday – the birthday they'll remember for the rest of their life.
Same goes with the Bar Mitzvah gift (or Bat Mitzvah gift): you're not just getting them any gift… you're getting them THE gift.
Save the new T-shirt you wanted to get them for their 14th birthday. For their Bar/Bat Mitzvah – you want to go for something more meaningful.
Something personal.
Something that when they look back a few years from now – will remind them of the wonderful Bar/Bat Mitzvah you had put together for them.
Write Speech(es)
When: 1-2 months before the event
Just 12-13 years ago you were holding your newborn child in your arms. Now here you are – standing in front of a young Jewish adult.
How does that feel?
Shh! Don't tell me! Save it for the guests… and more importantly – for your son/daughter.
Write a speech and pour your heart out… it's OK to be emotional! You're celebrating your kid's Bar/Bat Mitzvah!
Then, once you're done with your speech – go show your kid how it's done and help them write theirs (you know, to thank Auntie Bracha for flying all the way from Australia).
Transportation
When: 1-2 months before the event
If you're hosting the Bar/Bat Mitzvah at a remote location – you might want to arrange transportation for guests coming from afar or guests who aren't as mobile.
For example – if you're planning a Bar/Bat Mitzvah ceremony at the Kotel in Jerusalem, arranging transportation for your friends and family is a good idea. Finding parking near the Kotel is close to impossible.
Hair & Makeup
When: 1-2 months before the event
Ladies, gather up!
Book an appointment to your favorite hair salon, get makeup done, perhaps even a manicure & pedicure.
Create a Seating Chart
When: 2-4 weeks before the event
By now, you should have a pretty good idea of who's coming… so you can prepare a seating chart and hand it over to your venue staff.
And if you're feeling creative – you can even get special seatings cards to make your guests feel like they just entered the Superbowl.
Create a Timeline
When: 1-2 months before the event
By now you should have your vendors all ready for action. Now, it's time to coordinate and put together a timeline:
What time do we start serving drinks?
When is the food served?
What are the entertainment and party activities?
What songs do we play (and when)?
When do we give the speeches?
When do we announce the Mitzvah project?
When is the event over?
Final Preparations & Touch-ups
When: The week of the event or ceremony
Make sure everything is ready for the big day.
Go over every single item on the planning list (and this page) – and make sure you're not forgetting anything.
Confirm the guest count with the venue staff and caterer.
Go over the timeline and make sure each vendor is fully in sync: what they're doing, where and when they're doing it.
Hair and makeup
Final checks and balances.
3…2…1… Mazel Tov!
When: TODAY!
Go out, have some fun, and watch your child transform into an adult.
Conclusion
Planning a Bar/Bat Mitzvah isn't difficult. But it does require a bit of forethought.
It's tempting to just grab the phone and arbitrarily call up venues and vendors in your area… resist that urge…
The best way to plan a Bar/Bat Mitzvah is to start at ground zero, be patient, and take it one step at a time.
And my goal when I wrote this article was to parents do just that.
So… before you leave, make sure to:
Bookmark this page so you can return to it anytime you need
Download the Bar/Bat Mitzvah resources I mentioned in this guide
Be a hero – and share this guide with other parents who could also use some help planning their kid's Bar/Bat Mitzvah
Now… what are you waiting for? go plan an awesome Bar/Bat Mitzvah party!
Mazel Tov! 🥳