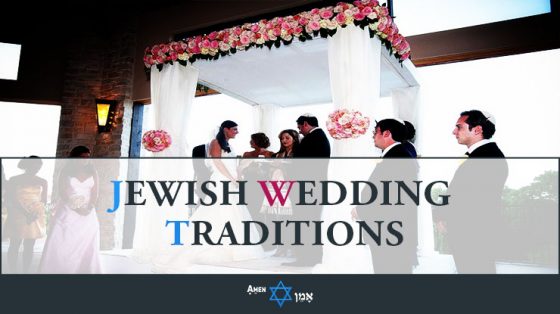 How do you spot a guest who's attending a Jewish wedding for the first time?
Easy: Look for people who have a confused look on their face. Those who are scratching their head, wondering:
Why is the bride circling the groom? 🤔
Why did the groom just break a glass? 🤔
And why on earth are people dancing on chairs?! 🤔
There's no doubt – Jewish weddings are different. Different traditions. Different rituals. Heck, even different wedding gifts.
But wait, it gets even more confusing…
Not only do Jewish weddings have unorthodox (or should I say, Orthodox 😉) traditions. But you'll also notice different customs and rituals depending on the type of Jewish wedding you're attending.
Certain Orthodox Jewish wedding traditions are absent in Conservative and Reform ceremonies.
Some customs are exclusive only to Ashkenazi Jews, and not practiced by Sephardic Jews.
Even the location of the wedding matters: weddings in the US aren't the same as weddings in Israel.
Can you blame Jewish wedding first-timers for being confused?
Well, it's time to lift the veil of mystery…
In this Jewish wedding guide, you'll learn what lies behind every single Jewish wedding tradition, who follows each tradition, and what exactly you should do.
If this is your first Jewish wedding ceremony: pay attention. Otherwise, you'll be left scratching your head all night wondering what the hell is going on… and I won't be there to save you (I wasn't invited! 😡).