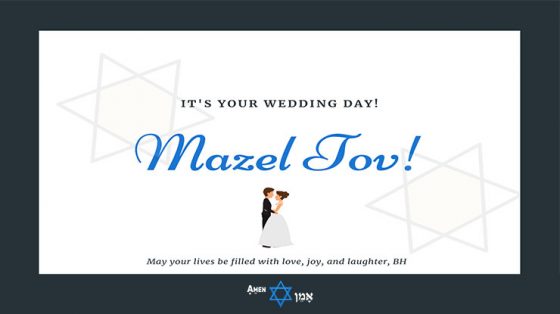 The most common question I get asked by folks attending a Jewish wedding for the first time (aside from what to wear and what gift to bring) goes something like this:
"What are the most common Jewish wishes and greetings?"

"How do I congratulate the bride and groom?"

"What do I write in a Jewish wedding card?"
Now, I could just tell you to write/say "Mazel Tov" (Spoiler Alert!) and call it a day… While that may suffice in some cases, it certainly isn't a satisfying answer if you're looking to write a meaningful wedding card or give a memorable toast. In that case, you'll need more than the average "Mazel Tov"…
I'm not saying you should unleash your inner Shakespeare or anything like that… but wouldn't it be nice to make your blessing stand out with a little heart and soul?
If you just nodded in agreement (hey, I saw that!), then you're in the right place!
Ready? Let's get crackin'…