30+ Classy Mishloach Manot Ideas, Gift Baskets & Gifts for Purim (2022)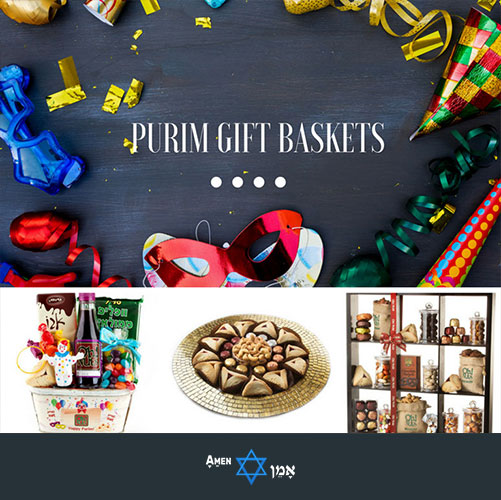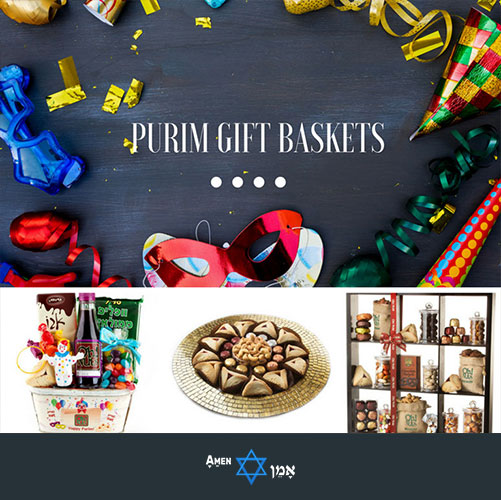 Amen V'Amen is supported by its audience. That means when you purchase something from one of our partners through one of our links, we may earn a small commission at no additional cost to you. Amen V'Amen is also an Amazon Associate, so we may earn a commission from qualifying purchases. Thank you for your support!
What's your favorite part of Purim?
Usually, there are three possible answers to that question:
Send/receive Mishloach Manot baskets
Dress up in cool Purim costumes
Send/receive Purim baskets while dressing up in cool Purim costumes
Hmm… it seems that there's only one answer after all…
In Purim, we give Mishloach Manot as a sign of friendship, unity, and care to the people around us. Every Jew is required to send a Shalach Manot to at least one person.
Luckily – most of us care about more than just a single person (I hope)… so more often than not we end up sending several Shalach Manot to the people we love.
Therein lies the secret of this special Mitzvah: the more we give ⇒ the happier we get.
It's a beautiful cycle: one filled with love, joy and caring.
And in this guide, we're going to kickstart the cycle with the best Mishloach Manot & Purim gift ideas we can give to our family, friends and loved ones…
Top Mishloach Manot & Purim Baskets
Before we go over each & every Mishloach Manot (and before you start drooling all over your keyboard/phone), let's have a glance at the best Purim gift baskets (and other Purim gifts) you'll find in this article…
Traditional Mishloach Manot Baskets
Let's start with some of the most popular & traditional Mishloach Manot basket ideas.
The gift baskets you're about to see include the famous Purim-themed treats, plus a few surprises that you wouldn't normally expect to see in a Purim gift basket…
Because let's face it – who doesn't love surprises? 🙂
Top Traditional Gift Basket
This traditional Shalach Manot gift tray is a prime example of an impressive, yet relatively affordable Purim package you can send to anyone: whether it's your family, friends, colleagues, teachers, students… you name it!
The gift tray includes four separate sections filled with different Purim treats:
Section 1: Classic black & white cookies
Section 2: Apricot Hamantaschen
Section 3: Raspberry Hamantaschen
Section 4: Rainbow cookies
The best part? It's nut-free, dairy-free (Pareve), and taste-full!
Most traditional Purim gift baskets include Hamantaschen; most commonly, poppy seeds and chocolate Hamantaschen.
Therein lies the problem: we don't want to be the 11th person sending the same old Hamantaschen; we want to be the first ones who send mouth-watering fruit-filled Hamantaschen!
This gourmet gift basket comes with fresh Raspberry Hamantaschen, Apricot Hamantaschen, delicious brownies, and assorted Ruggelach… all wrapped in a beautiful gift box.
Now that's how you send a traditional Mishloach Manot, but a unique one that stands out – both in looks and taste!
The previous Purim baskets are great and all. But they do have one downside: they're quite small.
What if you're looking for something fancier for your recipient? What if you're looking to dazzle them with a Mishloach Manot that is 10x better than any other gift basket they got for Purim? What if you like them to go: "Oh…My…G-d…" the moment they receive their Shalach Manot?
That's precisely what this extraordinary gift tray was made for: to blow people's minds.
A remarkable array of goodness, filled with glorious chocolate praline, peanut butter pops, and d-e-l-i-c-i-o-u-s Halva slices that remind you of Israel… All beautifully packaged in a 12′ x 12′ rustic wooden tray.
Classy & Elegant Mishloach Manot Ideas
Just because you're wearing a goofy Purim costume doesn't mean you should get a goofy gift basket. You're better off getting a classy Mishloach Manot and leave your wit and creativity to the Purim party.
These elegant Shalach Manot baskets are pure quality… and, as you might expect – they don't exactly lack quantity either.
Top Elegant Gift Basket
Feeling particularly generous? I mean, do you want to blow someone's mind with an out-of-this-world Shalach Manot?
Fames Chocolates is one of the finest chocolatiers in the country (luckily – their chocolates are 100% Kosher, hooray!)
Their stunning chocolate-themed Mishloach Manot set contains not one, not two, not three, but FOUR different premium chocolate treats – each one more delicious (and impressive) than the other.
Different flavors, different fillings, different toppings… a totally different experience.
If there's such a thing as the ultimate Shalach Manot – then I believe this is it.
This elegant Purim platter is the definition of gourmet. It features an impressive range of handmade, premium chocolate treats.
Want the specifics? Here goes:
Chocolate covered nut clusters
Chocolate covered pretzels and cookies
Chocolate peanut butter cups
White chocolate wafer bites
Buttercrunch
Signature Irish truffles
This is, no doubt, one of the fanciest Mishloach Manot on the list.
You can't talk about classy Mishloach Manot baskets without mentioning Godiva. Godiva's gift boxes are the embodiment of elegance.
But they're not just elegant, they're also delicious beyond belief. If you ever tasted Godiva, you know exactly what I'm talking about (in fact, it's my favorite chocolate!). If you haven't – then I only have one question: what the hell are you waiting for?!
I sure hope you'll be lucky enough to receive a Shalach Manot with at least a few Godiva chocolates this Purim (don't forget, you can always treat yourself with a yummy Shalach Manot 😉)… But if not, then at least you can redeem someone else who appreciates quality.
100% Kosher. 100% premium. 100% irresistible.
Unique & Creative Mishloach Manot Ideas
This isn't your first rodeo Purim, is it? It's hard to impress you, or any other Jewish adult (kids are easy to impress) who has been through a few Purim festivals in their lifetime…
Hard, but not impossible.
And I'm not talking about getting a crazy Purim costume (you can do that too). Believe it or not, I'm talking about Purim baskets.
Don't believe me?
Don't worry, these unique (and original) Mishloach Manot ideas will change that in a minute…
Top Creative Gift Basket
Looking back, I bet the folks who built the Tower of Babel would've preferred a tower of Shalach Manot, filled with delicious chocolates, snacks, sweets, cookies & nuts… don't you think?
You probably wouldn't fit through the door carrying this gift tower, but rest assured – whoever receives your cool Mishloach Manot will remember it for years.
And it's NOT your typical, boring chocolate either: it's a tower filled with:
Lindt Truffles
Milk chocolate Bavarian pretzels
Blueberry-Greek Yogurt cookies
Double-Dipped chocolate peanuts
Milk toffees
Chocolate chip cookies
…and many others!
And guess what?
It's surprisingly cheap, too!
I know what you're thinking:
"What the hell is a Pizza box doing on a post about Mishloach Manot?"
Don't worry, its not a mistake; rather, its a unique Purim basket for someone with a sense of humor.
Imagine someone handing you a nice little Mishloach Manot gift basket, and you giving them a pizza box in return.
At first, they'll be shocked… b once they open the pizza box, it'll suddenly dawn on them that they just received a gourmet candy "pizza" – with milk chocolate crust, popcorn "cheese", pretzel and chocolate candy pieces (M&M's style) topping with chocolate drizzled on top.
How can anyone "top" that (insert Pizza topping joke here)?
Look closely: there is no Purim-related treat in this gift tray; not a single one.
Instead, this gift tray is about one thing, and one thing only: candy.
The way I see it – if you'd like to wish someone a sweet Purim – give them a sweet gift basket… Not just mildly sweet, put hyper-sweet!
Now, count how many times I mentioned the word 'sweet' in the sentence above… Pretty sweet sentence, huh? Well, it doesn't even come close to this gift tray's level of sweetness.
Sweet Moses!
Cute Mishloach Manot Ideas
"Awww. That's so cute!"
You'd expect to hear someone say that with a cute baby, a cute puppy, or a cute baby playing with a cute puppy.
But a cute Mishloach Manot?
You wait and see my friend…
Cutest Gift Basket
'I have a dream... that one day, we will all include chocolate Babkas in our Shalach Manos'.
Click To Tweet
Most traditional Purim packages look pretty much the same: a bunch of chocolates, nuts, a Hamantaschen or two, and maybe a little beverage for good measure.
Not very often do you witness a cute Purim food basket filled with the finest Jewish baked goods: Challah, chocolate Babka, assorted Rugelach, and of course Hamantaschen… ALL Parve.
This gift basket is a breath of fresh air in a world of "me too" baskets (not that kind of "me too").
Staying with baked goods… except, this time we're taking the cookie-route.
Everyone is so hung up on Hamantaschen, chocolates, candy…
Yawn 😴… how much of that stuff can we eat in one day?
Why not get a little creative, and give your Purim gift basket some personality?
How the hell do you give personality to a gift basket, you might wonder? Easy: add plenty of irresistible baked goods into the mix!
2 fudge walnut brownies

Peanut butter brownie

2 chocolate chunk brownies

2 chocolate chip blondie brownies

Butterscotch blondie brownie

2 oatmeal raisin cookies

2 peanut butter cookies

4 chocolate chip cookies

2 fudge brownie cookies

2 lemon sugar cookies

2 pecan sandy cookies
Just writing this list of goodies almost made me drool all over my keyboard. Imagine what it's like eating it?
Chocolate gifts + a personalized photo gift box (maybe of a baby) = c-u-t-e-n-e-s-s!
This unique chocolate photo gift box comes with a wooden keepsake box, filled with 2 meaningful gifts for chocolate lovers:
Your photos & memories
Delicious chocolate treats & snacks
See? What did I tell you? "Awwww. So cute!"
Healthy Mishloach Manot Basket Ideas
Believe it or not, you don't have to visit the dentist after Purim…
Truth is, there are plenty of healthy Shalach Manot baskets that don't make you feel guilty after every single bite. As much as we all love our love handles, it's hard to handle them when they grow too big!
I'm here to prove to you that with a little willpower, and with the right gift basket, you can send someone a delightful Shalach Manot that is both yummy and healthy…
Top Healthy Gift Basket
You know your recipient is trying to lay off the snacks… so don't you dare get them a fattening Mishloach Manot! We all know how that'll turn out:
They'll inhale the chocolates & sweets
They'll feel bad about themselves
They'll blame you for putting on weight
What do you say we avoid that scenario… and instead go for the healthier alternative?
This Mishloach Manot gift basket is ideal for anyone who's on a diet, or someone who'd rather NOT enter a new diet after Purim (ehm, because someone gave them an unhealthy Shalach Manot, ehm).
It's fully packed with a huge variety of all-natural, gluten-free, protein-rich nuts & snacks, namely:
Almonds
Pistachios
Cashews
Mixed nuts
Raw walnuts
Pecans
Purim snacks fall into one of two categories:
Tasty snacks
Healthy snacks
Rarely do you find snacks that fit both categories… so when that happens – it's worth paying attention.
Broadway Basketeers managed to find the right balance of tasty AND healthy in their huge, Kosher gift tower. Not only is it gluten-free; it's also wheat-free, dairy-free, and most importantly – guilt-free!
Now that's a Kosher Purim gift basket tower you, I, and anyone who's on a diet can get on board with!
Speaking of diets… if your recipient is trying to lay off the sweets – then go "nuts"!
2 pounds of hand-selected, fresh & delicious nuts, to be exact… including:
Roasted salted macadamia nuts
Almonds
Pistachios
Cashews
Mixed nuts
Raw walnuts
Honey glazed pecans
Like I said: go NUTS!
Boy, that sure was a lot of nuts, wasn't it? But hey, this is Purim after all… cut em' some slack, will ya?
I'm not saying you should ruin their diet with candy, chocolates and all sorts of fatty snacks they'll hate you for (after they finish eating the whole thing). But you could at least throw in some tropical fruits to the mix to make things more "interesting".
OK, LOTS of tropical fruits!
Dried Kiwi
Sliced Mango
Dried Figs
Dried Apricots
Dates
Dried Pears
Dried Cranberries
Dried Plums
Fruit (and roasted pistachios) galore!
Cheap Purim Gift Baskets
The Mitzvah of Mishloach Manot is about giving, but nowhere does it say you have to go bankrupt when you send out a gift basket to your loved ones. Halakha clearly states we should send at least two items of food to at least one person.
Now… you'd probably want to send more than just two pieces (to avoid being called a cheapskate and all)…
There are wonderful Purim package ideas out there available for a very reasonable price. Here, I'll show you…
Top Cheap Gift Basket
I haven't met a single person who doesn't love Oreo cookies.
Yes, they're not exactly Purim-y…
Yes, they're round, not triangular like Hamantaschen…
None of that matters… what matters is: they're Kosher, they're yummy, and most importantly – they're affordable!
The Oreos come in 12 different flavors, all handcrafted from premium chocolate, nuts, and toppings, and they're friggin' delicious!
I think it's time we publicly declare: gourmet Oreo sandwich cookies = awesome Purim treats!
Earlier in the guide, I included Fames Chocolates' enormous Purim gift package. Needless to say, if you're looking for a cheap, simple Mishloach Manot – that clearly isn't it.
Luckily, it's not "all or nothing": you can order one of the premium boxes from Fames Chocolates' gigantic gift set, for a fraction of the price.
This chocolate-themed Purim gift box is handmade in Brooklyn and arrives with an impressive collection of premium chocolates that melt in your mouth… including:
Almond patties
Vanilla hazelnut truffle
Chocolate caramel
Nutty chew
Chocolate fudge
Raspberry stick
Mango fruit
It's a shame that Purim doesn't come more often, huh?
Broadway Basketeers has already made several appearances in this article.
The thing about their Kosher gift baskets is that most of them are incredibly cheap, considering the size of their baskets and the portions included.
I could've easily fit all of their baskets in the "affordable gift baskets" section, but that wouldn't be fair to the other baskets (we wouldn't want to hurt the chocolate's feelings, now do we?).
After careful consideration, I decided that their chocolate & nut gift tray deserved a special spot in this section.
The gift tray includes:
Milk + Dark chocolate Bavarian pretzels
Milk + Dark chocolate-covered Graham crackers
Gourmet caramel popcorn
Yogurt enrobed peanuts
Assorted milk toffees
Crème Brulee mix
Mint sweets
A generous amount of treats, for a surprisingly low price.
Mishloach Manot – Send to Israel
Just because you're not physically in Israel, doesn't mean you can't send a lovely Mishloach Manot basket to someone you love.
These gift baskets are exclusive to Israel. Just give the order, and they'll be delivered to their address the very next day!
Top Gift Basket in Israel
Home sweet home.
Unfortunately, you're not there with them to celebrate Purim together. But the good news is – you can still make their home a sweet one with this yummy Purim gift basket – full of Hamantaschen, rum-balls (yep!), chocolates, cookies, milk pralines, wine (yep, yep!), and peanut chews.
Let's get a little bigger and fancier…
And by fancy – I mean Vienesse crunch, caramelized almonds, pistachios, milk praline chocolates – and a sweet bottle of wine.
Time is running out… so let's end this article with one final flash of inspiration.
A classical Purim package that evokes an "Oh… my… G-d" when your recipient opens the door… and sees this phenomenal Mishloach Manot sent from their loved ones in America.
As you might expect – you'll have to pay a little extra for this one.
Purim Gifts
Purim isn't all about Mishloach Manot (and costumes), you know? You don't have to bless (or curse) your recipient with a big basket of sugary treats. Instead, you can get em' a nice, traditional Purim gift that doesn't involve gaining a few pounds.
Here are a few examples…
With all that talk about Mishloach Manot and Purim food baskets, it's easy to forget that there are other Purim gifts out there besides ones you can chew on.
Take the Megilla reading for example… there ain't no chewing going on when we read Megillat Esther.
Candy and sweets are of no use to us during that time.
What do we need during the Megillah reading? Two things:
A copy of the book of Esther
A grogger (we'll cover that in a second)
Koren's hardcover Five Megillot is one of the most popular editions of the Hebrew Megillot… with the 5 Megillot (5 scrolls) of the Ketuvim:
Song of Song
The Book of Ruth
The Book of Lamentations
Ecclesiastes
The Book of Esther (the book we read in Purim)
It features a new English translation to the Hebrew text, and it's decorated with over 30 beautiful and vibrant watercolor illustrations by the famous Israeli artist, Leela Ganin… so both adults and kids can enjoy following along while the Rabbi reads the Megillah!
Top Purim Gift
We all know how much kids (and adults) LOVE blasting the grogger every time the Rabbi or Chazan mentions Haman's name.
The only problem with those groggers (aside from the fact they become annoying at some point) – you throw them away after Purim is over.
Such a waste…
Legendary Judaica artist, Yair Emanuel, certainly thought so… that's why he created this epic wooden grogger – with an artistic depiction of Jerusalem (his signature design)
Emanuel is a master of turning mundane things into remarkable pieces of Jewish art… that includes something as simple as a Purim grogger!
Purim flowers, particularly colorful bouquets like this one – are a delightful addition to any Purim holiday table.
This lovely bouquet is filled with bright yellow sunflowers, green poms, pink tulips, and a bunch of other beautiful flowers I can hardly pronounce (here goes: Alstroemeria).
A terrific way to surprise someone you love, decorate your Purim holiday table or add some bright, cheerful colors to your home.
DIY: What to Put in a Mishloach Manot?
Prefer putting together a Mishloach Manot on your own? In that case, there are a couple of things you need to know.
First, let's clarify the rules dictated by Jewish Law when it comes to choosing what to put in the Mishloach Manot:
Include at least two items: A Mishloach Manot has to include at least two different items. Some Jews are more stringent and include two items that require distinct blessings (although that's not a Halachic requirement). For example, they might include a piece of fruit (Borei Pri Ha'etz/Ha'adama), and a piece of chocolate (SheHakol)
Choose foods that are ready to be consumed. There's a reason why snacks and wine are so prevalent in Mishloach Manot: they can be consumed immediately. The items you include should be edible/drinkable without requiring any cooking or prep work. In other words, don't put any weird stuff like a piece of uncooked meat or baking ingredients from your recent grocery shopping.
Pretty straightforward, right?
Now, for the real challenge: what should you put in the Purim gift basket?
First, you've got to decide whether you're creating a themed Purim gift basket, or a generic one.
Themed Purim Gift Baskets
If you're creating a themed Mishloach Manot, you'd want to include items that align with that theme. For example, if you're creating a coffee-themed Mishloach Manot – you'd want to include things like ground coffee or instant coffee, coffee-flavored treats, maybe even a small coffee cup and a coffee recipe book.
Popular Mishloach Manot Themes: Here's a (partial) list of popular Mishloach Manot themes and ideas for your Purim gift basket…
Coffee
Tea
Chocolate
Candy
Israel
Shabbat
Healthy
Vegan
Wine
Cuisines (Italian food, Chinese food, Israeli food…)
Sports (Football, Basketball, Baseball, Hockey, Soccer…)
Colors (Purple, Pink, Teal)
Animals (Dogs, Cats, Horses…)
Generic Purim Gift Basket
If you're building a generic Mishloach Manot, you're essentially including a bit of everything. I included our DIY recommendations below, divided into different categories. Pick and choose the options you like best.
Gift Baskets & Accessories
Purim Decorations
Food & Drink
Conclusion
Purim isn't just about wearing funny costumes, eating Hamantaschen, and drinking wine at the Purim party…
Purim is about expressing our love and care towards others. We send Mishloach Manot to show compassion, share with our community and bring people closer together.
If this guide helped you find a Shalach Manot that helps you do that, then every minute I spent writing it has been time well spent…
Happy Purim 🙂