8 Stunning Hanukkah Tablecloths & Table Runners (2022)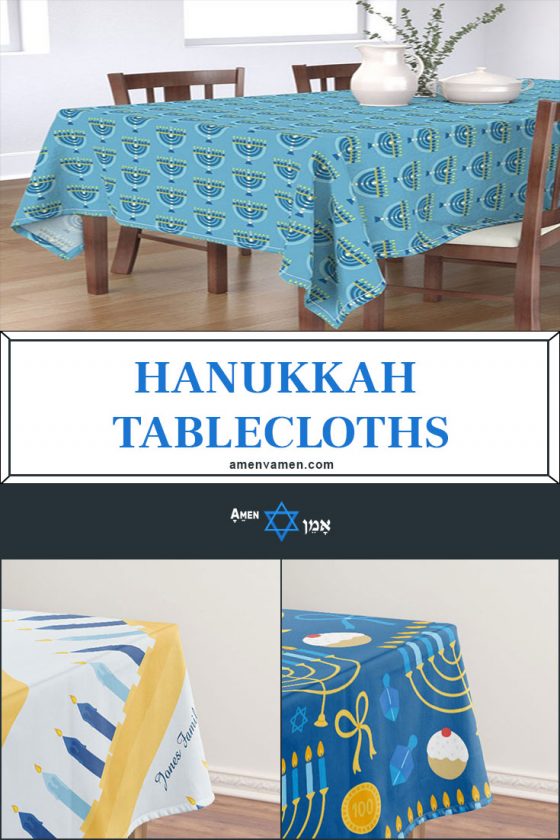 Amen V'Amen is supported by its audience. That means when you purchase something from one of our partners through one of our links, we may earn a small commission at no additional cost to you. Amen V'Amen is also an Amazon Associate, so we may earn a commission from qualifying purchases. Thank you for your support!
Every time the topic of Hanukkah decorations comes up, I always start with the same advice: "Start with the table setting, then move on to the rest."
Why? Because Hanukkah is all about getting together family and friends around the dinner table. And if your table setting doesn't have a warm and homey vibe to it on a cold winter day – then what the heck are we even doing here?
And guess what? The tablecloth is literally what everything else rests on, so we might as well start there, right?
In this guide, I hand-picked my favorite Hanukkah tablecloths and table runners that'll bring some of that Hanukkah spirit to your dinner table. And guess what? Once Hanukkah is over, you can continue using these table linens all throughout the year. Because why hell not, right? 🙂
Top Hanukkah Tablecloth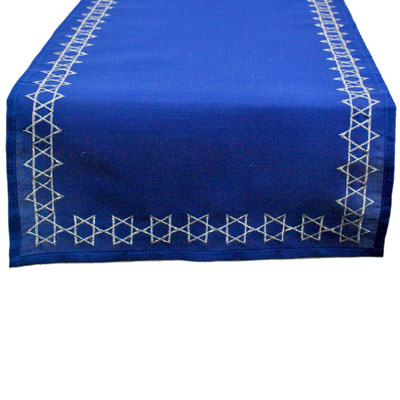 If you're going to dress up your table for Hanukkah, you might as well do it with the "official" Hanukkah table runner.
By official, I don't mean that it was used by the Maccabees at the Jewish temple or anything like that. But it most definitely is one of the most popular table runners among Jewish families, and it has been the case for years now.
Did You Know?
It has won Amen V'Amen's Top Hanukkah Tablecloth award for three years in a row now!
It's beautiful, affordable, easy to clean, AND it's blue & white (the traditional Hanukkah colors). Not more you can ask from a Hanukkah table linen…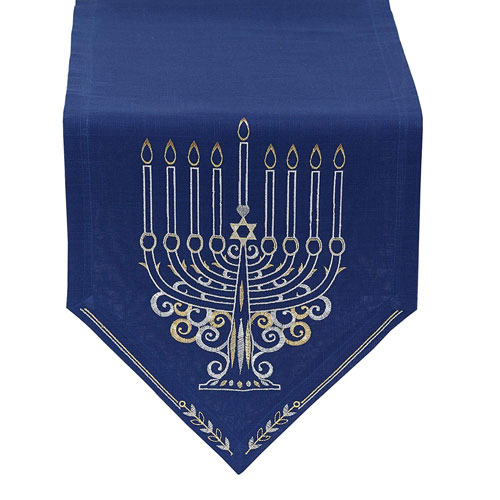 Want to give your Hanukkah table a more luxurious, Hanukkah-y look? With a beautiful Menorah illustration (and Stars of David, of course) on it and everything? You got it!
Unlike the previous tablecloth – which you could technically throughout the year – this Menorah table runner is dedicated to Hanukkah. It instantly upgrades your holiday table and gives it a classy, elegant look.
Perfect if you're having guests over, or if you're looking for a classy Hanukkah gift for someone else who's playing "hostess" this year.
So far we've seen one particular Hanukkah symbol shine (pun intended) in the previous tablecloths: the Menorah.
But what about the other symbols?
Dreidels

Sufganiyot

Chocolate gelt
All of these traditional symbols (including the Menorah) are beautifully embroidered in this colorful Hanukkah tablecloth.
That'll surely lighten up your living room (and make you surprisingly hungry)!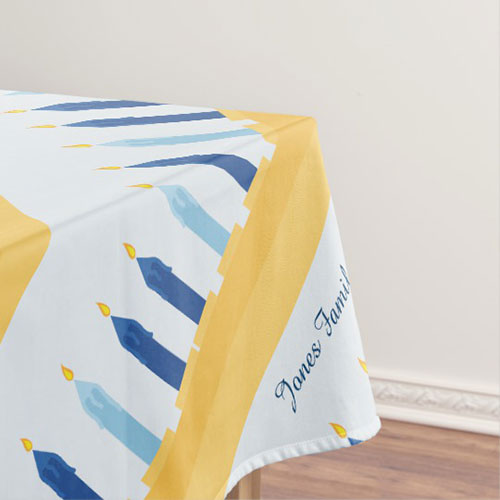 "Go big, or go home".
That thought clearly went through the artist's mind when they designed this remarkable tablecloth.
This vibrant Hanukkah tablecloth features a gold and blue Menorah on a light blue background, guaranteeing to capture the attention (and compliments) of your guests.
Not only that, there's a small space at the corner where you can personalize this tablecloth with your name on it.
How cool is that?

From one gigantic Menorah to small Menorahs, LOTS of small Menorahs.
If you're planning a fun, informal (read: not too fancy) Hanukkah party, this tablecloth is the best fit for the occasion.
It's lighthearted, festive, and just spreads good vibes.
It's available in 6 different sizes – from small to XL. So it doesn't matter if you're planning an intimate party or you're inviting the entire neighborhood. As long as you have a table – this tablecloth will likely fit.
And believe it or not, it's handmade!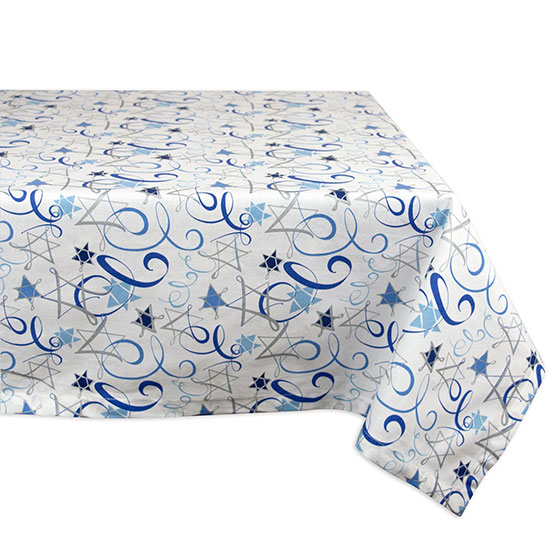 DII's second appearance in this article. This time, with a unique Hanukkah swirl!
This Hanukkah tablecloth is an excellent way to welcome Hanukkah in a fun and cheerful way.
It's 100% cotton – fully machine washable (and low iron if needed). That's good… because guess what? You'll need it to get rid of those nasty stains from the Hanukkah donuts and chocolate gelt.
Tip: Even though this technically is a Hanukkah tablecloth, you could easily use it during other holidays.
If you look closely at this white Shabbat tablecloth – you'll recognize quite a few Hanukkah symbols, as well as other traditional Jewish symbols:
Menorah

Kiddush cup

Olive branches

"Chag Sameach" – "Happy Holiday" (spelled in Hebrew)

"Shabbat" (spelled in Hebrew)
This begs the question: "What's the deal with this tablecloth? Is it a Hanukkah tablecloth? Or can I use it on Shabbat as well?"
The answer is, you can do both!
Note: Let's be honest, nothing is stopping you from using any of the Hanukkah tablecloths throughout the year). In fact, why wouldn't you? It's much better than letting the tablecloth collect dust all year.
Or, to put it simply – this is a great, affordable, multi-purpose Judaica tablecloth you can use anytime, anywhere.
Bonus: Not to mention the matching Challah cover (don't worry, you can always get a different Challah cover)
"Berachot" = blessings in Hebrew.
That's precisely what this handmade tablecloth is covered with: a compilation of blessings in Hebrew.
This impressive tablecloth was designed especially for Shabbat and Jewish holidays – including Hanukkah.
And unlike the other Hanukkah-oriented tablecloths, you'll be able to use it throughout the calendar year, not just during the seven days of the festival of lights.
Conclusion
In case you were wondering if I chose 8 Hanukkah tablecloths by accident, the answer is yes!
Some folks like to have one tablecloth for each night of Hanukkah. It gives you the element of surprise and keeps everyone on their toes wondering what "Easter Egg" you're preparing next!
Keep in Mind: This is optional! Believe it or not – getting 8 tablecloths can get pretty expensive… so don't blow your entire Hanukkah decorations budget just on tablecloths, will ya? Or at least if you do, make sure you get at least a few multi-purpose Jewish tablecloths you can use during the rest of the year.
Remember – 50% of your table setting is determined by the tablecloth… so choose wisely!
Happy Hanukkah 🙂