20+ Stunning Bat Mitzvah Jewelry Gift Ideas for a 12-13 Year Old Girl (2022)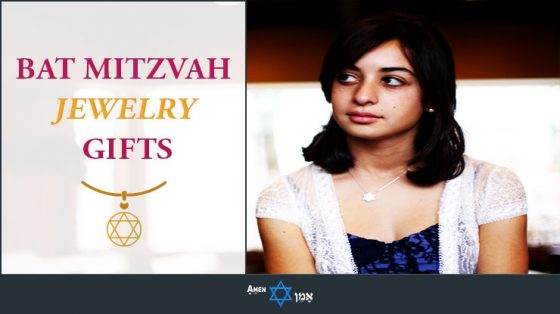 Amen V'Amen is supported by its audience. That means when you purchase something from one of our partners through one of our links, we may earn a small commission at no additional cost to you. Amen V'Amen is also an Amazon Associate, so we may earn a commission from qualifying purchases. Thank you for your support!
It's no secret that one of the most common Bat Mitzvah gifts is Jewelry.
But just like anything in the modern world – we are spoiled for choice: there are SO many unique jewelry gift ideas out there that it's hard to separate the wheat from the chaff.
Should you get her a Star of David necklace? Maybe a Hamsa bracelet? How about a Shema Yisrael ring? Perhaps Roman Glass earrings?
Ahhhh! HELP!
There are SO many unique jewelry gift ideas out there that it's hard to separate the wheat from the chaff. No wonder people feel overwhelmed …
This gift guide will provide you with the one missing element that'll help you find the perfect Bat Mitzvah Jewelry gift: focus.
Ready? Just follow the bling…
Top Bat Mitzvah Jewelry Gifts
Introducing: Amen V'Amen's award-winning Jewelry gifts for any Bat Mitzvah will be lucky to get on her big day.
Bat Mitzvah Necklaces
No doubt – beautiful Jewish necklaces are the most popular Jewelry gift you can get a girl for her Bat Mitzvah.
But here's the problem: the Bat Mitzvah has only one neck (assuming she's human).
You know what that means…?
Your Bat Mitzvah necklace better be amazing… otherwise, it's NOT going on the girl's neck, it's going to collect dust in the Jewelry box (I'll actually show you a beautiful Bat Mitzvah Jewelry box later, just sayin'…).
That's why I ended up spending hours going through hundreds (if not thousands) of Jewish necklaces out there – to find the best necklaces no Bat Mitzvah girl can say 'no' to.
Behold!
Top Bat Mitzvah Necklace
Why choose between a Bat Mitzvah Jewelry gift and a traditional Jewish gift, when you can have both?
The Tree of Life is one of the most ancient symbols in Jewish tradition.
In the Kabbalah, the Tree of Life is a symbol of God's divine creation of the world – made up of 10 interconnected spheres (called Sefirot). More importantly – it's a symbol of responsibility, maturity and spiritual elevation.
If that sounds like an EXACT description of what the Bat Mitzvah (the Jewish coming of age) represents in Judaism – it's because it is.
That's right… The Tree of Life and the Jewish coming of age go hand and hand (or in this case – hand and neck).
Especially since we're talking about a pure, hand-crafted 10K gold necklace.
It's what transforms this gift from merely appropriate ⇒ to epic.
Like the idea of getting her a Tree of Life necklace, but can't afford a 10K gold pendant?
Good news… There's a plan B, and it's beautiful (and affordable, too)!
This sterling silver Tree of Life necklace was almost "designed for a Bat Mitzvah gift". Well, it is hand-crafted by an incredibly talented Jewish designer, so no wonder…
Plus, it's 100% eco-friendly, made from recycled sterling silver, so you get to preserve the environment while you're at it!
Question: What happens when you combine the following elements:
14K yellow gold Star of David necklace
Blue-green Swarovski crystal
The Shema Yisrael prayer inscribed in 24K gold
The answer: you get a stunning Bat Mitzvah necklace for the ages.
Rarely do you get two iconic Jewish elements (Star of David + Shema) in one piece of Jewelry… let alone when it's inscribed in 24K gold on a vivid Swarovski crystal.
A brilliant piece of Jewish Jewelry any Jewish woman will be lucky to wear (and guess who qualifies as a young Jewish woman?).
If you get your lovely Bat Mitzvah girl a gift, any gift… you still need to spend time writing her a nice Bat Mitzvah blessing.
Imagine if there was a Bat Mitzvah Jewelry gift that is both gorgeous, AND tells her how much you love her?
Wouldn't that be amazing?
Surprise, surprise! There actually is a necklace just like! (you didn't see that coming, did you?)
It has the word LOVE all spelled out (in Yellow gold) … and instead of the 'O' – a Star of David comes in to take its place.
What's not to LOVE?
We went this long without mentioning Shema Yisrael (and I promise it won't be the last time).
It certainly was worth the wait…
We recite the Shema Yisrael prayer every morning and every night before we go to sleep… It's our daily declaration of our faith in God.
But we often forget to recite it when we can use God's guidance and encouragement during hard times.
Like the Shema prayer says:
"Recite them when you stay at home and when you are away, when you lie down and when you get up…"
This elegant necklace reminds the young girl that it's OK to recite it anytime, anywhere…
Not to mention how stunning it is… the necklace is made of 14K gold and decorated with clear white cubic zirconia stones surrounding the gold-plated pendant.
A spectacular gift for a Bat Mitzvah girl.
Are you familiar with the saying: "Put your money where your mouth is?"
Well, apparently lots of folks have decided to do just that with this bestselling crystal-clear Star of David necklace.
Made of a sparkling blue Swarovski crystal and wrapped by a gold-filled Star of David… not exactly the type of pendant you see every day, am-I-right?
A remarkable gem of a necklace any Bat Mitzvah would go crazy for.
Bat Mitzvah Bracelets
There's a special charm in bracelets (no pun intended).
You see them when you eat.
You see them when you write.
You see them when you check the time.
Point is: unlike necklaces, you don't have to look down at your neck to see them. They're right there under your nose.
Do you know what I see here? An opportunity to decorate the Bat Mitzvah's wrist with a beautiful Bat Mitzvah bracelet.
A bracelet that will remind her of her Bat Mitzvah party… But more importantly – a bracelet that'll remind her of the meaningful Bat Mitzvah gift you got her.
Top Bat Mitzvah Bracelet
The Hamsa symbol is one of the oldest Jewish symbols. Most people are familiar with the Hamsa's whole "charm against protection" thing.
But there's more to it. A LOT more…
In fact – I'll show you "live" what I mean:
Scroll back up, and take a good look at the shape of the Hamsa hand… notice the shape of the 3 middle fingers? Does it look familiar (hint: think of the Jewish alphabet)?
If you answered the branches of the letter "Shin" (ש), as in – the first letter of "Shaddai", one of God's names – ding ding ding! Then 10 points go to you!
In other words: it's not just any symbol of protection. It's a symbol of God's protection that you carry with you.
And when that symbol is made of 14K rose gold, with a dazzling diamond in the middle? All sorts of good beautiful things start to happen…
Blessing 1: "Here's a heart from the bottom of my heart"…
Blessing 2: "Many daughters have achieved greatness, but you have surpassed them all".
If the 2nd blessing sounds more familiar (and better) than the first one – its because it is.
I just made the first one out of thin air.
King Solomon wrote the second one (Eishet Chayil) to honor the Jewish woman.
(And let me tell you… I'm no King Solomon)
As you might expect – the blessing written by the wisest man who ever lived is WAY more inspiring than my corny one…
So inspiring – that it's engraved on this magnificent sterling silver heart bracelet.
I can't think of a better bracelet for a Bat Mitzvah than that.
I promised you this won't be the last time you'll see Shema Yisrael (SPOILER ALERT: They say 3rd time is a charm… something to look forward to 😉).
Here's the thing: it doesn't matter if the Bat Mitzvah girl wears 50 other bracelets, or if she wears just… one thing's for sure: her other bracelets will she wears will pale in comparison to this one.
Just like the Shema Yisrael necklace I mentioned earlier, this Shema Yisrael bracelet is surrounded with beautiful cubic zircon stones that sparkle 24/7.
Except this time – she won't have to look down every time to find her Shema Yisrael necklace. It'll be right there in front of her – on her wrist.
Bat Mitzvah Rings
I don't know the Bat Mitzvah girl you're shopping for. But I do know this: she'll get a TON of necklaces and bracelets for her Bat Mitzvah celebration. I guarantee it.
Now, with that in mind, the question is: what gift can you get her that will stand out in this sea of more-of-the-same Bat Mitzvah jewelry?
One option? Bat Mitzvah rings.
You know what they say: when everyone zigs, you zag.
But it's not just about "zagging". It's about "zagging" in style!
Top Bat Mitzvah Ring
Let's come back to King Solomon's masterpiece we recite every Friday night – Eishet Chayil.
Only this time – we're moving from the wrist to the finger. From a bracelet to a Woman of Valor ring.
Who is an Eishet Chayil exactly?
Well, let's ask King Solomon:
'She is the Eishet Chayil, the Woman of Valor, who sets the tone of love, spirituality and personal growth for all those around her. To know her is to appreciate her strength and talents...
Click To Tweet
We all go through challenges in life. Inevitably, so will the young Bat Mitzvah girl.
When that happens – all she has to do is have a quick look at the 9K gold Eshet Chayil ring she got for her Bat Mitzvah.
That'll remind her how strong and talented she really is… and give her the inner strength to overcome any obstacle standing in her way!
I know I made fun of cliché heart Jewelry gifts earlier (heck, I still do)…
The problem with these cliche gifts – most of them are either juvenile or just plain boring (or both). Eventually, teenage girls grow up and they end up tossing them into the drawer – where they sink into oblivion forever.
You don't want that. I don't want that. The Bat Mitzvah girl doesn't want that.
But just like any rule – there are exceptions to the rule.
This phenomenal 14K yellow gold Star of David + Hearts ring is one fine example of that.
If you look closely, you'll notice that the 2 interlocking triangles that form the Star of David were masterfully fine-tuned into 2 hearts – that when combined together form a unique blend of a Star of David and hearts.
Like I said – a wonderful exception.
We already had a Shema Yisrael necklace, a Shema Yisrael bracelet.
Now – it's time to complete the trilogy… with a Shema Yisrael ring.
Sure, you can choose to get her just the ring, and that would be an amazing gift in of itself.
But if you really want to give her an unforgettable present… something she can wear in various ways for many years, AND you're willing to spend a little extra to make that happen: then get her all 3 Shema Jewelry gifts in a set.
If you do that – go make popcorn…because you're about to watch her get blown away. And that's better than any movie you'll find on Netflix.
Bat Mitzvah Earrings
Let's face it: most of the earrings 12-13-year-old Jewish girls are used to – kind of suck.
"Oh look, a pair of hearts… how exciting… (NOT)."
"Another pair of flower earrings? Yawn…😴"
"Oh thank you for these cute butterfly earrings. They'll look great in my drawer."
Enough is enough (or like they say in Israel: חלאס!)
Let's face it: she isn't a little girl anymore… she's a young Jewish woman now.
What do you say we treat her like one with her first pair of Jewish earrings for young women – the kind that Jewish adolescents wear?
Top Bat Mitzvah Earrings
"Hi, my name is Rebecca, and I'm addicted to Roman glass Jewelry."
(Wait, did I say that out loud?)
There's something incredibly captivating in Roman glass Jewelry. I could stare at them for hours (in fact, I do sometimes. Addict, remember?).
In fact, the rich history of Roman Glass Jewelry and Israel is even more fascinating…
Did you know that Israel was one of the largest producers of Roman glass in the ancient Roman empire? How crazy is that?
Besides, these earrings are designed by Rafael Jewelry. It reminded me of "our" Rafael – the founder of Amen V'Amen.
So yea, this gift is kind of dedicated to him too (although his male ego won't allow him to wear these 🙂 )
Meet Adina Plastelina.
As you can tell by Adina's unorthodox style – she isn't exactly a typical Jewelry designer (and no, not just because of her catchy name).
Her signature style is eye-catching, vibrant and playful design… perfectly illustrated in her unique Star of David earrings.
As you probably know – 12-13-year old girls don't exactly share the same taste in Jewelry as adults… and like we determined earlier – they're too old for those childish Jewelry design.
They fit somewhere in the middle. Which is exactly where Adina's Jewelry fit in…
Turns out, Adina was able to "hit the nail on the head" with her Bat Mitzvah Jewelry, and she didn't even realize it.
Kol Hakavod Adina!
Earlier, I mentioned how you can assemble a beautiful Shema Yisrael gift set for the Bat Mitzvah.
Well, after getting numerous messages from our readers mentioning how much they love the Tree of Life Jewelry I talk about, I figured: why not do the same and create a Tree of Life Jewelry gift set.
Of course, these Tree of Life earrings are gorgeous on their own and can definitely stand on their own two feet (get it? Each tree has one foot. Never mind…)
But if you like to take it a step further and create a marvelous Jewelry gift set for the Bat Mitzvah – you can get her a matching Tree of Life necklace – designed by the same talented Jewelry artist – Robin Aronson.
Personalized Bat Mitzvah Jewelry Gifts
Sure, the Bat Mitzvah Jewelry gifts we've covered so far are all fantastic.
But are all Jewelry gifts created equal?
Not if you're a close family member (parents, grandparents and other family members – I'm talking to you).
If the Bat Mitzvah girl is important to you personally – then you'd want to go the extra mile and personalize her gift.
Simple as that.
Guess what?
You're about to do just that…
Top Personalized Jewelry Gift
The Bat Mitzvah's name, in Hebrew, made from14K yellow gold?
Do I need to say more?
Personalized name necklaces are typical Bat Mitzvah gifts that girls absolutely LOVE. In fact, chances are she'll receive at least one for her Bat Mitzvah.
But I can virtually guarantee – none of them will even be remotely close to this one.
Beautiful? Yep ✅
Quality? It's 14K gold…that's a double Yep ✅
Memorable? No doubt ✅
Hand-crafted in Jerusalem (that's a statement, not a question) ✅
Let me put it more bluntly: odds are, this personalized necklace will dwarf any other customized necklace (or any necklace) she'll get for her Bat Mitzvah.
We already had a personalized necklace, now it's time for a personalized bracelet.
This beautiful contemporary piece of jewelry can be personalized with the Bat Mitzvah's Hebrew name, each letter on a separate 1 cm sterling silver disk, carefully written & handcrafted in a unique Torah-style script.
The good news is that while many folks buy personalized Bat Mitzvah necklaces, hardly anyone buys personalized Bat Mitzvah bracelets.
And just like they teach in business school 101: when supply = demand, beautiful things happen.
In other words – if you get em', she'll wear em'.
Calling all friends and family who like to get the Bat Mitzvah a meaningful and personalized gift, without going bankrupt in the process.
This Bat Mitzvah necklace is beautiful in its simplicity. It includes 3 pieces that make it an excellent Bat Mitzvah gift – all combined into one cool necklace.
A sterling silver disc with the girl's name on it
A sterling silver tag stamped with the date of her Bat Mitzvah celebration
A sterling silver Star of David
Yes, there's a bonus piece! A lovely Swarovski charm (or white pearl)
A classic example of the "whole is greater than the sum of its parts", and a fabulous keepsake for the Bat Mitzvah girl.
Unique Bat Mitzvah Jewelry Gifts
By now – you've seen enough Jewish Jewelry gifts for an entire synagogue.
So, I'm not going to give you another section with more traditional Jewelry gifts.
This time – I'll give you something a bit more unique.
Something that'll make a great "bonus" gift that goes well Jewelry gift of choice.
Here, I'll show you what I mean…
Top Unique Jewelry Gift
The Bat Mitzvah girl just received a TON of Jewelry gifts (including the one you just got her – bravo!).
After all – she can't possibly wear all of them, all the time.
What is she going to do? Where is she going to keep her Jewelry? Oh no!
Relax. That's where you come in (I mean that literally) …
You arrive at the Bat Mitzvah party, holding a glorious, personalized Jewelry box in your hands… saving the day!
It turns out – heroes don't always wear capes… sometimes they gift-wrap Jewelry boxes.
A watch? What's so unique about a watch?
C'mon…
Look closely, please. Zoom in if you have to.
Notice anything "unusual"?
This isn't exactly a standard watch you'd give a little girl for her birthday in Chuck E Cheese.
It's a women's watch. An elegant watch with classic Hebrew letters made of gold, made by one of Israel's top watch designers
Notice how I highlighted the "women's" part? That's because this is isn't a little girl's watch. It's a grown-up's watch. (hint: Guess who just turned into a Jewish adult?)
Conclusion
If you feel like putting on sunglasses (you know – too much sun Jewelry exposure) – I don't blame you.
Hopefully, this article gave you enough Bat Mitzvah Jewelry gifts for 10 different girls!
Remember: The last thing you want is to get her a Jewelry gift that'll sit in her drawer and collect dust in her Jewelry box.
Before you decide to get the Bat Mitzvah a piece of Jewelry, ask yourself: "If I were in her position… would I be proud to wear this?"
If the answer is yes – you just found yourself a winner.
If the answer is no – go over this list of Bat Mitzvah Jewelry again. Read it several times until you find "the one".
Save it, bookmark it, pin it – do whatever it takes to find a gift you just KNOW the Bat Mitzvah will be happy to wear. (plus, that'll help others find this article as well… and more importantly, it will make me happy!)
Mazel Tov! 🙂