13 Gorgeous Dresses for the Mother of a Bar/Bat Mitzvah (2022)
Amen V'Amen is supported by its audience. That means when you purchase something from one of our partners through one of our links, we may earn a small commission at no additional cost to you. Amen V'Amen is also an Amazon Associate, so we may earn a commission from qualifying purchases. Thank you for your support!
How's your child's Bar or Bat Mitzvah preparation coming along? Hopefully, by now you should at least have:
Great! Lets the party started, then!
"HOLD IT RIGHT THERE, Rebecca! What about me? I'm the mother of the Bar/Bat Mitzvah and I don't have a dress yet. Heck, I'm not even sure what I should wear!"
D'oh! Silly me!
Let's get you all sorted out, shall we?
Top Bar/Bat Mitzvah Dresses for Moms
SPOILER ALERT: "Rebecca, I've got a Bar/Bat Mitzvah to plan. Just TELL ME WHAT I SHOULD WEAR". OK, OK! Fine! Here are my cherry-picked dresses that'll transform a proud Jewish mom into a proudtractive (proud + attractive) Jewish mom.
(if you do have a few minutes, I recommend you stick around till the end to discover the complete list of our favorite dresses.)
Modest Dresses
Tznius (modesty) has always been one of the cornerstones of Judaism. But NEVER before has it been so important than today.
In a world where fewer clothes = more likes and followers on Instagram – Tznius shines a dim, yet powerful light; a light that is based on humility, respect, and modesty.
Tznius teaches us that true beauty lies within… and it does so not through some cliche Instagram quote (boy, I've been bashing Instagram today haven't I?), but by example.
And guess what? That's exactly how kids learn – through example.
OK, now that I've gotten that Tznius rant off my chest, let's look at the finest modest dresses Jewish mothers can wear on their child's big day :).
Top Modest Dress
The problem with most modest dresses these days? They're not flattering. They either make you look fat, old, or fat-old. Like, what? Are we supposed to apologize that we're not 20 years old anymore?
Luckily, there are a few righteous dresses in Sodom that come to the rescue. And at the top of my list (as well as the shopping lists of many other moms) – lies Alex Evening's remarkable dress.
Sure, it looks great and all… But what makes this dress truly shine is its timelessness – you can wear it (and continue wearing it) when you're 30, 45 or even 60 years old. Your age might change, but your look will stay exactly the same.
And guess what? It's comfortable and durable enough that you'll actually want to wear it, again and again (just make sure you take good care of it, yes?).
It's classy, attractive, and slimming (!), so you won't feel guilty at every bite you take for a change. After all, you paid good money for catering, shouldn't you be able to enjoy it as well?
The dress comes in a variety of unique colors:
Black & White (like the image above)

Navy

Deep Plum

Peacock (don't worry, it's not what you think)

Wedgewood

Champagne

Eggplant

Dove

Sky (my favorite!)

Taupe
Tip: Pay attention to the Sky, Dove and Champagne colors in particular. They're absolutely stunning!
Without a doubt – the undisputed winner of the Modest Dresses section.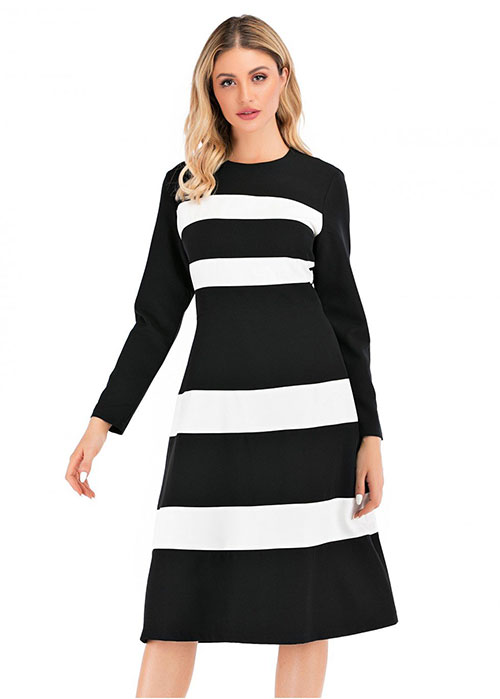 The first word that came to mind when I saw this cute black & white dress: Chic.
Modest + Chic isn't a combination you see every day, so I couldn't help but include this lovely dress on the list!
This elegant dress is made of 100% Polyester, fully lined (except for the sleeves) and has a hidden zipper in the back.
Tip: Make sure to iron the sleeves before wearing it.
Sure, the fabric isn't the best, but fortunately, the hip design totally makes up for it.
Miss Finch NYC is famous for its trendy Tznius clothing for Jewish moms. And this lovely black & white dress is a great example of just that.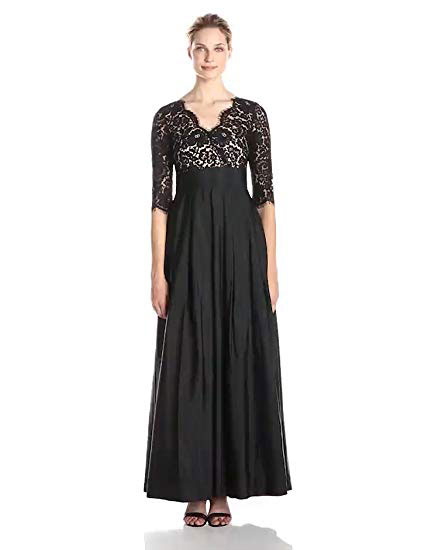 Usually, it's the mom that is proud of her child. But in this case, it'll be the child who's going to be oh-so proud of their mom!
Why? Not just because she has planned such a beautiful Bar/Bat Mitzvah ceremony, but because she looks fabulous!
The dress has a ¾ sleeve, perfect for both a Bar/Bat Mitzvah party dress or a shul dress. More importantly, it has flat pleats – so it'll do a good job hiding that extra holiday weight 🙂
This modest dress is living proof that a dress doesn't need to be flashy or provocative to be attractive.
I've seen a lot of impressive dresses out there (especially during my research for this article). And believe me when I say: this elegant dress blows a lot of designer dresses out of the water… and it does so without a "designer-dress price tag"!
Don't get me wrong, this isn't exactly the cheapest dress out there (in fact, it's one of the pricier ones on the list). But it's certainly one of the most impressive ones.
One thing is for sure: it'll make a proud Jewish mother look absolutely stunning!
Tip: Don't forget to compliment the dress with a nice necklace to add the cherry on top!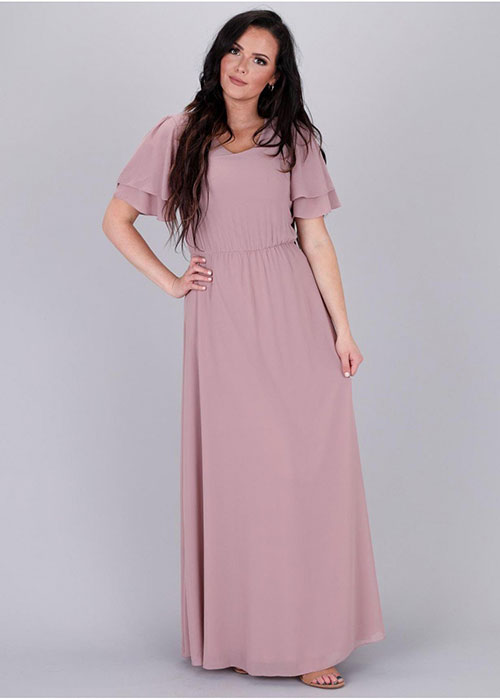 A party dress? A ceremony dress? A Kiddush luncheon dress?
There are very few dresses that can do it all (and then some): this is one of those rare cases.
This classy dress has flutter sleeves and a gathered waistband. It's fully lined and made of 100% Polyester.
In most cases, you'll find that a party dress isn't appropriate to wear for shul (or vice versa). This classy dress is definitely an exception – you can wear it to any (or all) of these events.
And once the Bar or Bat Mitzvah is over, don't you dare just throw it in the closet to collect dust. KEEP WEARING IT! For Shabbat, holidays, for a work-related event. This dress can do it all… it's a Super-dress! (now that's a cool superhero, don't you think?)
Tip: Get the Maroon (red) one. Trust me!
Elegant Dresses
If you attend enough Bar & Bat Mitzvah parties, you'll inevitably stumble into events where the mother is wearing something so ridiculously over the top that it's unclear who's the one celebrating – the mom or the poor child.
And it doesn't matter how much the child tries to hide their feelings – you can clearly tell they're embarrassed.
On the flip side, I've been to many (way more) events where the mother wore an elegant dress, looked like a million dollars, without "stealing the show".
Knowing my readers, I believe (and hope) you belong to the second camp.
If you do – then you'll LOVE the elegant dresses in this section.
(if you happen to belong to the first camp… sorry, I can't help you)
Top Elegant Dress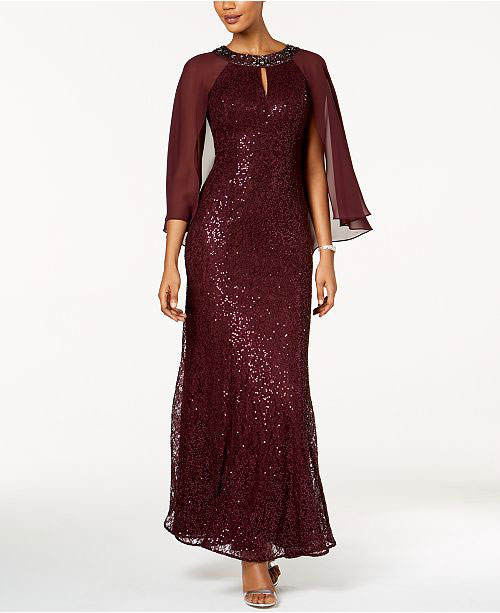 "Wow".
That's the word you're looking for. And that's the word you'll be hearing when you greet your guests at the reception.
To simply call this dress "elegant" would be a sin. It's the epitome of elegance.
The dress is floor-length – certainly modest enough to wear for shul… although if I were you – I wouldn't ruin the surprise. Personally, I would save this dress for the party – where this dress can truly blossom.
It's available in Fig Red (like the one above), Navy (which is also stunning), and black.
Classy, non-revealing, and all-around impressive.
You'll have a hard time finding a classier dress than this. Not just here, but ANYWHERE.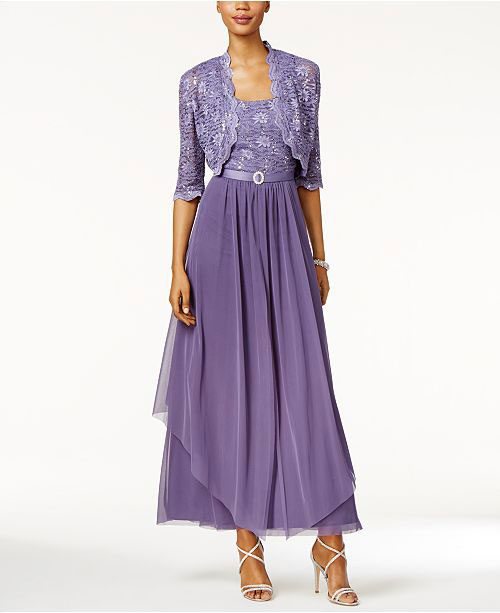 R & M Richard's dresses are a common choice among Jewish mothers.
Did You Know?
They're not just common among mothers of a Bar or Bat Mitzvah, but also among mothers of Jewish brides and grooms… But it's a little too early for that. Let's not get ahead of ourselves, shall we? 🙂
In fact, R & M Richard's main focus is creating elegant dresses for 35+-year-old women – a breath of fresh air in a world obsessed about pleasing girls in their 20's!
This beautiful belted chiffon gown arrives with a coordinating cropped bolero-style jacket – providing an elegant sophisticated look for the proud mother.
The sleeves are elbow length – in case Tznius is a requirement.
Note: The neck length might be problematic though. It has a scoop neckline – which might be unsatisfactory if you're looking for a shul-appropriate dress.
And more importantly – it's comfortable as hell! (hint: that's important if there's dancing involved).
Adrianna Papell's dresses are all the rage these days. And one look at this phenomenal dress makes is all you need to understand why.
Its entire M.O is to "make every woman feel special". While I don't normally buy into these type of cliche mission statements, this dress might turn me into a believer.
The entire dress is covered in intricate beading. The dress is fully lined, with a round neck and lovely cap-sleeve construction – terrific for a Bar/Bat Mitzvah party or reception.
Champagne (+gold) never looked so appealing!
Tip: Wait till you see the rest of the colors – particularly the Rosegold, Lead (that's right), Navy, and Gunmetal (that's right again).
Luxury Dresses
A word of warning – the designer dresses you're about to see are:
Spectacular

Expensive
So, if you're on a budget and you prefer getting an inexpensive dress – feel free to skip this section and jump straight to the next one.
On the other hand, if you consider yourself a fashionista, or if you're willing to spend a little extra on a quality designer dress – prepare to feel like a kid in a candy store!
Top Luxury Dress
I wasn't kidding when I said that the dresses in this section are spectacular. Case in point: Betsy & Adam's spectacular gown.
This gown is a compliment magnet. And no, you don't have to be on the cover of Vogue to receive those compliments. This dress instantly elevates you into the "OMG" territory.
The design? Out of this world

The fabric quality? Excellent

The comfort level? "I want to wear this every day"
Not to mention the colors…
You know what? I'll mention it!
The gown is available in 3 colors: black, blue and red.
FYI: The red one kind of makes you feel like "The pretty woman in the red dress" from the Matrix.
I honestly can't decide which of these colors I like best. They're all equally stunning.
Sheer brilliance.
Tip: This dress is quite heavy – perfect if you're planning your event during the fall or winter. (a bit more challenging if it's during the summer)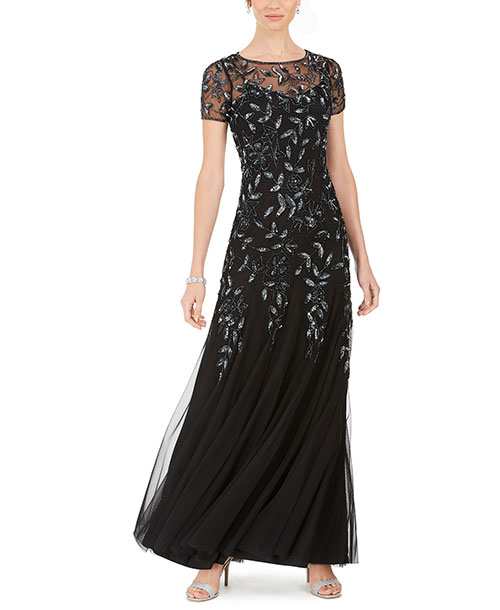 Adrianna Papell returns! And this time she brought flowers!
This glamorous gown is entirely covered with beautiful floral patterns, giving it a young, stylish touch.
Tip: If you prefer an even younger look – choose the Rosegold or Lead color.
This dress is respectful on the one hand, but with a wee bit of an "attitude" (just like adolescents 🙂 ).
And just like real-life flowers – the picture doesn't do justice with how beautiful it really is.
A perfect dress for the mother of a Bar or Bat Mitzvah.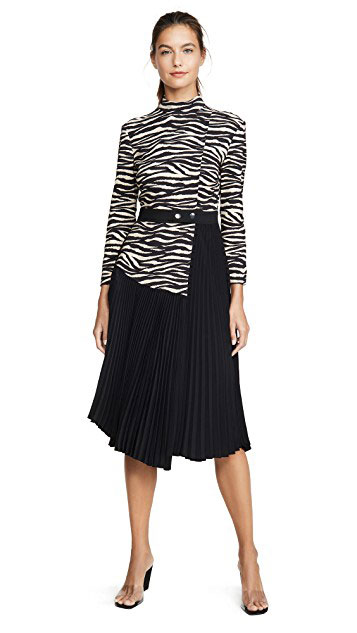 Do you know why zebras are black & white? So they can masquerade themselves and avoid getting eaten by lions.
Luckily, you're the only zebra in town tonight; there are no lions to be found (unless you invite one), only a bunch of hungry Jewish guests you'll be feeding with the delicious Bar/Bat Mitzvah food you planned for them.
That means this zebra gets all the LOVE and compliments. Hooray!
This dress is modest enough to wear both at the synagogue and the party.
And here's the kicker: once the Bar/Bat Mitzvah is over, you can should wear it on any occasion in the future. Whether formal or informal, personal or work event, Shabbat or weekday. You name it – it works.
It's classy and elegant enough that you can actually pull that off.
Hats of to Andrea Lieberman, the talented (Jewish) designer behind this unique dress, for giving Jewish moms a chance to go "wild"! (that's enough with the zebra jokes, Rebecca)
Inexpensive Dresses
Mommies – gather round!
If you're a responsible parent who a) has made a Bar/Bat Mitzvah budget (way to go!), and b) would like to stick to that budget – this final section is the one you've been waiting for!
Anyone who has ever spouted any of that "you have to pay for quality" nonsense, is about to get schooled. Big time.
Don't believe me? Read on…
Top Inexpensive Dress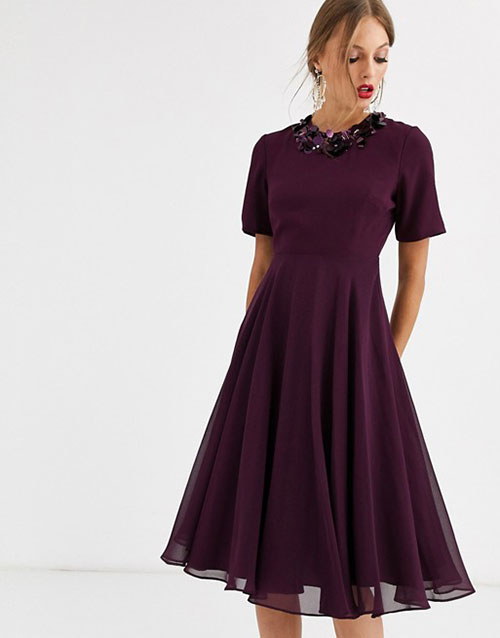 One of the hardest parts about moving to Israel was that I couldn't shop in any of my favorite stores anymore.
I went shopping in Tel Aviv to find alternatives… only to realize: "DAMN, Israel is friggin' expensive!"
Not only that, the selection here is quite poor.
So, I asked a local friend of mine: "how the hell do you buy clothes here without going broke?"
"ASOS!", she replied.
Well, turns out ASOS's designs are phenomenal, they're affordable as hell (especially compared to the inflated prices over here), and they ship to Israel.
(Case in point: this handsome, minimalist dress.)
"How come I only discovered this just now?", I wondered for a brief second.
Why a brief second? Because moments later I already had a few items in my cart, and a few days later I was already wearing an ASOS dress!
Ever since I made that "discovery", I started filling my wardrobe with stuff from ASOS… and I continue to do the same every time I go back to the US! (shipping is even faster there, which is cool)
"Simplicity is the ultimate sophistication." - Leonardo da Vinci
Click To Tweet
I had no idea that Leonardo was such a fashion expert!
He certainly had a point, and this is perfectly illustrated in this dress.
This lovely Maxi dress is perfect for both formal and semi-formal occasions. It has a quick wrap and tie bodice, which means you don't have to waste an hour and call the fire department to help you put the damn thing on.
Modest, cute and fashionable – you can wear it with heels or flats (heck, maybe even sneakers after you had a glass of wine or two).
You can easily wear it for a Kiddush luncheon or reception (or both).
Now that's what I call a multi-purpose dress!
Let's finish this guide retro style!
"Retro? Are you referring to those classical movies with pretentious aristocrats wearing those ridiculous hats?"
Yes, exactly!
Like it or not those snobby princesses sure knew how to dress… so we might as well emulate them! (minus the stupid hat, of course)
This dress is an absolute gem!
It fits any body type – doesn't matter if you're skinny, heavy, curvy, chunky … it doesn't discriminate. It's stretchy, so you'll easily fit in without being squashed like a poor sardine.
And needless to say – this dress screams "class". It could easily be used on a Bond girl if it was more expensive (hint: it's surprisingly cheap).
The only problem? It's available in 4 equally beautiful colors – so you'll have a hard choice to make.
Now that's a bargain if I ever saw one!
Conclusion
Moms are so focused on planning the perfect Bar or Bat Mitzvah for their child, that they sometimes completely neglect their little ol' selves (that describes Jewish moms in a nutshell, doesn't it?).
Better late than never? Screw that!
I say better sooner than later. That's the responsible thing to do if you ask me. And you know, responsibility is kind of a big deal for kids to learn at this age. So be a doll, and set a positive example!
Oh, and don't forget to get a beautiful dress for your Bat Mitzvah girl (or a suit for your Bar Mitzvah boy) ON TIME!
Mazel Tov 🙂