10 Traditional Hanukkah Flowers & Flower Arrangements (2022)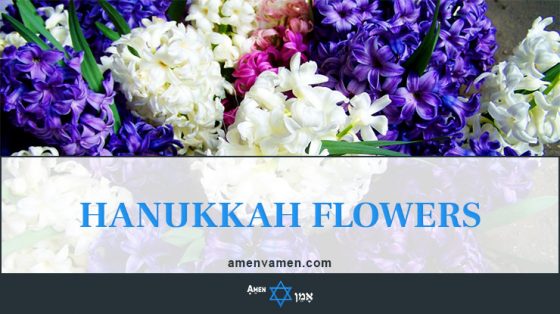 Amen V'Amen is supported by its audience. That means when you purchase something from one of our partners through one of our links, we may earn a small commission at no additional cost to you. Amen V'Amen is also an Amazon Associate, so we may earn a commission from qualifying purchases. Thank you for your support!
"You know, you don't need to wait for a special occasion just to get me flowers".
I remember saying that to my ex-boyfriend one time; he gave me a death stare in response (that's not why we broke up though 🙂 ).
Well, guess what? There is a special occasion around the corner. It's called Hanukkah! So no excuses this time!
Don't worry, you don't have to physically drive to the flower shop and pick up some random flowers you know nothing about. Instead, I'm going to show you what flowers are best for Hanukkah. And guess what? It'll arrive right at your doorstep (there goes another excuse)!
Sound good?
Great! I knew you'd come around!
Gentlemen – get ready to pick up some nice Hanukkah flowers for the people you love!

Ladies – make sure your spouse or boyfriend reads this…
Let's begin 🙂
Top Hanukkah Flowers
Spoiler Alert: In a rush? About to light the Hanukkah candles? I hear you! If you don't have time to go through ALL of my favorite Hanukkah flower bouquets, you can find my absolute favorite picks in this cute table
(If you do have a few minutes to spare, I strongly recommend going through all of em'… I included some pretty unique flower arrangements later in this article)
Traditional Hanukkah Flowers
Since the official Hanukkah colors are blue & white, it's shouldn't come as a huge surprise that the most common Hanukkah flowers have some combination of White Lilies, White Roses and carnations, White Alstroemeria, and Blue Delphinium.
Don't get me wrong, you could technically get them a colorful bouquet if you prefer (I'll even show you some of my favorite colorful bouquets later)… but if you want to adhere to the Hanukkah tradition – then stick to blue & white.
Now that we're clear on what type and colors to get, let's look at the most beautiful Hanukkah flower arrangements any recipient would proudly display as their main Hanukkah centerpiece…
Top Traditional Flowers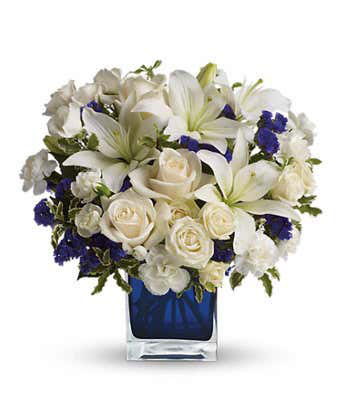 If I had to choose my favorite Hanukkah-themed flowers – this gorgeous bouquet would be it.
First, it's blue & white – the

traditional Hanukkah colors

…

Second, the unique combination of flowers makes you want to stare at it for hours.
It's one of those bouquets that capture your attention and makes you want to gaze into the mesmerizing colors for hours. The kind that evokes that inner sense of bliss…you know the feeling… it's the same feeling you get when you stare at the clear blue sky (hence the name).
Speaking of clarity – it's pretty clear why I consider this to be the perfect bouquet for Hanukkah (or any Jewish holiday for that matter)…
This marvelous bouquet is a huge hit on two occasions:
Weddings

Hanukkah
So, take a mental note to check out this bouquet again the next time you're attending a wedding. But let's focus on the second occasion, as it's more timely.
It combines an impressive array of Hydrangea and delphinium in varying shades of blue, Crème Roses, White Lilies and Queen Anne's lace, accented with Pitta Negra and Eucalyptus.
It's a real treat not just for the eyes; it also smells like a fresh piece of heaven!
Rest assured, the first thing anyone who receives this bouquet is going to do is turn it into their main Hanukkah centerpiece. Not just for the first night of Hanukkah… but for the entire 8 days.
And guess what? You won't need any special Hanukkah miracles – it'll easily make it through the week, and stay fresh the whole time!
"You look so beautiful in white (and blue)"
Ok, I added the "blue" part :)… but it's warranted, don't you think?
This phenomenal bouquet is comprised of a beautiful collection of flowers that complement each other wonderfully:
Blue Hydrangea

White Roses

White Oriental Lilies

Purple Statice
And the cherry on top (or in this case, the bottom): a blue glass vase.
An exceptional bouquet that'll make an impressive Hanukkah centerpiece!
With this bouquet, we're deviating from the traditional Hanukkah colors just a little bit and adding beautiful yellow Roses to the mix!
That'll surely make it stand out on the Hanukkah table, especially if the table is already stuffed with blue and white Hanukkah decorations.
Together with the white Asiatic Lilies, blue Delphinium and purple Monte Casino (not that kind of Casino), it forms a spectacular bouquet that I would personally LOVE to get on Hanukkah (don't worry, this isn't a hint 🙂 ).
Oh, and it's super affordable, too! (not a hint either)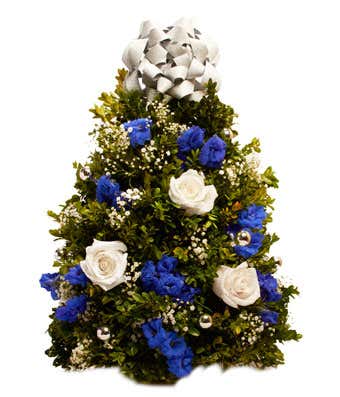 Let me be blunt: If you're looking for a bouquet/Christmas Tree for an interfaith family, don't even bother looking at any of the other bouquets on the list. GET THIS ONE.
Not because it's unique. Not because it's special (that's all obvious)… but because it's personalized for interfaith families.
This blue & white mini Christmas tree is the only bouquet I've seen that combines both Christmas and Hanukkah themes: the Christmas tree (duh) + blue (Delphiniums) & white flowers (Roses).
An incredibly thoughtful Hanukkah gift for a lovely interfaith family!
Colorful Hanukkah Flowers
Like I mentioned earlier – any colorful flower bouquet can work just as well on Hanukkah. No Torah commandment requires us to get blue & white flowers.
If you prefer getting a bright, colorful bouquet that stands out – these charming flowers will get the job done just as well…
Top Colorful Flowers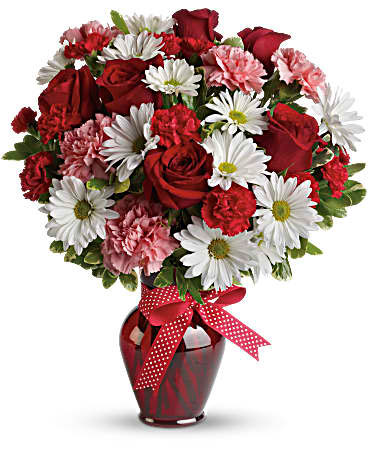 "Happy Hanukkah! Sending you and your family lots of hugs and kisses!"
Now there's a typical blessing you'll often get (and send) on Hanukkah.
Sweet, right?
But you know what's even sweeter (besides chocolate gelt)? Sending ACTUAL hugs and kisses… DOZENS of them!
This thoughtful bouquet contains a fabulous collection of white daisy spray chrysanthemums, pink carnations, red miniature carnations, and red roses – accented with fresh greenery; from the fields straight to the Hanukkah table.
This is one cute bouquet to send our loved ones. Whether you're looking for a "Honey, I Love You" or a "Mommy, I Love You" bouquet – this definitely sends the right message (especially if you don't get to see them this Hanukkah 😢).
We live in a busy world. Everything is happening SO fast, it's hard to keep up.
Thank god we have these mini-breaks in the Jewish calendar that allows us to spend some quality time with our loved ones.
After all, how often do we gather together around the dinner table, surrounded by our friends and family, eating yummy Hanukkah donuts?
Not very often…
And since we've got everyone around the dinner table – we might as well give it a warm and welcoming atmosphere, especially during the cold winter.
Holidays like Hanukkah are the special moments we all get to enjoy together… so we might as well cherish these moments with the Special Moments Bouquet!
The name says it all, doesn't it?
If you're invited over for Hanukkah – make sure you arrive in style!
How do you that, you wonder?
Easy: Knock on the door wearing your finest holiday clothes, while holding this gorgeous "Arrive in Style" bouquet.
It's not just about the catchy (and very appropriate) name… this bouquet comes with an impressive array of white flowers (and some pink Roses):
White Asiatic lilies

White alstroemeria

White cushion spray chrysanthemums

White statice and colorful pittosporum
In Judaism, white is a symbol of purity. Add a dose of pink to it, and you get stylish purity!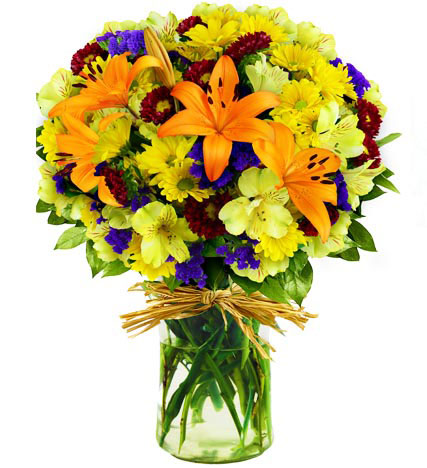 Oh boy, what a treat!
(sidenote: let's take a moment and applaud florists for the creative names they give their bouquets)
For those of you who read my gift guides in the past, you know that Lilies are my absolute favorite flower (why isn't anyone taking notes?). Not only do they look divine once the buds open, but they also smell AMAZING!
This colorful bouquet is no exception… because Lilies are in there, baby! Along with "cameos" from Daisies, Alstroemeria (and some other flower I can barely pronounce).
If you thought Lilies smell incredible, wait till you give this bouquet a good whiff… you'll wish perfume companies would make a fragrance out of it.
Tip: You can either use it as your main Hanukkah centerpiece or break them apart and sprinkle individual blooms across the Hanukkah table.
No matter which option you choose – I guarantee it'll be a treat!
Let's finish this article with something sweet!
"It's Hanukkah, do we really need any more sugar?"
Don't worry, this "treat" is completely sugar-free (unlike other Hanukkah treats); it's a treat for the eyes and your olfactory receptors (aka nose receptors), not for your tastebuds!
Besides being purple – this fabulous bouquet also contains a magnificent collection of heavenly-scented flowers, including Roses, delicate Hydrangea and feminine stock.
Bonus: If you insist on sweetening the pot even further – you can add balloons and a stuffed animal to make the Hanukkah dinner table even more entertaining.
Conclusion
A Hanukkah table without a Hanukkah flower centerpiece is simply incomplete.
Traditional blue & white flowers complement the Hanukkah table setting so much, that the hostess inevitably ends up receiving tons of compliments! Isn't that an awesome Hanukkah gift to give someone you love?
So be a mensch, and don't just wish them a Happy Hanukkah; deliver it in a beautiful bouquet!
Hanukkah Sameach 🙂