8 Easy [and Cheap] Sukkah Kits You Can Buy for Sukkot (2022)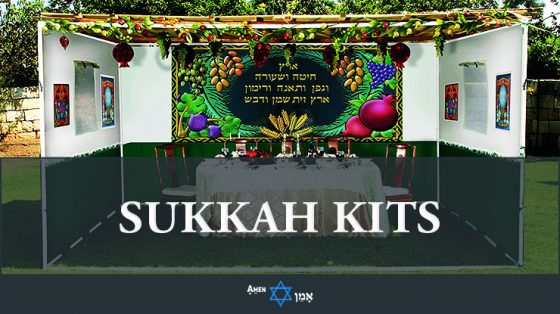 Amen V'Amen is supported by its audience. That means when you purchase something from one of our partners through one of our links, we may earn a small commission at no additional cost to you. Amen V'Amen is also an Amazon Associate, so we may earn a commission from qualifying purchases. Thank you for your support!
Let's be honest: not having your own Sukkah on Sukkot sucks.
You walk around the neighborhood and see your Jewish friends & neighbors all chilling in their Sukkah, having a good time…
You think to yourself: "Damn, I wish I had built my own Sukkah"…
How about we avoid that feeling, shall we?
Now, you may be wondering…
… Isn't it hard to build a Sukkah?
… Doesn't it cost a fortune?
… Doesn't it take forever?
… Do I need to be a lumberjack to build one?
… What if I fall down the ladder and break my pinky finger?
The answer to ALL of these questions (including the last one): No.
You see, up until a few years ago, I thought that building a Kosher Sukkah (aka a "Jewish tent") was a huge chore, so I never bothered trying…
But then one year I mustered the courage and decided: "What the hell, let's give it a shot. How hard can it be?".
Turns out – VERY hard – if you're building one yourself from scratch. But VERY easy – if you're using a Sukkah kit.
If you've got the right Sukkah building kit – it can literally save you hours (if not days) of total frustration.
Turns out, with the right kit, building a Sukkah is not that different than building Legos. And I trust you can handle legos, yes? Good – then you can handle building a Sukkah, even if you've never built one.
Now, the only question is you: How do you find the right Sukkah?
Whether you're looking for an affordable Sukkah or an easy-to-assemble Sukkah kit, the answer is the same: right here, right now.
Let's begin…
Top Sukkah Kits for Sale
Spoiler Alert: These are the best & easiest Sukkah kits that'll save you TONS of time & frustration:
Top Sukkah Kit

Why Should You Get It?
Simply put – the best Sukkah kit on this list.
It's incredibly easy to assemble, thanks to the user-friendly instructions & diagrams. I mean – even total amateurs can figure this Sukkah out…
Remember how I said that choosing the right Sukkot kit will make setting it up a breeze?
Well, this is exactly the kind of modular Sukkah that will guarantee an easy (and satisfying) experience.
It's available in several sizes:
The cherry on top: it's one of the most affordable Sukkah kits on this list.
Who said you can't have the cake and it too?
Note: Keep in mind that the Schach is sold separately. You can purchase one from the same seller over here.
Who is it For?
For anyone (small/large families), anywhere (your backyard, synagogues, schools…).
It's like a Sukkah in a box: It's a breeze to set up. And once it's standing, you can sleep well (even inside the Sukkah) knowing that your brand new Sukkah is standing strong.
Bottom line: the best Sukkot kit your money can buy.
Pros
VERY easy to assemble
Clear instructions & diagrams
No tools needed
Strong and long-lasting
Cons
Doesn't include a Schach (bamboo mat roof cover)
Our Rating: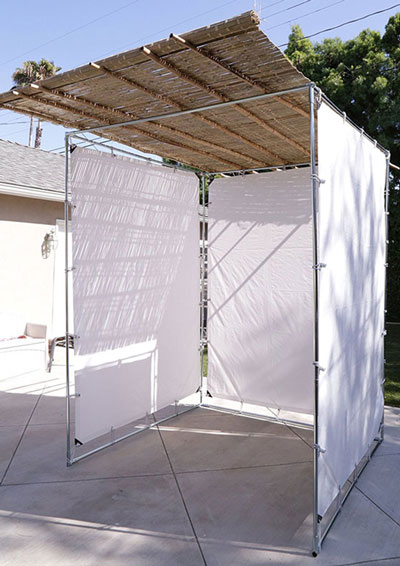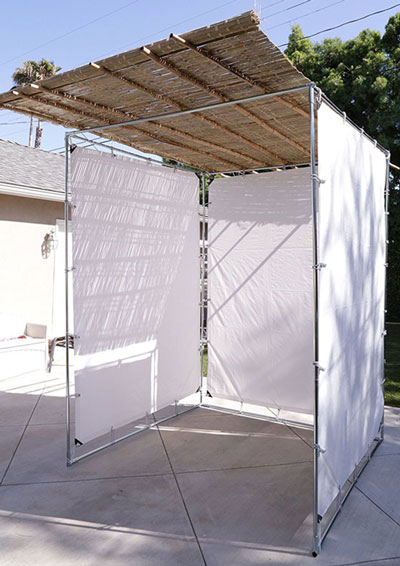 Why Should You Get It?
Sieger's simple snap button Sukkah is probably the easiest to set up and take apart – it's as close as it gets to a prefab Sukkah kit.
In just a matter of minutes, your Sukkah "hut" will be standing in your backyard ready for your beautiful Sukkah decorations.
It also comes with a very convenient storage bag you can use to store your Sukkah for the rest of the year until you reassemble it again the next year.
The instructions are pretty clear and fully delivers on its promise of setting up your Sukkah in a quick & easy way.
A great experience all around, especially for you beginners who dread setting up your own Sukkah for the first time.
It's the closest you'll get to a prefab Sukkah (but it's less sturdy than the other Sukkah kits on the list).
Why Not?
If only it was as sturdy as it is was easy to set up…
If only they had a few additional sizes to choose from, it probably would've been one of our top picks.
Update: The folks over at "Sieger Sukkah" team contacted me to let me know that they now offer several size options, including 6X6, 6X10, 10X10, 10X12, 10X16 & 10X20!
If only…
Well, I guess the price kind of makes up for it.
Note: Doesn't include a Schach. You can get a Kosher Schach (Mehadrin) separately from the same supplier over here.
Who is it For?
For complete beginners looking to set up their first-ever Sukkah in a matter of minutes, for a very cheap price.
Pros
Easy to assemble, easy to take apart (in minutes, actually)
No tools needed
Very affordable
Cons
Doesn't include a Schach (roof cover)
Not as sturdy as the other Sukkahs
Best Value Sukkah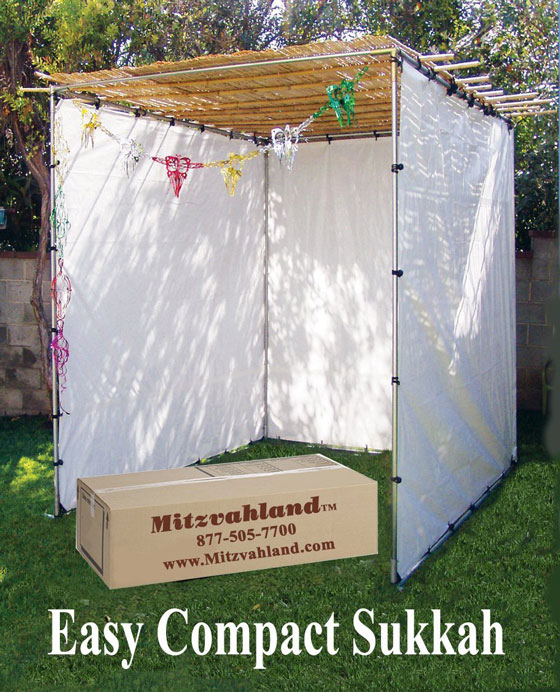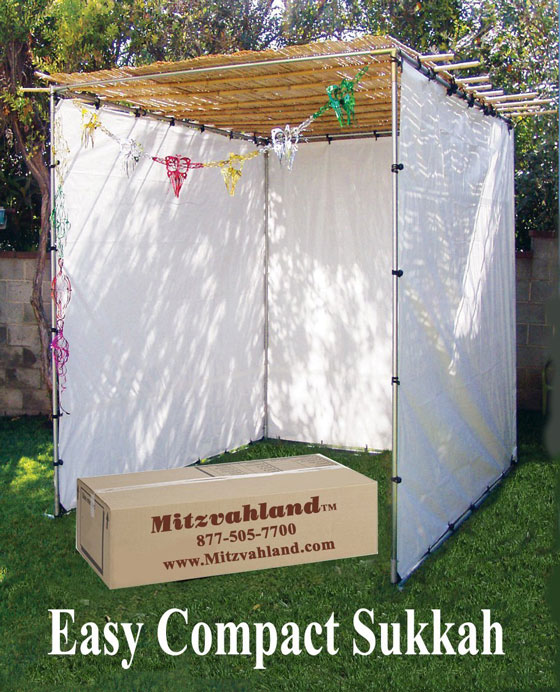 Why Should You Get It?
Mitzvah Land's modular Sukkah is fairly straightforward to set up. No tools are required whatsoever, which makes it an ideal Sukkah for men with a tools-phobia (like myself 🙋🏻‍♂️ ).
It's extremely light yet very sturdy, so it will stand strong even under a windy challenge.
This kit comes in several sizes, so you can choose the size that fits best in your backyard.
Even though the instructions aren't the best (I'll talk more about that in a sec) – it's easy enough to figure things out as you go along, and there aren't any complicated moving pieces to deal with here…
And after Sukkot is over? Store the Sukkah someplace safe until next year. The good news is it'll probably take you even less to set it up once you've already done it once.
Why Not?
Let's just say that the instructions won't be nominated for the Pulitzer Prize anytime soon.
Don't expect to build this Sukkah all by yourself. Ain't gonna happen (unless you're Superman)…
But if you're Batman (aka human) – then call Robin and tell him you need a hand.
In other words (without those dumb superhero metaphors) – approach it like a fun family project you can do with your kids and family and you'll be golden!
Also, keep in mind that this Sukkah bundle doesn't include a Schach (roof cover). You can get a Kosher Schach from Mitzvah Land separately here.
Who is it For?
Perfect if you're looking for a fun & memorable Sukkot project with your family.
In fact, you'll HAVE to build it with your family… because there's just no chance you'll be able to set it up by yourself.
An easy to assemble, compact & light Sukkah you can build with your family on Sukkot.
Pros
Easy to assemble
No tools necessary
Well designed
Durable and lasts long
Fair price
Cons
Directions are "meh"
Needs more than a single pair of hands
Doesn't include a Sukkah roof
Our Rating: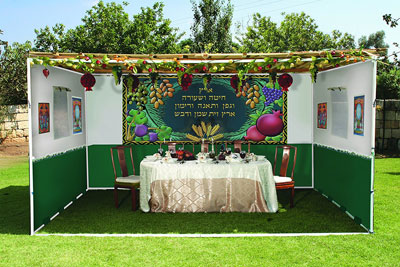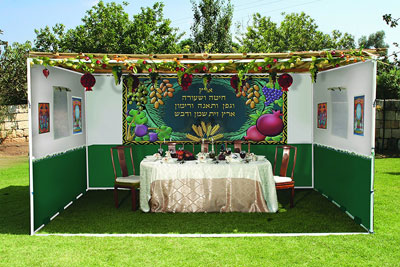 Why Should You Get It?
Sukkah Depot's EZ-Lock Sukkah kit is without a doubt the most luxurious kit on the list.
As the name implies, this Sukkah was designed for durability & security first:
It's made of extra-strong & durable (yet lightweight) aluminum poles that easily connect to each other, without the need for any screws or nails.
The heavy-duty canvas wraps around the Sukkah & protects it with straps.
Windows are triple-layered to keep the Sukkah warm and keep out insects & other unwanted guests. Plus, they come with roll-up window shades for privacy
And if that wasn't enough, it's one of the few full-size Sukkah building kits that include a Kosher Schach mat!
Why Not?
No doubt – this is one amazing looking Sukkah. It's large, beautifully designed, durable and secure – everything you could ever ask from a Sukkah.
The only problem? It's pretty darn expensive. Unfortunately – quality does come with a price.
if you're on a budget – I suggest you skip this one and go for one of the other affordable Sukkah kits I listed here.
But if you can afford to spend a little extra: congratulations – you just got the best Sukkah kit in the neighborhood!
Pros
Durable aluminum frame (heavy-duty canvas)
Triple-layered windows to keep out cold air & insects
Includes a Kosher Bamboo Schach mat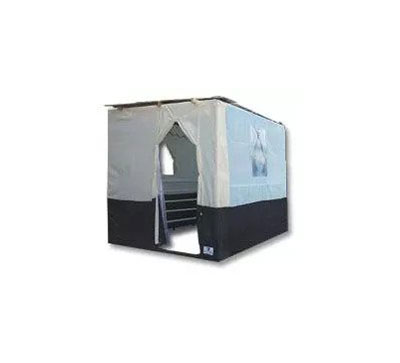 Why Should You Get It?
If for whatever reason you couldn't get the EZ-Lock Sukkah on time, or the size you wanted wasn't available – then good news, there's a backup plan… and you're looking at it!
The Supreme Ease Lock Sukkah Kit is just as steady as the EZ-Lock, thanks to the interlocking frame construction and the center support bars that ensure it doesn't shake under windy weather conditions.
The door and windows are easily opened and closed with a zipper… you know, to discourage unwelcomed "guests" from peeking inside our Sukkah when we need some privacy.
And just like the EZ-Lock, this one also comes with Bamboo Schach mats! Hurray!
Note: There's also a larger version available here.
Why Not?
Did you find the EZ-Lock Sukkah kit too expensive? Then you're definitely not going to appreciate this one…
This one is even more expensive than the EZ-Lock. But since the EZ-Lock Sukkah tends to run out quickly before Sukkot… you might need a plan B.
Sure, it costs more… but if you're stuck without a Sukkah and you need a reliable Sukkah kit you can count on – then this Sukkah kit might be worth the extra price.
More Bad News: If you live within 250 miles from New York – then shipping is free (that's good news). However, if you don't, then I'm afraid you'll incur even heavier costs. Damn, plan B sure is expensive, huh?
Pros
Stands firm in high winds thanks to special support bars with velcro straps
Door and windows close with a heavy-duty zipper
Includes Bamboo Schach mats
Cons
Expensive
Extra shipping costs if you live more than 250 miles away from New York
Our Rating:
Top Travel Sukkah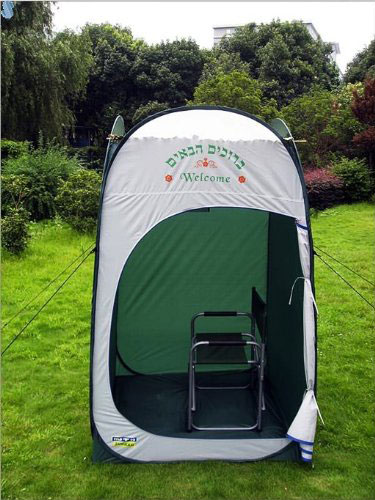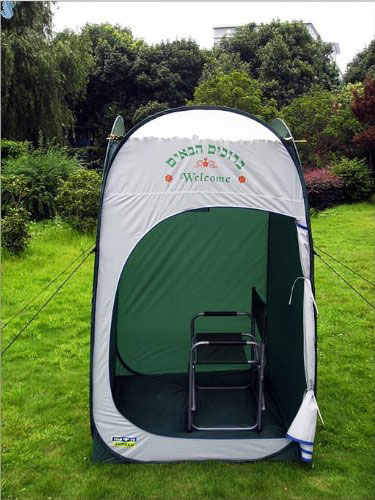 Why Should You Get It?
Not exactly the type of Sukkah you expected, huh?
Hey, I'm covering all bases here… who knows, you might be planning a road trip on Sukkot or something as far as I know.
Well, if you are hitting the road – you might as well replace your tent with a portable Sukkah and fulfill the Mitzvah of Sukkot while you're on the go!
All you've got to do is "set up camp" with this portable Sukkah, and POOF! You've got a Kosher Sukkah standing!
And it even comes with a Schach(!)… How cool is that?
Note: You would think they'd sell a Sukkah like this on Home Depot with all their tents and camping stuff… but noooo.
Why Not?
It could be a challenge to set up if you're expecting heavy winds during the week of Sukkot. It's worth checking the weather forecast that week to make sure you're in the clear.
Who is it For?
The obvious answer: if you're traveling on Sukkot and don't want to miss on the opportunity of sitting in a Sukkah, then this portable Kosher hut is the (only) Sukkah that enables you to do just that.
Heck, you could even set it up in your own backyard if you don't have enough room for a traditionally-sized Sukkah.
This pop-up Sukkah miraculously pops open, and within seconds – you'll be left standing there in amazement, wondering "who is the genius that came up with this?".
No doubt – a unique (and Kosher) way to fulfill the Mitzvah of sitting in a Sukkah on the road (or in your backyard).
Pros
Portable Sukkah – ideal for travel
Pops up instantly = instant Sukkah!
Schach (bamboo mat) included
Cons
Hard to unfold
Problematic under heavy wind
Our Rating: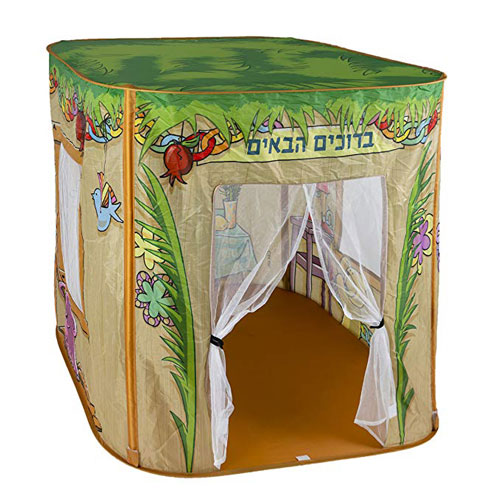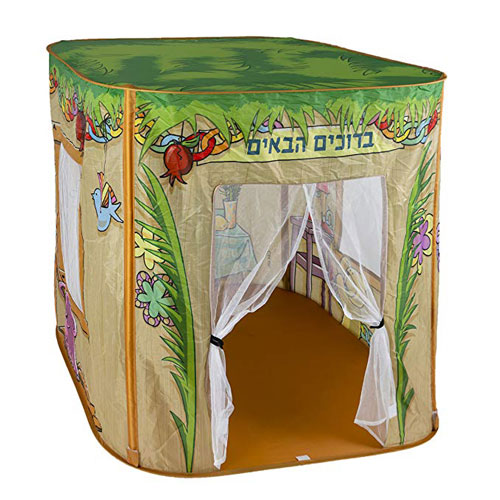 Why Should You Get It?
Ok… maybe it's not a traditional Sukkah, and it's not exactly a kit either…
But don't you think the little ones deserve their one little Sukkah to "dwell" in? (just make sure they pay rent)
Good luck trying to convince your kids to let go of their toys and come join you in the "grown-ups Sukkah"… You'll have to bribe them with a pretty cool Sukkot gift… otherwise, it ain't gonna happen.
With their own small Sukkah, they're now the masters of their own universe! And guess what? No grown-ups allowed! That's what your brand-new Sukkah is for.
This children's Sukkah is a great way to educate the little ones about the festival of Sukkot and let them have their own feast of tabernacles, without forcing them to sleep outside in the cold (that honor is reserved just for you)
Note: Probably stating the obvious here – but I'll mention it anyway. This Sukkah is not Kosher 🙂
Why Not?
If you don't have kids or don't have little nieces or nephews, then stick to the traditional Sukkah… this one is off-limits (even though I have to admit it does look like fun).
Who is it For?
If you DO have little children at home or DO have little nieces or nephews, then by all means – go ahead and get them this lovely play hut.
A lovely pop up Sukkah you can set up instantly (almost as fast as an inflatable Sukkah) for kids to play in and learn about the Jewish feast of Booths.
Pros
The Sukkah pops up instantly (easy to assemble 🙂 )
Jewish fun for the little ones
Cons
No grown-ups allowed (you won't fit)
Our Rating:
Final Verdict
Let's recap and take a look at the best & easiest Sukkah kits you can set up for the upcoming Jewish feast of tabernacles…
The Sukkah Spot's Sukkah is hands down the best (and easiest to build) Sukkah kit available for sale. It has everything you can expect from a Kosher Sukkah: it's easy to assemble and take apart, sturdy and long-lasting. It comes in a wide range of sizes – from small to large… I trust you'll find one that fits your needs.
Mitzvah Land's wonderful Sukkah is a gem.
It's easy to build, sturdy and fun too! No tools needed.
So go call your kids, and tell them it's time for a family project in the backyard.
With very little effort and good old teamwork – you'll have your Sukkah standing in no time.
Then leave the kids to decorate the Sukkah while you enjoy a cold beer or a glass of wine. You've earned it… (they can have one when they grow up).
Fold N Go's Travel Sukkah is (literally) one of a kind… there's no other Sukkah quote like it (at least that I'm aware of).
From now on, you can hit the road and chill in your small Sukkah without a worry in the world…
Heck, you can even head towards the desert and walk in our Jewish forefather's footsteps 🙂
Summary
Sukkot has become one of my favorite holidays since I started building my Sukkah. I finally get to play host and decorate my own Sukkah with unique Sukkah decorations and have people over for dinner. (if they happen to bring me cool Sukkot gifts – that's just a bonus!)
On Sukkot, we build a temporary home for 7 days. We eat, sleep, and celebrate the festival of Sukkot under a modest hut – void of any material possessions, just like our forefathers did over 3,000 years ago.
Sounds like fun, doesn't it?
It sure is! Give it a try and see for yourself! (then come back here and say "you were right! It was fun!")
Chag Sukkot Sameach 🙂