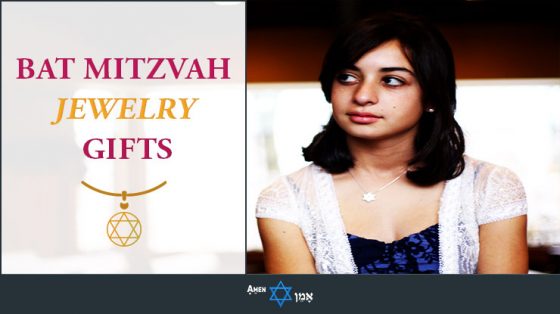 The girl's Bat Mitzvah is around the corner.
And you're about to be a part of it…
Yippee! How exciting!
But before you hop on the dance floor and do the chair-dance (spoiler alert), you first need to get the girl a sparkling Bat Mitzvah gift.
A gift that shines… something that will light her up like a Menorah the moment she sees it for the first time.
And what better way to do that than with a unique Bat Mitzvah Jewelry gift?
After all – we all know that Jewish Jewelry gifts are THE best present you can get for a Bat Mitzvah girl on her big day. It's the ultimate blend of beauty and meaning – which is exactly what the Bat Mitzvah ceremony is all about.
But what kind Jewelry gift should you get her? The million dollar question…
Should you get her a Star of David necklace? Maybe a Hamsa bracelet? How about a Shema Yisrael ring? Perhaps Roman Glass earrings?
Ahhhh! Too many choices!
No wonder people get overwhelmed…
That's exactly why I spent hours writing this comprehensive Bat Mitzvah Jewelry gift guide…
To help you:
… Escape the same cliché gifts everyone else gets
… Avoid getting her Jewelry she'll never wear (or worse – ones she'll only wear when you're around to not hurt your feelings)
… Choose the best Jewelry gift the girl will absolutely LOVE (without spending hours (or days) browsing through endless Jewelry pieces that all look the same)
Ready?
Follow the bling…