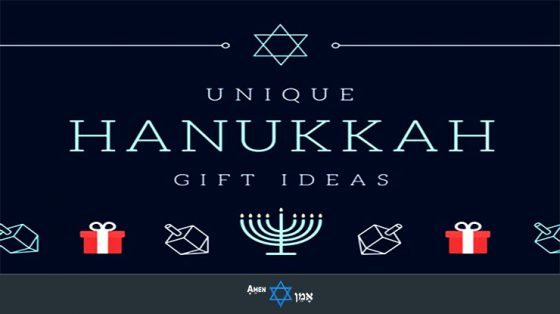 Amen V'Amen is supported by its audience. That means when you purchase something from one of our partners through one of our links, we may earn a small commission at no additional cost to you. Amen V'Amen is also an Amazon Associate, so we may earn a commission from qualifying purchases. Thank you for your support!
It's that time of the year again, which means…
Hanukkah is around the corner!
The Jewish festival of lights is a great chance to relax:
Light a Menorah
Spin some dreidels
Eat delicious Hanukkah donuts
But more importantly – it's a wonderful opportunity to get together with our family and friends and tell SHOW them how much they mean to us.
How?
By giving them the best Hanukkah gifts that'll make Santa wish he was born Jewish!
"But wait a minute… What are some cool Hanukkah presents I can get?"
Sit tight my friend… because I'm about to show you a bunch of unique & traditional Hanukkah gift ideas you can give during the 8 days of Hanukkah! (or if you're super-generous, give one gift on each night of Hanukkah)
Ready? Let's show the fat guy in the red costume what we've got!
Read More…