15 Beautiful & Affordable Bat Mitzvah Dresses for 12-13 Year Old Tweens (2022)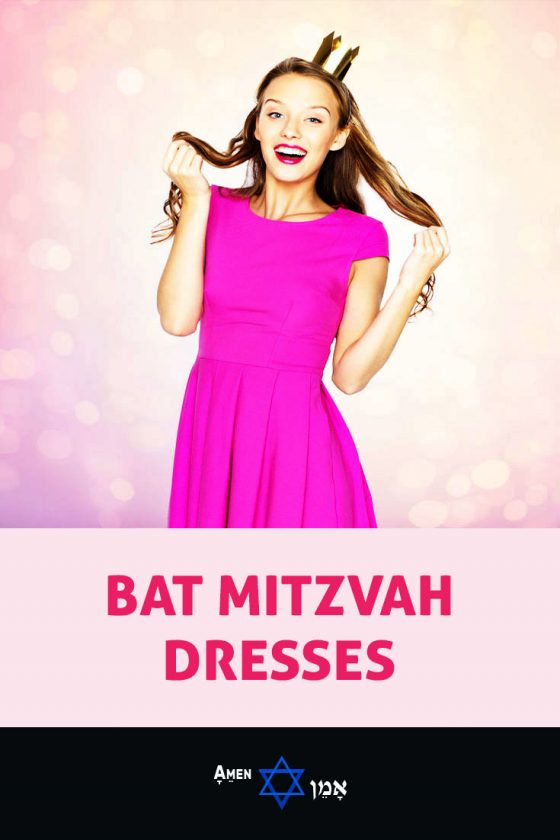 Amen V'Amen is supported by its audience. That means when you purchase something from one of our partners through one of our links, we may earn a small commission at no additional cost to you. Amen V'Amen is also an Amazon Associate, so we may earn a commission from qualifying purchases. Thank you for your support!
The Bat Mitzvah party is almost here… how exciting!
Both the Bat Mitzvah girl and the guests want to look their best. And you know what they say: to be the best, you need to "beat the rest"! (just kidding… I just couldn't help myself)
Now, for the million-dollar question:
"What Bat Mitzvah dress should I get my 12-13-year-old tween?"
Whether it's your daughter's own Bat Mitzvah or she's attending one as a guest – I wrote this guide to help you answer precisely that question!
Don't worry, you won't actually have to pay a million dollars (not if you follow this guide 🙂 )
Ready? Let's go shopping!
Top Bat Mitzvah Dresses
When I first released my guide for choosing a Bat Mitzvah dress, many readers told me: "Rebecca, there are so many dresses to choose from! It's overwhelming!"
I agree! So I decided to create a short list of my favorite dresses – one from each "category" (believe it or not – not all Bat Mitzvah dresses are created equal).
Aaaand here they are!
Enjoy 🙂
Modest Bat Mitzvah Dresses
Bat Mitzvah parties these days look more like proms than Bat Mitzvahs.
Jewish tweens, wearing expensive & provocative dresses worn by their favorite Hollywood movie stars, trying to out-dress their classmates and "conquer" Instagram.
Sound familiar?
That doesn't mean you have to take part in that reality TV show they call Bat Mitzvah.
Instead – you can choose to bring Tzniut back to the forefront with a beautiful & modest Bat Mitzvah dress for your daughter's big day.
A dress she can either wear on her Bat Mitzvah service in the temple (synagogue) or at her Bat Mitzvah party. A dress that'll remind everyone (including your daughter):
A Bat Mitzvah celebration is first and foremost a spiritual event, NOT a material event.
Click To Tweet
Top Modest Dress
Q: How do you make a teenage girl want to dress modestly without convincing, begging or bribing (believe me, I've seen it happen)?
A: With a modest dress that looks 10X better than any dress her competitor's friends will wear.
"Show, don't tell".
That rule holds true whether you're making a Hollywood film, writing a novel (or an article about Bat Mitzvah dresses 😉), and yes – even when buying your little angel a dress for her big day.
Modest (it's cream-colored – perfect for a Bat Mitzvah), comfortable and absolutely gorgeous.
Speechless.
That's the name of the design firm.
Pretty audacious name, huh?
Well – turns out they knew what they were doing: mothers are getting their daughters Speechless's dresses like hot cakes.
(Spoiler: there are more Speechless dresses coming up)
Not only because they're beautiful – but also because they're incredibly affordable.
Yes – you can make your daughter look like a young movie star without spending a fortune.
Talk about having the cake and eating it too (what's with all those "cake" references? I'm starting toget hungry).
'Simplicity is the ultimate sophistication.' - Leonardo da Vinci
Click To Tweet
Leonardo knew what he was talking about.
And this joyful & classy dress is proof of just that. Proof that a Bat Mitzvah dress doesn't need lots of crazy bells & whistles. And that it definitely doesn't need to cost an arm and a leg.
Anyone up for a fresh mint?
Cute & Unique Bat Mitzvah Dresses
Let's face it.
What probably matters to your daughter more than anything is to look cool in front of her friends.
One way to do it is by giving your guests unique Bat Mitzvah favors(in other words, "bribe" them).
But that only takes you so far.
To really look cool – your daughter has to, well, look cool.
And how do you look cool?
With a cute Bat Mitzvah dress that is so unique that her friends nag their parents that "they want one too!"
Mission impossible? Mission improbable? Mission expensive?
Nope!
Lo' and behold…
These Bat Mitzvah junior dresses will make your girl collect praises like our parents collected stamps in the 1950s.
Most Unique Dress
Hop on to the time machine.
Destination? The 1950's!
This unique dress is a modern "swing" (pun intended) on Audrey Hepburn's iconic style.
Imagine how happy the old fellas in the audience will be when they see a "classic" – a dress from their childhood (rather than a dress that is trying to out-Jenner Kylie Jenner).
Unique, classy and comfortable – that's a recipe for an awesome party girl Bat Mitzvah dress!
We're all about flowers today.
This time – its blue & white flowers.
Blue & white? Kind of appropriate for a traditional Jewish ceremony, don't you think?
This fabulous white lace dress is sleeveless & accentuated with gorgeous blue floral patterns (as you can probably tell). That'll give the Bat Mitzvah a fun & playful look on her special night.
A lovely dress that invites the question every young woman is dying to hear: "Wow! Where did you get that dress?"
When that happens, don't forget to answer: on Amen V'Amen's website!
Did you ever buy a dress online… and it didn't fit?
I feel ya… and so did Kate Kasin, the designer of this marvelous dress.
Instead of age, her dresses are designed with height as a reference, which means they're designed to allow your kid to grow into them!
This adorable summer vintage dress is designed with cute polka dots & vibrant floral prints(we're all about flowers today, remember?) and a lovely black belt to add contrast to the dress.
For such a low price – this is an absolute steal for a 12-13-year-old Bat Mitzvah girl (especially when she's likely going to wear it MANY more times in the future).
Tween Diva Big Girls' Lace Bodice-to-Mesh Cascade Dress
That's the first thing that came to mind when I saw this cute tween Diva dress 🙂
These iconic lyrics earned Dana International and Israel the Eurovision award in 1998.
Sure, you're not giving away awards on your daughter's Bat Mitzvah (or are you?)
But your daughter is receiving the biggest award of em' all: adulthood.
According to Judaism – a girl that reached the age of Bat Mitzvah is now responsible for her own actions (which relieves the parents from responsibility. Yay :D)
I can't think of a better way to enter adulthood than wearing a sparkling Bat Mitzvah dress filled with beautiful gemstones!
Elegant Bat Mitzvah Dresses
The girl is celebrating her Bat Mitzvah – her Jewish coming of age. She's not a baby anymore, is she?
It's time to treat her like the young kid woman she is.
The first step? Retire those pink princess dresses… and introduce her to elegant dresses (you know -what "grown-ups" wear).
Dresses that are stylish, tasteful and classy.
Dresses where Less = More.
And it only makes sense to welcome her (and her wardrobe) into adulthood with a glorious & elegant Bat Mitzvah dress.
Top Elegant Dress
When I moved to Israel, I was shocked at how expensive things were here. I mean, you can't buy a reasonable dress without coughing up hundreds of Shekels.
Until I realized I made a rookie mistake.
"Who the hell buys clothes locally? I buy everything on ASOS." –said one of my friends after I complained about being "squeezed" every time I went shopping.
Then I discovered I wasn't the only one – apparently, ASOS is the go-to place Israelis buy clothes online.
And now – I'm glad to say: "myself included".
ASOS "took over" Israel by storm, just as they did in Europe… now they're doing the same in the US (especially in the big cities – NYC, LA, Miami…).
And it's no wonder: HUGE selection, affordable prices, and absolutely marvelous designs.
This classy midi dress is an excellent example.
A fascinating example of an elegant, double-layered design with a 3D neckline that won't tear a hole in your pocket and will make the Bat Mitzvah look ravishing.
More expensive≠ better.
We all fall into that trap every now and then (hint: an iPhone for $1000?!).
We see a dress that costs a fortune – and we immediately think: "Oh, that must mean it's great quality".
Wrong!
That's one of the oldest tricks in the book retailers use to transfer our hard-earned money from our wallet into theirs.
Truth is – you can buy a high-quality kid's Bat Mitzvah dress for a very reasonable price.
Case in point – this elegant summer flower dress (the flower is detachable, by the way).
It's elegant, modest and very comfortable (and not itchy at all – which is important if your girl is going to wear it throughout the ceremony).
Speechless returns with another speechless Bat Mitzvah dress.
Their full-length shiny blue dress has to be the most elegant dress in their entire selection. It makes any young woman wearing it looks like Alice in Wonderland… or Cinderella (both wore similar blue dresses).
The only difference? Neither Cinderella or Alice wore this on their Bat Mitzvah 🙂
I have a good feeling that your daughter would want to wear it not only on her Bat Mitzvah. That would be a waste… why keep such a stunning dress buried in the closet?
Luxury Bat Mitzvah Dresses
Your daughter's Bat Mitzvah ceremony is a once-in-a-lifetime event.
You want her big day to be perfect. You want her to cherish this moment for the rest of her life. And you're willing to spend a little extra to make that happen.
If that sounds like you – then these luxury Bat Mitzvah teenage girl dresses are what you've been waiting for.
Top Luxury Dress
This dress looks like it was taken straight from a Disney movie.
Except:
There's no beast.
There's no fairy godmother.
There are definitely no dwarfs.
In this movie – there's only one star.
And that star? She needs to dress like one on her special night.
Because that's what stars do.
Next in line: one of the classiest dress on this list: Yang's Royal gown.
Notice how I highlighted "royal"? It kind of looks like something the British royal family would wear, doesn't it?
It's full-length and comes in a variety of colors, including:
Burgundy (like the image)
Fuchsia
Green
Purple
Royal (my favorite)
Turquoise
And in case you were wondering – they're ALL stunning.
Inexpensive Bat Mitzvah Dresses
On a budget?
Spent all of your money on your daughter's awesome Bat Mitzvah gift?
Good news!
You can get a fabulous Bat Mitzvah dress without breaking your piggy bank!
Even more good news: cheap price≠ cheap quality.IF you do your homework.
Homework? Naah. Screw homework!
In my school – you're allowed to "cheat".
In fact, I'll even give you the "right" answers. How about that? 🙂
(By right answers, I mean beautiful AND cheap Bat Mitzvah dresses for juniors)
Top Inexpensive Dress
Oooh my! Would you look at all those flowers!
And you ain't seen nothing yet. This beautiful flower dress comes in 21 (!) different colors. But this particularly rosy one is my favorite one by far!
The quality is absolutely terrific. And so is the price, of course 🙂
It definitely breaks the whole misconception of cheap = low quality. And now you've got the proof in the pudding (Kosher pudding)!
The (Bow) dream has just turned into a reality!
Do you think Bow Dream's previous dress was good? Well, they've got another dreamy one coming…
This time – it's an elegant version: fewer colors, more subtlety.
Just as comfortable as the previous one. But if your daughter is shy and doesn't like to stand out – then a pure white dress would probably suit her better.
Tip: It is available in other colors, too… in case you're interested.
Elegant, cheap and pink (technically it's Coral, but whatever). Now there's a winning combination right there!
And let me tell ya – it looks way more expensive than it really is (shh, don't tell anyone).
It's great for a girl's Bat Mitzvah, whether your daughter is celebrating or attending as a guest.
Conclusion
Choosing a Bat Mitzvah dress for a 12-13-year-old tween is a BIG deal.
The Bat Mitzvah ceremony is one of the most important days in a Jewish girl's life. You want her to look special… to feel special. And to remember this day for the rest of her life.
Especially now! Where Bat Mitzvah photos are no longer just kept in old & dusty photo albums like the old days. These days – they're documented on Instagram, Facebook or any other social network that'll pop up after I've written this article.
These photos are available to everyone, everywhere, anytime… forever!
So make sure that both you (don't forget your dress, mom!) and your daughter are wearing a beautiful gown and a BIG smile 🙂
Mazel Tov!