25+ Unique Bar/Bat Mitzvah Decorations & Centerpieces Ideas (2022)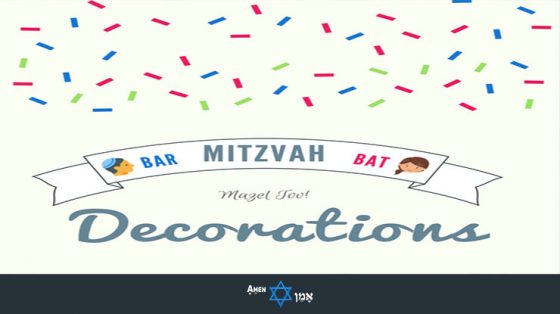 Amen V'Amen is supported by its audience. That means when you purchase something from one of our partners through one of our links, we may earn a small commission at no additional cost to you. Amen V'Amen is also an Amazon Associate, so we may earn a commission from qualifying purchases. Thank you for your support!
Bar/Bat Mitzvah kids adults these days don't just want a Bar/Bat Mitzvah party. They want their party theme to match their "obsession of the day".
"Mommy, Daddy, I want a Football themed Bar Mitzvah!"
"Mommy, Daddy, I want a beach themed Bat Mitzvah!"
"Candy! I want candy!"
Sound familiar?
Sure, you chose themed Bar Mitzvah invitations, you ordered themed Bar & Bat Mitzvah favors…
But now?
Now is the time to choose the main course.
And no, I'm not talking about the food… I'm talking about your Bar/Bat Mitzvah centerpieces & decorations.
Bar/Bat Mitzvah Entrance Decorations: Guest Books, Sign-in Boards & Seating Charts
Bar/Bat Mitzvah guest books arent just guest books. They're keepsakes.
But if you ask me – they're more than that… they provide your guests with an excellent opportunity to form a real bond with the Bar or Bat Mitzvah.
It's their chance to write a deep, thoughtful message. A message that survives the test of time and lasts forever (it's a keepsake, remember?).
Imagine getting a phone call 20 years from now… on the other side of the phone is a 33-year-old Bar Mitzvah, saying:
"Hey Rebecca, you wouldn't believe what I just found… I just read the message you wrote in my Bar Mitzvah guest book… and I swear – someone in this room is cutting onions."
My answer to that would be… Stop crying like a baby! And go make me a salad while you're at it!
Sorry… got a bit carried away over there…
Where was I? Oh right, guest books!
Meet Jacob, the made-up guy who's (NOT) going to call me in 20 years (so feel free to replace him with your own Bar Mitzvah's picture) on top of a beautiful Bar Mitzvah guest book.
What if you're planning a Bat Mitzvah?
The entrance is a golden opportunity to capture your guest's attention and get them to leave a thoughtful message the moment they enter the venue. Don't waste it.
This cute Bat Mitzvah guest book is a perfect way to do just that.
Sure, you could go small with a tiny guest book. Or, if you could go BIG – with a giant Bar/Bat Mitzvah sign-in board.
The good thing about a sign-in board is that it's out in the open – you can't miss it. They're instant attention-grabbers, which means more people writing thoughtful blessings (and you bet they'll try to make their blessing stand out from the rest!).
The result? Your Bar or Bat Mitzvah gets a magnificent keepsake they get to keep… FOREVER.
Imagine asking the receptions: "What table are we at?"
And instead of telling you: "Table 6, now go away" (poor girl, she's probably under a lot of pressure), she hands you these Broadway tickets.
How cool is that?
For boys – you could make sports-themed Bar Mitzvah escort cards.
Creative, isn't it? If your boy's Bar Mitzvah theme is sports-related, this would fit in perfectly.
If you want to give the poor receptionist a break – you can instead use one of these photo seating charts so people can find their seats in a quick glance.
That way, she'll regain her sanity, and she could give your guests a genuine smile rather than a fake smile (it's easy to tell the difference).
Bar/Bat Mitzvah Banners & Signs
Banners and parties go together like Falafel and Pita.
The only question is: what kind of banner?
You can hang subtle decorative banners like these cute floral Mazel Tov banners. They're simple, elegant and don't capture too much attention…
What if you do want to capture everyone's attention?
Easy…
Hang a GIANT banner like this one. It's not very subtle… but who needs subtle when you're celebrating a Bar Mitzvah? This is a BIG day, so use a BIG banner!
Speaking of BIG banners…
My absolute favorite: hang this awesome Bar/Bat Mitzvah backdrop banner:
This is an absolute photo (and selfie) magnet!
Just tell Amanda (the designer) how you like to customize the banner, and she'll take care of everything.
This Bar/Bat Mitzvah directional sign isn't a party décor item per se, but it can help "set the stage" for your guests before they enter the hall (or at least help them find the party and not get lost on the way there).
Bar/Bat Mitzvah Table Centerpieces & Decorations
Like it or not, your guests will spend most of their time sitting at their table (except for those crazy folks who go berzerk on the dancefloor all night) … so you better make sure their table has an appealing atmosphere.
Now, there are TONS of cool table centerpieces and decorations that'll make your tables look pretty.
Since you're going to have napkins anyway (unless you want people wiping their faces with their bare hands…yuck!), wouldn't it be a good idea to decorate your tables with custom Bar & Bat Mitzvah napkins with your child's name on it?
I personally like these Star of David Bar Mitzvah napkins.
What about a Bat Mitzvah? Doesn't she get a Star of David?
Of course she does!
Behold these lovely Star of David Bat Mitzvah napkins.
You can choose between luncheon napkins (ideal for Bar/Bat Mitzvah luncheons) or cocktail napkins (ideal for guests who've had too many drinks and need the napkin to remind them who's Bar/Bat Mitzvah they're attending).
Care to give your napkins an extra "Jewish touch"? Then decorate your luncheon napkins with these cute Star of David napkin rings. It's these little details that make all the difference. It shows everyone how much thought and effort you put into this event!
Bar/Bat Mitzvah Flower Centerpieces & Floral Arrangements
Bar/Bat Mitzvah parties these days look more like weddings than birthday parties.
But does that mean you should go crazy with your flower arrangements as if it's a wedding party?
If you ask me, no…
Think about it:
There's no Chuppah
There are no bridesmaids (so no bouquets)
Chair arrangements? Optional, definitely not necessary.
Bottom line – flower centerpieces for the tables is all you really need.
Hire a florist, DIY or order beautiful pre-made flower centerpieces… but whatever you do – do NOT spend thousands of dollars on floral arrangements (unless you're planning a really BIG party). That's completely unnecessary.
Bar/Bat Mitzvah Table Covers
As boring as it may sound, you do need to cover up your tables somehow…
Otherwise, as they say in Hebrew: חבל!
Simple disposable plastic tablecloths can get the job done…
I know what you're thinking:
Table numbers? It's freakin' table numbers! What can possibly be so special about table numbers?!"
I can tell you, but I'd rather just show you…
Take these awesome movie film table numbers for example:
(Table) 3…(Table) 2…(Table) 1… and ACTION!
What is this, the Oscars or a Bar/Bat Mitzvah?!
If your child is having a Hollywood-themed Bar/Bat Mitzvah, then there's no difference whatsoever… you gotta stick with the theme, people!
How about the Bar Mitzvah who's obsessed with sports (Football, Baseball, Hockey, Basketball… take your pick)? You guessed it – there's a table number for that too, in the form of super-cool Sports jersey table numbers!
You don't have to "stick to the theme", so to speak. Heck, you might not even have a theme. In which case, any table numbers will do, as long as they're stylish… like these beautifully calligraphed table numbers.
Needless to say, you wouldn't (and shouldn't) use paper cups if you're having a big Bar/Bat Mitzvah event in a fancy venue.
But if you're hosting a Bar Mitzvah luncheon or a small party with your kid's friends and classmates, with drinks and snacks – then why not replace the standard (read: boring) plastic/paper cups with these funky Bar Mitzvah cups?
Rock on!
Your Bat Mitzvah isn't a big fan of rock?
No worries – you can get a fancy and glittery Bat Mitzvah paper cup, and customize it just for her.
You've got the cups taken care of… how do you guarantee the kids won't spill their drinks all over the place?
Coasters, baby!
Thing is… good luck convincing a bunch of 12 and 13-year old's that are hyped up on sugar to use a coaster.
Who knows? Maybe a customized Bat Mitzvah coaster with your child's face staring right at them will do the trick?
Plus, it's much cooler 🙂
Or take young Benjamin (aka Benji) on this cute Bar Mitzvah chalkboard coaster.
It looks like he's saying: "Welcome to my Bar Mitzvah… Don't you dare walking jumping around with your soda without using a coaster with my face on it!"
Except, in your Bar Mitzvah you won't have Benji's face, you'll have your own Bar Mitzvah boy. Because… who the heck is Benji?
Speaking of spilling drinks…
Yes – you can even customize & decorate the drinks themselves!
Take a look at these awesome Bar Mitzvah water bottles (or these custom Bat Mitzvah water bottles for the ladies)
Water never looked so appealing…
Who knows, maybe the youngsters would choose to skip the Sodas and go straight for the water bottles? (I doubt it, but it never hurts to hope!)
But hey – even if they do choose to stick with their favorite soda's, you can use these same water bottle labels for other bottles.
I'm sure the water bottles wouldn't mind…
Bar/Bat Mitzvah Party Supplies
OK, we took care of the Bar/Bat Mitzvah table centerpieces.
The only thing left?
Everything else…
Don't worry! It's not that daunting…
All you really need for a Bar/Bat Mitzvah party is:
A banner or two
A few Balloons
Maybe some confetti
That's easy peasy…
Let's go over each of these quickly.
Look! Balloons… balloons everywhere!
No birthday party is complete without balloons. Let alone a Bar/Bat Mitzvah party.
But this isn't a regular birthday party, so why would you use regular balloons?
No! You'll use special Bar Mitzvah Balloons (or Bat Mitzvah Balloons)!
Honestly? I hate confetti… (It's freakin' hard to clean!)
I know, I know: "It's a party… what the hell is wrong with you, Rebecca?!"
Yadda yadda yadda!
OK, to be fair – as long as you're not doing the cleaning afterward… I guess they're not so bad.
If you do insist on popping confetti, then you might as well get "Jewish" ones, like this neat Mazel Tov confetti.
Bar/Bat Mitzvah Candle Lighting Decorations
Time to shine a light on the Bar/Bat Mitzvah candle lighting ceremony (pun intended)!
The candle lighting ceremony is where you get to really go bananas with your Bar/Bat Mitzvah theme decorations (hey, bananas! That's a cool Bar Mitzvah theme!).
I'm constantly surprised by the level of creativity you'll find in Bar/Bat Mitzvah these days.
Here are just a couple of popular Bar & Bat Mitzvah candle lighting decorations you can draw inspiration from…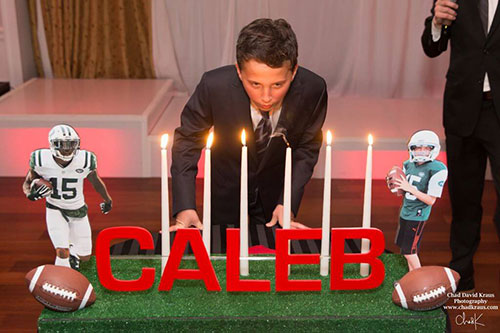 Special thanks to Balloon artistry for sharing their awesome candle lighting images!
You can get similar personalized candle lighting displays here.
Bar/Bat Mitzvah Cake Decorations
This is the sweetest part of the Bar/Bat Mitzvah (and the sweetest part of this article to be frank).
So far, your child only received a children's cake for his previous birthdays.
But now it's their Bar/Bat Mitzvah… a children's cake won't cut it anymore, you need a "real" cake. A cake that blends with the Bar/Bat Mitzvah theme yet stands out…
Here are just a couple of yummy-looking and yummy-tasting cakes! (I've written an entire post with TONS of Bar & Bat Mitzvah cake ideas. Check it out!)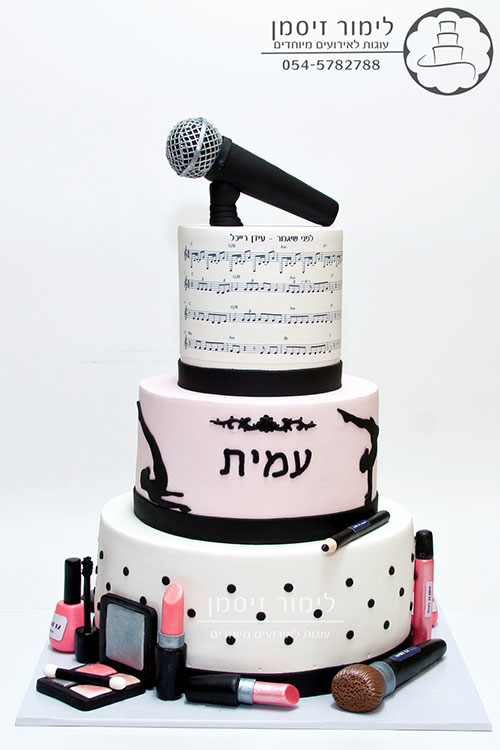 Bar/Bat Mitzvah Cake Toppers
Bar/Bat Mitzvah Cake? A piece of cake, with a cake topper on top!
Just like a wedding cake has a tiny bride & groom on top, a Bar/Bat Mitzvah cake has…well, it can have different things.
For example:
You can go with an elegant Bar Mitzvah cake topper like this one (it can be customized)
"Mazel Tov", a Star of David – nothing out of the ordinary here.
Want unordinary?
You got it:
This LED Bar Mitzvah cake topper is quite unorthodox (but is great for Orthodox Jews 🙂 )… especially when it's engraved with the Bar Mitzvah's name.
Or you can step it up a few notches and choose a premium Bar Mitzvah cake topper…
This remarkable cake topper of a Jewish boy reading from the Torah is made of genuine, hand blown glass. You can even choose the finish type: clear glass, silver, gold (yes, gold… heavy gold!)… so needless to say, expect to pay more for this gem.
Ideas are endless… choices are a few (only one).
Bar/Bat Mitzvah Favors & Giveaways
… Your child (I mean, adult) is having the time of their life.
… Your guests are having a blast.
… Even you're having a "decent" amount of fun
Mission Bar/Bat Mitzvah = SUCCESS 💪
But here's the thing – when your guests wake up the next morning, chances are they'll forget all about your Bar/Bat Mitzvah party and move on with their lives…
Sad, but (unfortunately) true…
Unless… (remember the serial position effect? this is what you do at the end of the event)
Unless you spoil them so much with unique Bar & Bat Mitzvah favors, that it'll be impossible for them to forget your Bar/Bat Mitzvah event anytime soon.
Here's what I mean…
Imagine that:
When they open their sock drawer the moment they wake up – poof! There are those awesome socks they got at your Bar/Bat Mitzvah.
When they'll make coffee in the morning before heading off to work – poof! There's that cool coffee mug from your party!
When they'll play card games on Yom Kippur… poof! There's that elegant Star of David deck of cards from your event.
That's how you "hijack" someone's mind – you pop up in their life… every-single-day. (muahahaha!)
If you do that, do you think they'll forget your Bar/Bat Mitzvah that quickly?
Don't think so…
Conclusion
That was a lot to take in, huh?
Hey – I didn't say decorating your Bar/Bat Mitzvah party is easy… did I?
I know, I know – there's lots to choose from and very little time…
But as long as you remember the following "golden" Bar/Bat Mitzvah decoration tips – you'll be golden:
Match your decorations to your Bar/Bat Mitzvah theme: Focus on your child's theme, and ignore everything else.
Be creative (read: don't be boring!): You've seen one Bar/Bat Mitzvah, you've seen em' all… right? Here's your chance to prove your guests wrong! 
Ignore the shiny objects: You don't need the latest decorative art piece by Monet for your Bar/Bat Mitzvah (hint: there's no "latest" art piece by Monet). Stick to the basics and don't get distracted.
Remember: normal is boring. As long as you entertain your guests with unique & surprising décor, and trust me – they'll spread the word out so fast that your Facebook/Instagram feed will be flooded with pictures from your Bar/Bat Mitzvah party.
Good luck… and Mazel Tov 🙂