Bar/Bat Mitzvah Ceremony Traditions & Rituals: Step by Step (2020)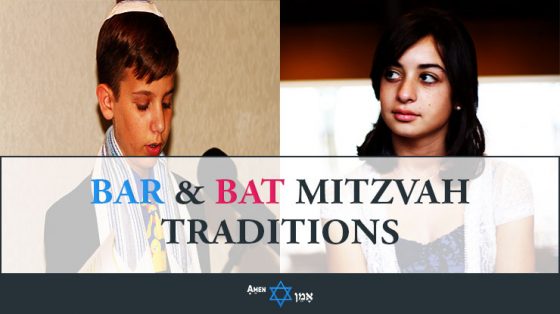 Imagine someone attending a Bar/Bat Mitzvah ceremony for the very first time (hey, that someone might be you!)…
They see people wearing a weird-looking hat, speaking an ancient language (Hebrew is over 3,000 years old) they don't understand, and walking around in what looks like a cape from biblical times.
They're baffled 😮 (wouldn't you be?).
At this point, our poor mystery guest can't help but wonder:
… What are these odd traditions? (or to put it less politely: WHAT the hell is going on?)
… What exactly are we celebrating here?
… What is the real meaning behind these Bar/Bat Mitzvah rituals?
Let's give our mystery guest some answers, shall we?
In this article, I'm going to break down the Bar & Bat Mitzvah ceremony step by step (and bust a few myths along the way)…
You know… so that our mystery guest doesn't feel like The Martian the moment they step foot into the synagogue.
Bar/Bat Mitzvah in a Nutshell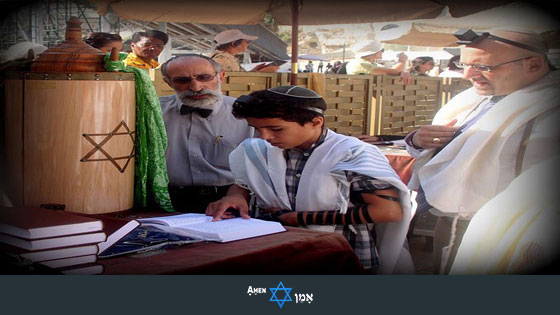 You probably heard people use the term "Bar Mitzvah" or "Bat Mitzvah" to describe the ceremony (or the party).
That's wrong.
Contrary to common beliefs, a Bar/Bat Mitzvah is NOT an event, it's an expectation.
The term "Bar Mitzvah" consists of 2 Hebrew words:
Bar (בַּר) = subject to
Mitzvah (מִצְוָה) = commandments
Note: "Bat" (בַּת) also translates to "subject to", just in female form.
In other words:
A Bar/Bat Mitzvah is a Jewish boy/girl who reached their coming of age (13 for boys, 12 for girls). From that point, they're responsible for their own actions and are now subject to the Torah's commandments (or "Mitzvot"), regardless if they had a Bar/Bat Mitzvah ceremony.
The ceremony is a way to celebrate the occasion, but it's by no means necessary to become a Bar/Bat Mitzvah.
The Bar Mitzvah Ceremony: Torah Reading (Aliyah)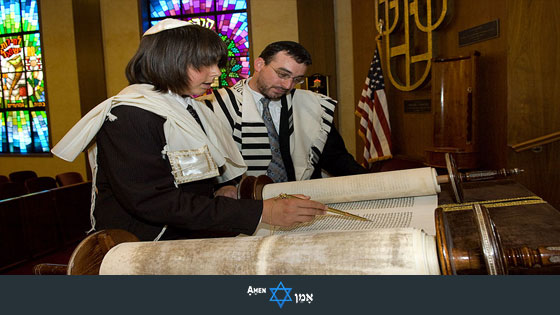 So, what happens exactly in a Bar Mitzvah ceremony (aka the Jewish coming of age ceremony)?
In the Bar Mitzvah service – family and friends get together in the synagogue to witness the Bar Mitzvah read from the Torah for the very first time (something only men after the age of 13 can do).
The young man steps up onto the Bimah (stage), where he'll read a portion from the Torah and may even chant the Haftarah (a section from the biblical prophets). In some communities, he might also lead part of the Shabbat morning service (if he's trained to do so).
This is also known as "Aliyah LaTorah" (or Aliyah in short), which literally means "rise to the Torah" In Hebrew.
What does "trained" mean, you ask?
Well, the Bar-Mitzvah-to-be trains with a Rabbi for months in advance to learn how to read and chant from the Torah.
The Bar Mitzvah ceremony is usually held on Shabbat, but it can be held on Mondays and Thursdays too (the days we read from the Torah).
Note: Did you notice I mentioned the "Bar Mitzvah ceremony", and not the "Bat Mitzvah ceremony"? That's because, in Orthodox and conservative communities, only men are allowed to publicly read from the Torah.
In recent decades, reform communities started having Bat Mitzvah ceremonies for girls. Just like boys, the Bat Mitzvah follows the same protocol:
She reads from the Torah
Puts on a Tallit
Sometimes she even puts on a Kippah
As you'd expect, most Orthodox Jews (and even conservatives) don't particularly like this idea.
Did You Know? There's a fairly common Bar Mitzvah custom to throw candy at the boy when he's called up for his Aliyah; a symbol for the sweet life we wish for the young man.
The women sitting up top especially get a kick out of it. They have a clean eye-sight to drop a whopping amount of candy on the poor men's heads… Something even the most protective Kippah won't be able to shield. I remember walking around for days with a nasty bump on my head after my Bar Mitzvah ceremony 🤕.
The Bar/Bat Mitzvah's New Rights & Responsibilities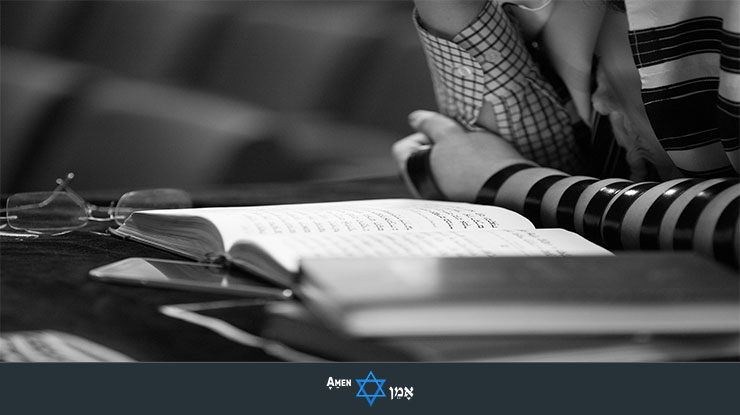 Becoming a "Bar Mitzvah" is all about taking responsibility for your actions. Or, as Spiderman would say: "With great power comes great responsibility" (more on that later).
In fact, there's a common criticism in many Jewish circles that claims that Jewish kids (and their parents) spend too much time preparing for the Bar/Bat Mitzvah ceremony – aka memorizing a few lines from one portion of the Torah (not to mention focusing too much on the party), instead of studying the principles & commandments of Judaism that'll help prepare them for life as a Jewish adult with new responsibilities and rights.
What sort of responsibilities and rights?
The Bar & Bat Mitzvah's Responsibilities
Taking responsibility for your actions
Up until the age of 13 (or 12 for girls), the parents are responsible for the child's deeds: both good or bad. When the Bar/Bat Mitzvah finally reaches their coming of age, they're now fully responsible for their own actions.
Not only that… before the Bar Mitzvah reads from the Torah – his father literally recites a blessing thanking G-d for relieving him from the burden of his child's sins.
Even though a Bar/Bat Mitzvah becomes responsible for their own actions, that doesn't mean that Judaism considers them "real" adults. G-d forbid, we'll let 13 and 12-year-olds get married and have kids…
Pirkei Avot 5:21 says:
הוּא הָיָה אוֹמֵר, בֶּן חָמֵשׁ שָׁנִים לַמִּקְרָא, בֶּן עֶשֶׂר לַמִּשְׁנָה, בֶּן שְׁלשׁ עֶשְׂרֵה לַמִּצְוֹת, בֶּן חֲמֵשׁ עֶשְׂרֵה לַתַּלְמוּד, בֶּן שְׁמֹנֶה עֶשְׂרֵה לַחֻפָּה, בֶּן עֶשְׂרִים לִרְדֹּף
Click To Tweet
I highlighted the relevant part: 13 is the age for Mitzvot, 18 is the age for marriage, 20 is the age for making money.
Note: I don't think it means that 18 should be the exact age for marriage. Another place in the Talmud states that the proper age for marriage is between 16-24.
Tefillin & Tallit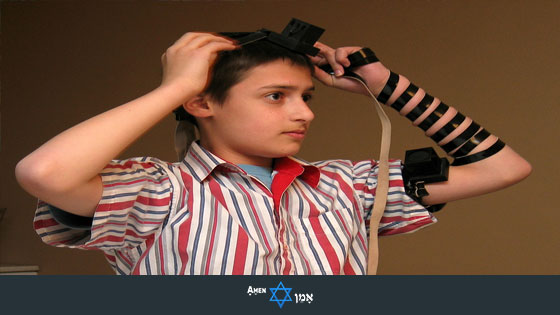 When a Bar Mitzvah reaches the age of 13, he's now required to follow the Mitzvot of Tefillin and Tallit.
Keep in Mind: Technically the Mitzvah of Tefillin and Tallit are two separate Mitzvot, but since you usually wear both of them together during the morning service, I decided to combine them into one section.
Tefillin are two black leather boxes that contain parchments inscribed with Jewish prayers (like Shema Yisrael and others).
Jewish men put on Tefillin during the morning prayer every day, except for Shabbat & certain Jewish holidays (Rosh Hashanah, Yom Kippur, Passover, Sukkot, and Shavuot).
Tallit is the Jewish prayer shawl men wear during the morning service.
While it's true that in many communities (mostly Sephardic), Jewish men start wearing a Tallit from the age of Bar Mitzvah, there are other communities (mostly Ashkenazi) where men are required to wear a Tallit only after they get married.
Tip: It's a common Bar Mitzvah tradition for the parents (or grandparents) to buy their son his first pair Tallit & Tefillin.
Following the 613 laws of the Torah
Alongside the Mitzvot of Tefillin and Tallit, a Jewish adult has plenty of other Jewish commandments he's required to follow: 613 of them, to be exact.
Now you see why people criticize the notion of "preparing for your Bar Mitzvah ceremony" vs "preparing for the rest of your life".
The Bat Mitzvah's Exclusive Responsibilities
While Jewish women follow a lot of the same commandments Jewish men do, they are exempt from following some of them (such as Tefillin and Tallit).
Women also follow 3 other commandments that are exclusive only to women:
Lighting Shabbat & holiday candles
Kneading Challah
The Bar Mitzvah's Rights
Remember: In traditional Judaism, only men perform these rituals. In reform Judaism, women can perform them as well.
Participating in a Minyan: A Minyan is a group of 10 Jewish men required for public prayer. Guess who's a man now?
Receiving an Aliyah: Jewish men can be called for an Aliyah every time there's a public reading from the Torah. The boy's Bar Mitzvah ceremony is his first Aliyah, but it's certainly not his last (hopefully).
Publicly reading from the Torah & leading the prayer service: That can take many forms:

Leading a Torah lesson
Leading the prayer service in a Minyan
Publicly recite the priestly blessing if he's a Kohen
Leading Birkat Hamazon (also known as "zimun")
Just like Spiderman said:
"With great power comes great responsibility".
Click To Tweet
Note: It was actually Uncle Ben, Spiderman's uncle, who said that famous line. But Spiderman sounds better.
The Bar/Bat Mitzvah Party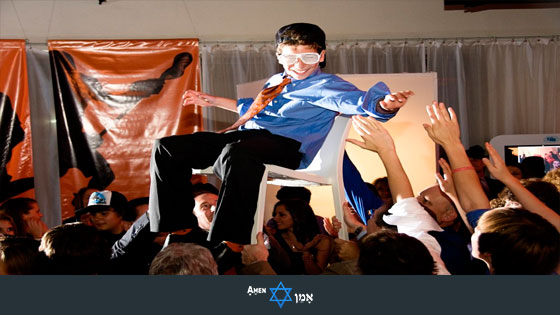 What if I told you that traditionally, there was no such thing as a Bar/Bat Mitzvah party?
Back in the day, a Bar/Bat Mitzvah celebration usually meant a small reception with an intimate Kiddush luncheon (called Seudat Mitzvah) in the family's house or in the synagogue.
Close family & friends would get together to congratulate the Bar/Bat Mitzvah, give them Bar Mitzvah gifts (or a Bat Mitzvah gifts for the girls) and listen to the Bnai Mitzvah give a speech for the occasion… that's pretty much it.
Now? Now's a whole different story:
The whole nine…
If you've ever been to a Jewish wedding, and this sounds kind of familiar, it's because it is… These days, a Bar/Bat Mitzvah party look more and more like full-blown wedding parties.
Did You Know? There's even a famous joke that modern Bar/Bat Mitzvah celebrations look more like a "Bar" than a "Mitzvah" 🙂
Recommended: Make sure you know you're familiar with the proper Bar/Bat Mitzvah etiquette, so you don't accidentally embarrass yourself.
The Bar/Bat Mitzvah Candle Lighting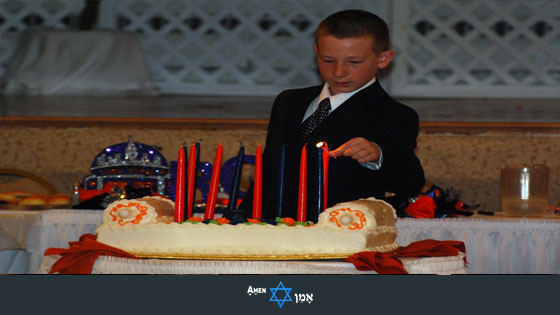 Once the Bar/Bat Mitzvah celebration moved from the family's living room to the event hall, another common Bar & Bat Mitzvah ritual emerged: The Bar/Bat Mitzvah candle lighting ceremony.
This is usually how it works:
The Bar/Bat Mitzvah goes up on stage and stands behind a decorative candle lighting display. (guess how many candles are there? Hint: it's the same number as their age)
They give their speech (more on that later), maybe even add a poem for good measure
Then, the Bar/Bat Mitzvah invites a pre-selected list of close family members & friends (maybe even dad's boss if daddy needs a promotion) to each light a candle (sometimes they'll light a candle in memory of a deceased relative).
It's fairly common for the family to choose a dedicated song for each person invited to light a candle (kind of like a boxer who has his own song when he makes his big entrance)
Tip for the Jokers: If the people you're inviting have a sense of humor – choose a song that resonates with them or makes them laugh.
Here's an example of a Bar Mitzvah candle lighting ceremony.
The Bar/Bat Mitzvah Speech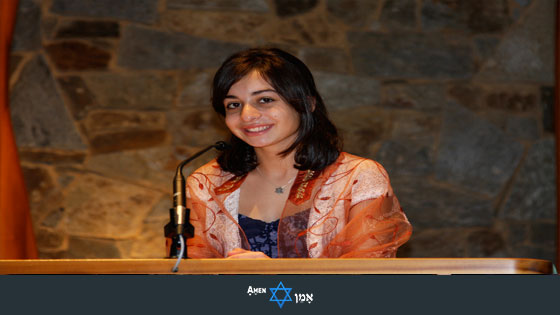 If you ever attend a Bar/Bat Mitzvah, then chances are you'll be in for quite a few speeches:
This is an ancient Bar & Bat Mitzvah custom that originated way before dancing & drinking became a "thing" in Bar/Bat Mitzvah celebrations.
The speech given by the Bar/Bat Mitzvah is a particularly interesting one. It's intended to teach the young adult a few key things:
Teaching Torah in public
Speaking in public (hello, public fear #1!)
Accountability – thanks to the Mitzvah project (more on that next)
The Mitzvah Project

One of the hallmarks of a Bar/Bat Mitzvah speech is the Mitzvah project.
In a Mitzvah project, the Bar/Bat Mitzvah chooses a Mitzvah they'd like to fulfill to celebrate their Jewish rite of passage.
A Mitzvah project can either be a personal Mitzvah, preferably one they can continue practicing on a regular basis (like lighting Shabbat candles).
Or it can be a public Mitzvah, like donating to charity (odds are you'll have lots of food left over from your Bar/Bat Mitzvah), helping Holocaust survivors or volunteering in an animal shelter.
They'll (ideally) learn the ins and outs of the Mitzvah, why it's important and how they can fulfill the Mitzvah in the best way possible.
The concept of Mitzvah projects is relatively new. It was designed to help Bnai Mitzvah learn more about the different Jewish commandments (after all, there are 613 of em'), and help practice the Mitzvah in real life.
Why the public announcement?
For social pressure.
When the Bar/Bat Mitzvah publicly announces their Mitzvah project, and why they chose it – there's a much better chance they'll actually follow through…
Bar & Bat Mitzvah Gifts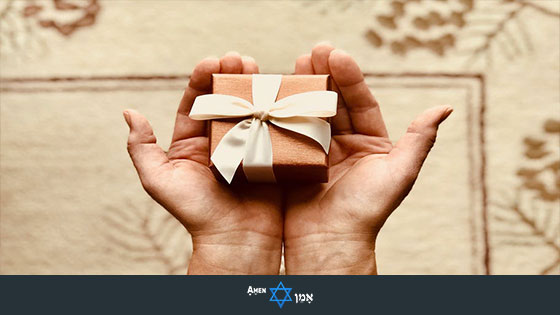 Needless to say – you wouldn't come to a Bar/Bat Mitzvah party empty-handed (especially when it's a full-blown party).
What does the gift etiquette in a Bar/Bat Mitzvah look like?
The usual suspects:
Gifts
Money
What kind of gifts?
Traditional Jewish gifts are the most common:
For a Bar Mitzvah -this could be anything from a Bar Mitzvah Tallit, Kiddush cup or a luxurious bible set.
For a Bat Mitzvah – the most common choices are Jewelry, Shabbat candlesticks or a Challah board.
What kind of money?
What kind? That would be your local currency 🙂
As for the amount – in Judaism, it's common to give money in multiples of 18.
Remember – a Bar/Bat Mitzvah is one of the most meaningful events in a Jewish person's life, so ideally, you'd want to get them an equally meaningful gift.
When & where should you give the gift/money?
They say timing is everything. That's certainly true for Bar/Bat Mitzvah gifts.
You'd want to give the gift at the Bar Mitzvah reception or the party… not, I repeat – NOT in the synagogue.
Note: Especially not if it's money. It's highly inappropriate to give money on Shabbat, let alone in the synagogue.
The Bar/Bat Mitzvah Trip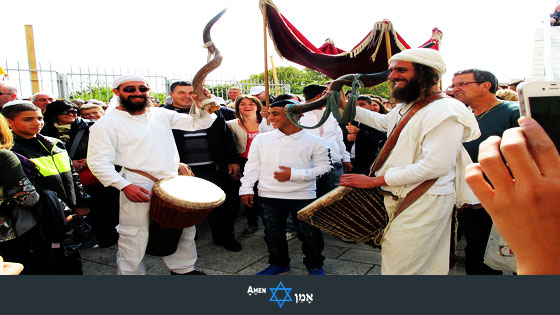 When I was a kid and approaching my Bar Mitzvah, I remember my dad walking into my room and asking:
"So… party or trip?"
I expected that question to come…
Inside, I wanted to scream "BOTH!". But I knew my dad would smack me if I did (just kidding…he wouldn't actually smack me, please don't call child support). Neither of these options comes cheap, so you'll usually have to pick one or the other.
I told him I needed to think about it…
Later that day, I arranged an emergency meeting with the "wise men" (aka – my equally clueless buddies at the time) to discuss the matter – we agreed that a Bar Mitzvah party is the way to go.
Looking Back… No wonder they preferred the party. They knew that if I chose a party they would be invited, but if I chose the trip they would've been just a couple of disappointed little boys.
I wasn't special by any means… Many parents let their child decide if they prefer a Bar/Bat Mitzvah party or a Bar/Bat Mitzvah trip to Israel.
Note: Some lucky kids get to have both, especially since it's pretty common for Jews around the world to celebrate their Bar Mitzvah in the western wall in Jerusalem.
Post Bar/Bat Mitzvah: What Happens Next?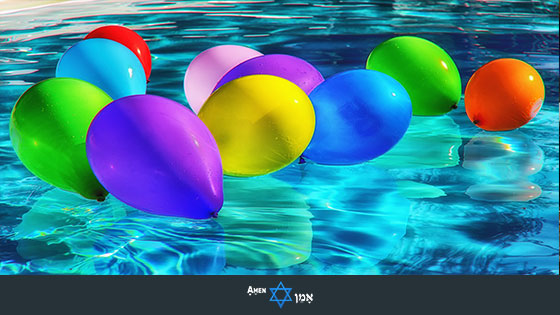 … Torah reading – check ✅
… Cool bar Mitzvah party – check ✅
… Great gifts – check ✅
…Now that the party music has stopped, what happens next?
It's very easy to view it as the end of the Bar Mitzvah… but in Judaism, the end of the Bar Mitzvah marks the beginning of a Jewish adult's life.
Does that mean you'll wake up the next day having to pay taxes? Lucky for the Bar/Bat Mitzvah – not yet.
Does that mean you're now allowed to buy alcohol? Heck no!
Does that mean you're ready to get married? We already settled that – please don't let your child get married when they're 13 (let alone 12!) …
Reaching your coming of up doesn't mean you all of a sudden grow up physically, or even mentally (although it does usually coincide with puberty, so there's some truth to that too).
But it does mean you grow up spiritually.
What does that mean?
It means that now you're able to view the word from a selfless lens, as opposed to a selfish lens.
When we're kids, everything is about "me": feed me, bath me, buy me…"me, me, me". In our little mind, we are the masters of the universe and the world around us is our servant. And when something doesn't fit that narrative – we get upset and resentful.
As kids, we have a limited scope: we don't have the mental capacity to distinguish good from bad, right from wrong, worthy pursuits vs meaningless pursuits.
But when we reach our coming of age – we're now held to a higher standard, because it is in our ability to rise to the occasion.
We're expected to view the world from an elevated & spiritual perspective, as opposed to looking at the world from a purely materialistic perspective.
The fact that Bnai Mitzvot are considered adults at such a young age, tells them:
"You're now able (and expected) to develop your character, acquire useful habits and shape yourself as a human being… and the Torah can help you get there."
Click To Tweet
That's exactly why the Torah is also called "Torat Chaim" – "The Life Manual".
Conclusion
I think we can all agree that a Bar & Bat Mitzvah ceremony is anything but just-another-party.
Most Bar/Bat Mitzvah traditions & rituals go back hundreds (if not thousands) of years ago.
And yes, some of these customs emerged pretty recently (candy, anyone?).
But that doesn't change the fact that a Bar & Bat Mitzvah ceremony still remains a huge stepping stone in Jewish man & woman's life [and definitely one of the most memorable ones].
At the beginning of this article, I promised you'll come out with more answers and fewer questions than you did coming in.
I hope I kept that promise 🙂
Mazel tov!