Bar/Bat Mitzvah Speech: How to Write the Perfect Speech (Ideas + Examples)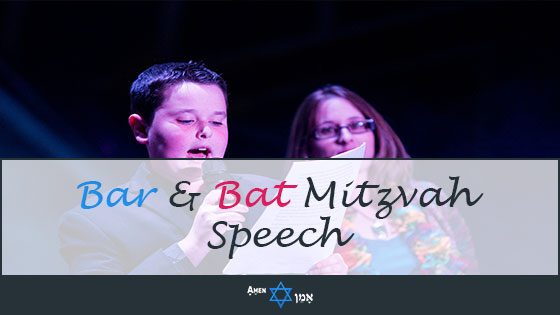 What's the #1 thing people around the world fear the most?
You guessed it: public speaking.
And that's adults I'm talking about here…
So you can imagine how Bar & Bat Mitzvahs feel about writing and giving their Bar/Bat Mitzvah speech…
… "What should I say?"
… "Where do I even begin?"
… "What if my friends make fun of me?"
These are just some of the things that are probably going through the mind of a soon-to-be Bar/Bat Mitzvah…
Guess what… that's completely normal! (In fact, it would be weird if you wouldn't have those feelings)
Well, don't worry… because in this article, I'm going to show you everything you need to write a great Bar/Bat Mitzvah speech … step-by-step!
Ready?
Let's get started…
Creating the Bar/Bat Mitzvah Speech Outline
Let me ask you a question: how do you build a building? (don't Google it! That's cheating!)
I'll tell how you DON'T start: You DON'T start by randomly laying down bricks and hoping that "poof" – it will somehow turn into a house.
No sir… that's not how it's done.
First, you start with a blueprint.
A blueprint is a foundation: how the house will look like, how many rooms, what size and shape …
The same goes for when you write the speech.
You don't start off by typing a bunch of words, hoping that "poof"! It will automagically (automatically + magic) turn into this beautiful Bar/Bat Mitzvah speech.
That's not how it works…
You start by laying the foundation, the blueprint – your Bar/Bat Mitzvah speech outline.
Here's what a typical Bar/Bat Mitzvah speech outline looks like:
Speech Introduction
Thank everyone for coming: Your guests came from all over the place to celebrate with you, got you awesome Bar Mitzvah gifts (or if you're a young woman – Bat Mitzvah gifts)… so start off by thanking everyone for being here with you.
Start with the elders: grandparents, aunts/uncles… and people who came from a distance (auntie Bracha came all the way from Australia? Show her you appreciate it)
Throw in a joke or two (optional): Why so serious? Throw in a joke or two for good measure… It's always fun to catch people laugh and spill their drink.
Speech body
Give a Dvar Torah: First, everyone came to hear you read your Torah portion… Now, they want to hear YOUR interpretation of the Torah portion:
… What happened in the Parsha?
… What lessons did you learn from the Parsha?
… How does it apply to your own life (and hopefully theirs too)?
Make it Personal: People like to hear what the Bar/Bat Mitzvah means to you: How did you feel while preparing for the Torah reading? How does it feel like to finally be a Bar/Bat Mitzvah? Share the whole experience with your friends & family! I'm talking about real sharing, not Facebook sharing…
Announce your Mitzvah Project (optional): You announce the Mitzvah Project you chose, why you chose it and how you're going to fulfill it.
Speech Wrap Up
It's Thank You Time: You thank everyone who made this Bar/Bat Mitzvah celebration possible: your parents, family, rabbi, guests, neighbors, the neighbor's dog… you get the picture.
Of course, don't forget to thank G-d!
Finish off by wishing everyone a pleasant evening, and "Poof! – you're done!
Brainstorming: What Are You Going to Talk About?
"Every child is an artist, the problem is staying an artist when you grow up" – Pablo Picasso
Click To Tweet
You're celebrating your Bar/Bat Mitzvah – the day you turn from a child into an adult…
Hold on!
Does that mean that according to Picasso, you're not an artist anymore?! You're no longer creative?! You're doomed?!
Oy, gevalt!
Relax…
Señor Picasso wasn't talking about young champs like you.
He was talking about "real" grown-ups… you know – the ones who forgot what it's like to play, what it's like to draw outside the lines, what it's like to have some fun.
You're in luck… Because this brainstorming is THE fun part of writing your Bar/Bat Mitzvah speech.
That's when you write down everything that comes to mind. And by everything, I mean EVERYTHING:
What did you think of your Parsha?
What lessons did it teach you?
What Interesting insights would you like to share?
What does it feel like being a Bar/Bat Mitzvah?
I mean it… grab a piece of paper (physical or virtual, doesn't matter) – and write down every idea that pops up. It doesn't matter if you think it's good or bad, boring or interesting… don't think about it right now, just write-it-down.
Your piece of paper is your canvas, and you're the artist (listen to Señor Picasso).
Writing the Bar/Bat Mitzvah Speech
Grab a piece of pen and paper (wait, isn't that backward? Oh well…), or grab your keyboard – because it's time to write down some words!
Remember: a speech is made up sentences, sentences are made up of words.
Take everything you've written down in the brainstorming stage – and use it to write your speech.
Here are a couple of key writing tips you should keep in mind when you write your Bar/Bat Mitzvah speech:
Write like you speak
Remember English class?
Good, now do the exact opposite.
Mrs. Merriam Webster is not there to test you, so don't try to impress your guests with your fancy vocabulary.
People want to hear from you, not some young, annoying Shakespeare wannabe.
So write like you speak, Bevakasha…
Don't write and edit at the same time
When you write, write. When you edit, edit.
Writing and editing are completely different cognitive tasks.
Don't make the classic mistake of mixing the two together – you'll just slow yourself down and get discouraged (trust me, I've been there).
Start with the speech body, then write the intro & wrap up
Your speech body is the most important part, so you might as well start there.
Keep in mind that when you study for your Torah reading – you mostly focus on reading the Parsha, not on understanding it.
Before you write your speech, it's worth going back to your Parsha and really understand what you just read:
What does this Parsha mean?
What are the different interpretations of this Parsha?
What lessons can you learn from it?
This is a good chance to sit with your Rabbi, parents or whoever else can help, and put together a bunch of interesting insights you can share with your guests in your speech.
Once you've got the body written down:
You'll know what you're about to say, so you can write your speech intro to smoothly transition to the speech body.
You know what you just said, so you can write your speech wrap up to smoothly transition from the body.
It's like making a tuna sandwich: first, you prepare the tuna, then you wrap it up with bread.
Make it Short & Sweet (and NOT boring)
Make your speech short & sweet, not long & tedious. The sweet spot is somewhere between 5-10 minutes… anything longer than that – you'll notice people starting to yawn and reach for their phones (if it's not Shabbat).
Same goes when you write your Bar/Bat Mitzvah candle lighting speech…
Like it or not – people have short attention spans. If you start rambling endlessly they'll just tune out.
Tip: Read out the "Practice, Practice, Practice" section below carefully – so you don't turn your speech into a snooze-fest.
Tell a joke or two (but don't force jokes if they're not funny)
Sure – a Bar/Bat Mitzvah celebration is an important, spiritual moment. But that doesn't mean you have to be Mr/Mrs. Serious ALL the time.
This is your Bar/Bat Mitzvah! people came from all over the place to celebrate with you.
Relax, take it easy, and slip in a few jokes if you can.
Note: if it's your Bar/Bat Mitzvah party – even better… Some of your guests are probably drunk, so they'll laugh even if your joke isn't all that funny.
At this point – you have everything you need to write down your first draft… GO DO THAT NOW.
When you're done – come back and continue to the next part…
Take your time…
Don't worry, I'll wait… come back when you're done.
Editing the Bar/Bat Mitzvah Speech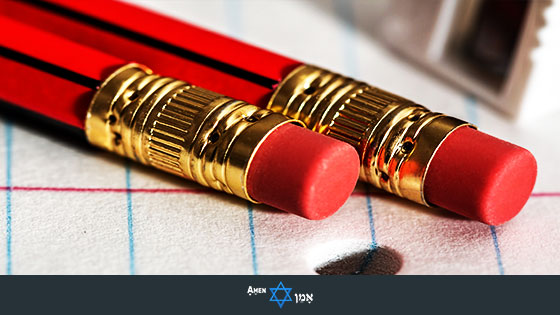 Finished your first draft?
Congratulations! I'm proud of you!
Hopefully, you listened to my advice and you didn't write AND edit at the same time. Otherwise, you probably just spent hours upon hours going back and forth, pulling your hair out.
But no worries, as long as you eventually got your first draft written down… Now, it's time to edit your draft.
Many people don't know this, but the real magic happens in the editing, not in the writing.
Luckily, editing is easy… All you have to do is remember my RRRR formula (the 4 R's):
Remove: Get rid of words or sentences you don't need
Rewrite: Rewrite complicated sentences to make it sound natural. Remember – this is a speech, not a college essay. Leave the complicated words out.
Reorder: If a sentence breaks the natural flow of the speech, try moving it someplace else
Repeat: Repeat until you're satisfied.
Easy, right?
What are you waiting for? Go RRRR!
Same as before – I'll be here waiting till you're done.
Bar/Bat Mitzvah Speech: Speaking Tips
If you're afraid of giving your Bar/Bat Mitzvah speech in front of everyone – don't worry, you're not alone… In fact, far from it – public speaking is the #1 thing humans are afraid of more than anything, so join the club 🙂
Now, before you cancel your Bar/Bat Mitzvah and lock yourself in your bedroom – here's a couple of things I want you to keep in mind before you give your speech:
Take a deep breath (or two) before you speak
You'll probably feel a little (read: a LOT) nervous before you speak, that's normal.
If that happens, then before you give your Bar/Bat Mitzvah speech:
Take a few deeeeeeeep breaths
Relax…
Organize your thoughts…
Repeat to yourself: "I'm in control…I'm in control… I'm in control…"
Give your speech like a champion
Look straight at the audience
Speak to your guests, not at your guests. Look people straight in the eye, that way they'll listen to what you're saying.
Speak with emotion
You're probably already anxious, so being emotional is easy – you're already there. All you have to do is turn your anxiety into excitement (that's called reframing by the way).
Speak with excitements. Make mistakes, let your voice be shaky, express your emotions… it's OK!
Guess what? It's your Bar/Bat Mitzvah – people expect you to be excited! That's completely natural.
In fact, it would be VERY weird if you stand there and speak like a robot.
Match your body language and tone of voice to the words you're saying
Speaking of sounding like a robot…
Don't forget that the words on your page are just a piece in the puzzle.
It doesn't matter how amazing your speech is – if you're simply reading off a piece of paper without the right body language and tone of voice – then you're just saying a bunch of words out loud, you're not giving a Bar/Bat Mitzvah speech.
If you're sharing a personal story – speak gently.
If you're telling a joke, tell it with a smile on your face.
If you're explaining what life lessons the Parsha taught you, speak with excitement (and wipe that smile off your face).
Since you're going to speak anyway, you might as well SPEAK.
Practice, practice, practice
Practice is the name of the game.
… Practice your speech in front of your mirror.
… Practice in front of your parents
… Practice in front of your siblings
… Practice in front of your friends
The more you practice, the more prepared you'll be.
Bar/Bat Mitzvah Speech Examples & Samples
"Good artists copy, great artists steal" – Pablo Picasso
Click To Tweet
Another (controversial) quote from our beloved Señor Picasso.
Yes, yes, I know – the Torah says Do NOT Steal.
But the Torah doesn't say you should reinvent the wheel either…
People have already written amazing, inspirational and funny Bar & Bat Mitzvah speeches – why not use what already works as your template, and add your own changes to make it your own?
That's not called stealing, that's called standing on the shoulders of giants (not like Goliath, he was a naughty giant)!
Here are a couple of Bar & Bat Mitzvah speech ideas you can draw inspiration from.
Bar/Bat Mitzvah Speech Example #1
Here's a speech that Benjamin Leterman, a writer who writes over at Six Degrees of Kosher Bacon, helped a young Bar Mitzvah boy write.
Take Notes: Notice how Ben included notes (in all CAPS) to remind the boy to breathe, slow down and look at the audience when appropriate.
LOOK. BREATH. SLOW
Hi, good Shabbos. Thank everybody for coming.
So, in this week's Parsha, Yaacov gives a bracha to each of his 12 sons. And he gives brachas to his grandsons. So… it's a lot of brachas. But to be honest I don't know what a bracha really is.
But as a Bar Mitzvah, I feel it's now my responsibility to ask about the things I don't understand. So this is what I learned…
In short, bracha is about potential.
So what is potential? Potential is what you can become. For instance a basketball player, a rabbi or a father?
Imagine that everyone here is an empty glass. And when you fill the glass you recognize your potential. So how do you fill that glass? There's Hishtadlus, working hard at something. Tefilla, davening to Hashem to make you a better basketball player or whatever you want to be.
But you can make other people recognize their potential.
Through bracha. When we say "Baruch ata Hashem…", we aren't blessing Hashem. We are recognizing that He is the source of all bracha. So when we give a bracha we are pulling from that source to fill up someone else's glass. So when Yaakov, being a tzadik… on his deathbed, was giving these blessings to his children, he was unlocking the complete realization of their truest potential.
So with that understanding in mind, I would like to give a few bracha to the members of my family.
Dad, a few months ago, it was the night after picture day and you had taken pictures of every kid in the school. You were knee deep in work and had all these pictures to edit, crop and whatever else you do to make them look great. Then you realized it was the Horowitz's Vort that night. And even though you had so much to do you went to show your support. Then you came home and probably worked until 2 in the morning to get those pictures done.
So my bracha to you– is that you should have the care and support of the people around you the way you've cared for me, our family and this community.
Mom, I have a memory of us when I was 7 years old. We were watching Charlotte's Web at Nana's house, and Charlotte had just died. I remember crying, lying down on your lap and you were stroking my back, comforting me.
This was the first time I saw the main character die and for a seven-year-old, that was pretty much the closest thing to a traumatic experience that I had gone through.
But you comforted me and told me that just because something bad happens, good can still come from it. Any mother in that situation would comfort their crying child and nothing compares to the compassion of a mother, but you have chosen as your profession to share that compassion with those who need it. My bracha for you– is that you are always surrounded tenfold the love and goodwill you bring it to the world.
Benj, Joshua, and Jordan… before I give you your Brucha's, let's go back to the Parsha for a second. Ephraim and Menashe get their bracha's before the 12 brothers.
A reason for this may have been because Ephraim and Menashe were the first brothers to get it right.
Brothers in the Torah haven't gotten along so well up to now. Cain and Abel… Yitzchak and Yishmael… Yaacov and Esav… and definitely the 10 brothers and Yosef.
Ephraim and Menashe were the first brothers who weren't jealous, had humility and unity. Ephraim gets the first bracha even though he's younger and Menashe, instead of harboring resentment, accepts it, realizes it's all for the good and celebrates it.
Benjamin, Joshua and Jordan, I hope we all as brothers, can have the unity, harmony, and purpose of Ephraim and Menashe. I love you so much and it is incredible to see you grow and mature in ways that only an older brother can.
BREATH!
So today on my Bar Mitzvah, I am proud to say that I can recognize that my life is one huge bracha.
BREATH
I'm in a great school with amazing friends. I have parents that I can open up to about anything. I have a family that came from all over the country to support me and that I know will always be there for me. And I am blessed to live in a community that is dedicated and invested in seeing me become the man that lives up to his fullest potential.
Thank you and Good Shabbos.
Bar/Bat Mitzvah Speech Example #2
This wonderful Bar Mitzvah speech was given by Ezra, who celebrated his Bar Mitzvah last year.
Take Notes: Short, sweet and educational. It shows that a Bar Mitzvah speech doesn't have to be long in order to be great.
Thank you, everyone, for joining me and my family for my Bar Mitzvah.
I'd like to share a few surprising lessons I learned while studying for my Torah reading.
As you all know, I was reading Parshat Korach…
In Parshat Korach, we learn about three men (Korach, Datan, and Aviram) who decided to rise up against the leaders of the Jewish people: Moses & Aaron.
The three men accused Moses & Aaron of acting superior to everyone else and orchestrated an uprising to challenge Moses & Aaron's ability to lead.
According to Korach and his men, Moses and Aaron had acquired so much power and authority, that the rest of the people felt beneath them. But instead of coming to Moses and Aaron in peace, Korach arranged a violent rebellion. Moses' attempts to reason with Korach failed.
We all know how that story ended – Korach (along with his family), Datan and Aviram face a horrible death and are swallowed up by the earth, and the rest of the rebels are either burned to death or are struck down by a plague.
This raises an interesting question: if Korach was such a rebellious figure who questioned the greatest leader in Jewish history – why does the Torah dedicate an entire Parsha for him and his actions?
The answers to that question are quite profound: We learn that Korach's criticism of Moses and Aaron's leadership possibly had some merit to it… but the way Korach expressed his criticism was completely flawed.
Instead of coming in peace and try to talk to Moses and Aaron, he immediately resorted to violence
Instead of asking for a better balance between freedom and authority – he selfishly demanded more rights and freedom for himself
Instead of negotiating, Korach tried enforcing his will
I believe the Torah teaches us a valuable lesson here:
We learn that problems should be addressed through conversation, not through force.
We learn the destructive consequences of envy, selfishness, and ego.
We learn that too much authority or too much freedom isn't necessarily a good thing.
Too much authority can lead to contempt… and too much freedom can lead to chaos. We learn that we should all strive to find a balance between the two, despite how difficult it is.
My parents somehow found that balance… And I'm so lucky that they're my leaders.
I'd like to thank God for giving me this opportunity to be raised by such amazing parents…
Mom, dad – you're the most amazing parents in the world…
Thank you for being such amazing leaders. Thank you for giving me everything I ever needed, even though it wasn't always what I thought I wanted at the time. Thank you for giving the right balance of authority and freedom.
I love you.
Bar Mitzvah Speech Example #3
This Bar Mitzvah speech was given by Yossi Rosenberg in Miami, Florida.
Take Notes: Notice how this young man matches his body language and tone of voice to the message he's trying to get across.
Bat Mitzvah Speech Example #4
Bat Mitzvah speech – Broadway style.
This is the most unique Bat Mitzvah speech I've come across… It shows that there's no one size fits all speech…
Take Notes: If you're a talented young boy/girl – why not use show your talents in your Bar/Bat Mitzvah speech?
Conclusion
Giving a Bar/Bat Mitzvah speech doesn't have to be intimidating.
I know what it feels like staring at a blank piece of paper – feeling "stuck" and having no idea what to write or where to even begin.
But if you follow a simple system like the one I showed you in this guide, it becomes much, MUCH easier.
Take it one step at a time, follow the steps in this guide – and your speech will be a slam dunk. I guarantee it!
Now go rock that speech! I believe in you…
Mazel tov 🙂