20+ Best Authentic & Modern Tallit Prayer Shawls from Israel (2022)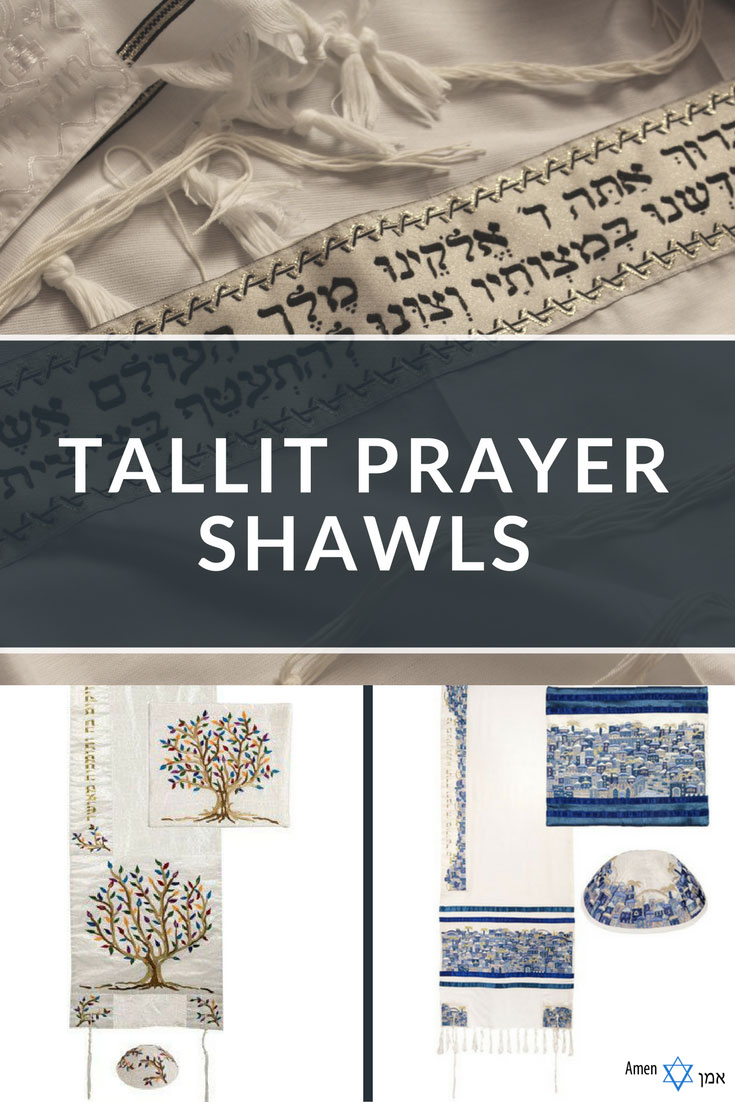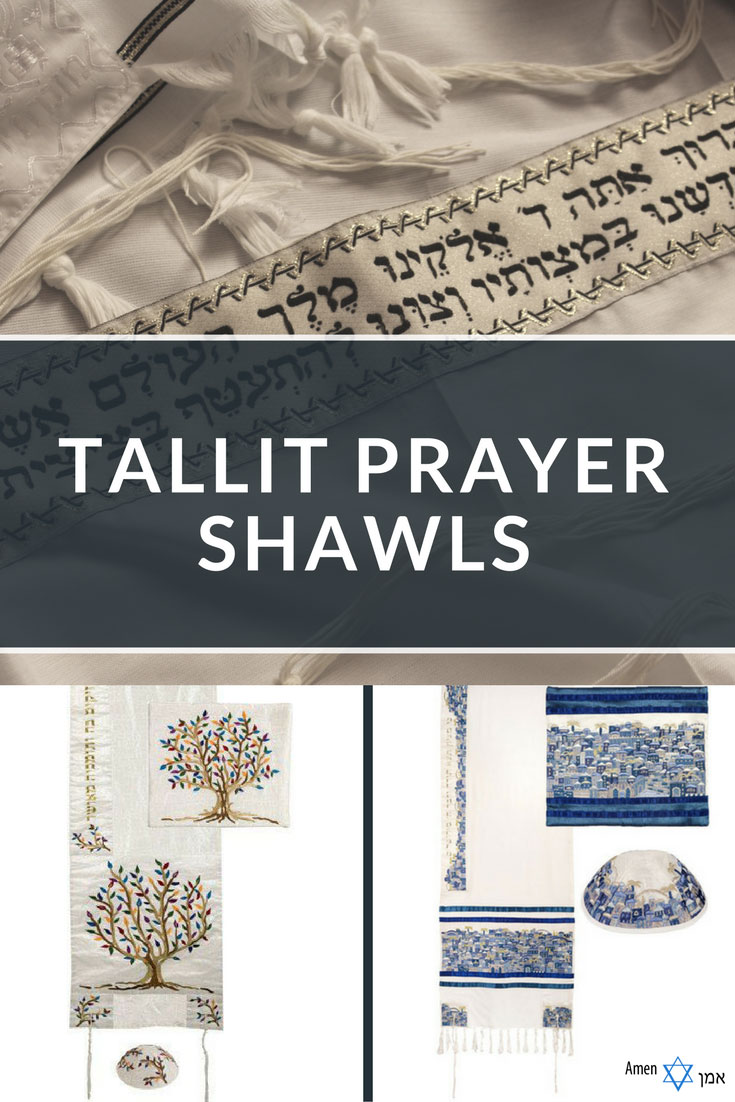 Amen V'Amen is supported by its audience. That means when you purchase something from one of our partners through one of our links, we may earn a small commission at no additional cost to you. Amen V'Amen is also an Amazon Associate, so we may earn a commission from qualifying purchases. Thank you for your support!
To a true artist, the most mundane thing can be turned into a canvas.
Jewish artists have demonstrated that rule by taking one of the most popular Jewish clothing items – the Tallit (also known as a Jewish prayer cloth or mantle) – and turning it into a remarkable (and practical) piece of artwork.
Whether you're looking for a new Tallit, you'd like to adorn yourself with an eye-capturing prayer shawl, or whether you're just a creative soul who admires genius works of art – these hand-picked Tallitot we put together will leave you in awe…
Top Jewish Tallit Prayer Shawls
Before we go into the tassels of each Tallit, let's have a quick preview of the best Tallit prayer shawls you'll see on this list, including our award-winning shawls from Israel.
Traditional & Authentic Tallit Shawls
First, let's start with the most common type: the traditional Tallit.
If you ever set foot in a synagogue, or you've seen a man put on his Tefillin & Tallit in the morning – then you've seen these traditional prayer shawls in action.
Authentic prayer shawls are usually made of wool, and they usually either have the famous blue & white (and sometimes gold) stripes, or black stripes like in the Tallit Gadol (common in Chabad), or the all-white Tallit…
If that sounds like the Tallit you're looking for – then let's make sure you choose a good one…
Top Traditional Tallit
You're looking at one of the most popular shawls Jewish men order online, so it surely has proven its worth.
Not surprising, considering that this Israeli prayer shawl is designed & imported from Jerusalem by one of the most famous & reputable Jewish Tallit brands: Talitnia (you'll see their name pop up a lot in this article).
However, keep in mind that this Tallit is pretty large, so this might be an advantage or a disadvantage, depending on your own needs and preferences.
Whether you're Frum, conservative or just looking for a high-quality Tallit with a clean design that will last you for a long time, then this shawl is a sure thing.
When you think of a traditional Jewish Tallit, what exactly comes to mind?
The traditional blue & white colors?
The famous wool fabric?
The Tzitzit blessing in the neckband (Atara)?
This best-selling men's Tallit pretty much checks all these boxes, and then some…
An exceptionally made Tallit, with an exceptionally low price tag.
This luxurious all-white Tallit stands out in its simplicity – proof that an elegant Tallit doesn't need a whole lot of bells and whistles to be impressive.
Its made from pure woven wool and decorated with a classic pomegranate theme, making it a traditional Kosher Tallit according to the strictest standards, and also a great gift for Rosh Hashanah.
A beautiful, elegant Tallit with clean design… you know, just in case you prefer staying under the radar.
Modern Tallit Prayer Shawls
Modern Tallit prayer shawls usually have one thing in common: they combine traditional Jewish symbols with modern, artistic design.
Jewish artists (especially Israeli artists) are famous for transforming traditional Jewish elements into gorgeous pieces of modern art.
Obviously — they've done the same with these beautiful modern Tallitot…
Top Modern Tallit
Modern design + Tree of Life + quality silk = one heck of a creative (and bestselling) Tallit.
This Hebrew prayer shawl contains the famous line from Proverbs:
The vibrant colors and playful design make this a great Tallit for a Jewish young spirit who could use a little inspiration in their daily prayers.
Another remarkable piece of art by Yair Emanuel.
This contemporary Tallit is made from high-quality woven raw silk.
The Atara actually contains extra layers of raw silk on it, with cute little birds and stylish flowers sewed on top of it.
It also has the Tztizit blessing embroidered on it, as well as the names of the four Jewish mothers ( Sarah, Rebecca, Rachel, Leah) embroidered on the corners.
If you're familiar with Yair Emanuel's art, then you'll probably recognize his recurring pattern: a unique blend of ancient Jewish tradition and modern Jewish design.
Talk about beautiful embroidery… this is one simply out of this world.
Jerusalem's depiction in beautiful majestic shades of gold and silver looks like it can actually elevate your spiritual experience when praying with this Tallit.
The level of detail in Jerusalem's scenery is quite astonishing. Yair Emanuel never seizes to surprise me with his incredibly designed art and his inspiring dedication.
Bar Mitzvah Tallit Prayer Shawls
One of the most special moments in a young boy's Bar Mitzvah is the first time he puts on his Tallit & Tefillin (it was definitely mine).
In fact, getting the Bar Mitzvah boy his first Tallit almost became a ceremony of itself.
It's the first official recognition of a young boy's coming to Mitzvot – the moment he "graduates" from boy to man.
Let's look at some of the best Bar Mitzvah Tallit sets you can get a Jewish young man on his special day…
Top Bar Mitzvah Tallit
Choosing the "Top Bar Mitzvah Tallit" award winner wasn't all that hard… As they say: the proof is in the pudding (or in this case, in massive popularity).
This bestselling masterpiece is an extremely popular Bar Mitzvah gift, made by Yair Emanuel.
The legendary Israeli artist created a flawlessly designed Tallit that makes you wish you could've walked around wearing your Tallit all day (like in biblical times!).
A timeless Star of David design + quality woven cotton + carefully embroidered silk = a delightful prayer shawl and an extraordinary gift the young Bar Mitzvah will be lucky to get.
Yair Emanuel's colorful Tallit is so unusual & cheerful you can't help but notice it.
In fact, if someone is about to fall asleep in the synagogue (it's early, give them a break) when the Bar Mitzvah is about to read from the Torah for the very first time, then this stunning blue Tallit will wake them right up.
The vivid blue colors, along with the beautiful Jerusalem embroidery makes your eyes light up and immediately puts a big smile on your face… kind of the opposite of having the blues (get it? it's blue and all)
If you're a lucky boy, you get to celebrate your Bar Mitzvah in Jerusalem.
You get to do your Aliya Latorah in the western wall, the last remains of the Jewish holy temple… the place we all face towards when we pray.
Now imagine your Aliya Latorah with a Tallit, beautifully embroidered with stunning artwork of Jerusalem in glorious shades of blue & white – the colors of Israel.
Unfortunately, not everyone is lucky enough to celebrate his Aliya Latorah in Jerusalem. Thankfully, ANYONE can enjoy wearing this marvelous Tallit on their Bar Mitzvah, and for many years to come.
Jewish Wedding Tallit Prayer Shawls
A Jewish man finally becomes complete on his wedding day – the day the bride and groom become one.
And on his special day, he usually wears a Tallit under the Chuppah during the entire wedding ceremony.
Some couples even follow the ancient Jewish wedding tradition and place the wedding Tallit over their heads during the Sheva Brachot.
It would be nice to have a beautiful Tallit under the Chuppah, wouldn't it?
Top Wedding Tallit
Get ready to see a LOT of Talitnia's remarkable wedding Tallits (their specialty) in this section… and I'm starting with my favorite one right off the bat.
In case you haven't noticed – this extraordinary Tallit is all about Jerusalem (that's an understatement).
Rather than the the traditional stripes you'll often find in Jewish prayer shawls, it has a dazzling interpretation of Jerusalem's iconic buildings embroidered all over the Tallit (including the Atara), surrounded by colorful stripes with jewel stones, as well as the Hebrew words "Jerusalem – City of Peace" written in Gold.
The wedding day is the biggest moment of the couple's life. Such an important day requires an unconventional wedding Tallit… and that's exactly what this Tallit is all about.
If Talitnia's previous Tallit was too "unconventional" for your taste, then this Tallit is a little less outgoing.
It's just as bright and beautiful as the previous one, but cleaner and more subtle (without any illustrations).
It has the famous blue stripes, enhanced with additional shades of blue and purple – giving it a more modern look than your average traditional Tallit – just as you'd expect from a Chuppah Tallit.
It's a Jewish wedding, there has to be gold involved somewhere. Well, here it is!
I kind of like the light gold stripes decoration on this Tallit: it's not too aggressive, and not too soft either – just perfect.
It's made of the highest quality wool and synthetic fiber, so it can survive well past the Chuppah… after the big night is over, the groom can continue using the Tallit for holidays and special occasions (including his Shabbat Hatan).
Handmade & Custom-Made Tallits
Jewish artists see a Tallit as their blank canvas… you'd be stunned what kind of extraordinary art they're able to produce from a blank Tallit.
In case a ready-made Tallit doesn't cut it, and you're willing to spend a little extra on handmade and custom-made prayer shawls, then you'll love these…
Top Handmade Tallit
It's one thing having a few blue stripes on your Tallit. It's a whole other thing having a custom-made Tallit in a range of blue colors.
The rich navy blue color makes the embroidery truly stand out on this terrific Tallit… The Tzitzit blessing is embroidered in beige, which contrasts perfectly with the main blue colors (navy blue and lite blue).
An elegant handmade Tallit prayer shawl made with great attention to detail.
It's one thing praying in Jerusalem…
But praying with Jerusalem on your prayer shawl?
Now there's something you don't see every day.
Especially not when Jerusalem's gorgeous scenery is hand-embroidered in silver on cotton fabric.
Another outstanding creation by the fabulous Yair Emanuel.
A wool Tallit in Burgundy?
You don't exactly see a lot of these laying around.
Besides the Burgundy/Bordeaux background, this shawl also contains laser-cut Star of David horizontally aligned across the Tallit.
The Atara is embroidered with white thread on a matching Bordeaux satin fabric, complementing the Burgandy background nicely.
Cheap Tallit Prayer Shawls
If you're just looking for a cheap Tallit you can casually wear during Shachris, or you're looking to stock up with several Tallits for your shul, then you might want to skip the fancy Jewish prayer cloths and go with a little more affordable Tallit.
Thankfully, that doesn't necessarily mean you have to sacrifice quality to get a cheap Tallit. These Hebrew prayer shawls here are both inexpensive and can last for a long time…
Top Cheap Tallit
Talitnia makes another appearance, this time with a very affordable traditional wool Tallit look, imported straight from Israel.
It has the famous blue, gold & white colors, plus the Tzitzit blessing in Hebrew on the neckband.
If you're looking for a classy, durable and (very) affordable Tallit you can wear every day to synagogues and congregations, then Talitnia's prayer shawl is a great option, without all the bells & whistles.
Mishkan Hatchelet's Kosher Tallit is made in Israel from acrylic material, which basically means it has the look of the traditional wool Tallit, without the high price tag of the actual wool.
I really like the Atarah design on this Tallit… I haven't seen many shawls with such a unique design, especially considering how cheap this Tallit is.
Bonus: Includes a handy plastic carry bag
Just like the previous Tallit, Talitnia's prayer shawl is also made from an acrylic material (imitation wool).
It comes in a variety of interesting colors you can choose from: from traditional black/gold, all the way up to bright colors such as light-purple/silver and lavender/silver.
A well-made Kosher certified Tallit for a very affordable price.
Vintage Jewish Prayer Shawls
Most Tallitot are designed for "everyday" use…If that's what you're looking for, then this isn't the right section for you, and you should probably scroll back up.
But, if you're the kind of man who likes to wear special Tallitot during Shabbat, holidays or special occasions. Or if you have a Judaica collection you're looking to expand…
Then this section is exactly what you're looking for.
Let me put it this way: Malka Gabrieli's vintage Tallit prayer shawl isn't exactly designed for daily use.
I mean, you can use it daily, but you probably shouldn't…
It's made of high-quality white silk and features traditional blue motifs and silver accents, this vintage prayer shawl is an exceptional piece… I'm talking heirloom-level (this is obviously reflected in the price).
If you're a Judaica antique collector, then you'll be all over this one by now.
If you're not a collector – then you might want to skip this Tallit…
Top Vintage Tallit
Last but not least – a fabulous handmade vintage Tallit in navy blue & silver, made of vintage silk.
It has a unique vine-like design, with beautifully hand-illustrated flowers embroidered on the Tallit, as well as on the accompanying Tallit bag.
The Atara is carefully sewed in silver mesh fabric, giving the Tallit a lovely elegant look.
Conclusion
Choosing a Tallit is a big deal. As Jews, we're required to wear the Tallit (and Tefillin) every single day during the morning prayers, so you better get one that'll last you for many years to come (I still wear the same Tallit I got for my Bar Mitzvah, and it's been almost 20 years).
So choose wisely…especially if you're getting this as a gift for someone else, and especially if it's for a special occasion like a Jewish wedding, Bar Mitzvah or Bat Mitzvah.
Bracha Ve'Hatslaha 🙂