30+ Unique Shabbat Candlesticks: Jewish Candle Holders from Israel (2022)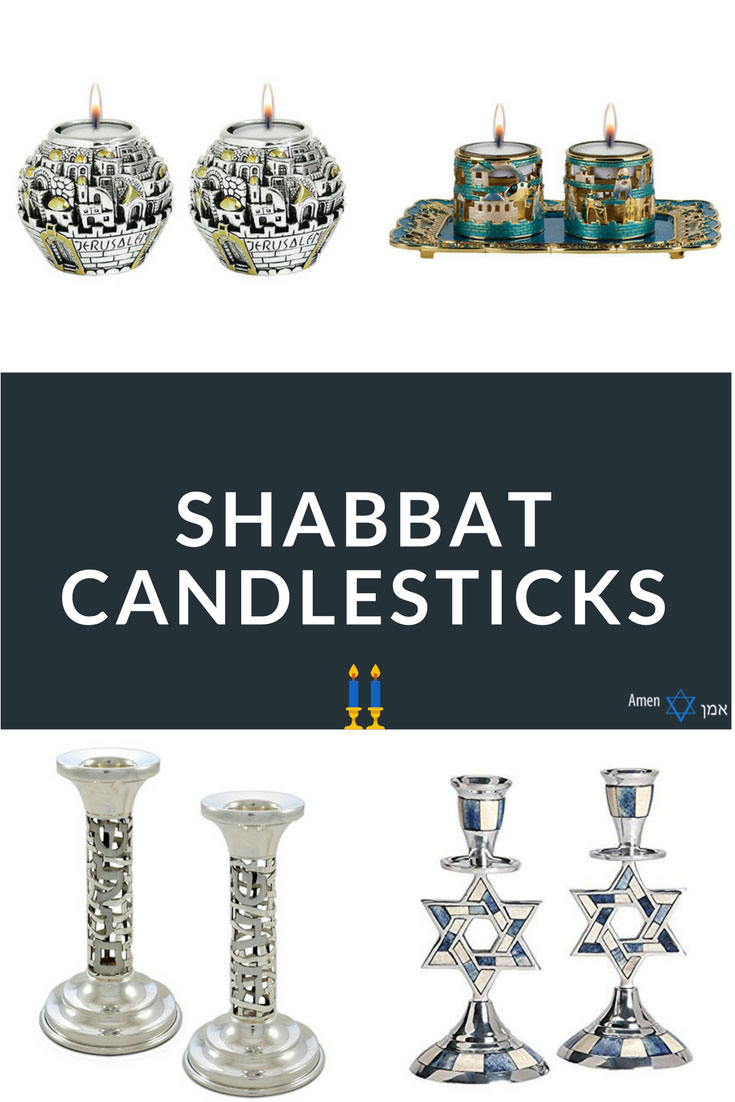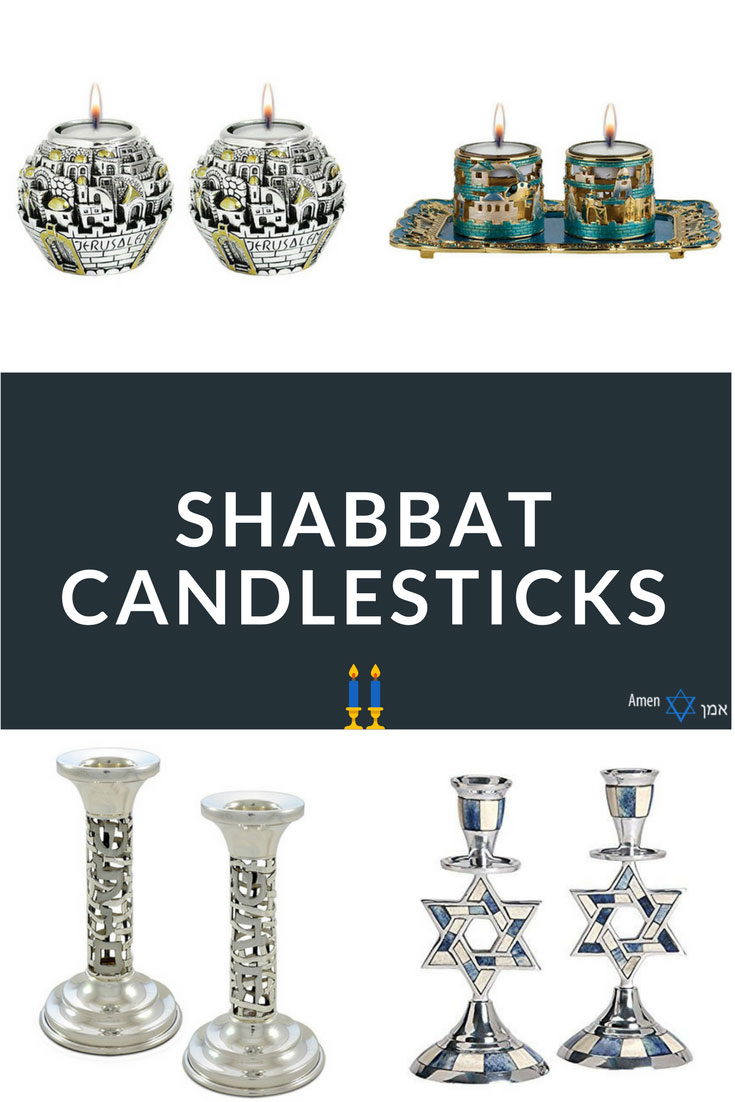 Amen V'Amen is supported by its audience. That means when you purchase something from one of our partners through one of our links, we may earn a small commission at no additional cost to you. Amen V'Amen is also an Amazon Associate, so we may earn a commission from qualifying purchases. Thank you for your support!
Ahh…
That feeling of a long week coming to an end…
That warm & relaxed feeling, knowing that Shabbat is around the corner…
Don't you love it?
The table is set, the boys are ready for shul (synagogue) – it's time to light the Shabbat candles!
Jews light the Shabbat candles using Shabbat candlesticks: the famous Jewish candle holders we light to symbolize the beginning of the Shabbat – the day we finally get to rest after a long, hard week.
In this article, I'm going to help you find a pair of unique Jewish candlesticks that bring a smile to your face every time you light them…
Top Shabbat Candlesticks
Not everyone is looking for the same kind of Shabbat candlesticks. There are lots of different Jewish candle holders, different types, for different people…
But which ones are the best?
Behold:
Care to find out what makes these Shabbat candle holders so special?
Keep reading…
Traditional Shabbat Candlesticks
Most people I know decide to go with traditional Shabbat candlesticks when lighting their Shabbat candles. It's safe, it's familiar, it's what most of us growing up were used to seeing in our parent's house.
But even traditional candlesticks can be both modern and, let's face it, NOT boring.
Allow me to demonstrate…
Top Traditional Candlesticks
The key word in "traditional" is tradition.
And what's Jewish tradition without a couple of Stars of David candle holders to make us feel all warm & fuzzy?
You don't have to light Shabbat candles in Israel to feel a Jewish atmosphere (although that's nice)… you can create that atmosphere from the comfort of your home. All you need is a pair of traditional Shabbat candlesticks that give your Shabbat that extra "spiritual oomph" you were looking for.
Yair Emanuel is usually famous for his modern Judaica, but these traditional Shabbat candlestick holders are quite toned down… proof that there's beauty in simplicity.
Well, to be honest, you can choose a brighter color combination than the standard black & white you see in the picture and give it a slightly modern touch.
With a simple and striking design, these conical-shaped candlesticks can upgrade an otherwise boring Shabbat table into a delightful setting.
Since Shabbat candle holders are such a perfect gifting piece, I thought I'd include a pair designed just for that.
These polished aluminum Jewish candlestick holders are extremely well made… and even though they're quite traditional, they still have a bit of a contemporary look… which let's be honest – is the kind of gift you'd want to give someone you care about.
Think about it – nobody wants to receive a pair of standard candlesticks they can get in the store for a few bucks… that's not really "gift material".
Speaking of gift material – the Shabbat candelabra comes in a luxurious blue velvet gift box, so you don't even have to include a gift wrap.
Modern Shabbat Candlesticks
Don't find traditional Jewish candlestick holders all that appealing?
Well, creative people often don't…
Hell, that's why artists have a job in the first place – to create unique & modern art for people on the fringes. People who don't blindly follow what everyone else is doing.
Those people prefer things that are different… things that stand out.
If that sounds anything like you – then you're about to love what comes next…
Top Modern Candlesticks
Nambe's modern Shabbat candlesticks are a thing of beauty. The sleek & modern look somehow strikes a perfect balance of tradition and contemporary design, which is VERY hard to do.
That's what makes it so appealing to people on both sides of the spectrum: those who prefer a traditional design, as well as people with a "modern" taste.
Michael Aram has set a name for himself as the "Modern Judaica master". His modern Shabbat candle holders and Kiddush cups are particularly popular gifts many people choose to get for their loved ones, especially for their wedding gift.
Just like the rest of his magnificent art – Aram's black orchid candlesticks are wonderfully hand-crafted…
This is the kind of gift that blows people's minds when they first open it (and I don't say that lightly).
Leaving Yair Emanuel out of the modern Jewish candlesticks section would be a sin.
His contemporary Shabbat candlesticks, just like most of his art, are quite different than the previous ones you saw in this section:
The colors are more vivid & playful
The design leans toward modern, less toward traditional
They're cheaper
If you're more drawn to the artistic kind of Jewish candlestick holders, then you'll love these…
Silver Shabbat Candlesticks
Silver Shabbat candlesticks are extremely common among many Jewish households.
Surprisingly enough, you can find them at relatively cheap prices, if you dig deep enough.
Well, good news – you can keep your shovel in the shed – because I've already done the digging for you… so you can just sit back, relax, and enjoy some of the most elegant silver Shabbat candelabra out there (they're reasonably priced, too).
Top Silver Candlesticks
The Shofar is one of the oldest Jewish symbols, and surely one of the most powerful & meaningful symbols in Judaism.
It was first blown when we received the Torah at Mt. Sinai, and we still use the Shofar to this day during the Jewish high holy days (Rosh Hashanah & Yom Kippur).
Naturally, it was only a matter of time until a creative Jewish artist decided to create a Jewish candle stand designed after a Shofar… And poof – all of a sudden, these beautiful silver-plated Shabbat candlesticks were born (in Israel of course).
In fact, he did more than that – the shofars actually have Jerusalem's old city embedded in it – with the clear "Shabbat Shalom" blessing written in shiny gold Hebrew letters.
This stunning two-toned candlestick set kind of ruins the surprise…
Why?
Because it's made out of silver, and gold… and there's a whole section of gold Shabbat candlesticks coming up.
Oh well, consider this a little appetizer before the main dish… a golden dish!
In the Torah, the Tree of Life is a symbol of wisdom, purity, and the eternity of the Torah. Needless to say – that it pretty much fits perfectly with the theme of Shabbat.
We already had a couple of Jerusalem-themed candlesticks on this list, but there was something missing… Can you tell what it is?
None of the previous Jerusalem candlesticks I mentioned was made of Jerusalem stone.
But this one is… In fact, I like to call these Jerusalem candlesticks 2.0.
Here's why: This remarkable silver-plated Shabbat candlestick set is made in Israel, and features a Jerusalem stone, decorated with gorgeous Jerusalem-shaped silver pieces.
In other words, if you're unable to spend the upcoming holiday in Jerusalem, then this will get you pretty close, without actually having to spend hundreds of $ on a plane ticket.
Sterling Silver Shabbat Candlesticks
We just saw the best silver Shabbat candlesticks. Now, we're visiting their twin sisters – made of sterling silver.
In most cases, sterling silver candelabra is considered a luxury, so if you're just looking for any pair of candleholders for Shabbat, then you'd want to skip this part since they're quite expensive.
However, if you're looking to buy a pair of premium Shabbat candle holders, then you'll probably find this section the most interesting part of the whole article.
Top Sterling Silver Candlesticks
Nadav Art is considered by many to be one of the Judaica artists in Israel, especially when it comes to sterling silver Judaica… They have been designing modern Judaica items for over 60 years now.
And the modern sterling silver Shabbat candlestick set you're looking at happens to be one of their most popular designs to date.
Tip: The candlesticks can hold regular Sabbath candles, as well as Sabbath oil cups.
And if you look carefully at the picture, you'll notice a subliminal message being transmitted to your brain…
I'm just kidding – it's not exactly subliminal, and it's certainly not evil. It actually says "Shabbat Shalom", in Hebrew, slightly hidden and embedded within the art… those are the types of hidden messages I'll take any day of the week, thank you.
Definitely one of my favorite Jewish gifts, particularly for weddings.
Nadav Art's second appearance in this section.
The exquisite design and craftsmanship throughout these antique-looking sterling silver Shabbat candelabra really capture the eye, don't you think?
No hidden messages in this design – a straight-up, simple and elegant design.
Plus, it's also cheaper than the previous set.
Nadav Art's biggest "rival" is probably Hazorfim.
The legendary family-owned business has been handcrafting silver & sterling silver Judaica for over 65 years.
They take much pride in creating perfectly made sterling silver Judaica products, such as this beautiful pair of sterling silver Jewish candlesticks.
You may have received/given some of Hazorfim's Judaica yourself, along with their signature gift packaging, or at least have seen some of their Hazorfim's pieces on display in Jewish living rooms.
Crystal Shabbat Candlesticks
Continuing down the rabbit hole of beautiful Shabbat candelabra…
Next stop: crystal Shabbat candlesticks!
And the good news is, that just like the silver Jewish candlesticks you saw previously – I chose crystal candelabra that won't burn a hole in your pocket.
Top Crystal Candlesticks
These unique Shabbat candlesticks are made of pure, clear and flawless crystal. The Obelisk design of these candle holders is very interesting… This is the time I've stumbled into such design. It's pretty innovative, I must say…
Naturally, this makes it a fantastic gift for someone who isn't easily impressed by traditional Jewish art. Chances are this would be the first of its kind in any Jewish collection.
Take a pair of modern crystal Shabbat candlesticks, and fill them with clear stones. What do you get?
The answer: is sitting right in front of your eyes.
From top-to-bottom, this remarkable crystal Shabbat candelabra set just looks impressive. You can't really take your eyes off of it. I guess that's the whole point… which means someone did their job properly.
This pair of crystal Judaica candlesticks is the "budget" option, the "JetBlue of crystal candlesticks" if you will…
But that doesn't mean it's cheaply made, or that you'll have to pay extra for luggage. The quality is actually very high, especially considering it's beautiful laser-cut Jerusalem theme.
If you're looking to get someone a pair of cheap Shabbat candleholders (there's a special section of affordable candlesticks coming up), but you also like the idea of getting them beautiful crystal candle holders, then you don't have to compromise.
Gold & Brass Shabbat Candlesticks
Gold & brass Shabbat candlesticks bring a historic and unconventional look to a Jewish home.
And here's the thing – you don't necessarily have to pay a premium to get one, so don't be alarmed by that.
Having a gold or brass Jewish candlesticks makes the candle lighting much more enjoyable, especially when you light them on holidays.
Top Gold Candlesticks
Matashi is famous for its delightful crystal Judaica. And in fact, these stunning gold-plated Jewish candlestick holders DO indeed include high-quality crystals.
But take a quick glance at the picture, and you'll quickly realize it's not really the crystals that stand out… It's the gold (and yes, the Hamsa too).
The big Hamsa features a pair of remarkable Stars of David, decorated with Matashi's famous, sparkling Matashi crystals.
Combine the beautifully hand-painted pewter finish, with the truly one of a kind style, and the ridiculously cheap price – and you'll quickly realize why this is such a great gift to get for any special occasions you can think of – Bat Mitzvah, housewarming present, anniversary… you name it.
Orit Grader is a strange bird in the Judaica landscape… and I mean that in the best possible way.
If you dig a little deeper into her craft, you'll start noticing a recurring theme: her signature lacy design always has a unique spin to them. Orit is famous for drawing her inspiration from nature and transferring it into her design.
Take these gorgeous Jewish brass candlesticks for example – notice anything special about them (besides the lacy style)?
Yep – they're covered with tall, green leaves…And together with the gold-ish color of the brass material, they're complementing each other perfectly.
Did you notice we're going smaller and smaller with the gold candlesticks?
But forget size… size doesn't matter. What matters is the inside… and the outside. And hopefully, they're a doctor or a lawyer too… Sorry, I got carried away.
Anyway, moving on!
This elegant gold-plated Shabbat candelabra set is made of shining 24k gold, adorned with sparkling sapphire crystal stones. And if that's not shiny enough, then you have Jerusalem embedded in the gold (you know, Jerusalem of gold and all).
You set the table, and these cute candlesticks will set the mood.
Travel Shabbat Candlesticks
Every once and a while, we all spend a weekend out of our home. Whether it's for vacation or work, traveling over the weekend for many of us is inevitable.
This doesn't mean Shabbat has to be placed on the back burner and not light Shabbat candles. I'm not saying you should carry your massive Judaica candlesticks with you.
What I am saying is – you don't have to. Instead, all you need is a pair of travel Shabbat candlesticks, and you're all set.
This travel Shabbat candlestick set looks like a small treasure chest, and it absolutely is.
Designed in a one of kind octagon shape, with a beautiful engraving of the old city all around it, these contemporary Shabbat candle holders will make Shabbat feel special, anywhere you are.
In fact, this set is so cool, you may end up using it at home too!
Top Travel Candlesticks
With the words "Shabbat Shalom" engraved in this beautiful Jewish candle holder, it's hard to pass up such a classy pair of silver-plated travel Shabbat candlesticks.
And when you open the box – a small surprise awaits you: the famous "If I forget thee, O Jerusalem…" passage from Psalms (no, not Matisyahu)
You know, just in case you're traveling somewhere that is NOT Jerusalem (naughty), this will compel you NOT to forget about Jerusalem.
This design is simpler, yet speaks volumes. And thankfully, they're so small that you can easily carry these travel Shabbat candle holders in your pocket anywhere you go.
With the beautiful city of Jerusalem all around the edge, the flame looks like it's being placed on a throne when lit.
It's a cute little pair of mobile candlesticks for people who like to travel light.
Glass Shabbat Candlesticks
Glass Shabbat candlesticks are a creative type of art form that takes a true professional to form (which is why you'll see a lot Lily Art's fabulous glass Shabbat candleholders in this section).
They're extremely elegant and classy gifts that are most suitable for a special occasion, holiday or just as a casual gift for Shabbat.
Top Glass Candlesticks
These glass Shabbat candle holders look like the ocean was trapped in the design.
And just like the ocean, Shabbat calms you down. No worries, no work, no stress for an entire day.
What better way to relax than to watch the glimmering flame on these ocean-like candlesticks. A beautiful, distinctive and soothing gift for Shabbat.
Not only does this cute glass Shabbat candlestick set come with beautifully crafted Jewish candle holders, but it also has a tray and matchbox that are all hand-painted.
The deep red color is integrated throughout the set bringing it all together in a warm way that will only compliment the flame that emits from it.
Similar in style to the glass candlestick set above, but a small change in color makes an incredible difference. The mix of blues in this set emits the feeling of complete calmness, making you wish it was Shabbat all week long.
Ceramic Shabbat Candlesticks
If charismatic and unique is what you're going for in your Shabbos candle holders, ceramic Shabbat candlesticks just may be what you're looking for.
The smooth finish brings a bit of a modern look while the design and colors say, "look at me and what elegance I have." These make a great and affordable gift for any loved one.
If you're a Spode fan – then you'll be all over these by now. With Spode's signature ceramic blue & white colors (designed after Israel's flag), the flowers and swirls, and the cool Stars of David integrated across their very attractive ceramic Shabbat candle holders.
There are usually two kinds of people who buy Spode's Judaica:
Those who collect & display them as a decorative piece
Those who only use them 
Those who buy them as a gift for someone to use or display them
Ok fair enough, there are three.
Any of these sounds like you?
Top Ceramic Candlesticks
Nice + cheap = winning combo.
This ceramic Shabbat candlestick set is a colorful little pair you can add to your Shabbat table for very cheap…especially if you're not in the mood to spend that much money on a new pair of ceramic candlesticks.
And let me tell you, there are a LOT of people who aren't in the mood to spend a lot of money on new candlesticks.
Sit tight: Cheaper Jewish candlesticks are coming up next…
Cheap Shabbat Candlesticks
Who said Jewish candlesticks can't be beautiful and affordable at the same time?
Well, whoever said it, was wrong… And I'm going to prove it to you.
Trust me, people are going to be really surprised when you tell them how much you paid for these beautiful (and cheap) Shabbos candlesticks…
Top Cheap Candlesticks
If you're familiar with Yair Emanuel's art, then you could easily spot his famous hand-painted wooden Shabbat candlestick holders from a mile away.
The colorful, playful illustrated scene of Jerusalem brings up a smile every time you go on to light the Shabbat candles. You'll likely start remembering your last trip to Jerusalem: your visit to the Kotel, your adventures to Mahane Yehuda market (did you try the delicious rugalach??).
I digress…
Bottom line: these compact wooden candlesticks are the perfect way to add some flair to your Shabbat.
How would you like to light your next Shabbos candles in Jerusalem?
Well, unfortunately, I can't promise you that… but these unique Jewish candlesticks will get you pretty close.
These round Shabbos candle holders feature the beautiful scenery of the old city of Jerusalem, in a very special & intricate design.
We're staying in Jerusalem (at least metaphorically speaking), and adding some pomegranate on top of it!
The ultimate Jewish symbol for abundance & fruitfulness (the pomegranate), on a set of gorgeous & cheap Shabbat candelabra… Now that's irony right there.
Proof that you can get cute Jewish candlesticks at a fraction of a price – even when they're filled with a cluster of red jewel seeds.
Antique & Vintage Shabbat Candlesticks
Shabbat is something special that has been observed for centuries.
Jewish people around the world kept the tradition of lighting Shabbat candles alive and lit. Thankfully, some of the antique & vintage Shabbat candlestick designs were passed on to future generations and preserved over the years…
And now, we get a chance to pass them on ourselves…
Top Vintage Candlesticks
Who would've thought, that thousands of years after King David lived, his legendary harp would inspire so many modern designs: the chords bridge in Jerusalem, several Jewish artworks, and of course – Matashi's artistic blue harp vintage Shabbat candlesticks.
Forget the "lighting candles" part, that's the last reason you'd want to buy this.
You'd buy this because you can proudly display it in your living room, bedroom, or even kitchen.
You'd buy this for the warm & welcoming atmosphere it brings to the environment (and I'm not even talking about the heat coming from the candlesticks)
You'd buy this because you want to give someone a meaningful & memorable gift they won't forget for a long time.
That's why you'd buy this.
If these antique brass Shabbat candlesticks seem a little old-fashioned, its because they are…they date all the way back to the 19 century – when the Neo-Renaissance first appeared.
The Neo-Renaissance style came into the world at around the year 1835 in France and quickly spread all across the world to become a global phenomenon. Endless amounts of artwork started emerging, including buildings, paintings, and (apparently) Jewish candle holders.
This rare set of beautiful, matching French Shabbat candelabra was preserved wonderfully over the decades, despite a few scratches here and there…
Warning: these collector's antique sterling silver Shabbat candlesticks are NOT for the faint of heart.
Antique, handmade (in Israel), rare, are just a couple of ways to describe this antique masterpiece, created by Nadav Art's studio in Jerusalem.
Handcrafted with gemstones and the traditional Shabbat blessing inscribed in the design – truly a breathtaking piece to add to your Judaica collection.
If you're not a Judaica collector or in the "antiques game" – do yourself a favor and don't even look at the price tag… you might faint (I was serious with the whole "faint of heart" thing)
Electric Shabbat Candlesticks
Most of the time, we light the Shabbat and holiday candles the traditional way – as it says in the book.
However, some of us have either been in or known someone who has been in a situation where flames aren't an option. Usually, places like retirement homes, hospitals (after birth) or even synagogues – it's best to stay out of harm's way.
Does that mean you can't enjoy candlesticks on Shabbos?
Hell no, you can just use electric Shabbat candlesticks. Remember – safety first!
Top Electric Candlesticks
In case leaving a flame unattended the whole night makes you cringe, then you have these cute electric Shabbat candlesticks to fall back on, without worrying about potential fire hazards.
Besides, the lightbulbs actually look like real flames, so you'll hardly tell the difference.
A neat little solution for student dorms, hospitals or even for your shul.
Rite Lite are famous for their electric candles. In fact, if you'll visit our electric Menorahs guide for Hanukkah, you'll see their name pop up several times there… so they definitely have a good reputation when it comes to electric candlesticks.
So naturally, it would make sense for them to also make great electric Shabbat candles, wouldn't it?
Well, they do! And it's even chrome-plated, so it will shine nicely during Shabbat.
Conclusion
That was fun, wasn't it?
I hope I was able to shed some light (get it?) and help you find the best Shabbat candlestick holders you were looking for.
I'm curious, which of these Jewish candle holders did you like best? Let me know in the comments!
Shabbat Shalom 🙂