10 Beautiful Bar Mitzvah Tallit & Tallit Sets for Boys (2022)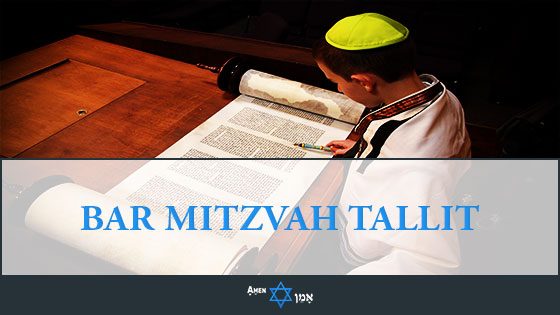 Amen V'Amen is supported by its audience. That means when you purchase something from one of our partners through one of our links, we may earn a small commission at no additional cost to you. Amen V'Amen is also an Amazon Associate, so we may earn a commission from qualifying purchases. Thank you for your support!
I remember the day my parents got me my first Tallit for my Bar Mitzvah…
A week before my 13th birthday, my dad walked into my room with a Tallit bag in his hand and said: "Son, can you try this on for a moment?".
He opened the Tallit bag – and out came this gorgeous Blue & White Tallit with golden accents on the stripes.
I was awestruck.
I recited the Tzitzit blessing and put on my Tallit for the very first time.
That's the first time I saw my dad with tears in his eyes (even though he won't admit it)… And he wasn't even that religious!
Fast forward almost 20 years later (boy… I'm getting old) – and I still remember that day as if it were yesterday (as you can tell).
There's a strong rite of passage element in witnessing your young man wear a Tallit for the first time… doesn't matter if you're religious, traditional, or simply going through the motions.
This guide is my attempt to make this moment as memorable as possible, regardless of where you fall in the Jewish observance spectrum…
Let's begin 🙂
Top Bar Mitzvah Tallits
These are the top Bar Mitzvah Tallit prayer shawls any Jewish boy will be lucky to get (yes, we gave them awards!)
Modern Bar Mitzvah Tallit
Jewish artists constantly face a tough challenge: "How can we blend modern art with ancient Jewish tradition, without losing its authenticity?"
As you'd expect – they always rise to the challenge and "figure it out".
And boy oh boy have they figured it out with modern Bar Mitzvah Tallit prayer shawls…
Introducing: the creative Jewish mind in its full glory.
Top Modern Tallit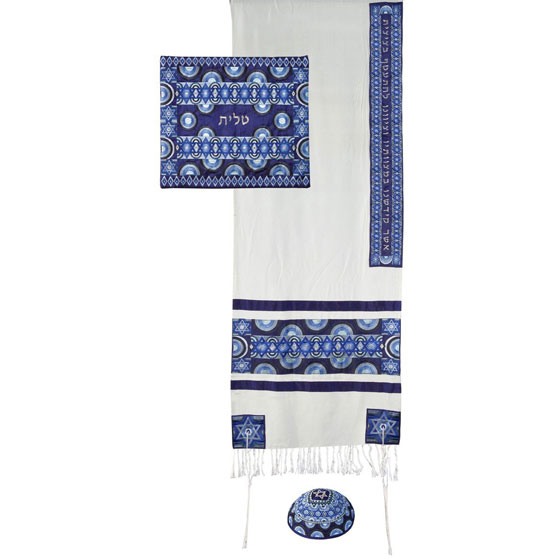 Legendary Israeli artist Yair Emanuel is famous for his extraordinary Tallitot.
In fact – you'll hear his name come up a lot in this article…
But no doubt – this is his number #1 Bar Mitzvah Tallit… and the proud winner of our "Top Modern Tallit" award!.
His flawlessly designed Tallit combines both modern and traditional Jewish elements: the traditional blue & white look, with dozens of Stars of David covering the Tallit, the Tallit bag, and the Kippah.
Remember what I said earlier?
An outstanding Bar Mitzvah Tallit is one the boy can "grow into"... a Tallit he's just as comfortable wearing when he's 30 years old as he is now at 13.
Click To Tweet
Now…
Take a good look at this Tallit and ask yourself:
Can you imagine the boy wearing this gorgeous Tallit on his Bar Mitzvah ceremony?
Now teleport yourself into the future… Can you imagine him wearing it when he's a 30 years old young man?
If you just nodded "yes" to both of these questions – you just found yourself a winner.
Hundreds, If not thousands of Jewish parents around the world already answered "yes" to both of these questions (which made this Tallit an international bestseller).
What's your answer?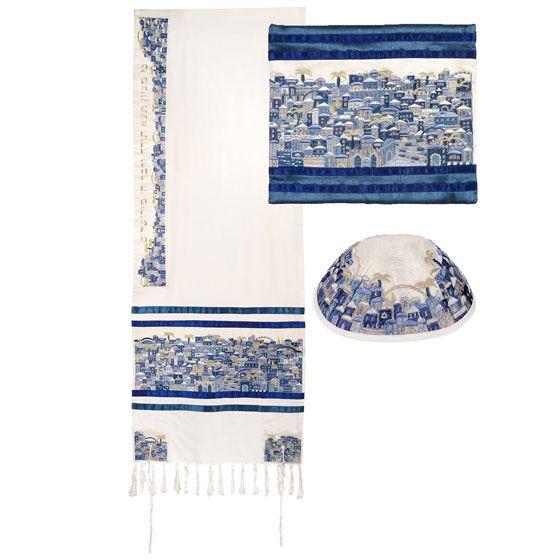 "Wow."
That was my initial response when I first saw this breathtaking Tallit set.
Yair Emanuel managed to capture the old city of Jerusalem and beautifully embroider it in amazing detail and vibrant colors across the entire Tallit & Kippah set.
Tip: You can also get it in white & gold. However, it's a bit more expensive (you'll understand why when you see it)
It's true that not every Bar Mitzvah gets to celebrate their Bar Mitzvah in Jerusalem. But thanks to Yair Emanuel – ANYONE can celebrate their Bar Mitzvah by wearing Jerusalem.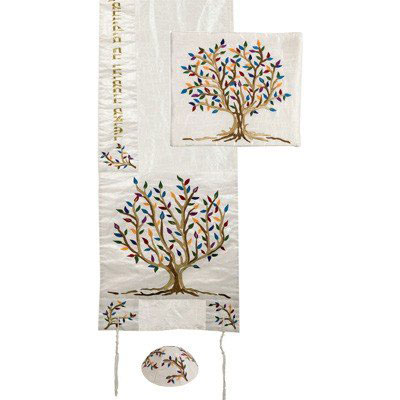 "For man is the tree of the field"- Deuteronomy 20:19
Click To Tweet
The Tree of Life is one of the most ancient symbols in Jewish history.
It's a Kabbalistic symbol of maturity and responsibility – qualities that a Bar Mitzvah is now required and expected to follow.
Now, what happens when a contemporary artist like Yair Emanuel takes such a meaningful Jewish symbol and adds his unique modern touch to it?
The result: a stunning, one-of-a-kind Tallit that'll get you super-excited to put on your Tallit every morning when you pray Shacharit.
Note to Parents: If you like to help your child develop the habit of praying & putting on Tzitzit every morning – this unique Tallit will encourage them to do so. Heck, they might even join a Minyan every morning where they could "flash" their new Bar Mitzvah Tallit.
Pop Quiz Time!
Who is the designer of this beautifully embroidered Tallit set?
Yair Emanuel
Emanuel Yair
Mr. Modern Judaica
All of the above
Aaaand the answer is…?
OK OK… enough with the silly games.
You see, when Emanuel looks at a Tallit, he doesn't just see a Tallit like you and I mere mortals do.
No…
He sees a canvas – a blank canvas he can use to bring his artistic creations into life.
And when that canvas includes a beautiful depiction of Jerusalem, mixed with vivid colors and such a magnificent style?
That's when it transforms into the colorful Tallit Bar Mitzvah boys could only dream of wearing on their big day (and for the rest of their life)
Traditional Bar Mitzvah Tallit
What makes a great traditional Bar Mitzvah Tallit?
To me – it has to be:
Authentic
Beautiful
Large enough to be wear in the traditional style (more on that later)
A Tallit prayer shawl your Bar Mitzvah can "grow into", and feel just as comfortable wearing when he's 30 years old as he is now at 13 (more on choosing the right Tallit size later).
What do these traditional Jewish prayer shawls look like?
Let's have a look…
Top Traditional Tallit
Let's be honest – the previous Bar Mitzvah Tallitot were somewhere between modern than traditional (you might even say they're more modern than traditional).
Fair enough.
So let's take "tone down" the modern, and ramp up the "traditional".
This bestselling traditional pure wool Tallit is as traditional it gets (it even says so in the name right there):
The traditional blue & white colors
The famous wool fabric
The Tzitzit blessing in the neckband (Atara)
If you want to get your Bar Mitzvah a high quality, affordable Tallit he can wear for many years to come – this is a fantastic (and extremely popular) choice.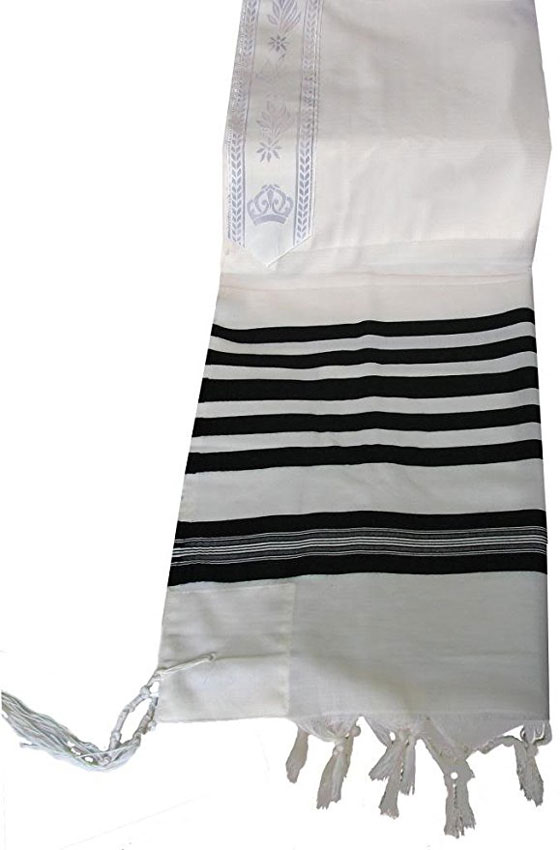 If you EVER visited a synagogue in your lifetime, chances are you've seen Tallitot similar to this one (in fact, there's a good chance that it was exactly this Tallit).
This authentic black & white Jewish Tallit is made in Israel by Talitnia – one of the most reputable Jewish Tallit brands in the world – and is often the "go-to" choice of Orthodox Jewish men.
Tip: Similar to the Tallit they wear in Chabad.
And when I say Orthodox Jewish men – that also includes the size of the Tallit: Frum size (aka large)
A perfect and durable Tallit for Orthodox Jewish boys that'll serve them well for many years to come.
Talitnia 2nd time in a row!
It turns out they have more than just a standard black & white Tallit hiding under their sleeve. And This modern Tallit is just one example.
If you look closely – you'll realize that the beautiful scenery looks pretty familiar…
Why… it's Israel!
The wonderful palm trees
The colorful houses
The bright, blue sky
And of course: the seven species of Israel.
That's right… instead of the traditional black & white stripes, you now get pomegranates, wheat, barley, olives, grapes, figs, and dates – all in one Tallit.
That's what I call a rich and fruitful Tallit right there.
Note: This Tallit is designed especially for a Bar Mitzvah (or a Jewish wedding – since most Ashkenazi men only start wearing a Tallit after they get married)
Custom & Personalized Bar Mitzvah Tallit
A boy's Bar Mitzvah is one of the biggest moments in any Jewish man's life. It marks the transformation from childhood to adulthood. From a Jewish boy ⇒ to a Jewish young man.
No wonder why parents do all they possibly can to make sure their son cherishes this special moment… FOREVER.
That's why many parents often get their son a personalized & memorable Bar Mitzvah gift.
And of course – why they choose to get him a custom Bar Mitzvah Tallit, as opposed to a Tallit "off the shelf".
Are you one of those parents? Well then, you're going to enjoy this section 🙂
Top Custom Tallit
Now that's what I call "hitting the Bar Mitzvah stage in style".
Believe it or not – Carole hand-weaves this stylish Tallit prayer shawl from gossamer-thin merino wool, and she does it all by herself (she's a human-weaving machine!).
Now, remember: she custom-makes the Tallit… that means you can choose your own size and colors (the green + brown combination in the picture isn't particularly my taste).
Tip: Carole has a long waiting list, so make sure you reach out to her a month or two in advance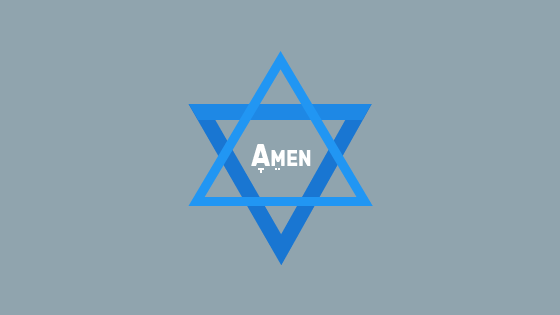 This lovely hand-woven Jewish prayer shawl has more of a traditional design compared to the previous one… a design called "Tallit Hochma" (aka "shawl of wisdom").
Handmade by Ori Faran – a talented young fella who runs his own boutique studio from Shuva – a small Moshav located in the south-west region of Israel, and made especially for a Bar Mitzvah boy.
Bonus: The Bar Mitzvah Tallit set includes an Atarah with the option to include a blessing of your choice.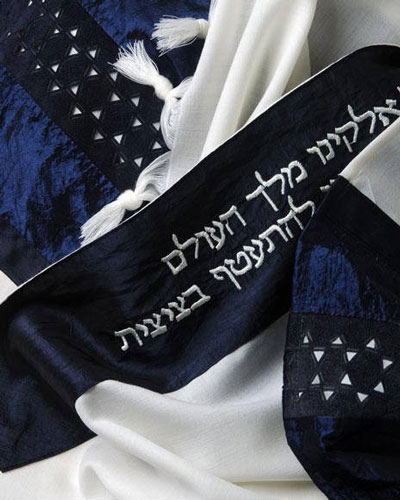 Closing off the custom Tallit section with Kim Ben-Israel's spectacular Star of David Tallit (and yes, it ships from Israel, just like Kim's last name!).
This beautiful Tallit is made of wool, with midnight navy sateen decorated with cute Stars of David all around it (including on the Tallit bag).
Bonus: Yep – the Tallit set comes with a Tallit bag and a Kippah. Sweet!
But honestly – it's the Atarah that caught my attention. The material (navy satin fabric), the color combination and the font complement each other wonderfully (good choice Kim!)
Choosing the Right Bar Mitzvah Tallit Size
What size Tallit should you get for a Bar Mitzvah boy?
The size of the Tallit depends on two factors:
The boy's size
The community he belongs to
In Reform communities – men wear their Tallit around their neck, covering only the shoulders and upper back (like a scarf).
In Orthodox and conservative communities, on the other hand, men usually wear a full-size Tallit in the traditional fashion – from the neck all the way down towards his knees – covering his entire back.
You'd want to choose a Tallit that fits the boy's size, and the way he'll wear it.
Tip: You may want to choose a Tallit size that is future-proof – a size the boy can grow into. Ask yourself: do you want him to be able to wear his Tallit when he's 13 years old, as well as when he's 30?
This table will help you choose the right Bar Mitzvah Tallit size (the size refers to the width of the Tallit):
| | | |
| --- | --- | --- |
| Bar Mitzvah Height | Reform Style | Traditional Style |
| Under 5' | Size 18 | Size 45-50 |
| 5' – 5'6 | Size 18-24 | Size 50-55 |
| 5'6 or taller | Size 24-36 | Size 55-70 |
Conclusion
Watching the Bar Mitzvah boy put on his Tallit for the very first time is an exciting moment. Exciting not just for him, but (especially) for his parents and the rest of the family.
Now, imagine him wearing one of these stunning Tallit prayer shawls you got him for his Bar Mitzvah…
Let's just say: better load up those tissues before you leave for the Bar Mitzvah ceremony 🙂
I hope I helped you find a Bar Mitzvah Tallit that both you and the boy love…
Mazel Tov!