Tefillin Buying Guide: How to Choose Kosher Tefillin for a Bar Mitzvah (and Beyond)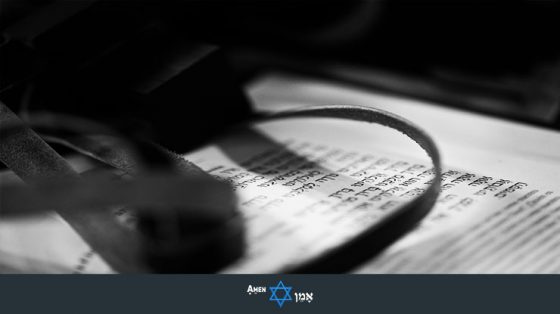 Amen V'Amen is supported by its audience. That means when you purchase something from one of our partners through one of our links, we may earn a small commission at no additional cost to you. Amen V'Amen is also an Amazon Associate, so we may earn a commission from qualifying purchases. Thank you for your support!
The idea of getting your son his first Tefillin (and Tallit) set sounds exciting at first… That is, until you start diving into the Tefillin rabbit hole and realize that buying a Tefillin for your son's Bar Mitzvah is more complicated, expensive, and confusing than you initially thought.
You hear words you've never heard before… (Tefillin Peshutim? Tefillin Dakkot? Tefillin Gassot?)
You wonder why prices vary so much… (and why they're so damn high!)
You're trying to figure out the difference between Ashkenazi Tefillin and Sephardic Tefillin…
No wonder people are caught off guard when they're in the market for a Tefillin set…
That's precisely why I wrote this Tefillin buying guide: to help you clear the smoke, arm you with everything you need to know about buying a Tefillin, and even help you a great and affordable Tefillin set – whether you're buying it for a Bar Mitzvah, for yourself, or for a synagogue.
Sound good?
Let's get started!
Top Tefillin Sets
TLDR; If you're not interested in the ins and outs (literally) of Tefillin, and you just want to find out what the best Tefillin sets of each type are – then this table is for you…
Tip: If you're unfamiliar with the different types of Tefillin, how to choose the right pair or what traps you should avoid – I highly recommend you keep reading before you make a purchase.
The Anatomy of Tefillin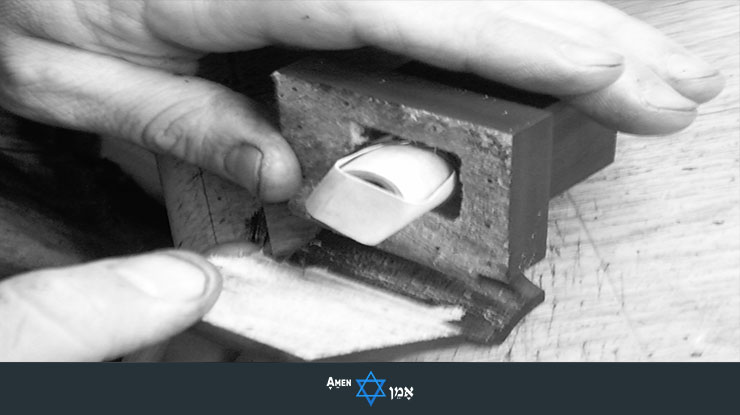 Tefillin (phylacteries) consist of two black leather boxes – one for the arm and one for the head.
It contains three different components (listed in order of importance):
1. The Scrolls
The Tefillin scrolls ("Klaf" in Hebrew) are handmade from a Kosher animal and include 4 passages from the Torah, handwritten in black ink by a certified scribe (called Sofer in Hebrew). Each passage describes God's unity and the miracles he performed for the Jewish people throughout history.
2. The Tefillin Box
Tefillin boxes ("Batim" in Hebrew) are made of leather.
The higher the leather quality of boxes – the better they can protect the Torah parchments – the more expensive the Tefillin set (more on that later).
The size of Standard Tefillin boxes falls somewhere between 31mm-36mm – depending on how large the parchment compartments are.
Chabad Jews usually wear larger Tefillin – 40mm – the same size Jewish sages used to wear.
Some Sephardim wear smaller Tefillin – around 22mm – 26mm. They're usually more expensive, and more prone to damage because of their small size… you should be extra careful with these.
A Tefillin set has two Tefillin boxes – one for the head and one for the arm.
The Head Tefillin ("Tefillin Shel Rosh")
The head Tefillin box contains 4 separate chambers for 4 separate scrolls – one scroll for each Torah passage.
The letter Shin (ש) is inscribed on both sides of the head Tefillin. One shin has 3 branches, the other one has 4 branches – which together form the number 7 – a number with lots of symbolic meaning in Judaism.
The Arm Tefillin ("Tefillin Shel Yad")
The arm Tefillin has one large compartment, which contains one scroll with all 4 passages.
3. The Straps
The straps are also made of leather. According to Halacha – the width of the straps has to be at least 13mm (most straps are wider than that). The difference in the quality of the straps is pretty negligible… and is far less important than the quality of the boxes. After all – it's the boxes that protect the scrolls, not the straps.
Did you notice a pattern here? The innermost components of the Tefillin are far more important than the outer components.
Like the good ol' cliché goes: never judge a book by its cover. Replace the word "book" with "Tefillin", and you get a pretty accurate rule of thumb for what makes a quality Tefillin set.
In other words:
"Looks" don't matter. It's what's inside that counts.
Click To Tweet
Types of Tefillin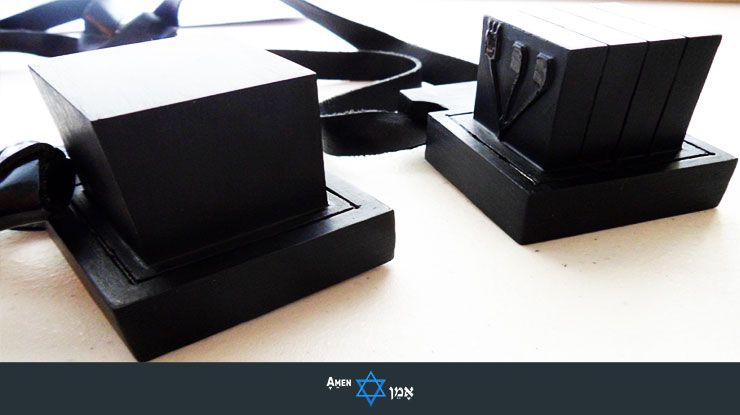 There are several types of Tefillin.
Tefillin Peshutim (Simple Tefillin)
Tefillin Peshutim is made of two (or more) separate pieces of leather glued together to form the inner walls of the box.
These types of Tefillin don't last long… in a few years, the glued pieces will start to separate and the Tefillin box will lose its shape – making the entire Tefillin not Kosher anymore.
As you might expect – they're the simplest form of Tefillin, and therefore the cheapest one.
Tefillin Peshutim poses several Halachic challenges. In fact, many of them are NOT EVEN KOSHER. I recommend avoiding these Tefillin at all costs.
Tip: If you do decide to get them – then I strongly suggest you read the fine print carefully and make the Tefillin set is indeed Kosher (make sure they're certified).
Tefillin Peshutim Mehudarim ("Superior" Simple Tefillin)
Tefillin Peshutim Mehudarim is made of a single piece of leather – but from a less durable skin (usually goatskin).
It's still considered Tefillin Peshutim (simple Tefillin) – but since its made of a single piece of leather as opposed to multiple pieces glued together – makes it superior compared to Tefillin Peshutim.
This type of Tefillin is considered "good enough" if you're just looking for a Tefillin set your son can wear on his Bar Mitzvah ceremony, and you don't expect him to wear them on a regular basis.
Keep in Mind: That being said – there are many Tefillin labeled "Tefillin Peshutim Mehudarim" that are not actually Kosher. Be on the lookout, and make sure you read the fine print before purchasing one. (make sure it's Kosher-certified by a Sofer)
Tefillin Dakkot (Thin Tefillin)
Tefillin Dakkot is also made of one thin piece of leather (usually sheepskin), stretched to form the shape of the Tefillin box.
Tip: Some retailers use "Tefillin Peshutim Mehudarim" and "Tefillin Dakkot" interchangeably.
Since they're still made of one thin layer of leather, they're more prone to damage… and are therefore less durable than Tefillin Gassot.
Tefillin Gassot (Thick Tefillin)
Tefillin Gassot is made of one thick piece of leather (usually cow skin). They're the highest quality, the most durable, and as you might expect – the most expensive Tefillin type.
These are the most common Tefillin among religious Jews. They tend to last for decades – even a lifetime.
To put it simply – If you're planning to wear Tefillin on a regular basis – choose Tefillin Gassot.
They're made of high-quality leather – which is the #1 determining factor when you buy a pair of Tefillin. It's what separates a low-quality, cheap Tefillin from a high-quality, expensive Tefillin set.
Did You Know?
There are different levels of Tefillin Gassot with different levels of "Hiddur" (stringencies). The stricter the Tefillin, the more expensive it is.
Tefillin Pricing: How Much Do Tefillin Cost?
The price of a Tefillin set is determined by two main factors:
The quality (or type) of the Tefillin Boxes
The quality of the writing on the scrolls
I already covered the different types of Tefillin Boxes. Now, let's discuss the 2nd biggest price factor – time.
"Time? I thought the 2nd factor was the 'the quality of the writing'? What gives?"
As it turns out – the old "time = money" saying also holds true when it comes to Tefillin sets.
An unofficial rule of Tefillin is this: the smaller the writing on the parchments ⇒ the longer it takes to make ⇒ the stricter the proofreading required to certify it ⇒ the more expensive the Tefillin set.
Tefillin parchments are hand-written in incredibly small letters. The smallest error deems the entire Tefillin invalid, which requires the Sofer to start the whole process over. To put it differently – when it comes to Tefillin – accuracy is paramount.
That's why small Tefillin boxes are more expensive.
That's why Ashkenazi Tefillin are more expensive than Sephardic Tefillin sets – it takes longer to write (more on that later)
That's why you won't (normally) find a Kosher Tefillin set below $200.
Tip: If you do find Tefillin Peshutim under $200 (even $300 should make you raise an eyebrow) – READ THE FINE PRINT CAREFULLY. Best case – their quality is questionable. Worst case – they're not Kosher.
Remember:
If it's too good to be true – it probably is.
Click To Tweet
Bottom line: with Tefillin, just like many other things in life – you get what you pay for.
A high-quality, thick Tefillin set can cost anywhere from $500 – $1,000 or even more, depending on how "Mehudar" (strict) the Tefillin is.
As expensive as that sounds – remember that a high-quality Tefillin set is a once-in-a-lifetime purchase – if you choose correctly. If you expect your son to use his Tefillin regularly – you're better off investing those few extra hundred dollars on high quality, durable, Kosher Tefillin. The last thing you want is to run around repairing your son's Tefillin set every few years.
Don't get me wrong – I'm not saying you should start spending money like you're in Congress. If you're getting a Bar Mitzvah Tefillin, you should definitely set a budget and do your best to stick to it. But try to avoid nickel-and-diming when it comes to your boy's Tefillin set. Trust me, it's not worth the risk…
There are plenty of ways to lower your Bar & Bat Mitzvah costs. The Tefillin set shouldn't be one of them.
Right-handed or Left-handed?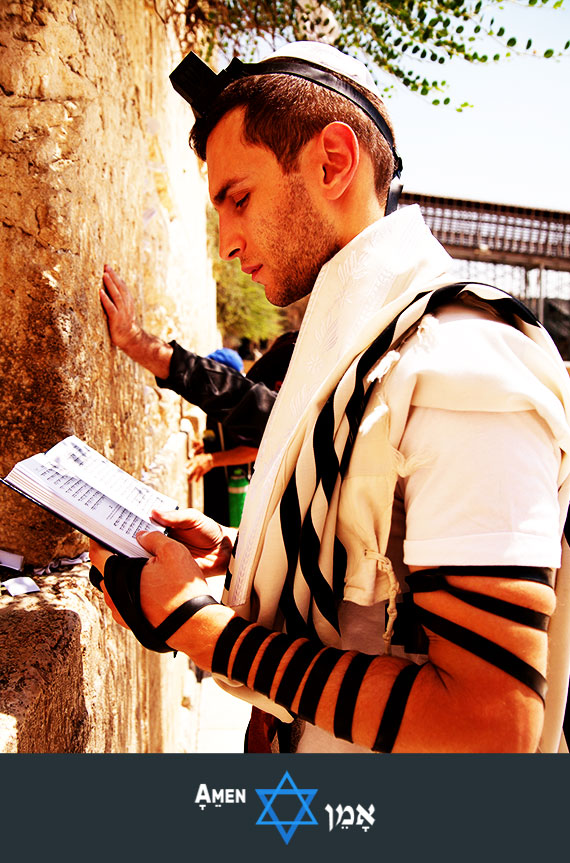 This is where it can get a little tricky – so pay attention.

When we put on our Tefillin – the arm Tefillin goes on our weakest arm. That means that for roughly 90% of the population who's right-handed – they'll wear their arm Tefillin on their left hand.
Now, when you buy a Tefillin set – you'll notice says something like: "For right-handed" or "For left-handed". That refers to your strongest arm – NOT to your weakest arm (where the arm Tefillin goes).
In other words:
If you're right-handed, you'll need a right-handed Tefillin.
If you're left-handed, you'll need a left-handed Tefillin.
Ashkenazi Tefillin vs Sephardic Tefillin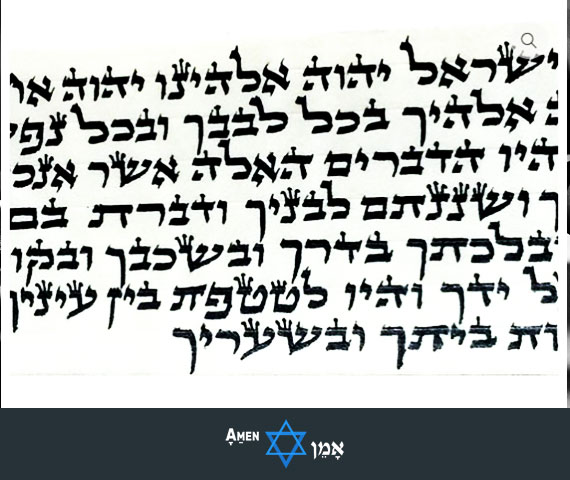 There are several differences between Ashkenazi Tefillin and Sephardic Tefillin:
The writing style
The writing on the parchment is different on Ashkenazi and Sephardic Tefillin. Each Sofer uses the Nusach & writing style common in his culture or country of origin.
Typically, an Ashkenazi Sofer writes in the Beit Yosef style, or alternatively in the Ari Zal style
A Sephardic Sofer usually writes in the Vellish style.
A Chabad Sofer writes in the Alter Rebbe style.
The Shin (ש) on the head Tefillin
The Ashkenazi Tefillin's shin has only 3 branches and has a sharper edge – a more triangular base, while the Sephardic Tefillin's shin has 4 branches and a square base.
The strap on the arm Tefillin
Ashkenazi Jews and Sephardic Jews wrap their Tefillin differently. The arm Tefillin's strap is therefore designed to meet the customs of each tradition.
The price
Ashkenazi Tefillin are slightly more expensive than Sephardic Tefillin. Writing in the Ashkenazi style (Beit Yosef) has more nuances, and therefore has more room for error…
That's why it usually takes an Ashkenazi Sofer longer to write the Torah passages in the Ashkenazi style.
And like we determined earlier – the longer it takes to produce and certify a Tefillin – the more expensive it tends to be.
How to Protect & Maintain Your Tefillin
Tefillin is one of the most (if not THE most) important accessories in the Jewish tradition. It's what allows us to "transmit" our prayers to God every time we pray.
Needless to say – it's incredibly important to take care of your Tefillin set properly. It only takes the slightest ink damage to disqualify a Tefillin set completely and render it invalid (read: NOT KOSHER).
Here are a few Tefillin maintenance tips that will help protect your Tefillin:
Keep your Tefillin at room temperature and away from sunlight (or moisture).
Keep them inside their protective houses when you're not using them.
Don't wear Tefillin on damp hair. They can eventually get ruined.
Avoid hard knocks, and avoid rubbing the leather unnecessarily.
When you travel (either by plane or ground transportation) – bring the Tefillin on board with you. Otherwise – you risk putting your Tefillin going through hard knocks and extreme temperature fluctuations – which can cause severe damage to your Tefillin (I'll show you a way to protect your Tefillin in the next section)
Keep your Tefillin away from water. If they get wet or fall into water – they require immediate inspection.
Never leave your Tefillin in your car for long periods of time (for the same reasons mentioned above).
If you own Tefillin Dakkot or Peshutim – check your Tefillin every few years to make sure the ink didn't peel off the parchments.
If you're getting your son a Bar Mitzvah Tefillin set – make sure he understands the importance of protecting his Tefillin.
Keep in Mind: Even though some Jewish authorities recommend checking your Tefillin at least twice every 7 years, it's not a halachic requirement. According to Halacha – once the Tefillin set has been declared Kosher by a certified Sofer, and as long as you use them regularly – you don't have to check them again (especially if you buy Tefillin Gassot). That said, some Jews choose to get their Tefillin checked every few years just to be on the safe side.
Best Kosher Tefillin for Sale
Now… for the moment of truth.
If you followed this Tefillin guide so far – congratulations! You're now a (semi) Tefillin expert… which means you're good & ready to buy a Tefillin set that meets your needs.
And guess what – I included the best Tefillin sets right here, so you won't have to waste hundreds, if not thousands of $ on a Tefillin set that ends up not being a good fit.
I included the best Tefillin sets possible. Simply choose the one that is:
The type of Tefillin you want
Right-handed or left-handed
Sepharadi or Ashkenazi
And you'll be wearing your brand new Tefillin in no time.
You're welcome (Bevakasha) 🙂
Top Tefillin Gassot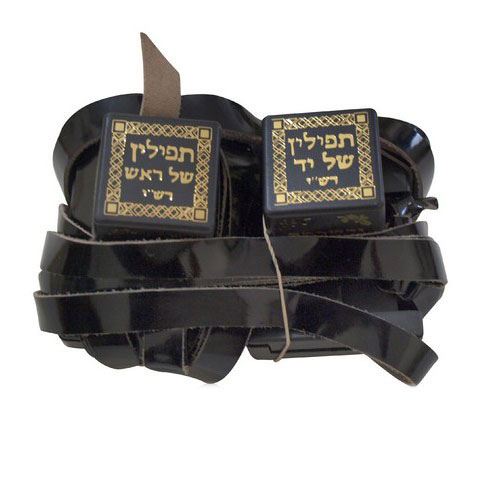 | | |
| --- | --- |
| Type | Tefillin Gassot |
| Nusach/Version | Ashkenazi |
| Hand | Available for both |
A beautiful pair of Tefillin Gassot – written by an expert scribe (Sofer), and proofread by an expert proofreader, before undergoing a computer check to validate the writing.
The Tefillin boxes are made of a single piece of high-quality ox neck leather – the best material for a Tefillin's durability as well as Kashrut.

| | |
| --- | --- |
| Type | Tefillin Gassot |
| Nusach/Version | Available in both Ashkenazi & Sephardic |
| Hand | Available for both |
This Tefillin set is Mehadrin Min Hamehadrin.
What does that mean?
It means this Tefillin went through extremely strict preparation, supervision and proofreading – in order to produce an extraordinary Tefillin that meets the strictest Hiddurim.
Like I said earlier – the stricter the Tefillin, the more expensive it is (and expensive it is indeed).
Note: That's why this set wasn't chosen as Amen V'Amen's "top Tefillin Gassot". Even though it is Mehadrin min Hamehadrim – not everyone can afford such an expensive pair of Tefillin. And to be honest, not everyone should.
Made by ox neck leather (the ideal material for the Tefillin's durability and Kashrut), handwritten by an expert Sofar, and proofread several times by expert proofreaders as well as a computer.
Top Tefillin Dakkot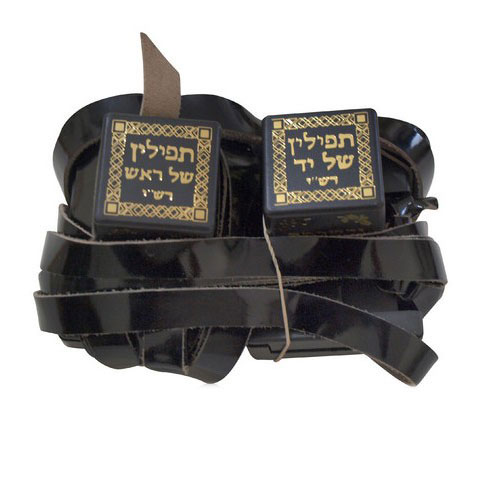 | | |
| --- | --- |
| Type | Tefillin Dakkot (Peshutim Mehudarim) |
| Nusach/Version | Sephardic |
| Hand | Available for both |
If you'd rather not spend a few extra $ on Tefillin Gassot, and you're OK with Tefillin Dakkot not lasting you a lifetime – then this Tefillin set will serve you well.
While they're not on-par with Tefillin Gassot – they're very well-made, Kosher (written by expert scribes and proofread, as well as computer-checked) and obviously better than Tefillin Peshutim (they're certainly worth the extra small investment).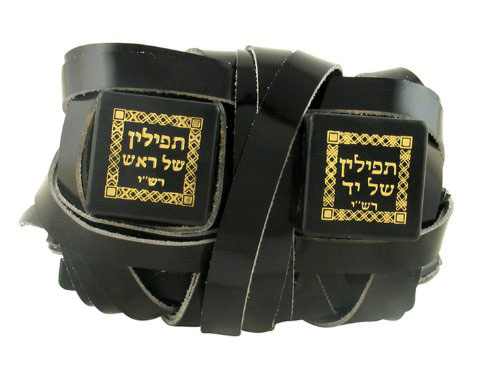 | | |
| --- | --- |
| Type | Tefillin Dakkot |
| Nusach/Version | Ashkenazi |
| Hand | Right-handed |
These Tefillin Dakkot are very similar to the previous set – except they're written in Ashkenazi style (Beit Yosef).
Made by the trustworthy Tefillin manufacturer – Peer Hastam from Bnei Brak, Israel. They include a Kosher certificate, as well as a computer-check certificate… so you can sleep (and pray) well knowing your Tefillin set is 100% Kosher.
While it's not Tefillin-Gassot-level, it's certainly a nice, cheap alternative if you're not looking to spend a whole lot of money.
Bonus: Comes with a free velvet Tefillin bag
Top Tefillin Peshutim
| | |
| --- | --- |
| Type | Tefillin Peshutim |
| Nusach/Version | Sephardic (Yemenite) |
| Hand | Right-handed |
Like I mentioned many times in this Tefillin guide – I'm personally against buying Tefillin Peshutim.
At the same time, I do realize that some of our readers are looking for a simple pair of Tefillin they can use a few times for their son's Bar Mitzvah. They aren't interested in a "lifetime Tefillin set", and they're therefore not keen on investing a lot of money on one.
If that sounds like you, then this Tefillin Peshutim set by Peer Hastam (from Bnei-Brak in Israel) – should serve you well.
Even though this Bar Mitzvah Tefillin set isn't supposed to last for too long, it is indeed Kosher certified (unlike other questionable Tefillin Peshutim you'll find on the market). It was hand-written by a qualified scribe and proofread by an expert proofreader… so you don't have to worry about that.
Bonus: it does come with a free, beautiful velvet Tefillin bag.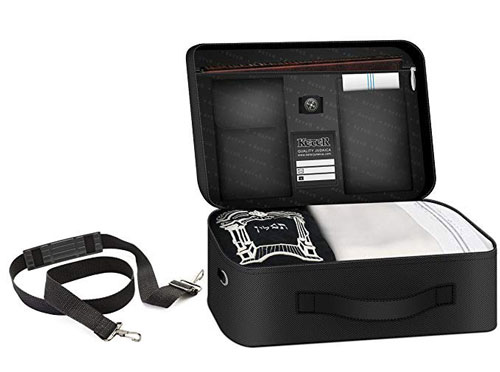 Surprise!
No, this isn't exactly a Tefillin set.
But I thought you'd appreciate a nice travel case for your brand new Tefillin.
That'll protect your Tefillin & Tallit from getting hard knocks every time you travel on a bumpy road (read: flights), and will make traveling with your Tefillin a breeze.
Conclusion
If there's one thing you should take away from this Tefillin buying guide, it's this: not all Tefillin sets are created equal (and I meant that literally).
The cost of the Tefillin can vary significantly – depending on the quality.
Before you decide what pair to buy, ask yourself this:
Are you (or your son) planning to wear the Tefillin regularly, or are you looking for a Bar Mitzvah Tefillin he's going to wear no more than a handful of times?
And if you're planning a Bar Mitzvah – don't forget to buy a Tallit for the Bar Mitzvah as well!
Mazel Tov 🙂