29 Best Bar Mitzvah Gift Ideas for a Jewish Young Man (2018)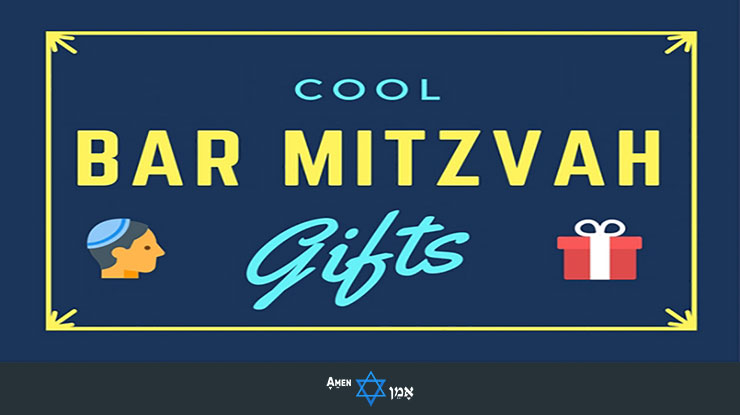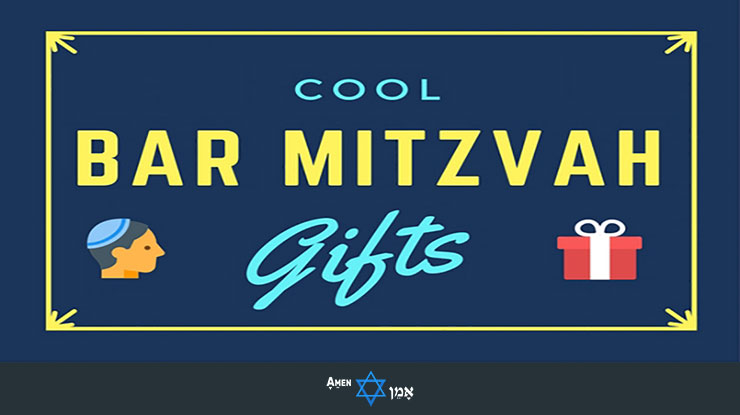 A 13-year-old's Bar Mitzvah is a big deal:
… The gathering…
… The Torah reading…
… The dancing…
And of course, the real highlight of the night: his brand new Bar Mitzvah gifts!
If all goes well, the young man will have a meaningful & lifelong experience he'll remember for the rest of his life.
Now, here's the big question you're probably asking yourself:
"What appropriate Bar Mitzvah present should I give the boy?"
Well, I can tell you this: times have changed… Gone are the days where you give the young 13-year-old cash in multiples of $18 and call it a day (although they won't say "no" to your money if you give it to them).
Not to mention it has become a LOT harder to satisfy young boys these days, especially when it comes to their Bar Mitzvah. 
Here's the truth: If you want the young man to cherish this moment (and your gift), you'll have to do better than that… MUCH better.
And that's exactly why I wrote this Bar Mitzvah gift guide: to help you find the very best Bar Mitzvah gift ideas every Jewish young man will be lucky to get on his special day (I know I would)…
Top Bar Mitzvah Gifts
Here's the deal…
There are a TON of great Bar Mitzvah gift ideas in this gift guide. And if you've been reading my gift guides, you know that I only choose the best gifts out there 🙂
But not all gifts are created equal: There are a few presents that truly stand out…so much so, that they deserve a special award.
I'm proud to present: the top, award-winning gifts for the young man's Bar Mitzvah celebration.
Traditional Bar Mitzvah Gifts (Judaica)
Traditional Bar Mitzvah gifts (Judaica gifts) are the best & safest choice to please both the young Bar Mitzvah, as well as his parents.
As the young man ventures into adulthood and starts keeping his Mitzvot, it's important that he begins to learn about Jewish values and their critical role in every Jewish man's life.
His Bar Mitzvah party is your chance to help him get started on his journey with a thoughtful & traditional Jewish gift he'll be able to use for many years…
Yair Emanuel Embroidered Raw Silk Tallit
Top Traditional Gift
I remembered the Tallit I received for my Bar Mitzvah. ..
I remember the chills I got when I opened the Tallit bag, and out came a gorgeous-looking Tallit.
Now here's the thing: that was nearly 20 years ago (boy, I'm getting old…) – and I still wear that Tallit to this day.
The most meaningful Bar Mitzvah gifts are the ones the young man will remember AND use for many years to come. This fabulous Bar Mitzvah Tallit certainly falls into that category.
Designed & crafted in Jerusalem – this gorgeous Tallit is made from woven cotton, with blue stripes made from pure silk blue stripes. It comes with a delightful matching bag on top of it, guaranteeing a remarkable gift for the young boy's Bar Mitzvah.
Definitely a Tallit the young man will proudly wear on his special day, and for many years to come…
Deluxe Illuminated Hebrew-English Torah
Our wonderful Torah is beautiful from the inside, and apparently also from the outside.
This stunning deluxe illuminated Torah book includes the complete text of the Hebrew Bible, accompanied by beautiful illustrations, paintings & work of art spanning the ages and the history of our Jewish culture.
Bar Mitzvah gift or not, this magnificent Torah book is a must-have for every Jewish home – allowing it to spread the light on our daily lives…
It's a bestseller for a reason.
Nadav Art Sterling Silver Kiddush Cup Enamel Bar Mitzvah
The young boy is now an adult, which means he can drink wine!
Kidding, not yet.
But it's definitely time for him to drink Kiddush wine.
And what better way to do L'chayim on your special day than with your own gorgeous Bar Mitzvah Kiddush cup.
This luxurious silver Kiddush cup is beautifully decorated with rich silver texture  & stunning enamel colors, brightening up the cup.
A fine piece of art made specifically for a Bar Mitzvah by Nadav Art, one of Jerusalem most famous Judaica art studios.
The Koren Jerusalem Bible Set with English Translation (Hardcover)
Speaking of typical & appropriate Bar Mitzvah gift ideas, what's more appropriate than a Koren bible gift set?
This compact & portable Bible edition comes in a three-volume set, making it lighter on your back (and easier to travel with), especially compared to the bulkier Tanach books we've all seen so many times. 
A magnificent keepsake for a young Bar Mitzvah, and a wonderful Jewish resource he'll use in his adult life.
Modern Sterling Silver Jerusalem Torah Pointer
One of the most exciting parts of every young man's Bar Mitzvah is his Aliyah La'Torah. The young boy works hard and prepares for a few weeks/months for his Torah reading. Imagine him practicing with this gorgeous Sterling Silver Torah Pointer – it will definitely make his learning experience way more special.
The Torah Pointer (Yad) is an original 925 sterling silver piece of jewelry that will fascinate every time it's looked upon & read with.
Want to get some special Jewish gift ideas straight to your email inbox?
Bar Mitzvah Jewelry Gifts
If you're a close relative or good friends with the Bar Mitzvah's parents, then Jewelry is a very common & meaningful gift for such an important occasion. Now if you're thinking Jewelry is for women, then bare with me. I'm not exactly talking about a gold heart necklace here…
There are plenty of great Bar Mitzvah Jewelry options, as you'll about to find out…
Hebrew Letters Classic Watch by Adi
Top Jewelry Gift
This is a man's watch… not a boy's watch.
And guess who's a man now?
Designed and made in Israel – this watch features Hebrew letters in their classic script, a mechanical display, and a comfortable black leather band – giving you repeating glimpses of our beautiful language.
It's time to treat the young Bar Mitzvah as a man, and this classic watch is a great start.
Leather and Sterling Silver Shema Yisrael Bracelet
This popular & stylish leather bracelet is mounted with a sterling silver plate that showcases the Star of David, which is made from 14k gold.
With one of the popular prayers in the Torah (Shema Yisrael) inscribed on it, this makes a wonderful & memorable gift to buy any Bar Mitzvah.
14K Gold Chai Style Pendant
I'm sure you've heard about the tradition of giving Bar Mitzvah gifts in multiples of 18.
But why 18?
Because 18 means "Chai" in Hebrew.
That's exactly why getting the young Bar Mitzvah a gold "Chai" necklace is one of the most meaningful Bar Mitzvah presents you can get him. 
And if you're getting him a gold "Chai" necklace, then this extraordinary 14K gold Chai pendant is the one you're probably looking for.
An original work of art that combines the timeless elegance of this traditional Jewish symbol for life, with a beautiful, artistic design.
Star of David Necklace with Hebrew Psalm 67 Jewish Menorah
This remarkable Menorah Necklace with Hebrew Psalm 67 in the miniature text comes inscribed in 24k gold, making it an extremely powerful gift for a Bar Mitzvah.
It comes in two make options: sterling silver and gold plated base. And if that wasn't enough – you also get a magnifying glass you can use to truly admire the beauty of the necklace and read the inscription – all packed in an elegant jewelry gift box.
Silver and Gold Spinning Wheel Necklace – Traveler's Prayer
This piece of jewelry adds a Kabbalistic flavor to the gifting. It features a 9k gold ring around which the silver made wheel spins freely. The circumference of the jewelry boasts biblical verses from King David's wisdom. The verse translates into "For He shall command His angels for you, to guard you on all your paths".
Personalized Bar Mitzvah Gifts
A Jewish Bar Mitzvah is all about the Bar Mitzvah boy… he's the star of the show. He's the center of attention – this special event is all about him. Your job is to help him cherish these special moments… And what better is there than getting him a personalized Bar Mitzvah gift?
Bar Mitzvah Remembrance Plaque
Top Personalized Gift

This beautiful remembrance plaque is a great keepsake to help the young man cherish his special Bar Mitzvah.
The design features the Star of David with a banner at the center used for personalizing the gift with the recipient's name. The top section reads "Mazel Tov On your Bar Mitzvah".  
This beautiful plaque makes for a very unique & appropriate Bar Mitzvah gift the young man will gladly display in his room.
Star of David Curved Glass Vertical Photo Frame
You want the young Bar Mitzvah to remember his special day, right?
The best way to achieve that? A keepsake…
And what better keepsake than a gorgeous Star of David Glass photo frame.
Add his photo and a personalized message with a meaningful sentiment, and he'll cherish your gift for many years to come.
Gold Plated Silver Star of David Monogram Personalized Name Necklace
A Star of David necklace has to be one of the most popular Bar Mitzvah presents available. This particular Star of David necklace, however, delivers a much more special & personal touch. This stunning, elegant & handcrafted work of art is made of 925 sterling silver electroplated with 24K gold – custom made in Jerusalem of gold.
All you have to do is fill in the Bar Mitzvah boy's initials,  and you can expect a lovely keepsake gift box with a little surprise in it in no time.
Custom Surf Board Wall Hanging
A personalized beach board wall hanging? I'm sure you've never considered it before – until now.
This amazing, handmade 36-inch surfboard features navy stripes, light blue palm trees, a metal hanger, and most importantly – It's fully personalized to show the Bar Mitzvah boy's name.
Let's face it: it's an awesome Bar Mitzvah gift.
Star of David Acrylic Keepsake
Do you want to give the young man something he'll remember for years & years to come? Well, before we move on to the "meaningful Bar Mitzvah gifts" section, here's one hell of a meaningful & memorable gift you can customize especially for the young Bar Mitzvah.
Engrave the personalized message of your choice on this beautiful Star of David keepsake, and I guarantee that he'll treasure this gift & remember it for a very long time.
Meaningful Bar Mitzvah Gifts
I get it.
You care a lot about the young Bar Mitzvah… You want to get him a meaningful Bar Mitzvah gift that reflects how much you love him, and that also highlights the importance of leading a Jewish life of Torah. 
These gifts are more sentimental and deliver exactly that message.
Torah Quote Chalkboard Plaque
Top Meaningful Gift
I'm guessing the young Bar Mitzvah has some posters of his favorite idols in his room (Justin Bieber? I hope not). 
Wouldn't it be nice to decorate his room with something a little bit more meaningful? Something enlightening and encouraging he'll see every morning when he wakes up, and every night before he goes to sleep? Something that will guide him through a life filled with love & Torah?
This is definitely one of the best Bar Mitzvah gifts you can get for the young man.
Tree of Life Tzedakah Box
Giving B'nai Mitzvah a Tzedakah Box for charity is a popular Jewish tradition. It delivers a wonderful message of helping others in need.
This remarkable Tree of Life Tzedakah box, made of brass plated with chrome nickel, will encourage the boy to proudly display his Tzedakah box & start collecting money for those in need.
Silver & Gold Star of David Spinning Ring – Traveler's Psalm
This beautifully designed sterling silver ring is likely to be worn for years and serve as a constant reminder of the boy's Bar Mitzvah. 
The ring is inscribed with the entire Hebrew text of the 121st Psalm, with the popular verse: "Hashem yishmor tzeitcha uvoeicha me'ata ve'ad Olam" ("Hashem will guard your going and coming from now and forever").
Deluxe Torah Scroll Replica
The young Ben mitzvah had it's first meaningful interaction with our beautiful Torah. 
But here's the challenge: after the celebrations and Torah reading is over, how do you keep encouraging the young man to stay consistent in learning Torah?
You buy him his own Torah scroll of course!
This amazing Torah scroll replica looks exactly like the real thing – it contains the entire Torah text in its original script, printed on high-quality paper, and with wooden handles decorated with metallic pomegranates at the top.
A beautiful way to connect the young man to the world of Torah & Mitzvoth.
Cool & Popular Bar Mitzvah Gifts
We can't talk about the best Bar Mitzvah gift ideas without mentioning the obvious, now can we?
Bar Mitzvah or not – boys will be boys. Sometimes all you need to get a young man excited is to get him the latest popular gadgets.
Every boy will appreciate these awesome gadgets. Heck, every adult will be glad to receive any of these gifts (I know I would).
Simply put – you can't go wrong with these cool Bar Mitzvahs gifts…
Sony PlayStation 4 Pro 
Top Cool Gift
"Gaming is love, gaming is life".
There's no better gaming console available than the Sony PlayStation 4 Pro. This brand new gaming console is every B'nai mitzvah, every teenager, and every adult's dream gift. (be careful though, he might get so hooked that he'll forget to eat, drink or sleep, and then you'll have to answer to his parents)
This is a sure win and the clear winner of the popular Bar Mitzvah gifts category.
Apple iPad Air 2
Want the young Bar Mitzvah to fall in love with you? Get him an iPad.
This is without a doubt one of the coolest gifts you can buy someone you love, for any occasion.
Which obviously makes it a natural fit for a great Bar Mitzvah gift (Just make sure the boy's parents approve).
Beats Solo3 Wireless On-Ear Headphones – Gold
Every 13-year-old boy dreams of looking cool. And when it comes to looking cool, that's exactly what Beats by Dr. Dre represents. Besides the amazing quality of headphones (arguably the best on the market), Beats' headphones carry a status – a symbol for hip & trendiness.
Plus, the boy's parents will probably appreciate not having the listen to their son's loud music, so it's definitely a win-win for everyone.
Apple Watch Sport
Apple watches took the world by storm.
The days you would buy an analog, single-function wrist watch for a Bar Mitzvah gift are clearly over. These days it's about staying current, which means getting the most advanced piece of technology available. And when it comes to a wrist-watch, Apple Watch is KING.
These days it's all about staying current, which means getting the most advanced piece of technology available. And when it comes to a wrist-watch, Apple Watch is KING.
Unique Bar Mitzvah Gifts
Looking to dazzle the young man with a unique Bar Mitzvah gift? Then forget about the gifts you've seen up to this point.
Let everyone else get him the typical, average Bar Mitzvah gifts, while you get the 13-year-old man a gift he'll never forget. 
With these gifts – that's exactly what you'll do…
Holy Stone F181 RC Quadcopter Drone with HD Camera
Drones have taken over the world.
Naturally, they've taken over the unique Bar Mitzvah gifts section.
Drones are the ultimate toy for men of all ages, teenagers in particular.
This magnificent piece of technology includes:
1 X Quad Copter
1 X 2.4G remote transmitter
2 X USB charging cable 

2 x 3.7V 750mAh LiPO Batteries

4 x Rotating blade




4 x Protection frames




2 x Landing skids




1 x Screwdriver




1 x User Manual
Plus, it's also equipped with a key return & headless security system to prevent beginners from losing the drone. 
Trust me, if he'll get this drone for his Bar Mitzvah, it's a dream come true.
Amazon Echo
Top Unique Gift
These days, youngsters are drawn to tech like moths to a flame.
Well, when you have devices such as Amazon Echo, can you really blame them?
The new & bestselling Amazon Echo is a tech geek's (I'm guilty here too) best friend.
Amazon Echo is a hands-free speaker you control with your voice. It can pretty much do anything for you:
Play your music 
Answers your questions
Reads the news
Controls your lights, fans, switches (and soon your life)
Constantly getting smarter with Artificial Intelligence & adding new amazing features
This is the latest revolutionary piece of technology. Ask the young Bar Mitzvah, he'll tell you.
Hand Engraved Personalized Baseball Bat
Are we talking about a Baseball fan?
Then forget all the gifts you've seen up to this point. 
This is your home-run gift right here.
Engrave the young man's name on the baseball bat, add a meaningful 2 line of your choice – and you'll get the young Bar Mitzvah excited more about your gift than his actual Bar Mitzvah.
Bar Mitzvah Gift Cards
Still feeling completely stuck & clueless on what to get the new adult for his Bar Mitzvah? Couldn't find worthwhile Bar Mitzvah gift ideas in your budget? 
Don't worry, there's an emergency route you can take: a gift card. To be honest, this is actually preferable in many cases and a very common gift for a Bar Mitzvah.
Why? Because the young man can choose what to get for himself. Instead of guessing what he might like, leave the decision up to him, and he'll be forever grateful.
GameStop Gift Card
Top Gift Card
Do you know that famous scene where a kid enters a candy store?
For a 13-year-old young man, it's not a candy store… it's GameStop.
GameStop is a teenage boy's paradise: You're surrounded by all these games you wish you could afford if you had the money.
Now they can (at least some of it).
Only if you decide to get him a GameStop gift card.
App Store & iTunes Gift Cards
Kids these days spend most of their time on their phones: Downloading apps, games and all kinds of (addictive) stuff… only for their parents to find out about it on their credit card statement at the end of the month.
With Apple's gift card, they can enjoy all the App Store has to offer without worrying about their parents scolding them about their lavish app shopping spree!
Nordstrom Gift Card
Why go nuts finding something that will fit the young man, and something he actually likes.
Get him a Nordstrom gift card in a beautiful gift box, and let him buy whatever he wants.
Trust me, he'll appreciate it much more than a random shirt he's never gonna wear.
Tip: It's a common Jewish tradition to get him a gift card in increments of 18.
Steam Gift Card
Another video game gift card?
Hell yes!
That's how much boys love video games… trust me, I used to be one!
Back in the day (15 years ago, damn…), I used to be addicted to Steam games (Half Life, Counter Strike… the good ol' days).
That was in the early 2000's, where video games weren't anywhere close to the levels they reached today. 
Today? They reached a whole other level of popularity…
Believe me – If I had gotten a Steam gift card for my Bar Mitzvah, I would've gone MAD.
Since I'm too old for it now, perhaps I can help out some lucky Jewish fella out there by getting you to buy them a Steam gift card!
Amazon eGift Card
Last but not least – Amazon's gift card.
If none of the other Bar Mitzvah gift cards resonated with you, or you just have no idea what the boy likes – then Amazon's gift card is a sort of insurance policy.
The young man can buy whatever he so desires on Amazon, so you're off the hook.
Tip: Just make sure you issue the gift card in multiples of $18 (like the example above).
What About Money?
Despite what the song says: It's NOT all about the money. At least not when it comes to a Bar Mitzvah gift.
Ideally, you'd want to give the Bar Mitzvah an actual present, rather than straight out cash. However, if you're really out of ideas, or you really don't know the kid all that well – then money is certainly a valid alternative.
Traditionally, it's common to give money in multiples of 18 – which means "chai" (חי), or "Life" in Jewish numerology. In effect, you're blessing the Bar Mitzvah with a long life.
Final Thoughts
Those were some cool presents, huh?
I hope you found a couple of Bar Mitzvah gifts that caught your attention.
If you did, please tell me in the comments which of these gifts you liked best… I'm dying to know!
Plus, if you have other gift ideas in mind I haven't covered here, please let me know about it in the comments below and I might add em' to the list.
Mazel Tov!