20+ Best Bar Mitzvah Gift Ideas for a 13 Year Old Boy (2022)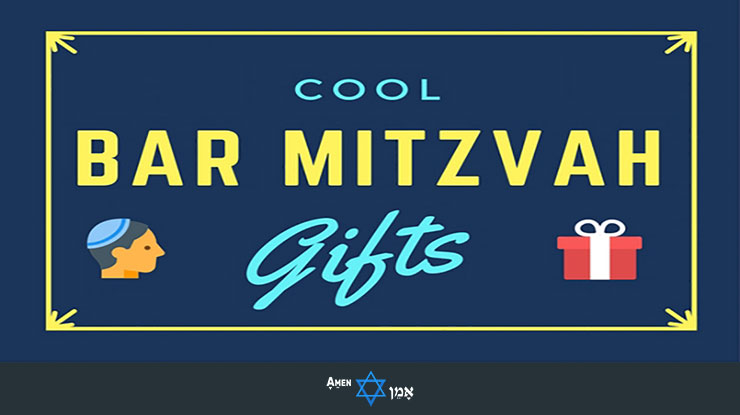 Amen V'Amen is supported by its audience. That means when you purchase something from one of our partners through one of our links, we may earn a small commission at no additional cost to you. Amen V'Amen is also an Amazon Associate, so we may earn a commission from qualifying purchases. Thank you for your support!
A 13-year-old's Bar Mitzvah is a BIG deal:
… The Torah reading…
… The dancing…
… And of course, the real highlight of the night: his brand new Bar Mitzvah gifts!
If everything goes according to plan – the young man will remember this day for the rest of his life… And you get to be a part of that memory!
But first things first… before you set foot in the venue, let's first make sure you don't arrive empty-handed, yes?
This Bar Mitzvah gift guide contains a hand-picked list of the most unique Bar Mitzvah gift ideas I came across. By the end of this guide, you'll discover:
… What's considered an appropriate gift to give a boy for his Bar Mitzvah?
… What gifts should you NOT give him under any circumstance?
… How you can guarantee that your present stands out (read: doesn't suck)
Ready?
Let's begin…
Top Bar Mitzvah Gifts
[Spoiler Alert]: We chose the top Bar Mitzvah gift ideas on the list – and gave them awards (kind of like the "Oscars" for Bar Mitzvah presents)
Amen V'Amen's award-winning Bar Mitzvah gifts are…
Drumrolls 🥁…
Traditional Bar Mitzvah Gifts (Judaica)
Let's start off with traditional Bar Mitzvah gifts (Judaica gifts).
After all – this is a Jewish ceremony…
And guess what – with traditional Jewish gifts – you get to please both the Bar Mitzvah AND his parents.
That's killing two birds with one stone right there. (killing? Oy vey!)
The young man is about to venture into Jewish adulthood and start fulfilling his Mitzvot. Why not give him a nice head start?
Top Traditional Gift
The young boy is now a Jewish adult… bring on the alcohol!
Just kidding…
Becoming a Bar Mitzvah has nothing to do with that kind of "bar" 🍺 (a few more years, darling).
It means you're now expected to fulfill the Jewish commandments.
And one of the most common Jewish commandments is…Kiddush!
Every Shabbat, on Jewish holidays, on Jewish celebrations (yep, Bar Mitzvah included)… you recite the Kiddush blessing and drink wine from the Kiddush cup.
Now…
Wouldn't it be nice if the Bar Mitzvah had his own Kiddush cup to fulfill the Mitzvah of Kiddush?
But not just any Kiddush cup. A luxurious silver Kiddush cup, made by Nadav Art especially for a Bar Mitzvah.
Think about this way: he's 13-years-old now. He has till 120 (Amen V'Amen) to recite Kiddush blessings…
Let me tell ya – that's a whole lot of Kiddush blessings… and a whole lot of wine!
Just imagine – every sip he takes from his lovely Bar Mitzvah Kiddush cup will be all thanks to you! How cool is that?
L'chayim!
I remember the Tallit & Tefillin set my parents got me for my Bar Mitzvah. ..
I remember the chills I got when I opened the Tallit bag, and out came this gorgeous-looking Tallit.
Now… here's the thing: that was nearly 20 years ago (damn, I'm getting old) –and I still wear that very same Tallit to this day.
Point is: the most meaningful Bar Mitzvah gifts are the ones that last.
The ones he'll wear not just tomorrow, not just a year from now… but 10 years from now… hopefully even 20 years from now.
This Tallit certainly falls into that category.
Designed & crafted in Jerusalem by the amazing Yair Emanuel's – this fabulous Tallit is made from woven cotton and pure silk blue stripes.
It comes with a delightful matching bag on top of it, guaranteeing a remarkable gift the Bar Mitzvah will proudly wear on his big day (and for many years to come).
If you're not the boy's parent (or grandparent)… you probably shouldn't get him his first Tallit. It's usually the parent's job to do that.
But what you can do – is get him a beautiful pair of Tallit clips.
That way – you won't be stepping on the parent's toes. In fact – they'll thank you because your gift will compliment theirs (and hopefully convince their son to wear his new Tallit on a regular basis).
Everybody wins!
They say you shouldn't judge a book by its cover…
But hey – we already know the Jewish Torah is beautiful from the inside.
So if you'll excuse me, I AM going to judge this deluxe Torah book by its cover!
Verdict? It's gorgeous!
This stunning deluxe illuminated Torah book includes the complete text of the Hebrew Bible, including beautiful illustrations, paintings & stunning works of art spanning the ages and the history of our Jewish culture.
It turns Torah reading into an interactive learning experience.
If only they could teach like that in school, right?
Bar Mitzvah gift or not, this magnificent Torah book is a joy to read from, and a pleasure to look at.
There's a reason it's a bestseller…
No doubt – one of the most exciting moments of the Bar Mitzvah is the boy's Torah reading.
The soon-to-be Bar Mitzvah is working hard, studying his Torah portion for months to prepare for his first-ever Aliyah.
Now… if you ever saw a Torah reading take place in the synagogue – chances are the Rabbi (or whoever was reading) was using a Torah pointer like this one to read from the Torah.
OK, it probably wasn't "exactly" like this one. This contemporary sterling silver Torah pointer is hand-carved.
It has two purposes:
Reading from the Torah (obviously)
A Bar Mitzvah keepsake
In other words: the soon-to-be Bar Mitzvah gets to practice his Bar Mitzvah Torah reading in style… which means there's no chance he'll ever forget this unique experience.
And if he continues to read from the Torah throughout his life? He's now equipped with the best Torah pointer for the job.
Bar Mitzvah Jewelry Gifts
If you say the word "Jewelry" to a 13-year-old boy, chances are they'll start running.
But wait a second…
Bar Mitzvah Jewelry doesn't mean little pink hearts.
Jewish tradition is filled with deep meaning and symbolism. That symbolism found its way into Jewish Jewelry… and into Jewish boy's hearts (and necks, and wrists).
Top Jewelry Gift
This is a man's watch… not a boy's watch.
And guess who's a man now?
Designed and made in Israel by Adi Watches – one of Israel's most famous watch brands – this watch features Hebrew letters in their classic script – giving you a glimpse of our beautiful Hebrew language.
The watch has a mechanical display and a comfortable black leather band.
In other words: it's both beautiful and comfortable.
It's time to treat the young Bar Mitzvah as a man, and this classy watch is a great start.
Why choose between a Bar Mitzvah Jewelry gift and a traditional Jewish gift, when you can have both at the same time?
The Tree of Life is one of the most ancient symbols in Jewish tradition.
In the Kabbalah, the Tree of Life is a symbol ofGod's divine creation of the world – made up of 10 interconnected spheres (Sefirot) – just like the ones inscribed (in 24K gold) on this phenomenal necklace.
The Tree of Life is a symbol of responsibility, maturity and spiritual elevation.
If that sounds like an EXACT description of what a Bar Mitzvah represents in Judaism – it's because it is.
The Tree of Life and the Jewish coming of age go hand and hand.
Especially when it comes in the form of a unique Kabbalah necklace like this incredible masterpiece.
Remember the common Jewish tradition of giving money in multiples of 18?
Did you ever stop and ask yourself: "why 18? What's with that 'magical' number?"
In Jewish numerology – the number 18 translates to "Chai" ("חי"), which in Hebrew means "life".
When you give someone a "Chai" necklace – you're essentially blessing them with a long and meaningful life.
That's why "Chai" necklaces are insanely popular gifts for a Bar Mitzvah.
Not to mention if it's an extraordinary 14K gold Chai necklace like the one made by Ben's Jewelry.
Ben started small, following his family tradition of crafting remarkable Jewish Jewelry. Combining the traditional methods with his own personal touch has led to his meteoric worldwide success you see today.
His Chai necklace is one prime example of that.
When I was young, I was going through some hard times in life…
I asked people for advice, and they kept telling me: "you have to have faith in God"…
My initial response to that was: "yea, easier said than done".
When times are tough, it's easy to get lost in our daily struggles. A rut is just that – hard to escape from.
Then, one day, my Rabbi gave me an amazing piece of advice…
He told me:
'The key is to physically remind yourself that God is with you at all times. So when times get hard - you won't have to all of a sudden start looking for him. He's already right there with you.'
Click To Tweet
In other words – he told me to carry a physical reminder of God's presence everywhere I go.
So… The next day, I started walking around with a small Tehillim book in my pocket.
That way – every time I reached in my pocket (to grab the phone or the keys) – I could feel the Tehillim… and therefore "feel" the presence of God.
It worked.
It wasn't ideal… I had to physically reach in my pocket to actually feel the Tehillim. But it definitely worked.
Why am I telling you this story?
Because when I saw this unique ring with God's 72 names written on it – the first thing that ran through my mind was: "Man… could you imagine if you had that ring back then?"
I wouldn't have to struggle, I wouldn't have to reach in my pocket every time to "feel" God's presence.
There it is right in front of me on my finger.
Many boys don't like wearing rings (I'm not much of a "ring guy" either).
Especially when you're 13-years-old…
"Eew. Rings are for girls" and all that nonsense.
Well – you don't have to get him a ring with God's names on it just so he could remind himself of God's presence.
Instead, you can get him this fascinating Shema Yisrael bracelet.
That way – all he needs to do is look down at his beautiful Shema Yisrael bracelet and read to himself: "Shema Yisrael, Hashem Elokeinu, Hashem Echad" (Hear, O Israel, Hashem is our God, Hashem is one).
Personalized Bar Mitzvah Gifts
It's personal.
You bet it is…
The Bar Mitzvah is the boy's big day… he's the star of the show.
Your goal is to help him cherish these special moments…
And what better to do that than with a personalized Bar Mitzvah gift?
Top Personalized Gift
Pop Quiz: What's a meaningful and memorable gift for a Bar Mitzvah? A keepsake he'll always remember? (hint: it's a trick question)
Answer: A Bar Mitzvah remembrance plaque.
As the name suggests – this beautiful Star of David remembrance plaque is a keepsake designed for the boy to cherish and remember his Bar Mitzvah.
Personalize the plaque with the boy's name
Add a blessing of your choice (this might help)
Give it to the boy on his Bar Mitzvah and put a big smile on his face.
Next time you visit his house – you'll see your precious gift proudly displayed in his room.
Bar Mitzvah Keepsake #2 – this time with a Star of David carved into the glass, along with the Bar Mitzvah's handsome face on it.
Same "drill" as the previous keepsake, with one extra step:
Personalize
Gift wrap
Order
Frame the boy's photo
A terrific personalized gift for the Bar Mitzvah.
You might be wondering: "What's a gold Star of David necklace doing here? Doesn't it belong in the Bar Mitzvah Jewelry section"
Don't worry sergeant – this is not a drill.
It's here… because you can personalize it!
All you have to do is fill in the Bar Mitzvah boy's initials, and you can expect a lovely keepsake gift box with a little surprise in it in no time.
The Star of David necklace itself is an elegant & handcrafted work of art, made of 925 sterling silver electroplated with 24K gold – custom made in Jerusalem.
Clearly – it would've been an excellent Bar Mitzvah present even without the personalization. The personal touch simply makes it 10X better.
Closing off with keepsake #3.
This acrylic keepsake is very similar to the previous one – except…
It doesn't have a curved glass
There's no picture frame
It's cheaper
Meaningful Bar Mitzvah Gifts
A Bar Mitzvah is one of the most meaningful days in a Jewish man's life.
So why let your gift go to waste?
A meaningful day deserves a meaningful Bar Mitzvah gift, doesn't it?
What qualifies as a meaningful gift?
Here, I'll show you…
Top Meaningful Gift
Tzedakah isn't just another Mitzvah.
Tzedakah is one of the cornerstones of Judaism.
In Judaism, giving to the poor is an obligation. Every Jew is required to give at least 10% of his income to charity or to those in need.
Granted, this doesn't come naturally to most people… that's why it's best to "practice" giving Tzedakah from a very young age – and acquire the habit over time.
So here's my suggestion: get him this beautiful Tzedakah box, and chip in the first $18.
That way – you're giving him three things:
An appropriate gift for a Bar Mitzvah
A lesson about the importance of Tzedakah.
Isn't that much better than simply "throwing money" at the boy?
I'm guessing the young Bar Mitzvah has some posters of his favorite idols in his room (Justin Bieber? I hope not).
Wouldn't it be nice to decorate his room with something a little bit more meaningful?
Something enlightening?
Something he'll see every morning when he wakes up, and every night before he goes to sleep?
Without a doubt – one of the most meaningful Bar Mitzvah gifts you'll find (and it's cheap!).
As kids, we all read about the destruction of the 2 Jewish temples.
But did you ever imagine you'll get a chance to reconstruct the temple?
Imagine how the boy will feel when you tell him: "Ok, sweetheart. You're now old enough to… BUILD THE JEWISH TEMPLE".
First, he'll freak out. Then, he'll think you're joking. Then, he'll start building…
Soon enough – he'll have an accurate model of the 2nd Jewish temple standing in his own home.
"Normal" puzzles never looked so boring…
Cool & Unique Bar Mitzvah Gifts
Bar Mitzvah or not – boys will be boys.
Sometimes all you need to get a young boy fired up is to get him a popular Bar Mitzvah gift.
A gift that'll make him look cool in front of his friends…
A gift that'll make his classmates turn green from jealousy (heck, it would even make adults jealous!).
Simply put – get him cool a Bar Mitzvah gift, and you'll get yourself a fan for life.
Coolest Gift
"Turn the volume down! You'll wake up the neighbors!"
Yeah… good luck trying to reason with an adolescent.
But maybe you can bribe him…?
Relax… not that kind of bribe.
I'm talking about a bribe that will make him look cool, make his music sound cool, it'll even make studying seem cool – all at the same time.
An ethical bribe, if you will…
Bose headphones are a teenage boy's dream, and these are arguably the number #1 headphones on the market.
With such a cool Bar Mitzvah gift – he'll feel so thankful (and guilty) that he'll do anything you say (just don't talk to him when he's got his headphones on… you know, noise-canceling and stuff).
Good luck trying to convince the Bar Mitzvah to wear a "regular" watch (unless it's a watch with Hebrew letters, of course).
Ain't gonna happen.
It's like giving a teenager a flip-phone.
"A flip-what?"
They'll think you're speaking Chinese (or Hebrew).
The bottom line is this: If it ain't smart – they're not going to wear it.
And when it comes to smartwatches – Apple Watch is KING.
To be cool – make the boy look cool (like Fonzie).
Wouldn't it be amazing if a drone lands on the boy's lap exactly on the day of his Bar Mitzvah?
OK, that's probably pushing it (unless you're a kickass pilot geek and you can navigate that thing)…
Just wrap it up in a gift wrap… he'll take it.
This flying bundle of joy in a box includes:
1 X Quad Copter
1 X 2.4G remote transmitter
2 X USB charging cable
2 x 3.7V 750mAh LiPO Batteries
4 x Rotating blade
4 x Protection frames
2 x Landing skids
1 x Screwdriver
1 x User Manual
Plus a key return & headless security system (to prevent beginners from losing the drone)
A 13-year-old boy's dream.
Who am I kidding… it's a 30-year-old's dream too (what, am I not allowed to play?!).
Amazon Echo is a tech geek's (guilty) best friend.
In case you've been living under a rock in the past few years: Amazon Echo is a hands-free speaker you control with your voice.
It can do virtually anything you ask:
Play your music
Answer your most complicated questions
Read the news
Control your lights, fans, switches (soon your life)
The best part: it keeps getting smarter and smarter every day.
That's Artificial Intelligence for ya…
Robots are taking over the world! Everybody, RUN!
Bar Mitzvah Gift Cards
Still feeling completely stuck & clueless on what to get the new adult for his Bar Mitzvah? Couldn't find any good Bar Mitzvah gift ideas that fit your budget?
Don't worry, there's an emergency route you can take: a gift card. To be honest, this is actually preferable in many cases and a very common gift for a Bar Mitzvah.
Why? Because the young man gets to choose what to get for himself. Instead of guessing what he might like, leave the decision up to him, and he'll be forever grateful…
Top Gift Card
Like a kid in a candy store?
Gimme a break.
Ask any 13-year-old boy – candy stores are lame.
Video game stores are the name of the game (pun intended).
And what's THE video game store? GameStop.
GameStop is a teenage boy's paradise. Problem is, they usually have no money…
Imagine being surrounded by all these games you wish you could afford. That's not heaven, that's hell.
That will change…IF you decide to get him a GameStop gift card.
Kids these days…
Their faces are glued to their phones. All they do is download apps and play all sorts of addictive games…
Wait till their parents receive their credit card statements at the end of the month.
Well, with Apple's gift card – at least there's a cap… they can't spend more than the gift card's fixed amount.
That's good news for mommy and daddy, and for the boy, too… at least now he doesn't have to worry about his parents confiscating his iPhone.
So go ahead boys – spend the gift card on the hottest new app, on raising some virtual sheep or on trying to evolve Pikachu.
But once you reach the limit – you're out of luck.
Another video game gift card?
Hell yes!
That's how much boys love video games… trust me, I used to be one (some people claim I still am one 🙄)!
Back in the day, I used to be addicted to Steam games (Half-Life, Counter-Strike… Aaah the good ol' days).
That was in the early 2000s, where video games weren't anywhere near the levels they are today.
Believe me – If I had gotten a Steam gift card for my Bar Mitzvah, I would've gone MAD… in a good way( depends who you ask).
Since I'm too old for it now, hopefully, I'll be able to help some lucky Jewish fella out there get a Steam gift card for his Bar Mitzvah.
"Just do it!"
Do what exactly?
Get the boy a Nike gift card!
Let him decide whether he wants the shoes, the jacket, the bag, the hat, the sunglasses… (OMG! So many choices!)
What About Money?
Despite what the song says: It's NOT all about the money (at least not when it comes to a Bar Mitzvah gift).
In most cases – you'd want to get the boy an actual Bar Mitzvah present.
That said – giving him money is definitely a valid alternative, especially in the following cases:
If you don't know the boy very well
If giving money is the local/cultural expectation (for example – in Israel people usually give money, while in the US, Canada, and the UK they usually give gifts)
If you do decide to go the money route – remember to give money in multiples of $18.
Giving money in multiples of $18 is a symbol for "chai" (which means "life" in Hebrew). It's common in Jewish tradition to give money in multiples of $18 as a present to someone celebrating a Jewish wedding, birth (Bris), or Bar/Bat Mitzvah.
Final Thoughts
You reached the end of the gift guide… congratulations!
Hopefully – you found a Bar Mitzvah gift that caught your attention and making its way to your house as we speak.
While we're waiting – tell me about the present you got… and tell me about the present you wish you got for your Bar/Bat Mitzvah(if you're not Jewish – just imagine you were).
P.S: Got more cool Bar Mitzvah gift ideas in mind? Tell me about them in the comments and I might add em' to the list.
Enjoy the Bar Mitzvah…
Mazel Tov!