25+ Unique & Personalized Bar/Bat Mitzvah Favors, Supplies & Giveaway Ideas (2022)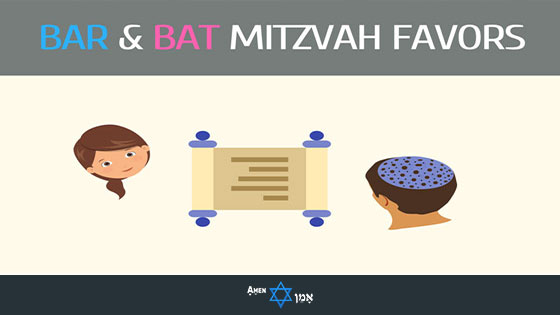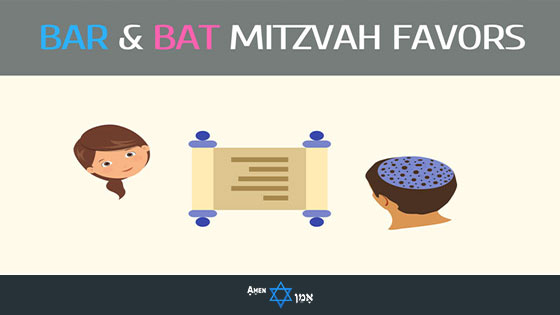 Amen V'Amen is supported by its audience. That means when you purchase something from one of our partners through one of our links, we may earn a small commission at no additional cost to you. Amen V'Amen is also an Amazon Associate, so we may earn a commission from qualifying purchases. Thank you for your support!
If you've been following our Bar & Bat Mitzvah series, by now you should have:
Now… all that's left is to guarantee sure your guests have a blast.
How the heck do you do that?
Easy: you bribe them (in an ethical way 😉) with cool Bar/Bat Mitzvah party favors & cool giveaways, of course! That way, there's NO CHANCE they'll forget your child's Bar/Bat Mitzvah anytime soon 🙂
Top Bar & Bat Mitzvah Favors
After several debates and throwing candy at each other here at Amen V'Amen, we've finally chosen our award-winners… the best Bar & Bat Mitzvah favors that'll send your guests home with a huge smile on their face.
They deserve it, don't you think? After all those wonderful Bar Mitzvah gifts they got for your child's big day, you definitely want to return the favor (hah, get it?) and step up your Bar/Bat Mitzvah swag.
Introducing – Amen V'Amen's 2023 award-winners:
Curious what Bar & Bat Mitzvah swag came close?
Keep reading…
Bar/Bat Mitzvah Candy & Chocolate Favors (Sweets!)
How else can you satisfy your guest's sugar craving?
With sweets of course.
Don't worry, I promise you no one will come after you to pay for their dentist's bill…
Bar/Bat Mitzvah Jelly Belly Candy Tins
Top Candy Favor
We're starting off this sweet category with a sweet treat: Jelly Belly candy tins!
These Jelly Belly candies are sugar-free, Kosher and soy-free… so it's definitely a healthier alternative your guests will be happy to eat, and NOT have to visit the dentist the week after.
Not only are these candy tins sweet, but they're also very elegant (and Jewish) looking: that includes both the Bar Mitzvah and the Bat Mitzvah candy tin.
The Blue Wave Bar Mitzvah version is all dressed up for the party with a big, shiny silver Star of David…
And the Bat Mitzvah? Well, she (yes, Candy is a girl's name) isn't exactly going home without a fight – with her beautifully designed with white snowflakes on top (+ a cute pink ribbon).
Jewish, good-looking, and Kosher – exactly what Jewish parents want for their children. Or in this case – for your guests.
Get it for Bar Mitzvah (Zazzle)
Get it for Bat Mitzvah (Zazzle)
Bar & Bat Mitzvah Chocolate Oreos Party Favors
Ever met a person who doesn't like Oreos?
If you have, please send him over to my office… we're going to have a little chat.
EVERYONE loves Oreos.
Especially when it's covered with a Star of David and a mini Torah.
Ever tried eating a Torah? I know I know, technically you're not allowed to eat the Torah – but trust me – this is "Kosher".
And the best part? Not only can you personalize the Oreo chocolates with your own text and images. You can even choose the type of chocolate and the type of sprinkles you like.
How cool is that?
Get it for Bar Mitzvah (Zazzle)
Get it for Bat Mitzvah (Zazzle)
Star of David Bar/Bat Mitzvah Party Cake Pops
No party is complete without delicious party cake pops.
You can either serve them as your Bar/Bat Mitzvah dessert or just give your guests an exciting sugar rush before they head back home!
Handmade with a secret combination of ingredients, these cake pops are insanely delicious and highly satisfying.
They're available in 3 different flavors:
Chocolate
Vanilla
Red velvet
The icing is also fully customizable: you can choose your own image, or choose to keep the lovely Star of David you see on the image…it is a Bar/Bat Mitzvah after all.
Get it for Bar Mitzvah (Zazzle)
Get it for Bat Mitzvah (Zazzle)
Jewish Fortune Cookies for Bat Mitzvah
I bet you didn't know there's such a thing as Jewish fortune cookies.
These (slightly) sweet Kosher cookies are a wonderful way to decorate your guest's tables for your upcoming Bar or Bat Mitzvah party.
The cookies your guests will open include over 100 different Jewish proverbs, authentic folk-sayings, and witty Jewish jokes (don't worry, they're appropriate and hilarious).
For a very cheap price, you're getting a delicious, fun & hilarious conversational piece your guests will remember for a long time.
Bar Mitzvah Tefillin Gift Basket
Your guests sat there patiently – listening to your son read from the Torah and put on his Tefillin.
Now it's time to give them a treat… LOTS of treats!
Plus… a BIG Tefillin box.
Huh?
Relax… it's just a decorative Tefillin box. You know, to celebrate the boy's Bar Mitzvah and all.
But it's the treats that are the real kicker here… we're talking premium treats that melt in your mouth:
Freshly roasted nuts
Toffee dark chocolate covered almonds
Viennese cashew crunch
Glazed nuts
And guess what… it's ALL Parve!
That means your entire congregation can munch on these treats… even after they had meat!
A fantastic Bar Mitzvah favor you can serve both at the synagogue AND the Bar Mitzvah party.
Popular Bar/Bat Mitzvah Party Favors
Most Bar & Bat Mitzvah supplies are "nice-to-haves": they're cool, but they're not essential. Yet there are a handful of favors that over the years became commonplace in most Bar/Bat Mitzvah ceremonies.
Odds are, if you ever visited a Bar/Bat Mitzvah in the past – you probably received (at least) one of these Bar & Bat Mitzvah giveaways.
Now's your chance to return the favor (pun intended)…only better!
Bar Mitzvah Personalized Kippah Favors
Top Popular Favor
Since men are going to wear a Kippah during the Bar Mitzvah ceremony anyway… then you might as well provide them a personalized Kippah they can wear (you know, just in case they forgot to bring one).
If you ever attended a Bar Mitzvah (or Jewish wedding) before – I'm willing to bet you have at least a few of these Kippot stashed somewhere in your house.
And if you're like me – every time you're inviting guests over Shabbat – you actually hand them those personalized Kippot you got from previous Bar Mitzvah and wedding ceremonies.
Now it's your turn to do the same!
This cute Kippah design even has a picture of Tefillin on it…what do you know – it is a Bar Mitzvah Kippah after all!
Bar Mitzvah Leather Wrapped Tehillim + Jeweled Pendant
Staying with the Jewish theme – only this time with a physical AND spiritual souvenir: King David's amazing book of psalms.
If giving away small leather Tehillim books to your guests isn't impressive enough – then you'll definitely appreciate how stylish (and cheap) it is.
Tip: you can even order a mix of colors!
While giving away small Tehillim books is quite popular, it isn't nearly as popular as it should be.
As much as I like candy – I believe spreading books of Tehillim is much more important. Hopefully, my little rant here will help tip the scale more towards the latter 🙂
Rock Star Bar/Bat Mitzvah T-Shirt
From religious clothing – to funky clothing.
I'm sure you've seen it before: a bunch of guests wearing the same old customized T-shirts with the Bar & Bat Mitzvah's name on it?
Booooooooringggggg 😴…
Now, let me ask you this… Have you ever seen them wear customized shirts with the ROCKSTAR's (aka the Bar/Bat Mitzvah) name on it?
Who's the rockstar, you ask? Ask yourself: Who's the star of the show? Who did everyone come to see?
That's right – your Bar or Bat Mitzvah!
After all – everyone came here tonight for one reason and one reason alone: to enjoy the Bar or Bat Mitzvah's show (and they probably paid good money for it).
If that's not a rock star, then I don't know what is…
And since this is a rockstar event, then you better give away shirts like a rockstar too. Don't disappoint the fans.
Get it for Bar Mitzvah (Zazzle)
Get it for Bat Mitzvah (Zazzle)
Cool Bar & Bat Mitzvah Sweatshirts
T-Shirts?
Grrr… It's too cold!
Well, not if you're having the Bar/Bat Mitzvah party in the middle of July in Miami. Poor thing… in that case, you'd want to skip the sweatshirts and go for the T-shirt version instead.
Cool Bar & Bat Mitzvah sweatshirts like this one became a parent's favorite these days.
And when you give away a witty sweatshirt like this one, it's easy to understand why: half-serious, half kidding (or is it only 40% kidding? I dunno, you tell me).
The good thing about this kind of sweatshirt (which is unisex, by the way) – it actually keeps you warm when you're freezing in the winter! Or when you're feeling nostalgic… or both!
Don't be surprised if you discover one of your guests wearing your Bar/Bat Mitzvah sweatshirt on a cold winter day 3 years from now.
Bottom line: My Bar Mitzvah kicks your Bar Mitzvah's *ss! And here's a sweatshirt to prove it! Muhahahaha!
(Sorry, my inner 13-year-old came out for a second there)
Get it for Bar Mitzvah (Zazzle)
Get it for Bat Mitzvah (Zazzle)
Bar & Bat Mitzvah Dancefloor Giveaways
There are 2 ways to get your guests off their butts and onto the dancefloor:
Alcohol
Cool dancefloor giveaways.
Alcohol is more expensive (and not really suitable for kids).
Then… cool Bar/Bat Mitzvah dancefloor giveaways it is!
Personalized Bar & Bat Mitzvah Socks Favors
Top Dancefloor Giveaway
Want your guests to dance their socks off?
Why do it with boring socks, when you can do it with these cute personalized Bar/Bat Mitzvah socks?
Trust me, after you surprise your guests with these socks, they won't need any alcohol to go crazy on the dancefloor.
Tropical Hawaiian Luau Lei Flowers
A Jewish party with Hawaiian Lei flowers – now there's something you don't see every day.
Except… a dancefloor is a dancefloor. And on the dancefloor – Hawaiians Lei is king.
Wrap your guests with a traditional Hawaiian garland, and watch your dancefloor light up!
Glow Party Favors – 467 Pieces
Speaking of lighting up…
This giant collection of glowing party supplies do just that!
One box contains over 450 pieces of glowing dancefloor favors – everything you need to have a bright & shiny Bar/Bat Mitzvah party:
200 glow sticks
200 bracelet connectors
12 flower/ball connectors
10 glowing eyeglasses
5 skull glasses kits
5 triple bracelet connectors
5 butterfly connectors
This Bar/Bat Mitzvah is lit!
Personalized Challah Bread Bar/Bat Mitzvah Party Favor Aviator Sunglasses
No, you're not imaging. It's sunglasses – with a picture of a Challah on it.
Now picture this…
How ridiculous would it be to see a bunch of grownups dancing on the dancefloor with a Challah on their faces?
I know it doesn't exactly qualify for Hamotzi, but it sure as hell qualifies as a hilarious Bar/Bat Mitzvah swag…
Bat Mitzvah Party Favor Prize Trucker Hat
Your guests are dancing their socks off on the dancefloor and wearing your silly Challah shades… what else could possibly be missing from this ridiculous picture?
I know I know! Why don't we throw a funny looking Bat Mitzvah hat into the mix!
There! Now the outfit is complete!
Unique & Creative Bar/Bat Mitzvah Party Favors
Sure, you can go with any of the traditional Bar & Bat Mitzvah party giveaways we've all seen before.
But if you want your guests to really remember your child's Bar/Bat Mitzvah party, then you need to ramp up the creativity levels and go for unique Bar & Bat Mitzvah souvenirs.
What do I mean by unique? Let me show you…
Bar/Bat Mitzvah Water Bottle Labels
Water has never looked so appealing.
Who needs Coke when you've got personalized Bar/Bat Mitzvah water labels?
That's how you transform a bunch of boring water bottles into cool water bottles everyone would LOVE to put their hands on.
After all – kids can't have alcohol yet, so you've got to make it up to them somehow.
Get it for Bar Mitzvah (Zazzle)
Get it for Bat Mitzvah (Zazzle)
Dark Blue Bar Mitzvah Personalized Water Bottle
Top Unique Favor
Again with the water bottles?!
What the heck is going on here? Am I promoting some weird bottled water company and you don't know it?
Relax… There's no conspiracy theory here, I can promise you that.
I don't know… I haven't seen many Bar or Bat Mitzvah parties (or any party for that matter) where they give away bottled water… Have you?
Exactly my point! That makes it pretty unique if you ask me.
I mean, bottled water is actually useful – it's something everyone can use (and should use) on a daily basis.
It's the kind of favor that does you a big favor and keeps you hydrated during the day (especially during the boiling-hot summer).
Bar/Bat Mitzvah Coffee Mug
Sticking with the whole beverages theme, are we?
Yep, indeed!
Take away my water, take away my breakfast, but DO NOT touch my morning coffee, or my coffee mug! (for your own safety)
But if you do take away my morning coffee mug, the least you can do is replace it with a nice personalized Bar/Bat Mitzvah coffee mug like this one. In that case, your safety is guaranteed.
Get it for Bar Mitzvah (Zazzle)
Get it for Bat Mitzvah (Zazzle)
Star of David Bar Mitzvah Playing Cards
I know what you're thinking:
"This isn't a Las Vegas party! This is a Bar/Bat Mitzvah party!"
Relax… It's not like I'm suggesting you should steal Mike Tyson's tiger.
But wouldn't it be great to give your guests a souvenir they can actually enjoy? Something they can use in their spare time with their friends and family? (hint: think Shabbat and Jewish holidays where electricity isn't allowed).
And when they grow up and do decide to go to Vegas – they'll at least be able to practice their blackjack skills at home before they'll lose all of their Bar/Bat Mitzvah money…
Oy vey!
Get it for Bar Mitzvah (Zazzle)
Get it for Bat Mitzvah (Zazzle)
Bar & Bat Mitzvah Coasters
Meet Davina & Benjamin.
Davina is a Bat Mitzvah and Benjamin is a Bar Mitzvah, and their face is on these cool coasters.
The only problem?
You have no clue who Davina and Benjamin are… so why would you serve your guests drinks with their coasters?
The answer: you wouldn't (and you shouldn't)…
But you DO know your own Bar or Bat Mitzvah. Very well…
And you WOULD (and SHOULD) customize your coasters with a sweet picture of them.
Because when you do – your guests can now do L'chayim and bless your son or daughter directly!
And yes, they get to take them home with them after the event is over! (not your actual child, just their customized coaster)
Get it for Bar Mitzvah (Evermine)
Get it for Bat Mitzvah (Evermine)
Teal Green Watercolor Tree of Life Bat Mitzvah Lip Balm
Boys, turn around… this one is just for the girls (unless you want to embarrass your son in front of his classmates).
I bet you never thought of giving away personalized lip balm on your daughter's Bat Mitzvah, huh?
That's what I'm here for!
Guess what… it's not just any personalized lip balm… it's Jewish lip balm!
No, it doesn't have a Kippah… But it does come with a stunning teal-green watercolor design featuring the Tree of Life & Star of David – two of the most famous symbols in Judaism.
Plus, you get to choose from a rich selection of rich flavors:
Cherry
Spearmint
Vanilla
Pomegranate (another Jewish symbol!)
Pi

ña Colada

Watermelon
Birthday Cake
Mmm, sounds delicious, doesn't it?
Cheap Bar & Bat Mitzvah Favors
Not everyone can afford to spend a ton of money on Bar Mitzvah party supplies for your guests.
I get it, trust me.
That's why I created this section of inexpensive & more affordable Bar Mitzvah supplies, so you won't break the bank trying to satisfy your guests.
Custom Bar/Bat Mitzvah Printable Torah Candy Bar Wrappers
Top Cheap Favor
How cute is this?
Sure, you can simply hand out candy bars and call it a day.
But look at how cute these Torah candy wrappers are.
Tell me it's now worth going the extra mile…
Simply download, print, and wrap your candy bars with these wrappers, and your guests will enjoy their candy bars way more.
Glass Photo Coasters
How would you like a picture frame as a Bar Mitzvah giveaway?
What about a coaster? Or a table decoration?
How about all three?
That's exactly what you get with these beautiful glass photo coasters.
You get a coaster, a picture frame, a table decoration, and one hell of a Bar Mitzvah photo favor for your guests.
And you can get creative with it too: include your guest's picture to indicate assigned seating, or have a picture of your son on it.
Andaz Press Personalized Chocolate Drop Labels Trio for Bar Mitzvah
Hopefully, you got your guests some chocolates or Hershey's Kisses.
That's nice… but we can do better. Much better.
How?
Personalize em'!
These cute & personalized chocolate drop labels will transform any delicious chocolate into personalized delicious chocolate.
Personalized AND delicious? Now you're talking…
My Jewish Heart – Monogrammed Ribbon Hair Tie

Warning: this is mostly relevant for a Bat Mitzvah party (unless you're expecting boys with pony tails in the party).
All your daughter's 12-year-old friends will be waiting for something cool to take home with them… What will that be?
Oh, the suspense…
The one thing every young girl has in common – most of them have long hair.
And most of them will probably want a unique ribbon hair tie, monogrammed with a beautiful Star of David + pearly periwinkle heart, personalized with your daughter's initials. This will guarantee that they'll always have a reason to remember your special party.
So, everyone's happy… including you, because these ribbons are gorgeous and extremely cheap – so you can buy all your daughter's friends a cool souvenir they can actually use.
Recommended: Jewish Bar Mitzvah customs & traditions
Bar/Bat Mitzvah Favor Labels & Tags
You decided to give away cool bar mitzvah treats & goodies.
Now how do you personalize them?
All you need is some labels, tags, and stickers, and you're all set.
Let's look at a few of these cool labels, shall we?
Bar Mitzvah Thank You Favor Tag
Doesn't matter which favor bag you use for your giveaways, it's always a nice touch to add a favor tag to your favor bag (hey, that rhymes!).
And since you want to add a personalized touch, then it only makes sense to personalize the favor tag as well, doesn't it?
That's where these unique Star of David tags come into play. An elegant attach to add to your guest's goodie bags.
Get it for Bar Mitzvah (Zazzle)
Get it for Bat Mitzvah (Zazzle)
Bar & Bat Mitzvah Hang Tags + Personalized Image
Top Label Favor
Want to take your personalized tag to the next level?
Add your Bar or Bat Mitzvah's image to it – and do it in style!
Choose the tag size, shape, colors, text, with/without twine.
In other words: EVERYTHING is under your control.
Go put on your designer clothes… it's time to get creative.
Get it for Bar Mitzvah (Evermine)
Get it for Bat Mitzvah (Evermine)
Personalized Cellophane Bags + Labels Bat Mitzvah Favor
These teeny tiny cellophane bags have a fully personalized label in front of them, with the color of your choice.
Stuff these cellophane bags with your favorite cookies, candy or homemade cookies, and hand it over to your guests.
Isn't that a much more personal gesture than mass-distributing a bunch of candy?
Bar/Bat Mitzvah Favor Boxes & Goodie Bags
You chose the favorite giveaways you'll give your guests.
Now, all that's left is to wrap all of them in cute little Bar Mitzvah favor boxes & candy bags.
Careful, do NOT underestimate the importance of favor bags & boxes… you know what they say about first impressions, right?
Random Blue Star Of David Favor Box
Top Favor Box
Stars of David… so many stars of David, your guests will feel like they're in Israel (maybe they are?)
If you'd to send your guests home with a smile, then I suggest we all learn a valuable lesson from Apple: packaging matters.
And when the packaging is so cheap – well, that's just a no-brainer.
Dark Blue Bar Mitzvah Personalized Favor Bag
The packaging is your gift's first impression.
So, whatever custom Bar Mitzvah souvenirs you choose to give your guests, you need to make sure the packaging is at least as unique as the party favors themselves.
How do you do that? With this personalized Bar Mitzvah favor bag.
Fully customizable to your taste and 100% food-safe, these personalized favor bags will be a beautiful addition to your son's Bar Mitzvah supplies.
Bar/Bat Mitzvah Torah on Blue Marble Personalized Favor Box
You need a favor box…
And it has to be unique…
Hmm…what can we choose, what can we choose…?
I know! How about a personalized box with a picture of a Torah on it!
How awesome is that?
The day your son celebrates his coming of age… right after reading from the Torah – he gives his guests gifts inside a personalized Torah box (just like I personalized my fake Bar Mitzvah box in the picture above).
Conclusion
I promised you the most unique Bar & Bat Mitzvah swag you can find.
Hopefully, I delivered on that promise.
Now, I'm curious: which of these personalized Bar & Bat Mitzvah giveaway ideas did you (or your guests) like best?
Tell me, tell me, tell me! (in the comments below)
Mazel Tov!