Bar/Bat Mitzvah Etiquette: What to Wear, Give & Do (+ What NOT to Do)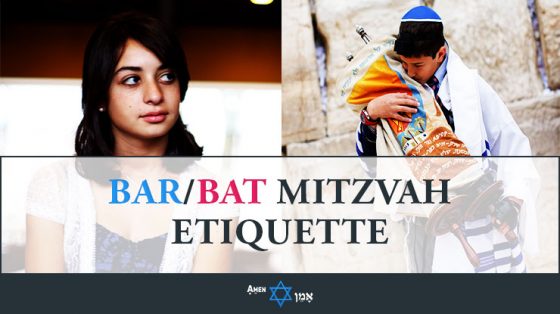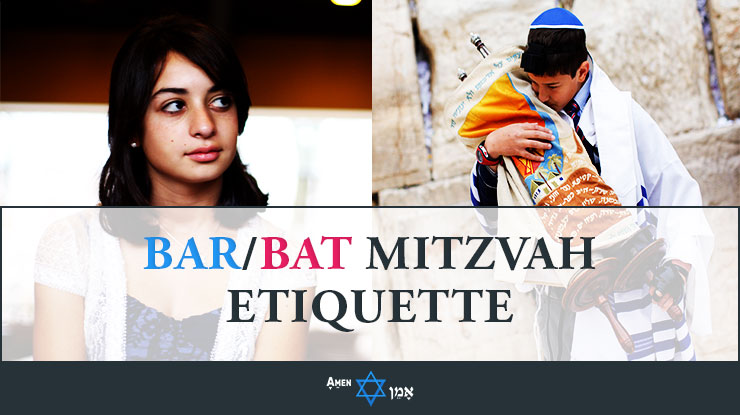 Amen V'Amen is supported by its audience. That means when you purchase something from one of our partners through one of our links, we may earn a small commission at no additional cost to you. Amen V'Amen is also an Amazon Associate, so we may earn a commission from qualifying purchases. Thank you for your support!
Bar/Bat Mitzvah ceremonies these days look NOTHING like the old days.
Here's how it used to look:
You attend the Bar Mitzvah's Torah reading in the synagogue
You get together in the family's house for an intimate Kiddush & light meal (a luncheon)
The Bar/Bat Mitzvah and the parents would give a speech
You go home
The End
Now?
"Intimate" turned into a BIG & flashy Bar/Bat Mitzvah party…
A "light meal" turned into a massive feast with lots of alcohol (for the real adults), music and dancing…
And the speeches? Well, they still exist…including the (not so) funny jokes by the (drunk) uncle.
It's like we entered a new era: Bar/Bat Mitzvah 2.0.
You know what that means…
New Bar/Bat Mitzvah celebration = new rules = new Bar/Bat Mitzvah etiquette.
… What do you wear to a Bar/Bat Mitzvah?
… What gift do you give?
… What should you say (and what shouldn't you say)?
Sit tight… because I'm about to give you the answers to all of those questions (and more) …
Bar Mitzvah Ceremony Etiquette & Behavior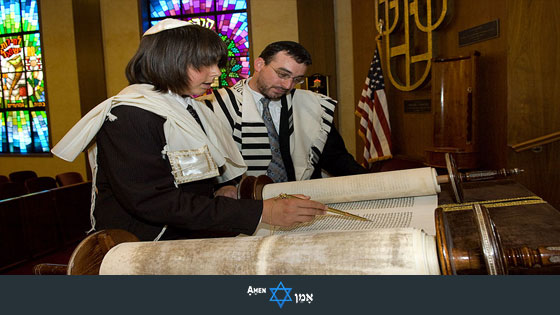 If you're attending a Bar Mitzvah service in a synagogue, then there are a few things you should keep in mind:
1. Dress Appropriately
The Bar Mitzvah service is a semi-formal event that is held in a synagogue (usually on Shabbat).
What does that mean exactly?
It means you should dress modestly & respectfully.
In most cases, the Bar Mitzvah invitation mentions the dress code for the synagogue – FOLLOW IT. The parents mentioned it for a reason.
Believe me, the last thing you want is everyone staring at you like you just landed from Mars. (and Elon Musk hasn't sent anyone to Mars yet, so that must mean you're an alien).
If the invitation doesn't mention any particular dress code – give the Bar/Bat Mitzvah's parents a call and ask for some guidance. Better safe than sorry.
What if the invitation doesn't mention the appropriate dress code, AND your dog ate your homework iPhone?
First, congratulations – your dog is now an iDog.
Second, here's the dress code you should adhere to at a minimum:
For men 👦🏻: Buttoned shirt and/or a suit is fine.
For women 👩🏻: Modest dresses or skirts – knee-length or higher + something to cover your shoulders (a cardigan is fine).
Keep in Mind: The dress code varies significantly in Orthodox, traditional and reform communities. Find out what community the congregation belongs to beforehand and find out what the expected attire is to avoid unpleasant surprises.
2. Wear Jewish Prayer Accessories
Don't worry, this isn't a duplicate of the previous section. This time, I'm talking about specific Jewish prayer accessories men are expected to wear: Tallit (the Jewish prayer shawl), and Kippah (or yarmulke).
Note: A Bar Mitzvah ceremony can also be held on a Monday or Thursday (the days we publicly read from the Torah). And if that's the case – then you'll also need Tefillin.
A Tallit is a prayer shawl Jewish men wear during the morning prayer.
That includes the Bar Mitzvah boy. Now he's a big boy, which means he gets to wear his very own Tallit on his Bar Mitzvah.
Men are also required to wear a Kippah when they enter the synagogue (religious Jews wear one permanently)… But unlike the Tallit – a Kippah is NOT a religious Jewish accessory. You wear it as a sign of respect to God, the prayer, and the synagogue.
So If you're not Jewish – feel free to skip the Tallit and just wear the Kippah.
Did You Know? Most Ashkenazi men start wearing a Tallit after they get married, not after their Bar Mitzvah.
Although most synagogues have a bunch of spare Kippot and Tallitot lying around, I recommend you bring your own just to be safe (if you own them).
Tip: You may need to ask one of the locals to get you a Kippah when you arrive, so dust off your shyness on your way there.
3. Respect the Occasion
That means no cell phones, no pictures/selfies/videos, no smoking… Not only is it disrespectful, but it's also not even allowed on Shabbat.
Avoid speaking out loud to your friends during the prayers (even the ones you haven't seen since primary school).
Note: Especially during the "Amidah" prayer – the "holiest" prayer in the entire morning service.
A synagogue is a holy place for prayer, not for babbling. You'll inevitably see a few people who ignore this recommendation and insist on striking conversations in the middle of the service (which invites the infamous "Shhh!" and "quiet please") …
Don't. Do. It. (despite what Nike tells you)
Wait till the service is over… that's when you'll probably be invited for a light Kiddush meal hosted by the family. NOW you can feel free to catch up with your friends!
4. Be patient & try to follow along (but don't stress it if you can't)
In the Shabbat service, you don't exactly sit down and listen to the Rabbi give a sermon for a half-hour while you start daydreaming about what you'll have for dinner tonight.
Jewish prayers are long and dynamic:
… one minute you sit down
… a second later you stand up, then sit down again
… you cover your eyes with your hands and do all sorts of (seemingly) weird gestures
Relax, I'm not saying you should get ready for the Jewish Olympics, but don't expect to sit still and just "chill" either.
If you've never attended a Jewish service, then inevitably you'll feel baffled and wonder what you should do next:
Should I sit? Should I stand? Should I bow? Should I read out loud? When should I read quietly?
The answer to all of those questions?
Keep it simple.
Just follow what everyone else is doing and you'll be golden.
… Yes, you'll make mistakes
… Yes, you'll find yourself "not in sync" with the rest
… Yes, you might feel embarrassed and think "oh no, people are staring at me"
That's OK, no one is judging you! And if they are… they should know better (I mean, you're in a friggin' synagogue!)
No one expects you to know everything by heart, so don't sweat it.
Important: If you're not Jewish or you feel uncomfortable, there's no need to stand or bow. Feel free to stay seated.
Remember: we all get distracted, lose track (even doze off) during the service… probably more than we like to admit. So, when that happens, take your time to figure out "where are we?", bounce back and join the prayer… it's all good!
Tip: Don't be afraid to ask people around you "where are we?" Many people are ashamed to ask because they fear they'll be criticized… don't be. Jewish folks are very compassionate and willing to help if you just ask. We're sweethearts!
And if you're really determined – you can always complete the prayers you "missed" in private, after the public prayer has ended.
Overall – the Shabbat morning service can last for a couple of hours (usually around 2-3 hours).
If you're having a hard time following the service – know that it's completely normal… Just make sure you keep quiet (Shhhh) and respect the other attendees.
5. Throw candy at the Bar Mitzvah
Wait, what?
Yep, you read that right! When the Bar Mitzvah enters & leaves the Bimah for his Aliyah, he's often bombarded (usually by the women) with candy.
I know what you're thinking: "Are we back in kindergarten? Aren't we supposed to celebrate the boy's adulthood? Throwing food on someone sounds like the opposite – the "descent into childhood"?
Don't worry, there's a reason for it. We're not just a bunch of immature kids who like food fights (although some of us are).
Did you know? This tradition was borrowed from the Shabbat Chatan (or Aufruf) – a Jewish groom's Aliyah before his wedding.
When you blast the Bar Mitzvah with candy, you essentially wish the Bar Mitzvah a sweet life. (hey, I didn't say the reason made sense)
Remember: This is just a Bar Mitzvah custom that some families follow, not a requirement by any means. I suggest you figure out if and when it's OK to start throwing candy before you start plummeting the poor boy with sweets. And of course – make sure the candy is Kosher.
You don't want people to throw you out of the synagogue due to "candy terror", now do you?
Bar/Bat Mitzvah Gift Etiquette: What to Give?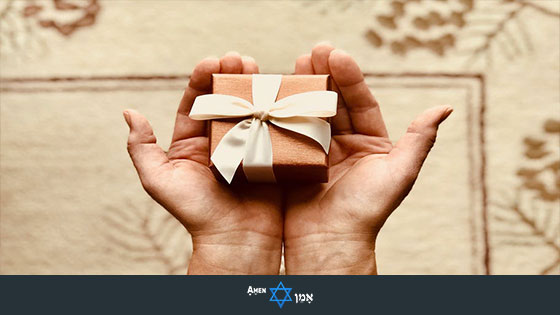 There are two things you can give a Bar/Bat Mitzvah:
Gifts
Money
Gifts
Traditional Jewish gifts like these are terrific:
For a Bar Mitzvah: a Bar Mitzvah Tallit, Kiddush cup, or luxurious bible set are all wonderful options.
For a Bat Mitzvah: Bat Mitzvah Jewelry, Shabbat candlesticks, or a Challah board are all excellent choices.
Money
Decided to go the money route?
Give the Bar Mitzvah money in multiples of $18. The number 18 means "chai"(חי) or life in Jewish tradition. Essentially, you're wishing the Bar Mitzvah a long and successful life.
How to decide between a gift or money?
Before you decide what to give, ask yourself the following questions:
How well do you know the Bar/Bat Mitzvah?
If you're the Bar/Bat Mitzvah's uncle/aunt or cousin – then chances are you know what they like and can get them a gift they'll love.
On the other hand – if it's your coworker's son or your daughter's classmate, odds are you have no idea what makes that child tick. In that case – you might be better off giving money.
If you're attending an OrthodoxBar/Bat Mitzvah, then any of the traditional Jewish gifts I listed above are a great choice.
What kind of gifts do the parents approve of?
Jewish or not, remember that we're still talking about young teenagers here. And teenagers LOVE to get cool gifts like a new iPad or Bose Headphones for their Bar/Bat Mitzvah.
But not every parent wants their 13-year-old owning an iPad… so you better make sure they approve of your awesome gift before you hit that "Buy Now" button.
What's the common etiquette in that community?
Gift etiquettes vary between different countries, cities, and communities. In some countries and communities – gifts are more common than money, while in others, it's the exact opposite.
For example: in the US, Canada, and the UK there's a strong preference for gifts, while in Israel it's ONLY money (seriously, don't bring a gift in Israel… you might get nasty looks).
At the end of the day – both are great options. But always ask yourself the questions above to decide what you should get.
Bar/Bat Mitzvah Attire & Dress Code: What to Wear?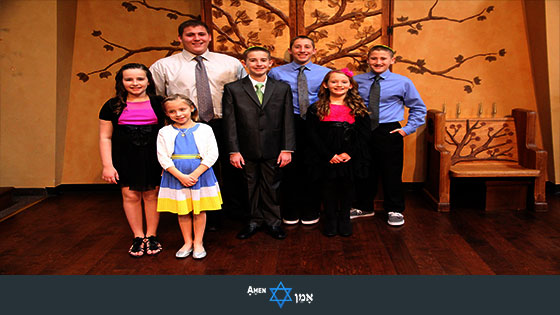 What should you wear to a Bar/Bat Mitzvah party?
Like every complicated question, the (annoying) answer is: it depends.
Where's the party? Is it in a local restaurant with 50 people or is it in the Hilton with 500 people?
Who's invited? Is it just family members and the neighbors down the street? Or is it the whole shebang – the extended (read: endless) family?
Is the family Orthodox, conservative, traditional, or reform?
As you can see – it's hard to give a clear-cut answer when there are so many variables involved.
That said – I'll give you a few general rules of thumb that are true for both teens and adults:
1. Dress Formally
Think of the Bar/Bat Mitzvah party attire as a mini Jewish wedding.
Men wear suits 🤵 (or at least a buttoned shirt), women wear dresses 👗.
2. Dress Modestly
Modesty (Tznius) is one of the cornerstones of Judaism. So obviously, you'd want to dress up properly without revealing lots of "flesh".
How modest, you ask? Depends on how strict the family (or event) is.
For example, if you're attending an Orthodox ceremony – it's best to stick to long dresses (or skirts that are knee-length or higher) and elbow-length sleeves.
3. Dress Respectfully
Don't wear anything that attracts attention, let alone negative attention. You don't want people talking behind your back about how you, or worse, your daughter dressed… now, do you?
Let's just say that letting a 12-year-old girl wear a 6-inch heel to an Orthodox Bar/Bat Mitzvah party isn't the best idea in the world (lower heels are fine though).
Keep in Mind:
There are lots of myths concerning Bar & Bat Mitzvah dress codes out there.
A surprisingly common one is "It's inappropriate to wear black or white to a Bar/Bat Mitzvah".
Such. Utter. Nonsense!
As long as your black/white dress is formal, modest, and respectful – you're golden.
Bar/Bat Mitzvah Party Etiquette: When to Arrive & Where to Sit?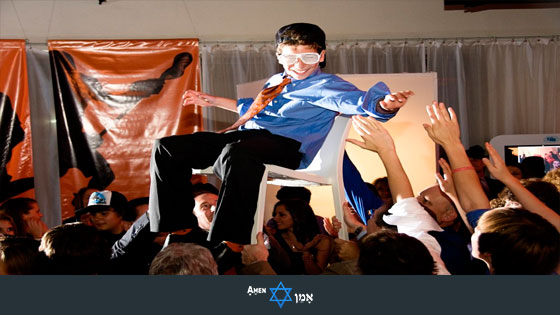 Some people like the idea of arriving "fashionably late". Well, let me tell you – you'd better be on time for Jewish events, otherwise there's a good chance you'll miss the whole thing.
Nobody is going to hold off the Bar Mitzvah service just because you went too far on your beauty sleep.
"Fashionably late"? Not in the synagogue… Remember, you're joining a congregation for their morning prayer. G-d doesn't wait, and neither will they. So make sure you wake up on time, sunshine.
Bar/Bat Mitzvah parties tend to have a little more wiggle room. How much wiggle room depends on the family's arrangements and the party schedule.
Just remember that you're risking missing the reception: food stations, drinks, and other goodies.
Tip: I personally like to get there sooner rather than later. What can I say, I'm a sucker for yummy food stations.
As always – follow the invitation instructions – if they explicitly say to be there on time, then BE THERE ON TIME!
Bar/Bat Mitzvah Wishes & Blessings: What to Say (or Write)?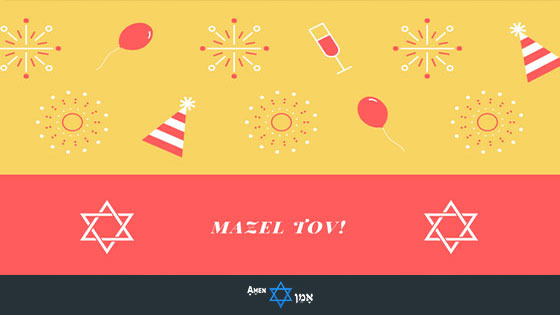 The common Bar & Bat Mitzvah blessing is "Mazel Tov" (translates to "Good Luck"), as opposed to "Happy Birthday".
Note: If the Bar/Bat Mitzvah ceremony is held on Shabbat, you can also wish them a "Shabbat Shalom" (translates to "have a peaceful Shabbat").
"Happy birthday" implies that it's just another birthday, which it clearly is NOT. A Bar/Bat Mitzvah is a once in a lifetime event, so treat it as such.
For the Bar/Bat Mitzvah card – you can put more heart and soul into it. Write your dearest wishes and blessings and try to personalize it to the Bar/Bat Mitzvah as much as you can.
Tip: Granted, most wishes end up sounding the same. If you like your blessing to stand out – check out these creative Bar & Bat Mitzvah wishes (I dare you to try my Jewish Yoda blessing).
Bar/Bat Mitzvah Invitations: How to Respond? (and Who to Bring?)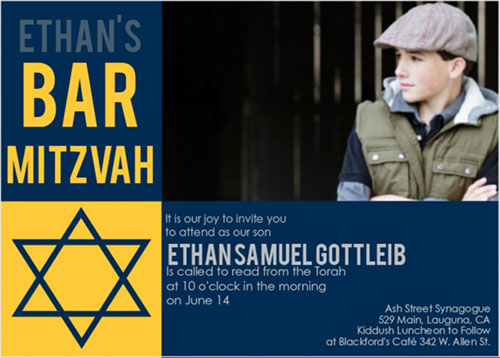 Let's clear up a few things about how you should respond to a Bar/Bat Mitzvah invitation (and when).
You'll usually receive the Bar/Bat Mitzvah invitation a few weeks (or months) in advance. Most invitations will include details about the event: when to arrive, how to RSVP, dress code…
Make sure you respond quickly, especially if it's a big event. Bar/Bat Mitzvah parties are no different than weddings in that respect. The parents need to know if you're coming, and how many are coming so they can make the proper arrangements.
And most importantly: do NOT bring extra people with you after you have already RSVPed. The family has made arrangements based on your RSVP, so please respect that.
Trust me, I've seen my fair share of awkward situations. There's nothing more embarrassing than standing there awkwardly, waiting for the staff to reshuffle the entire seating arrangements… just because you decided to bring a pal at the last minute.
If you end up sitting at the kid's table – you've got only yourself to blame.
Conclusion
The Bar/Bat Mitzvah ceremony is one of the most important days in a Jewish adult's life.
Prepare yourself for one helluva celebration… and even though it's part of the Bar/Bat Mitzvah etiquette – try not to blast the poor kid with too much candy. We don't want any casualties here 🙂
Mazel Tov!