20+ Beautiful Modern Challah Boards, Trays & Plates – Made in Israel (2022)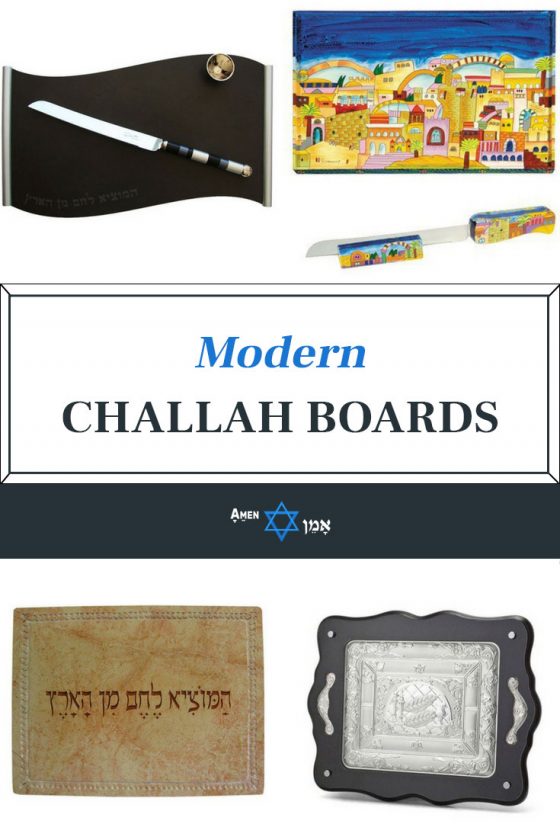 Amen V'Amen is supported by its audience. That means when you purchase something from one of our partners through one of our links, we may earn a small commission at no additional cost to you. Amen V'Amen is also an Amazon Associate, so we may earn a commission from qualifying purchases. Thank you for your support!
The table is set…
The candles are lit…
Shabbat is officially in! Now, go grab a plate and enjoy a delicious Shabbat dinner with your family after a long week.
HOLD ON there tiger! Aren't you forgetting something?
First, we do Kiddush and drink Kiddush wine.
Then, we do Hamotzi and eat a piece of Challah.
… And only then, we get to sink our teeth into the yummy Shabbos food!
Today, we'll focus on the second part – the Challah… specifically, the Challah boards. Because you need to serve the Challah somehow, right?
But I'm not here to help you find just any Challah board (you don't need my help for that)… Instead, I'll help you find beautiful, modern Challah boards that you wouldn't find in an average Jewish kitchen. Because who the hell wants to be average?
Let's begin…
Top Challah Boards
Here's a quick glimpse of the best Challah boards that can upgrade any Shabbat table.
Why did they make the cut (or in this case, slice)? What's so special about them? You're about to find out…
Modern Challah Boards
You can get a standard Challah cutting board for $5-$10 and call it a day.
If that's what you're looking for, then you may want to skip this section…
Because the whole point of modern Challah boards is that they're NOT standard. They're unique, artistic, and yes, they're usually more expensive.
But if you're a person of taste – then this probably sounds exactly like what you're looking for.
If you're thinking: "My new challah plate is about to occupy some kitchen real-estate, so I might as well choose a beautiful one."
Because just like actual real estate – we want our kitchen real estate to look nice.
Top Modern Board
Nambe sure knows how to add a creative touch to their designs.
First, they create a Kiddush cup that looks like The Goblet of Fire from Harry Potter (which, unsurprisingly, has also won Amen V'Amen's "Top Modern Kiddush Cup" award)
Now, they turn a Challah board into a remarkable Geometric design that looks like it was taken straight from a museum.
What's next? They'll make a Challah cover that parachutes on top of the Challah board?
I don't know how they come up with these brilliant designs. But I do know this: I do recognize mastery when I see it.
And this, ladies and gentlemen, is nothing short of a masterpiece.
When was the last time you made Hamotzi in the Western Wall (Kotel)?
Unfortunately, logistics get in the way… It's not always possible to spend hundreds of dollars on a plane ride to Ben Gurion airport and enjoy a nice Shabbat in Jerusalem.
Well, maybe you don't have to… Caesarea Art's lovely Jerusalem stone Challah board might get you close enough. If not physically, then certainly emotionally.
A unique work of art that gives you something to look towards before on Shabbat and other Jewish holidays.
Caesarea Arts? Back to back? They must be doing something right…
Indeed, they are.
This elegant, contemporary wave-shaped Challah board is made in Israel, It's made of a lightweight, scratch-resistant porcelain base with aluminum decorations on the sides.
Plus, if you zoom in on the picture, you'll notice the light Hamotzi blessing engraved at the bottom… so you can skip the Siddur and read the blessing directly from the Challah plate 🙂
A gorgeous & extremely well-thought Challah cutting board for your Shabbat & holiday table.
Spode is known for its popular ceramic Judaica items, and they didn't disappoint their fans and collectors and also designed a fabulous Challah platter as well.
Just like most of their Judaica, Spode designed their modern Challah board after Israel's flag blue & white – what also became Spode's signature design over the years.
Made of high-quality earthenware and is pretty big…so big in fact, that you can serve almost anything with this ceramic Shabbat Challah plate, not just bread.
If you have a few other Spode pieces in your kitchen, or if you know someone who does – then you just found a Jewish Challah tray to complete the collection.
Wooden Challah Boards
Give Israel's finest artists a piece of wood and a few colors, and they'll find a way to produce something great out of it.
That's exactly what happened here with these wooden Challah boards.
As you'll about to witness, these talented artists can take a random piece of wood and transform it into a wooden masterpiece.
Top Wood Board
If you ever walked around art galleries in Jerusalem, then there's probably one name you kept noticing over and over again: Yair Emanuel.
Some people know him by name, others know him by his signature design – the acrylic colors, playful illustrations and admirable attention to detail. Take a look at his wooden Challah board & knife set, and you'll see what I mean.
In case you were wondering – then Jerusalem's old city is hand-painted on the surface of this unique wooden Challah tray.
Wouldn't it be something enjoying the Shabbat dinner (and breakfast) with this colorful Challah board?
A cutting board…that transforms into a serving basket?
Now that's a rather beautiful, unique & useful idea, isn't it?
This made in Israel wooden Challah board basket is well made of carved wood and can easily hold all the Challah bread you're serving your guests during Shabbat dinner.
A great addition to your table, or as a housewarming gift to your Jewish friends & family.
Yair Emanuel, take #2.
But this time, it's a rather unconventional Yair Emanuel design: There are no vivid colors or no hand-painted illustrations.
Instead, he went with a simpler, more elegant style that suits any Jewish kitchen (and much more affordable too).
It has two beautiful, branch-like handles holding gleaming golden leaves & pomegranates – to give a little sparkle to the wooden Challah tray.
Marble Challah Boards
Marble is an interior designer's favorite.
Step into almost any kitchen, and you'll instantly spot at least a few items made of marble. And if it's a Jewish kitchen, there's a good chance that one of those things is the Challah board.
That's right: marble Challah boards are more popular than you think, and in this section – you'll see exactly why…
Top Marble Board
When I found out that Godinger released a marble Challah board with golden handles – I was both confused and excited at the same time.
Confused – because I had no idea they made marble items (I'm a big fan of their silver and crystal Judaica items, as many of you already know by now)
Excited – well, because Godinger just released a friggin' marble Challah board!
And, well, it's a real beauty.
A marble Challah cutting board with a classic touch. That one line doesn't just describe this lovely Challah board; it also happens to be the name of the designer.
Classic Touch Decor' has done an exceptional with its contemporary marble Challah board. Sure, it's no Godinger… but it's still very well made nevertheless (and cheaper).
I particularly like the wooden handles. It adds a layer of sophistication to the plain white. It's this extra addition that gives it a unique look… otherwise, it would look just like a boring marble kitchen top (and that's lame).
I thought I'd end this section with an unusual marble Challah board.
It if wasn't for the handles – you could've easily convinced me that I'm looking at one of Picasso's masterpieces (imagine removing the handles, and it looks no different than a canvas).
But nope – it's a Challah board nonetheless, and a remarkable one at that.
Glass Challah Boards
Glass Challah boards are an elegant way to serve your Shabbat guests.
There's a reason why they make such great gifts. But don't take my word for it… you're about to see for yourself.
Top Glass Board
Is it art? Is it a Challah tray?
It's both.
Lily Art's (the famous glass Judaica designer) unique stainless steel & glass Challah plate features colorful pomegranates, engraved on the glass. Her glass art is fascinating, and you should visit her studio if you get a chance… In the meantime, you can add a small souvenir from her studio to your own Shabbat table.
Sure, you can serve your guests with an ordinary Challah plate for Shabbat… or, you can choose to dazzle them with this gold-plated glass Challah board & knife set.
The Challah platter features a beautiful interpretation of the famous "seven species" of Israel, decorated with 24K gold and sparkling colored crystals.
A true treasure piece, one that is even worthy of passing on to future generations.
Lily Art (by Lily Shohat) – the famous Israeli artist known for her unique glass designs, makes a second appearance on this list, and rightfully so.
The charming tulips & the colorful metal colors (and metal plaque) suddenly makes serving the Challah a delightful experience. Add the nickel handles to the mix, and you get a truly special & unique glass Challah tray.
Silver Challah Boards
Shabbat is also known as the "Queen" (Shabbat HaMalka), so it makes sense to treat our queen accordingly. She is, after all, royalty. And royalty deserves the royal treatment.
How do we translate that to the Shabbat table? Simple: you add a hint of gold and silver to the mix.
And no, I'm not talking about silverware (that doesn't count)? I'm talking about silver Challah boards to make the dinner a little bit shinier.
Now that's way more interesting…
Top Silver Board
Have you've ever bought or received any silver or crystal Judaica before?
If you have, then there's a good chance that Godinger needs no introduction (it's Godinger's second appearance on this list, so they really don't need an introduction)…
But just in case you haven't – then allow me to fill you in: Godinger has been hand-crafting beautiful silver and crystal homeware for over 30 years now. In fact, if you ever read one of our gift guides, then you know how much we adore Godinger's crystal silver and crystal Judaica over here at Amen V'Amen!
Unfortunately, they don't produce a lot of Judaica items, so when they do finally release one – I do a little dance and immediately let our readers know.
And guess what? Godinger has a beautiful silver Challah tray (covered in golden frost) available!
You know what that means: time for a dance, baby (I'll spare you the footage).
Speaking of royal… I have to give credit to the undisputed king of Israeli silver art: Hazorfim.
Hazorfim has been hand-crafting premium silver and sterling silver art for over 65 years, and they haven't left out Shabbat Challah plates & boards.
Their large, high-quality wood + silver-plated Challah tray is bordered & decorated with a typical Shabbat theme: Challah loaves, a Kiddush cup, and Shabbat candlesticks.
Finally, the handles are covered in intricate flowers, making this silver Challah tray not only functional but gorgeous – just what you'd expect from royalty.
Doesn't it look similar to Hazorfim's silver-plated Challah board? Yes, and no…
It also has a silver panel, but the quality isn't exactly "Hazorfim"-level.
Nevertheless, if you liked Hazorfim's silver Challah plate, but found the price too high – then this is a much cheaper alternative.
Made in Israel, this wood + silver-plated Challah board & knife set features a Challah & Shabbat candlesticks design, covered with a protective glass.
Personalized Challah Boards
Let's get personal…
What if you want a Challah board that is customized specifically for your recipient?
After all, nothing beats getting a personalized gift; especially if you just celebrated a special occasion like a wedding or a housewarming.
And let's face it – nothing beats dedicating a personalized gift to someone you love.
If you just found yourself nodding to that last sentence – I have a feeling you'll also "nod" to these personalized Challah boards…
Top Personalized Board
Meet Noa Attias, a gifted paper cut artist from Hashmonaim in Israel (near Jerusalem).
Noa handmakes all kinds of Judaica art from her studio – anything from Ketubahs (gorgeous ones, I might add), to Shabbat candlesticks, and of course – Challah boards!
And today I'll give the spotlight to one particular Challah board – her most popular one, in fact (Noa has sold hundreds of these already): Noa's handmade paper cut Challah board!
Noa makes these with a beautiful 24k gold border surrounding the Hamotzi blessing in the center. She then prints her design, along with your personalized message (if you choose one) on high-quality velvet paper in Israel, before it makes its way from Noa's studio to your doorstep.
A tremendously thoughtful gift for a special occasion like Jewish holidays, weddings, and anniversaries.
This personalized Challah bread cutting board is handmade by Amit Judaica Art. He creates it with an original painting, filled with colorful watercolors and some of the famous Jewish symbols, on top of high quality, durable tempered glass.
You probably noticed there are 7 uniquely painted columns here… yep, one for each of the 7 Jewish species.
And of course: you can personalize it with any wordings, blessings or names you want, either in Hebrew or English…
Now there's a gift they won't forget for a long time…
I figured I'd close off this list with something a little different. OK, a LOT different.
Introducing: a personalized Challah board for Rosh Hashanah.
This tremendous gift is fully customizable; you can personalize it and dedicate it to your Rosh Hashanah hostess, parents or any other Jewish friend and wish them a "Shana Tova" (a good year).
If you're reading this right before Rosh Hashanah – consider yourself lucky: you caught it right on time to get it as a Rosh Hashanah gift.
If you're not reading it before Rosh Hashanah – either get this Challah platter now and wait till Rosh Hashanah comes, or save it so you'll remember to order it before Rosh Hashanah comes around.
Conclusion
A Challah board can be so much more than a boring piece of wood.
Why waste your precious kitchen real estate with a bland piece of wood, when you can instead add a beautiful, artistic Challah plate that makes your kitchen come alive?
And more importantly – why waste the chance to make your dinner table look a-m-a-z-i-n-g on Shabbat and Jewish holidays?
All you need is a beautiful Challah tray, a matching Challah cover, perhaps a modern Kiddush cup – and your Shabbat table will never look the same again!
Shabbat Shalom!