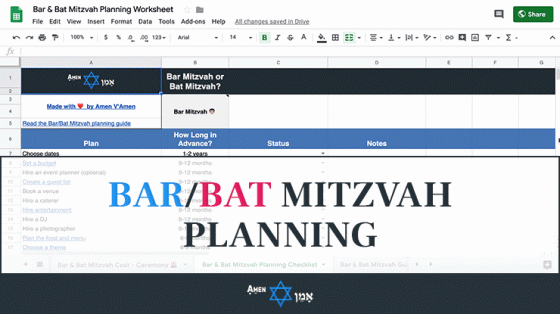 Winston Churchill famously said:
"He who fails to plan is planning to fail".
When you look at most parents planning their kid's Bar/Bat Mitzvah… what do you see?
You see a mother arguing with the venue owner over the decorations.
A father negotiating rates with the caterer trying to lower the price per meal.
Parents pushing buttons on a calculator like merchants in Thailand, desperately trying to keep expenses from inflating like a balloon.
Poor folks… no wonder they're so stressed.
But you know what's funny?
When you ask them: "how's the Bar/Bat Mitzvah preparation coming along?" – they'll usually put on a nice [fake] smile on their face and say something like: "everything is going GREAT!".
That's the moment you realize: everything is NOT great.
The poor parents are racing against the clock, trying to plan the most amazing Bar/Bat Mitzvah party for their kids… but they're fighting an uphill battle – filled with stress, anxiety and the fear of letting their kids down all lingering over their heads.
What did they do wrong?
Just like Churchill said: they failed to plan… and now they're suffering the consequences: holes burning in their pockets, nasty bags emerging underneath their eyes, their brain is quickly turning into a pressure cooker.
That's exactly why I created this guide: to help Jewish parents avoid that trap. Because unlike what pharmaceutical would like us to believe – prevention is always the best cure.
So today, I'll show you…scratch that. I'll GIVE you the exact steps, tools, and timelines you need to plan an unforgettable Bar or Bat Mitzvah (without losing your mind in the process)…
Ready? Let's begin…