25+ Unique Bar/Bat Mitzvah Cake Ideas & Cake Decorations That'll Impress Your Guests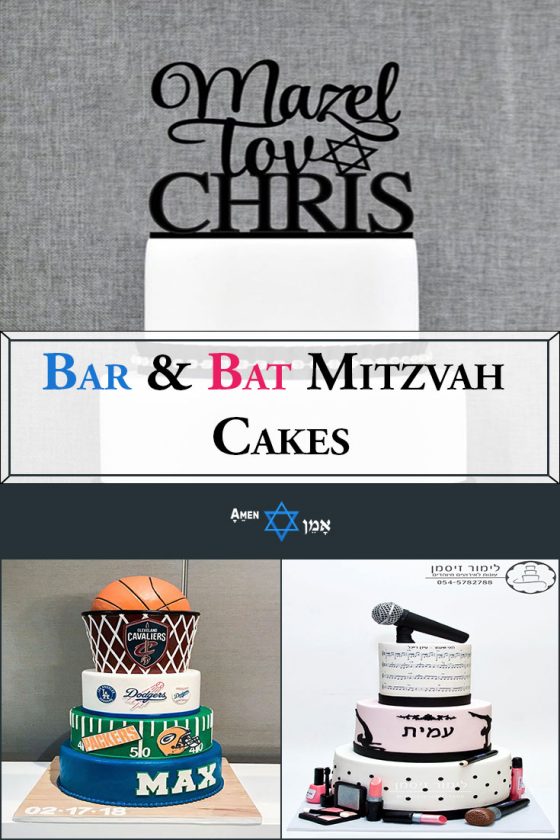 Amen V'Amen is supported by its audience. That means when you purchase something from one of our partners through one of our links, we may earn a small commission at no additional cost to you. Amen V'Amen is also an Amazon Associate, so we may earn a commission from qualifying purchases. Thank you for your support!
Preparing a Bar/Bat Mitzvah for your child is no easy feat.
… Finding a venue

… Sending out dozens (or hundreds) of

invitations

… Making sure

the food

is Kosher and delicious
Just to name a few.
Not exactly a "piece of cake", huh?
Planning your child's big day takes a lot of time and hard work…
But I got good news! Choosing a Bar/Bat Mitzvah cake is not nearly as stressful. In fact… choosing the cake is the fun part. Or you could say – it's the "icing on the cake".
OK, OK, enough with the cake jokes 🙂
Think about it this way – a Bar/Bat Mitzvah is also a birthday – except its 100X more important than a regular birthday.
And as we all know: a birthday without a birthday cake… IS NOT A BIRTHDAY. So imagine what a Bar/Bat Mitzvah without a Bar/Bat Mitzvah cake looks like?
But since you're reading this – I'm guessing you already knew that!
So…
The only question that remains is: "What kind of cake should I get?"
That, my friend, is the question I'll help you answer today…
Let's get crackin'!
Bar/Bat Mitzvah Cake Ideas
First, let's talk about the easy scenario: if you already got a Bar/Bat Mitzvah theme in mind – simply get a cake that fits with the rest of the themed Bar/Bat Mitzvah decorations.
But what you don't have a special theme going on? Or what if you do have a theme – but you rather have a unique cake that'll dazzle your guests so much they won't know whether to eat it or take a selfie with it?
That's what these Bar & Bat Mitzvah cake ideas are for… to help you (and your child) get those creative juices flowing… until you find the cake of their dreams!
Bar/Bat Mitzvah Torah Cake
Bar & Bat Mitzvah Torah cakes are incredibly popular among religious Jewish families.
Not a huge surprise, is it? After all – we are talking about a traditional Jewish ceremony.
Of all the Bar/Bat Mitzvah Torah cakes I've seen (including the ones you'll see in this article), this one is by far my favorite.
The artist? The talented Limor Zisman, who is based in Kfar Yona, Israel (Israel is in the house!).
Don't worry, we'll be seeing more of Limor's amazing cakes momentarily. Or, as they used to say in the cliche infomercials back in the 1990s: "Wait! There's more!"
Bar Mitzvah Sports Cake
"Son, I know you like all kinds of sports… but you've got to pick one. You can't have it all on your Bar Mitzvah cake".
Absolute rubbish!
Just ask Mark Brickman, also known as Baker's Man, who designed this fabulous Bar Mitzvah cake – composed of the boy's favorite Basketball, Football and Baseball teams.
Basketball & Baseball Cake
Want more proof? Alrighty then!
Here's a MASSIVE cake starring the Basketball AND Baseball MVP of the night… the Bar Mitzvah boy!
Bar Mitzvah American Football Cake
Of course, if the boy does have a favorite sport (say, Football) – you can get him a lovely Football cake like this one.
Soccer + Traditional Bar Mitzvah Cake
Now there's an interesting combination you don't see every day: a soccer ball, surrounded by a Tallit and Kippah… What gives?
I'll let Limor do the explaining:
Well said, Limor!
Turns out, with a little creativity and effort – both the parents and the Bar/Bat Mitzvah can have the cake of their dreams… Or in other words, they can have the cake and eat it too 😉.
Sony PlayStation 4 Controller Cake
Careful, don't try to pick up that PS4 controller! You'll ruin a perfectly good cake!
Only 20 years ago, video games were largely considered a giant waste of time. Fast forward to today – video gaming has turned into one of the most lucrative industries in the world.
Yes, boys and girls…
These days, the sentence: "When I grow up, I want to be a professional video game player", doesn't sound so crazy anymore.
And as it turns out – neither does a cake shaped like a PS4 controller…
Bar Mitzvah Shore-themed Cake
This unique Shore themed Bar Mitzvah cake was made by Diane Nussbaum from Diane's Patisserie. According to Diane, this is the most creative Bar Mitzvah cake design she ever made.
Harry Potter Bar/Bat Mitzvah Cake
Did you know that Harry Potter is Jewish?
Poor Harry, Malfoy will give him a hard time when he finds out…
This cool Bat Mitzvah cake was used as part of the Bat Mitzvah candle lighting decoration. Nice!
Harry Potter Bar/Bat Mitzvah Cake – Sorting Hat
Which one would it be? Gryffindor? Slytherin? Ravenclaw? Hufflepuff?
Luckily, this hat doesn't get to make any life-altering choices. Instead, it gets to be eaten! Muhahahaha (evil laughter).
Another awesome cake made by Diane.
Large Bar Mitzvah Torah Cake
Now that's what I call taking it to the next level!
The Torah looks SO real, doesn't it?
Limor with another brilliant masterpiece.
Bat Mitzvah Torah Cake
Here's another decent looking Torah cake / Fresh Prince of Bel-Air (weird combination, ain't it?), from a Bat Mitzvah party.
Bat Mitzvah Torah Cake #2
Another relatively straightforward Bat Mitzvah Torah cake (this one looks homemade, actually).
Bat Mitzvah Nautical Cake
Ready to set sail?
This magnificent Nautical cake will set you up for the ride!
Bar/Bat Mitzvah Sailing Cake
Anchors Aweigh! This ship is sailing towards adulthood! Everyone wave childhood goodbye!
Another fabulous cake designed by the talented Limor Zisman.
Shoe Box Cake
If your daughter is deep into fashion:
First, choose a fashion Bat Mitzvah theme
Second, get her a fashionable Bat Mitzvah dress
Third, get her nice shoes to match the dress
Finally – order a shoebox cake.
Guest: "Waiter, what's for dessert?"
Waiter: "A shoebox, sir".
Guest: 😳
Bat Mitzvah Princess Cake
Limor's creative chops are once again on display with this cake…
The only problem with Limor's cakes? Eating them means ruining a tremendous work of art!
Hollywood Cake
"I want to be a movie star when I grow up!" (if only I had a nickel every time I heard that sentence)…
Tonight – there's only one star: the Bar/Bat Mitzvah!
So instead of going all the way up to Hollywood, just ask Mark to make you a marvelous Hollywood cake like this one… and he'll get the cake to come to you!
Bar/Bat Mitzvah Hollywood Cake
Bar/Bat Mitzvah Hollywood cake – scene 1, take #2.
Aaaaaaand ACTION!
Bar/Bat Mitzvah Popcorn Cake
Speaking of Hollywood… you've gotta have popcorn when you watch a blockbuster movie, right?
Well, Diane's popcorn cake can turn everyone's attention from the movie to the popcorn (cake).
Bar/Bat Mitzvah Minions Cake
Aww. A Minion cake. C-u-t-e!
Dr. Who Tardis Bar Mitzvah Cake
If you never watched Dr. Who, then this (seemingly) innocent-looking police box doesn't seem all that special.
But if you did… you know the truth: It's not a regular police box. It's a time machine!
According to Mark (The Baker's Man), this is one of his all-time favorite cakes he ever made:
I think the word you're looking for is "WOW".
Bat Mitzvah Flower Cake
If you're having a small, intimate Bat Mitzvah luncheon – then a small flower cake like this one fits the bill. Heck, you can even make it yourself. Shouldn't be that hard, I suppose (not that I ever made one)?
Bat Mitzvah Music Cake
Remember the Bat Mitzvah singer cake I mentioned earlier?
Now, THIS is what I'm talking about!
If your daughter dreams of becoming the next Barbra Streisand (sorry, that's the first Jewish singer that came to mind), then this would be an awesome cake for her Bat Mitzvah!
The famous cliche turns out to be true: a picture is indeed worth 1,000 words.
Bar Mitzvah Guitar Cake
Does the Jewish boy dream of becoming the Jewish Carlos Santana?
Then, oh Maria, Maria – here's one helluva cake that'll delight the young man.
As you can see – this cake was dedicated to the Bar Mitzvah boy from his American uncles.
Fellow Americans attending a Bar Mitzvah in Israel – take notes!
Bat Mitzvah Dancer Cake
Dancing with the stars… starring the Bat Mitzvah girl!
A cake like this is perfect for talented twinkle toes.
Ombre Radiant Orchid Bat Mitzvah Cake
Ombre Radiant Orchid. If you're like me – those words don't mean anything to you.
As it turns out – it was voted as the color of the year a few years back.
That's the cake one Bat Mitzvah girl from Atlanta wanted… and that's the cake Mark made her! The bottom tier is decorated with hand made ruffles. It starts with a dark Ombre Radiant Orchid color at the bottom tier and becomes lighter the higher you go.
Indian Henna Bat Mitzvah Cake
Cake designers often get very specific and personalized cake requests from parents. These unique requests are what put a cake designer's abilities to the test.
Limor Zisman gets these type of requests often. She recalls one case in particular, where she was asked to make an Indian Henna cake for an Indian Jewish family.
Bar/Bat Mitzvah Cake Decorations & Toppers
You chose the Bar/Bat Mitzvah cake design you like… but there's still something missing.
"I know! I know! Candles!"
Candles? Naah. This isn't a regular birthday.
"I know! I know! Cake toppers!"
Cake toppers? Don't they usually put those on wedding cakes?
"No, mum. They've got special cake toppers for a Bar/Bat Mitzvah!"
Reaaaaally? Now you're talking!
Classic Cake Topper
This elegant Bar Mitzvah cake topper is as straightforward as it gets.
The boy's name, a nice Star of David and a "Mazel Tov" for good measure.
Of course, you can step it up a notch…
LED Cake Topper
A cake that flashes? now there's something you don't see every day!
You can choose between a LED Torah or a LED Star of David.
Even though this LED Bar Mitzvah cake topper is quite unorthodox, it's great for Orthodox Jews 😉
Fancy Cake Topper
If you're serious about your Bar/Bat Mitzvah cake decorations – you can go the premium route.
This remarkable cake topper of a Jewish boy reading from the Torah is made of genuine, hand-blown glass. You can even choose the finish type: clear glass, silver, gold (yes, gold… heavy gold!)…
Needless to say, expect to pay more for this gem.
Bar/Bat Mitzvah Cake Alternatives
While it's nice to serve cake at your child's Bar/Bat Mitzvah, there are often "logistic challenges" that parents fail to account for:
What if one cake isn't going to "cut it" for all of your guests?

What if you prefer something that is more "mobile" and doesn't force guests to stand in line just to get a piece of cake?

What if you're having a small ceremony, and you're not exactly looking for a lot of "hoo-hahs"?
In that case – here are a few fun and delicious alternatives you can consider.
Bar/Bat Mitzvah Cake Pops
Cake pops (like these delicious Bar Mitzvah cake pops) are an excellent bite-sized dessert, and a fabulous way to end a fabulous day (hey, that rhymes!).
The good thing about cake pops is that you can easily pass these around to your guests, without having guests flock in a line just to get a piece of cake.
Plus, you can order as many cake pops as you need… so none of your guests is left behind (very hard to do with a cake).
Bar/Bat Mitzvah Themed Sweets & Chocolates
What are the qualities of a "winning" Bar/Bat Mitzvah cake design?
It has to be:
Unique

Sweet

Bar Mitzvah-themed
Now take a look at this Tefillin gift basket… and ask yourself:
"Does it fulfill these requirements?"
Let me help you: HELL YES!
Plus, it has an extra 4th quality: It's Parve.
Which means you can serve it after meat, too!
Conclusion
I bet your head is full of unique Bar/Bat Mitzvah cake ideas by now. If it is – then I've done my part…
Now, be a doll and cut me a big piece of that cake, please! You can send it to me in the comments below.
Just kidding… unfortunately, the cake emoji is kind of boring 🎂, so no thank you… but you can leave a comment if you like 🙂
Mazel Tov!