20+ Best Traditional Purim Costume Ideas for Kids & Adults (2022)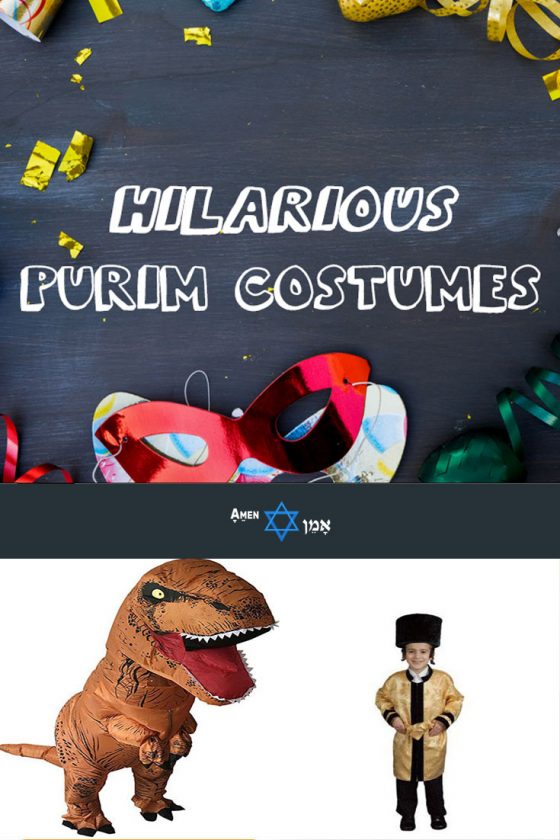 Amen V'Amen is supported by its audience. That means when you purchase something from one of our partners through one of our links, we may earn a small commission at no additional cost to you. Amen V'Amen is also an Amazon Associate, so we may earn a commission from qualifying purchases. Thank you for your support!
You think Halloween is cool?
Pfff…Give me a break!
Purim, aka "the Jewish Halloween", is WAY cooler! (I'm Jewish… so naturally, I'm biased 🙂 )
Especially if you capture everyone's attention with a unique Purim costume that makes everyone else's costume look like a joke.
You might wonder: What does such a Purim costume look like?
That's exactly what this post is for – to show you some of the coolest Purim costume ideas that'll make your kids steal the show at the Purim party!
What about the adults, you ask? Don't worry, I'm not letting you off the hook that easily. By the end of this post, you'll be all ready to suit up for Purim just like the rest of us… (what, you think you're too "cool" to wear a Purim outfit?)
After all, we adults are just kids, only with bigger bodies!
Top Purim Costumes
What Purim costume will make you stand out?
Which of these costumes will your kids approve of (let's face it, they make the shots)?
These are the questions I asked before I chose the very best costumes… and here they are before you:
Purim Costumes for Women
Girls are lucky – they get to dress up as the primary Purim character: Queen Esther.
Rest assured – I'll show you a phenomenal queen Esther costume. But don't think for a second that you're limited to just one costume! In this section, I'll show you several interesting costume options to consider – just to get your creative juices flowing.
Top Women's Costume
It's Purim after all – so it only makes sense to start with the lead Purim character: Queen Esther!
The beautiful Queen Esther was the one who saved the entire Jewish people from Haman's evil plan to annihilate the Jewish people.
Her courage to stand up for the entire Jewish people is the reason we all celebrate the Purim carnival to this day.
Even though this is technically a Renaissance Lady costume, it easily turns into a Queen Esther's costume with a little creative "Jewish spin", and a very fancy one at that… especially when you compare it to other low-quality Queen Esther costumes out there (Ehm. like this one).
This stunning dress is made of high-quality material, and at this price point – it's an absolute bargain. Plus, its full length (as you'd expect from Queen Esther), so you don't have to worry about Tznius.
If you didn't like the first Queen Esther, you may like her twin sister. (just kidding, she has no sister… but her costume does have multiple versions!)
This design is arguably more impressive than the previous queen Esther (although that's a matter of personal preference). It looks more queen-like, thanks to the white silk dress and the golden accents covering the purple robe.
Boys dress up as Pharaohs, it's only natural for the girls to dress up as Cleopatras – the last queen of Egypt.
I mean, why be a princess, if you could be a Queen? And why be "just" a queen, if you can be the queen of Egypt (or, as I already mentioned, Queen Esther)?
Aim higher, ladies!
Purim Costumes for Men
Men have no shortage of traditional Purim costumes to choose from. And some of these costumes, quite frankly, are friggin' hilarious!
Fellas, leave the cliche costumes to everyone else. We're after eyebrow-raising Purim costumes!
Top Men's Costume
Technically, Passover is Moses' official Jewish holiday, not Purim.
No doubt – this would be an awesome Passover costume to wear at the Seder table.
But Moses isn't just a Passover hero. He's a Jewish hero! That means you don't have to wait for Passover to come to wear this costume, it's an excellent fit for Purim as well!
Time to go further down Jewish history lane… to visit Noah.
The story of the flood is one of the most memorable moments in the bible. And thanks to Hollywood's recently skewed version, there's hardly anyone who hasn't heard of Noah.
It doesn't matter if Purim is sunny or not – its always a good idea to dress up and build an ark!
Ok, OK, you don't actually have to build the ark, especially not on Purim – you'll miss out on all the sweets and Mishloach Manot. But dressing up as Noah is still one helluva idea!
This is a costume for you non-Rabbies out there (if you're already a Rabbi, then this costume may not be as exciting).
After all, we're talking about Jewish costumes here… and what better Jewish costume than a hilarious Rabbi costume? (Spoiler: later in the post I included a Rabbi costume for boys. Turns out you're never too young to become a Rabbi!)
There's a reason these awesome Rabbi costumes sell out every Purim (and Halloween)…
Let's take it a step forward, and promote our Rabbi to… Grand Rabbi!
This Purim, I'm challenging you to go to the synagogue, hear the Megillah (book of Esther), and impress the Rabbi with your shiny grand Rabbi costume.
You can even dress up the entire family as Rabbis & grand Rabbis… you'll be one happy Orthodox Jewish family. (hint: there's a version of this costume for boys coming up later in the post)
Now, go show the Rabbi at your synagogue what you and your other grand Rabbis are made of!
Purim Costumes for Girls
Queen Esther isn't just the main character of Purim. She's also the main character when it comes to Purim costumes! Indeed, I'm about to show you several Queen Esther costume ideas you can choose from.
But Purim is so much more than just Queen Esther! There are so many unique Purim outfits girls out there with some sort of "Jewish connection". It might be worth considering these ideas as well before you jump onto the Queen Esther bandwagon…
"Mommy, I want to dress up as a queen".
That's the "normal" (read: boring) version. The Jewish version is much more specific: "Queen Esther! I want to dress up as Queen Esther!"
What girl would want to dress up as a "regular" queen, when she can dress up as the hero of Purim?
Top Girl's Costume
Just like the adult version, there's a second Queen Esther costume you can choose from. This Queen Esther style is more unique than the first one, wouldn't you agree?
The gold trim on the purple robe gives more of a royal look compared to the all-purple dress I included earlier.
There's no "better" or "worse" Queen Esther costume. It's a matter of personal taste, really.
If you think about it, Wonder Woman has a lot in common with Queen Esther:
They were both willing to risk their lives to protect their people
They both believed in using peaceful measures to do the right thing
They're both Jewish!
Yep, thanks to Gal Gadot, Wonder Woman is now officially a Jewish character! So, who's inviting her over for Purim?
Princesses, queens, Cinderellas…
Yawn 🥱… We've all seen this "movie" before a thousand times (I bet you dressed up as one of the above as a child, haven't you?).
Let's flip the script and give our girls something a little more creative: Cleopatra – the first, and only female Pharaoh in history!
Cleopatra managed to become a leader of one of the most powerful nations, at a time where the world was almost entirely dominated by power-hungry men sitting on the throne.
Even to this day, it's rare to find women in top leadership positions, let alone country leaders (here in the US, we are yet to have one).
Besides, a Queen of Egypt costume is also the perfect Passover costume (reminder: Passover is just right around the corner!)
Purim Costumes for Boys
Just like the men's Purim costumes, boys are lucky insofar as they can choose from a ton of Jewish-inspired costumes.
I picked some of my favorites right here…
Top Boy's Costume
The girls have Queen Esther… What about the boys?
Introducing Purim hero #2: Mordechai (Queen Esther's cousin).
If it wasn't for Mordechai, Haman would have gotten his way in killing all the Jews, and he would've hung Mordechai while at it.
Instead, thanks to Mordechai & Esther's courage – naughty Haman's plot was revealed, the king ordered Haman to be hung instead of Mordechai – and the Jews were saved… Woohoo!
Now, you get to dress your kids like little Mordechai on Purim!
In the Torah, it is said that Jewish high priests used to wear a unique piece of clothing in the Jewish temple. It contained:
A blue, sleeveless priestly robe, decorated in gold.
A vest, decorated with two engraved gemstones – containing the names of the tribes of Israel
Twelve gems (Avnei Hoshen), engraved with the names of the 12 tribes of Israel
So there's no doubt this would make a nice Purim costume…
It's cool enough for an adult to dress up as Moses. It's doubly cool if both the men and the boys dress up as Moses! Imagine several Moseses' walking down the street, leading the rest of the "tribe".
And if you're extra creative and have the guts to go the extra mile – you can dress some family members as sheep to get the full "Moses and his Shepherds" costume.
I promise you – you'll turn quite a few heads on the street (people may even call child services, but I trust you'll be able to sort that out)
Noah was supposedly 500 years old when he built the ark. Luckily, your boy doesn't have to wait that long to dress up as Noah (or to build an ark). Kids these days… all they seek is immediate gratification. What, they can't wait a few centuries?
Luckily, the cute beard compensates for their lack of "life experience". They'll look like a 500-year-old teenager!
It takes many years to become a Rabbi… or, you could just wait till Purim comes and become one instantly. This Rabbi costume is one of my favorite Purim outfits for teenage boys. It looks just like the real deal… especially if you carry a Siddur with you just like the kid on the image above.
Notice how the kid is smiling? He's laughing at the idea of dressing up as a Rabbi…
"Why would I dress up as a 'regular' Rabbi, when I can become the Grand Rabbi".
Touché, kid, touché…
Turns out that Purim is the one holiday where dreams, even the most ridiculous ones, come true…
Creative & Funny Purim Costumes
There are two kinds of people:
People who view Purim just as a nice little party, with a few masks and a couple of Hamantaschen
People who view Purim as an opportunity to be creative, giving people the chance to demonstrate who's wearing the funniest or most creative Purim costume in the room.
If you fit the first group, then you might want to skip this section…
However, if you belong to the 2nd group – you're exactly in the right place.
Top Funny Costume
You thought you could throw a party and not invite Trump? I don't think Mr. President would like that… (do you really want to be his next Twitter victim?)
It seems like Trump can't go through the week without getting involved in a new controversy. Well, guess what? With this costume, you will become the latest Trump controversy! That's what happens when you piggyback on The Donald.
Let's face it – if there's a Purim dress-up contest, there's no way you're going to lose with this cool T-Rex costume.
No amounts of Supermen, Spider-men or fake superheroes will be able to take on a good old (very old) dinosaur.
So go ahead and give those superheroes a bite!
The lousy Pharaohs have given us Jews a hard time in the past.
But now that there is no Pharao anymore, let's revive our evil Nemesis! Worst case scenario, we'll flee towards the Red Sea… (the Egyptians don't have a particularly good track record with chasing after us through the Red Sea).
So go ahead, dress up like Pharaoh, it's safe, cheap and impressive!
Oh, Sh*t! Do I need to elaborate here?
Purim Costumes for Couples
Over the years, I've seen many couples trying to team up and create funny Purim costumes they can wear together… honestly – most of them were awful… but a few of them were simply brilliant.
To crush it with a hilarious Purim costume for couples, you first have to convince your significant other to come on board (you try bribing them with a nice bouquet of Purim flowers).
Once they're on board – its time to roll up your sleeves and put on your matching creative hats. Let's get to work!
Top Costume for Couples
"You are my 2nd half".
"You are my soul mate".
"You are my everything".
Yawn… boring.
"You and I are like peanut butter and Jelly".
Now you're talking!
Forget the cliché couple's Purim costumes, and dress up like something worth remembering (and worth eating, but that's another story)
How many times did you say (or think to say) to your significant other:
"Ugh. You're such a crybaby!"
Well, since it's Purim, why don't you join them in being a crybaby!
Cry-babies always seek (and get) attention from everyone around them.
This Purim won't be any different. Double the cry-babies, double the attention!
The cutest Purim costume for the cutest baby couple.
Cool Purim Costumes for Kids & Teens
Us adults had our fun. Now it's time to focus on the kids.
Let's think for a moment: what do kids want on Purim (besides lots of sweets and Mishloach Manot)?
They want to look cool; ideally – cooler than the rest of their friends.
No wonder they keep saying 'No' to the standard Purim costumes. They're just not "cool" enough.
Let me suggest a bunch of Purim costume ideas that are cooler than Fonzie!
Coolest Kids Costume
With all due respect to the DC and Marvel superheroes, our real superheroes are our very own IDF soldiers!
And the fact that you're not spending Purim in Israel, doesn't mean your kid can't dress up like one.
So, before your kid grows up and says to you: "Mom, Dad, I want to make Aliya to Israel and go to the army", he can start with baby steps this Purim…
Remember, Purim is about being cool.
Now you tell me, what's cool about dressing up like a police officer?
The answer: nothing.
It has been overused, and there's nothing exciting about that anymore.
But hang on a second – how about a SWAT costume?
Now that's interesting!
SWAT don't just eat donuts and stuff, they do cool things!
SWAT = cool.
When I was a child, my mom made me wear the same boring cowboy costume… EVERY YEAR (for like 4 years straight).
Kids made fun of me, making jokes like: "Gee, I wonder what Rafael's will wear on Purim…"
If only I had a time machine… I'd wear a cowboy costume for Purim again.
Except, this time I'd arrive on a horse! (and make the horse kick the kid who mocks me).
To become a Pharaoh, you had to be born to royalty. Since Purim lasts only for a single day, we're elevating every family member to Pharaoh status. We've got no time to waste!
An excellent Purim costume, especially if multiple family members dress up as one!
Purim Costumes for Babies & Toddlers
"Awwww, that's so adorable!".
If you have a baby or toddler at home, that's the response every parent is aiming for on Purim.
And with these cute Purim costumes – that's exactly the response you'll get…
Top Baby Costume
You thought pineapple is sweet? Wait till you discover just how sweet it is when your baby is dressed as one!
You know you hit the jackpot with your baby's Purim outfit when other parents stop and take pictures of your baby. And that's exactly what happens when people see a toddler crawling around dressed in this adorable pineapple outfit.
Without a doubt, the cutest Purim costume on this entire list.
Look, everyone! A baby dinosaur with a beer belly!
Even if your baby isn't particularly chubby, this little dinosaur outfit would make your baby seem like they retired and moved to Florida. And that's exactly what makes this cute Purim outfit so hilarious!
Rumor has it that Millenials love avocado (I should know, I'm a millennial 😅). And since Millenials are the ones with babies, I bet they'll love the idea of combining two of their biggest loves into one costume! 
More Purim Costume Ideas
There are SO many clever Purim costume ideas you can choose from. I barely scratched the surface with the ones I included in this post…
So you might want to dig deeper and shop around a bit…
It's also worth checking out the Purim costumes our friends over at HalloweenCostumes.com have in store. They have some interesting gems this year (2023). We told them they should change their name to PurimCostumes.com, but it turns out Halloween is still a big deal (I know, right?!). Besides, they're not as biased as we are here at Amen V'Amen) 🙂
Conclusion
The carnival of Purim is the children's favorite Jewish holiday.
Who am I kidding…? It's one of the favorite holidays among us adults as well!
Don't think so? That's because you're not wearing a Purim costume, you boring snob!
Got a costume for the kids? Great.
Now scroll back up, and choose a cool costume for yourself (if you haven't already). Otherwise, no Mishloach Manot for you!
Purim Sameach 🙂