30+ Best Hanukkah Gift Ideas for Jewish Friends & Family [Adults + Kids] (2019)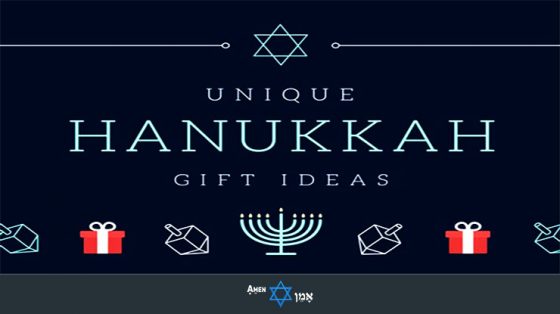 It's that time of the year again, which means…
Hanukkah is around the corner!
The Jewish festival of lights is a great chance to relax:
Light a Menorah
Spin some dreidels
Eat delicious Hanukkah donuts
But more importantly – it's a great opportunity to get together with our Jewish friends and family and tell SHOW them how much they mean to us.
How?
By giving them the best Hanukkah gifts that'll make Santa wish he was Jewish!
"Wait a minute… What are some cool Hanukkah presents I can get?"
Sit tight… because I'm about to show you a bunch of unique & traditional Hanukkah gift ideas you can give for each of the 8 days of Hanukkah!
Let's show the fat guy in the red costume what we've got!
Top Hanukkah Gifts
This Hanukkah gift guide is jam-packed like a Sufganiya with a TON of awesome Hanukkah gift ideas: for kids, adults, adults who behave like kids… you name it!
In fact, it's very easy to get lost in the (virtual) Hanukkah presents isle.
So…
I decided to hand-pick the very best gifts for Hanukkah that'll make your loved ones light up like a Menorah!
Enjoy!
Traditional Hanukkah Gifts
The Menorah is lit.
The Dreidel is spinning.
It's a Hanukkah miracle!
The most common Hanukkah traditions also happen to be the most popular traditional Hanukkah gifts. You simply can't celebrate Hanukkah without them.
So let's go get em', shall we?
Top Traditional Gift
We've all heard about the miracle of Hanukkah a million times: a small amount of oil that was supposed to last for a day – lasted for 8 whole days.
Since then – we light 8 Hanukkah candles every year, and the Menorah became the official symbol of Hanukkah 🕎
But what if I told you that there's a 2nd miracle hidden behind this silver & gold & silver Tree of Life Menorah? A hidden miracle nobody talks about…
The miracle of creation.
The Tree of Life is one of the most ancient Jewish Kabbalistic symbols in the entire Jewish tradition.
How ancient, you ask?
Well, it describes God's creation of the world using 10 interconnected spheres (The 10 Sefirot) – the same 10 spheres that form the Tree of Life… so pretty ancient I'd say.
Now… combine the miracle of Hanukkah with the miracle of creation itself.
What do you get (besides thought-provoking philosophical discussions)?
You get a deep, meaningful Hanukkah gift that completely blows the recipient's expectations and transcends any other gift your Jewish friends can possibly get this Hanukkah.
The "Biography of a Dreidel" looks something like this:
Hanukkah comes… you're excited to spin the Dreidel.
You spin it once. You spin it twice. Spin, spin, spin…
After 8 days of spinning – you're bored to death. Either you're done, or the Dreidel is.
Before you know it – you put the dreidel back in the closet… and there it sits collecting dust all year long.
Shame, isn't it?
Nambè sure thought so.
That's why they decided to approach world-famous designer, Mikaela Dörfel, with an interesting challenge:
"Mikaela, can you create a Dreidel that people would want to keep on display not just for 8 days, but for 365 days… without getting tired of it? A Dreidel that is so beautiful that people would pay money to see in a museum? A Dreidel that doesn't have an expiry date?"
Mikaela took her famous walk in nature to get the creative juices flowing, went to the drawing board to sketch out a rough Geometrical shape. "OK… Let's get to work".
A few weeks, blood, sweat and tears later – this remarkable Geo Dreidel was born.
You can spin it, or you can display it on the stand.
No matter what you do – it still looks amazing.
You could stare at it forever… and that's exactly what you'll do with this masterpiece.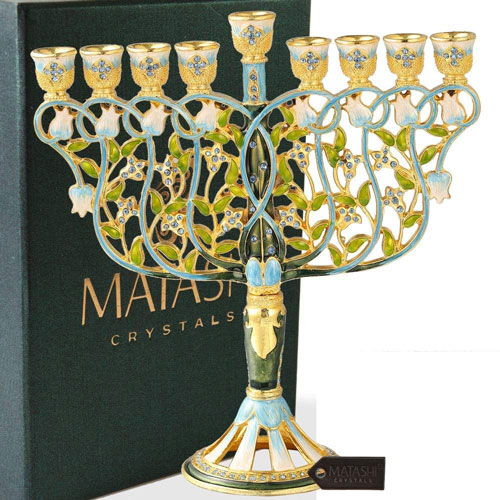 I'll cut to the chase: this is one of THE most beautiful Hanukkah Menorahs I've ever seen in my life (and I've seen many).
That's not surprising, considering it's made by Matashi – who are famous for their legendary crystal designs.
And just like most of their designs – their crystal Menorah is not only gorgeous, it's incredibly affordable (unlike many other luxurious Menorahs that charge an arm and a leg).
Normally – when people stare at the Menorah – it's usually the Menorah lights they're looking at. But when you'll notice people gazing at this Menorah – know that it's not the lights they're looking at… it's the Menorah itself they marvel at.
Hanukkah Gift Ideas for Her
So you're looking for a nice Hanukkah present for a special woman in your life?
The good thing (and the bad thing) about shopping for women is that you pretty much have endless options…
That poses a problem: what gift should you get her when there are SO many options out there?
Don't worry… I'm here to help.
In this section, I'll show you the most unique Hanukkah gift ideas any woman would be happy to get this upcoming holiday.
Whether it's for your wife, girlfriend, or any other special woman you care about – I guarantee these presents will make her "light up" with joy (pun intended)!
Top Gift for Women
Sufganiyot, Latkes, Kugel…
No doubt – your lovely Hanukkah hostess is pouring her heart out this holiday to serve her guests with the most delicious Hanukkah treats… the least you can do is get her a gift with all your heart… in fact, with MANY hearts!
Designed by Yair Emanuel, one of Israel's famous artists – who's famous for his vibrant Jewish artwork.
And make no mistake – that's exactly what this colorful bowl is – art.
You know what that means?
When Hanukkah is over – she won't just stash this bowl with the rest of the bowls.
No, sir…
She'll use it as a decorative piece… because it's just so darn beautiful!
An absolutely magnificent Hanukkah gift for women – whether it's your wife, your mother-in-law or whoever was nice enough to invite you for Hanukkah 🙂
Jerusalem: A Cookbook
Most of us would love to spend Hanukkah in Jerusalem. Hell, I bet you get a little "homesick" even when it's not Hanukkah (I know I do).
The western wall, the Hanukkah candle lighting, the food…
Yes, the food (who are we kidding here?)!
Fact is, life sometimes gets in the way and we can't always pack our bags and catch the next flight to Ben Gurion airport.
The good thing is you don't necessarily have to (at least when it comes to the food).
That's precisely why Yotam Ottolenghi, the famous London-based Israeli chef wrote his bestselling cookbook: so we'll be able to enjoy the vibrant food Jerusalem has to offer from our very own kitchen, without having to pay for a plane ticket.
His cookbook includes a wide range of recipes and cuisines: from middle eastern food (think Hummus and the likes), traditional Jewish pastries, all the way up to Georgian food (yep).
If there's one cookbook any Jewish kitchen MUST have – this is it.
Sure, we light Menorah candles during the 8 days of Hanukkah. But what about the rest of the 357 days of the year?
With everyone talking about Menorahs on Hanukkah, here's your chance to throw a curveball and surprise her with a traditional Jewish gift she can use NOT just on Hanukkah, but all – year – long.
And you're not just getting her any Shabbat candlesticks. You're getting her Nambé's hand-polished candlesticks.
If that name (Nambé) rings a bell – it's because you've probably seen their fabulous art displayed in the Museum of Modern Art in NYC, or in 20+ other museums around the world.
Now, thanks to you – your wife, hostess or anyone else you choose to get this for this Hanukkah – can host an art exhibit of her own and light Shabbat candles at the same time!
Newsflash: Jewelry is a popular Hanukkah gift for women.
Not exactly a "shock", is it?
But here's the thing…
This is Hanukkah, not Valentine's Day.
That's where most men "fail": they get their wife or girlfriend yet another heart-shaped necklace or another <fill in cliche gift here> and call it a day.
While that's nice and all, it's not exactly in the "Hanukkah spirit", now is it?
You know better than that…
Instead, why don't you get the woman you love a special Hanukkah Jewelry gift… something that is designed especially for the Jewish festival of lights.
That's where this breathtaking Menorah + Star of David necklace comes in.
If you look closely, you'll notice that the Menorah is inscribed in Hebrew with King David's famous song from Psalm 67.
The miniature Hebrew text is inscribed in 24k gold forming the Golden Menorah from the Jewish holy temple.
Bonus: It comes with a special magnifying glass you so you can "zoom in" and witness the beauty of the necklace up close.
Now, you tell me: which Jewelry gift is more appropriate for Hanukkah? This golden Menorah masterpiece, or one of the million other "me too" Jewelry pieces she has seen so many times?
Hanukkah Gift Ideas for Him
We Jewish men also deserve a great gift for Hanukkah, don't we?
Lucky for you, buying gifts for men is easy. But believe it or not – even big boys like us have feelings. It doesn't matter whether it's your husband, boyfriend or even your boss.
As a Jewish man, I can tell you this: we all appreciate a thoughtful Hanukkah gift.
Let me show you a couple of popular Hanukkah presents any man would absolutely LOVE.
Top Gift for Men
There's no such thing as a Jewish holiday without Kiddush.
Hanukkah is no exception.
Wish you could've spent this Hanukkah in the holy city of Jerusalem? Well, this splendid silver Jerusalem Kiddush cup will get you close enough.
The extreme level of detail in this incredible Kiddush Cup is truly admirable. It will make every Kiddush a delightful experience in future Shabbat and holidays.
A classic and very appropriate present for Hanukkah any Jewish man will appreciate.
What if a single Kiddush cup isn't enough?
What if the guy is hosting the best Hanukkah party Kiddush in the neighborhood (especially if it's your neighbor)… not to mention if he's got a big family with lots of kids running around spinning Dreidels (maybe in the future, B"H!).
Poor guy needs more than just one Kiddush cup. Could you imagine pouring wine for every single one of your guests (or kids) and passing it along?
The Levivot will get cold by the time everyone has a sip of wine!
The solution? A Kiddush fountain, baby!
That way – he can pour the wine just once, and let the fountain do the job of distributing into 8 different cups!
It's a Hanukkah miracle!
With Santa giving us a hard time during Hanukkah, we're forced to raise our game and find our man a special gift that connects him to his Jewish origins.
So let's leave out the standard watches this holiday, shall we?
Our lovely Jewish designers over in Israel can help us find something equally great, if not greater.
Adi Watches to the rescue!
Designed and made in Israel – Adi's beautiful watch features Hebrew letters in their classic script in a mechanical display and a comfortable black leather band – giving you repeating glimpses of our beautiful language.
Now that's a Jewish gift worth getting a man for Hanukkah…
Get it Here
Hanukkah Gifts for Kids & Babies
Santa Clause is a tough guy to compete with. This means we've got to work harder to make our kids happy with some outstanding Hanukkah children's gifts.
Don't worry, it can definitely be done. But we really have to step up our game…
Now that we've taken care of the adults, it's time to show our kids there's nothing to be jealous of the fat guy in the red costume!
Top Gift for Kids
Ready Santa? Meet your Jewish nemesis: the mensch on the bench!
Ever since the Mensch made a successful appearance on Shark Tank, it has become the go-to Hanukkah gift for kids.
Now, you get a real chance to gather your toddlers around the Christmas tree Mensch and teach them all about the festival of lights in a unique & engaging way.
Did You Know?
Mensch on a Bench was created by Neil Hoffman, a Jewish father who wanted to get his sons excited about Hanukkah. And we all get to thank him for it.
Get it Here
Child: "Ima, are the potato Latkes ready?"
Mom: "Why don't you make your own potato latkes"
Child: "How?"
Mom: "With the Chanukah set I got you"…
KidKraft's wooden Chanukah set might help you actually have a similar conversation with your kids…
Thanks to their cute set, your kids will be able to learn about the Hanukkah meals and traditions. The set includes:
Menorah
Dreidel
Six coins
Two potato latkes, spatula, pan, and a storage bag
A great way to bring the family (and by that I mean the kids) together to celebrate the beautiful festival of lights.
Get it Here
Technically, I'm cheating… I'm giving you a personalized Hanukkah gift idea – even though this isn't the "Personalized Hanukkah Gifts" section. (Shh, don't tell my editor)
But hey – it's a great Hanukkah gift for children – so it damn sure belongs in this section too.
If you're getting a Hanukkah gift for a toddler – then guess what? Very soon – they will:
Learn how to spell their own name.
Then, they'll learn the entire ABC.
Before you know it – they're graduating from college at the age of 6.
And it's all thanks to your little customized Hanukkah present!
Bravo! 👏
OK… that's probably pushing it… But you can at least speed up the process a little bit 🙂
You know what they say – to fully experience Hanukkah you must wear Hanukkah.
This cute Hanukkah themed nightgown is great to get our girls into the Hanukkah spirit.
It's made of 55 percent cotton and 45 percent modacrylic and has long sleeves, so your little girls will feel warm & comfortable while you light the Hanukkah candles.
A perfect Hanukkah present for girls between the age of 2-12.
Get it Here
The Maccabee on the Mantel plush gift is a great way to teach our kids the story of the Maccabees. The hardcover book that comes with it allows you to name the Maccabee and make the story of the Maccabees and Hanukkah much more engaging and fun.
The set also includes Hanukkah blessings and a page for family traditions in the book.
A typical children's gift for Hanukkah that will make your child forget all about Santa, and discover his new Hanukkah Hero – the Maccabee on the mantel!
Did you know? This gift won the Creative Child Product of the Year award in 2014.
Don't our children deserve a "real" Menorah of their own? Of course they do!
Yair Emanuel took care of it for us with his stunning children's train Menorah, made of aluminum.
Imagine your child seeing this magnificent train in action and actually light up on Hanukkah – led by the Shamash in front of the train (the engine).
And unlike us adults, when Hanukkah is over, your kid will be able to play with his new Menorah train during the rest of the year, while you're at work wishing you could join em'.
A one-of-a-kind gift that'll definitely make your gift stand out from the pack.
Personalized Hanukkah Gifts
"Dear X, I love you so much I got you a personalized Hanukkah gift. Enjoy!"
There's no better way to show someone you care than to get them a personalized Hanukkah present just for them.
Add a nice personal message for the cherry-on-top, and you're a real sweetheart! (I trust you can write a more thoughtful blessing than what I wrote above).
Top Personalized Gift
If you're planning to customize for one person – you better customize for everyone…
Otherwise, you risk offending someone… no Jelly doughnut for you!
Or, instead of going through the headache of personalizing a gift for every single family member – you can get a personalized Hanukkah gift for the entire family.
That's where these adorable family Hanukkah sweatshirts come into play!
Now, you can get everyone a personalized Hanukkah present – in one "go".
Thanks to you – Hanukkah just became a "team" sport, not an individual sport!
Are you invited over for Hanukkah dinner? In that case, Latkes should be served in style!
This is the perfect Hanukkah hostess gift…it guarantees you don't go to a Hanukkah dinner empty-handed, and take this personalized Hanukkah serving tray with you (the hostess will take care of the rest).
This beautiful tray is fully customizable with your own photos, texts & designs – so go wild.
Recommended: Looking for things to serve on this beautiful serving tray? Check out some of our delicious Hanukkah recipes.
When people think of "personalization", what they usually think about slapping someone's name onto a gift and calling it a day.
That's what I call "simple personalization".
There's a 2nd kind of personalization – what I call "sophisticated personalization".
That's where you personalize a gift to match someone's character.
Take this took this beautiful ring for example.
Instead of simply putting someone's name on it – you engrave it with a Torah verse of your choice… A Torah verse you know your gift recipient LOVES.
Whether that's "Shema Yisrael", "The Traveler's Prayer", "You Are My Beloved"… or any of the other meaningful Torah verses you like.
That's the type of personalization that you get once but lasts forever.
Get it Here
Unique & Cool Hanukkah Gifts
So far, we've seen plenty of common Hanukkah gifts.
Now, it's time for some "uncommon" cool gifts.
Here are some unique & creative Hanukkah gift ideas that'll make any adult light up like a child (and every child, like a Menorah) this Hanukkah.
Top Unique Gift
Jewish artists are masters at taking beautiful, traditional Jewish symbols and transforming them into a modern piece of art.
Case in point: Tamara Baskin's stunning glass Menorah.
There's something incredibly captivating about Tamara's unique blue & white design – even if you just stare it through the screen.
Imagine how it feels like if you light it up. You'll realize that you tend to "lose yourself" inside the deep, blue & white design.
Let me tell ya – it feels much better than "losing yourself" inside the other blue & white icon on our phones (Facebook…ugh).
And if that's not enough – Tamara guarantees that this Menorah will last you for life.
Note: You read that right: If this contemporary Menorah doesn't last you for life, Tamara Baskin gives you a LIFETIME guarantee, no questions asked.
A spaceship Menorah? Now there's something you don't see every day (hey, I promised you cool Hanukkah gifts…)
I know I know, you're probably thinking… "doesn't this belong in the Kid's section"?
Hell no! I'm nearly 30 years old and I get excited just from looking at this cool spaceship!
Don't you?
This is for you tea lovers out there 🙂
My girlfriend is Brittish. Let me tell you non-Brits a little something about Brittish people: they're crazy (!) about tea. Even more so on Hanukkah!
You eat a Sufganiyah – with tea.
You eat a Latke – and drink tea.
You have tea – with tea.
Now, apparently, you have a Menorah… with tea 🍵.
Small & Inexpensive Hanukkah Gifts
The good thing Hanukkah is that, well, it's not Christmas.
This whole Hanukkah gift-giving tradition was popularized in the US in the first place – mostly due to the competition with the fat guy in the red costume.
The truth is – you don't have to get all these ridiculously expensive gifts and stuff everyone with a bunch of crap they don't need. Competing with the "Joneses" is a surefire way to carve huge holes in your pockets, and it's completely unnecessary.
All you need is a few small & inexpensive Hanukkah gifts to celebrate the festival of lights with your friends & family.
Top Inexpensive Gift
"Yum… this Sufganiya looks delicious!"
Hold on there, tiger! Go wash your hands before the meal!
"But Mooooom".
Don't worry, you can wipe your hands with our cool Hanukkah towels.
"Oh, cool!"
The beautiful towels come in a set of 3, decorated with the famous Hanukkah & Jewish symbols: the Menorah, dreidel, and Star of David, making sure you're washing your hands in the Hanukkah spirit!
A small, cheap and very cool Hanukkah present for your Jewish friends.
Lots of alcohol will be spilled on Hanukkah. As it should be.
Hanukkah is a festival… And you know what the Torah says about celebrating on joyous occasions, right?
"Wine gladdens the heart of man" (Psalm 104:15)
Well, in that case, you may want to preserve your wine so you can preserve it for the next few days.
And what better way to do that than with this cute Menorah bottle stopper?
Such a simple Hanukkah gift – yet so useful…
It's a miracle!
You didn't expect me to have a Hanukkah gift guide and not mention Hanukkah gelt, now did you?
Those of you who remember the good ol' days – before Hanukkah became this huge gift-giving festival… All we used to get as kids was Hanukkah gelt coins. And boy, did my eyes light up every time I got chocolate gelt…
Who am I kidding… my eyes STILL light up when I get chocolate gelt for Hanukkah 😀 (unfortunately it doesn't happen all that often anymore).
And these chocolate gelt coins are even cooler… they come inside a dreidel, as opposed to a tiny little bag. That's 2 Hanukkah gifts in 1 right there!
Funny & Cute Hanukkah Gifts
Knock knock!
"Who's there?"
Funny Hanukkah gifts!
"Who?!"
Open up or I'll light you up like a Menorah!
Don't worry… I promise you the cute Hanukkah presents in this section are funnier than my lame jokes.
Funniest Gift
Did you lose a bet?
No?
Then why am I making you wear these hilarious Hanukkah Menorah socks?
Because you're in the funny Hanukkah presents section, silly!
These socks became a huge hit in the past few years. So come on, join the party! I dare you!
Ugly Hanukkah sweaters are all the rage giggles these days. And it's no wonder – they're friggin' hilarious (if you pick the right sweater).
If you're looking for a cute gift to get your wife or girlfriend for Hanukkah, then stop messing around and start spinning!
Besides capturing attention, this sweater actually has soft long sleeves – which means you'll stay warm as you crack people up!
"Oy vey… Getting someone a throw pillow for Hanukkah is so inappropriate."
Lighten up, chief.
Not only is it appropriate – it's friggin' hilarious!
Oy to the world!
At first glance, The Chosen One's blue and white box seems rather innocent, doesn't it?
That is until you open it and realize what's inside: the most inappropriate (and hilarious) Jewish game ever created.
Here's how it works:
Draw a "typical" Jewish question card
Pair it with an "atypical", Chutzpah-filled answer card
Show everyone who's the funniest, wittiest, "OMG-you're-the-craziest" fella at the holiday table.
The one causing the most drinks to come out of people's noses – wins!
Care for an example? Behold:
This is a killer gift for a Hanukkah host/hostess with a great sense of humor (and a KILLER for anyone without any sense of humor). One thing is for sure: guests who attend this Hanukkah dinner – aren't going to forget it for a very long time.
Did You Know?
The Chosen One donates 10% of its profits to Jewish non-profits and charities. So the moment you get The Chosen One Game, you simultaneously make your first Tzedakah contribution for the new year.
Hanukkah Gift Baskets & Boxes
We've all heard the saying: "When in doubt, buy food". What, there's no such saying? Well, it doesn't make it any less wrong…
Kosher Hanukkah gift baskets are loved by everyone, everywhere, every time (yes, not just on Hanukkah). After all, we should have something (and someone) to blame for our "extra holiday weight"… let it be you!
Top Gift Basket
Spinning the dreidel can get pretty boring after a while.
But eating delicious chocolates, candy, and nuts from a dreidel? That NEVER gets boring! (Especially not when they're all Parve!)
This magnificent Hanukkah tray is full of yummy gourmet sweets, including:
Chocolate Nonpareils discs
Jelly BeansSwiss Petite Candies
Viennese Crunch
Assorted Chocolate Truffles
Jelly Rings
Chocolate Balls
I think I just drooled on my keyboard…
Tip: Alternatively, you can send this Hanukkah gift to your parents, in-laws or any other family members you, unfortunately, don't get to see this Hanukkah.
What if a small Hanukkah tray of chocolate isn't enough?
What if you want to spoil an entire family on Hanukkah?
What if there are simply too many mouths to feed – all hungry for delicious Kosher treats and chocolates?
No problem… How about a TOWER of Hanukkah gift boxes – full of chocolates, candy, pretzels, and nuts. Think that'll be enough?
Do you want the details? Sure…
Small Box:

Jelly Rings, Viennese Cashew Crunch

Medium Box: Blue and Silver Zaza toffies, Silver parve chocolate coins
Large Box: Blue and White sprinkle chocolate pretzels, Roasted salted cashews, honey glazed pecans.
In other words: the answer to the question "How many Hanukkah presents do you give" – according to this gift tower: as much as possible.
Now that's what I call thinking outside the box(es)!
WARNING – if you're a chocolate addict, you probably shouldn't read this (or maybe you should).
If you're shopping for a Kosher gift basket for a Jewish friend who has a soft spot for chocolate (don't we all?) – then you found it.
Meet the gift basket that carries chocolates, cookies, wafers and much more weighing up to 14 pounds. This basket here is the undisputed king of Hanukkah chocolate gifts and will be the reason your friend will call you up after the holiday to join him on his morning runs (you know, to get rid of all the "holiday weight").
Hanukkah is 8 days long. So you'd want to get someone a gift that'll "keep them busy" for the entire 8 days of Hanukkah…
And just as this gift basket's name suggests – this one will definitely do the trick.
Themed with the traditional Hanukkah "geld" and rich with gourmet Chocolate chip cookies, Raspberry Chocolate chip cookies, dark chocolate sea salt cashews, chocolate-covered blueberries, butter toffee peanuts, Florida mix and a bunch of other goodies.
Hanukkah Flower Gifts
For the ladies in the crowd, I'm sure many of you (would like to) tell your husband: "You don't need a special occasion to get me flowers".
Well, if you're reading this, you're in luck – because there's a special occasion around the corner – Hanukkah!
So ladies – make sure your husband/boyfriend reads the following section.
(just share this Hanukkah gift guide with him and give him a gentle "nudge")
And for the gentlemen reading this – choose wisely.
Top Flowers Gift
If there's such a thing as a "Jewish bouquet" – I believe this is it.
Obvious joke: No, not because it's circumcised!
First – it's blue & white…
Second – the unique combination of flowers & colors makes you want to stare at it for hours. And once you do…
It'll capture your focus… light your eyes (no Hanukkah candles needed)… and you'll start to feel that inner sense of bliss…
You know – that feeling you get when you stare at the clear blue sky…
Now you see why this is a perfect bouquet for Hanukkah? (or any Jewish holiday for that matter)
Bonus: Not saying that you should (unless your girlfriend forces you) – but you can include a stuffed animal or chocolates to go along with the bouquet.
The name says it all, doesn't it?
If you're invited over for Hanukkah – you want to make sure you: arrive in style!
How do you that?
Easy: Knock on the door wearing your finest holiday clothes, while holding this gorgeous "Arrive in Style" bouquet.
It's not just about the catchy (and very appropriate) name… this bouquet comes with an impressive array of white (and some Pink Roses) flowers:
White Asiatic lilies
White alstroemeria
White cushion spray chrysanthemums
White statice and colorful pittosporum
In Judaism, white is a symbol of purity. Add a dose of pink to it, and you get stylish purity!
Oh boy, what a treat!
Lilies are my absolute favorite. Not only do they look divine (once the buds open up), they also smell AMAZING!
This phenomenal bouquet is no exception… because Lilies are in there, baby! Along with "cameos" from Daisies, Alstroemeria (and some other flower I can't pronounce).
If you thought Lilies smell incredible, wait till you give this bouquet a good whiff… you'll wish perfume companies would make a fragrance out of it.
Either use it as your main Hanukkah centerpiece or break them apart and sprinkle individual blooms across the Seder table…
No matter which option you choose – I guarantee it'll be a treat!
Time to Blow Out the Candles!
That was fun, wasn't it?
I know, I know… You've got enough Hanukkah gift ideas that will last you for 50 years.
But you don't need 50 gifts. You need 1 great Hanukkah present for each loved one. That's more than enough to put a big smile on their face and make them light up like a Menorah!
Happy Hanukkah everyone! 🙂