30+ Best Hanukkah Gift Ideas for Jewish Friends & Family [Adults + Kids] (2022)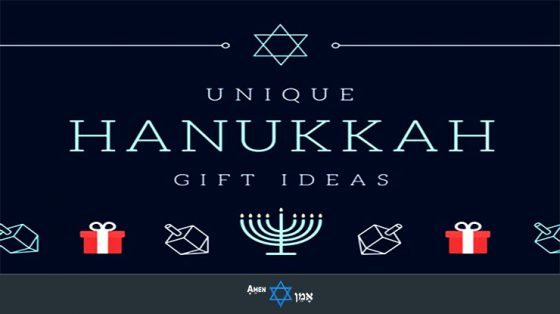 Amen V'Amen is supported by its audience. That means when you purchase something from one of our partners through one of our links, we may earn a small commission at no additional cost to you. Amen V'Amen is also an Amazon Associate, so we may earn a commission from qualifying purchases. Thank you for your support!
It's that time of the year again, which means…
Hanukkah is around the corner!
The Jewish festival of lights is a great chance to relax:
Light a Menorah
Spin some dreidels
Eat delicious Hanukkah donuts
But more importantly – it's a wonderful opportunity to get together with our family and friends and tell SHOW them how much they mean to us.
How?
By giving them the best Hanukkah gifts that'll make Santa wish he was born Jewish!
"But wait a minute… What are some cool Hanukkah presents I can get?"
Sit tight my friend… because I'm about to show you a bunch of unique & traditional Hanukkah gift ideas you can give during the 8 days of Hanukkah! (or if you're super-generous, give one gift on each night of Hanukkah)
Ready? Let's show the fat guy in the red costume what we've got!
Top Hanukkah Gifts
This Hanukkah gift guide is jam-packed like a Sufganiya with a TON of awesome Hanukkah gift ideas: for kids, adults, adults who behave like kids… you name it!
Since it's so easy to get lost in the (virtual) Hanukkah gifts isle – we hand-picked the very best gifts for those of you who can't afford to spend too time looking for Hanukkah presents.
Aaaaand here they are 🙂
Traditional Hanukkah Gifts
The Menorah is lit.
The Dreidel is spinning.
It's a Hanukkah miracle!
The most common Hanukkah traditions also happen to be the most popular traditional Hanukkah gifts. You simply can't celebrate Hanukkah without them.
So let's go get em', shall we?
Top Traditional Gift
I'll cut to the chase: this is one of THE most beautiful Hanukkah Menorahs I've ever seen in my life (and I've seen many).
That's not surprising, considering it's made by Matashi – who are famous for their legendary crystal designs.
And just like so many of their other crystal designs – this crystal Menorah isn't just stunning, it's also incredibly affordable (unlike many other luxurious Menorahs that cost an arm and a leg).
Normally – it's the Menorah lights that capture people's attention. Not this time…
This time – when you'll notice people gazing at this Menorah – know that it's not the lights they're staring at… it's the Menorah itself they marvel at.
The "Biography of a Dreidel" looks something like this:
Hanukkah comes… you're excited to spin the Dreidel.
You spin it once. You spin it twice. Spin, spin, spin…
After 8 days of spinning – you're bored to death. Either you're done, or the Dreidel is.
Before you know it – you put the dreidel back in the closet… and there it sits collecting dust all year long.
Shame, isn't it?
Nambè sure thought so.
That's why they decided to approach world-famous designer, Mikaela Dörfel, with an interesting challenge:
Mikaela took her famous walk in nature to get the creative juices flowing, went to the drawing board to sketch out a rough Geometrical shape. "OK… Let's get to work".
A few weeks, blood, sweat and tears later – this remarkable Geo Dreidel was born.
You can spin it, or you can display it…
No matter what you do – one thing is for sure: it will look amazing.
Yair Emanuel is back, ladies and gentlemen! And this time, he brought cute birdies and pomegranates with him!
Just like many of Emanuel's modern Menorahs – this one has the traditional Menorah "look", combined with his signature contemporary touch.
What's nice about this one is that you can fit both Hanukkah candles and oil cups. So choose the ones you like best!
Hanukkah Gift Ideas for Women
So you're looking for a nice Hanukkah present for a special woman in your life?
The good thing (and the bad thing) about shopping for women is that you pretty much have endless options…
That poses a problem: what gift should you get her when there are SO many options out there?
Don't worry… I'm here to help.
In this section, I'll show you the most unique Hanukkah gift ideas any woman would be happy to get this upcoming holiday.
Whether it's for your wife, girlfriend, or any other special woman you care about – I guarantee these presents will make her "light up" with joy (pun intended)!
Top Gift for Women
Sufganiyot, Latkes, Kugel…
No doubt – your lovely Hanukkah hostess is pouring her heart out this holiday to serve her guests with the most delicious Hanukkah treats… the least you can do is get her a gift with all your heart. Heck, a TON of hearts!
Designed by Yair Emanuel, arguably the top Judaica artist in the world – who's famous for his vibrant Jewish artwork.
And make no mistake – that's exactly what this colorful bowl is – Jewish art at its finest.
You know what that means?
When Hanukkah is over – she won't just stash this bowl with the rest of the bowls.
No, sir…
She'll use it as a decorative piece… because it's just so friggin' beautiful!
A marvelous Hanukkah gift any woman will appreciate on Hanukkah – whether it's for your wife, your mother-in-law or whoever was nice enough to invite you for Hanukkah 🙂
Most of us would love to spend Hanukkah in Jerusalem. Hell, I bet you get a little "homesick" even when it's not Hanukkah (I know I do).
The western wall, the Hanukkah candle lighting, the food…
Yes, the food (who are we kidding here?)!
The fact is, life sometimes gets in the way and we can't always pack our bags and catch the next flight to Ben Gurion airport.
The good thing is you don't necessarily have to (at least when it comes to the food).
That's precisely why Yotam Ottolenghi, the famous London-based Israeli chef wrote his bestselling cookbook: so we'll be able to enjoy the vibrant food Jerusalem has to offer from our very own kitchen, without having to pay for a plane ticket.
His cookbook includes a wide range of recipes and cuisines: from middle eastern food (think Hummus and the likes), traditional Jewish pastries, all the way up to Georgian food (yep).
If there's one cookbook every Jewish kitchen MUST have – this is it.
Newsflash: Jewelry is a popular Hanukkah gift for women.
Not exactly a "shock", is it?
But here's the thing…
This is Hanukkah, not Valentine's Day.
That's where most men "fail": they get their wife or girlfriend yet another heart-shaped necklace or another <fill in cliche gift here>.
New Year's is just around the corner, wait a few more days, will ya?
Instead, why don't you get her a piece of jewelry that fits the "Hanukkah spirit"? Something that is designed especially for the Jewish festival of lights.
Enter: this gorgeous Menorah + Star of David necklace.
If you look closely, you'll notice that the Menorah is inscribed in Hebrew with King David's famous song from Psalm 67.
The miniature Hebrew text is inscribed in 24k gold forming the Golden Menorah from the Jewish holy temple.
Now, you tell me: which Jewelry gift is more appropriate for Hanukkah? This golden Menorah masterpiece, or one of the million other "me too" Jewelry pieces she has seen so many times?
Ugly Hanukkah sweaters are all the rage giggles these days. And it's no wonder – they're friggin' hilarious! Especially when the Menorah has lights that light up!
If you're looking for a cute Hanukkah gift for a woman with a sense of humor, then quit wasting time and start spinning! (don't worry, I haven't forgotten the men)
Hanukkah Gift Ideas for Men
Don't we boys also deserve a nice gift for Hanukkah? What, don't we have feelings?
As a Jewish man, I can tell you this: we do appreciate a warm, thoughtful Hanukkah gift on a cold Hanukkah night (especially in the freezing winter!).
You know, things like…
Top Gift for Men
What if a single Kiddush cup isn't enough?
What if the guy is hosting the best Hanukkah party Kiddush in the neighborhood (especially if it's your neighbor)… not to mention if he's got a big family with lots of kids running around spinning Dreidels (maybe in the future, B"H!).
Poor guy needs more than just one Kiddush cup. Could you imagine pouring wine for every single one of your guests (or kids) and passing it along?
The Levivot will get cold by the time everyone sips wine!
The solution? A Kiddush fountain, baby!
That way – he can pour the wine just once, and let the fountain do the job of distributing into 8 different cups!
It's a Hanukkah miracle!
With Santa giving us a hard time during Hanukkah, we're forced to raise our game and find our man a special gift that connects him to his Jewish origins.
So let's leave out the standard watches this holiday, shall we?
Our lovely Jewish designers over in Israel can help us find something equally great, if not greater.
Adi Watches to the rescue!
Designed and made in Israel – Adi's beautiful watch features Hebrew letters in their classic script in a mechanical display and a comfortable black leather band – giving you repeating glimpses of our beautiful language.
Now that's a Jewish gift worth getting a man for Hanukkah…
Earlier, I promised an ugly Hanukkah sweater for men. Well, I'm here to deliver… big-time, with a Llama on top!
This Happy Llamakah sweater is genius. I've seen a bunch of Llamakah sweaters before, but this one is on a whole other level.
It takes a few moments of actually looking at the sweater to appreciate how absurd this sweater really is.
Here, let me help:
The Llama is wearing glasses

The Llama is wearing a Tallit with tassels sticking out of the sweater (!)

The seemingly random background pattern is actually a collection of Stars of David stringed together.
Like I said: genius.
Hanukkah Gifts for Kids & Babies
Santa Clause is a tough guy to compete with. This means we've got to work harder to make our kids happy with some outstanding Hanukkah children's gifts.
Don't worry, it can be done. But we have to step up our game…
Now that we've taken care of the adults, it's time to show our kids there's nothing to be jealous of the fat guy in the red costume!
Top Gift for Kids
Ready Santa? Meet your Jewish nemesis: Mensch on a bench!
Don't get mistaken – The Mensch might be sitting on a bench, but he's very active on Hanukkah. Ever since the Mensch made his debut on Shark Tank, he has become one of the most popular Hanukkah gifts for kids.
Finally, you've got a real chance to gather your toddlers around the Christmas tree Mensch and teach them all about the festival of lights in a unique & engaging way.
Oh, and you'll have to be the one to tell the Hanukkah story. As friendly as the Mensch may seem – he doesn't talk that much.
Child: "Mommy, are the potato Latkes ready?"
Mommy: "Why don't you make your own potato latkes?" (ouch, that's harsh)
Child: "How?"
Mommy: "With the wooden Hanukkah set I got you"…
KidKraft's Hanukkah set is a cool way to get your kids involved with Hanukkah meals and traditions. The set includes:
Menorah
Dreidel
Six coins
Two potato latkes, spatula, pan, and a storage bag
Now there's a fun way to get the kids excited on Hanukkah!
You know what they say – to fully experience Hanukkah you must become Hanukkah. (ok, I just made that up)
This cute Hanukkah themed nightgown is a fun way to get the girls into the Hanukkah spirit.
It's made of 55 percent cotton and 45 percent modacrylic and has long sleeves, so your little girls will feel warm & comfortable while they light the Hanukkah candles.
A lovely Hanukkah present for girls between the age of 2-12.
Kids, I'd like you to meet The Maccabee on the Mantel. Back in the day, he fought hard against Antiochus and his Greek regime who were causing all sorts of mischief in Jerusalem.
And now, he's here to tell you all about it! (ok, I may have given our hero a bit too much credit, but roll with it).
It's one thing to hear about the Maccabees. It's another story to see one in person (or in plush-form; same thing).
The Hanukkah story just became interactive!
Up until recently, I knew nothing about inflatable Hanukkah decorations. I had heard they were popular, but I had no idea how popular (turns out, very). And leading the army of inflatables is one adorable bear: This pale guy right here! He's EVERYWHERE, and everyone seems to LOVE him.
The bear self-inflates, thanks to a built-in fan installed inside the bear, so you don't have to do anything except plug him in and watch the magic happen.
Perfect if you have a yard, but even if not – let the bear inflate inside. He doesn't take up that much room (plus, you can deflate him).
Personalized Hanukkah Gifts
"Dear X, I love you so much I got you a personalized Hanukkah gift. Enjoy!"
There's no better way to show someone you care than to get them a personalized Hanukkah present just for them.
Add a nice personal message for the cherry-on-top, and you're a real sweetheart! (I trust you can write a more thoughtful blessing than what I wrote above).
Top Personalized Gift
Latkes should be served in style, or they shouldn't be served at all!
Your job – personalize this unique Hanukkah gift tray for the hostess. Her job – is to fill the tray with all kinds of delicious Hanukkah treats!
You went above and beyond and didn't arrive at the Hanukkah meal empty-handed.
Your hostess was ecstatic to receive such an unexpected Hanukkah present.
As a result, odds are you won't leave the meal empty-stomached (is that even a word?).
Everybody's happy!
This isn't your typical Hanukkah candle.
First of all, it smells incredible (especially compared to the iffy olive oil cups)
It arrives in a spectacular gift package
It's completely personalized with your message
With all the hype around the typical Hanukkah candles, it's refreshing (literally) to receive an atypical candle for Hanukkah for a change.
Now there's a sweet Hanukkah gift. Not in a chocolate gelt or Sufganiya kind of way. But in a real, human way.
Unlike the 99% of gifts people get on Hanukkah – a personalized Happy Hanukkah photo frame is something your recipient can continue using for many years (or Hanukkahs) in a row. And if they have kids, next Hanukkah they can just swap the photo with an up-to-date one (so everyone can see how much they've grown in this past year!)
This one is arguably the kindest, most thoughtful gift on this entire gift guide.
Unique & Cool Hanukkah Gifts
So far, we've seen plenty of great Hanukkah gifts. But let's face it – there wasn't anything unusual with most of them.
Don't get me wrong – they're all awesome (otherwise we wouldn't have picked them!). But they're not exactly "Oh wow, what's that?" kind of gifts.
That's all about to change in this upcoming section.
Thes creative Hanukkah gift ideas you're about to see are ALL about that. Believe me, they'll make any adult light up like a child (and every child, like a Menorah) this Hanukkah.
Ok, let's stop with the teasing and dive in!
Top Unique Gift
The Tree of Life is one of the most ancient Jewish Kabbalistic symbols in the entire Jewish tradition.
How ancient, you ask?
Well, it describes God's creation of the world using 10 interconnected spheres (The 10 Sefirot) – the same 10 spheres that form the Tree of Life… so pretty ancient I'd say.
Now… combine that with one of the oldest symbols in the Jewish tradition – and you get a unique and meaningful Hanukkah gift that'll certainly spark some interesting conversations.
Choo Choo! Time to light the Hanukkah candles!
Once again – Yair Emanuel created a surprise that is just as fun for adults as it is for kids.
Imagine your child seeing this magnificent train in action and actually light up on Hanukkah – led by the Shamash in front of the train (the engine).
And unlike most Menorahs that collect dust the whole year after Hanukkah is over – this one can double as your kid's new favorite toy throughout the year!
This is for you tea lovers out there 🙂
My girlfriend is Brittish. Let me tell you non-Brits a little something about Brittish people: they're crazy (!) about tea. Even more so on Hanukkah!
You eat a Sufganiyah – with tea.
You eat a Latke – and drink tea.
You have tea – with tea.
Now, apparently, you have a Menorah… with tea 🍵.
Small & Inexpensive Hanukkah Gifts
The good thing about Hanukkah is that, well, it's not Christmas… even though it certainly resembles it these days.
That's what happens when the fat guy in the red costume puts on a fight – you have to unleash your own Hanukkah gifts just to keep up.
But the truth is – you don't have to get a whole lot of Hanukkah supplies. Competing with the "Joneses" – in this case – Santa and his legion of elves – is a surefire way to light holes in your pockets, rather than Hanukkah candles.
A few small & inexpensive Hanukkah gifts can go a long way. And I'm about to prove it to you.
Top Inexpensive Gift
"Yum… this Sufganiya looks delicious!"
Hold on there, tiger! Go wash your hands before the meal!
"But Mooooom".
Don't worry, you can wipe your hands with our cool Hanukkah towels.
"Oh, cool!"
The beautiful towels come in a set of 3, decorated with the famous Hanukkah & Jewish symbols: the Menorah, dreidel, and Star of David, making sure you're washing your hands in the Hanukkah spirit!
A small, cheap and very cool Hanukkah present for your Jewish friends.
Lots of wine is poured on Hanukkah. As is the case in every Jewish holiday.
After all, Hanukkah is a festival…
But that's not an excuse to binge-drink, young fella! You've got to have some boundaries and put a "stop" to it before you start imagining flying reindeers and join Santa in the psych-ward.
That's exactly where this cute Menorah bottle stopper comes in handy 🙂
You didn't expect me to have a Hanukkah gift guide and not mention Hanukkah gelt, now did you?
It's impossible to imagine Hanukkah without Gelt. It's been a Hanukkah staple for god how knows how long, and that tradition continues to this day.
Those of you who remember the good ol' days – before Hanukkah became this huge gift-giving festival… All we used to get as kids was Hanukkah gelt coins. And boy, did my eyes light up every time I got chocolate gelt…
Who am I kidding… my eyes still light up when I see chocolate gelt 😀
Funny & Cute Hanukkah Gifts
Knock knock!
"Who's there?"
Funny Hanukkah gifts!
"Who?!"
Open up or I'll light you up like a Menorah!
Don't worry… I promise you the cute Hanukkah presents in this section are funnier than my lame jokes.
Funniest Gift
Did you lose a bet?
No?
Then why am I making you wear these hilarious Hanukkah Menorah socks?
Because you're in the funny Hanukkah presents section, silly!
These socks became a huge hit in the past few years. So come on, join the party! I dare you!
I have a little dreidel
I made it out of clay
And when it's dry and ready
Then, dreidel I shall play.
Come on, you know the song!
This creative Out of Clay Hanukkah pillow is a fresh spin (get it, spin?) on the famous Hanukkah song.
It doesn't matter if you've heard the song a million times… It'll still put a smile on your face!
After all, not every day do you get to see a Hanukkah classic come to life…let alone on a pillow!
A delightful gift that'll bring "color" to your gift recipient's couch 🙂
What's with all the pillows? Well, it's not fair to "arm" only one person with a pillow… we need a level playing field! That's where this Hanukkah throw pillow comes into play.
"Oy vey… Getting someone a throw pillow for Hanukkah is so inappropriate."
Lighten up, chief.
Not only is it appropriate – it's friggin' hilarious!
Oy to the world!
Hanukkah Gift Baskets & Boxes
We've all heard the saying: "When in doubt, buy food". What, there's no such saying? Well, it doesn't make it any less wrong…
Kosher Hanukkah gift baskets are loved by everyone, everywhere, every time (yes, not just on Hanukkah). After all, we should have something (and someone) to blame for our "extra holiday weight"… let it be you!
Top Gift Basket
This gift box is all dressed up for Hanukkah – with the traditional blue and white colors and everything.
But you (hopefully) wouldn't hire someone just based on how they dress, now would you?
So, let's see what's inside the gift box:
Chocolate and yogurt covered mini pretzels
Blue foiler caramel chocolates
Dark chocolate almond toffee bites
Milk and white chocolate covered mixed nuts and chocolates
And of course – it's all 100% Kosher, 100% affordable and 1000% d-e-l-i-c-i-o-u-s.
Now that's a Hanukkah gift box I would hire eat in a heartbeat!
Spinning the dreidel can get boring after a while.
But eating delicious chocolates, candy, and nuts from a dreidel? That NEVER gets boring! (Especially not when they're all Parve!)
This magnificent Hanukkah tray is full of yummy gourmet sweets, including:
Chocolate Nonpareils discs
Jelly BeansSwiss Petite Candies
Viennese Crunch
Assorted Chocolate Truffles
Jelly Rings
Chocolate Balls
I think I just drooled on my keyboard…
WARNING – if you're a chocolate addict, you probably shouldn't read this (or maybe you should).
If you're shopping for a Kosher gift basket for a Jewish friend who has a soft spot for chocolate (don't we all?) – then you found it.
Meet the gift basket that carries chocolates, cookies, wafers and much more weighing up to 14 pounds. This basket here is the undisputed king of Hanukkah chocolate gifts and will be the reason your friend will call you up after the holiday to join him on his morning runs (you know, to get rid of all the "holiday weight").
What if a small Hanukkah tray of chocolate isn't enough?
What if you want to spoil an entire family on Hanukkah?
What if there are simply too many mouths to feed – all hungry for delicious Kosher treats and chocolates?
No problem… How about a TOWER of Hanukkah gift boxes – full of chocolates, candy, pretzels, and nuts. Think that'll be enough?
Do you want the details? Sure…
In other words: the answer to the question "How many Hanukkah presents do you give" – according to this gift tower: as much as possible.
Now that's what I call thinking outside the box(es)!
If you've never tried Godiva (what the heck is wrong with you?!) – there's nothing I can say to describe how amazing it is. Merely calling it delicious would be a huge understatement. It's one of those things where you have to "see it to believe it" (or in this case – taste it to believe it).
Sure, Godiva's Kosher gift box isn't made specifically for Hanukkah; it doesn't have any fancy Hanukkah decorations or gift wraps like the other gift boxes. The quality is fully contained inside the chocolate itself.
Let me put it this way: if you're looking for a Hanukkah gift for a chocolate addict (or chocolate snob) – there's a good chance this will be the best present they received this Hanukkah (or any Hanukkah for that matter).
Hanukkah Flower Gifts
For the ladies in the crowd, I'm sure many of you (would like to) tell your husband: "You don't need a special occasion to get me flowers".
Well, if you're reading this, you're in luck – because there's a special occasion around the corner – Hanukkah!
So ladies – make sure your husband/boyfriend reads the following section.
(just share this Hanukkah gift guide with him and give him a gentle "nudge")
And for the gentlemen reading this – choose wisely.
Top Flowers Gift
If there's such a thing as a "Jewish bouquet" – I believe this is it.
First – it's blue & white…
Second – the unique combination of flowers & colors makes you want to stare at it for hours. And once you do…
It'll capture your focus… light your eyes (no Hanukkah candles needed)… and you'll start to feel that inner sense of bliss…
You know – that feeling you get when you stare at the clear blue sky…
Now you see why this is a perfect bouquet for Hanukkah? (or any Jewish holiday for that matter)
The name says it all, doesn't it?
If you're invited over for Hanukkah – you want to make sure you: arrive in style!
How do you that?
Easy: Knock on the door wearing your finest holiday clothes, while holding this gorgeous "Arrive in Style" bouquet.
It's not just about the catchy (and very appropriate) name… this bouquet comes with an impressive array of white (and some Pink Roses) flowers:
White Asiatic lilies
White alstroemeria
White cushion spray chrysanthemums
White statice and colorful pittosporum
In Judaism, white is a symbol of purity. Add a dose of pink to it, and you get stylish purity!
Oh boy, what a treat!
Lilies are my absolute favorite. Not only do they look divine (once the buds open up), they also smell AMAZING!
This phenomenal bouquet is no exception… because Lilies are in there, baby! Along with "cameos" from Daisies, Alstroemeria (and some other flower I can't pronounce).
If you thought Lilies smell incredible, wait till you give this bouquet a good whiff… you'll wish perfume companies would make a fragrance out of it.
Either use it as your main Hanukkah centerpiece or break them apart and sprinkle individual blooms across the Seder table…
No matter which option you choose – I guarantee it'll be a treat!
Time to Blow Out the Candles!
That was fun, wasn't it?
I know, I know… You've got enough Hanukkah gift ideas that will last you for 50 years.
But you don't need 50 gifts. You need 1 great Hanukkah present for each loved one. That's more than enough to put a big smile on their face and make them light up like a Menorah!
Happy Hanukkah 🙂