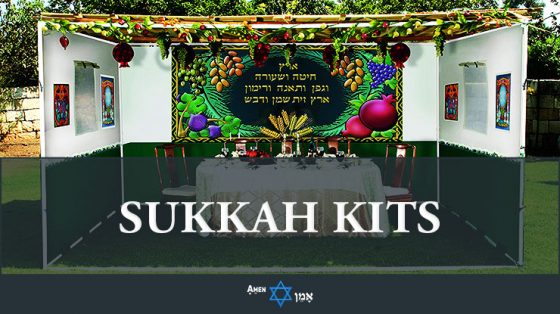 Let's be honest: not having your own Sukkah on Sukkot sucks.
You walk around the neighborhood and see your Jewish friends & neighbors all chilling in their Sukkah, having a good time…
You think to yourself: "Damn, I wish I had built my own Sukkah"…
How about we avoid that feeling, shall we?
Now, you may be wondering…
… Isn't it hard to build a Sukkah?
… Doesn't it cost a fortune?
… Doesn't it take forever?
… Do I need to be a lumberjack to build one?
… What if I fall down the ladder and break my pinky finger?
The answer to ALL of these questions (including the last one): No.
You see, up until a few years ago, I thought that building a Kosher Sukkah (aka a "Jewish tent") was a huge chore, so I never bothered trying…
But then one year I mustered the courage and decided: "What the hell, let's give it a shot. How hard can it be?".
Turns out – VERY hard – if you're building one yourself from scratch. But VERY easy – if you're using a Sukkah kit.
If you've got the right Sukkah building kit – it can literally save you hours (if not days) of total frustration.
Turns out, with the right kit, building a Sukkah is not that different than building Legos. And I trust you can handle legos, yes? Good – then you can handle building a Sukkah, even if you've never built one.
Now, the only question is you: How do you find the right Sukkah?
Whether you're looking for an affordable Sukkah or an easy-to-assemble Sukkah kit, the answer is the same: right here, right now.
Let's begin…