Ketubah Framing: How, When & How Much It Costs?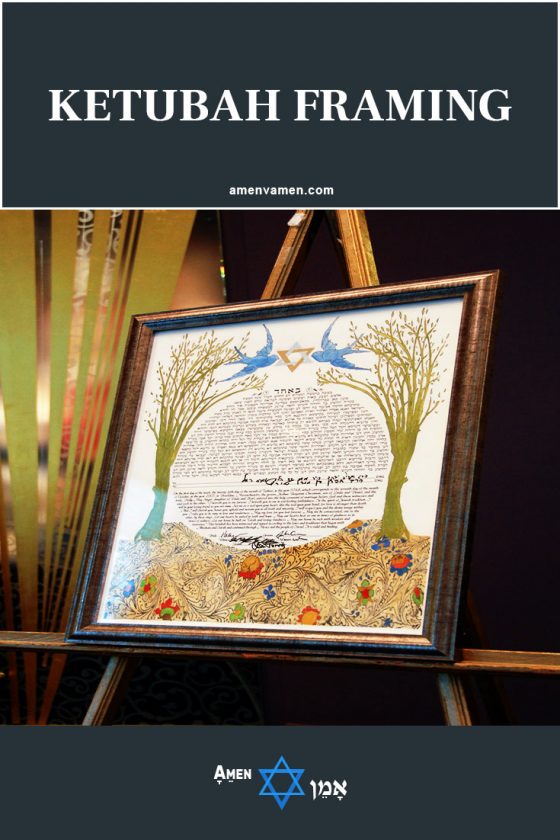 Amen V'Amen is supported by its audience. That means when you purchase something from one of our partners through one of our links, we may earn a small commission at no additional cost to you. Amen V'Amen is also an Amazon Associate, so we may earn a commission from qualifying purchases. Thank you for your support!
When you're busy planning your wedding in full throttle, the last thing on your mind is "gee, I should probably get my Ketubah framed".
And you're right – compared to the bigger wedding arrangements (like the wedding dress, food, seating arrangements, etc'), framing a Ketubah seems like a minuscule thing, doesn't it?
Heck, a naive bride might even think: "Pfff, a Ketubah frame? Who the hell needs that?"
That is until your Ketubah is knocked over at the wedding ceremony, someone spills some Kiddush wine on it, or your 8-year-old cousin touches the Ketubah with his greasy hands from the Schnitzel he just ate…
That's when you realize: "Gee, I wish would've framed my Ketubah" …
Moral of the story? Don't neglect the little things, if the little things can come back and bite you in the as*.
So today, we're going to apply that moral and learn how to frame your Ketubah properly 🙂
To Frame or Not to Frame?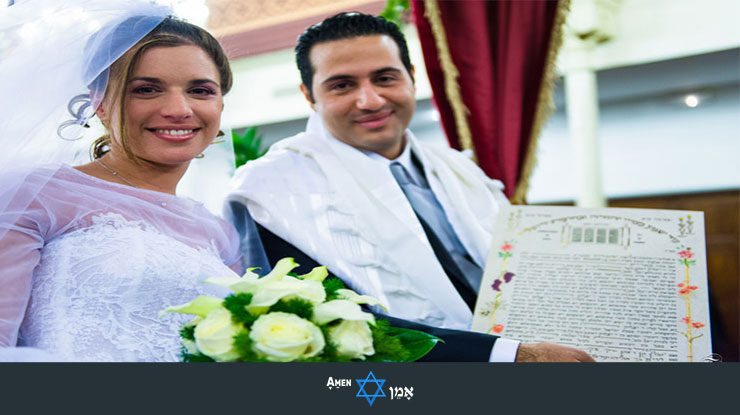 Before you swipe your credit card and add to your looming wedding expenses, ask yourself: "Do I really need to frame my Ketubah?"
That depends:
Are you planning on displaying it at the wedding ceremony?

Are you planning on displaying it in your home later?

Do you even care? Or is the Ketubah just another item on your To-Do list?
If the answers to the questions above are a resounding 'No', then… Why bother?
Jewish tradition doesn't mention anything about fancy Ketubah designs or custom Ketubah frames. As the old (cliche) saying goes: "It's what inside that counts".
In this case – the "inside" is the Ketubah itself. You can get a nice-looking Ketubah (or even print one yourself for free), without jumping through all the hoops and frames (pun intended). Plus, you'll be saving a lot of money.
That being said, if you feel uncomfortable leaving your Ketubah completely "exposed", you can get a simple frame without shelling out hundreds of dollars on a custom Ketubah frame (more on that later).
On the other hand, if you answered 'Yes' to the questions I raised above – then framing the Ketubah it is!
Now, to the big question…
How (and When) to Frame the Ketubah?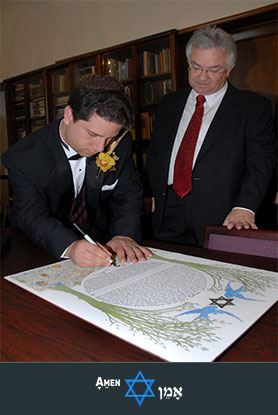 If you're planning on displaying the Ketubah at the wedding, the best way is to mat and frame the Ketubah before the wedding and strip out the glass cover. That way, you can display the Ketubah on an easel at the Kabbalat Panim before it is signed by the witnesses. Once the Ketubah is signed and the ink has dried (even better – use a fade-resistant pen), you can add the glass back on.
This solution also prevents awkward situations where the local framer accidentally covers important parts of the Ketubah (like the signatures, oy vey!) with a mat. Turns out not everyone knows what a Ketubah is… who knew?
Tip: If you do take it to a local framer or designer – tell them beforehand what to not cover the important bits of the Ketubah (like the signature area). A little planning goes a long way.
Another option is to have the framer put the Ketubah a foam core backing as a temporary solution for the ceremony, and later frame it if you plan on displaying it at your home.
How Much Does it Cost to Frame a Ketubah?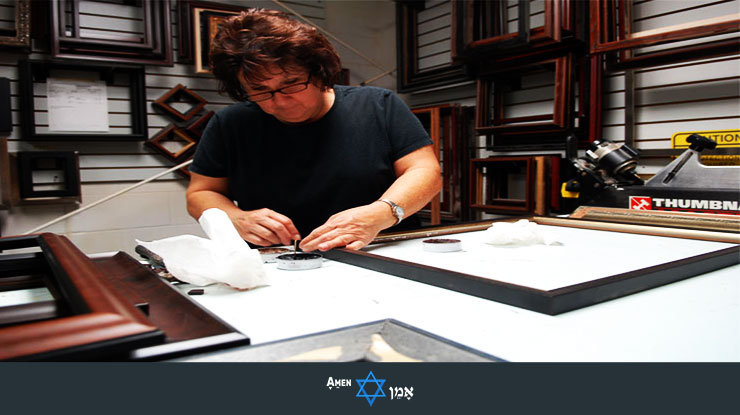 You've got several options when framing your Ketubah:
A simple frame

A custom frame

A combination of the two (simple frame for the ceremony, custom frame for the home)
Let's look at each of these options…
Simple Frame
A simple frame (like this one) isn't fancy, but it's cheap, and it gets the job done. A simple frame should cost you anywhere from $15-$35, depending on the size of your Ketubah.
If you're not planning to display the Ketubah at the ceremony (or at your home), then a simple frame will work just fine.
Custom Frame
In case you haven't framed any artwork before, you're in for a BIG surprise…
Let me put it bluntly: custom framing is friggin' expensive!
How expensive, you ask?
It depends on a variety of factors, such as size, material, color, matting style, quality, and most importantly – the supplier.
If you make a few phone calls to local custom framers in your area, it won't take you long to realize: 1) framing a Ketubah is friggin' expensive (did I mention that already?), and 2) prices vary enormously between one supplier and another.
For a medium-sized Ketubah (20' x 20'), don't be surprised if you get quoted with prices ranging anywhere from $400 to $800 or even higher. That's right, you're likely to pay more for the frame than the Ketubah (!).
A cheaper alternative is to go with an online framing company like Framebridge. It's significantly cheaper than most local framers, and the quality is just as good (if not better).
You simply mail them your frame-less Ketubah (for free) or upload your Ketubah artwork, and you'll receive your framed Ketubah a week later. The best part? It'll cost you a fraction of the price you would've paid at a local framer.
Just to give you an idea, here's how much framing a Ketubah will (approximately) cost you:
Framing a budget Ketubah (12' x 12') will cost you approximately $99.

Framing a small Ketubah (16' x 16') will cost you approximately $145.

Framing a medium Ketubah (20' x 20') will cost you approximately $179.

Framing a large Ketubah (24' x 24') will cost you approximately $179.
Bottom line? If you want a custom frame for your Ketubah for a fraction of the price you'd pay a local framer, and you don't mind shipping the Ketubah (for free) to their design shop, then Framebridge is an absolute steal.
Simple Frame + Custom Frame
The third option is pretty straightforward: use a simple frame before the wedding, and a custom frame after the wedding.
This option is great because it allows you to protect your Ketubah during the ceremony, without spending too much time (and money) before the wedding worrying about a custom frame for the Ketubah. That's one less thing on your mind, right there.
Again, the only downside with this approach is that a simple frame doesn't look nearly as impressive compared to a custom frame. But if that's a sacrifice you're willing to make, then this option is worth considering.
Conclusion
When a couple is busy planning their wedding, they don't consider framing their Ketubah a top priority. Why would they? They've got tons of other seemingly more important things to worry about…
But if you think about it – the Ketubah is one of the few wedding keepsakes that couples keep from their wedding day. And they don't just keep it stashed up in the basement; they display it in their home, often for the rest of their lives.
All of a sudden, a Ketubah frame sounds rather important, don't you think?
Don't get me wrong: I'm not saying that framing your Ketubah should be the first thing on your ToDo list. But it shouldn't be the last one, either…
Take the time to choose a nice and affordable frame for your Ketubah. It's worth it.
Mazel Tov 🙂