10 Best Sabbath Mode Refrigerators [Star-K] for Shabbos & Jewish Holidays (2022)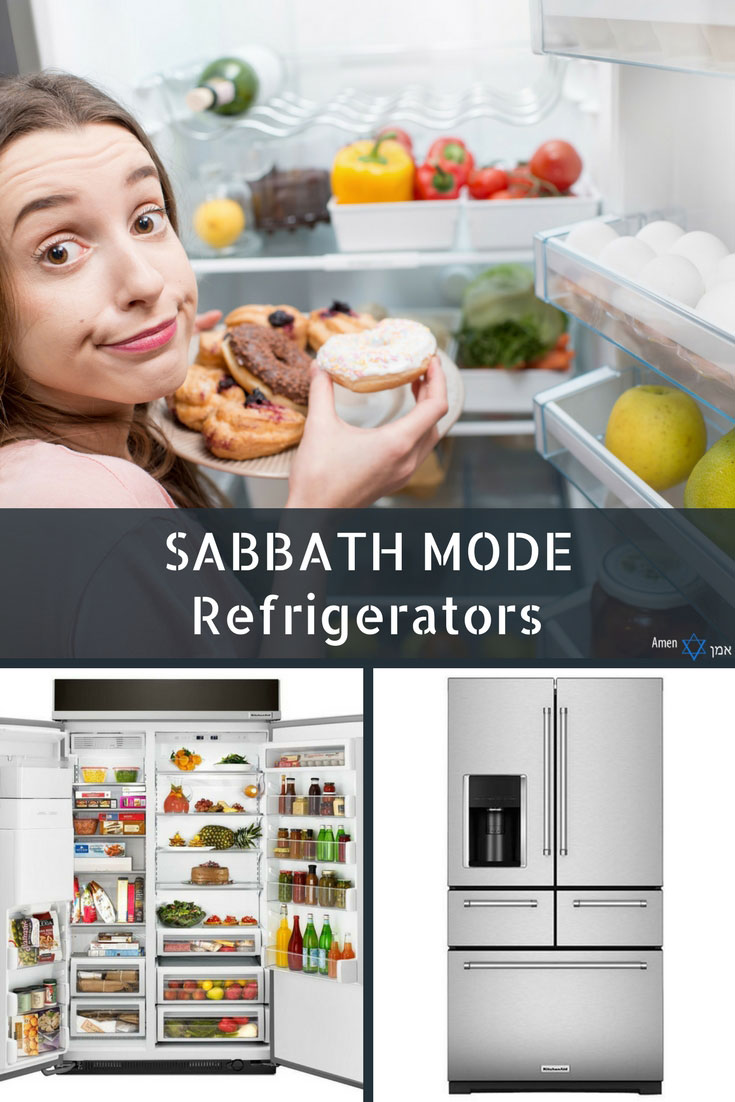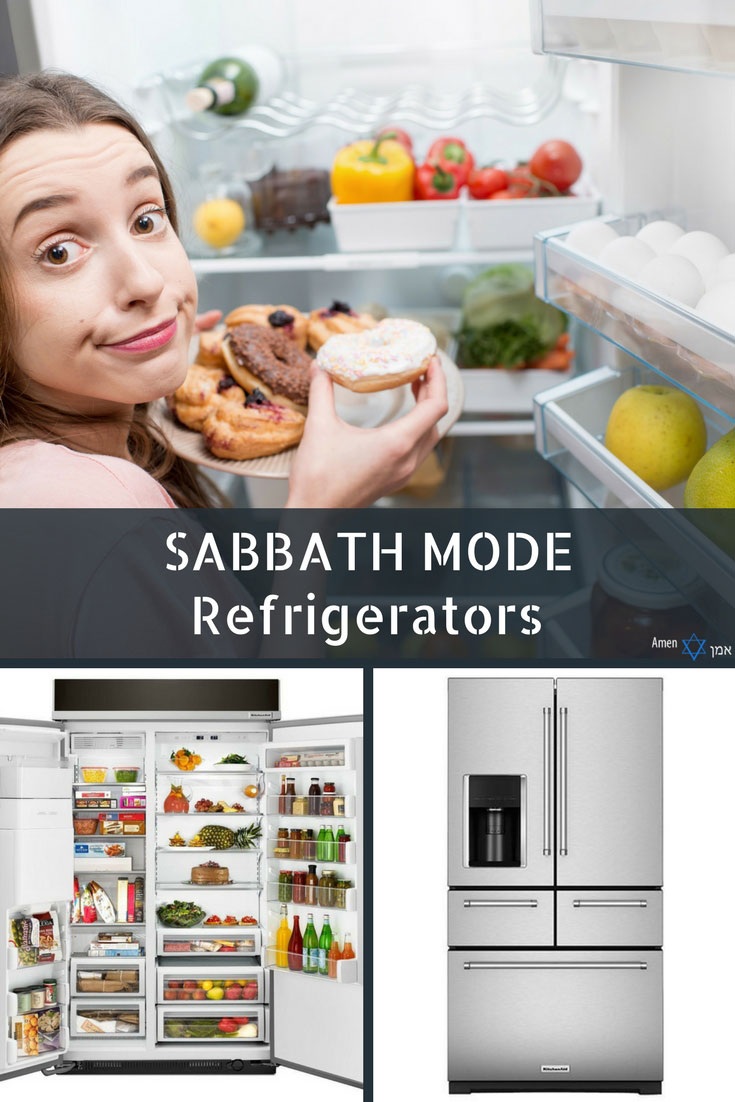 Amen V'Amen is supported by its audience. That means when you purchase something from one of our partners through one of our links, we may earn a small commission at no additional cost to you. Amen V'Amen is also an Amazon Associate, so we may earn a commission from qualifying purchases. Thank you for your support!
If you're an observant Jew – you might be old enough to remember the days you had to manually turn off the refrigerator. And if you had a rather unsophisticated fridge, you had to come up with all sorts of weird hacks and workarounds like unscrewing the lightbulb, and covering the light switch with scotch tape.
Thankfully, those days are long gone! Luckily, some of the biggest refrigerator brands came to the Jewish audience's rescue and manufactured Sabbath-mode refrigerators to make the lives of observant Jews a tad bit easier.
In fact – the problem nowadays is that there are too many Sabbath mode fridges to choose from. Every retailer is throwing buzzwords, deals, coupons our way – all in the attempt to lure observant Jews into their stores (whether digital or physical) attention.
But careful… not all Sabbath mode refrigerators are created equal. Before you swipe out your credit card and cough up hundreds (if not thousands) of dollars – you might want to make sure that shiny new fridge is actually "Shabbat certified" and matches your level of observance (surprise surprise, not all religious Jews are created equal!)
In this detailed guide, you'll learn:
What the "Sabbath mode" appliance certifications mean (we'll decypher terms like Star-K, 4-UL, Energy Star, and others)
How to tell the difference between a "Kosher" refrigerator and a non-Kosher one.
How to find a refrigerator that matches your level of observance
Let's begin…
What is "Sabbath Mode" on a Refrigerator?
Sabbath mode is a special setting that disables the electronic pieces of the refrigerator and therefore prevents Shabbat-observant Jews from accidentally breaking Shabbat every time they open/close the fridge.
Everything from interior lights, digital displays, buttons, sounds and any other fancy electronic feature your Sabbath mode fridge has.
Jews are prohibited from performing certain activities on Shabbat (i.e Melachot Shabbat). That includes restrictions such as lighting a fire, preparing food or using electricity-based products (like refrigerators).
Oy vey! That pretty much throws most refrigerators out the window right there (and throwing refrigerators out the window isn't exactly considered neighbor-friendly), doesn't it?
Except: Sabbath mode refrigerators.
Thankfully, several refrigerator brands decided to come to our rescue. Over the years, they developed modern technology solutions that make life easier on us, so we can continue observing the Sabbath without sacrificing our lifestyle. Such sweethearts! (don't worry, we'll look at some of the best "sweethearts" in a moment)
What does a "Star-K Certified" Fridge Mean?
Star-K is a certification agency that provides Kosher certification to kitchen appliance manufacturers.
They work with brands who are looking to "Kosherize" their products to make it available for Shabbat-observant Jews who follow strict Halachic requirements.
Many Sabbath mode refrigerator brands (like KitchenAid, Frigidaire, Electrolux) certify their refrigerators through Star-K, while others (like GE, Samsung, Bosch) decide not to for various reasons.
Should you only buy a "Star-K" certified refrigerator?
It depends on how strict you are.
Some Jews (like Orthodox Jews) require a Star-K certified refrigerator, while others don't mind buying a Sabbath mode refrigerator without one.
In this guide, I included the best of both worlds – so you can choose the best refrigerator that fits your needs.
Top Sabbath Mode Refrigerators
Now that we know what "Sabbath Mode" and "Star-K certified" means, allow me to introduce you to the top refrigerators with Sabbath mode (including our Amen V'Amen award winners!).
Top Pick
Our Rating:
Our Rating:
Our Rating:
Our Favorite
Our Rating:
Our Rating:
Best Value
Our Rating:
Our Rating:
Premium Choice
Our Rating:
Our Rating:
Our Rating:
Our Rating:
Final Verdict
Top Pick: KitchenAid KRMF706ESS French Door Refrigerator
Sleek design + extra storage space + great functionality + Star-K certification = Top Pick award. Not a lot more you can expect from a Sabbath mode refrigerator, and that's exactly the sort of quality you'd expect from a brand like KitchenAid.
Our Favorite: GE GNE29GMKES French Door Refrigerator
How lucky are we one of GE's most popular French door refrigerators comes with a Sabbath mode? It would've been perfect if it was Star-K compliant (it would probably win our "Top Pick" award if it was). Because unfortunately, Orthodox Jewish families are missing out. Who knows, maybe someone from GE is reading this and taking notes?
Best Value: Frigidaire FFHB2750TS French Door Refrigerator
There's a reason why Frigidaire is so popular among Jewish households: it's affordable, looks great, has lots of space, and of course, its Star-K certified. If there's one Kosher refrigerator that would be a good fit for almost any Jewish family, religious or not – it's Frigidaire's French door refrigerator.
Premium Choice: KitchenAid KBSD608EBS Side by Side Refrigerator
KitchenAid's side-by-side Kosher refrigerator is in a league of its own… But if you expect a lot (and I mean that literally) from your refrigerator, and you're willing to pay to get that level of quality – then you're looking at one of the top refrigerators you can put your hands (and food) on.
Conclusion
Making your refrigerator Shabbat-ready used to be a hassle.
Not anymore.
Thankfully, the top refrigerator brands introduced Sabbath mode in some of their refrigerators, and all of a sudden it Shabbat became a breeze (get it?).
Thanks to these "Jewish" refrigerators, you can now cook your food for Shabbat and keep it cool & fresh for the rest of the week, without having to worry about an unwelcomed lightbulb getting the best of you.
Shabbat Shalom! 🙂