10 Best Sabbath Mode Refrigerators [Star-K] for Shabbos & Jewish Holidays (2020)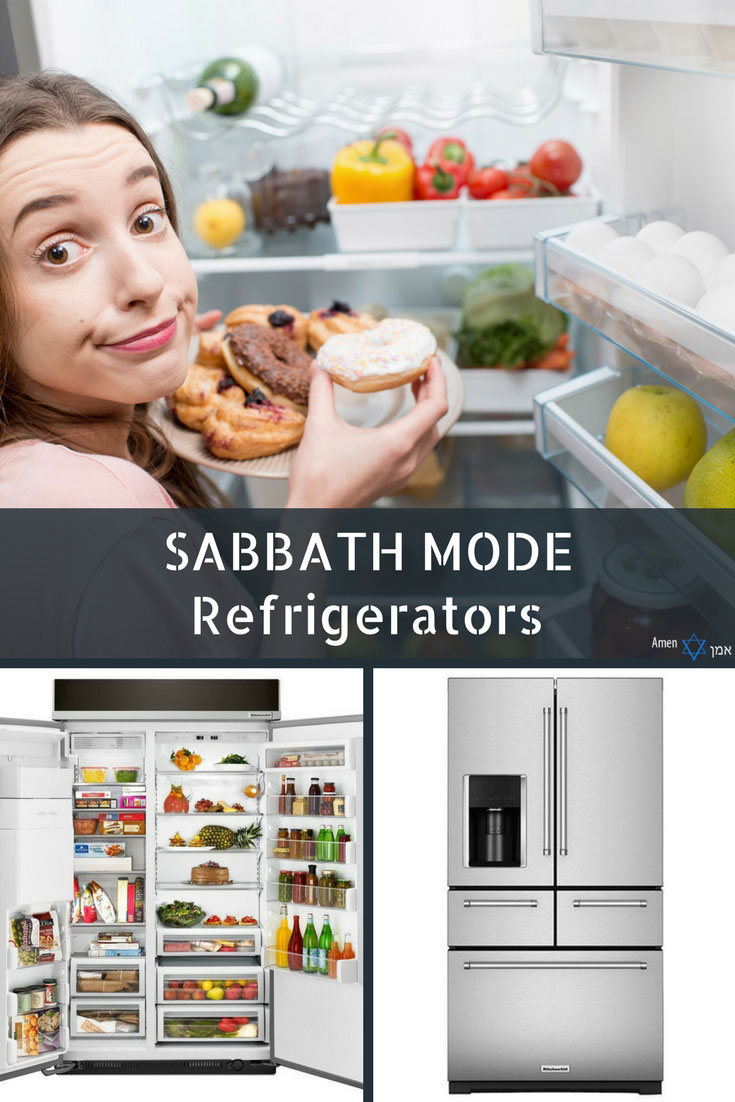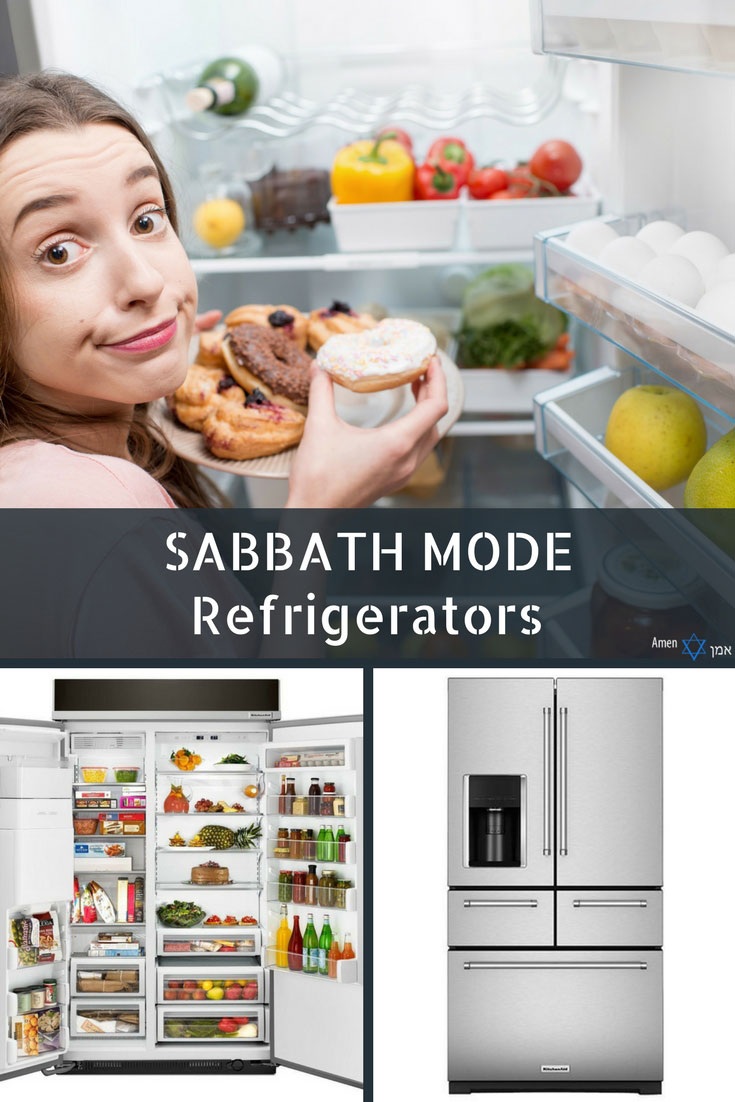 Remember the days you had to manually turn off the refrigerator lights before Shabbat?
Ugh…
I remember I had to unscrew the lightbulb, cover the switch with scotch tape and find all sorts of creative (read: annoying) workarounds.
Well, not anymore!
Thankfully, some of the biggest refrigerator brands came to the rescue and created Sabbath mode refrigerators to make our lives much easier.
In fact – the only problem now is that there are too many Sabbath mode fridges to choose from.
Everyone is throwing buzzwords, deals, coupons our way – all in the attempt to catch our attention.
Where do we even begin?
How do we know which refrigerators are truly Kosher?
What does Sabbath mode and Star-K even mean?
I spent 3 days writing this monster guide – to help you find the answers to all those questions and to help you find a brand new Sabbath mode refrigerator that'll serve you well for MANY years to come.
Let's begin…
Click here to jump straight to the best Sabbath mode refrigerators.
What is "Sabbath Mode" on a Refrigerator?
Sabbath mode is a special setting that disables the electronic pieces of the refrigerator and therefore prevents Shabbat-observant Jews from accidentally breaking Shabbat every time they open/close the fridge.
Everything from interior lights, digital displays, buttons, sounds and any other fancy electronic feature your Sabbath mode fridge has.
Jews are prohibited from performing certain activities on Shabbat (i.e Melachot Shabbat). That includes restrictions such as lighting a fire, preparing food or using electricity-based products (like refrigerators).
Oy vey! That pretty much throws most refrigerators out the window right there (and throwing refrigerators out the window isn't exactly considered neighbor-friendly), doesn't it?
Except: Sabbath mode refrigerators.
Thankfully, several refrigerator brands decided to come to our rescue. Over the years, they developed modern technology solutions that make life easier on us, so we can continue observing the Sabbath without sacrificing our lifestyle. Such sweethearts! (don't worry, we'll look at some of the best "sweethearts" in a moment)
What does a "Star-K Certified" Fridge Mean?
Star-K is a certification agency that provides Kosher certification to kitchen appliance manufacturers.
They work with brands who are looking to "Kosherize" their products to make it available for Shabbat-observant Jews who follow strict Halachic requirements.
Many Sabbath mode refrigerator brands (like KitchenAid, Frigidaire, Electrolux) certify their refrigerators through Star-K, while others (like GE, Samsung, Bosch) decide not to for various reasons.
Should you only buy a "Star-K" certified refrigerator?
It depends on how strict you are.
Some Jews (like Orthodox Jews) require a Star-K certified refrigerator, while others don't mind buying a Sabbath mode refrigerator without one.
In this guide, I included the best of both worlds – so you can choose the best refrigerator that fits your needs.
Top Sabbath Mode Refrigerators
Now that we know what "Sabbath Mode" and "Star-K certified" means, allow me to introduce you to the top refrigerators with Sabbath mode (including our Amen V'Amen award winners!).
Top Pick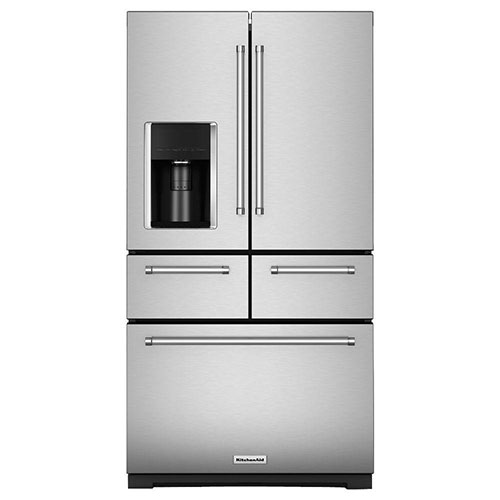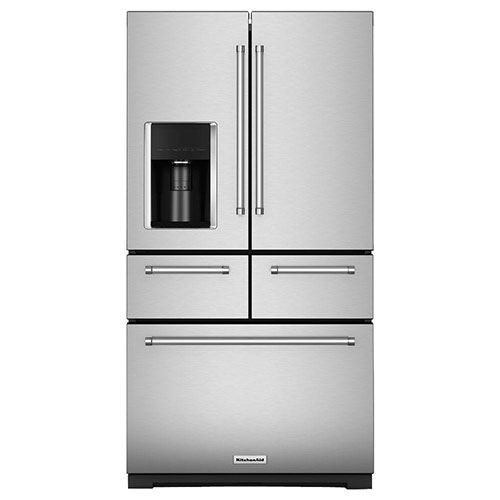 ReviewNotable FeaturesCertifications
Why Should You Get It?
Let's start with the design: magnificent.
And I mean the kind of sleek design that captures the attention of your guests if you let them in the kitchen (expect "Ooooh and Aaahs")… and yes, it gives you the urge to show them the kitchen… after all, who doesn't love compliments?
That includes KitchenAid's innovative 5-door configuration (including 2 soft-close drawers) – who here the first in the industry to introduce such a design. You know what that means…
No more stuffing everything on one shelf, and no more spending 30 minutes finding what you're looking for every time you open the fridge.
But it's not just the design… you know, let's not judge the refrigerator by its cover…but by its size!
KitchenAid's French door refrigerator has a TON of space – it has 25.8 cu ft. capacity.
How much is that exactly?
Well, it can hold approximately 26 bags of groceries (!). I don't know about you, but given my size, even I could fit in that thing…
The massive amount of space and adjustable shelves allow you to organize any way you want, without getting lost in it.
Why Not?
The ice maker, let's put it simply, isn't "the best". Quite often, it starts causing trouble after consistent use.
For example, if you experience a power outage for too long, the ice maker may actually leak (yikes!).
So, my advice for you is this: if an ice maker is a MUST – then this might not be the best option for you.
Who is it For?
Best suited for large families, especially if you have kids running around with big appetites.
That also means it requires a certain amount of kitchen space – so keep that mind.
Also, If you're used to your fridge being full (I certainly wish that for you), so much so that you often need to stretch your body to grab those drinks from the back of the fridge – then this refrigerator is a blessing.
You'll FINALLY be able to organize your fridge without searching where every single thing is.
Notable Features
In-door ice system: The ice system is mounted on the left door, which means– more room in the refrigerator!
Spill-resistant shelves
On-dispenser touch controls: Quick access to Door alarm, Max Cool, Measured Fill and Sabbath mode
Herb storage: You can keep your herbs in a dedicated drawer, so they stay fresh and don't lose all their flavor
Built-in air purifier: kiss that awful cabbage smell goodbye (sorry, I hate cabbage). If you store anything that smells "iffy", the fridge will replace it with a fresh, delightful smell.
Pros
TONS of storage space
Plenty of features
Impressive sleek design
Includes ice maker & water dispenser
Star-K certified
Cons
Not cheap
The ice maker isn't the best
Our Rating: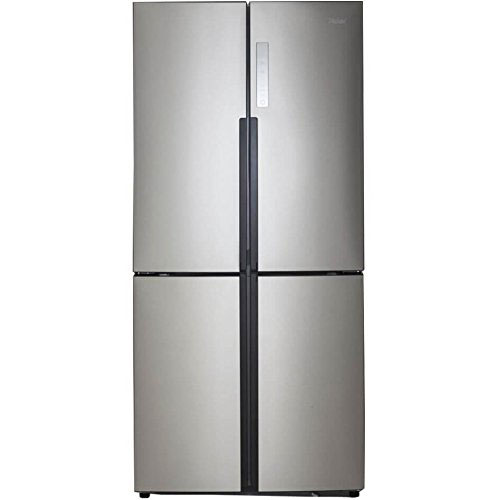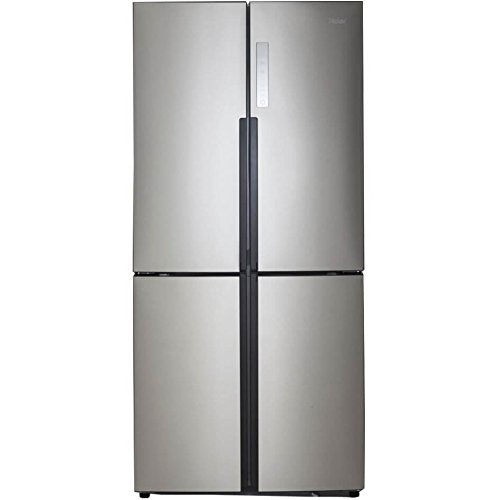 ReviewNotable FeaturesCertifications
Why Should You Get it?
Haier's Sabbath mode refrigerator is a great option if you're looking for a small fridge, and are on a relatively tight budget.
From a design perspective – it has a solid style. Although it's not as chic as KitchenAid's 5-door refrigerator, it does have a sleek stainless-steel look. Plus, the fridge is counter-depth, so it'll blend in nicely in any small-medium size kitchen.
It has a cool & quick freeze function – meaning it will quickly cool those dairy products you've been carrying around all day in your car, and protect your food from going bad.
It's easy to use (especially for you technophobes out there), easy to clean, and very reliable.
Why Not?
The storage space is quite limited – both in the fridge as well as the freezer.
Here's just a small example: you can't fit a gallon of milk in the fridge door. Now, you might be thinking:
"Oh common, That's no big deal"…
Fair enough… but if you're a heavy coffee drinker like me – it sure is…
Try putting a huge gallon of milk in the center of the fridge, in an an-already limited-space refrigerator – and you get a pain in the ass.
Who is it For?
Ideal for small families with limited kitchen space. It's counter-depth, so it can blend in perfectly with any kitchen style, without requiring too much space.
Notable Features
Counter-Depth: Blends in nicely with the surrounding kitchen cabinets & appliances
Quick cool & quick freeze function: The cooling & freezing of newly stored foods is accelerated while protecting the already-refrigerated food.
LED Lighting: Uses long-lasting, clear & bright light while preserving energy.
Pros
Counter Depth
Doesn't take a lot of space (great for a small kitchen)
Very quiet
Affordable
Cons
Not Star-K certified
Too small for large families
No ice/water dispenser
Our Rating: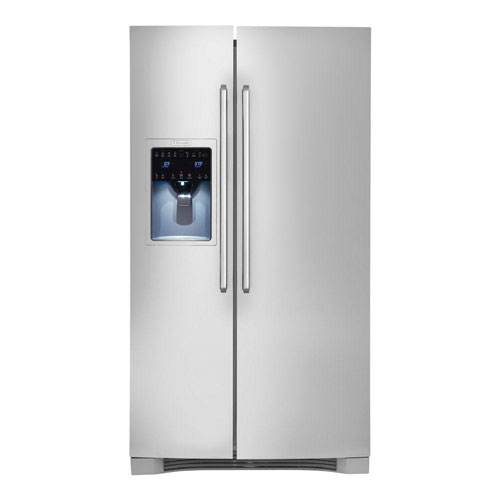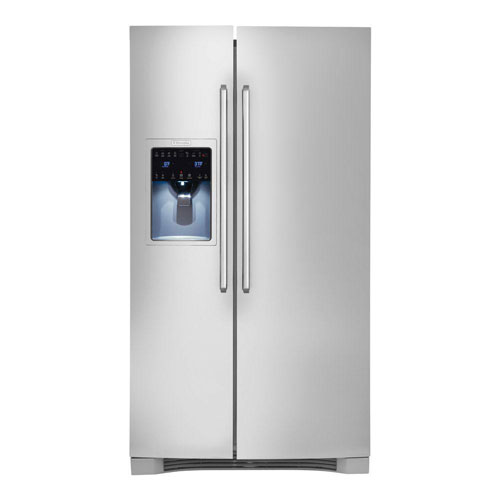 ReviewNotable FeaturesCertifications
Why Should You Get It?
Electrolux is a famous brand choice among Orthodox Jewish families. They regularly certify their appliances with a Star-K certification (as well as other certifications), so all is good in that regard.
The design is also quite attractive: the LED lighting gives it a nice, luxurious look.
It also comes with built-in water & ice dispenser (it does have its issues though… keep reading), which is useful.
Why Not?
Here's where it becomes tricky… Large families who choose this "Jewish" fridge, end up struggling with storage space issues. As a result – food gets put on top of each other, and soon enough, you end up with a food tower in your fridge… good luck reaching your dairy products at the back.
Another common issue is the ice maker. Many people complain that ice often gets jammed, or that the ice dispenser button gets stuck.
Also, this refrigerator is NOISY. At least when you compare it with the alternatives.
Who is it For?
If I base my opinion on size only, then I would say it's a good option for a small-medium sized Jewish family.
However, I honestly think you're better off one of the other refrigerators with Sabbath mode for a similar price, even cheaper.
Notable Features
Water & Ice Dispenser: Accommodate large containers, and delivers ice made with clean, filtered water.
IQ-Touch Control Panel: Easy to use control panel with LED display.
Energy Saver Plus: The refrigerator enters "energy-saving mode" if not opened for 24 hours.
LED Lighting: Uses long-lasting, clear & bright light while preserving energy.
Certifications
Star-K
Energy Star
4-UL Certified
NSF Listed
Pros
Star-K certified
Includes water & ice dispenser (with filtered water)
Sharp look
Cons
Noisy
Limited storage space
Ice dispenser often gets jammed
Our Rating:
Our Favorite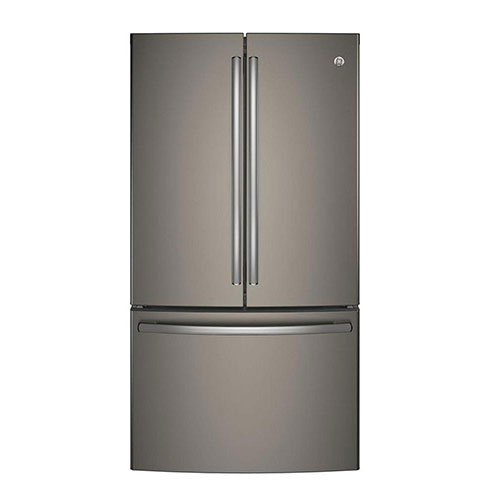 ReviewNotable FeaturesCertifications
Why Should You Get It?
GE is known for its high-quality appliances, and their Shabbos mode refrigerator definitely fits the bill.
There's a HUUUGE amount of space in this refrigerator… and I'm not just talking about the fridge part… I'm talking about everything: from the fridge, doors, drawers, all the way down to the freezer.
You could literally store food for an entire Jewish extended family (and that's saying something), and still have room left.
The price is pretty fair, considering the value and peace of mind you get in return.
Why Not?
This refrigerator is very close to perfect… But there are a few drawbacks:
The first, and potentially the biggest downside – it's not Star-K certified.



UPDATE

: Big props to Joey for pointing out GE's new

The Shabbos Keeper

– an OU certified device that automatically deactivates all electrical functions when Shabbat comes in. That includes everything from door switches, sensors, touch screens, icemakers, water dispensers, internal computers… No installation necessary; simply plug the device into the refrigerator's data port, and you're all set.


The device is compatible with over 100 GE refrigerators (here's the full list), including this one.


Crisper drawer (where you store fruits and vegetables) doesn't open very far. It's not that horrible though… you get used to it.
The ice maker takes up a significant amount of space
Tip: You can choose to remove the ice maker if you don't need it. That will clear out some extra storage space.
Who is it For?
It's rare to find a Sabbath mode refrigerator that fits any Jewish household. GE's fridge is one of those rare exceptions. Their refrigerator works great whether you're Jewish Orthodox, conservative, small family or large:
It doesn't take up a lot of kitchen-space with more than enough room to store food for the entire year
The price point is reasonable – it doesn't require a mortgage to purchase one
Thanks to GE's new Shabbos Keeper device (certified by the OU) you can safely use it on Shabbos without worrying about some electric circuit firing behind the scenes
Tip: When you put all of these together – you get a terrific option for Kosher homes (even Kosher workplaces)!
Notable Features
LED Lighting: Makes it easy to spot and retrieve what you're looking for
Ice Maker: No need to waste time filling ice trays
TwinChill Evaporators: In simple words – a mechanism that separates the climate in the fresh food and freezer sections à keeps the food fresh
Internal Controls + Digital Display: This is quite unique… You can set the temperature within the refrigerator, and a digital display actually shows you what the temperature is, so you won't have to guess.
Pros
MASSIVE storage space (including the fridge, doors & freezer)
Adjustable shelves
Super quiet
Beautiful LED lighting
Affordable (great value for money)
Can be used with a Shabbos Keeper – a device that deactivates all electrical functions on Shabbat (OU certified)
Cons
Not Star-K certified
Ice maker takes up a lot of room
Our Rating: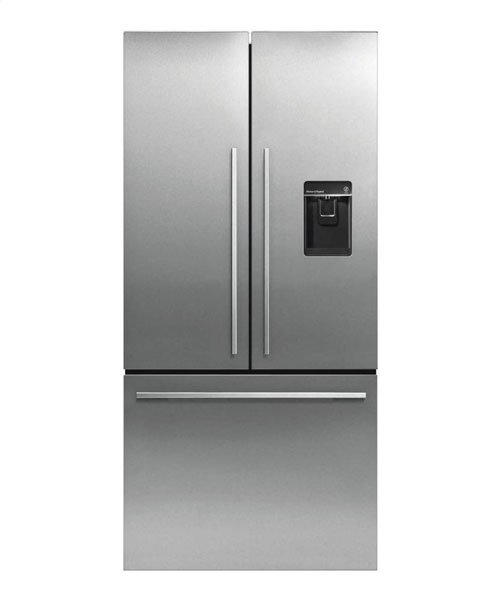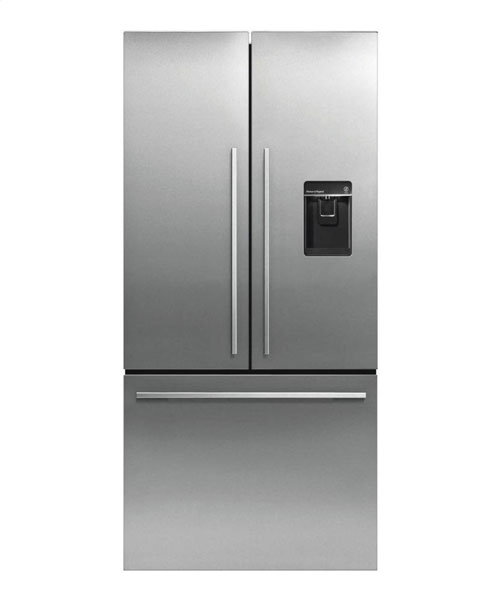 ReviewNotable FeaturesCertifications
Why Should You Get It?
If there's one phrase I would use to summarize Fisher & Paykel's Sabbath mode refrigerator, it would be "straight to the point".
In other words, they focus on what you actually need from a refrigerator, and less so on fancy gadgets. I'll give you a few examples:
Adjustable shelves & removable bins: This is particularly useful for flexibility, organization, and cleaning. You can easily adjust the shelves to meet your own needs, and easily take out the bins anytime you're having trouble finding what you're looking for (and of course, you can easily clean it while you're at it)
Meats & cheese drawers: For a Jewish family – this is a godsend. You can easily divide your meats into one drawer, and the cheese into another drawer, without having to worry about them getting tangled up with each other.
Dead-quiet: There's nothing more annoying than having your kitchen sound like a garage. Fortunately – this is one of the quietest refrigerators you'll come across.
Why Not?
You probably noticed the empty "Certifications" area. Unfortunately, Fischer & Paykel didn't go out of their way to certify their refrigerator… So if a Star-K certification and/or an Energy Star certification are a must for you, then this Sabbath mode fridge is probably a "no-go".
The ice maker is also a bit shaky and might cause problems over time.
Note: Although to be fair, Fisher & Paykel aren't the only ones suffering from a challenging ice maker (as you've probably noticed by now).
Who is it For?
Small families, AND big families.
But wait, aren't counter-depth refrigerators limited in space?
There seems to be a common belief that counter-depth refrigerators are often too small for big families. Well, this Sabbath mode fridge completely busts that myth.
So yes – you CAN have your cake and eat it too.
Speaking of cakes – the adjustable trays and removable bins make organizing your food a real piece of cake, and very easy to clean too.
If organization and ease-of-use are important to you, and you don't mind the (lack of) certifications – then you'll really like this fridge.
Notable Features
Counter-Depth: The fridge is only about 28-inch-deep, so it blends nicely with the rest of the kitchen.
Ice Maker
Fast Freeze + Ice Boost: Special modes to quickly & drastically lower the freezer temperature – so you could freeze newly added items
ActiveSmart Technology: The fridge monitors your behavior, and adapts the temperature accordingly to keep your food fresh for longer periods
LED Lighting: Clear & bright LED lights all across the shelves, bins, and trays.
Pros
Lots of storage space (even though it's counter-depth)
Adjustable shelves & removable bins
Easy to clean & maintain
Very quiet
Cons
Not Star-K certified
The ice maker isn't the best
Our Rating:

Recommended: Sabbath mode refrigerators keep your drinks cold on Shabbat. What if you want a hot cup of coffee? That's where Shabbat hot water urns come into play!

Best Value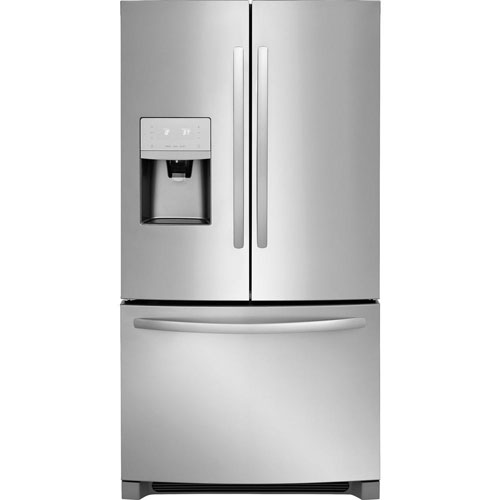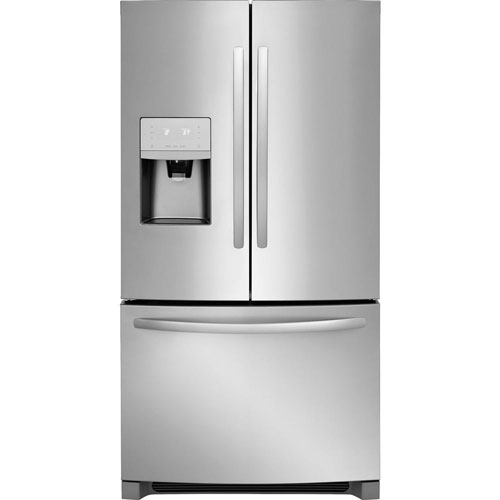 ReviewNotable FeaturesCertifications
Why Should You Get It?
If you go to your neighborhood synagogue, and randomly ask 50 observant Jews what refrigerator they have, there's a pretty good you'll hear "Frigidaire" come up most of the times.
Jewish households have welcomed Frigidaire's beautiful and reliable appliances into their homes for many years. And this Star-K certified refrigerator is right at the top of that list.
Wonderfully designed, with an impressive amount of space in the fridge to accommodate a large family. The cool part is the full-width drawer – which means you can safely store your Shabbat pans, platters, and other food and enjoy it for the rest of the week, without bloating your refrigerator.
Why Not?
Like many other refrigerators, the ice maker is a "hit or miss". After a while, you may run into issues with ice not being dispensed properly, or a jammed button.
Who is it For?
Great for strict Jewish observant families (this refrigerator is Star-K certified) who need a durable Sabbath mode fridge with lots of storage space that can last them for years, without having to pay a small fortune to get one.
Frigidaire is a very reputable brand, with great customer support (but hopefully you won't need it).
Notable Features
Full-width Drawer: You can keep large pans & platters without worrying about running out of space (useful on Shabbat and holidays)
Water & Ice Dispenser: And a tall one, making it easier to fill even big water bottles (the ice is made from PureSource Ultra filtered water)
Energy Saver Plus: Puts your refrigerator in energy-saving mode if not used for 24 hours
Express-Select Control Panel: The control panel with LED display is very intuitive, giving you a lot of control at your fingertips
Certifications
Star-K
Energy Star
1-UL Listed
Pros
Plenty of storage space (including full-width drawer)
Built-in ice & water dispenser (filtered water)
Very affordable
Star-K certified
Cons
The water from the water dispenser isn't cold
The ice maker is a bit shaky
Our Rating: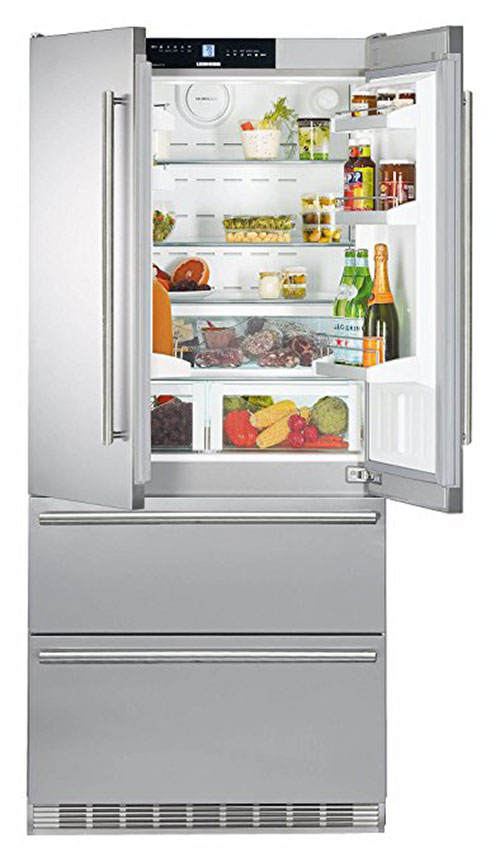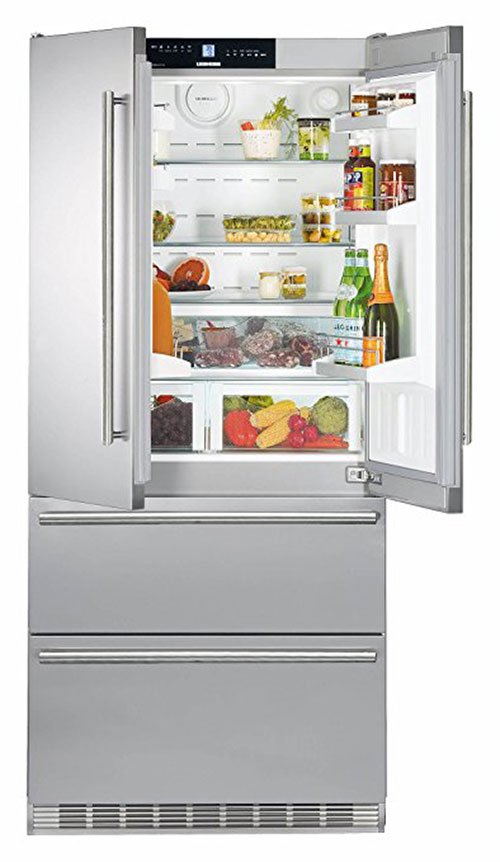 ReviewNotable FeaturesCertifications
Why Should You Get It?
To be frank? You shouldn't get it if you ask me.
The only reason I included this fridge is that many people seem to recommend it, especially as a "premium fridge" … So I figured I'd chime in with my own two cents.
Don't get me wrong, this fridge does have its benefits:
Elegant & practical design, both from the outside as well as the inside (as you'd expect from a high-end German brand). This makes it easy to organize your food, instead of cramming everything on one shelf.
The cooling system is top-notch. They really do keep the food cool & fresh, and rather quickly.
Lots (and lots) of space.
Now that we've given this refrigerator it's due, let's jump into the "Why Not"s…
Why Not?
Story Time
A few years ago, I was looking for a new car…
I had a pretty limited budget, which helped me narrow down my options to 3 different car brands:
Volkswagen
Hyundai
Daihatsu
I was leaning towards Daihatsu… but then my friends & family persuaded me to look for a Volkswagen instead.
Why?
"Because it's German, and German cars are more reliable", they claimed.
Being the clueless, naive youngster that I was, I decided to follow their advice and bought a cool VW Golf for a decent price.
I was stoked!
Until things started breaking…
…First, it was the cooling system.
…Then it was the exhaust system.
…Then it was the window motor.
…Then it was the timing belt.
Things kept breaking one piece at a time… finally, I decided enough is enough and sold the car at a huge loss (for scraps, basically).
Sure, it was a big loss… but it was an even bigger lesson!
Now, you might be wondering: what the hell does that story have to do with a refrigerator?
Because I've heard too many people going through similar things with their Liebherr refrigerator…
One thing breaking after another
Repairmen every few weeks
Customer service –> replacement fridge –> customer service again –> rinse repeat.
Don't repeat the same mistake!
If there's anything you should take away from my little rant, it's this:
DO NOT blindly follow "perceived reputation" – just because it's German doesn't mean it's reliable.
DO your own research.
DO get an extended warranty when you can
Who is it For?
Traditional wisdom might say: "For people looking for a premium refrigerator". And from a design standpoint, that's actually true, I'll give em' that…
But it completely falls through when it comes to reliability (or lack thereof).
For such a high price point, you'd at least expect a premium Sabbath mode refrigerator to last a couple of years without problems… but odds are, you'll be sorely disappointed.
Notable Features
DuoCooling: Liebherr engineered a dual refrigeration system in both their fridge and freezer, to avoid the transfer of unwanted air & moisture between the two systems. This helps increase the shelf life and preserve the flavor of your food.
Gallon Storage: Exactly what it sounds like: the door rack is so wide it can hold a large gallon of milk or juice.
Ice Maker: The fridge produces ice cubes automatically from pure water
Pros
Star-K certified
Lots of space
Quiet
Cons
Expensive
Not reliable
The ice maker is troublesome
Our Rating:

Premium Choice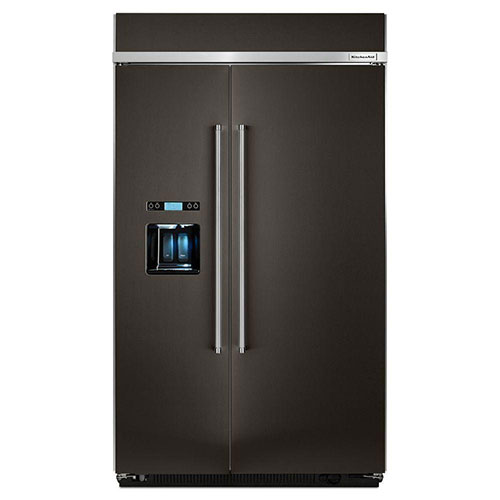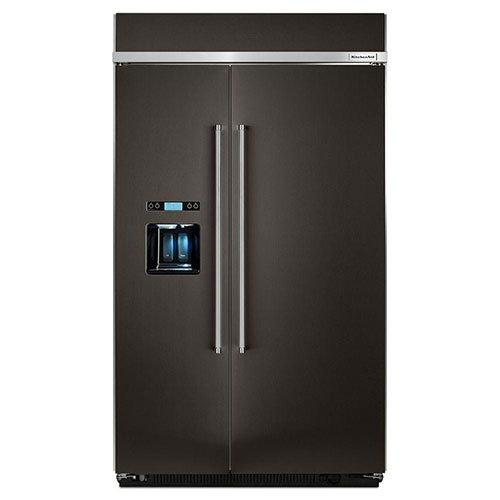 ReviewNotable FeaturesCertifications
Why Should You Get It?
Just looking at the "Pros" column will get you a pretty good idea of why you should get it… but allow me to elaborate here:
The design is simply stunning. The kind of look that invokes a "WOW" response every time a guest steps into your kitchen.
Doesn't show any smudges or fingerprints. If you have kids running around the house, you know what I'm talking about.
Exterior ice & water dispenser that actually works, even while the refrigerator is open (multi-tasking!)
Space, space, space. You won't run out of it. And if you think you're getting close, then you can easily reorganize the shelves and move stuff around.
I can go on and on…but you get the point.
Why Not?
Only one reason I can think of: the price.
Other than that, this refrigerator is nearly flawless. If you can afford it – then it's as good as it gets.
Who is it For?
Shabbat-observant families (this Sabbath mode fridge is Star-K certified) that don't mind spending top dollar for top quality, sleek design, and reliability.
There isn't much more you could hope for from a Kosher refrigerator.
Notable Features
Exterior Ice & Water Dispenser: Dispenses freshly filtered water, even while the refrigerator is open
ExtendFresh Plus Temperature Management: Contains a high-tech, sensor-controlled system with a variable-capacity compressor. Essentially – keeps your food & ingredients extra fresh.
Adjustable Shelves & Door Bins: That includes both the fridge AND freezer. Plus, it's also spill-resistant.
Certifications
Star-K
Energy Star
1-UL Listed
NSF Listed
Pros
Star-K certified
Sharp design
Resists smudges & fingerprints
Adjustable shelves and door bins (including freezer)
Exterior ice & water dispenser
Intuitive controls
Gorgeous LED lighting
Our Rating:
Also Recommended: Cold food on Shabbat is no fun. Check out our favorite Shabbat hot plates that'll heat up what your cool refrigerator so generously cooled down!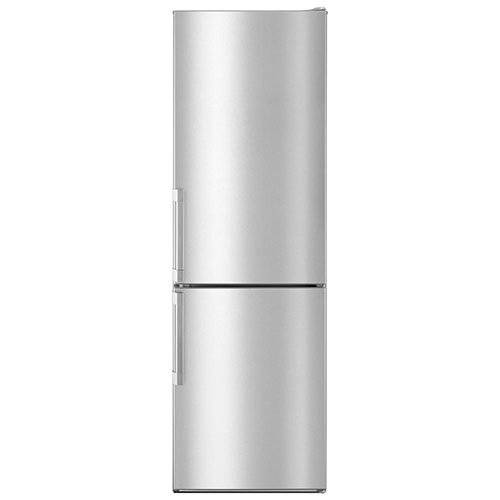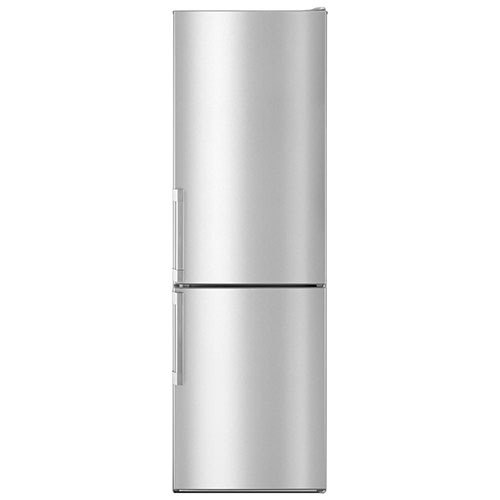 ReviewNotable FeaturesCertifications
Why Should You Get It?
Albert Einstein famously said:
"Everything should be made as simple as possible, but no simpler."
Whirlpool's Sabbath fridge is a good example of just that: not a whole lot of features, no bells, and whistles – but it does what it's supposed to do, and does it really well.
Small enough to fit in any kitchen, or even smaller rooms like your basement (if you're looking for a "backup" refrigerator).
It's cheap, it's durable and it's reliable… if that's all you'll ever need – then you'll be satisfied with this refrigerator.
Why Not?
If you DO want the cool features, like an ice & water dispenser, adjustable shelves, showcase door or any of the other cool features you saw in the other refrigerators, then you're better off going for one of the other refrigerators on this list.
And obviously, if you require a Star-K certification, this isn't a good fit either.
Who is it For?
Whirlpool's counter-depth refrigerator is ideal for small-medium sized kitchens.
If you don't need all the cool toys and functionalities most of the other Sabbath mode refrigerators on this list have, then this is a great choice to consider.
Tip: Could be a great 2nd refrigerator too… you know, a "backup fridge" to put in the basement for the food that isn't worthy of space in the main fridge.
Notable Features
Counter-Depth: Space efficient and fits in perfectly most kitchens
Fingerprint-resistant Steel: No annoying smudges or fingerprints whatsoever
Dual Cooling: Adjust the temperature and humidity levels automatically on both the fridge and freezer (using sensors)
Full Depth Drawers: Allows you to easily store meat or large platters (useful for Shabbat)
Pros
Doesn't take up a lot of space
Sharp design
Quiet
Cheap
Cons
Not Star-K certified
No water & ice dispenser
No numerical temperature indicator
Not a lot of features
Our Rating: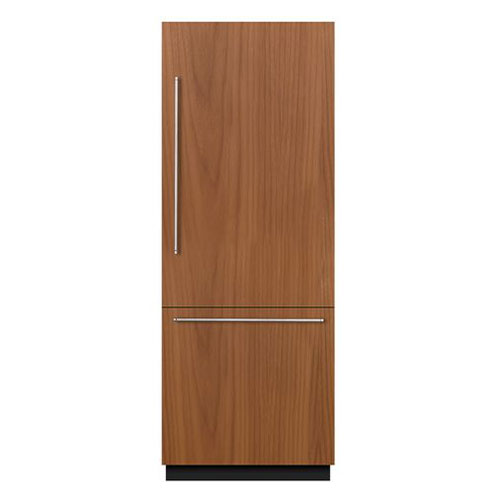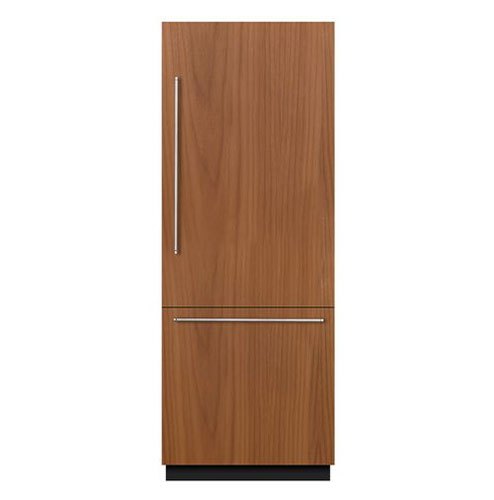 ReviewNotable FeaturesCertifications
Why Should You Get It?
There's a fridge you don't see every day.
With all those stainless steel refrigerators out here that all look the same (let's be honest…), I thought it was time for a refreshing change (including for me, I've been writing for 5 hours straight!)
After all, what if you don't like your refrigerator to stand out and bully the rest of the poor kitchen cabinets?
What if you want your refrigerator to seamlessly integrate with the rest of your kitchen?
You want your kitchen to "play" in harmony, just like the Cleveland Orchestra. And to do that – your kitchen appliances need to follow the same dress code. That's what being a Jewish refrigerator is all about!
(I know – weird analogy, but you get the idea)
In other words – unlike most other refrigerators, this Bosch Sabbath mode fridge accepts custom panels. That means you can match it perfectly to the rest of your kitchen design.
You know, just like those kitchen designs you see on brochures all the time.
Why Not?
Like you'd expect – luxury comes with a price.
Bosch is a premium brand when it comes to kitchen appliances, and you definitely feel it in your pockets.
I definitely don't recommend this Shabbos mode refrigerator if you're "just looking for a fridge". If that's all you need – then there are lots of "regular" (read: cheaper) refrigerators on this list you can choose from. This is NOT one of those.
Plus, Bosch's refrigerator also lacks a Star-K certification. That's a non-starter if you require one.
Who is it For?
Unlike the other refrigerators on this list (and unlike 99% of the refrigerators in the world) – you can install Bosch's Sabbath mode refrigerator, and make it "blend in" with the rest of your kitchen.
It's small, too, so it won't take up a whole lot of your precious kitchen space. It'll look just like any other kitchen cabinet (only fancier).
A (Jewish) interior designer's dream.
Notable Features
Panel-Ready Design: Elegant design that beautifully integrates with the rest of your kitchen
Dual Evaporators & Compressors: 2 completely separate refrigerator and freezer compressors to prevent the transfer of iffy smells and keep each section properly cooled.
Humidity Controlled Crisper Drawer: A dedicated crisper drawer to store your fresh produce
Full-Width Meat Drawer: An entire drawer just for meat!
SuperCool & SuperFreeze: Automatic functions to drop the temperature quickly in case someone forgot to close the fridge.
Filtered Ice Maker: Clean, filtered water all day.
Pros
Elegant panel-ready design
Beautiful LED lighting when you open the fridge
Small, yet lots of storage space
Dedicated drawers for meat and fresh ingredients
Dead-quiet
Cons
Not Star-K certified
Expensive
Our Rating: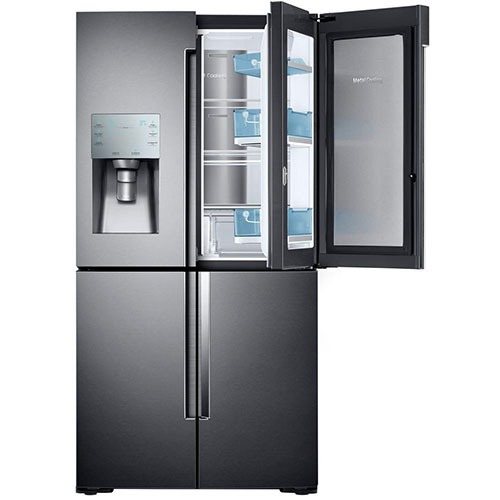 ReviewNotable FeaturesCertifications
Why Should You Get It?
Flexibility, period.
Imagine this scenario:
You wake up late…
"OMG, I'm late for work"…
You rush down to the kitchen to have a quick cup of coffee and a yogurt.
You open the fridge.
"Damn, what a mess… Where the hell is that yogurt?!"
Before you know it – you just spent 3 minutes mindlessly staring at the refrigerator, throwing things around trying to find that damn yogurt – making an even bigger mess.
Not to mention you haven't even started making coffee!
And now you're late for work again… and you can kiss that promotion goodbye.
Sound familiar?
Here's the solution:
Store your "on-the-go" items on the showcase door
That's it. There is no step 2.
Another smart thing Samsung did is they allowed us, the consumers, to choose how to organize our fridge. If the storage space isn't big enough, then you can turn your bottom section into extra fridge space – which is quite unique.
Not to mention you can connect your fridge to your WiFi, and control it from your smartphone (not on Shabbos! naughty!)… how cool is that?
Why Not?
The most irritating part of Samsung's refrigerator is the limited door space. The door shelves are all fixed, and they can barely fit a single large bottle – so you'll have to store your bottles on the main shelves.
Another thing I found slightly annoying, is that the door handles attract fingerprints fairly easy (and they're pretty noticeable). If you have kids running around the kitchen, then it's a matter of time until you notice it. Thankfully, they're easy to clean, so I wouldn't say it's a big deal.
Who is it For?
Mostly for people who like having control over their refrigerator.
Want to use the freezer as extra refrigerator space? No problem…
Need to store taller jars and bottles? Move the shelves around, and voila…
Like to quickly cool the beers for tonight's big game? Tap one button on your phone – Done.
Notable Features
Food Showcase: The outer door provides quick and easy access to your "on-the-go" food
Counter-Depth: A sleek design that blends into your kitchen style.
CoolSelect Plus/FlexZone: The bottom section of the fridge can be set as either a refrigerator or a freezer – depending on your needs (it's flexible, hence the "flex" in FlexZone)
Water & Ice dispenser: Dispenses fresh & filtered water
Triple Cooling: The fridge has 3 evaporators, one in each "zone" of the fridge. This adjusts the temperature and humidity to keep your food fresh for a long time.
Certifications
Energy Star
1-UL Listed
NSF
Pros
Outer showcase door for quick & access to food
WiFi support
Ice & water dispenser
Gorgeous design
Adjustable shelves
Wine rack
Flexible bottom section (can be used for cooling AND freezing)
Cons
Not Star-K certified
Limited door space
Attracts fingerprints and smudges
Our Rating:
Final Verdict
Top Pick: KitchenAid KRMF706ESS French Door Refrigerator
Sleek design + extra storage space + great functionality + Star-K certification = Top Pick award. Not a lot more you can expect from a Sabbath mode refrigerator, and that's exactly the sort of quality you'd expect from a brand like KitchenAid.
Our Favorite: GE GNE29GMKES French Door Refrigerator
How lucky are we one of GE's most popular French door refrigerators comes with a Sabbath mode? It would've been perfect if it was Star-K compliant (it would probably win our "Top Pick" award if it was). Because unfortunately, Orthodox Jewish families are missing out. Who knows, maybe someone from GE is reading this and taking notes?
Best Value: Frigidaire FFHB2750TS French Door Refrigerator
There's a reason why Frigidaire is so popular among Jewish households: it's affordable, looks great, has lots of space, and of course, its Star-K certified. If there's one Kosher refrigerator that would be a good fit for almost any Jewish family, religious or not – it's Frigidaire's French door refrigerator.
Premium Choice: KitchenAid KBSD608EBS Side by Side Refrigerator
KitchenAid's side-by-side Kosher refrigerator is in a league of its own… But if you expect a lot (and I mean that literally) from your refrigerator, and you're willing to pay to get that level of quality – then you're looking at one of the top refrigerators you can put your hands (and food) on.
Conclusion
Making your refrigerator Shabbat-ready used to be a hassle.
Not anymore.
Thankfully, the top refrigerator brands introduced Sabbath mode in some of their refrigerators, and all of a sudden it Shabbat became a breeze (get it?).
Thanks to these "Jewish" refrigerators, you can now cook your food for Shabbat and keep it cool & fresh for the rest of the week, without having to worry about an unwelcomed lightbulb getting the best of you.
Shabbat Shalom! 🙂