15+ Unique Rosh Hashanah Decorations & Table Setting Ideas (2018)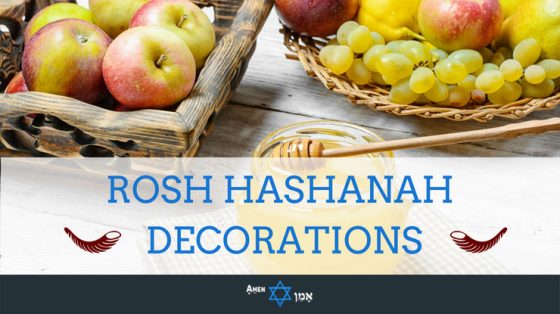 Rosh Hashanah is here … (Shana Tova!)
Question is: how do you decorate your home to get into the spirit of Rosh Hashanah? How do you make sure your guests start off their new year with a sweet "apple & honey taste"?
Smartass answer: Well, you can serve apple & honey…
Haha, very funny!
You obviously want to do better than that…
That's exactly why I wrote this article.
Ready to decorate your Rosh Hashanah table and make sure it's beautiful & buzzing?
Great! Let's get to it then!
Best Rosh Hashanah Table Decorations
The Rosh Hashanah dinner table is naturally decorated with all sorts of "interesting" food (the Rosh Hashanah Simanim):
Apple & honey
Fish (the head of the fish, to be exact)
Round Challah
Pomegranates
Just to name a few.
But believe it or not – that's barely scratching the surface…
There are WAY more cool Rosh Hashanah decorations you can add to the table that'll give it an even greater look…
Spode Judaica Honey Pot
Sure, you can fill a small pot with honey and pass it around for everyone to dip their apple in it.
BORING.
The decorative (read: Jewish) way to dip your apple in honey is to dip it in a dedicated honey pot – made especially for Rosh Hashanah.
I particularly like Spode's honey pot.
If you've ever been to a Passover Seder – chances are you've seen one of their signature Passover Seder plates.
Turns out they have a signature Rosh Hashanah honey pot too 🙂
Hand Painted Rosh Hashanah Honey Dish
What tha…?!
Look closely…
Those aren't real apples.
It's a special Rosh Hashanah apple designed plate and bowl 🙂
Whoever came up with this idea is a genius.
It gives jokers a chance to tease their guests (or annoy, depends who your guests are) and serve them an empty dish.
Shana Tova Umetuka Challah Cover
This is a bit less deceiving than the Rosh Hashanah dish.
It looks like a Challah cover… It walks like a Challah cover… It IS a Rosh Hashanah Challah cover!
Now that's how you do Hamotzi on Rosh Hashanah!
Lily Art Painted Stainless Steel & Glass Challah Board: Pomegranates
You've got a Rosh Hashanah Challah cover. But how do you serve the Challah?
With a Rosh Hashanah Challah board of course! 
OK, to be fair, it's not just for Rosh Hashanah…
The Rosh Hashanah Challah is round… 
But I personally think getting a round Challah board you'll only use once a year to be a complete waste. I'd much rather get a Challah board I can use all year round (hint: Sukkot is less than 2 weeks after Rosh Hashanah… use it in your Sukkah!).
Yair Emanuel Set of Aluminum Salad Servers – Pomegranate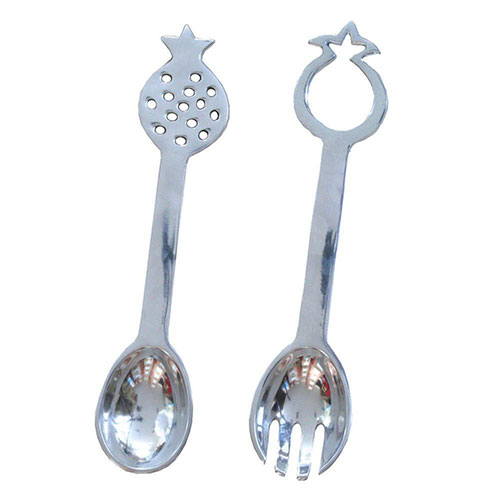 You added a Rosh Hashanah twist to your Challah. Nice job!
Now, how about the salad? Can you "Rosh Hashanify" it too? (adding Pomegranates to your salad doesn't count)
More challenging indeed… but not impossible!
Boom! Pomegranate salad servers!
What's next? A Rosh Hashanah salad bowl? (careful, don't test me)
Yair Emanuel Hand Painted Laser Cut Bowl – Birds and Pomegranates
I told you not to test me 🙂
This Rosh Hashanah bowl is not just pomegranates… it's birds and flowers too.
Cute huh?
Unique Rosh Hashanah Table Decorations
Honeypots, Challah boards, Challah covers… those are all great Rosh Hashanah table decorations.
But they're not unexpected. Every Rosh Hashanah holiday table has them… we just added a twist to them.
But the following Rosh Hashanah table settings are NOT expected.
They're unique…
They're surprising…
They're awesome!
Rosh Hashanah Apple & Honey Confetti
How cool is it to sprinkle some of these apple & honey confetti on the table – before the (real) apple & honey arrive?
Your guests will have something to look forward to… (don't forget to serve the fake apple & honey plates to test their patience).
Pomegranate Wine Glass Decoration
It's a Mitzvah to drink wine on Rosh Hashanah (and indeed, wine is poured generously on Rosh Hashanah).
How about we "beautify" the Mitzvah and decorated our wine glasses with these cute decorative pomegranates?
Rosh Hashanah Pomegranate Napkin Rings
Nappy the Napkin: "Hey! How come Winy the wine glass gets a pomegranate? I want a pomegranate too!
Winy the Wine Glass: "Shush Nappy. It's Rosh Hashanah…No jealousy allowed!"
Nappy the Napkin: "Don't you tell me to shush! Or I'll wipe you off the table!"
Boys, boys! Cut it out! Here Nappy, you can have your own Pomegranate napkin rings.
Chag Sameach Place Cards
 
How about adding a personal touch to your holiday table?
These Chag Sameach place cards are an easy (and cheap) way to win your guests over. Such a simple yet thoughtful gesture your guests will appreciate
Yair Emanuel Laser-Cut Pomegranate Tree with Birds – Brown
"Rebecca…Why is there a decorative pomegranate tree in the middle of the table?"
Because it's freakin' awesome, that's why!
Besides, its small and barely takes up any room, so give me a break!
Rosh Hashanah Cotton Tablecloth
I mentioned all of these table decorations you can put ON the table, that I completely forgot about the basics: the table itself!
Yes! Apparently, you can cover decorate the table itself with this special Rosh Hashanah cotton tablecloth.
It is a bit expensive though, so I'm not sure if it's worth it… but it is possible!
Rosh Hashanah Table Centerpieces & Tablescapes 
… Rosh Hashanah table decorations? Check! ✅
… Table setting ideas? Check! ✅
… Table centerpieces for Rosh Hashanah! Not check! ❌
Time to choose your table centerpiece!
But don't think I'm going to choose it for you…
Instead, I'll give you a bunch of Rosh Hashanah tablescapes to choose from.
But ultimately, you'll have to choose what's best for you!
White Bouquet Centerpiece
You can go for a bunch of small flowers, or for 1-2 white bouquet centerpieces (depending on the size of your table).
Flower centerpieces are perfect on Rosh Hashanah… especially white rose bouquets like this one.
Why white?
White represents purity, positivity, and clarity – which is what Rosh Hashanah is all about.
Apples & Flower Centerpiece
In addition to your flower centerpieces, you can sprinkle some apples all across the table for décor (and eating).
I like the idea of adding a flower to each plate too like in this example… but I personally prefer the white rose flowers I mentioned above – they're way more appropriate for Rosh Hashanah.
Apple Coating Station
Sure, we dip apples in honey on Rosh Hashanah.
But why leave it at that?
Why not dip the apples in honey, AND in chocolate chips, AND in coconut, AND in [fill in the blank]
Why just wish your guests a Shana Tova Umetukah, if you can give them one?
Be creative!
Tip: Careful not to serve any dairy dips during Rosh Hashanah dinner. Dinner usually involves meat… and as you probably know – meat and dairy don't play well together in Judaism.
Pomegranates & Oranges
I know I know, oranges aren't one of the 10 foods we eat on Rosh Hashanah.
But they can be a beautiful table setting, especially if you combine them with pomegranates (they are one of the 10 Simanim!).
Sure, you can replace (or add) the oranges with apples… the problem is red apples with red pomegranates kind of "lose their" color if you know what I mean… and green apples are sour – we need Matok (sweet)!
Caramel Apples
Or the way I like to call them: "apples on a stick"!
Tip: Not recommended for Rosh Hashanah dinner if it's made of dairy.
Just Apples 
Why complicate things?
Aren't apples good enough by themselves? Don't hurt the apple's feelings.
Rosh Hashanah Wall Decorations
Look around… what do you see?
Rosh Hashanah decorations go beyond the dinner table.
What about the hall? The entrance? The bedroom?
To really give your home a nice Rosh Hashanah "feel" – spread out your decorations… or in this case – hang them! 
Shana Tova in Glitter Garland & Banner
Welcome your guests with this lovely (handmade) Shana Tova banner!
Look! Look! The apples are smiling!
How do you like them apples?
Rosh Hashanah Shana Tova Garland
This is another unique garland of the 10 Rosh Hashanah symbols.
Just like the previous one – this one is also handmade, with more "royal" colors: gold, bronze, ivory, and others…
A very cool Rosh Hashanah décor. 
Dorit Judaica Stainless Steel Pomegranate Wall Hanging – House Blessing
Not a garland this time.
This time – it's a pomegranate wall hanging!
Notice that I said pomegranate wall hanging, not Rosh Hashanah wall hanging?
That's because it's a house blessing that just happens to be pomegranate shaped… That means you can leave it hanging for the rest of the year.
In fact, that's exactly what people do when they get this for a Jewish housewarming.
Conclusion
Pomegranates, apples & honey, Shana Tova… 
Great things do come in small packages.
Remember: Rosh Hashanah isn't an ordinary Jewish holiday. It's arguably the most important one in the Jewish calendar.
It's a holiday of reflection on the one hand, and celebration on the other. That's a unique combination, isn't it?
A unique holiday calls for unique Rosh Hashanah decorations that give your home a nice & welcoming Rosh Hashanah atmosphere.
There's no better way I can think of to celebrate the Jewish new year than spending time with your family and loved ones in a warm & peaceful atmosphere.
Shana Tova Umetukah 🙂
Get brand new holiday gift ideas for your lovely friends & family - just in time for the next Jewish holiday!