20+ Best Rosh Hashanah Gift Ideas for the Jewish New Year (2019)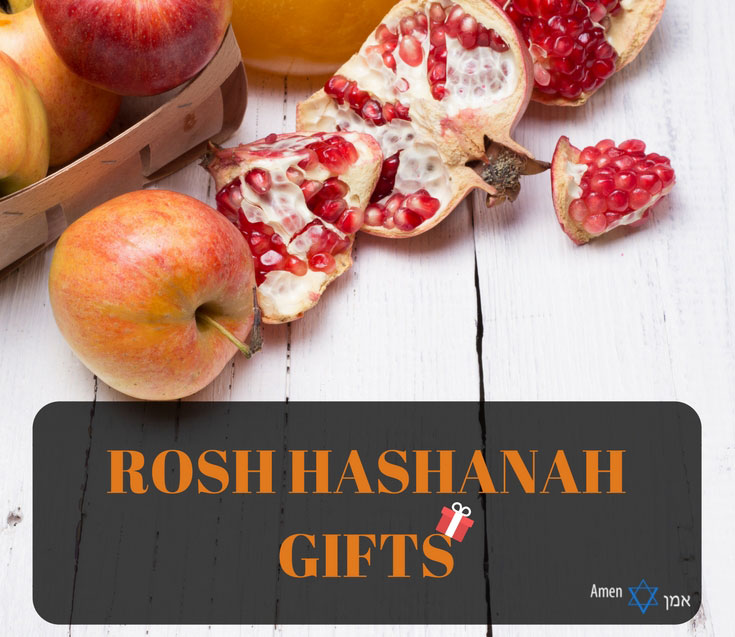 Another year has passed… can you believe it?
It seems like last year's Rosh Hashanah was just yesterday, yet here it comes again…
Now…
Before you take a seat at the holiday table, you might want to load up on a few Rosh Hashanah gifts for your loved ones.
But what kind of gifts should you bring to the Rosh Hashanah dinner?
Hold your horses apple, honey… You're about to find out!
Top Rosh Hashanah Gifts
Care for some spoilers?
These are the best gifts for Rosh Hashanah 2019 that your family & friends will absolutely LOVE…
Looks exciting, huh? It's about to get much better…
Rosh Hashanah Hostess Gifts
Your hostess has invited you over for a delicious Rosh Hashanah seder. You don't want to arrive empty handed, now do you? (especially if it's your in-laws… good luck by the way)
What should you bring?
Relax! I've got you covered.
I dedicated this section entirely for your lovely hostess – including some pretty awesome Rosh Hashanah gift ideas your hostess will absolutely love!
Spode Judaica Honey Pot
Top Hostess Gift
If you're going to dip an apple in honey anyway, might as well do it in (Jewish) style!
Spode Judaica is famous for their beautiful & practical ceramic Judaica art. If you've ever been to a Passover seder, then chances are you've seen a Passover seder plate with a similar design.
Guess what… thankfully, they didn't leave Rosh Hashanah behind!
They brought their signature blue & white Star of David design over to your Rosh Hashanah table. So we can all eat our apple & honey the Jewish way!
Yair Emanuel Hand Painted Laser Cut Bowl – Birds and Pomegranates
Remember – Rosh Hashanah food isn't just apple & honey (and a fish head 🐟).
Your hostess has probably spent hours preparing the most delicious Rosh Hashanah dinner.
Well, thanks to you – she'll be able to serve her delicious food on a colorful, artistically designed Pomegranate bowl!
And after the Jewish new year is over, she can continue using it ALL YEAR LONG.
Then, imagine they invite you over for Rosh Hashanah again next year… well what do you know – there's your bowl again from last year!
(That doesn't mean you should come empty handed next year. Don't forget to come back to next year's Rosh Hashanah gift guide! Put it on your calendar…I'll be here waiting!)
Tip: Tell your hostess to serve Pomegranates on the Pomegranate bowl for a quick laugh.
Dorit Judaica Stainless Steel Pomegranate Wall Hanging – House Blessing
A house blessing your hosts can hang on the wall is a thoughtful gift in of itself.
A big pomegranate house blessing for Rosh Hashanah? That's 10X more thoughtful.
The pomegranate in Jewish tradition is a symbol of fruitfulness, abundance, and love. Which is exactly why we eat pomegranates on Rosh Hashanah – to bless ourselves and our loved ones with a year of abundance and love.
Well, with this Pomegranates wall hanging – your blessing can hang all year long.
Imagine being surrounded by that 24/7… How can you NOT have a fruitful year?
Yair Emanuel Wooden Challah Board, Knife and Stand – Jerusalem
How does reciting the Hamotzi in Jerusalem sound?
Nice, huh?
OK, OK… this Challah board isn't exactly a flight ticket to Israel… but it's close enough.
Jerusalem old city is hand painted in vivid & harmonious colors across the surface of this unique wooden Challah board.
Now that's how you turn a Shabbat table into a live art gallery.
Related: The top Challah boards & trays for Shabbat.
Rosh Hashanah Gift Baskets: Food & Honey Gifts
Sweet Moses, do these Rosh Hashanah gift baskets look delicious or what?
It's a common tradition to eat honey (apple & honey anyone?) and other sweets during the Jewish new year.
We "munch" like 5-year-olds on a sugar craving to bless ourselves with a year as sweet as honey!
But what if honey isn't sweet enough? What if you want something that is both sweet AND is a sweet gift?
Well, that's what these delicious (Kosher) Rosh Hashanah food gifts are for!
Naturally Flavored Honey Straw Gift Set
Top Gift Box
Here comes the honey… LOTS of honey.
But this isn't a regular Rosh Hashanah honey gift. No sir (or ma'am?)…
Instead of dipping an apple inside a jar of honey, you get a TON of delicious honey straws in a cute little gift set.
The set includes honey straws in 5 different flavors:
Clover
Orange
Buckwheat
Wildflower
Blackberry
All naturally flavored from the nectar source of flowers visited by the honey bee herself.
Who knew honey had so many flavors?
Now that's what I mean by "Shana Tova Umetuka"!
Plus: This Rosh Hashanah gift set is gluten-free, dairy-free, egg-free,  and flavor-rich!
Rosh Hashanah 3-Tier Classic Tower Gift Box
No sweeter way to wish a sweet year than this 3-tier classic tower of royal sweetness (that was a pretty sweet sentence, wasn't it?).
Wrapped in gold to symbolize richness, this remarkable 3-tier tower is filled with all sorts of goodies:
Honey cookies (those soft, delicious round pastries)
Honey candies
Gourmet nuts & dried fruit
Chocolate bonbons
Every tier in the gift box is a surprise… and my oh my does it "hit the spot".
A classy and unique (and of course Kosher!) Jewish new year gift basket that ensures your recipient will have a sweet Rosh Hashanah and one heck of a new year!
Rosh Hashanah Farmer's Basket + Fresh Apples & Pomegranate
Fresh apples: check ✅
Honey: check ✅
Crunch bars: ✅
Gourmet fine chocolate truffles: check check check ✅✅✅
(Sorry, got excited there at the end.)
This delicious (Kosher) Rosh Hashanah fruit basket has a little something for everyone: fruits for those on a diet, apple & honey for those who just want to dip the apple in honey, and of course gourmet chocolate and crunch bars for chocolate addicts (aka normal humans).
Think about it this way: you can wish someone a "Shana Tova Umetuka", or you can give them a "Shana Tova Umetuka" with this yummy Rosh Hashanah food gift.
I don't know about you… but I prefer option #2.
Rosh Hashanah Wooden Gift Tray – XL 18
What if you want to guarantee someone you love has a Shana Metuka?
The answer: a BIG Rosh Hashanah Wooden gift tray, filled with endless amounts of gourmet chocolate, candies, and roasted premium nuts.
You don't just guarantee a Shana Metuka, you guarantee a couple of other things:
Satisfaction guarantee
Weight gain guarantee (sorry)
An exciting "OMG! I Loved It" phone call guarantee (if you send it as a gift)
Want to get unique Jewish gift ideas straight to your email inbox?
Traditional Rosh Hashanah Gifts
The first day of the Jewish new year obviously calls for some traditional Rosh Hashanah gifts.
Rosh Hashanah is one of the biggest holidays in the Jewish calendar, and so getting your friends & family a traditional Jewish new year gift is obviously a terrific idea, regardless if they're religious or not.
Have a look at these great gift ideas to see what I mean…
High-Quality Yemenite Shofar Kosher & Polish + Free Bag
Top Traditional Gift
What's that weird "snake-thing" and what makes it a great gift for Rosh Hashanah?
It's not a snake, silly!
It's a Rosh Hashanah Shofar – the traditional Jewish instrument we play during the Jewish high holy days (Rosh Hashanah & Yom Kippur).
Noticed how I said traditional? Well, what's a better traditional Rosh Hashanah gift than the traditional Jewish instrument we play on Rosh Hashanah?
The Yemenite Shofar is made from an African Kudu horn, and it's MUCH more impressive (this one in particular) than the smaller Ram's horn Shofar.
That's what makes a more appropriate present for a Rosh Hashanah… especially for religious Jews.
Rosh Hashanah & Yom Kippur Machzor Set (English + Hebrew)
The Jewish high holy days (the days between Rosh Hashanah & Yom Kippur) are the holiest days in the Jewish calendar.
We spend most of the time in the synagogue praying.
Pray for what? With a Rosh Hashanah & Yom Kippur Machzor.
You arrive at the synagogue, looking for the Rosh Hashanah or Yom Kippur Machzor to pray with… Oh oh, all the Machzors are already taken!
Sounds familiar? If you attend the synagogue on Rosh Hashanah or Yom Kippur, then you know exactly what I'm talking about.
The best way to avoid getting stuck in the synagogue without a Machzor is to own one of your own.
And if you're going to own one – you might as well own Artscroll's Machzor – one of the most popular Machzors for Rosh Hashanah & Yom Kippur.
Their siddur provides a detailed commentary on the Hebrew text, as well as the English translation for those of you who are more comfortable reading it in English.
Every one of us could use a set of Machzor Seforim for Rosh Hashanah & Yom Kippur… Books we can conveniently use every year during Rosh Hashanah & Yom Kippur.
Tip: This is an excellent gift for both Rosh Hashanah & Yom Kippur (probably the only gift you should get on Yom Kippur).
Yair Emanuel Textured Nickel 8-Piece Kiddush Set
The Rosh Hashanah dinner is a feast.
You know what that means: wine… LOTs of wine!
And how do you serve Kiddush wine to the masses (you know, instead of passing the Kiddush cup around and waiting for 2 hours till you get it)?
A Kiddush wine set!
But not just any Kiddush set… A Kiddush set designed by Israel's favorite artist, Yair Emanuel.
As King David said: "Wine gladdens the heart of man"… Amen V Amen to that!
Silvered Ram's Horn Shofar Replica – Jerusalem
Another Shofar?
Didn't we have one already?
Hang on… this isn't the kind of Shofar you blow your lunges out attempting a shofar blast (although you can). It's a replica (a gorgeous one!) meant for display…
Beautifully engraved with Jerusalem's old city highlighted in gold – all ready to capture your gift recipient's attention (and anyone else who enters the room)!
The best part?
When they'll display this stunning piece, and every time they look at it… goes who'll they think about? That's right – they'll think about you! They'll think about that special day you got them this wonderful Rosh Hashanah gift.
Yair Emanuel Stainless Steel Pomegranate Havdalah Set
Pomegranates & Rosh Hashanah go hand in hand.
No wonder why Yair Emanuel's gorgeous Pomegranate Havdalah set flies off the shelf on Rosh Hashanah…especially when Rosh Hashanah falls on a Sabbath!
It's very exciting when Shabbat comes in (the wine, the Challah, the Shabbat meal)…
Not so much when Shabbat leaves (you light a small Havdalah candle, and that's that).
This Havdalah set changes things. It turns a not-so-exciting ceremony into a beautiful ceremony.
It gives every Shabbat a final tasteful experience, and a spark of beauty to start off your new week, and in this case –  a new year!
Rosh Hashanah Gifts for Kids
You didn't think I'd forget about the little ones, right?
If there's a good time to spoil our little treasures with sweet Rosh Hashanah presents – it's now.
So, let's get out there (you don't have to physically go anywhere, just a figure of speech) and find our kids some fun Rosh Hashanah gift ideas so they won't get bored.
Kid Kraft Rosh Hashanah Set
Top Gift for Kids
Us adults have a blast on Rosh Hashanah: we light candles, drink wine, blow the Shofar…
The kids don't have any of that… how sad 🙁
But wait! With this Rosh Hashanah gift set…the hell they do!
KidKraft's perfect (5-star perfect, no joke) gift set is the best way to involve young children in the Jewish holiday traditions from a very young age.
The kids Rosh Hashanah gift set includes:
Apple slices
2 round raisin Challahs + Challah cover
1 Shofar
1 Kiddush cup
1 honey dish
2 wooden candlesticks + candles
And most importantly: 1 hell of a teaching tool for the little darlings.
I have to say, this looks way more fun than what we get as adults. Maybe it's a good idea to get it for adults as well?
Plastic Toy Shofar with Natural Color Design
When you drag the little fellas to synagogue on Rosh Hashanah, there's one thing every Jewish kid waits for eagerly: the Shofar blast!
When I was little, I actually asked my father to put me on his shoulders so I could watch the Shofar blast.
Now your kids can get even luckier.
How?
You can get them their own (toy) Shofar!
It looks real (with a natural Ram's horn Shofar color), it sounds real (yes, it makes a sound when blown), and it makes Rosh Hashanah much more special for the little ones.
Uncle Goose Hebrew Blocks (Made in USA)
Aleph-bet-gimel… sure I know the aleph-bet, but not all Jewish babies do.
Uncle Goose's Hebrew blocks are here to help.
These aleph-bet blocks are a great way to surround toddlers with the Hebrew alphabet from a very young age.
And it's not just boring letters, no-no…
This set includes 27 blocks featuring:
Hebrew letters
Numbers & Symbols
Animals (a lot of them)
The little baby will have to learn the Hebrew alphabet someday… The Jewish new year is a great "someday".
Plush Torah
Stuffed animals are cliché.
It's Rosh Hashanah! We need something more "Jewish" than just another stuffed animal.
The solution?
A plush Torah! This cute little present gives you everything a stuffed animal can, plus the added Jewish touch!
And let's face it…seeing a little baby dance with a Plush Torah on Rosh Hashanah is just hilarious…
Deluxe "My Soft Rosh Hashanah Gift Set" for Jewish New Year
A plush Torah isn't enough?
How about a plush Rosh Hashanah gift set? Sound better?
All you have to do is ask…
This lovely Rosh Hashanah set is filled with 8 plush pieces of the Jewish new year's famous symbols:
Soft Shofar
Soft apple
Soft honeypot
2 round Challahs
2 soft candlesticks
Soft Kiddush Cup
Once again, forget stuffed animals… time to introduce the baby to the Jewish tradition!
A great Jewish new year gift for the little ones.
Rosh Hashanah Wine Gifts
Rosh Hashanah is the beginning of a new year. You know what that means, right? Exactly – a feast! That calls for delicious Kosher wine…
Like King David said:
"Wine gladdens the human heart" – Psalm 104:15.
Naturally, a nice bottle of wine is a great Rosh Hashanah gift to give to your host or hostess. Or if you're hosting the seder yourself this year, then you might be worth getting a wine case (you can buy cases for any of the wine brands mentioned below).
Dalton Estate Cabernet Sauvignon 2014
Top Wine Gift
Starting off with a delicious wine from one of my favorite wineries in Israel.
The Dalton Cabernet's is a very smooth dark ruby-red color wine. It has a lovely aroma of berries, cassis, mint, and shades of vanilla from the barrel.
The "dark", chocolaty flavor might actually remind you of French wine.
This Cabernet is the perfect example of richness and modesty – the modesty part being represented by its cheap price.
This Dalton is a must-have for every Cabernet Sauvignon lover.
The Chosen Barrel Reserve Cabernet Sauvignon 2012
The Chosen Barrel Reserve Cabernet Sauvignon is an excellent, award-winning wine straight from one of Israel's finest boutique wineries.
Chosen Barell's Cabernet Sauvignon has a "fruity" taste to it, which obviously goes very well with steak & grilled meats, making it a great choice for a Rosh Hashanah holiday dinner.
Tip: Aging it for an extra 3-5 years will really give it enhanced notes of ripe black fruit and cassis.
Shiloh Secret Reserve Cabernet Sauvignon 2013
A smooth, luxurious dark-red color wine with a strong black fruit and cassis aroma. Even though this wine is "Mevushal", but tastes like "Not Mevushal".
Pairs nicely with steak, burgers, or any other type of meat, and is definitely a "crowd-pleaser".
Another Cabernet Sauvignon, this time from Psagot.
Similar to the Dalton Cabernet, this Cabernet displays rich red and dark forest fruit aroma with a hint of vanilla and spicy overlay to the fruit, originating from the small French oak barrels where it was aged for 13 months – giving it additional "firmness".
Great texture, great boutique winery and a great bottle for celebrating the Jewish new year.
Rosh Hashanah Flower Gifts
Haven't found an appropriate Rosh Hashanah present for your hostess yet? Or perhaps you want to do a nice little gesture for your wife this new year.
Well then, these Rosh Hashanah flowers are here to the rescue. Because there's nothing like kickstarting your new year with a fresh, blissful & beautiful flower arrangement.
Tip: Particularly white flowers. They represent purity and clarity – exactly what Rosh Hashanah means in Judaism.
Clarity Luxury Rose Bouquet
Top Rosh Hashanah Flowers
If you want to send (or bring) a loved one flowers for Rosh Hashanah, then without a doubt gorgeous white rose bouquet is the one.
It looks, feels and smells like heaven.
Remember – Rosh Hashanah is the day of reflection… It marks the beginning of the 10 days of repentance – where we look back at our previous year, examine our lives and look forward towards our future.
A quick look at this elegant bouquet – and you see why this is my favorite bouquet on here: it screams, or rather, whispers purity, positivity, and clarity…
In fact, it says so in the name right there.
Tip: Keep in mind that this is a premium bouquet… meaning – it's not cheap. I suggest you get this for a close family member or loved one, otherwise go for one of the cheaper alternatives below. 
Sunlit Meadows™ Bouquet
You don't have to go for white flowers (although that's ideal on Rosh Hashanah). Remember – Rosh Hashanah is usually celebrated at the beginning of autumn. So a colorful bouquet (like this one) is a great fit too.
This fresh, blossoming bouquet Is made of yellow spray roses, lavender mini carnations, white traditional daisies and a bunch of greens that makes the colors stand out.
And of course: the star of the show – the magnificent sunflower!
Combined in a gorgeous aqua blue designer glass vase… everything you need to spread love and positive vibe in the holiday table… 
Sapphire Skies Bouquet
If there's such a thing as a "Jewish bouquet" – I believe this is it.
Obvious joke: No, not because it's circumcised!
First – it's blue & white…
Second – the unique combination of flowers & colors makes you want to stare at it for hours. And once you do…
It'll capture your focus… soothe your soul… and you'll start to feel that inner sense of bliss…
You know – that feeling you get when you stare at the clear blue sky (hint: that's why this bouquet is called Sapphire Skies).
Now you see why this is the ultimate bouquet for Rosh Hashanah? (or any Jewish holiday for that matter)
Conclusion
That's it, the end of this Rosh Hashanah gift guide has arrived…
But don't worry, your Jewish new year is just getting started… And I wish you and your family the sweetest year ever, filled with love & happiness!
If you got them cool Rosh Hashanah presents, I know it will be 🙂
And as usual, if you've got other gift suggestions you think I should add on here, please tell me in the comments!
Chag Sameach! Shana Tova Umetuka! And may you be the head and not the tail!