25+ Traditional Rosh Hashanah Gift Ideas for the Jewish New Year (2022)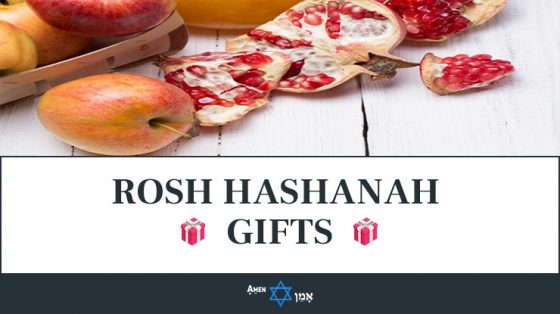 Amen V'Amen is supported by its audience. That means when you purchase something from one of our partners through one of our links, we may earn a small commission at no additional cost to you. Amen V'Amen is also an Amazon Associate, so we may earn a commission from qualifying purchases. Thank you for your support!
Another year has passed… can you believe it?
It seems like last year's Rosh Hashanah was just yesterday, yet here we are again!
Well, what are you waiting for? Go grab a seat at the dinner table… on the menu: Gefilte Fish, Apple & Honey, and some fish head. Mmmm sounds yummy (not)!
HOLD IT. Aren't you forgetting something?
Don't tell me you're planning to arrive at a Rosh Hashanah dinner table empty-handed? Oy vey… Big mistake!
You better load up on a few Rosh Hashanah gifts for your loved ones, quick… Or else, you may wake up next to a fish head with your name on it (you know, mafia-style)!
Just kidding… (but seriously – don't you dare arrive to a Rosh Hashanah dinner empty-handed )
Let's cut to the chace: if you're looking for an appropriate present to can bring to a Rosh Hashanah dinner table – then hold your horses apples, honey bee… Because this gift guide is buzzing with unique Rosh Hashanah gift ideas!
Top Rosh Hashanah Gifts
SPOILER ALERT: These are the best gifts for Rosh Hashanah 2023 your family & friends will absolutely LOVE…
Rosh Hashanah Hostess Gifts
Your hostess has invited you over for a delicious Rosh Hashanah seder. You least you can do is thank her with a thoughtful Rosh Hashanah gift. (especially if it's your in-laws… better make a good impression, sweetheart!)
Relax! I've got you covered…
I'm about to give you some special Rosh Hashanah gift ideas for your special hostess.
Top Hostess Gift
If you've ever been to a Passover seder before, odds are you've seen Spode's famous blue & white ceramic Seder plate before.
Well, guess what? Spode didn't leave Rosh Hashanah behind!
But this isn't Pesach… so instead of a Seder plate – they designed a blue & white ceramic honey pot – especially for the Rosh Hashanah table!
You know what they say: if you're going to dip apples in honey anyway, you might as well do it in (Jewish) style.
(ok, ok, this isn't an actual saying… but it does fit the occasion, don't you think?)
Your hostess has just spent hours preparing a fabulous Rosh Hashanah dinner.
Don't you think she'd like to serve her it on an equally "delicious" bowl? Not taste-delicious, but look-how-beautiful-delicious!
Sure, your hostess could serve it on a "vanilla" (read: boring) bowl and call it a day…but this is Rosh Hashanah, not a microwave dinner!
Besides, I'm sure the guests will find it amusing when she serves pomegranates on a colorful, artistically designed Pomegranate bowl.
But unlike pomegranates (which most people eat only during Rosh Hashanah) – she can continue using the Pomegranates bowl ALL YEAR LONG.
Imagine…
You're invited to Rosh Hashanah dinner again next year… well what do you know – there's your bowl again from last year!
How cool is that?
Did you think Seder plates are only a Passover thing? Think again!
Unlike Passover plates, the items on the Rosh Hashanah Seder plates are much more appealing:
Apple and honey
Pomegranates
Dates
Beets
Leeks
Black-eyed peas
Fish head
OK… some are more appealing than others (what, you don't a fish head appealing?)
And what's up with all the pomegranates, you ask? In Judaism, pomegranates are a symbol of prosperity. That's why we eat, decorate and give away Pomegranate-themed gifts on Rosh Hashanah.
Made in Israel, this unique contemporary glass Seder plate is one helluva gift to bring over for Rosh Hashanah dinner.
But it's not just beautiful. It's practical, too. It'll definitely come in handy throughout the entire holiday.
Staying with the pomegranates theme…
Unlike the previous gift, this pomegranates-themed house blessing can stay on the wall throughout the entire year!
To bring prosperity, it's not enough to wish for it on Rosh Hashanah. You have to be surrounded by it 24/7, 365.
Pomegranates are a symbol of fruitfulness, abundance, and love. And we could all use more of those!
Someone tell Spode they have competition. And my oh my what a fierce competitor it is!
This unique Rosh Hashanah honey dish set includes a honey bowl AND a beautiful ceramic square plate – designed after the famous Tree of Life symbol from the Kabbalah.
Now, your hostess can serve both the apples & honey together with the round Challah, and do it with matching dinnerware!
A beautiful and super-useful gift that will definitely come in handy in the (near) future.
Traditional Rosh Hashanah Gifts
The first day of the Jewish new year obviously calls for some traditional Rosh Hashanah gifts.
Rosh Hashanah is one of the biggest holidays in the Jewish calendar. Needless to say, getting your loved ones a traditional gift for the Jewish new year is a good idea.
We dug up some of the best traditional Rosh Hashanah gifts for our 2023 Jewish new year gift guide.
Let's have a look, shall we?
Top Traditional Gift
Rosh Hashanah dinner is, first and foremost, a feast.
You know what that means… WINE, baby! Lots and LOTS of wine! (don't worry, the actual wine bottles are coming up).
And how do you serve Kiddush wine to the masses?
One way is to pass around the Kiddush cup and wait till everyone has a sip. This gets really annoying really quick if you're having more than 4 people over.
Another option is to use disposable Kiddush cups. This is a good option to consider if you're hosting a massive feast and you don't mind the negative reputation of using plastic cups.
Or, you could use a Kiddush wine set designed to solve this exact problem.
And if you're using a Kiddush set, you might as well use a stylish Kiddush set designed by none other than Yair Emanuel – one of the top Judaica artists in the world.
L'chayim!
OY VEY! A SNAKE!
Relax! It's not a snake, silly! It's a Shofar – the traditional Jewish instrument we play during the Jewish high holy days (Rosh Hashanah & Yom Kippur).
"But that looks nothing like the small Shofar I've seen in my local synagogue".
That's because it's a Yemenite Shofar, not a Ram's horn Shofar.
Yemenite Shofars are made of an African Kudu horn, and they're far more impressive (and more expensive) than a small Ram's horn Shofar.
Non-Jews are baffled when they're invited to celebrate the Jewish New Year for the first time.
There's no big countdown, no fireworks, no big kiss when the clock hits 00:00… there's none of that.
In Judaism, the Jewish High Holy days (the days between Rosh Hashanah & Yom Kippur) is a period of reflection: we reflect on our past, acknowledge the present and pray for a better future.
Indeed, we spend most of our time in Rosh Hashanah praying; synagogues are always jam-packed during the high holidays.
In fact, I remember always struggling to find an available Machzor when I arrived at the synagogue… By the time I got there – all the Machzors were taken (and I arrived early)!
Ugh…
Then, finally, someone (I can't even remember who it was) put me out of my misery and got me a lovely Machzor for Rosh Hashanah and Yom Kippur. Whoever it was, I bless that mystery man/woman every Rosh Hashanah and Yom Kippur for the past few years.
Now is your chance to be the mystery MAN/WOMAN, and get some lucky fella a Machzor for Rosh Hashanah & Yom Kippur. Not just any Machzor, but Artscroll's Machzor – one of the most popular Machzor Seforim in the world.
Artscroll's siddur includes a detailed commentary on the Hebrew text, as well as the English translation for those of you who prefer to follow along in English.
An excellent gift for both Rosh Hashanah & Yom Kippur – arguably the only gift that is appropriate for Yom Kippur.
Another Shofar? Didn't we have one already?
Yep, except this is one is a display Shofar. It's not the kind of Shofar you blow your lunges out attempting a shofar blast (although you could).
The Ram's horn Shofar is beautifully engraved with Jerusalem's old city, highlighted in gold accents (you know, just the song).
It's one of those remarkable pieces you put on display, that instantly draws an "Oh Wow" from whoever is entering the room.
Followed by "where did you get it?".
The answer to that question – could be the person staring at you in the mirror.
Pomegranates & Rosh Hashanah go hand in hand.
Then it's wonder why Yair Emanuel's gorgeous Pomegranate Havdalah set flies off the shelf during Rosh Hashanah.
When shopping for Rosh Hashanah gifts (and gifts for Jewish people in general) – people often choose gifts used to welcome Shabbat. Gifts like Kiddush cups, Challah boards, Challah covers…
But what about gifts for the end of Shabbat? Hardly anyone focuses on that…
And that – is an opportunity. An opportunity to stand out. An opportunity to get them something unique. Something they'll actually use… because no one else thought about getting them a Havdalah set.
Yair Emanuel's remarkable Havdalah set allows us to enjoy the beauty of Shabbat one last time before we part ways. It helps us to start off the new week (or in this case, the new year) on the right foot.
Rosh Hashanah Gift Baskets & Boxes (Food Gifts & Honey Gifts)
There's a limit to how many apples we can dip in honey. Aren't there any other snacks we can munch or give someone for Rosh Hashanah?
You bet there are!
These Rosh Hashanah gift baskets are full of unique and delicious treats you won't see in the average gift basket (because why on earth would you settle on average?)…
Top Gift Box
Hey honey, want some honey? And by "some", I mean LOTS of honey.
As you may have guessed – this is no ordinary Rosh Hashanah honey gift.
No sir…
You're not getting someone a lame apple with a pathetic little honey jar. Instead, you're getting them TONS of delicious honey straws they'll spend the entire holiday munching on.
Sounds more appealing, don't you think?
You haven't seen half of it yet…
The set includes honey straws in 5 different flavors, all produced by the honey bee herself:
Clover
Orange
Buckwheat
Wildflower
Blackberry
I didn't even know there were so many honey flavors out there…
Now that's what I call a "Shana Tova Umetuka" (in 5 different flavors)!
What's even sweeter than a collection of honey straws? Try 3-tiers of golden boxes full of mouthwatering sweetness:
Honey cookies (those soft, delicious round pastries)
Honey candies
Gourmet nuts & dried fruit
Chocolate bonbons
Every tier in the gift box contains a surprise… and when that surprise is revealed?
You eat it ⇒ you enjoy it ⇒ you grab some more of it ⇒ rinse and repeat.
Now there's a fabulous way to keep your lucky recipient busy throughout the entire holiday! (they might blame you for the extra pound they put on… just saying)
We'll get to Rosh Hashanah wines in a few moments. Right now, we're still in the Rosh Hashanah gift boxes section – which is the perfect spot place to introduce Tishbi's deluxe gift set!
If you like the idea of getting your hosts wine for Rosh Hashanah, but you prefer something a little more extensive – then Tishbi's fabulous gift set is a terrific option.
The gift set includes:
Tishbi's Ruby Cabernet 2014
Tishbi cold-pressed extra virgin olive oil
Tishbi orange Cabernet preserve
Tishbi fig Cabernet preserve
Tishbi apricot Riesling preserve
Or in other words: the taste of Israel's finest in one gourmet gift set!
If you've ever tasted Godiva, I bet you'd agree that calling it delicious would be the understatement of the century.
If you've NEVER tried Godiva (what the heck is wrong with you?!) – it doesn't matter how much I try to describe it – it's one of those things you have to "see it to believe it" (or in this case – taste it to believe it).
But since we can't convey taste through a screen (yet) – I'll do my best, using words!
The way I see it, Godiva doesn't really produce chocolates. What they produce is an experience; small, memorable moments of absolute joy – wrapped inside a beautiful box.
… The tingling in your stomach when you first open the box.
… The sensation you get when the soft, creamy chocolate melts in your mouth.
… The feeling that makes you secretly wish "God… I hope this box never runs out" (a large enough gift box you can get you pretty close).
THAT is what Godiva produces.
I discovered it myself a long time ago on a trip to Belgium. Needless to say, it's been dominating the top of my "favorite chocolates" list ever since.
Luckily, you don't have to go that far… You can let Godiva ship this golden box of delight straight to your (or your recipient's) doorstep.
Oh, and in case you were wondering: it's 100% Kosher!
Rosh Hashanah Gifts for Kids
You didn't think I'd forget about the little ones, now did you?
If there's a good time to spoil our little rugrats with sweet Rosh Hashanah presents – now is the time.
So, what are you waiting for? Get out there and start shopping!
JUST KIDDING.
What do you think this is, the 90's?
You don't have to go anywhere. Just sit tight, grab a delicious cup of coffee (or tea for you Brits in the audience) and choose one of these cute Rosh Hashanah gifts for your kids. Before you know it – the gift will be waiting for you at the doorstep!
Top Gift for Kids
Us adults have a blast on Rosh Hashanah: we light candles, drink wine, blow the Shofar…
The kids don't have any of that… how sad 🙁
But wait! With this Rosh Hashanah gift set…the hell they do!
KidKraft's perfect (5-star perfect, no joke) gift set is the best way to involve young children in the Jewish holiday traditions from a very young age.
The kids Rosh Hashanah gift set includes:
Apple slices
2 round raisin Challahs + Challah cover
1 Shofar
1 Kiddush cup
1 honey dish
2 wooden candlesticks + candles
And most importantly: 1 hell of a teaching tool for the little darlings.
I have to say, this looks way more fun than what we get as adults. Maybe it's a good idea to get it for adults as well?
When you drag the little fellas to the synagogue on Rosh Hashanah, there's one thing every Jewish kid waits for eagerly: the Shofar blast!
When I was little, I actually asked my father to put me on his shoulders so I could watch the Shofar blast.
Now your kids can get even luckier.
How?
You can get them their own (toy) Shofar!
It looks real (with a natural Ram's horn Shofar color), it sounds real (yes, it makes a sound when blown), and it makes Rosh Hashanah much more special for the little ones.
Let's face it: stuffed animals are cliché. Plus, they don't quite fit the holiday spirit, now do they?
We need something a little more "Rosh Hashanah-y"!
Introducing: plush Torahs (that's right, 2 of them)!
What did you think? That just because the little fellas still can't read from the Torah means they're off the hook?
Think again, sunshine!
Now – they've got their own Plush Torah to play with… you know, before they learn how to use the real thing a few years from now.
Tip: It's Simchat Torah soon…and watching a little kid dance around with a Plush Torah is quite the spectacle.
A plush Torah isn't enough?
How about a plush Rosh Hashanah gift set? Sound better?
All you have to do is ask…
This lovely Rosh Hashanah set is filled with 8 plush pieces of the Jewish new year's famous symbols:
Soft Shofar
Soft apple
Soft honeypot
2 round Challahs
2 soft candlesticks
Soft Kiddush Cup
Once again, forget stuffed animals… time to introduce the baby to the Jewish tradition!
A great Jewish new year gift for the little ones.
Funny Rosh Hashanah Gifts
What, don't adults get to have some fun, too? Are we just supposed to watch the kids play with their brand new Rosh Hashanah toys while we talk to the fish sitting on our plate? (too much wine can make you do crazy stuff)
I don't think so, mister!
Here are some of my favorite gifts and accessories for the Rosh Hashanah table that will kickstart everyone's new year with a BIG smile on their face!
Funniest Gift
When your wife (or mom) tells you to hurry up and get dressed, I'm not sure this is what she has in mind. Just don't wear it to the synagogue… otherwise, she might use it as a weapon (if you know what I mean.)
This tie is ridiculous. And that's the beauty of it!
And you know what's funny? The price is a little ridiculous, too.
Under ordinary circumstances, it would be foolish to pay so much for a tie. But since we're talking about funny Rosh Hashanah gifts, we might as well make fun of ourselves – including our willingness to pay so much for a friggin' tie!
I don't know if this shirt is funny, cute, or romantic… probably a combination of all three.
Remember: if there's a dipping war going on – follow the dipping rule: When I dip, you dip.
Rosh Hashanah Wine
"Wine gladdens the heart of man" - Psalm 104:15
Click To Tweet
Rosh Hashanah is the Jewish new year. You know what that means…
Wine. Lots of wine!
That's why a nice bottle of wine is always a thoughtful gift on Rosh Hashanah. Heck, even if you're the one hosting the seder this year, you might want to get a few of these wines yourself (you can even buy cases for wines I mentioned below).
Top Wine Gift
Barkan Classic is just that – a classic. It's one of my go-to wines for Shabbat and holidays.
Why?
For several reasons:
It's dry, yet rich in flavor (with no bitter taste whatsoever).

It has a nice, fruity aroma

It has a smooth texture
And most importantly: it's incredibly affordable.
What more can you ask from a Rosh Hashanah wine?
I've been planning to go on a Psagot wine tour for years now… every time I visit Jerusalem, I keep telling myself "this time I'm going"! Unfortunately – too much to do, too little time!
In the meantime, I'll have to settle for buying a bottle (and writing about it).
Psagot's Cabernet Sauvignon has a smooth, mouth-coating texture; a strong blackberries taste with a light spicy touch.
The finish is quite strong. It keeps your mouth dry like the Negev desert on a hot summer day – just as you'd expect from a dry wine with many tannins. I personally love it, but it's a matter of personal taste.
Definitely a worthy addition to the Rosh Hashanah Seder table, and a terrific wine to bring as a gift!
Even though red wine is more common on Rosh Hashanah, It would be rude not to include at least one white wine for those who prefer it. And since I can choose only one, I might as well go for one of the best Kosher white wines on the market.
Domaine du Castel Chardonnay is made in the Judean Hills, just outside of Jerusalem, 2400 feet off ground level. It's not too oaky, not too sweet; it strikes a perfect balance, giving the fruity taste a chance to stand out.
The best part? It complements almost any type of meal under the sun – whether you're serving chicken, beef, fish or even vegan!
Rosh Hashanah Flowers
My girlfriend always says: "There's never a wrong time for flowers" (my response to that: no).
But there's definitely a right time for flowers – and Rosh Hashanah is certainly one of those times.
While it's true that any flowers can work, certain flowers are more appropriate for Rosh Hashanah than others.
Allow me to introduce you to them…
Top Rosh Hashanah Flowers
Rosh Hashanah is a spiritual day: we reflect over our previous year, we examine our lives, and we pray towards a better future.
That's why we (Jews) wear white on Rosh Hashanah:
White = purity
White = positivity
White = clarity
You can see where I'm going with this…
If there was ever a bouquet made for Rosh Hashanah – I believe this is it (besides, it's blue & white… talk about meant to be).
It's the type of bouquet that captures your focus, soothes your soul, and gives you that inner sense of bliss… You know – that feeling you get when you stare at the clear blue sky on a bright afternoon (hint: look at the name of the bouquet).
No doubt – a remarkable Rosh Hashanah table centerpiece… and a stunning Rosh Hashanah gift!
Whoever named this bouquet knew what they were doing: Arrive in Style – damn straight.
This marvelous bouquet is THE bouquet for the Rosh Hashanah hostess if you want to give her something thoughtful (without breaking your bank).
Especially if your Rosh Hashanah hostess happens to be… your own wife (or girlfriend)!
You get to arrive at your own home in style and enjoy the fresh scents of the Jewish new year together… win-win!
Light pink roses, mixed with (brace yourself for a whole lot of white)…
White Asiatic

lilies

White alstroemeria

White cushion spray chrysanthemums

White statice and colorful pittosporum
That's a whole lot of white right there. Matches the spirit of Rosh Hashanah perfectly.
While it's true that white flowers are a more natural fit for Rosh Hashanah, that doesn't mean you can't add a bit of color to the dinner table!
Don't let the name confuse you – you don't have to fly all the way to Europe to put your hands and nose on this blossoming bouquet.
It arrives straight to your doorstep – ripped straight from a poor French couple's garden (just kidding… I hope).
This colorful bouquet is filled with bright yellow sunflowers, green poms, pink tulips, and a bunch of other beautiful flowers I can hardly pronounce (here goes: Alstroemeria).
Sure, it doesn't wear white as we do on Rosh Hashanah… but I'm sure nobody would refuse to receive them as a gift for Rosh Hashanah!
Conclusion
That's it, the end of this Rosh Hashanah gift guide has arrived…
But don't worry, your Jewish new year is just getting started!
I wish you and your family the sweetest year ever, filled with love & happiness! And if you got them great Rosh Hashanah presents, I'm sure it will be 🙂
Chag Sameach! Shana Tova Umetuka! And may you be the head and not the tail!