30+ Amazing Jewish Housewarming Gift Ideas & Traditions for a New Home (2022)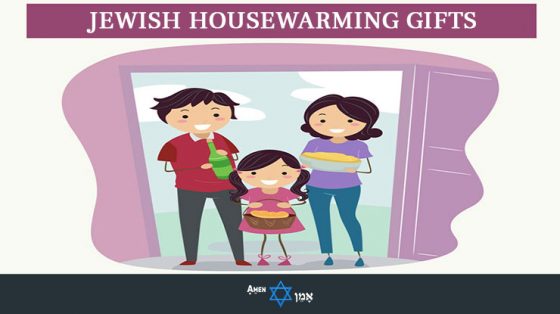 Amen V'Amen is supported by its audience. That means when you purchase something from one of our partners through one of our links, we may earn a small commission at no additional cost to you. Amen V'Amen is also an Amazon Associate, so we may earn a commission from qualifying purchases. Thank you for your support!
Let me cut straight to the chase: if you were invited to a Jewish housewarming party – do not, I repeat, do NOT bring salt, bread, and sugar. Sure, it's a symbolic gift people used to bring on housewarming parties. But, really? A friend or family member is moving into their new place, don't you think they'd appreciate a more practical housewarming gift than that?
If you're not convinced about this argument and still prefer the old-fashioned salt, bread, and sugar thing… be my guest. But if you actually want to bring something useful – then, my friend, this Jewish housewarming gift guide is for you…
Jewish Housewarming Traditions for a New Home
A Jewish housewarming has several traditions:
Hanging a Mezuzah
The ritual of hanging a Mezuzah is the hallmark of the Jewish housewarming ceremony. Jews hang a Mezuzah – a small parchment scroll with a text from the Torah contained inside a Mezuzah case – on each doorpost inside their home (except for bathrooms), as a sign for spiritual protection.
The new resident (usually accompanied by a Rabbi) hangs the first Mezuzah in the house entrance, and recites the following two blessings (in Hebrew):
1. First Blessing
English transliteration: Barukh ata adonay eloheynu melekh haolam asher kidshanu bemitzvotav vetzivanu likboah mezuzah.
English Translation: Blessed are you, Lord our God, King of the Universe, who has made us holy with his commandments and commanded us to affix a mezuzah.
2. Second Blessing
English Transliteration: Barukh ata adonay eloheynu melekh haolam shehekheyanu vekiymanu vehigianu lazman hazeh
English Translation: Blessed are You, Lord our God, King of the Universe, who has granted us life, sustained us and enabled us to reach this occasion.
Bread, Salt & Wine (or Sugar)
Giving a small basket of bread, salt, and wine (sometimes sugar) is an age-old Jewish housewarming tradition that started a LONG time ago somewhere in Eastern Europe.
Weird combination, isn't it?
Not if you've ever attended a Friday night Kiddush, it isn't. These are the exact same ingredients you need to perform a proper Kiddush:
Bread (Challah) for Hamotzi
Salt for Hamotzi
Wine for Kiddush
Coincidence?
Celebratory Meal
It's common for the new residents to host a light celebratory meal to mark their first meal in their new home. Religious Jewish families often read a Dvar Torah (words of Torah) during those meals.
Top Jewish Housewarming Gifts
Now that we've established that simply bringing a basket of bread, salt and wine don't cut it – let's find out what does make a great housewarming present.
(Spoiler Alert): For those of you in a hurry – I created a table that shows the best Jewish housewarming gift ideas from each section.
Enjoy 🙂
Still here? Good!
Because let me tell ya – there are a TON more unique housewarming presents that I simply couldn't include in the table… and since you stuck around – you're about to discover them 🙂
Traditional Jewish Housewarming Gifts
A basket of bread, salt & wine is certainly a Jewish housewarming tradition. But is it considered a gift?
Not really…
Lucky for you, there are many actual traditional Jewish housewarming gifts you can get for the couple's new home.
Let me show you what they look like…
Top Traditional Gift
I can't think of anything more appropriate for a Jewish housewarming gift than a BIG wall hanging with the famous house blessing prayer in Hebrew (and English).
And yea, especially when that wall hanging is shaped like a pomegranate – the traditional Jewish symbol of:
Wealth & abundance
Righteousness
Prosperity
Wisdom
That list is basically everything you'd wish for someone you care about, and definitely a blessing you want them to be surrounded with 24/7 in their new home.
The reason we're all gathered in this Jewish family's Chanukat HaBayit is to hang a Mezuzah in their new Jewish home.
So naturally, I can't think of a more appropriate traditional Jewish housewarming gift than a Mezuzah case.
But since this is their housewarming – you're not exactly going to get them a cheap Mezuzah case you can get for $5 from your nearest Judaica shop.
No sir …
You'd want to get them a Mezuzah that stands out. A Mezuzah that makes them put a smile on their face every time they walk through the door.
That's exactly what Danon's Priestly Blessing (Birkat Hacohanim) designer Mezuzah does.
Danon is famous for his combining ancient Jewish tradition symbols with modern Jewish art. And lo' and behold, he did the same with his extraordinary Mezuzah.
The good thing about getting them a Mezuzah is that even if they've got the front door already covered – they need several Mezuzahs for the rest of the doors in the house, where your Mezuzah will come in handy.
Remember how I said braid, salt and wine isn't really considered a proper Jewish housewarming gift?
While that's true, there are two exceptions to that rule:
Either give a damn good great bottle of wine.
Get a wine gift basket (check out the Jewish Housewarming Gift Baskets section)
If you were thinking of getting them an $8 bottle of wine off the shelf – don't bother. I consider that rather offensive, honestly.
But if you get them a quality bottle of wine – that's a fantastic gift in of itself… then, by all means, add the salt and bread to stick to the Jewish tradition if you so desire.
I recently visited the Yatir winery in the Negev (southern Israel), and I LOVED it.
So included their Forest 2012 Magnum wine here…
If you find it too pricey (it is quite expensive), there are many great Magnum wines you can choose from that cost less.
Now that we've got the Kiddush wine, it's time to pour it.
Here's an idea: instead of using a "normal" Kiddush cup, how about getting them an entire (Kiddush) fountain?
Think about it… how many more Shabbat and holiday gatherings will the young couple host in their home?
Probably a lot…
They could use a proper Kiddush set to serve their guests.
That way, instead of passing the Kiddush cup one by one, they could simply pour wine at the top of the fountain and witness how beautifully the wine flows from the top to the bottom – to fill the rest of the small Kiddush cups.
The Shofar is one of Judaism's most powerful & meaningful symbols. It's used to signify important events (like Rosh Hashanah & Yom Kippur).
Featuring a classic Old Jerusalem decoration and a "Shabbat Shalom" blessing, making it a wonderful piece of decoration for the house, plus candle holders for Shabbat.
They say when the Messiah comes, he will arrive at the sound of the Shofar.
Till that day comes, the couple can enjoy lighting their Shabbat candles and pray for health, wealth and prosperity in their new home.
Jewish Household Items for Shabbat
Sure, getting the happy couple a traditional Jewish housewarming gift is a nice gesture and all.
But what good does that do when young couples these days can barely make ends meet?
With student loan debt skyrocketing at over $1.4 trillion (!) and mortgage debt reaching $9 trillion (!!) – the last thing Jewish couples want is making their walls look pretty.
Who the hell cares about a wall if you can't even eat a warm Shabbat meal or make proper Kiddush?
Instead, you can bring them a useful housewarming gift that'll help them settle down in their new home.
Top Jewish Household Gift
Moving into a new home is stressful: you've spent all your time and energy packing (and unpacking). Everything's a mess. All you can think of (if you're Jewish) is:
"Boy, I can't wait for Shabbat to finally come so I could take a break".
Then Shabbat comes… and you find out:
"OH NO, we don't have a hot plate to heat our food on Shabbat!"
Eating cold food is not a great way to celebrate your first Shabbat at your new home.
Every Shabbat-observant couple needs a Shabbat hot plate. And their housewarming is a great opportunity for you to give them what they want need.
And since you're getting them a hot plate as a gift, NutriChef's portable hot plate is the way to go.
Why?
It has a large surface area – great for small AND large families with many mouths to feed.
It heats incredibly quickly: the last thing you want on Shabbat dinner is to wait for hours till the food gets warm
It's portable – excellent for house parties or every time they're having guests (that's you!) over for a meal.
That's a much better Shabbat experience, don't you think?
Now that you're tummy is satisfied after a delicious, hot Shabbat meal… how about a hot drink?
Hold on there, tiger! What do you think you're doing?! You can't put a hot glass on the hot plate! It'll break, silly! 🤦🏻‍♂️
That's what a Shabbat hot water urn is for.
I don't know about you – but if I'm not having my hot cup of coffee on a Shabbat morning, I don't feel "right" (proud coffee addict 🙋🏻‍♂️).
A fabulous gift that'll serve the couple well on Shabbat and Yom Tov.
The food is hot…
The hot water is boiled…
Time for Kiddush!
And what do you need for Kiddush?
Wine (we'll talk about that later)
Kiddush cup (we'll talk about that now!)
But since this is a Jewish housewarming party – it's a wonderful opportunity to dazzle the couple with not just any Kiddush cup, but a stunning Kiddush cup.
A Kiddush cup that not only is made in Jerusalem… but a Kiddush cup that actually features Jerusalem's old city in silver & gold highlights.
Now that's how you perform a Kiddush ceremony.
Shabbat candlesticks are a classic Jewish housewarming gift.
Why?
Because it's something every Jewish home needs, and if chosen properly – then it's also beautiful home décor.
As you can probably tell, this certainly holds true for Yair Emanuel's elegant candlesticks.
The young Jewish couple (or woman) would be thrilled lighting her Shabbat candles with these candlesticks.
A lot of blessings would be heard near these Shabbat candlesticks.
And she has you to thank for it.
Warm food? Check ✅
Hot water for your coffee/tea? Check ✅
Kiddush? Check ✅
Now…
It's time for Hamotzi!
No, I'm not talking about a random-cutting-board-turned-into-Challah-board.
I'm talking about a designer Challah board, created by Lily Shochat – one of Israel's finest glass Judaica artists.
That's how you perform the Hamotzi in style!
Yair Emanuel Stainless Steel Pomegranate Havdalah Set
Shabbat is about to end. Time for Havdalah…
For that, you'll need a Havdalah set.
This beautiful, sparkling, stainless steel Havdalah set creates a seamless blend of contemporary design and Jewish tradition. The traditional pomegranates surrounding the Havdalah set give the Sabbath a final spark of beauty before it ends.
This amazing Sabbath experience with these essential Jewish household items will give Shabbat the respect it deserves and will make you wish every day was Shabbat.
Tip: In fact, Yair Emanuel's gorgeous Havdalah set won our top modern Havdalah set award.
Popular Housewarming Gifts
Why reinvent the wheel?
You don't have to bang your head against the wall trying to figure out what housewarming gift to buy. Let's simply find out what others buy for a housewarming gift, and do the same.
Easy right?
Here are some of the most popular housewarming gifts people buy, over and over again…
Top Popular Housewarming Gift
My sister moved into a new apartment a few months ago.
She's a huge chocolate fan, so she obviously received lots of chocolate gift baskets (including one from yours truly. How original, right?).
But then my aunt arrived – carrying a brand new cookware set for my sister's new kitchen.
I kid you not, my sister's eyes lit up. She got so excited you'd think she was high on caramel… But no, it was the freakin' cookware set that did the trick.
Then it hit me: when you move into your new home, all you care about is getting settled into your new home.
You don't need 10 different gift baskets. You need the essentials.
My aunt definitely knew what she was doing.
When I saw that, I immediately decided I should update my Jewish housewarming gift guide and pass on my aunt's wisdom.
So here it is 🙂
The #1 best seller in cheese plates – the housewarming go-to gift of so MANY people.
Do you know what the funny thing is about this gift? You'll get to enjoy it as well.
Huh?
Let me explain…
Tell me – what do you use a cheese board for in the first place?
The answer? You use it to serve your guests with delicious goodies when you're inviting people over.
Guess what: you are the guest!
And being the great hostess that she is (or will soon become) – every time you come over, she'll serve you a cup of coffee and delicious snacks.
See what I mean? Thank goodness you got her a cheese board!
We've got our coffee needs covered on Shabbat, thanks to the Shabbat hot water urn.
What about the other 6 days of the week?
During the rest of the week – they can enjoy real coffee.
You don't have to be a coffee addict to appreciate premium Italian coffee (although, why should). All you need is a quality Nespresso coffee machine to get yourself "hooked".
Trust me – the only reason you're not a coffee addict yet is that you've never tasted real coffee.
Once you do that – welcome to CAA (Coffee Adicts Anonymous) 🙂
"Oh no! Robots are taking over the world! Everyone, RUN!"
Relax… it's just a vacuum cleaner.
Let's face it: no matter how much you love your house… you hate cleaning your house.
That's why God created robots – to take care of these annoying things and free up HOURS of time spent on useless cleaning.
A young woman's (and a lazy man's) dream housewarming gift.
Speaking of technology – Amazon's Echo has become the world's most popular home assistant, especially among 20-30-year-olds.
If you thought that tapping your phone with your fingers is groundbreaking technology, wait till you get things done by simply asking your very own robot personal assistance to do it.
Play music while you're cleaning the house
Get the weather forecast while you brush your teeth
Order an Uber to work
Order a pizza when you're too lazy (I mean tired) to cook dinner – Amazon Echo Spot can do it all, and a LOT more.
Simply ask what you wish for, and "your wish is my command", says Alexa. And yes, the "Show" part refers to the big screen –
And yes, the "Spot" part refers to the big screen – that lets you enjoy your favorite videos, songs or monitor your baby's room (with Echo's compatible camera) from a single spot.
A fabulous gift for young Jewish Millenials moving into their new home.
👩🏻: "Honey, can you please open the bottle of wine our guests gave us?"
👦🏻: "But I don't have a bottle opener…"
🤦🏻‍♀️
But then you came along with a premium wine gift and saved the day! You angel you!
But you didn't settle just for opening the bottle.
Your premium wine gift set includes a luxury corkscrew wine opener, foil cutters & a pair of Swarovski crystal magnetic wine glass charms… everything a wine aficionado needs to enjoy a glass of wine after a long day at work.
L'chayim!
Jewish Housewarming Gift Baskets
I already told you what I think about giving a basket of bread, salt, and wine (don't do it).
If you're planning to get a Jewish housewarming gift basket, do it right.
Here's how…
Top Gift Basket
This gift basket is straight to the point: "Mazel Tov on your new home! Here's a TON of chocolate"
But it's not just a matter of quantity. This gift tray includes the highest quality velvety chocolate truffles, chocolate peanuts & Viennese crunch (I'm drooling on the keyboard just by writing this).
Sure, your friends (or family) might hate you for making them put on weight.
But who the hell cares? Or, as Joey would say…
Let's say they DO care about their weight, and you know they're trying to keep it healthy.
Ugh… fine then.
Skip the chocolate, and instead deliver a GIANT Kosher gift basket filled with tropical fruit and nuts straight to their door.
Dried Kiwi

Sliced Mango

Dried Figs

Roasted Pistachios

Dried Apricots

Dates

Dried Pears

Dried Cranberries

Dried Plums
Odds are it'll take them a few days (or years) to finish the whole thing. But that's OK… they could use some comfort food while they settle in their new home.
And if it's food that won't make them conscious after every bite – even better.
Do you prefer giving a more "personal" gift basket, without having to slave in your kitchen for hours?
Gourmet Gift Basket has got you covered. They prepared a gourmet (obviously) gift basket full of irresistible baked goods, exactly for people like you.
And boy, does it come with a lot of goodies.
Brace yourself:
2 fudge walnut brownies

Peanut butter brownie

2 chocolate chunk brownies

2 chocolate chip blondie brownies

Butterscotch blondie brownie

2 oatmeal raisin cookies

2 peanut butter cookies

4 chocolate chip cookies

2 fudge brownie cookies

2 lemon sugar cookies

2 pecan sandy cookies
Phew! I'm tempted (and exhausted) just from writing it.
Imagine what it's like munching on it?
Finally, a little treat from Israel.
This gift box arrives straight from Lin's Farm, a small bee farm in Modi'in (not far from Jerusalem).
It includes some of the finest gourmets treats Israel has to offer – naturally grown in the farm:
A bottle of Israel's finest wine – straight from some of the best internationally acclaimed vineyards
A bottle of extra virgin oil
Delicious organic sweet spreads
Herbal Tea Infusion
Peanut and curry honey marinade
Honey-halva spread
Pure Honey
Apple-silane spread
Cocoa and hazelnut spread.
Note: This gift basket also ships to Israel
Creative & Unique Jewish Housewarming Gifts
Previously I wrote about the popular housewarming gifts – following the rulebook. The "safe" path.
If you're the kind of person that isn't fond of rules and likes challenging the status quo – then these unique & creative housewarming gifts are exactly what you're looking for.
Top Creative Gift
It's a Chanukat Bayit. Which probably means that the furniture is there… but it could use a "heart" to liven up the place.
In fact, why settle for one heart, if you can give them an entire bowl filled with hearts!
A joyful piece of decoration for the young Jewish couple's new home.
Another young couple is building a Kosher home in Israel (or the US, or wherever).
How exciting! But challenging at the same time.
They could use a blessing for their new home. A big & meaningful one…
Speaking of big & meaningful blessings – this is exactly what you'll be getting them with this gift.
This wonderful wall hanging by Dorit Judaica contains a Hebrew inscription, wishing that the couple's home will be blessed with happiness, wealth, and peace.
A breathtaking, eye-catching, ground-breaking (well not ground-breaking, but I was on a roll) gift any couple will gladly accept and display at their home.
A biblical blessing, combined with a warm welcome, a beautiful design = an ideal, gorgeous Jewish housewarming gift.
This stunning piece of art by David Fisher was designed to provide a meaningful gift to the lucky recipient.
Just look at what this wall hanging includes to get an idea of what I'm talking about:
יְבָרֶכְךָ ה' וְיִשְׁמְרֶךָ. יָאֵר ה' פָּנָיו אֵלֶיךָ וִיחֻנֶּךָּ. יִשָּׂא ה' פָּנָיו אֵלֶיךָ וְיָשֵׂם לְךָ שָׁלוֹם. וְשָׂמוּ אֶת שְׁמִי עַל בְּנֵי יִשְׂרָאֵל, וַאֲנִי אֲבָרֲכֵם.
The words "Bruchim Haba'im" (Welcome in Hebrew)
The couple's initials
See what I mean?
Definitely a thoughtful, personalized & fabulous gift idea the young couple will gladly display in their new home.
Luxury Housewarming Gifts
You're buying a housewarming gift for a special someone. Whether that is your brother/sister, mother/father or BFF – you're looking for something beyond the nice, common housewarming gift.
I get it.
You want something special, something exceptional, something truly useful (and a little more expensive) … Well, here you go.
Top Luxury Gift
This stunning mezuzah has a unique 18-color lithograph featuring the children of Israel receiving the ten commandments under a burning menorah (an adaptation from Marc Chagall's famous "I am the Lord thy God" painting.
And like the title says – this is a limited edition. So, if you want it – act fast.
I know what you're thinking:
"You already mentioned a pair of Shabbat candlesticks. Why another one?"
You're right. Technically, Nadav Art's candlesticks can be used to light Shabbat candles. But you can also do that with "regular" Shabbat candles you buy for $2 at the store.
So what gives?
Notice how I underlined Nadav Art..?
Because that's precisely what Nadav Art, the famous art studio in Jerusalem, creates: art.
An art piece that your recipient can proudly display 7 days a week, 365 days a year.
A Jewish piece that tells them: "I care".
A challah board is an essential Jewish household item for Shabbat. We all know that.
I even included a great challah board in the Jewish household items section.
So why another challah board?
Because this isn't just a normal challah board. It's a challah board, made out of genuine Jerusalem stone, engraved with the bread blessing: Hamotzi.
Imagine serving the challah on this genuine, classic Jerusalem stone.
This is where a common bread blessing becomes a very spiritual & memorable moment…
Now imagine experiencing that special moment every week on the Shabbat table… I get the chills simply thinking about it.
Alert!
Don't buy this housewarming gift if you're just looking for a fruit bowl. You can get a beautiful fruit bowl 5 times cheaper than that.
This is something else, even though the title says fruit bowl.
This is art, "moonlighting" as a fruit bowl.
It's designed to add a radiance of joy to a Jewish dining table.
An elegant piece of decoration, hand-painted in a vivid rainbow of colors & styled with a charming hearts design – made by David Gerstein, one of Israel's most famous modern artists.
Funny Housewarming Gifts
Do you ever stumble into random things that always bring you a smile on your face, without you even noticing?
They say the little things in life are the big things.
Because when you're having a bad day, you'd be surprised what a little funny housewarming gift can do to make you feel better.
Let's find such a gift, shall we?
Top Funny Gift
Every home runs on cold beer.
Not every home runs on love & laughter.
Or is it the opposite?
Doesn't matter… it's a funny-as-hell housewarming gift, and their guests are guaranteed to smile.
'All I ask is three beers a piece for each of my co-workers...I think a man workin' outdoors feels more like a man if he can have a bottle of suds. That's only my opinion.' - Andy Dufresne, The Shawshank Redemption
Click To Tweet
Sure, the couple isn't exactly in prison, but that doesn't mean they haven't been slaving away these past couple of weeks.
The packing… the moving, the cleaning…
They want to remind themselves what it's like being a king and queen again, metaphorically speaking… (unless we're talking about Queen Elizabeth. But she isn't Jewish, is she?)
The young couple just moved to their new home.
Love is in the air!
And as a young couple in love, they'll be spending some quality time in the kitchen together (until the husband gets lazy), so might as well do it in style.
Since you're the "crazy" friend. Your goal is to raise a few smiles on their faces and justify your "crazy" title.
This is the housewarming gift that will keep your title.
Conclusion
That was fun.
I'm sure that by now you've found a few unique & interesting Jewish housewarming gift ideas.
Now go à wish them Mazel Tov for their new home à give them your special gift à mission accomplished.
Send them my wishes, and let me know in the comments which of these gifts you ended up getting them.
Mazel Tov 🙂