10 Traditional Rosh Hashanah Flowers & Flower Arrangements for the Jewish New Year (2022)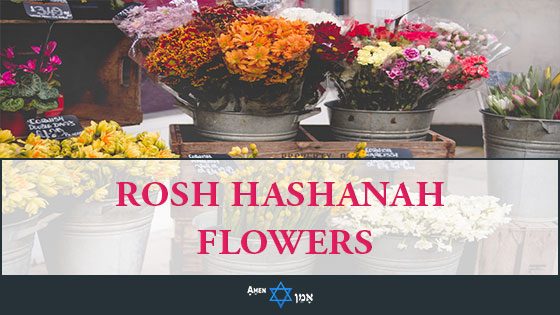 Amen V'Amen is supported by its audience. That means when you purchase something from one of our partners through one of our links, we may earn a small commission at no additional cost to you. Amen V'Amen is also an Amazon Associate, so we may earn a commission from qualifying purchases. Thank you for your support!
Rosh Hashanah – the Jewish new year – is right around the corner!
But before you dip an apple in honey, eat pomegranates or stare the dead fish in the eyes – it's time to wish your loved ones a Chag Sameach (happy holiday) and Shana Tova (happy new year).
Not just with words… but with actions.
And by actions, I mean Rosh Hashanah flowers!
Whether you're looking for a table centerpiece, a beautiful bouquet for a loved one or a thoughtful Rosh Hashanah gift for your hostess – these gorgeous flowers arrangements will help you do just that…
Traditional Rosh Hashanah Flowers & Colors
Even though it's not a requirement, white flowers are considered the most appropriate (and most common) flower color for Rosh Hashanah.
White is a symbol of purity. That's why you'll notice Jews usually wear white during the High Holy Days (the days between Rosh Hashanah & Yom Kippur), and indeed – give white flowers on Rosh Hashanah.
What do traditional, white Rosh Hashanah flowers actually look like?
Let's have a look…
Top Rosh Hashanah Flowers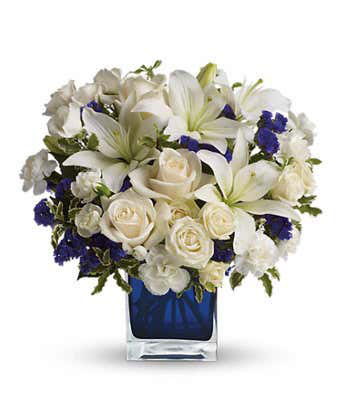 Rosh Hashanah is a spiritual day: we look back and reflect over our previous year, we examine our lives, we look forward towards a better future.
That's why we (Jews) wear white on Rosh Hashanah:
White = purity
White = positivity
White = clarity
You can tell where I'm going with this…
If there was ever a bouquet made for Rosh Hashanah – this is it (besides, it's blue & white… talk about meant to be).
It's the type of bouquet that captures your focus, soothes your soul, and gives you that inner sense of bliss… You know – that feeling you get when you stare at the clear blue sky on a bright afternoon (hint: look at the name of the bouquet).
No doubt – a remarkable Rosh Hashanah table centerpiece… and a stunning Rosh Hashanah gift!
Whoever named this bouquet knew what they were doing: Arrive in Style – damn straight.
This marvelous bouquet is THE bouquet for the Rosh Hashanah hostess if you want to give her something thoughtful (without breaking your bank).
Especially if your Rosh Hashanah hostess happens to be… your own wife (or girlfriend)!
You get to arrive at your own home in style and enjoy the fresh scents of the Jewish new year together… win-win!
Light pink roses, mixed with (brace yourself for a whole lot of white)…
White Asiatic

lilies

White alstroemeria

White cushion spray chrysanthemums

White statice and colorful pittosporum
That's a whole lot of white right there. Matches the spirit of Rosh Hashanah perfectly.
Bonus: You can even add a stuffed animal (and chocolates) to go along with the bouquet (appropriate for your spouse or significant other, less appropriate if it's for your mom or mother-in-law)
Don't let the name of this marvelous bouquet fool you: there's nothing simple about Lilies!
In fact, Lilies are my absolute favorite. They're sophisticated flowers – for sophisticated people (yep, I just called myself sophisticated. How humble of me, right?).
And on Rosh Hashanah – White Lilies are the way to go.
Why?
Because as I mentioned earlier: Rosh Hashanah is a symbol of clarity, peace, and grace.
And that's exactly what this bundle of beautiful, peaceful and graceful all-white Lilies represents.
So sending it to someone you love for Rosh Hashanah is one fine (and thoughtful) move.
You know what they say: "Either go big or go home".
Nonsense!
Why not do both?
If you're hosting a Rosh Hashanah dinner and you like to be nominated for the hostess of the year award – this is the type of centerpiece that will get you featured on a magazine cover (if only Hostess Magazine was a real thing).
Hydrangea, Lilies, Tulips, Roses – all dressed in white for Rosh Hashanah – in one breathtaking bouquet that captures everyone's attention the moment they step into the room. Heck, it can even make the fish head next to it look appealing (ok, that might be pushing it).
If you want to leave your guests with a lasting impression and start off the new year on the right foot – this luxurious bouquet is a damn fine way do to it (and don't be surprised if these flowers last till Yom Kippur).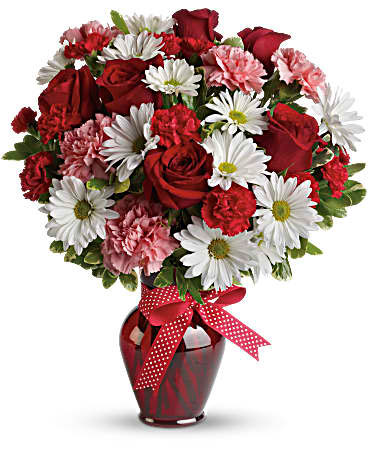 "Shana Tova! Sending you and your family lots of hugs and kisses!"
Aww… how sweet.
But you know what's even sweeter? Sending ACTUAL hugs and kisses… DOZENS of them!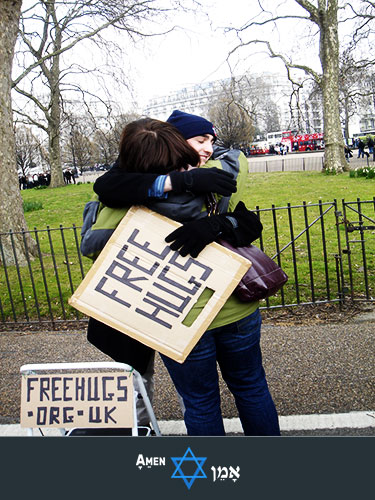 Or better yet – send a Hugs & Kisses bouquet filled with beautiful red roses!
This thoughtful bouquet contains a fabulous array of white daisy spray chrysanthemums, pink carnations, red miniature carnations, and red roses – accented with fresh greenery; all fresh from the field.
This is one cute bouquet to send our loved ones. Whether it's a "Honey, I Love You" bouquet or a "Mommy, I Love You" bouquet (yes, I still call her mommy… got a problem?) – this bouquet sends the right message at the right time (you could even say that they're the ultimate "Shana Tova flowers").
Tip: Especially if you don't get to spend Rosh Hashanah with them this year 😢.
Colorful Rosh Hashanah Flower Arrangements
Although white flowers are a good fit for Rosh Hashanah's pure-white theme, it doesn't mean you HAVE to stick to white flowers.
Remember: not only is Rosh Hashanah the Jewish new year, but it also happens to "fall" at the beginning of autumn (noticed the fall/autumn trickery?)… so believe me – colorful flowers are more than welcome!
Now, there are soooo many beautiful flower arrangements to choose from, that it's hard to see the forest for the trees flowers.
That's where I come in… I cherry-picked flower-picked these colorful floral arrangements, so you won't have to spend hours browsing through a million flower bouquets that all look the same.
Time → Saved!
By the way: excuse my word-game, I'm sitting in a library now and I'm a little bored 😀
Top Colorful Flowers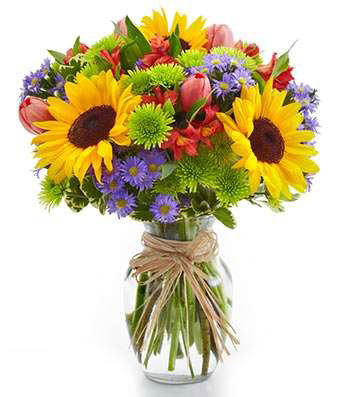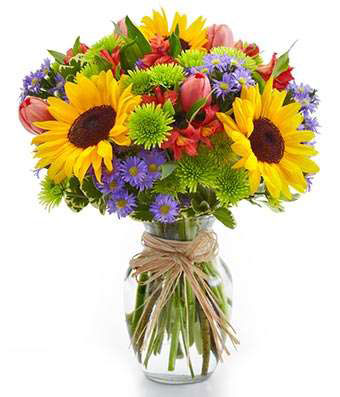 "Sun is shining, the weather is sweet
Make you want to move your dancing feet…"
What can I say, I'm a huge Bob Marley fan … and this song was the first thing that came to mind when I saw this bouquet.
Don't let the name confuse you – you don't have to fly all the way to Europe to put your hands and nose on this blossoming bouquet.
It arrives straight toy our doorstep – ripped straight from a poor French couple's garden (just kidding… I hope).
This bouquet is filled with bright yellow sunflowers, green poms, pink tulips, and a bunch of other beautiful flowers I can hardly pronounce (here goes: Alstroemeria).
As I said in the beginning:
"Sun is shining, the weather is sweet
Make you want to move your dancing feet…"
"I wish you a Shana Tova".
Please… just one wish? How about a basket-full?
Sure, summertime may be over: the bright, cheerful sun has been replaced by pale, cloudy and depressing weather. That's no atmosphere to celebrate Rosh Hashanah!
So how about we grab the summer by the throat and bring it back just for the week?
This tremendous basket of yellow goodness brings a burst of glowing sunshine to the Rosh Hashanah table.
Yellow lilies
Yellow roses
Yellow gerberas
Among others…
A quick glance at this basket full of glory is all you need to go from "blue" into the happiest puppy in the room!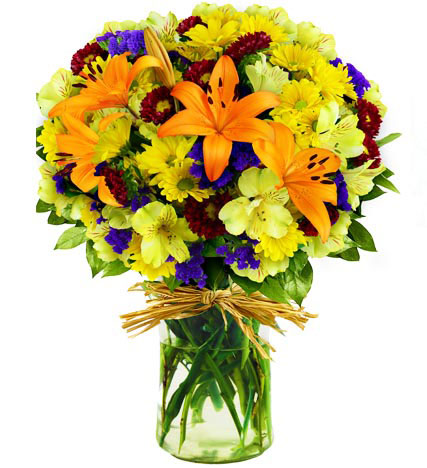 Too much yellow?
No problem. Let's stay with the yellow theme, but add a little color to make things more interesting…
Say hello to… Orange Lilies!
Together with special "cameos" from Daisies, Alstroemeria (and some other flower I can't pronounce) – this bouquet can definitely light up a room like a Hanukkah Menorah (and it's Rosh Hashanah).
Not to mention that the flowers in this bouquet all smells so a-m-a-z-i-n-g that you'll wish a perfume company could step up and make a fragrance out of it.
You can use the flowers as your main Rosh Hashanah table centerpiece pull or use it sprinkle blooms across the table.
Either way – it'll be a treat!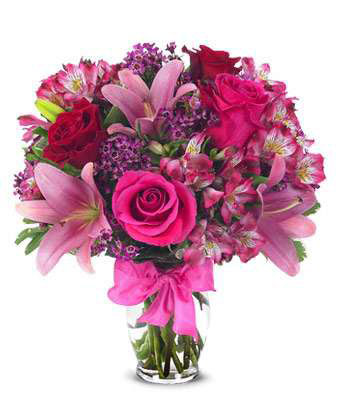 Are Rose and Lily invited for Rosh Hashanah?
You better invite them! They're so happy and colorful! They bring joy everywhere they go!
True Story: I actually do have good friends named Rose and Lily who inspired me to write this 🙂
This fantastic bouquet includes a breathtaking array of flowers – all arranged by hand at a local florist shop:
Pink Asiatic Lilies

Pink Roses

Red Roses

Purple Waxflowers

Alstroemeria (I hate that word)
All of this goodness contained in one lovely glass vase and a cute decorative ribbon.
Now that's how you celebrate the Jewish new year!
You 👦🏻: "Sweetheart!"
Her 👩🏻: "Yes dear?"
You 👦🏻: "You're sweet as sugar"!
Her 👩🏻: "Why, thank you darling… you're not so bad yourself (most of the time)"
You 👦🏻: "Here's sweet as sugar bouquet, for a sweet as sugar year, for my sweet as sugar girl!"
Her 👩🏻: "Wow! This is amazing! You're amazing (ALL THE TIME)"
OK, it probably won't go exactly like that, but you get the picture 🙂
Conclusion
I used to tell my boyfriend: "You don't have to wait for a special occasion to send me flowers".
Well, now there's a special occasion, and it's a big one – Rosh Hashanah (let's hope he's reading this)!
Don't forget – these beautiful Rosh Hashanah flowers are only half the "battle". Next, it's time to decorate the rest of the table with some unique Rosh Hashanah decorations.
Oh, and before I forget… Shana Tova everyone 🙂 !