Jewish Wedding Etiquette & Attire: What to Wear, Say & Do (& NOT Do)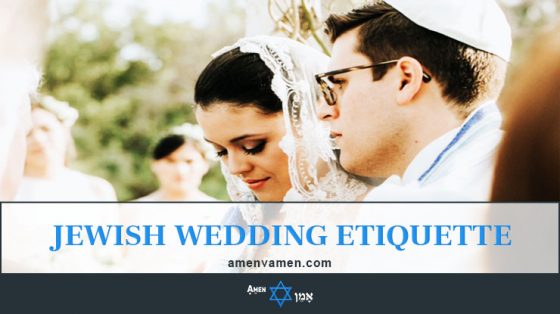 "Why is everyone staring at me?"
"… Is it what I'm wearing?"
"… Is it the wedding gift I picked?"
"… Is it something I said?"
Hear that?
That's the sound of our inner voice living out our biggest fear: embarrassing ourselves in public.
Every time we attend an event for the very first time (like a Jewish wedding), we risk making complete fools of ourselves. We risk offending someone. We risk messing up… badly.
That's exactly why I wrote this Jewish wedding guide: to help guests not only survive, but thrive, and have a great ol' time at their first Jewish wedding! (and save them from public embarrassment 🙂 )
By the time you finish reading this guide, you'll learn what you should wear, what gift to bring, what to say, what to do… and most importantly – what NOT to do.
Ready?
Let's begin…
Jewish Wedding Attire: What to Wear?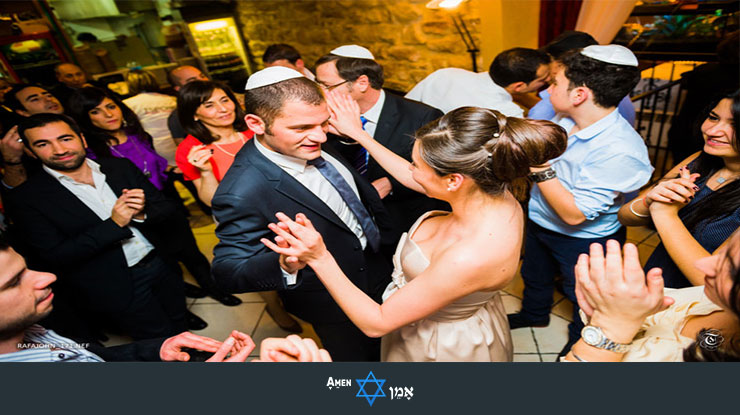 Let's tackle the most common question right off the bat: what should you wear?.
Jewish weddings have a formal dress code (unless mentioned otherwise).
What does formal mean, you ask?
The short (and annoying) answer is: it depends…
What branch of Judaism does the couple belong to?

Are they Orthodox? Conservative? Reform?

How fancy is the wedding venue

? Is it a fancy event hall with 500 people, or an intimate ceremony at the synagogue?

Where is the wedding ceremony taking place? In Israel, for example, a formal dress code is more lenient compared to weddings in the US or Europe. You could easily get away with wearing jeans and a Polo shirt and no one would raise an eyebrow. Do that anywhere else – and you'll notice plenty of eyebrows raising in astonishment.
Attire for Men
For men, a tuxedo or a suit is the appropriate attire for guests. Black tie is usually optional (unless explicitly mentioned in the invitation). If you're not a "tux guy", then at the very least wear a buttoned shirt with long sleeves.
Men are also expected to wear a Kippah, at least during the wedding ceremony. Kippah (or "yarmulke") is the small "hat" worn by Jewish men in religious ceremonies and prayers (some men also wear it as part of their day-to-day dress).
Did You Know?
Despite common belief – there is no commandment requiring Jews to wear a Kippah. The Kippah has been adopted as a sign of respect towards God – acknowledging that God is above us, protecting us at all times.
Observant Jews who wear a Kippah as part of their regular dress do so voluntarily – as a sign of respect for God and their adherence to Judaism.
Note: In reform communities, women sometimes wear Kippot as well.
If you're not Jewish, or if you don't have a Kippah within reach – don't worry. Odds are they'll give away Kippot when you arrive at the event hall. In fact, many couples often give guests personalized Kippot as a Jewish wedding favor or souvenir.
Attire for Women
For women, it's a bit more tricky.
Guests attending a traditional Jewish wedding are expected to dress modestly. Tzniut (modesty) is a key principle in Judaism – and it also reflects how women dress in public.
How modest? That depends on the type of Jewish wedding you're attending.
Orthodox Jewish Wedding

: In Orthodox Jewish weddings, the appropriate attire for women is long dresses or skirts (without slits) that fall below the knee while covering their shoulders and elbows and pantyhose (or stockings). Married women are also expected to cover their hair.

Modern Orthodox Jewish Wedding

:

Modern Orthodox Jews also dress modestly, but they're often more lenient when it comes to the length of the dress, sleeve length and hair covers.

Conservative Jewish Wedding

:

Although still leaning towards modest – dress codes in conservative Jewish weddings are less strict.

Reform Jewish Wedding

:

Reform Jews have no specific dress code requirements.
Tip: If you're unsure whether your favorite dress is modest enough, you can always bring a jacket or wrap, and take it off at the wedding when appropriate.
Also, be wary of the color of your dress. Avoid wearing bright colors, especially white. White is a big no-no in all weddings, not just Jewish (at least the ones where the bride is dressed in white). Dark dresses (including black) are the preferred choice, especially in Orthodox Jewish weddings.
The last thing you want to do is "stealing" the bride's attention with a white dress of your own.
Here's a table I made that clarifies just how much "flesh" is acceptable to reveal, depending on the type of Jewish wedding you're attending…
Keep in Mind: Use this table as a guide, not as a ruler. Dress codes vary enormously across different Jewish communities. It's often the case that two different communities technically belong to the same group or denomination, but have completely different dress codes (yes, we Jews are complicated).
| | Orthodox Jewish Wedding | Modern Orthodox Jewish Wedding | Conservative Jewish Wedding | Reform Jewish Wedding |
| --- | --- | --- | --- | --- |
| Modesty Level | Modest (dresses or skirts - knee-length or longer. Shoulders and elbows are covered) | Mostly modest (sleeve length and skirt length may be more lenient than Orthodox) | Somewhat modest (not as strict as Modern Orthodox, but not "cleavage season" either) | No requirements |
Tip 2: If you're still unsure – don't be afraid to ask the couple, one of the family members or even other guests what the appropriate dress code is. Better safe than sorry.
Jewish Wedding Gift Etiquette: What to Give?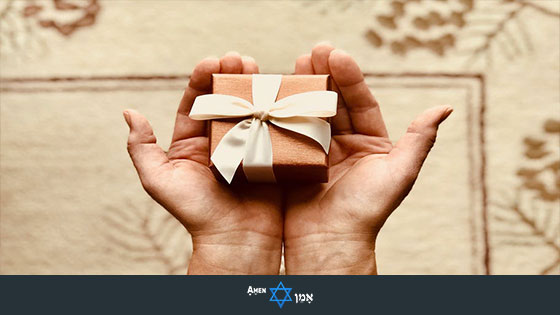 As a guest, there are two types of acceptable Jewish wedding gifts you can bring:
Gift

(as in, a physical gift)
Which gift is more appropriate? Again, the short (and annoying) answer is – it depends…
(don't worry, I always give the longer, complete answer after every "it depends" 😉 )
Gift
Gifts are the common choice in most Jewish weddings in America, Europe and the UK (the UK technically left the EU, so…).
That's good news for you.
Why?
Because newlywed Jewish couples (especially traditional couples) need more things than the average non-Jewish couple. Aside from the obvious gifts, they also require things like Judaica, Shabbat items, Kosher appliances, and other "Jewish stuff" for their new home.
Some couples have a wedding registry (which makes it easier). But even if they don't, there's no shortage of excellent Jewish wedding gift ideas you can choose from.
Money
Money is a perfectly acceptable gift, especially if you don't know the couple very well, or if you're attending a wedding where the money is the expected gift etiquette (such as Israel).
Important: In Israel, always give money (unless mentioned otherwise). People might actually get offended if you bring them a gift instead of money (I'm speaking from experience 🙄).
If you decided to go with a cash gift, make sure it's in multiples of $18 (instead of $100, give $108, etc'). In Jewish numerology, the number 18 translates to "Chai" (Hebrew for "life") – a symbol of a long and healthy life.
So… Gift or Money?
What's the verdict? Should you go with money or a gift?
The answer depends on several factors:
Where is the wedding taking place?

In some countries (like the US, Canada, and the UK) wedding gifts are more common than cash gifts, while in other countries (like Israel and Australia) the opposite is true.

Does the couple have a wedding gift registry?

If they do, they've made the job easier on you – they told you what they need… so you can just buy them something off the registry.

How well do you know the couple?

If you barely know them – then perhaps money is the safer choice. But if it's someone you know well or someone close to you – you may want to consider a wedding gift. Wedding gifts are far more personal than cash gifts.

What did they give you for your wedding?

Whether they gave you money or a gift, it makes sense to reciprocate in kind.
Bottom Line: before you stick dollar bills in an envelope or buy the couple a set of fancy kitchenware – make sure it's an appropriate wedding gift that fits the occasion, the couple, and your relationship with the couple.
Important: NEVER bring gifts, let alone monetary gifts to the synagogue (especially during the Sabbath). Either send the gift to their home or bring it to the wedding reception (if you're giving money).
Jewish Wedding Wishes & Blessings: What to Say?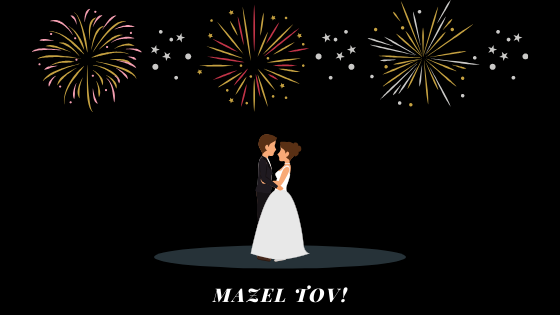 The most common blessing in Jewish weddings is "Mazel Tov" (Hebrew for "good luck" or "congratulations").
You'll hear it (and say it) everywhere:
When you enter the Kabbalat Panim

When you write a wedding card

When the groom breaks the glass
You can't overuse "Mazel Tov" at Jewish weddings.
Another common blessing you'll hear thrown a lot at Jewish weddings is "L'Chaim" ("to life" in Hebrew). Again, if you attended a Jewish holiday or a Jewish event in your lifetime – you probably heard this one before.
It's the blessing Jews use after toasts. And let me tell ya – there are a LOT of toasts at Jewish weddings… (no drinking and driving, boys!)
Jewish Wedding Invitation Etiquette: How and When to Respond?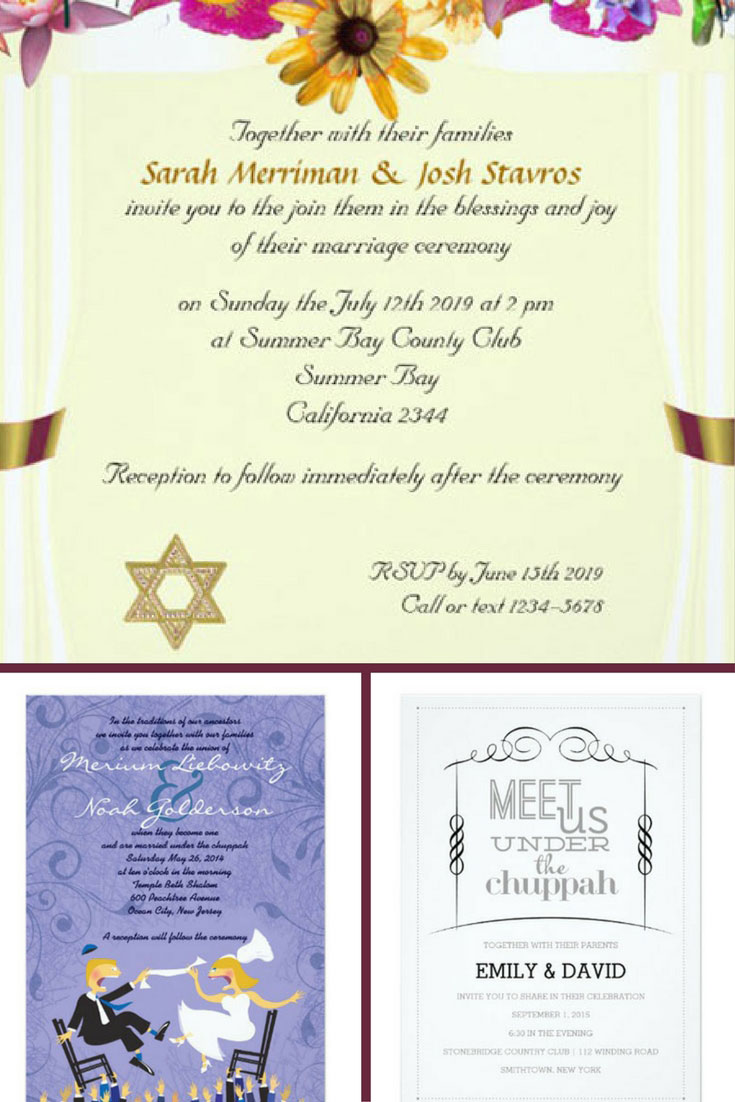 If your wedding invitation mentions several starting times – don't worry, that's not a typo. Some couples mention the starting time for each stage of the Jewish wedding (others choose to include one to avoid confusion):
The Kabbalat Panim (the pre-wedding reception)

The wedding ceremony (the Chuppah)

The reception (dining and dancing)
At the very least – make sure you arrive on time for the wedding ceremony (although I strongly recommend attending the Kabbalat Panim… I'll explain why in a second).
Tip: Some couples explicitly ask guests to be there on time on the invitation. They know that some guests are used to arriving fashionably late to weddings ("I'm too cool to arrive on time" kind of thing). The problem? The Rabbi isn't going to wait till you wake up from your beauty sleep… he's going to start the wedding ceremony – with or without you (unless you're the bride or groom, in which case the Rabbi has a bigger problem on his hands)
When you receive the invitation, try to RSVP as soon as possible so the couple can plan the seating arrangements accordingly (and try to avoid bringing more people than you RSVPed for).
Jewish Wedding Etiquette & Behavior: What to Do (and What Not to Do)?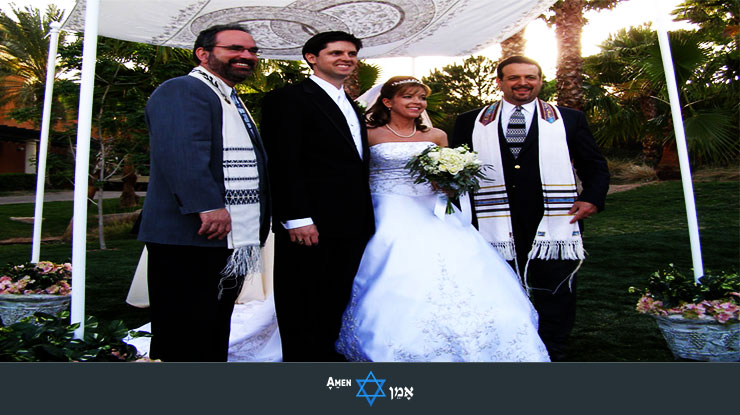 You finally arrive at the wedding…
Now what?
Everything seems so foreign, you have no clue what is going on…
Relax! Here's a brief overview of what you should expect at a Jewish wedding. This will help you navigate the event (you know, so you don't do something inappropriate)…
The Kabbalat Panim (The Pre-Wedding Reception)
When Jewish wedding first-timers first hear about the Kabbalat Panim, they often interpret it as "oh, that doesn't sound too important… I'll just skip that part and arrive straight for the ceremony".
Big mistake!
Do that – and odds are that you'll be missing out on a whole lot of action (especially if it's an Ashkenazi wedding):
The Chatan's Tisch

(or "Choson's Tisch" in Yiddish). This is where the groom's friends and his family gather together for a pre-wedding toast to congratulate, bless, praise and "tease" him a bit (all in good spirit).

The Ketubah signing. The Ketubah (the Jewish marriage contract) is signed at the Tisch (at least in Ashkenazi weddings).
The Badeken:

The veiling of the bride.
As you can see, the Kabbalat Panim isn't just about eating Hummus and having small talk with your friends from 9th grade. It's more… A LOT more. And if you want to be a part of it – then pretend you're Swiss for the night, and be punctual.
Tip: Avoid offering the bride or groom a drink or snack during the Kabbalat Panim. Some Jewish couples fast on their wedding day and are only permitted to eat after the wedding ceremony.
The Wedding Ceremony (The Chuppah)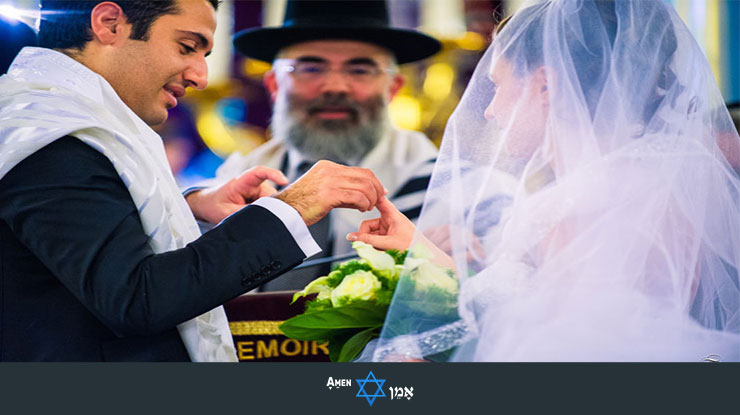 Finally, we arrive at the moment of truth: the Jewish wedding ceremony.
The Jewish wedding ceremony is divided into two parts: the Kiddushin ("betrothal") and the Nissuin ("marriage"), both of which take place under the Chuppah.
The Chuppah is the famous canopy under which Jewish couples get married. The wedding canopy consists of four poles (that are either fixed to the ground or held by people) and a cloth or a large Tallit that covers the top of the canopy. The cover is a symbol of God's presence and protection over the Jewish couple.
Tip: While "Chuppah" technically refers to the famous Jewish wedding canopy, many people use the term to describe the wedding ceremony itself. So if someone asks "are you coming to the Chuppah?", what they're really asking is "are you coming to the wedding ceremony?"
Before you rush off to take a seat – make sure you're aware of the type of seating arrangements.
In Orthodox weddings, seating is usually separated, with a divider sitting in between the men's and women's sitting area. If that's the case, be respectful and don't "cross the border" (insert Trump joke here).
Note: Modern Orthodox weddings may be more lenient: some couples may combine the seating, but separate the dancing. Others may combine the seating only during the Chuppah, but then have separated seating during the dancing, etc'.
Many Ashkenazi couples hold their Chuppah outside under the open sky, assuming the weather permits it. This isn't really a "thing" in Sephardic circles, although some couples may still choose an outside Chuppah as a personal preference.
Tip: If the Chuppah is held outside during wintertime (or if it's "always winter" where you live) – make sure to bring a jacket, sweater or cardigan to keep yourself warm during the ceremony.
The first stage of the wedding, Kiddushin (betrothal), starts with a glass of wine. The Rabbi then recites the betrothal blessings, after which the couple drinks from the Kiddush cup.
Finally, the groom places the ring on the bride's forefinger, after declaring:
"Behold, you are betrothed unto me with this ring, according to the law of Moses and Israel".
After which, the attendees respond with:
מקודשת, מקודשת מקודשת
(Betrothed, Betrothed, Betrothed)
The couple is now officially engaged, Mazel Tov!
But wait, there's more! 😉
Next, the Rabbi reads the Ketubah out loud – a reminder of the groom's obligation to provide for his wife… before moving on to the second stage of the wedding ceremony: Nissuin (marriage).
In the Nissuin stage, the Rabbi recites the Seven Blessings over the second cup of wine. In some cases, he might invite other family members to recite some of the blessings (or have them recite the English version of the blessing).
At the end of the seven blessings, the bride and groom drink the second cup of wine to complete the wedding ceremony… But not before the groom smashes the glass!
The Rabbi places a glass on the floor, asks the groom to recite a few blessings, and then the groom stomps on the glass with all his might! To which the crowd responds with "Mazel Tov!".
The Reception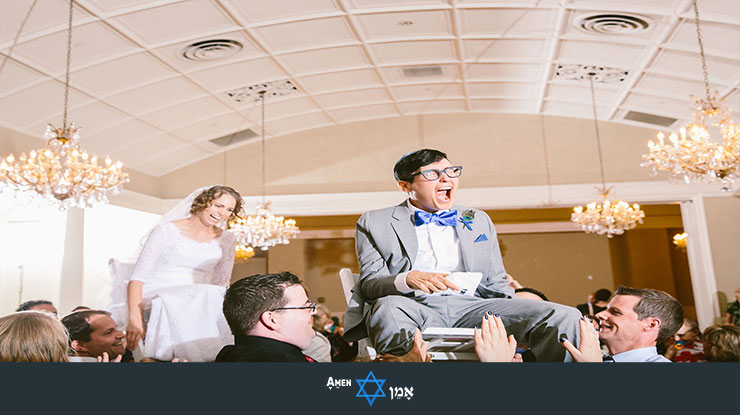 It's party time!
While Jewish wedding receptions have many things in common with other weddings, there are a few important differences you should be aware of…
1. Dancing: Dancing at Jewish weddings is unlike anything you've experienced before (trust me). You'll discover all sorts of interesting songs and dances, such as the famous Hora dance (see image above).
Tip: In Orthodox weddings, the dancing is separated for men and women.
And that's just the traditional Jewish dances… wait till you see the variety of cultural dances in Jewish weddings!
2. Eating & Drinking: The food served in Jewish weddings is Kosher (levels of certifications may vary depending on the couple).
The type of food being served can also vary significantly, depending on the couple's ethnic origin, and dietary choices.
3. Blessings: Once the meal is over, the guests (the ones who are still there, anyway) are invited to participate in Birkat Hamazon (grace after meals).
Guests will often receive Benchers – tiny booklets with the Birkat Hamazon and other songs printed in them, so they can follow along and read the blessings. In many cases, these Benchers will be personalized and given away as souvenirs (free gifts, yay!).
Finally, the leader of the blessings recites the blessing over wine, pours the wine from the two glasses into another glass for the bride and groom to drink from.
Conclusion
According to Jewish law, bringing joy to the bride and groom on their wedding day is considered a tremendous Mitzvah:
(מצוה גדולה לשמח חתן וכלה ולרקוד בפניהם, ושכר המצוה גדול מאד. (ילקוט יוסף, חופה וקיד' עמ' רנח
"[It's a] Big Mitzvah to rejoice and dance with the bride and groom, and the rewards for the Mitzvah are extraordinarily large" (Yalkut Yosef, Chuppah & Kiddushin, page 258)
That's right – by drinking and dancing your socks off at the couple's wedding, you're fulfilling an important Jewish commandment!
Now that you know what to wear, what gift to bring (or how much), and what to say… you can put your heart and soul into fulfilling the Mitzvah!
Mazel Tov 🙂