Jewish Wedding Gift Amount: How Much Money Should You Give?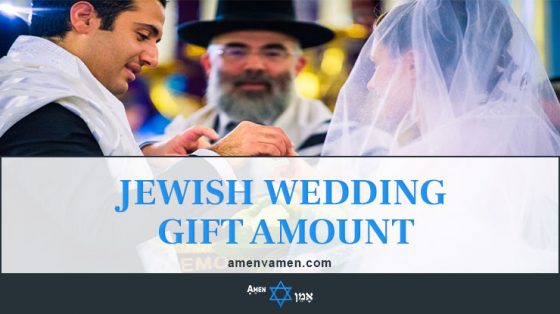 What's the first rule of Jewish weddings?
NEVER arrive empty-handed.
What's the second rule of Jewish weddings?
NEVER forget rule number 1.
Glad we got that out of the way…
Now, if you decided to give money to the happy couple (the reason I highlighted the 'if' part, is because you can also get them an actual wedding gift… but more on that later), then the next question on your mind must be…
"How much money should I give at a Jewish wedding?"
The short answer?
You should give money in multiples of $18. The number 18 translates to "Chai" (חי), which is Hebrew for "life". In effect, you're wishing the couple a long and happy life.
The long answer?
Well, that's what this post is all about 🙂
How much money should you give?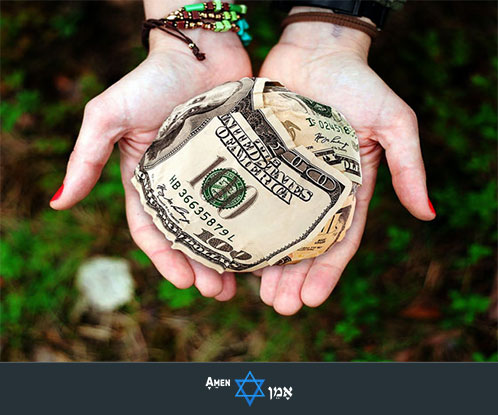 Unfortunately, there's never a clear-cut answer to that question.
Some guests like to give a nice, round number like $180 (multiples of $18, remember?) and not have to think about it too much.
Now, while that approach might work in some cases, it's usually more complicated than that…
What if you're close to the couple?

If you're the groom's aunt, you want to make sure you don't give less than the neighbor's aunt.

What if they gave you more (or less) for your wedding?

This might seem petty at first. But the truth is – the amount they gave for your wedding can help you decide on your gift amount. This might seem like we're "nickel and diming", but that's the wrong way to look at it… Instead, you're using the amount they gave you as a baseline to determine how much to give them. It doesn't have to be the exact same amount (now that's nickel and diming), but it does give you a ballpark to aim for.

What if it's a "fancy" wedding?

Is the wedding ceremony held at a luxurious event hall, or somewhere in the outdoors?

What country is the wedding taking place?

Weddings are expensive. But they're more expensive in some countries than others (ehm, America, ehm).

Is money a good gift to begin with? If you're close to the bride or groom, you may want to get them a wedding gift instead. A unique, thoughtful and memorable gift is far more personal than money. Not to mention that in most countries (including the US), the preferred Jewish wedding gift etiquette is to buy gifts (especially if the couple has a wedding registry)… money usually comes second.
You get the idea…
"OK, Rebecca, I get it… but how much should I give? Help me out here…"
Don't worry, I got you covered!
I put together a table with rough estimates that'll help you decide how much money you should give at a Jewish wedding, depending on your relationship with the couple.
Keep in Mind: The important word to notice here is rough. Your gift amount doesn't have to fall exactly within these ranges. Use it as a rough guideline, and trust your judgment.
| Relationship | Amount |
| --- | --- |
| Coworkers & Classmates | $50 - $100 ($54 - $108 in multiples of $18) |
| Distant Relatives or Acquaintances | $75 - $150 ($72 - $162 in multiples of $18) |
| Close Family & Friends | $150 or higher |
Tip: The same is true if you're not physically attending the ceremony. Sure, you might technically "get away" without sending anything (after all, you weren't there). But there's a good chance that if you do that – it might harm your relationship with that person (not always, but in my experience, it might get awkward for a while).
Before you decide on whether or not to send money, ask yourself: If the situation was reversed and you were the one getting married – would you like it if that person didn't attend, AND didn't send a gift on top of it?
Per Person or Total?
The short answer is per person.
But as you probably figured out by now – the answer is never black or white… there's a whole lot of grey in between:
What if you're attending with kids? (don't they get the "kids rate"?)

What if you're only staying for 30 minutes?

What if you can't afford to fork out hundreds of dollars right now?
Tip: If you're indeed attending with kids, then consider using what I call The 1/2 Rule: for each child, give half the amount you give for an adult. If let's say you give $108 for yourself, then you'd give $54 for each child.
For example: If you're attending the wedding with your spouse and two kids, then your formula would be: ($108 X 2) + ($54 X 2) = $324
This obviously isn't an exact science; there's no need to pull out a calculator and start crunching numbers. Trust your gut on this one.
Cash or Check?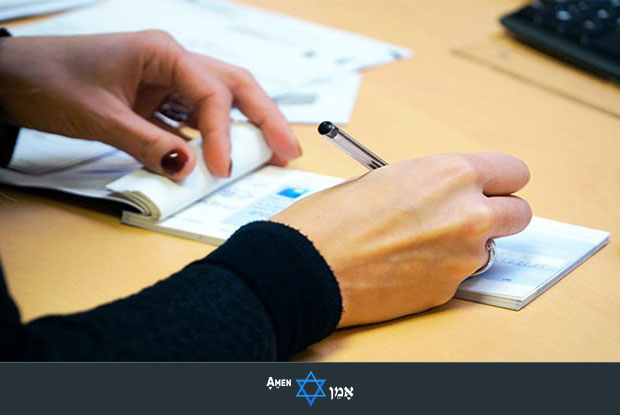 Both work just fine.
Just make sure you put the money in an envelope, alongside a thoughtful Jewish wedding card (or at the very least write a few wishes on the back of the envelope), and then slip it into the big safe box located somewhere in the reception area.
Note: Don't worry about bringing an envelope from home. Most weddings have envelopes readily available next to the big safe box or at the entrance.
Tip: If you're not attending the wedding, I recommend mailing it before the event. Alternatively, you can give it to them after the wedding, preferably in person (you can also give it to them at one of the Sheva Brachot meals after their wedding).
Conclusion
As much as I tried to give a clear-cut answer – the truth is that there is no right (or wrong) amount to give at a Jewish wedding. The going rate for Jewish weddings is highly personal. It depends, first and foremost, on your relationship with the couple… and you know better than I do how close you are to the couple.
Tip: The biggest downside with a cash gift is that it's not personal (unless you give an extremely generous gift, in which case it's very personal). If you're close to the bride and/or groom, you may want to consider getting them a more personal wedding gift instead.
But before you put your dollar bills in an envelope, remember this: give the couple as much as you can, not as much as someone else thinks you should. While it's great to be generous, but if that means you have to give away money you don't have, then perhaps it's OK to be "less" generous. Be thoughtful not just of the couple, but of yourself.
Finally, don't forget to have fun at the wedding (Jewish weddings are awesome!). Despite what the song says – it's not "all about the money". It's about bringing joy to the bride and groom on their wedding day.
Mazel Tov 🙂