25+ Unique & Modern Bat Mitzvah Invitations for Your Girl's Big Day (2022)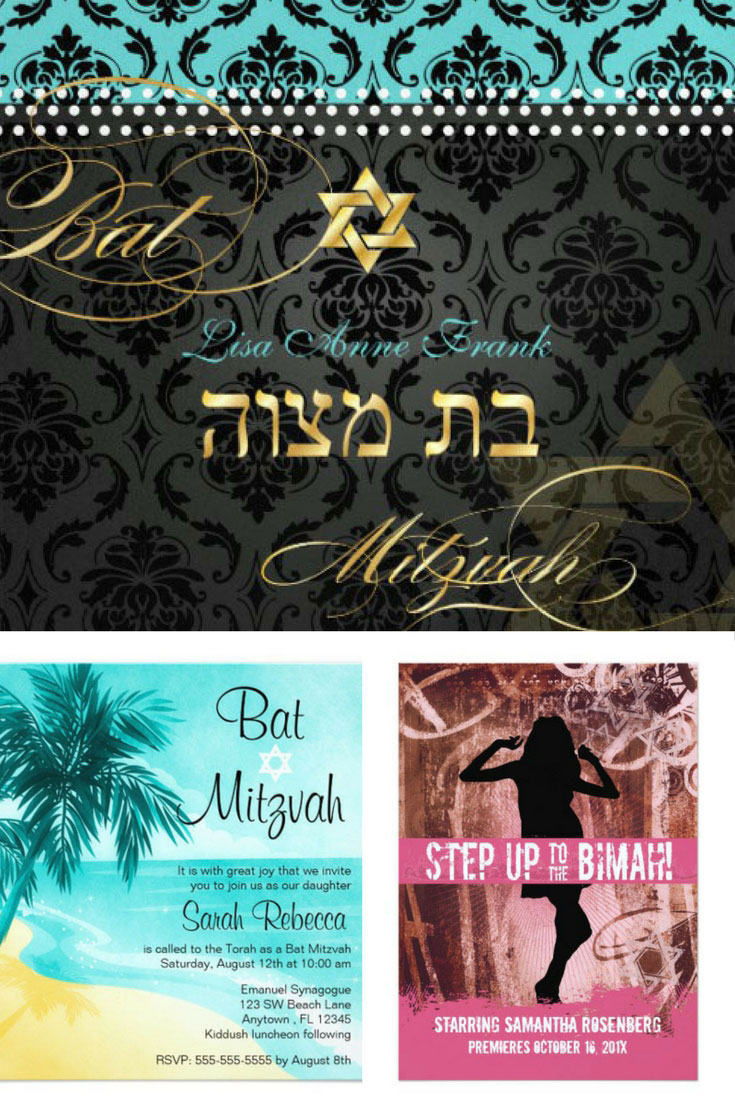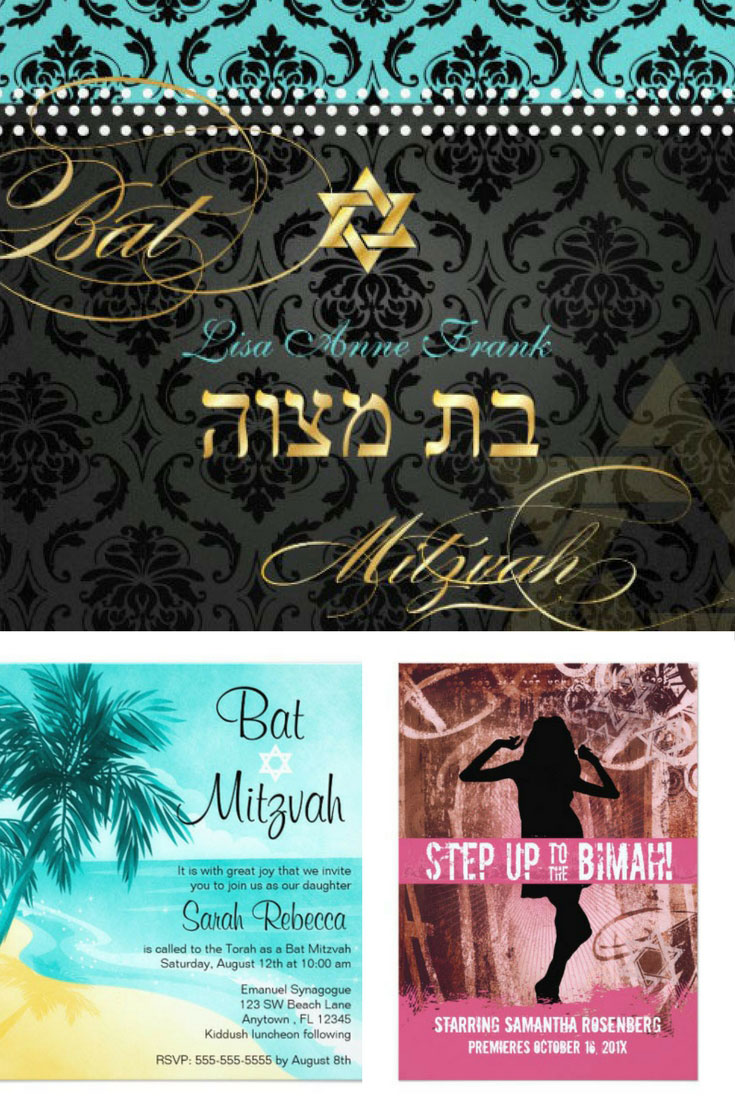 Amen V'Amen is supported by its audience. That means when you purchase something from one of our partners through one of our links, we may earn a small commission at no additional cost to you. Amen V'Amen is also an Amazon Associate, so we may earn a commission from qualifying purchases. Thank you for your support!
Imagine your daughter waking up one morning 10 years from now.
She's 22-23… (you're 10 years older with a few white hairs starting to pop out).
Now, ask yourself: When she looks back at her Bat Mitzvah…what does she remember?
"Meh. Just another birthday party. I barely remember anything"
"OMG! That was the best night of my life! Thank you, mommy & daddy!"
Want her memories to look more like option #2 than #1?
Then you need to make sure she has a blast with her friends & family – the people who love her the most.
But first, you need to invite those people in the first place!
(Shocking, right?)
That means… (ready for it?)
You need to send them unique Bat Mitzvah invitations that'll make them RSVP immediately!
Top Bat Mitzvah Invitations
Let's have a quick preview of our favorite, award-winning Bat Mitzvah party invitations:
Looking for invitations for a Bar Mitzvah party instead? Check out our favorite Bar Mitzvah invitations for an unforgettable event!
Traditional & Elegant Bat Mitzvah Invitations
First impressions count.
The invitation is your guest's first impression of the big party you're planning for your young Bat Mitzvah.
It's their opportunity to get a sneak peek at what you're planning for them. And just like you try to impress a potential employer to say "Yes" – you want to encourage your guests to say: "Hell yes, I wouldn't miss it for the world".
These elegant Bat Mitzvah invitations will get the job done.
Most Elegant Invitation
Why beat around the bush?
Let's start off with the most elegant Bat Mitzvah invitation right off the bat.
Introducing…
Anchored Paper's leafy Star of David foil-pressed invitation!
Carolyn's remarkable design has got the whole package:
Traditional Jewish theme (Ehm. Star of David) ✅
Beautiful gold foil-pressed design ✅
Stunning presentation ✅
That, ladies and gentlemen, is how you design an elegant Bat Mitzvah invitation!
It's my honor to give Carolyn's invitation Amen V'Amen's official "Most Elegant Invitation" award!
We already had a leafy design… let's see what else we have in the "garden", shall we?
Flowers! And a Star of David… surrounded with flowers!
I like how "clean" this invitation is.
It's simple, but not too simple. There aren't many distractions that keep your eyes off the most important thing: the actual invitation.
A nice, straight-to-the-point, modest Bat Mitzvah invitation that gets the point across perfectly.
Exclusive: -15% OFF
Coupon Code: AMENVAMEN
Copied! Enjoy 🙂
I've seen many invitations that look like they were designed for a billboard in Times Square, not for a Bat Mitzvah.
Flashy is not the point…
Glamour is not the point…
The truth is, a Bat Mitzvah invitation doesn't need a lot of "Hoo-hahs" to be beautiful.
Unfortunately, Bat Mitzvah parties these days have turned into a competition of "who throws the most amazing party"… of "who wears the most expensive Bat Mitzvah dress".
We've forgotten that a Bat Mitzvah ceremony is, first of all, a spiritual event, not a material one (just read the example text on this invitation).
This elegant Bat Mitzvah invitation breaks through all of that and reminds us of a very simple and important Jewish concept:
Modest > Flashy
Exclusive: -20% OFF
Coupon Code: AMENVAMEN
Copied! Enjoy 🙂
Modern & Contemporary Bat Mitzvah Invitations
It's true that a Bat Mitzvah is a traditional Jewish event. But does that mean you should send your guests an invitation that looks like it was created during biblical times (with ink, paper and a shepherd delivering it)?
No no no!
Your Bat Mitzvah invitation needs to be modern while conveying the religious aspect at the same time.
Care for some examples? Scroll down…
Top Modern Invitation
Imagine getting this fascinating watercolor invitation in the mailbox…
(That'll certainly stand out among the other junk mail waiting in your guest's mailbox, don't you think?)
This invitation looks more like an invitation to an art exhibit… Except, it's an invitation to your young girl's coming of age!
And I don't know about you – but I'd much rather get a personal, artistic invitation to attend a Bat Mitzvah of a loved one than attend some random dude's art exhibit.
Without question – one of the most unique Bat Mitzvah invitations that'll capture your guest's attention and make them RSVP like crazy!
Exclusive: -15% OFF
Coupon Code: AMENVAMEN
Copied! Enjoy 🙂
When people think of a modern Bat Mitzvah invitation – they expect all sorts of fancy designs and colors stacked on top of each other (hint hint).
While that's sometimes the case, many times – clean, white design with lots of whitespaces looks more contemporary than a bunch of bright rainbow colors.
And this classy Star of David invitation is proof of exactly that. It's proof that a Bat Mitzvah invitation can be both modern AND traditional at the same time.
Speaking of rainbow colors, this is pretty much the exact opposite of the previous invitation.
Each line in this playful design is has a distinct style – and they're all stacked on top of each other (hence the name of the invitation).
Not only that – you can customize the card with unique colors like Hot pink, emerald, and cobalt.
What did I tell you? A modern Bat Mitzvah invitation can go both ways – either a solid, consistent design or a colorful, mixed design.
Like Morpheus told Neo in the Matrix: "I can only show you the door. You're the one has to walk through it."
Except, in our case… there are many possible doors… and you can choose which door you like best!
Custom (Photo) Bat Mitzvah Invitations
Human beings have a lower attention span than goldfish (I wish I was joking).
Here's the challenge: how do you make sure your guests don't accidentally throw away the invitation along with all the junk piling up in their mailbox?
The solution: put your daughter's face on it!
That way, there's no chance they would miss it (or misinterpret it as yet another advertisement for a new washing machine).
Top Photo Invitation
This modern photo invitation is one of my favorite ones on this list… so I'm happy to announce: our "Top Photo Invitation" award winner!
The Bat Mitzvah's photo is framed with real gold foil (!) and placed above the fold, followed by artistically calligraphic text that says: "Called to the Torah".
It includes 6 color options for you to choose from:
Gold

+

Gold

Foil
Onyx +

Gold

Foil

Silver

+

Silver

Foil

Blush

+

Gold

Foil

Deep Sea

+

Silver

Foil

Rose Gold

+

Rose Gold

Foil
It does cost a little more than some of the other photo invitations on this list, but the price is well worth it.
There's something off in this invitation… can you tell me what it is?
The girl (apparently her name is Davina) is looking to her right when the invitation is to her left.
Why is that bad?
Because people's eyes naturally gravitate to where the "hero" (in this case your daughter) is looking at.
So here's a quick design tip if you choose this invitation: Make sure your daughter's eyes are looking at the invitation part. That'll draw your guest's attention to the invitation's text… you know, so they won't end up at the wrong address (or dressed inappropriately).
Exclusive: -20% OFF
Coupon Code: AMENVAMEN
Copied! Enjoy 🙂
Your guests don't have to wait for the actual party to get to know the Bat Mitzvah.
Putting a full-size cover image of your daughter on top of your custom Bat Mitzvah invitation card makes it much more genuine. It forms a small connection between your Bat Mitzvah and your guests (who knows, your daughter might even get cooler Bat Mitzvah gifts as a result).
Odds are the paparazzi won't show up your daughter's Bat Mitzvah just yet.
But a few years from now… how knows?
That doesn't mean you can't give your guests a glimpse into the girl's future…
"We invite you to the soon-to-be-superstar Bat Mitzvah!"
Damn straight!
Unique & Creative Bat Mitzvah Invitations
If you scrolled through the invitations to this point, and could just imagine your young girl saying: "Mom/Dad, that's too boring! I want an invitation that stands out! I want something special!"
First, tell her to calm down.
Second, show her these unique Bat Mitzvah invitation ideas. I have a good feeling they'll strike a chord with her.
Most Unique Invitation
I've included quite a few invitations with flowers, leaves, and trees on here… I might as well include a whole botanical garden while I'm at it!
I know, I know, it's not really a garden when you only got a botanical invitation. But what if you have:
Botanical RSVP cards + Botanical "Thank You" cards + Botanical directions cards + Botanical reception cards = Botanical Garden!
That's how you greet your guests with a beautiful Bat Mitzvah garden!
"More water(color) please! Only this time, don't be square!"
You got it!
I love this stylish watercolor Bat Mitzvah invitation.
The hand-painted (or at least it looks like it) watercolor
The hand-written font
The bracket trimmed card
Together – they form a fun Bat Mitzvah invitation that definitely deserves an honorable place in this section!
All you've got to do customize it and your personalized invitations are on their way!
Exclusive: -15% OFF
Coupon Code: AMENVAMEN
Copied! Enjoy 🙂
Do you notice anything special about this invitation?
I'll give you a hint…
My name is Rebecca Cohen.
Yep, I'm the Bat Mitzvah's mom :D… and apparently, I'm married to some dude named Chad.
Except, I'm not. Actually, I'm still single 🙁 …
But that's NOT the (only) reason I included this modern Bat Mitzvah invitation on the list. It's on here because I like Kristin's colorful Star of David design… it's wicked cool!
My name on it was just a nice and total coincidence 🙂
Let's end this section with another beautiful watercolor Bat Mitzvah card.
This rosy invitation almost makes you like you're in a garden, surrounded by colorful flowers.
And if you're having your Bat Mitzvah party in the summer – there's a good chance you'll have your Bat Mitzvah reception outside! In which case – this watercolor flower Bat Mitzvah card is a nice touch to prepare your guests for it.
Heck, it doesn't matter where you're having the reception… it still looks terrific, period!
Cool Bat Mitzvah Invitations
Your daughter still isn't impressed by these Bat Mitzvah cards?! Wow, tough crowd…
"Mommy, Daddy, I want my invitation to be cool! I want my classmates to look forward to my Bat Mitzvah"
I hear ya there, sport!
Sit tight… because these cool Bat Mitzvah invitation will make your daughter look cooler than Fonzie (if you grew up in the '80s or 90's you got that joke).
Dance Party Bat Mitzvah Invitation
Coolest Invitation
Your young Bat Mitzvah is working hard practicing her dance moves for her big night. And your guests have no clue…
The least you can do is give them a hint, so they know: this isn't going to be just another Bat Mitzvah party… This is going to be the coolest dance they have seen, starring your dancing Bat Mitzvah.
I went this far without mentioning the Tree of Life – one of the most ancient Jewish Kabbalistic symbols.
The Tree of Life describes God's divine creation of the world – and our ability and responsibility to live a meaningful life – based on the foundations of the Torah.
Now that the Bat Mitzvah has reached her coming of age – she can do exactly that…
And yea, it all starts with the invitation 🙂
What should you write on your daughter's Bat Mitzvah invitation?
You could write something like: "We'd love you to join our daughter's Bat Mitzvah".
Or, you can just send a giant heart-shaped invitation.
That doesn't mean you shouldn't write a few words on the invitation… don't get lazy on me now!
In fact, you can customize a whole lot more than just the invitation… you can customize:
The envelope
The address labels
The RSVP card
Inexpensive Bat Mitzvah Invitations
A Bat Mitzvah party has a lot of expenses: the event hall, the Bat Mitzvah dress, the favors, the decorations…
Wouldn't it be nice to cut the costs for once?
Good news: Bat Mitzvah invitations are one area where you can lower costs, without necessarily lowering quality.
Don't believe me?
See for yourself…
Top Budget Invitation
When kids see chalkboards, they immediately think of school (actually, there aren't any chalkboards in classrooms anymore… I guess I'm just a dinosaur).
Not this time!
This time, it's a delightful chalkboard!
A chalkboard that makes you look forward to the big night (as opposed to counting the seconds till school day is over).
You can't ask a Bat Mitzvah invitation for more than that…
Exclusive: -20% OFF
Coupon Code: AMENVAMEN
Copied! Enjoy 🙂
A Bat Mitzvah is a Jewish event.
She's reading from the Torah in Hebrew… so you might as well send out the invitations, in Hebrew!
(Well, at least her name… you're better off keeping the rest of it in English)
And if you thought you had to pay extra for a lovely bracket invitation in Hebrew – think again, sunshine!
This lovely invitation is not only cute but very inexpensive!
Note: Notice I'm not using the word "cheap" (even though it is) – so you don't accidentally believe the quality is cheap!
There's no point in wasting a ton of money on expensive Bat Mitzvah invitations (or the way Ashkenazis pronounce it: "Bas Mitzvah invitations"). You're better off putting it in your daughter's savings account (or buying her a nice Bat Mitzvah gift).
Exclusive: -15% OFF
Coupon Code: AMENVAMEN
Copied! Enjoy 🙂
Our previous inexpensive Bat Mitzvah invitations were rather dark.
I think it's time we brighten up this section with a dazzling watercolor Bat Mitzvah invitation!
Now, if you ever ordered watercolor invitations before – you probably know they can get pretty expensive.
And if you do find cheaper ones – usually they end up looking horrible.
Wouldn't it be great if you could pay less for cool watercolor Bat Mitzvah invitations, without sacrificing the quality?
As it turns out – you can!
Lo' and behold!
This colorful watercolor Bat Mitzvah invitation is:
Exceptionally made
Wonderfully designed
And extremely inexpensive!
That's 3 out of 3, baby!
Exclusive: -20% OFF
Coupon Code: AMENVAMEN
Copied! Enjoy 🙂
Fancy Bat Mitzvah Invitations
If you decided that you DO want to invest in fancy Bat Mitzvah invitations, then you're going to love this section.
Don't get me wrong, the invitations you saw up to this point are all beautiful (we personally curated every one).
But if you're looking to go the extra mile to reach the "WoW factor", then this is it…
Hold your breath, and scroll down when you're ready.
Top Fancy Invitation
Whoever this "Olivia Grace" is – she's one lucky Bat Mitzvah girl! Her RSVP rate is probably through the roof!
Well, Olivia Grace is probably a fictional character… but your daughter is very real! And she's about to celebrate her Bat Mitzvah!
And guess what? You get to decide if you want to invite your guests with a beautiful Bat Mitzvah invitation, or a cheap-looking one.
Unless your recipient will be out of town, it's going to be very hard to turn down this glittery Bat Mitzvah invitation.
Ever been in a gold rush before?
I'm guessing, no…
Till now!
Yes, this gorgeous invitation is foil-pressed with real gold.
Not to mention if you get the whole set of matching items:
Gold direction cards
Gold reception cards
Gold RSVP cards
All foil-pressed with REAL gold!
You asked for a high-end Bat Mitzvah invitation? You got it…
Imagine if the queen of England was Jewish… and she wanted a fancy Bat Mitzvah card for her grand-grand-grand daughter…
Which one would she get?
Well, if one of her servants would've shown her this stunning Bat Mitzvah invitation – then odds are she'd order a bulk of these and send a pigeon post to all her VIP guests (us "normal" people can watch it on TV).
This colorful invitation includes a gorgeous illustration of the Tree of Life with leaves falling from it… with a dove – the Jewish symbol of peace – flying above it (probably on its way to deliver the invitation).
The best part? It looks a million times better in real life than it does on the image.
Don't believe me? Go ahead and order a sample… (then come back and tell me in the comments how I was right).
Beach Themed Bat Mitzvah Invitations
Boys have their sports-themed Bar Mitzvah invitations. How about the girls?
Let's just say that most girls aren't really raging sports fans… but they do love beach-themed Bat Mitzvah invitations.
You'll see why they're so popular in a second…
Top Beach-Themed Invitation
Let me be honest here: most beach-themed Bat Mitzvah invitations are awful.
That's why stumbling into this cool tropical beach invitation was like a breeze of fresh air in a hot tropical beach (see what I did there?).
I don't know what it is, but there's something special about combining the beach, palm trees and a Star of David (reminds me of the beach in Tel Aviv).
This unusual watercolor card is a good option to consider if you prefer a more "playful" version of a beach-themed Bat Mitzvah card.
The design features lovely palm trees, string lights, and swirls, colored in modern blue and green watercolor with faux gold.
If you prefer a simpler (and cheaper) Bat Mitzvah beach card, then this might be a good alternative.
Conclusion
The journey to an unforgettable Bat Mitzvah ceremony starts with unique Bat Mitzvah invitation ideas.
First impressions matter… and a beautiful invitation is your first opportunity to get your guests excited and look forward to it.
That doesn't mean "looks" are the only thing that matters. What you write in the invitation matters just as much, if not more. So don't neglect that part, yes?
I wish your girl Mazel Tov… Now go throw her an awesome Bat Mitzvah!