20+ Special Jewish Engagement Gifts for a L'Chaim Party (Vort) [2022]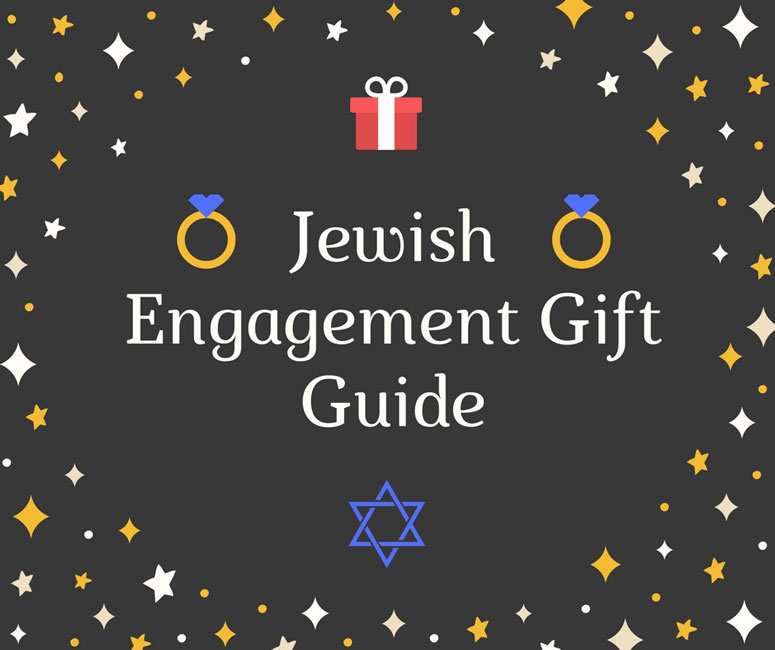 Amen V'Amen is supported by its audience. That means when you purchase something from one of our partners through one of our links, we may earn a small commission at no additional cost to you. Amen V'Amen is also an Amazon Associate, so we may earn a commission from qualifying purchases. Thank you for your support!
You just got invited to a Jewish engagement party (also known as "vort")… Mazel Tov!
But wait… before you raise your glass and give a heartwarming toast, there are a few things you should know:
You should never arrive at a Jewish engagement party empty-handed
Make sure to bring the happy couple an appropriate Jewish gift
The first rule should be a no-brainer (I hope)… but what about the second one?
That's precisely what this gift guide covers!
Today, you will find out exactly what gifts our appropriate for a Jewish engagement party. And don't worry, I won't let you leave without suggesting some of our favorite gift ideas any Jewish couple would LOVE to receive on their big day!
Top Jewish Engagement Gifts
Spoiler alert: Here's a sneak peek of the top gifts that came in first in each respective category and won our oh-so-special award 🙂
Traditional Jewish Engagement Gifts
Since a L'Chaim engagement party is a Jewish tradition, it makes sense to get the young couple a traditional Jewish engagement gift, doesn't it?
Lucky for you – there's no shortage of terrific Jewish gifts you can choose from…
Let me show you some of my favorites!
Top Traditional Gift
The young couple will share lots of Sabbath & Jewish holidays together in their future home. That's a LOT of Kiddush wine we're talking about here.
Not to mention when they'll have a bunch of guests over for Shabbat (including you!)…
They could use a proper Kiddush set, don't you think?
But why settle for "proper"? Proper is for the distant "I've-never-seen-this-woman-before-in-my-life" relatives.
That's not you… is it?
You'd probably want to go the extra yard, like the good ol' friend you are.
And when you reach the extra yard – you'll find Yair Emanuel's artistic Kiddush set waiting for you.
A thoughtful, useful, and colorful Kiddush set for many more L'chayims in the future.
Amen V'Amen :)!
The Shofar is one of Judaism's most powerful & meaningful symbols. It's used to signify important events (like Rosh Hashanah & Yom Kippur).
What better way to symbolize one of the most important days in the lives of this lovely young couple?
They say when the Messiah comes, he will arrive with the sound of the Shofar.
Hopefully, the light spread by your gorgeous gift in the couple's future home will help bring us one step closer to that day.
A Jewish engagement party is not just a physical celebration. It's a spiritual celebration.
We don't just gather together to celebrate the couple getting engaged. We gather together to celebrate two Jewish souls uniting into one.
Now, think about it… what other Jewish item shares the same unique combination of physical and spiritual?
The answer: a Mezuzah.
If you think about it – a Mezuzah is nothing more than a scroll placed inside a case. So why do Jewish people hand a Mezuzah on each door in their house?
Because the power of the Mezuzah is not physical. It's spiritual.
We fulfill the Mitzvah of affixing a Mezuzah a sign of our spiritual belief in God and his unconditional love towards us.
That's what makes Danon's modern Mezuzah an excellent engagement gift for a Jewish couple (especially Orthodox Jewish couples)
Not to mention the Priestly Blessing (Birkat Hacohanim) featured on the Mezuzah, which makes it even more special.
Engagement Gifts for Women
Our little sweetheart is engaged!
Time to find an L'Chaim gift that'll make our future bride even more exciting than she already is.
Careful though – don't spend too much money on an L'chaim engagement party gift. This isn't her wedding night.
Her wedding is when you actually get to "take out the big guns" and get her a truly amazing Jewish wedding gift.
Top Engagement Gift for Her
If you thought the previous Jewish engagement gifts were "traditional" – trust me: you haven't seen anything yet.
To call the Tree of Life a "traditional Jewish symbol" would be a huge understatement.
It's not just any Jewish symbol – it's one of the most ancient Kabbalistic symbols in the Jewish tradition. In fact, it's a symbol that describes God's creation of the world.
When it comes to a traditional Jewish engagement gift for a woman – you'd be hard-pressed to find a more appropriate gift than that.
And I haven't even mentioned that it's hand-crafted and made of 10K gold.
To me, that's just a nice bonus.
For wedding gifts, the traditional Jewelry gifts are gold & silver.
For vort gifts? You can be a little more creative.
This beautiful Roman Glass, pomegranate-shaped pendant includes exotic colors of blue & green, wrapped in an elegant sterling silver frame.
The pomegranate is a famous Jewish symbol that represents righteousness, richness & humility – all the elements of a successful Jewish marriage.
Like I said: creative.
Eishet Hayil Mi Yimtza ("Who can find a woman of valor?") – King Solomon's eternal song men sing to their wives every Sabbath, is what the future husband will sing every Sabbath for his fiancé for their entire life.
From now on, every time her future husband sings Eshet Hayil to her, she'll be able to look down at her stunning handmade ring and remember the moment you gave it to her on her engagement night.
Look at those two lovebirds!
"Those lovebirds have names, you know"…
And guess what – you can personalize the lovebirds with bride and groom-to-be's names (in either Hebrew or English)!
Honestly, if it wasn't for the heart, I would've even included this lovely necklace in the Gifts for Men section. But let's spare him the embarrassment, shall we?
Jewish Engagement Gifts for Men
He popped the question! Halleluyah! (poor woman, she waited for so long)
It was worth it!
Because now – he gets to marry the love of his life – his soul mate…and you get to celebrate this happy moment together with them.
But before you go ahead and lift him up on a chair, you should get the future groom a nice Jewish engagement gift for his L'chaim party.
Let's do that, shall we?
Top Engagement Gift for Him
Let's be honest – most men (especially Jewish men) aren't big fans of Jewelry.
But boy oh boy do they love wearing a fancy watch.
Forget Rolexes… This is a Jewish engagement party, remember?
Thankfully, Israel has been blessed with a quality watch brand as well – the "Israeli Rolex", if you will: Adi Watches.
And guess what – they're a fraction of the cost of a Rolex, they're classier than a Rolex, and they're more Jewish than a Rolex!
That's what I call "Mazel Tov!"
We already gave the future bride a stunning Kabbalah Jewelry gift.
What about the man? Poor boy will get jealous.
Don't worry… the lucky man is in for a treat, and he doesn't even know it yet.
This marvelous sterling silver bracelet includes a gold Star of David. Alongside it – the Shema Yisrael prayer written in Hebrew.
Now – every time the man could use a little spiritual uplifting, all he needs to do is look at his bracelet and recite the Shema.
There's nothing Jewish about a Montblanc wallet.
Except… the Star of David?
What tha?! What is an Italian luxury brand doing with a Star of David? Are they Jewish?!
Jewish or not, that's not why you should get the young man a Montblanc wallet.
You should get him a Montblanc wallet… because it's a friggin' Montblanc wallet! They're an amazing gift for any young man.
Personalized Engagement Gifts
It's not just any other person who just got engaged, is it? They mean a lot to you…
I get it…
In that case – you'd want to get them a more personal gift.
You know, a personal gift you can personalize.
And in case you're still wondering what section is about… it's about personalized engagement gifts.
Top Personalized Gift
Close friends and family members, listen up!
They say friends come and go.
They also say gifts come and go.
But you're not going anywhere… and neither should your engagement gift.
Let's face it: after this night is over – in a week or two no one (including the couple) will remember it anymore. It's unfortunate, but it's true…
Unless…
Unless you give them a gift that will bring back all the memories of their special night. A keepsake you personalized just for their engagement.
That, my friend, is a gift that lasts not only for years… but for decades.
Personalized keepsake #2.
This time, you're getting them a personalized keepsake they can actually use to light candles with.
Shabbat candles
Holiday candles
Romantic candles for a romantic meal
You name it.
If the romance tends fades out in a few years, all they got to do is light it up again!
And guess what – they could use the personalized candle holders you got for their engagement to do just that 🙂
I bet the soon-to-be-Mrs never imagined she'll see her new last name on a doormat for the first time.
Well, she's in for a huge surprise.
Little did she know you'll be Googling in search of a cool L'Chaim gift for her and her Mr.
And little did she know you'll find an awesome website called Amen V'Amen, with an even awesome article written by yours truly.
Go on… personalize the couple's new doormat. Make her day!
Unique & Creative Engagement Gifts
Why get the young engaged couple another boring gift, if you can get them a unique & creative L'Chaim gift?
Think about it – most of the other guests will probably get traditional Jewish L'Chaim gifts for the Jewish couple (especially if you're invited to an Orthodox Jewish engagement party)
But you? You're not like every other guest…
So why would you get them the same gift as everyone else?
Top Creative Gift
You love them with all your heart ❤️.
Here's your opportunity to prove it to them… Not just with one heart, but with a bowl-full of hearts!
Soon, the young couple will get to host their friends & family in their new home.
But here's the thing… being a great hostess isn't just about opening your home to guests and serving food. You also need to open your heart and host everyone with love and care.
Thanks to her new hand-painted laser-cut bowl (and thanks to you), she'll be able to do just that.
The young couple is about to embark on the ride of their lives together.
And what a great reminder that is to have David Gerstein's colorful Spring Ride sculpture sitting on your shelf at your new home.
There's an incredibly valuable message hidden in this sculpture.
Sometimes life will seem like an uphill road. There will be challenges, roadblocks, and difficulties on the way up the mountain… Once you reach the peak of the mountain – that's when things get easier and the ride becomes smoother.
You have to stick together through the hardships – in order to enjoy and appreciate the fun parts. That's what love is all about.
Every Friday night – we read King Solomon's Song of Songs in the synagogue.
Guess what: the couple can stop searching. They finally found each other.
And now – you can give them a beautiful art frame they can hang as proof.
Jewish Engagement Gift Baskets
The happy couple is about to embark on a lifelong journey as husband and wife.
How sweet!
But why wait till they're married to make things sweet?
Let's make it sweet right now with some yummy Jewish engagement gift baskets!
Top Gift Basket
I know I know – the future bride and groom are probably trying to shed a few pounds before the wedding (or at least not gain any).
Gimme a break! It's their L'chaim engagement party!
I mean c'mon, we're talking about premium chocolate truffles, chocolate peanuts, and Vienesse crunch that melts in your mouth.
I'm sure they can make an exception for one night. Who are we kidding… they won't be able to resist whether they like it or not.
And believe it or not, it's Pareve! They can enjoy your sweat chocolate gift tray even after having meat for dinner.
Besides, they're going to fast on their wedding day anyway… they better enjoy it while they still can!
"But Rebecca, they'll kill me if I give them an irresistible tray of premium chocolate before their wedding… can't you suggest something a little healthier?"
Ugh… fine then, if you insist.
Let's skip the chocolate… and instead deliver a GIANT Kosher gift basket filled with tropical fruit and nuts straight to their door.
Dried Kiwi

Sliced Mango

Dried Figs

Roasted Pistachios

Dried Apricots

Dates

Dried Pears

Dried Cranberries

Dried Plums
There. Happy now?
Pop Quiz: What's the one thing the couple is looking forward to EVEN more than their wedding?
Take a few seconds to think of an answer. I'll be here eating a piece of chocolate.
(Munch, munch, munch)
Oh, you're back!
So… did you have an answer for me?
Fine then, I'll tell you…
The honeymoon, duh!
Only problem? It's sooooooo far away.
Wouldn't it be great if you could give them a pre-wedding relaxation?
You sure can… and you can give it to them in one MASSIVE spa gift basket, too.
This tremendous spa collection includes a whopping list of vanilla-scented products: Vanilla Passion bath salts, lotion, hand soap, body spray, bathrobes and even slippers (not made of vanilla).
Who said gift baskets have to include food to be delicious?
Funny & Cute Engagement Gifts
Are you the "crazy" friend?
Or the relative with no boundaries?
Then forget all the gifts I mentioned so far.
You want the gifts that make them giggle. A witty gift.
That's the gift they expect from you… Anything else would be a disappointment.
Let me tell ya, it's a good thing you stuck with me till the end of the article 🙂
Cutest Engagement Gift

Not exactly a "Haha funny" gift, but still a cute gift nonetheless.
Sure, the happy couple will feel wearing the hotel's bathrobes during their honeymoon.
What about after the honeymoon? Back to "reality", is it?
Not unless you extend their honeymoon and get them their very own pair of Egyptian cotton bathrobes.
Besides, you've practically given them an excuse to take baths together on a regular basis.
Love is in the air!
Yep, they're about to become Mr. & Mrs.
And as a young couple deeply in love, they'll probably be spending some quality time in the kitchen together (until the husband gets lazy), so might as well do it in style.
Since you're the crazy friend. Your goal is to raise a few smiles on their faces and justify your "crazy" title.
This is the gift that will keep your title.
An engagement gift for cool, young couples…that is if they have a sense of humor.
By no means does this mean that the man * has * to drink beer and the girl * has * to drink wine.
In fact, who said the man can't be queen and enjoy a nice glass of wine? And who the hell said girls can't be kings and shouldn't drink beer while watching a football game?!
That's just sexist! (kidding. See, that's funny)
Conclusion
I hope you found a Jewish engagement gift for the happy couple.
Now that you've got a great gift on your hands – you can walk into the L'Chaim party with your head held high – knowing that you just gave the couple the best vort gift in the entire room.
Mazel Tov!