A sweet little Jewish member has joined the family…Mazel Tov!
Now that the Bris ceremony is around the corner, you're probably wondering:
"What should our cute little baby boy wear for his Brit Milah"?s
Well, thank god you found this guide… because I'm about to help you find the best Bris outfit for the little mensch, so he'll look all cute & charming on his special Jewish ceremony…
I'm about to help you find the best Bris outfit for the little mensch, so he'll look all cute & charming on his special Jewish ceremony…
Best Brit Milah Outfits
WARNING: Cuteness Spoiler.
Here's a quick glimpse of the best Bris outfits for the little baby boy's Brit Milah ceremony.
Newborn Jewish Baby Boy Bris Bodysuit & Beanie Set With Hamsa Print Mazel Tov
Top Pick
Pros
Soft & safe for newborn baby
100% cotton!
Cons
A bit difficult to put on/take off
Why?
Cute baby bodysuits with Hebrew text such as this are difficult to find, especially for newborn babies. But it's definitely not the only reason we made it our "Top Pick".
Why is this the top choice then? Because it's a 100% cotton bodysuit with a cute little matching Beanie, printed & designed in the USA by the famous Rabbit Skins.
This white pure cotton has a big Hamsa print in the center, with "Mazel Tov" written in Hebrew.
But most importantly: the bodysuit has a soft fabric, which makes it completely safe & comfortable for the little sweetheart.
Who is it For?
This one-piece suit makes an ideal gift for a Jewish boy's Bris Ceremony (more suited for winters or cold weather).
It has an open bottom and lap shoulder folds, plus you also get a cotton beanie alongside this cute suit, with a 'Star of David' pattern printed on it.  
Bottom Line: A cute, skin-friendly bodysuit & beanie set with a Mazel Tov Hamsa print – perfect for the Bris ceremony. A great gift for a Jewish baby boy at a very affordable price.   
Jacqui's Baby Boys' Star of David Bunting Gown Set
Our Favorite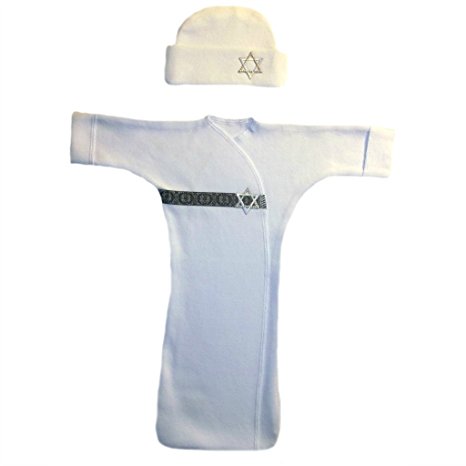 Pros
Cozy cotton knit
Easy to put on, take off or open
Why?
Now that's a proud little Jewish baby!
The design, material and the color is designed specifically for a Jewish Bris Ceremony.
This Star of David bunting gown set is made of 100% cotton, has long sleeves with foldable mitten cuffs…all in order to make sure your sweet baby boy remains comfortable throughout the entire ceremony.
Bonus: You also get a matching hat!
Who is it For?
Let me guess… you're looking for a Jewish Brit Milah outfit that opens & closes easily??
Well then, this outfit is ideal for the ceremony!
Simply select the size according to the weight of your baby.
Tip: This Bris outfit comes in 4 sizes, so make sure you choose the right size.
Bottom Line: This Star of David White bunting gown, made by Jacqui's Preemie Pride, is suitable for the Brit Milah, as well as Jewish holidays (Rosh Hashanah, Hanukkah, or any other). A great Brit Milah gift for a great price.    
Heirloom Brit Milah Outfit with Ribbons, Shema Baby Boy
Most Spiritual  
Pros
Embroidered SHEMA prayer
Beautiful ribbon-tie design
Handmade
Personalization available
Why?
This lucky young Jewish fella is about to get an amazing little gift at such a young age…
Our 'Most Spiritual' choice is a baby boy Bris outfit comes with an embroidered SHEMA prayer on the upper right side.
Raya Baby's cute baby boy Bris Milah outfit design is made from cotton polyester blend fabric. The bottom is designed to fold over and has a Velcro fastening for easy close-open access.
Tip: This Brit Milah outfit is Mohel approved
Who is it For?
Probably one of the best gifts you can get for the little Jewish baby boy, and for his parents.
Not only is it cute and adorable, but it's ideal for a Bris Milah Ceremony thanks to the unique embroidered Shema Yisrael prayer.
You can personalize the gift with the young boy's initials or his name (if you already know it).
Bottom Line: With a spiritually inspired design & personalized touch, this cute little baby boy outfit meets all the requirements for a wonderful newborn Bris outfit.
Want to get our brand new Jewish buying guides straight to your email inbox?
Sweet Like Honey Bris Outfit
Pros
Easy to take off/put on
Comfortable & safe for newborns
Personalization available
Why?
Hebrew Baby Collection presents yet another charming Baby Onesie.
It says "Matok Kmo Dvash" Hebrew text, meaning Sweet like Honey. It's perfect for a Jewish Brit Milah, Rosh Hashana, or just a Tuesday night.
This cute 100% cotton suit is handmade, available in 5 sizes and it'll be ideal for summers…poor little baby you don't want him to sweat, do you?
Why Not?
Not really a why not, just a reminder: this Bris Milah outfit ships from Israel, which means you'll have to order it in advance so you'll get it delivered on time.
Who is it For?
Ideal for newborns as the fabric is organic cotton (super comfortable). In addition to that, the printing is also done with natural ink.  
A beautiful Jewish baby boy Brit Milah gift that will be loved by the parents & relatives.
Bottom Line: This handmade baby outfit is great as a gift, at a great price. The fabric is light and comfortable and the quality is acceptable.   
I Survived The Bris Baby Bodysuit
Most Hilarious
Pros
True to size
Great customer service
Premium quality
Cons
Fabric could be softer
Dull print color
Why?
Fear the dreaded "cutting"?  This bodysuit will help you relax and take it easy.
Looking back, it will make the Brit Milah much more memorable… plus your little boy will have a huge laugh when you show him pictures of himself wearing this funny shirt when he's all grown up.
Made from 100% ring spun combed soft cotton, safe for the baby's skin.
Who is it For?
This t-shirt is funny, adorable and suitable for the Bris Ceremony of your little boy.
It will help ease your stress of the circumcision and will give your guests a good laugh.
The bodysuit also has an easy diaper change option with a three-snap closure, and the neckband is made for easy off & on – so you'll have an easy time dressing your precious little boy.
Tip: Make sure you wash the suit before first use.
Bottom Line: This good-quality shirt by Lil' Squirt Tees provides an option of personalized message or custom image at an affordable price. Buy it for the ceremony of your Jewish boy or buy it as a baby shower gift.
100% Kosher Organic Cotton Baby Bodysuit
Pros
High-quality print
Hand silk-screened
Hilarious
When it comes to the Jewish baby clothes of a newborn, we want something cute, funny & safe at the same time.
All of this (and more) is offered by The Spunky Stork
With this adorable baby boy outfit, you'll get the perfect baby clothes for a Bris ceremony.
The print "100% Kosher" is hilarious, and ideal for a newborn Jewish baby that is about to become fully "Kosher" (if you know what I mean).
Why Not?
The available sizes are a bit limited… and obviously – not all parents will approve of this (you probably know whether they would love it or hate it)
Who is it For?
It's for everyone who doesn't mind a little humor…
Why not get funny & comfy Jewish baby clothes for your little baby boy.
Also, the bodysuit is CPSIA certified, so the fabric is definitely high quality. It would be a really lovely as a gift for a Jewish baby.   
Bottom Line: A hilarious, 100% organic cotton fiber outfit for the young man's Bris ceremony, and any other Jewish occasion.   
Jacqui's Baby Boys' Black + White Lapels Tuxedo Suit 4 Piece Set
Most Charming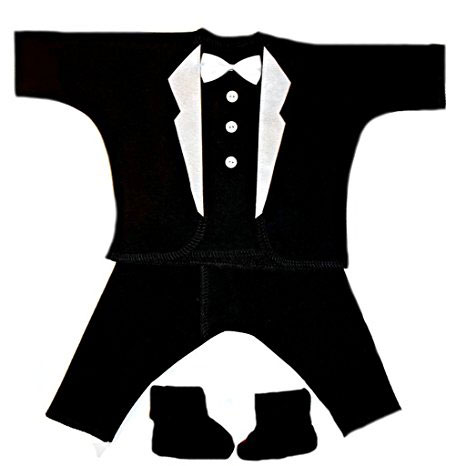 Pros
Velcro closing on back
Easy to put on/take off
Why?
Did you ever think:
"Let's get a tux for our beautiful baby boy"
Well, now you have…
Imagine how cute & elegant your little Jewish boy will look on his Bris ceremony wearing this adorable (and highly fashionable) suit!
You get a short sleeve baby shirt with Velcro closing on the back, a white bow with faux buttons on the front, and a long sleeve tuxedo jacket to be worn over has white lapels.   
Why Not?
This one's certainly not meant for hot summer days. The added layers could make the baby uncomfortable if worn for a long time.  
Who is it For?
It's for all baby boys to wear on their special day!
Make the Bris ceremony of your baby boy a little bit more stylish with this 4-piece suit. The black trouser has an elastic waist, and you also get matching black booties with cuffs.  
Bottom Line: This tuxedo would be perfect for your little man! It's NICU approved and made from soft 100% cotton knit.  
Mazal Tov Baby Bodysuit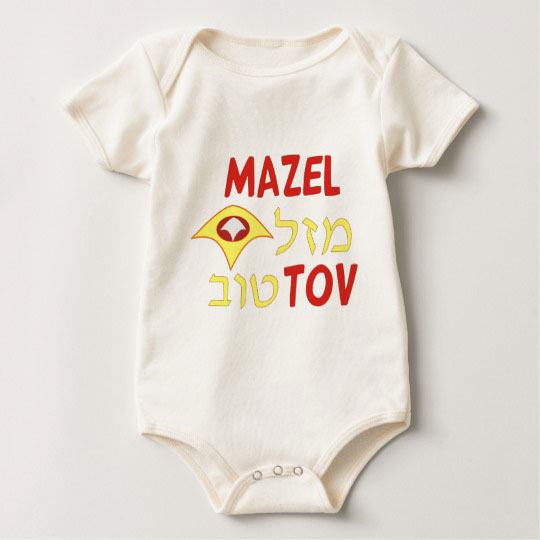 Pros
Finest organic cotton fabric
Customizable printing
Cons
Questionable print quality
Why?
JewDaika used organic rib cotton in making this suit, and for a good reason…
Not only does it keep the baby comfortable with the soft fabric, the 'Mazel Tov' printing is also perfect for a Jewish Ceremony.  
Note: The 'Mazel Tov' greeting is written both in English & Hebrew.
Why Not?
The blessing (and print quality) means that the baby will probably wear it only once.
Who is it For?
A cute little infant Bris outfit for the Brit Milah ceremony, whether you're buying it for your own baby or as a gift.
It has a three-snap bottom/diaper closure. The fabric itself is light & breezy…
Tip: You can order it with a customized print as well!  
Bottom Line: Made with a 100% certified, organic combed cotton that makes it safe and comfortable for newborn babies. The 'Mazel Tov' greeting is simply perfect!
Final Verdict
So, what are the best & cutest Brit Milah outfits for the sweet little Jewish boy?
A big round of applause for our winners:
Top Pick: Our 'Top Pick' is a white pure cotton Onesie with a big Hamsa print in the center, & "Mazel Tov" written in Hebrew. This is a long one piece, 100% cotton bodysuit that comes with a matching beanie. The beanie has a 'Star of David' pattern on it, which obviously makes it an ideal outfit for Bris ceremony.  
Our Favorite Outfit: This Star of David White bunting gown, made by Jacqui's Preemie Pride, fits extremely well for a Jewish Brit Milah ceremony, as well as other Jewish occasions. You get a matching beanie with this one as well, all for a very affordable price. It's very comfortable…which is important. You want the baby to feel cool & hip, right?  
Most Spiritual Brit Milah Outfit: Our 'Most Spiritual' choice is a traditional baby boy Bris outfit that comes with an embroidered SHEMA prayer on it (hence the spiritual part). This cute outfit is approved by a Mohel for the Brit Milah and can be personalized by getting the baby's name (if known) or initials embroidered on it. Perfectly suitable for a Bris!
Most Hilarious Bris Outfit: I Survived the Bris Bodysuit. I normally don't include a "Most Hilarious" award but come 'on… I just couldn't help it. This bodysuit is funny as hell, and any parent with a little piece of humor will agree. For some reason, I have a feeling that most moms won't think this is funny… but hey, I'm a guy, so…
Most Charming Bris Outfit: Thanks to Jacqui's Baby Boys' black & white tuxedo, many little Jewish baby girls will believe they found their future husband… Who says you have to be an adult to be charming?
Summary
Choosing a cute & comfortable Bris outfit for a Jewish baby boy's Brit Milah isn't easy.
The little boy's Brit Milah ceremony is something you'll remember for the rest of your life, so you'd want to make sure he's all dressed up for the occasion. All eyes will be on the newborn at the Brit Milah… so make sure you choose wisely 🙂
And remember – always get an outfit that is easy to open and close.
I hope I helped you find the perfect Brit Milah outfit for your sweet little Jewish baby.
I'm curious, which of these outfits did you like best?